If you have a nuisance wildlife problem, you may wonder if you can hunt deer in your backyard to get the problem under control. Perhaps you have a lot of acres and a large population of this game animal.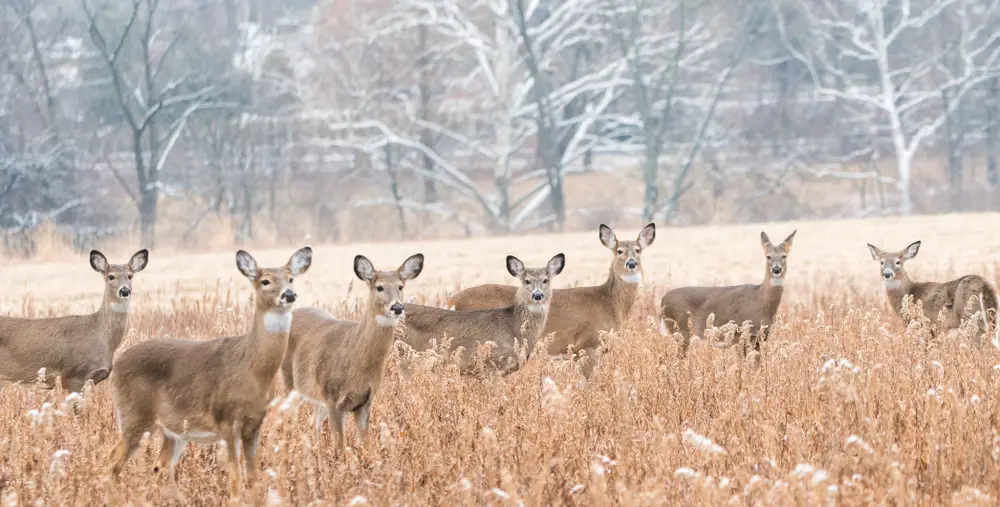 The answer depends on where you live, your state, time of year, and the reason you're hunting. We'll discuss each one in detail.
Let's get started!
Where You Live Matters
If you live in a rural area, you may be able to take deer legally. Landowners often hunt their property or offer the chance to others, usually at a price. There are, however, several caveats.
Even if it's permitted, you'll likely see regulations about hunting near dwellings or over any public roads. Both are usually illegal in most areas.
But, wait! There's more!
State Game Management for Hunting Deer
Your state DNR or Department of Conservation manages game animals to keep the populations healthy and minimize people-wildlife conflicts. That means limits on the number and often sex of the deer.
You'll need a hunting license and permit in most states because many consider wildlife property of the residents. The question of if you can hunt deer in your backyard, therefore, is a bit more complicated.
Hunting in Season
Fall is the typical time of year for harvesting game. By that time, the young of the year are weaned. The government sets the variables and quotas based on population estimates.
For you, that means that there are scheduled seasons when hunting deer is legal. Taking an animal out of season or outside of the permitted hours is illegal.
Violating these laws carries hefty fines. The sheriff or local conservation police officer may also seize your weapon and vehicle if you drove to your hunting spot.
Weapon of Choice for Hunting Deer
It also depends on your choice of weapon.
Some states have designated seasons for:
Bow
Handguns
Black powder rifle
Crossbow, usually for disabled individuals
You'll also see permitted times that you can hunt, especially when using any type of firearm. They range from dawn to sunset, often with the precise time for both by the civil twilight time.
You may find that you cannot use some types of weapons in certain areas. For example, many more populous states like Illinois don't allow hunters to use a rifle whereas you can in some places in Minnesota.
The reason is because of the range. A shotgun with a deer slug can go about 50 yards before it starts to become ineffective, depending on the weapon.
A rifle, on the other hand, can travel well north of 1,000 yards, depending on the caliber and bullet weight. The risk of hitting a non-targeted animal—or a person—is too high in densely populated areas.
Of course, using a firearm brings its own host of questions, regulations, and fees. When you're considering hunting in your backyard, also take into account the costs.
Compound Bow for Adults, Right & Left hand, Hunting Kit: 5 Pin Lighted Sight, Rest, Quiver, String Stop, Stabilizer, Shock Absorption, Allen Tool, Draw weight and cams Fully Adjustable, Target sheets.
PERFECT PLATFORM – Hunting bow, bow fishing, Farm Bow, and target shooting, this incredible unique bow offers versatility and strength for adults, youth, beginner, and Intermediate archers, Right hand and Left hand Compound bows!
FULLY ADJUSTABLE – With an axle length of 30" and weighing in at only 3.6 lbs, the draw length ranges from 24.5"- 31" and the draw weight can be adjusted from 30 lbs - 70 lbs without needing an archery compound bow press as big bows usually requires!
HIGH QUALITY MACHINING – Both the cams and modules are fully machined aluminum with zero plastic. Compound design allows for 75% let - off and features a split yoke tuning system providing precise adjustments for proper arrow flight.
COMPLETE BOW - Compound bow package Includes 5 pin fiber optic sight with light and level, TRUGLO EZ brush rest, stabilizer, 4 arrow quiver, string stop, allen wrench, 2' paper target, and pre - installed Peep sight and D - loop.
Compact bow Available in 2 colors Black and Camouflage, includes manual with warranty Raptor Predator Archery Family owned business and years of experience adding valuable knowledge to every product as members of The Sport and Archery in general.
Last update on 2023-03-03 / Affiliate links / Images from Amazon Product Advertising API
---
Are You Hunting Nuisance Wildlife or Game?
Most states and municipalities will allow you to dispatch nuisance animals if they are causing property damage or represent a threat to you or your family. Deer usually don't pose a threat to people, even though they can get up to 300 pounds or sometimes more.
The exception to the rule is when the males or bucks are in rut or mating season. Then, the animals often become unpredictable and sometimes violent.
That same behavior also plays to the advantage of hunters since deer are less cautious and are more likely visible in the woods.
For your problem deer, you probably will still have to get a permit and pay a fee. Other restrictions and regulations may exist too regarding the disposal of the carcass.
Other Questions About Hunting Deer
There are several other things to think about when deciding to take game animals. You may find local city regulations have a say in whether you can hunt or not.
Some places may place other restrictions such as making albino deer illegal to kill. The legality may also rest with the age of the deer, with some areas prohibiting the taking of antlerless deer.
Most likely you also must wear blaze orange when hunting with any type of firearm to alert others to your presence. However, you may not have this requirement if you use a bow. Also, some places have other regulations on the type of ammo that you use.
Our advice is to contact your state game management department and your local conservation police officer before you set your sights on the deer roaming your property.
Gamehide Sneaker Big Game Vest Blaze Camo, X-Large
Magnum rifle loops with flap and clip pocket
Vest made of hush hide for soft, silent, lightweight and is 100% cotton free.
Four-way dump pockets with shotgun shell loops and rear cargo pocket
Quilted shoulders for added support
Flashlight Pocket
Last update on 2023-03-03 / Affiliate links / Images from Amazon Product Advertising API
---
Pros and Cons of Hunting When Considering if You Can Hunt Deer in Your Backyard
The landscape of hunting has evolved in recent years, bringing up some additional questions on both fronts.
On the positive side, venison or deer meat is a healthy alternative to beef, with fewer calories and more protein. It's tasty and easy to prepare. Besides, you'll save some money on your grocery bill.
It's also essential to remember that hunting is part of game management. Overpopulation leads to starvation, habitat destruction, and a higher risk of human-deer conflicts.
Simply, hunters are vital to the health of the herd. Realize that questioning if you can hunt deer in your backyard is good for the environment.
The downside exists with the risk of using a weapon, no matter what you're using. Hunting a deer is a commitment, especially if you wound it. The responsible individual will not let an injured animal suffer needlessly.
Many hunters will tell you that the work begins with the kill. You have to field dress it and somehow get it back to your house to butcher it.
Many butchers will process the meat for you. However, that's going to add to your costs of hunting. Alternatively, you can donate the carcass to a charitable organization such as Hunters for the Hungry.
Meat Grinder Electric AAOBOSI Grinder Heavy Duty Meat MincerSausage Tube & Kubbe Kits
Powerful PURE copper motor is fast, easy and convenient to immediately grind beef, pork, fish, chicken, venison etc. Grinding 1KG meat in 1 MINUTE!
l extrusion without destroying the meat fiber. It ensure the chewy and firmness sense of the ground meat.After finishing, you could easily install and remove the parts.
The AAOBOSI meat mincer is equipped with "Dual Safety Switch". Only start the machine when two switches are all in the "on" state. Avoid turning it on accidentally.
Only start the machine when two switches are all in the "on" state. Avoid turning it on accidentally. If something remained stuck, the reverse button is fixed immediately.
We provide reliable customer service: 30-day money-back guarantee, 12-month warranty and lifetime service support! Welcome to purchase AAOBOSI heavy duty meat grinder with confidence. If you have any questions about the grinder, please feel free to let us know. We are always here for you.
Last update on 2023-03-03 / Affiliate links / Images from Amazon Product Advertising API
---
Final Thoughts
Over 15 million Americans engage in some kind of hunting with just over 9 million taking deer. The satisfaction of providing food for your family is priceless and puts you in touch with an act that has replayed for centuries.
The question of can you hunt deer in your backyard isn't a simple yes-or-no. Many factors come into play that determines the legality of this question, making doing your homework first imperative.