If you've hunted or used a standard bow and arrow, you might think about expanding your horizons and skill set to other types of weapons. That may make you wonder, "do you need a permit to own a crossbow?".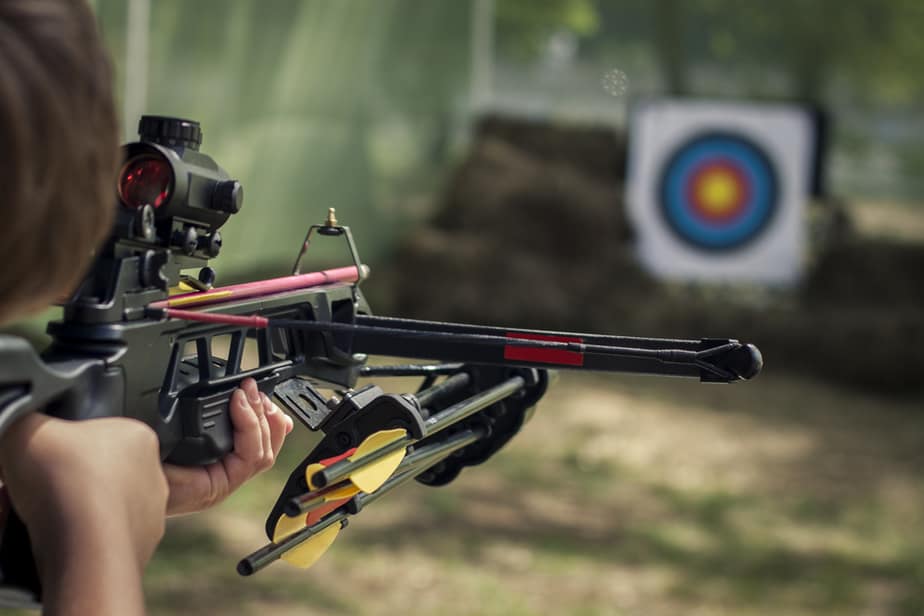 After all, it does look cool. And there is a certain something about using a weapon that has been around for centuries. The answer to your question is a bit murky on several fronts. Let's delve into both sides of the matter.
What is a Crossbow?
You can think of a crossbow as a cross between a gun and a bow and arrow. It combines the body style and trigger mechanism of a rifle with the action of a bow. In fact, many earlier examples resemble flintlock guns of yore.
The difference is that you don't have to hold the draw. The typical bow and arrow range is anywhere from 45 to around 80 pounds. A crossbow, on the other hand, ups the ante to 100 pounds or more. Holding back the lighter weight of the former is nevertheless fatiguing after a short time.
However, it comes at a price.
A bow weighs under 4 pounds. The crossbow is sometimes double the weight. Holding and aiming the weapon will also fatigue your arm and shoulder muscles quickly.
Barnett Whitetail Hunter II Crossbow, with 4x32 Multi-Reticle Scope, 2 Headhunter Arrows, Lightweight Quiver
BARNETT WHITETAIL HUNTER II CROSSBOW: High-performance compound crossbow in RealTree Extra with complete hunting accessory package. The lightweight crossbow is ultra-compact, shooting 350 feet per second
EFFICIENT: Crossbow is equipped with an axle-to-axle length of 16.125" overall weight of just 6.4 lbs., creating an easily controllable profile that hunters of all skills and sizes can manage
SAFETY FEATURES : Soft Lok Floating Bristle Arrow Retainer, Anti-Dry Fire (ADF) Trigger System, TriggerTech 3lb zero creep Frictionless Release Technology
READY TO HUNT PACKAGE: Bow dimensions are 34.25"L x 18.25"W. Package includes two Headhunter 20" Arrows, Multi-Reticle Scope 4X32mm, Rope Cocking Device, Lightweight Side Mount Quiver, Lubrication Wax. Ships mostly assembled
BARNETT: The most trusted name in crossbows since 1962
Last update on 2023-09-20 / Affiliate links / Images from Amazon Product Advertising API
---
How a Crossbow Works
To use a crossbow, you first need to cock it. You can do it by physical force and pull back the lath or bow part of the weapon. Remember the weight of the draw we mentioned earlier. Tough stuff.
You can also use a cocking tool to make it easier. Once that's done, you must load it with the bolt or arrow. Now, you're ready to aim and shoot. The crossbow takes over your task of keeping the weapon cocked so that you can focus on what matters, namely, an accurate shot.
Using one isn't as fast as using a compound bow. That's one of the downsides, although many like the challenge that it offers. You can plan on getting off just one or two shots at the same time you can shoot three or four arrows with the regular type.
Carbon Express Piledriver Crossbolt 20in. Moon 6pk 52140
BONE-CRUSHING PENETRATION - Heavy grain weight creates maximum kinetic energy and greater knock-down power
ADVANCED CONSTRUCTION - Ensures spine consistency for greater accuracy. The composite material is extremely durable at impact for exceptional reliability and repeat performance.
REAL STRAIGHTNESS - Precision sorted for straightness to +/- 0.004", for repeat maximum consistency
SPECIFICATIONS: Fletched with 4" vanes, 20" size, 442 grains, 0.348" Diameter, 6 per pack, plus 6 universal flat nocks
CONFIDENCE IS KEY - Designed for the hunter who wants ultimate penetration, the PileDriver Crossbolt instills supreme confidence when tracking even the largest of prey.
Last update on 2023-09-20 / Affiliate links / Images from Amazon Product Advertising API
---
Types of Crossbows
The recurve crossbow is the one that most resembles its ancient origins. Instead of wood, modern versions use alloys of various metals. They're not light, and you'll feel it in your arms after a day of hunting. Yet, they are accurate and are an excellent choice.
You'll find other types that provide solutions to the cons of using one. You'll see repeating models and ones that bring some of the better features of a compound bow.
Pros and Cons of Using a Crossbow
You have to take both of these factors into account when researching if you need a permit to own a crossbow. The advantage is that you'll get a clean, swift kill if you use it for hunting. One could make a strong argument against a regular bow and arrow because inexperienced hunters often injure deer, which is inhumane.
While we don't oppose hunting, the responsible hunter will see the task through to its end. That's the best way to answer the criticism some face with hunting.
You also have time to aim to help ensure an accurate shot. That can make using one more satisfying to a hunter since it will increase your success rate. Your family will appreciate it, too, when it comes to enjoying the many dishes you can make with game meat.
However, there are other valid reasons to consider learning how to use a crossbow. Using one gives physically challenged individuals, or a disabled hunter, an opportunity to hunt. That's why you'll see legal hunting seasons for these populations in many states.
Remember that hunters assume the role of the predator which would control prey populations of animals such as antlered deer (or antlerless deer), and migratory birds. Using a crossbow isn't theoretically different from using a shotgun or rifle. The end result is the same.
However, a crossbow is the proverbial double-edged sword. Some say it kills too well. The bolts can travel over 350 feet per second versus the 250 feet of a compound bow. That could mean the difference between a successful hunt and an unsuccessful one. That fact puts it on a par with a firearm.
Nonetheless, it also makes the crossbow a more dangerous weapon. That's why the question of if do you need a permit to own a crossbow isn't a cut-and-dry answer. No, it's not a firearm, but it still could maim or kill someone.
That's why you'll need to know the boundaries of your property.
Sale
Last update on 2023-09-20 / Affiliate links / Images from Amazon Product Advertising API
---
Do You Need a Permit to Own a Crossbow? Legalities of Ownership
The legal question and crossbow laws have many facets. Many states require a crossbow permit or archery license for its use, such as for deer hunting or hunting a variety of other game animals, some more appropriate than others when considering the force of the weapon. Like firearms during gun season, you'll likely see a lot of regulations for crossbow season that address the potential dangers for crossbow hunters.
Many of the regs mirror those of shooting a compound bow. During bow hunting season, you must be a certain distance from human dwellings and roads. Some states regulate when you can use a crossbow and your crossbow license, limiting it to archery season. If you live in the country, you may be able to use it on your property.
Bowhunting is legal in most states, with crossbows riding on the coattails of these game laws. Some may specify certain bow lengths or draw weights. Others center on the length of the projectile. They may also define the type of point that you can use. Our advice is to check the details to play it safe.
How People Use Crossbows Today
Over 15 million Americans have a hunting license and hunt some type of game, whether or not they use this weapon. Hunting season is where you'll see crossbows used most often. However, there is a global community of users who appreciate the sport of using this weapon outside of the realm of crossbow hunting, and the skill involved.
Morrell Yellow Jacket YJ-425 Outdoor Portable Adult Field Point Archery Bag Target with 2 Shooting Sides, 10 Bullseyes, and Carry Handle, Yellow
ARCHERY BAG TARGET: Archery target bag designed to take your skills to the next level; 20 inches long, 15 inches wide, and 20 inches tall
MADE TOUGH: Durable, intuitive construction approved for use with high-speed crossbow and compound bows; Stops up to 425 FPS and is the ideal archery tool for field point arrow tips; MLDD and IFS technology allows for a long lifespan sure to last long past the first use
PRACTICE MAKES PERFECT: 2 shooting sides and 10 bullseyes, allowing the versatility your training regimen needs; Easy arrow removal allows for the whole family to take part in outdoor fun
PORTABLE: Carry handle and lightweight, 32-pound design lets you bring your target with you wherever you go
WEATHER-RESISTANT: Weather-resistant surface to follow you outdoors and hold up against the elements
Last update on 2023-09-20 / Affiliate links / Images from Amazon Product Advertising API
---
Tips for Using a Crossbow
A lot can go wrong if when a bow hunter uses an inferior weapon. Don't skimp when investing in a crossbow for hunting or archery equipment. A reputable seller can set you up with a weapon in your price range. The same advice applies to your arrows and broadheads. It can mean the difference between a clean kill and an injured animal while bow hunting.
We'd also suggest practice — and lots of it to get a feel for how your crossbow shoots and its trajectory. Look for and consider its abilities, such as your bow's minimum draw weight. Even if it's legal to use one where you live, make sure you know how to handle it to reduce the risk of those dreaded, unintended consequences during deer season or archery competitions.
Also, follow the manufacturer's recommendations for maintaining your crossbow. That will reduce your risk of injury from a malfunction. Think of it as doing your bit for the community of users. Laws and regulations often are reactionary to a single event no matter what the slim odds of it happening again.
Don't be that guy.
Animals You Can Hunt With Crossbows
If you're wanting to pursue hunting with a crossbow, you may be wondering what kind of animals are best hunted with this type of weapon. The truth is, you can hunt pretty much any kind of animal with a crossbow. From waterfowl and migratory birds to deer and wild hogs, if your aim is good enough, you can successfully shoot and kill most animals with your bow.
That said, there are animals that are most commonly hunted with crossbows and other bow variants. The most common animals that bow hunters kill include:
Deer species including mule deer, whitetail deer, and elk
Birds such as waterfowl and primarily turkeys
Very experienced bow hunters may even kill rabbits, squirrels, or large predators such as coyotes. It's worth noting that you'll have to get much closer to your target to get a clean kill than you would with a firearm. Be sure that you are at a reasonable, yet safe, distance before taking your shot.
Final Thoughts
Using a weapon that harkens back to the times of ancient Greeks and Romans is a rush. Crossbow ownership puts you in touch with history in a way few things can. If you want to use a crossbow for target practice or arrow hunting during archery deer season, we get the attraction.
Legally, you can use a crossbow to hunt in most areas within the parameters of state and local game laws. The question of if you need a permit to own a crossbow often follows the same regulatory path as using a compound bow. The law is on your side if you live in a rural area and use it far from the road or dwellings. Be sure to check your local laws to see if you need a crossbow hunting permit.