Americans are spending more time outside. We're enjoying the benefits that outdoor living offers. Over 90 percent of new homes include some features to make it more pleasant. Slate patio ideas are an excellent choice. It ticks off a lot of the boxes that people want in these spaces.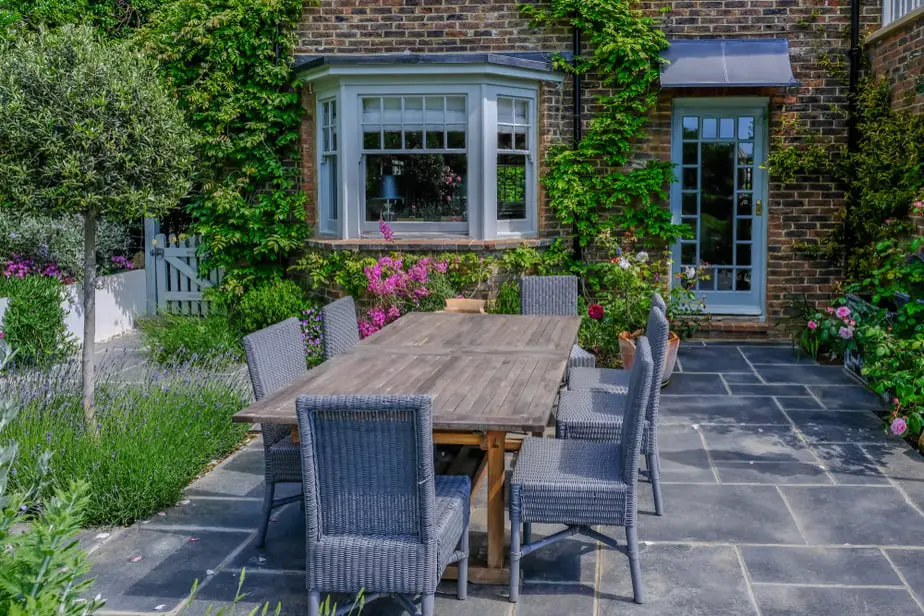 The versatility of this material lends itself well. It works with a lot of different landscaping themes and uses. That says nothing about the beauty of natural products like slate. It fosters a connection with nature. It brings serenity and calmness to your patio.
We can't get enough.
Not sure where to begin? Let our lineup of ideas inspire you. They will help make your outdoor living space with the look and feel you want.
1. Stick with Natural Materials in Your Furnishings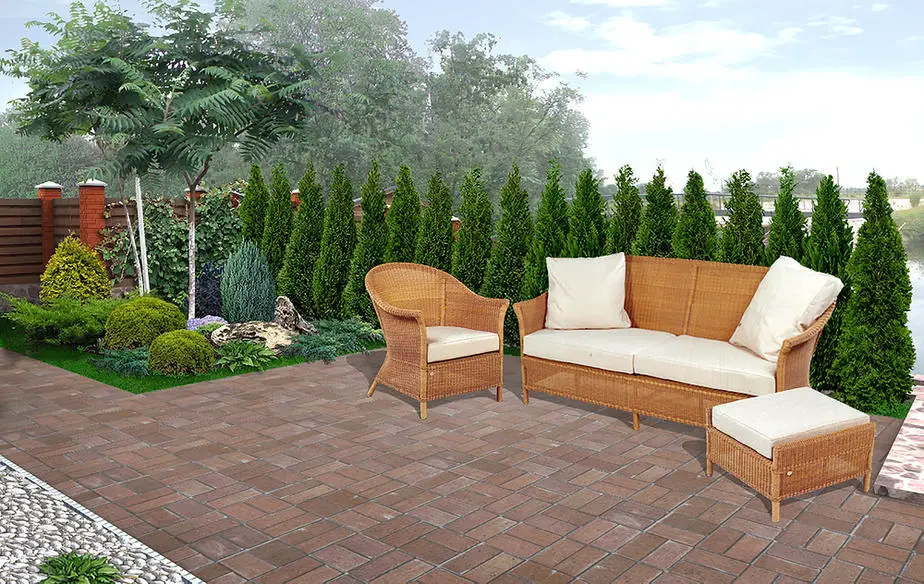 Slate brings an earthy element to your landscaping. It's something on which to build. Use other natural materials like rattan, wicker, and wood for your furniture. We love the look of them coming together. They create this inviting feel that is irresistible.
Keter Rio 3 Piece Resin Wicker Patio Furniture Set with Side Table and Outdoor Chairs, Brown
CHAIRS MEASURE: 30. 5 in. W x 21. 3 in. D x 31. 1 in. H
TABLE MEASURES: 15 in. W x 15 in. D x 14. 4 in. H
RESIN CONSTRUCTION: Made out of durable, rust-proof, all-weather polypropylene resin for exceptional durability
DURABLE: Molded rattan design is more durable and comfortable than woven rattan - will not warp, dent, rust or peel - Unlike real rattan and wicker
LOUNGE SEATING: Provides comfortable lounge seating with a weight capacity of 299 lbs. per chair
Last update on 2023-09-18 / Affiliate links / Images from Amazon Product Advertising API
---
2. Add a Stone Wood-Burning Stove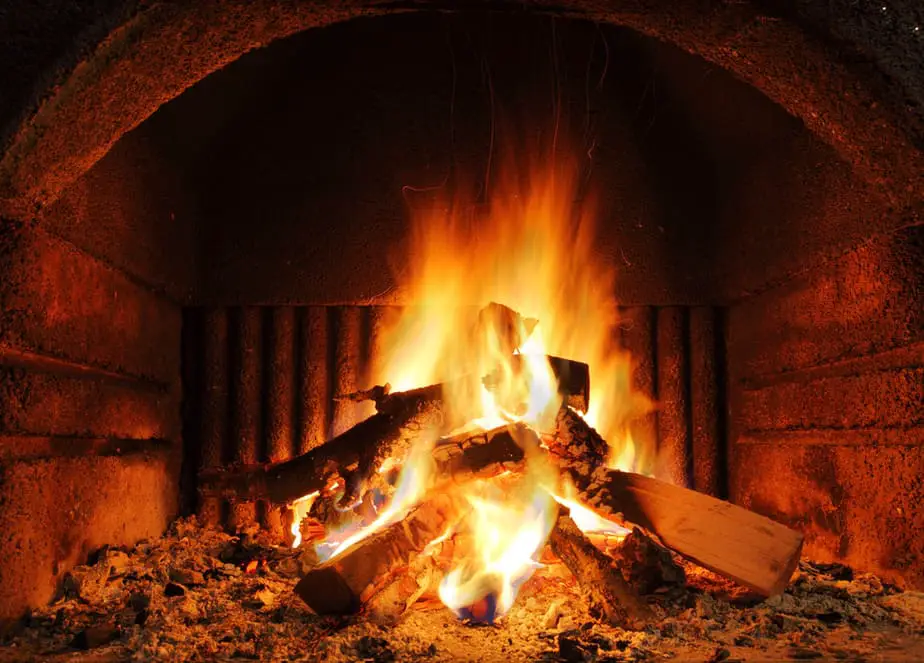 There's a certain something about a brick fireplace. It draws us closer to enjoy the warmth and dancing flames. It's a natural with for slate patio ideas. All the rocks absorb the heat.  It can do double duty. It can keep everyone toasty warm on a cool fall evening.
3. Add Some Native Plants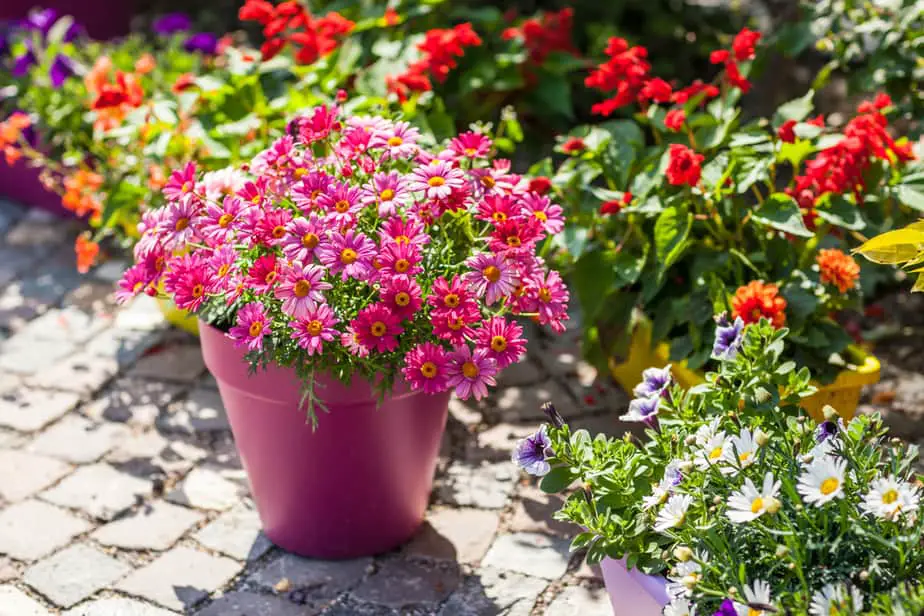 Native plants are one of the hottest trends in outdoor living spaces. It makes sense too. You have species that are well-adapted to your climate and hardiness zone. They can handle the area's drought conditions and the temperature extremes during the off-season. It also adds to the natural theme for slate patio ideas.
4. Plant Ground Cover to Fill in the Spaces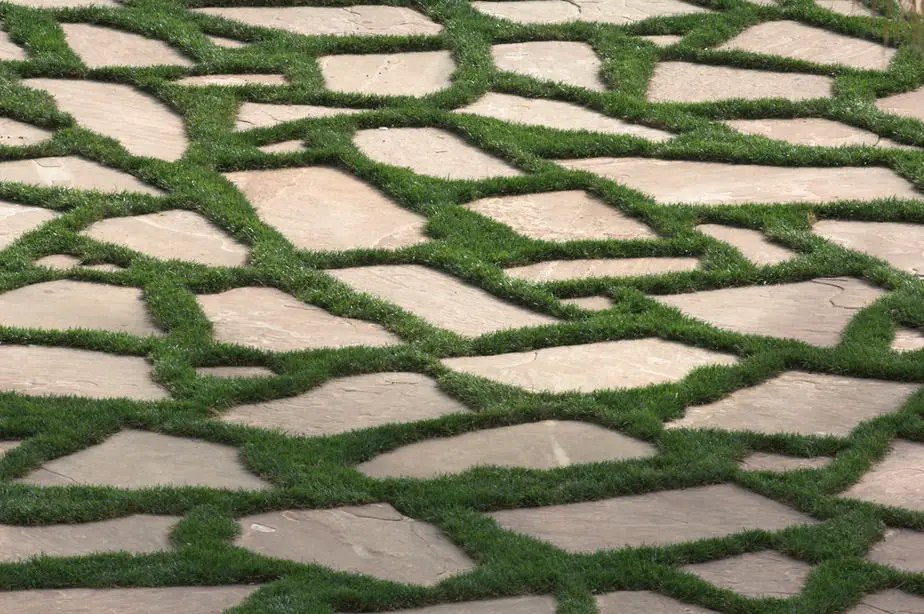 The beauty of slate is that it's not always uniform. We think that it's part of its charm. It's also an opportunity. You can plant ground covers like thyme. It will fill in the gaps. The plants will add a delightful scent to the air when you walk on them. It will help to keep your substrate in place too. It will also slow surface runoff.
5. Make it a Stairway to Good Times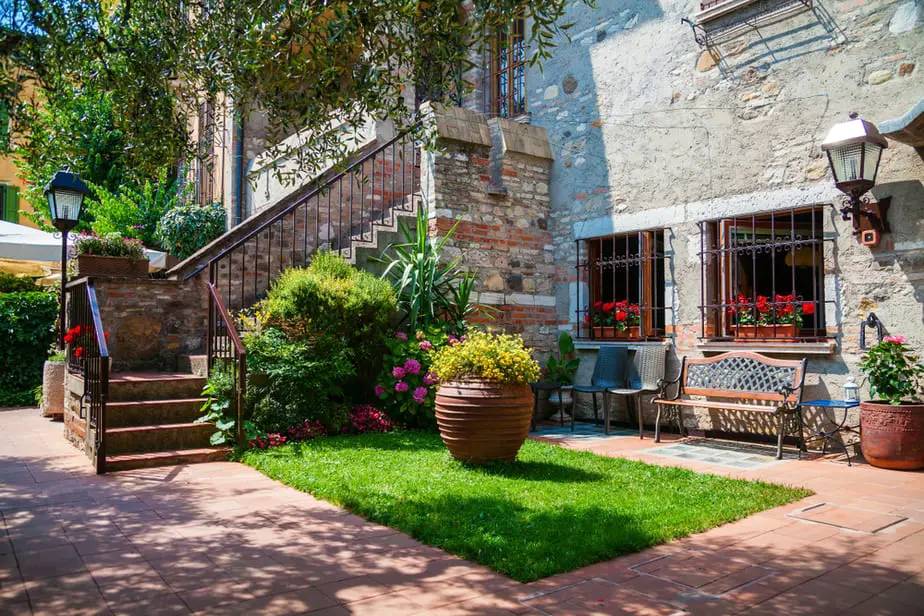 Slate has a classy feel about it that is undeniable. It invokes images of a grand palace that has existed forever. Bring the grandeur home with a stairway of the same material. You'll feel like a queen descending the stairs to your well-appointed backyard.
6. Add Water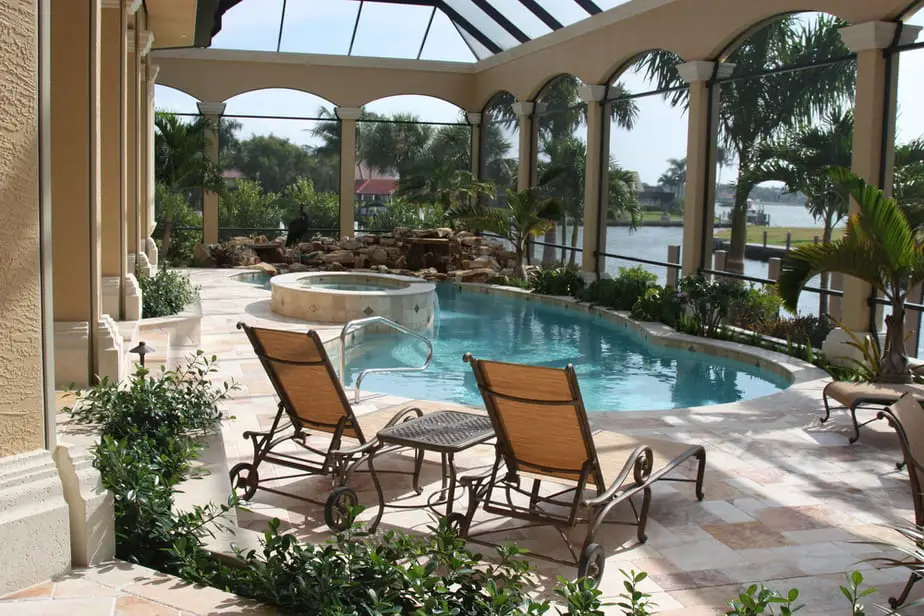 The combination of water and slate is a natural. The coolness of the stones feels delightful when you walk barefoot right out of the pool. Add a chaise lounge and a pitcher of iced tea. Now, we have found our happy place this side of heaven.
7. Explore Patterns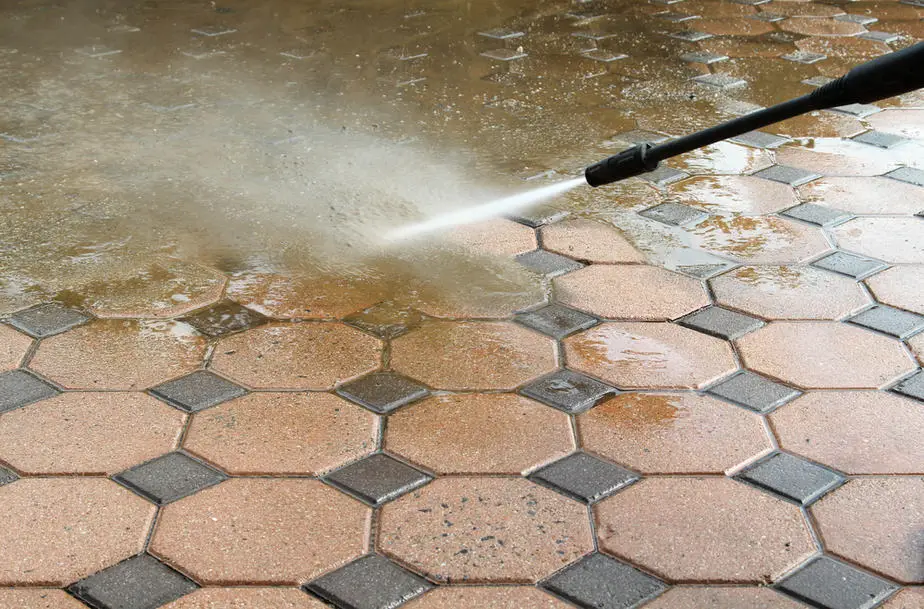 One of the leading benefits of going with slate patio ideas is its versatility. You can add patterns and artistic elements. That will it the focal point in an eye-catching way. We like geometrical shapes because of their simplicity. They create a sense of order to your outdoor space that we love. It's also a way to add other design elements to your landscaping. They create unity and harmony.
8. Create a Sense of Timelessness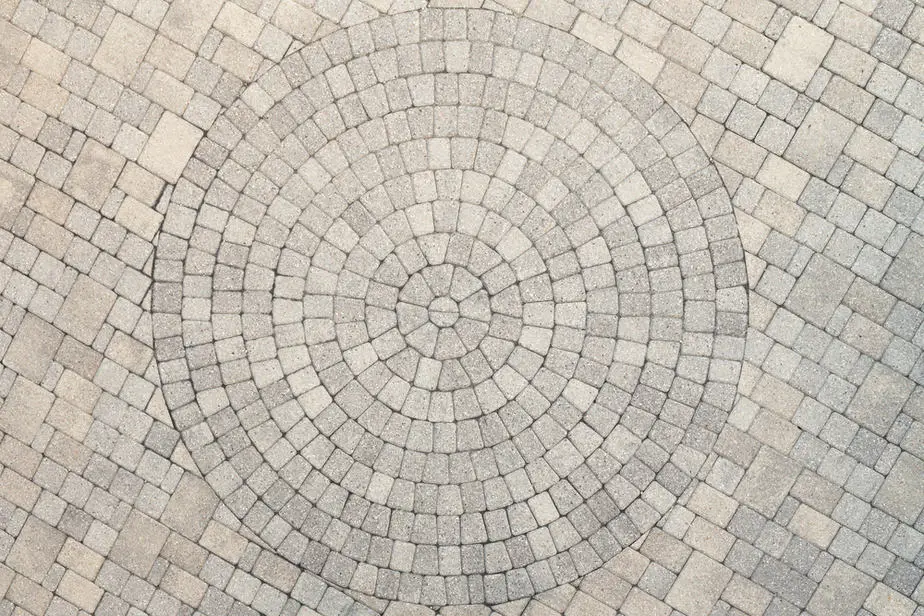 Slate has an advantage over other patio materials. It has a sense of timelessness because it is an ancient building material. It connects with the ages in a way those modern ones cannot even hope to get. While the production is manmade, the stones are nature's doing. We love the appeal of classic forms like this circular pattern. It creates a focal point that is timeless.
9. Go Minimalist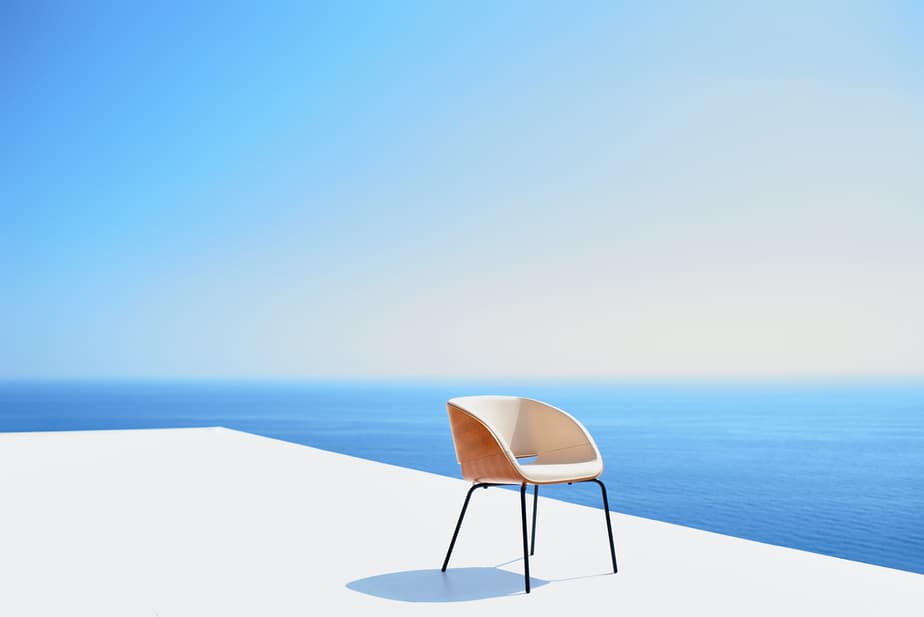 You'll find that slate patio ideas go the gamut from classic to contemporary. That's one reason to consider them no matter what your landscaping theme. They are durable. They are environmentally friendly when compared to treated wood. A slate patio is a perfect option if you want the clean and uncluttered feel of a minimalist outdoor living space.
10. Give Your Patio the Mediterranean Vibe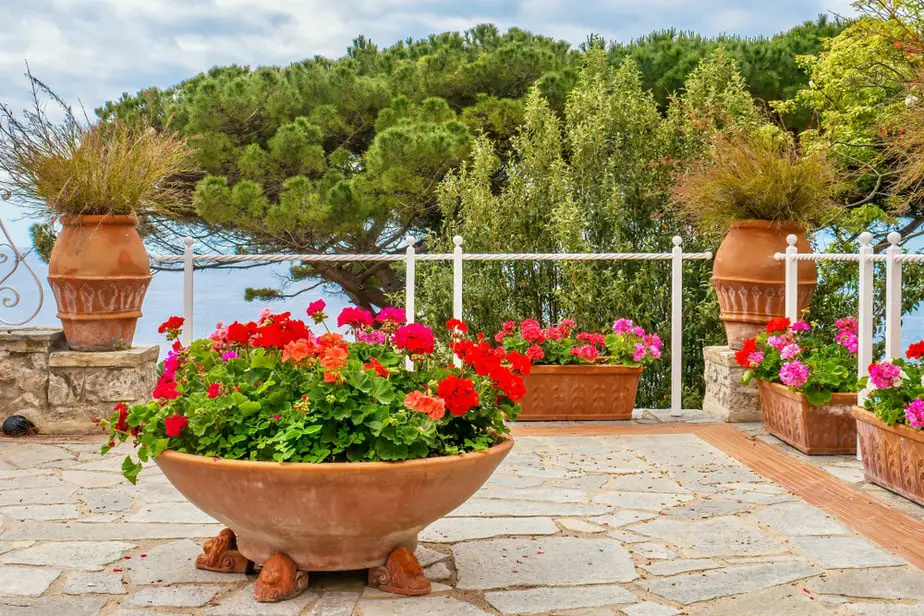 Your slate patio is just the beginning. You can use it as the foundation to create a theme. We love the idea of a Mediterranean theme. Create the feeling of an Italian villa. Use irregularly cut stones, bright colors, and tropical foliage with lots of flowers. It's the ultimate in a staycation. All you need is a chilled bottle of Prosecco to bring it home.
Best Choice Products 98x80in Retractable Awning, Aluminum Polyester Sun Shade Cover for Patio, Balcony w/UV & Water-Resistant Fabric and Crank Handle - Beige
DURABLE MATERIALS: A light, but strong powder-coated aluminum frame resists breakdown while the UV- and water-resistant polyester features a PU coating for added longevity
ALL-WEATHER COVERAGE: An ideal space to enjoy the weather, rain or shine this canopy is up to the task to provide UV- and water-resistant coverage
RETRACTABLE HAND CRANK: Freely and smoothly open and close the canopy with the easy-to-access, retractable 60-inch hand crank
LARGE SHADED AREA: The large canopy covers up to 54 square feet and is unimpeded by support structures-ideal for entertaining guests!
USE IT ANYWHERE: Use the included mounting hardware to set up this canopy in stucco, vinyl, or wood and on any balcony patio or window!; OPENED DIMENSIONS: 98.5"(L) x 80"(W) x 6.5"(H)
Last update on 2023-09-18 / Affiliate links / Images from Amazon Product Advertising API
---
11. Bring Earth, Wind, and Fire Together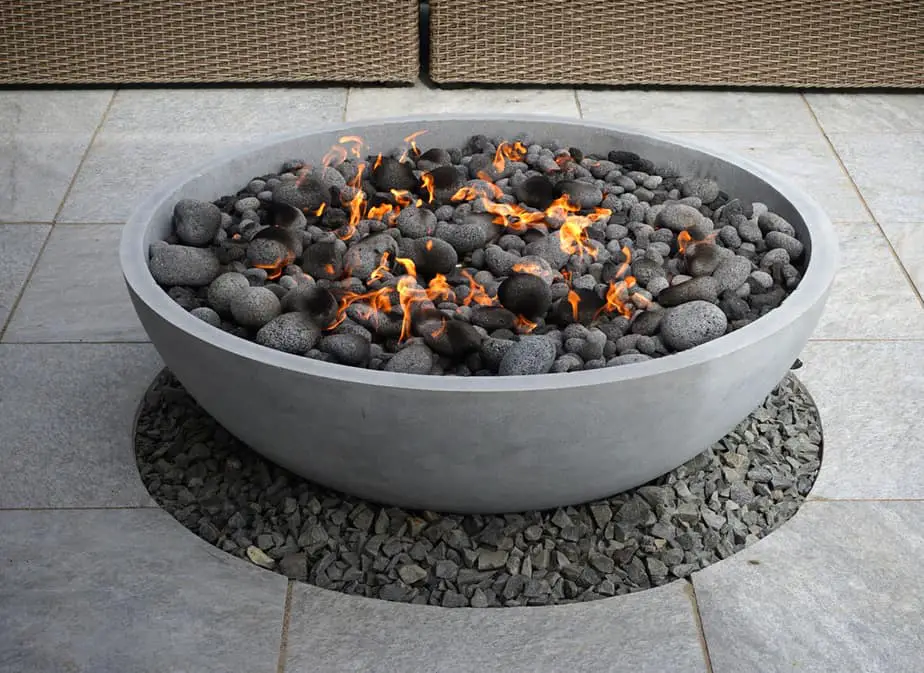 The slate brings nature to your patio. The open space gives the wind a place to roam. Just add a fire pit. And you've connected all the elements together in one place. Priceless. The benefit of this scheme is that you'll extend the useful period of your outdoor living quarters longer into the season. Who says you can't grill your Thanksgiving turkey or tailgate outside for the Super Bowl?
12. Make an Outdoor Kitchen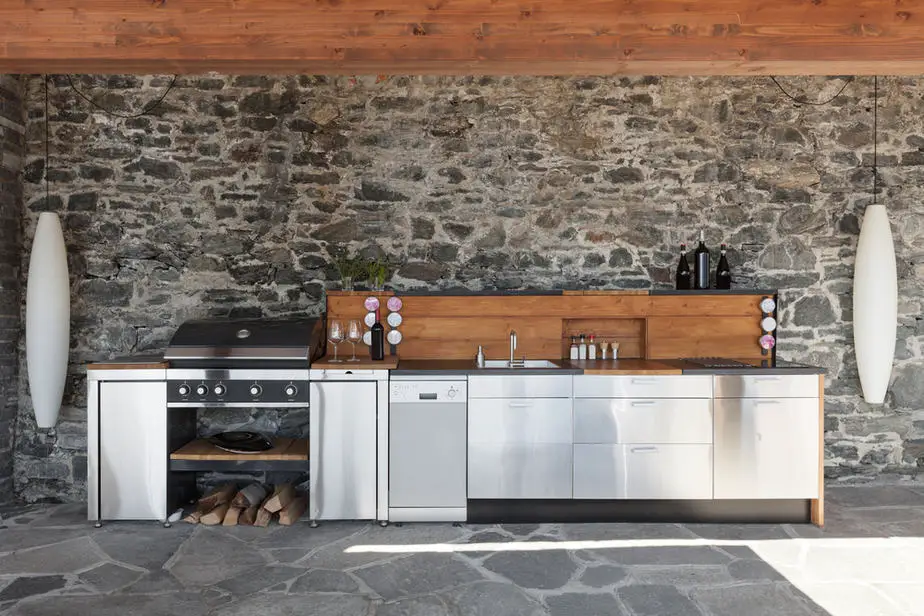 The days of the simple Weber charcoal grill have evolved into something more elegant. An outdoor kitchen is fully equipped for easier grilling. Add a refrigerator, a wet bar, and even a TV to watch sports. The only rule is that there are no rules.
13. Heat it Up with Outdoor Warming Options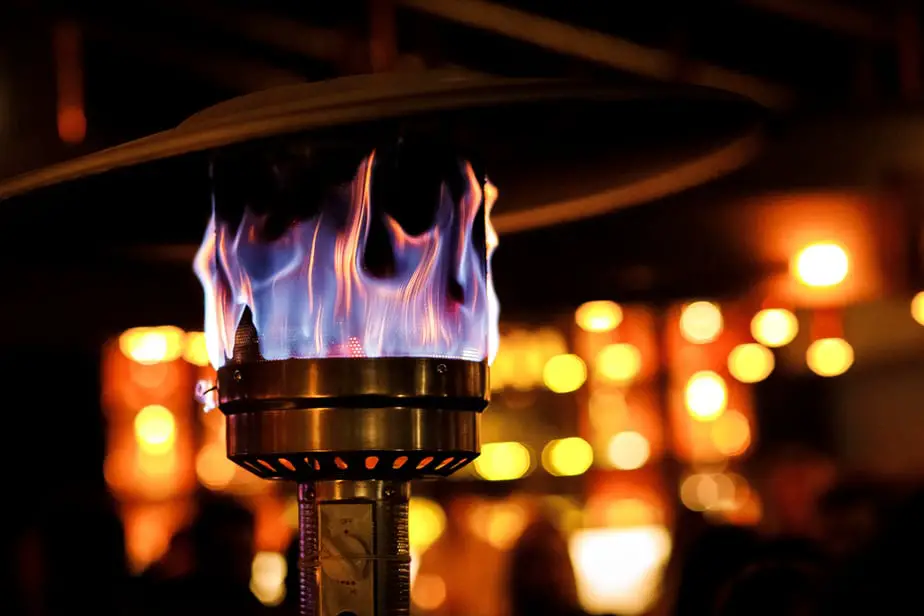 We'll admit it. One of the reasons we don't spend as much time outside in the summer is because of the mosquitoes. It's especially hard if there is standing water nearby or the conditions are ripe for more bugs. That's why we've embraced grilling out during the cooler months of the year. That also means you'll need some heat. Patio heating products are hot because we can extend our outdoor time.
Last update on 2023-09-18 / Affiliate links / Images from Amazon Product Advertising API
---
14. Embrace an Open Feel for Carefree Alfresco Dining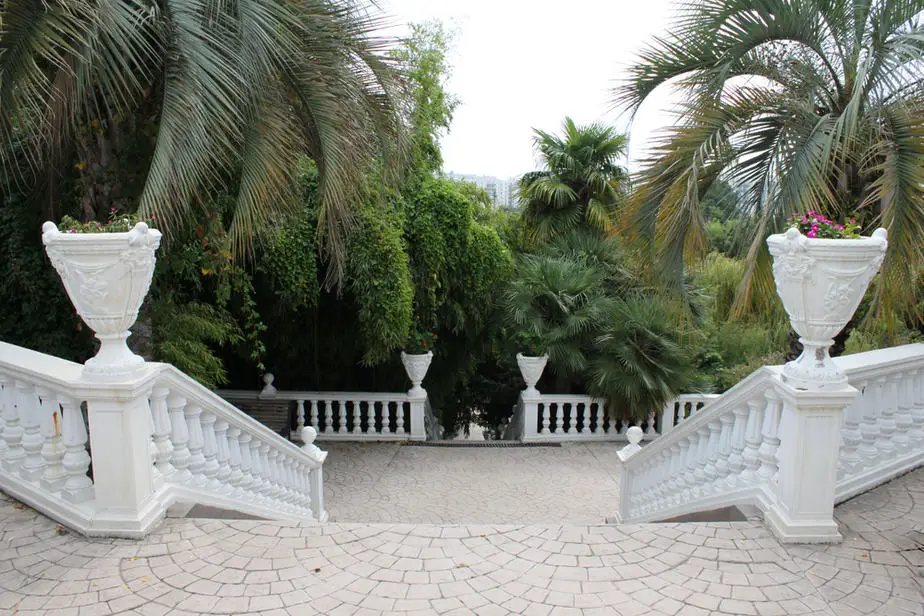 White-colored slate adds a feeling of openness to a patio. Your space will also feel cooler since it won't absorb heat as much as darker shades. It brings a sophisticated continental look that we love. This idea will also provide a background for some interesting contrasts. Think of darker-colored furniture against the light-colored stones for entertaining guests.
15. Add Some Symmetry to Your Slate Patio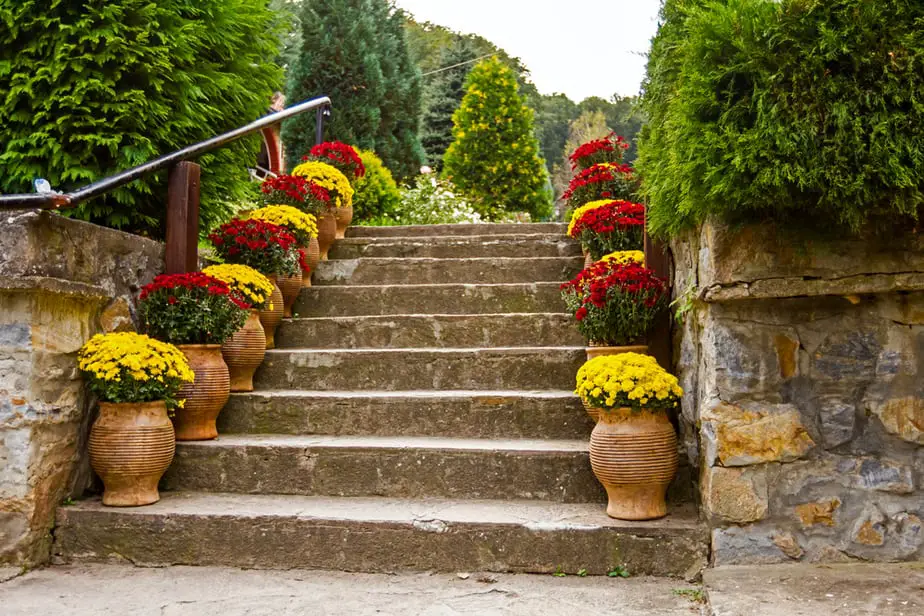 A staircase adds a formal element that you can tame down with potted plants on either side of the steps. It's an excellent opportunity to play with the effects of color harmony with complementary and analogous schemes. It'll add interest and encourage lingering.
16. Create a Garden Room
There's something so alluring about a garden room. It makes us think of a hushed conversation, sharing secrets and confidences. Add a glass of wine, and you have the makings of time well spent with friends and family. We especially like little nooks set off from the main outdoor living space to add a bit of privacy.
17. Complement Your Slate Patio with a Rock Garden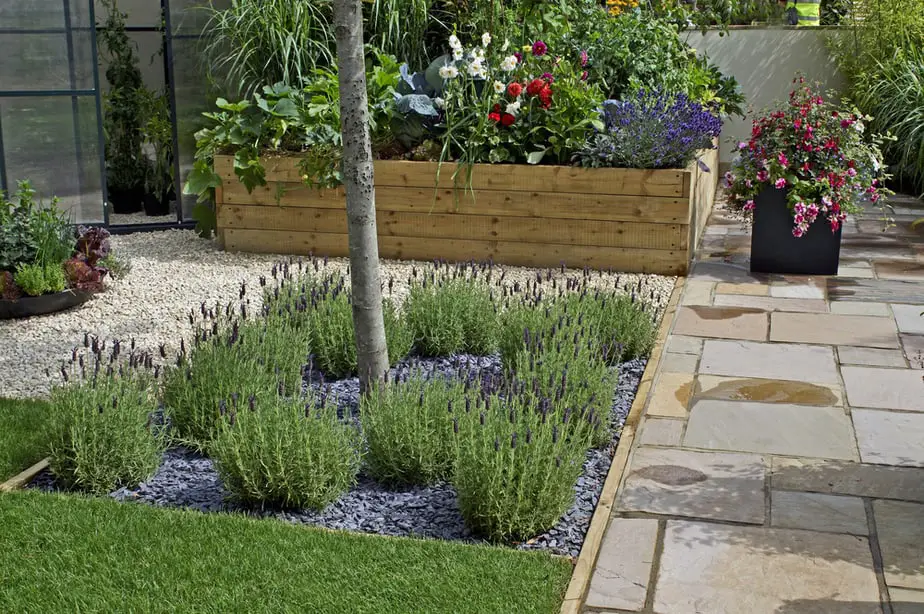 Rock gardens are an excellent way to create an attractive focal point. It will have minimal impact on the environment. You don't have to worry about soil erosion or runoff. Add drought-resistant plants in it. Then, you have the makings of a low-maintenance garden.
18. Add Pebbles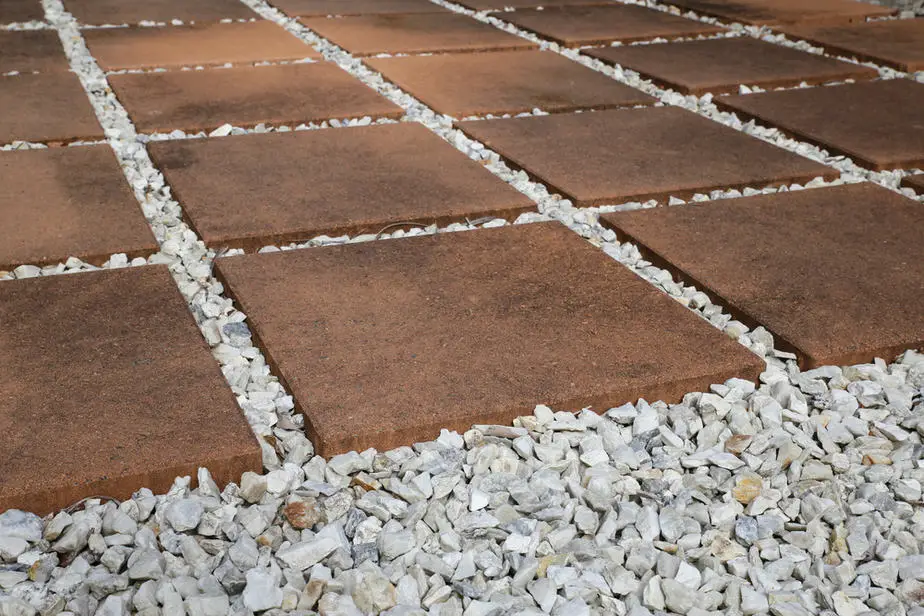 One problem that plagues homeowners with a patio of any type is weeds. They detract from the beauty of your slate patio. One way to avoid it is to set your flagstones on a bed of pebbles. That will put a barrier between the ground and the weeds. That will cut down on your maintenance.
19. Gimme Shelter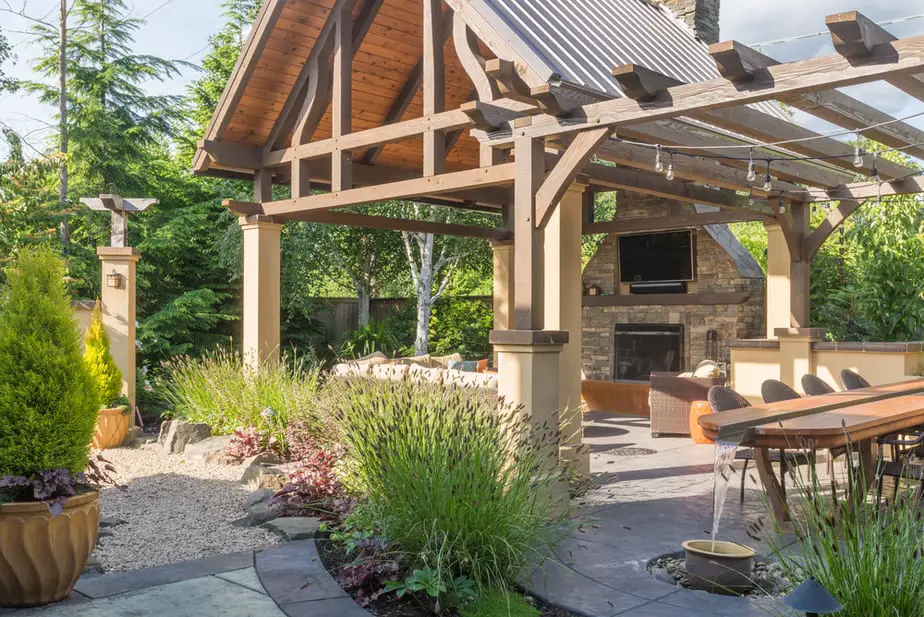 Slate patio ideas are just the beginning. Take this theme to the next level with a shelter. You could add a pergola or arbor. It will provide some shelter over your outdoor living space. That way, you can enjoy it even if the weather takes a turn. Think of it as an open living room. Throw in a heat source whether it's a fireplace or patio heater. Then, you have someplace you can enjoy well into the fall.
20. Make an Oasis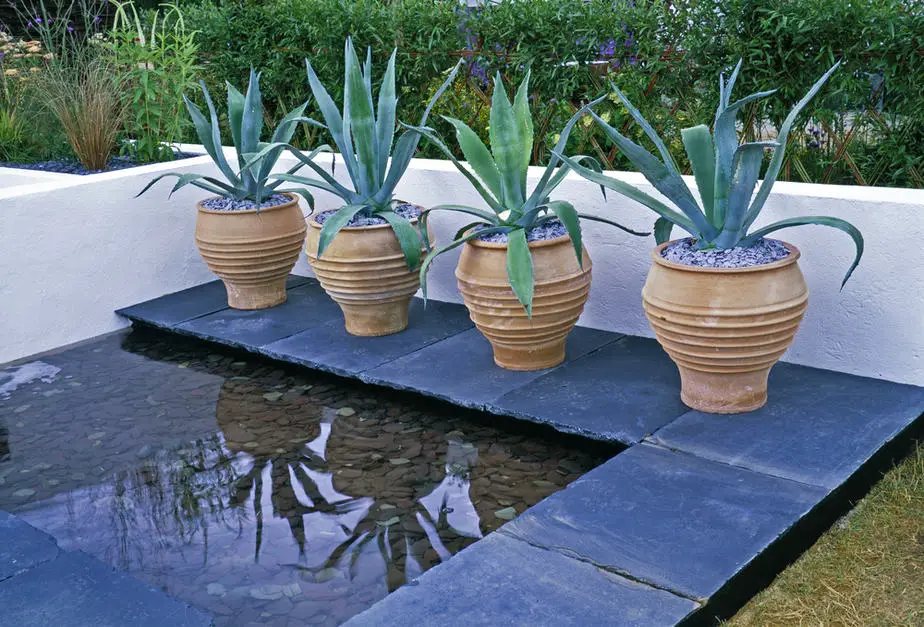 Slate has a feeling of stability and durability around it that makes us feel safe and comfortable. Take it to the next level and create your own oasis. Plants and a pond add to the serenity that it creates. Imagine relaxing here without a care in the world. Now, this is living large.
Final Thoughts
There's a certain something about slate that we love. Perhaps it's its connection with the Earth that draws us to it. Or maybe it's because it seems strong like it'll last forever. Our round of slate patio ideas brings these concepts to the forefront. Well, all we can say is that if you want something that says class, you needn't go any further.