For many homeowners, getting a patio is their idea of a dream come true. If you're the sort of person who is always throwing parties and events at your home, then a patio will come in handy. Patios can be the perfect space for your guests to hang out, and if parties are not your cup of tea, enclosed patio ideas provide a place where you can relax after a long day at work.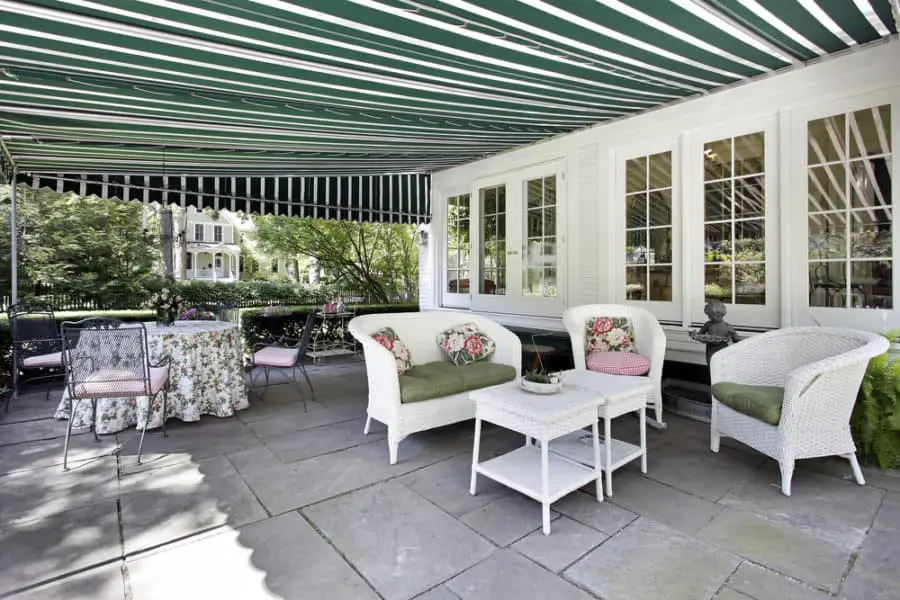 That said, there's just one problem left. Most patios are designed as open spaces, which leaves you vulnerable to environmental elements. If you live in a warm region, then the temperatures won't be much of a problem, but if you live in a place that can get colder than a polar bear's toenail and it rains often, the concept of a patio can seem a tad pointless – but all is not lost; we've compiled 15 of the best enclosed patio ideas, and highlighted everything you need to know to get started.
How Much Does a Patio Enclosure Cost?
Many are surprised to learn how costly it is to enclose a patio. You can spend as little as $500 or as much as $23,000. On average, you can expect to spend about $15,500 on the whole project. This article breaks down the cost of installing a patio enclosure so you can get an idea of how much yours may cost.
Although this expenditure is anything but small, you should keep in mind that an enclosed patio comes with multiple benefits. The most important of these is that it increases year-round living space that you can enjoy at any time. Among all the rooms in a home, there's no better place to lounge than a patio.
Factors that Determine the Cost of an Enclosed Patio
As with all home renovation projects, a variety of factors come into play when determining a patio enclosure cost. The main aspects of patio design cost include:
Size
This is a no-brainer. The biggest aspect that influences the cost of installing an enclosure is the size of the patio. For example, you'd spend much less enclosing a patio with an area of 300 square feet than you would if the patio was 1000 square feet. A bigger patio will require more materials, not to mention that such a project will take longer; thus requiring a higher investment in labor costs.
Choice of Enclosure
When it comes to patio enclosures, there is a myriad of options to choose from. The first, and most traditional, method is to put up a roof. The average cost we mentioned earlier largely relates to traditional patio roof enclosures. With this alternative, a roof is used to surround and cover the gazebo.
Another popular option is an awning. Some people prefer awnings because they are cheaper to install than roofs. With an awning, all you have to do is cover the sides of your patio using screens. The downside to using awnings is that they're not as strong as actual walls or roofs.
Windows
Should you decide to use a basic enclosure, then you'll spend the largest portion of your budget on the windows. If you live in an area that experiences heavy winds, ensure you go for strong and durable windows for your patio enclosure. A cold climatic region calls for double-glazed windows for better insulation.
Keep in mind that high-quality windows will cost more than the conventional type. You're sure to spend less on screens, but these can only protect your patio against pests and debris – which is why screens are mostly used in mild and warmer climates.
Permits
Each city and state has its own rules and regulations regarding building patios and patio enclosures. Most of them require you to have a permit for enclosing a patio. So before you start shopping for materials, check in with your local building department and go through the regulations.
Be sure to follow every detail outlined in the permit, especially if you're installing a patio in a state that requires them. If you fail to follow regulations, then you might be asked to pull down your entire patio.
Why Consider an Enclosed Patio?
There are many benefits that come with enclosing your patio. They include:
Creating an Entertainment Space at your Home
Whether it's a well-illuminated home office or second lounge that you've always wanted, an enclosed patio gives you a simple way of adding an extra room. If you want maximum light, go for tinted glass or smart glass to allow the natural lighting through.
Increasing the Lifespan of Your Outdoor Furniture
An enclosed patio minimizes the exposure of your outdoor furniture to external elements. If you leave your chairs and tables outdoors for a long time, they'll start to fade and deteriorate. If you have cane furniture, it will begin to lose its luster and if it's made of wood, it's likely to crack. Fortunately, a patio enclosure will keep your furniture looking good over time.
Enjoying Protection Against Downpour and the Summer Heat
Your furniture isn't the only thing an enclosed patio can protect from extreme weather conditions. Another perk of enclosing your patio is that you get to relax in it regardless of the weather. When it's raining, you can sit dry and happy, watching the rain from your enclosed nook.
Enclosed Patios Ideas
1. Wooden Outdoor Patio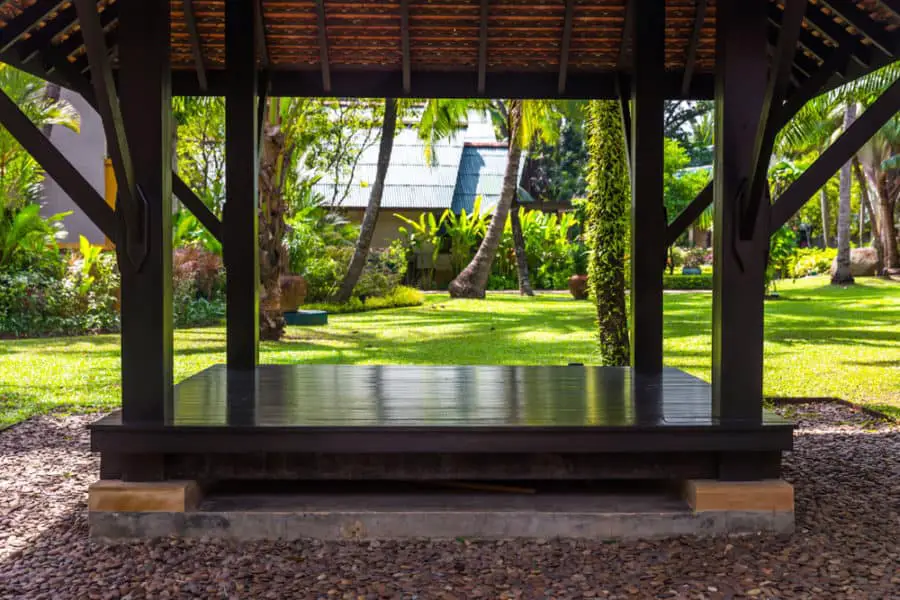 A wooden patio enclosure is the most widely used, and for good reason. It looks aesthetically pleasing and it's sturdy enough to keep weather elements out.
2. Sun-Room Patio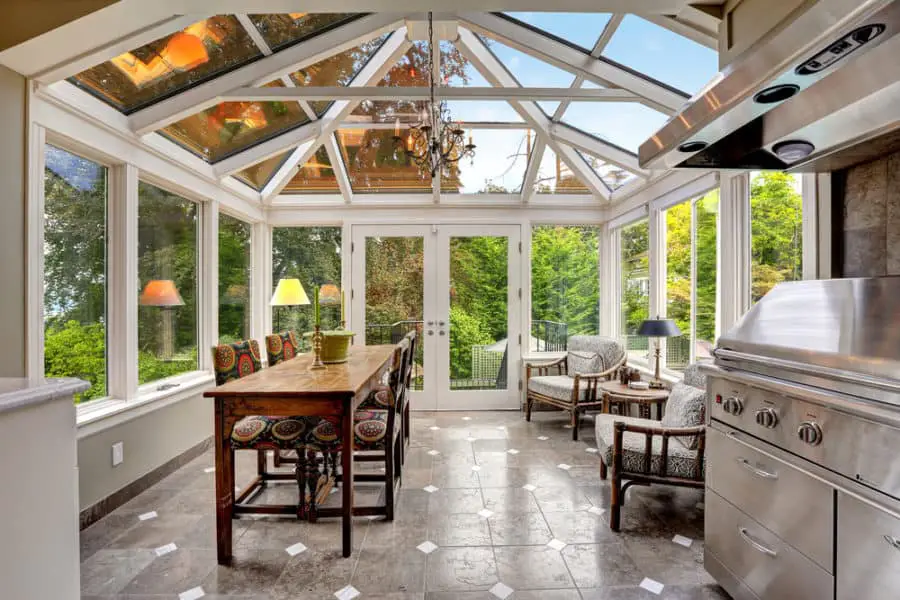 Considering a patio enclosure? This glassed-in space attached to the house, which doubles up as a living area, is a great choice.
3. Patio with Long Sun-Shade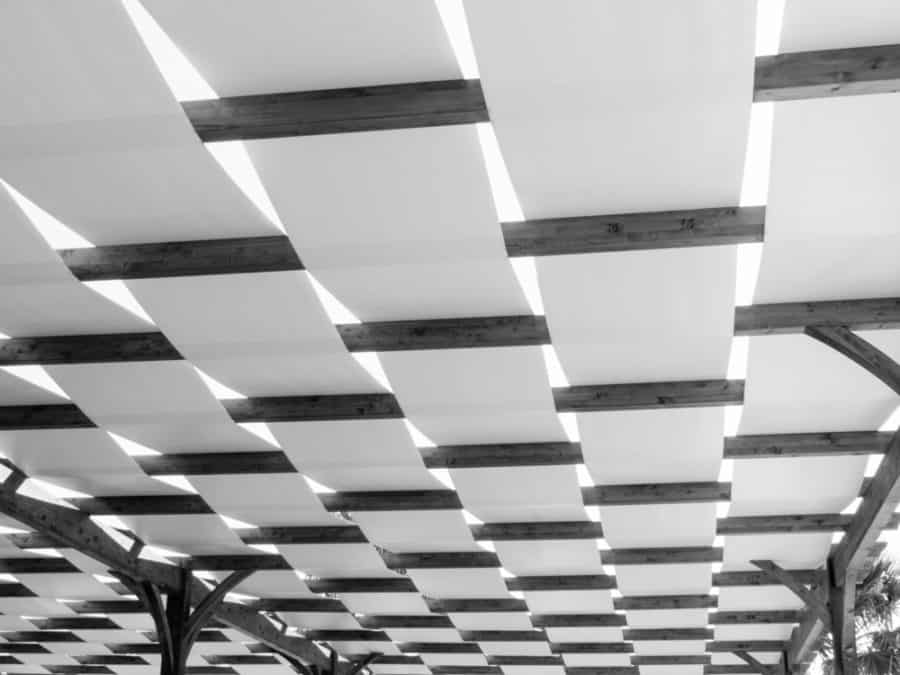 Your patio doesn't have to be all about basking in the sun. Occasionally, you might want to relax in a shaded patio like this one.
4. Modern Design Wooden Patio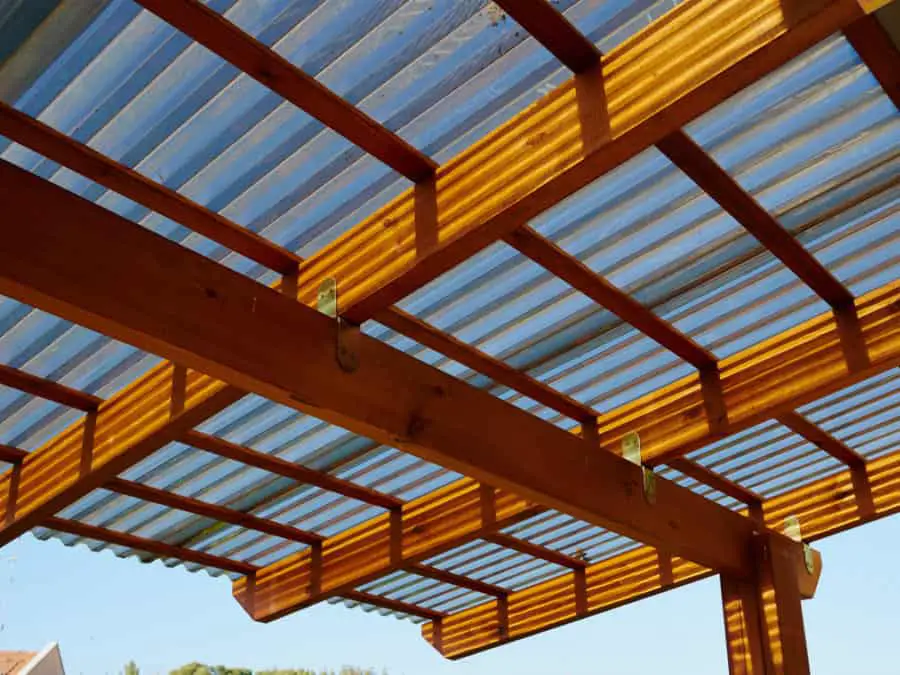 The beauty about this patio enclosure is that it combines wood and a translucent material. So while the wooden cover provides durability, the translucent sections allow light into your patio.
5. Blue and White Striped Patio Sun-Shade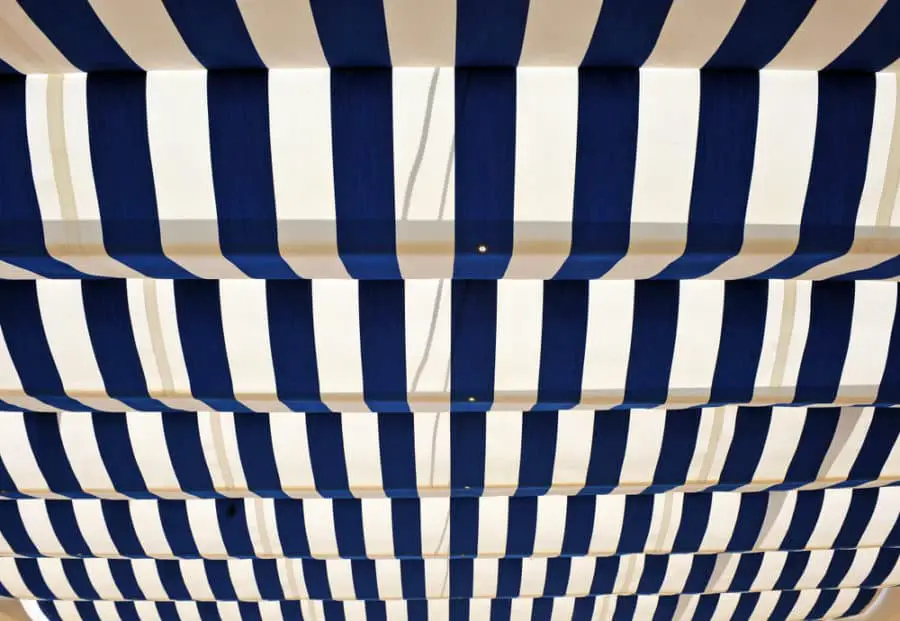 This patio enclosure consists of a blue and white striped sun-shade. Such an enclosure is only meant to prevent the harmful rays of the sun and not extreme weather elements.
6. Patio with Green Awning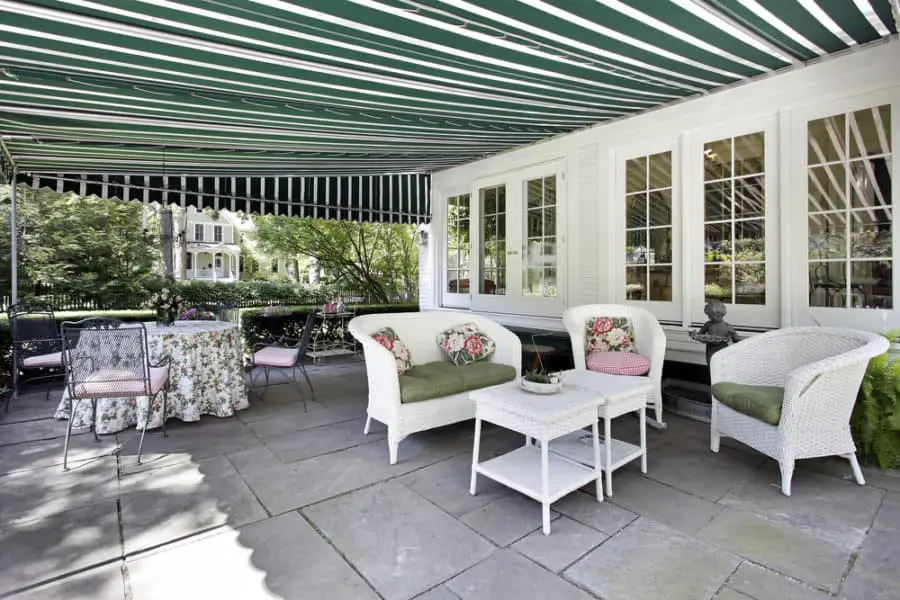 If you're looking for a patio enclosure that will complement the look of your home, this patio with a green awning is an excellent option. It's very spacious so you can place a variety of furniture and still have a generous amount of space left.
7. Roofing of Patio with Rope Tensioning Awnings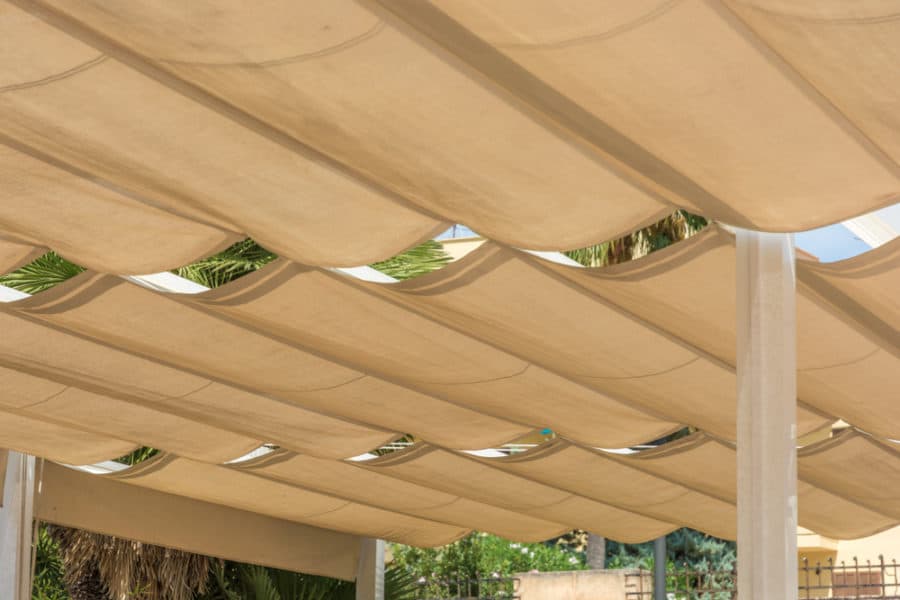 This patio is equipped with simple awnings. Although it's not as sturdy as other options, this patio enclosure can still protect you against light showers and harmful UV rays.
8. Modern Rooftop Patio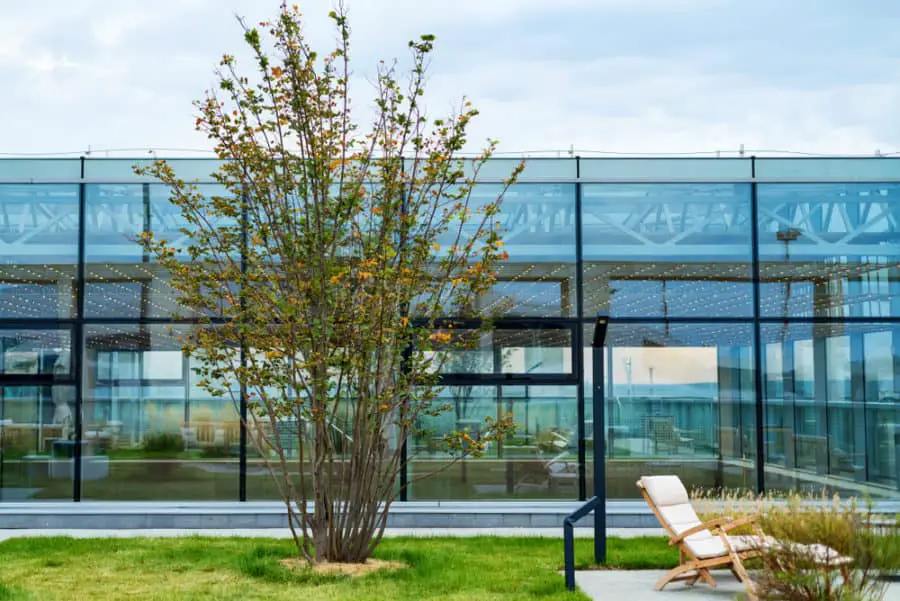 If you want maximum sunlight in your patio and still be protected from the rain and snow, this glass-covered patio is your best bet. This particular enclosed patio has clear lines that make it look elegant and sleek.
9. Screened in Patio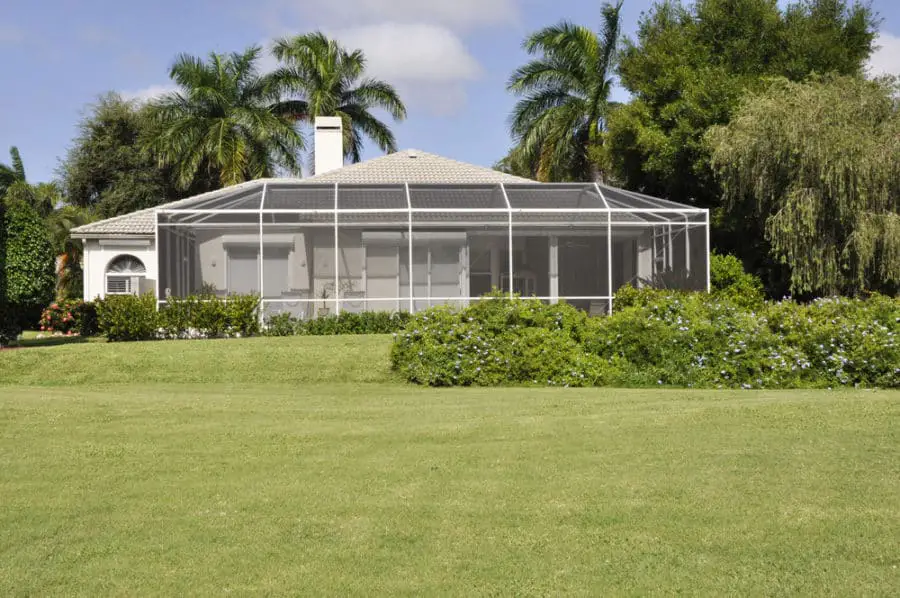 This screened in patio is beautifully enclosed with window screens all around it. This type of enclosure not only prevents the entry of bugs and debris but it also lets in the natural light.
10. Retractable Awning Patio Cover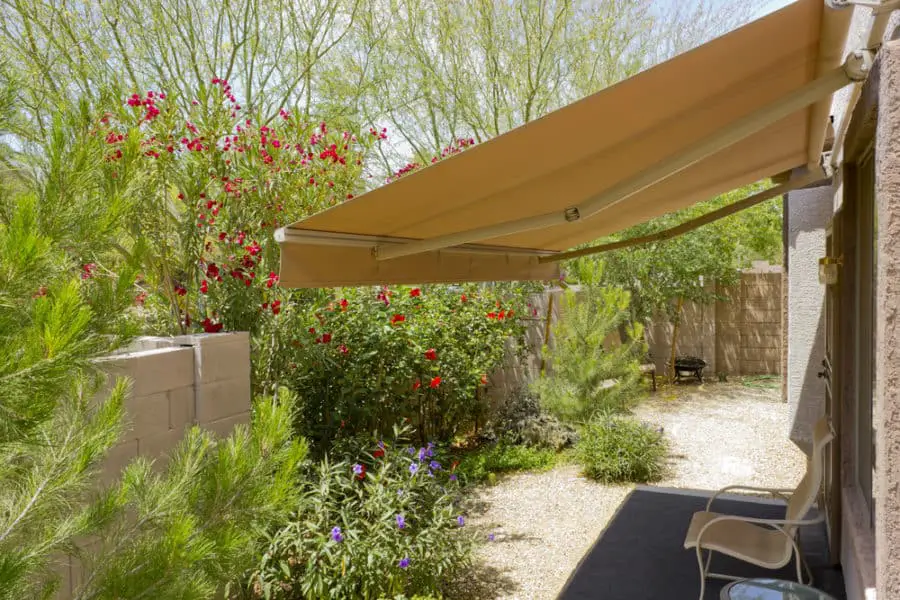 If you've been looking for a user-friendly patio enclosure, you can't do better than this retractable awning cover. With a simple click of a button, you'll be able to roll and unroll the patio cover as you want.
11. Thatched Patio Enclosure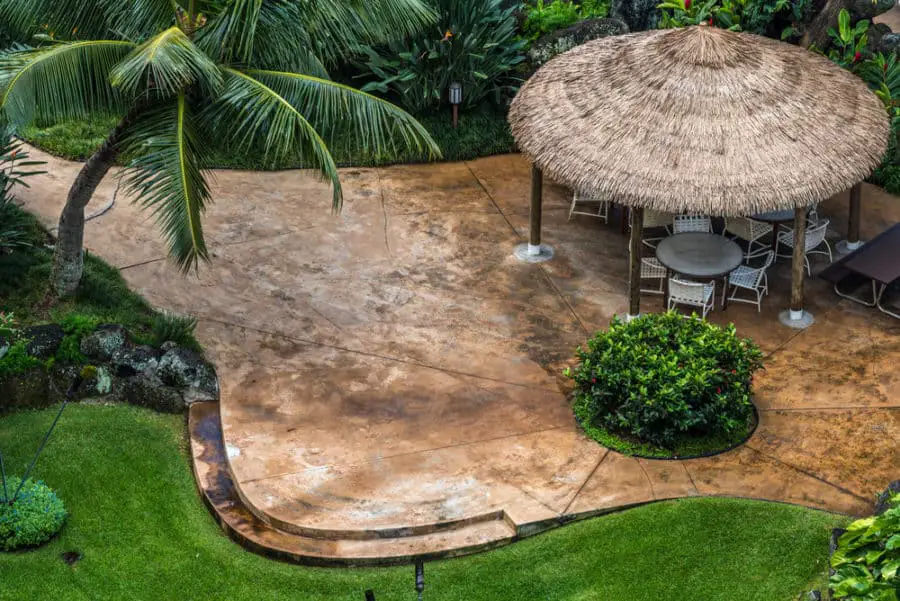 Looking to create a tropical island vibe in your backyard? Then this thatched patio enclosure is just what you need.
12. House Patio Cover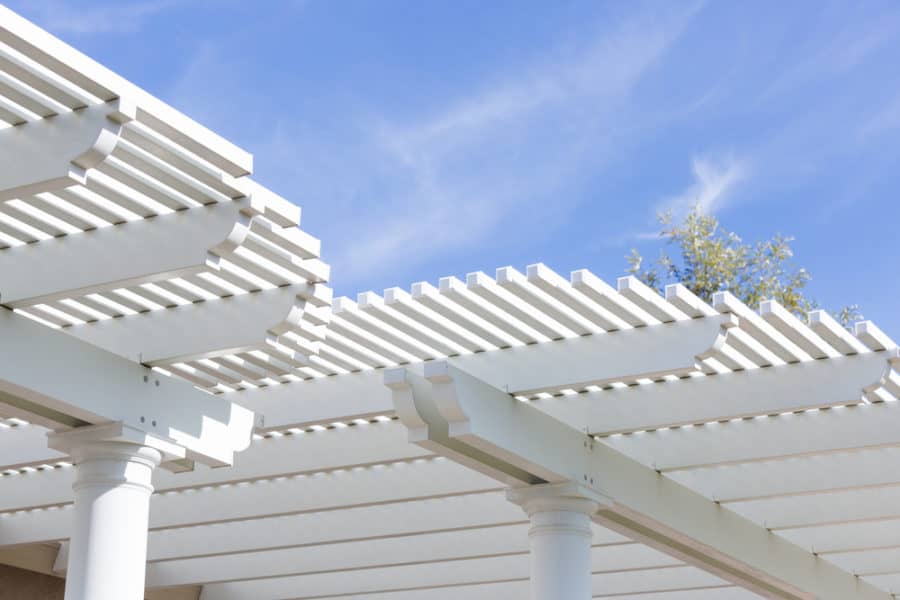 This is an unobstructed patio enclosure; hence, it illuminates your patio naturally. Plus, it warms up your patio space on those bright summer evenings.
13. Enclosed Patio with Wood Ceiling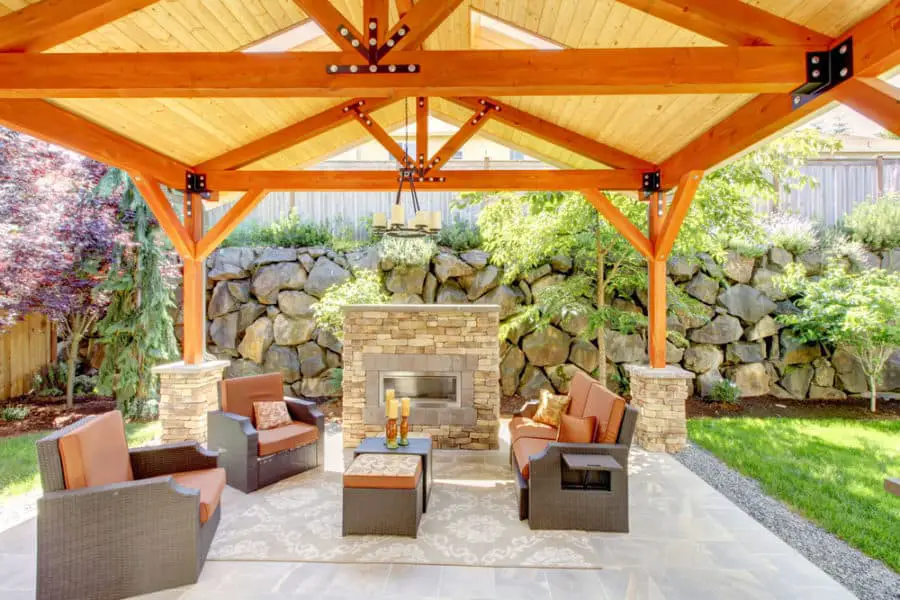 With the wooden ceiling, this simple patio is transformed into a real living area. The wooden cover matches well with the furniture and stone fireplace.
14. Patio with Steel Roof Enclosure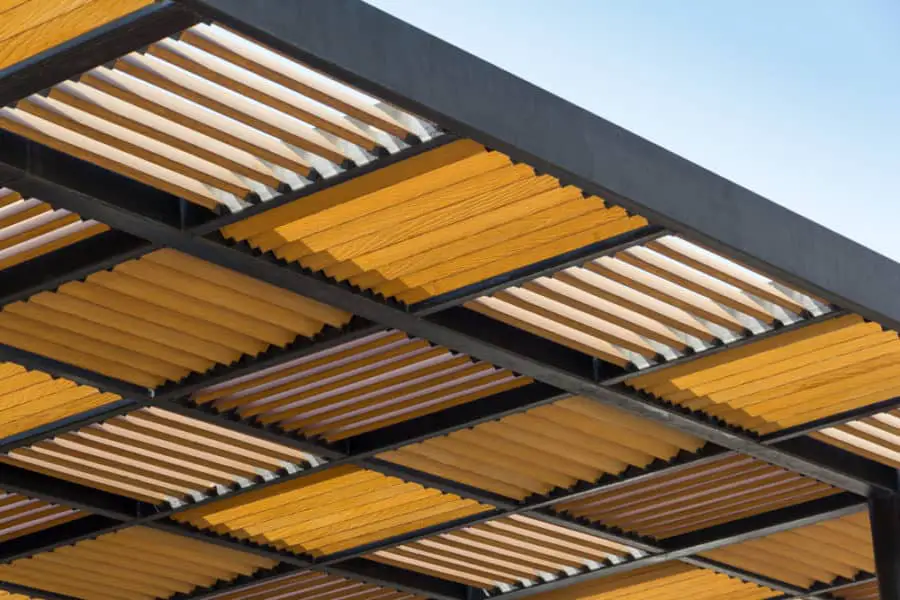 This enclosed patio consists of wooden slats and a steel roof structure. These patio covers are used for both residential and commercial purposes because of their durability.
15. Patio Umbrella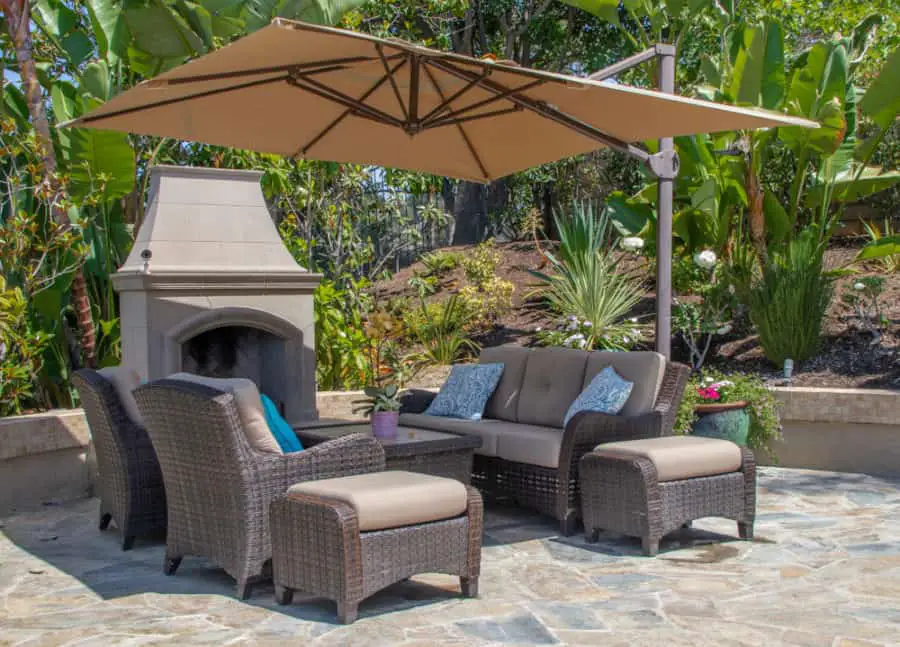 In case your budget or space limits you in terms of the patio enclosure, a patio umbrella is a good option to consider. However, it's important that you find a reliable source, determine the size of your space to ensure it fits, and know the features to look for when purchasing an outdoor umbrella.
Best Enclosed Patio Accessories
Now that you've got your enclosed patio idea all laid out, it's time to consider some accessories to add to your new space! In this section of the article, we'll be sharing some of our personal favorite enclosed patio accessories with you!
1. Suncast 33 Gallon Hideaway Can Resin Outdoor Trash
Suncast 33 Gallon Hideaway Can Resin Outdoor Trash with Lid Use in Backyard, Deck, or Patio, 33-Gallon, Brown
OUTDOOR PATIO TRASH CAN: Features a decorative wicker-style design for a stylish addition to your outdoor space
FUNCTIONAL DESIGN: Lid is hinged for easy access and latches securely so garbage stays in the can
CONVENIENT USE: Compatible with standard 30 gal. garbage bags for easy and convenient use
DURABLE CONSTRUCTION: Constructed with durable resin that resists fading and keeps water out through every season
COMPACT SIZE: Measures 16" x 15.75" x 31.7" to keep your porch clean without taking up too much space Coverage Area (sq. ft.): 1.75 ft²
Last update on 2023-09-16 / Affiliate links / Images from Amazon Product Advertising API
Everyone needs to have an outdoor trash can to keep your backyard tidy and clean after nights out with your friends and family. Outdoor trash cans don't have to be made of metal, unappealing materials. The Suncast 33 gallon Resin Outdoor Trash Can will look like another piece of your outdoor furniture.
With over 9,000 positive reviews, the Suncast Trash Can is a high-quality, visually appealing outdoor trash can option. It's available in three colors including brown, dark taupe, and white. The wicker decorative design of this trash can is perfect for matching all kinds of outdoor decor.
The durable resin build resists fading from the sun and protects the inside of the trash can from getting wet from rainy weather conditions.
What We Like:
Available in white, brown, and dark taupe
Affordable
Looks like another piece of outdoor furniture
33-gallon capacity
Over 9,000 positive reviews
Wicker construction
Fade and water-resistant
---
2. Keter Unity XL Portable Outdoor Table with Hooks for Grill Accessories
Sale
Keter Unity 78 Gallon Patio Storage BBQ Table, Outdoor Furniture Stand and Grill Station with Utensil Hooks for Grilling Accessories, Espresso Brown
Outdoor cart that's ideal for storing grilling accessories, food prep, beverages, or party items
Features 54 gallons of interior storage & 24 gallons of open storage for a total of 78 gallons of storage capacity; (L x W x H): 20.5 x 52.7 x 35.5 inches; Weight: 50 pounds
Weather-resistant polypropylene construction prevents rusting, peeling, and denting; Made from all weather-resistant resin with an appealing wood-like texture; Color: Dark Brown
Includes 2 sidebars for paper towel or hook holder with 4 hook hangers, spice rack, and bottle opener
Wheels make it easy to move around where you need it; Perfect for use as a bar cart and mobile garden table; Use as a BBQ grill cart, outdoor bar, serving cart, and prep table
Last update on 2023-09-16 / Affiliate links / Images from Amazon Product Advertising API
With over 3,000 positive reviews, the Keter Unity Portable Outdoor Table is the perfect patio accessory for home cooks. This is a great accessory to put next to your grill to make a makeshift outdoor kitchen. The Keter Outdoor Table comes in two colors, Espresso Brown and Dark Gray, and features two cabinet doors to store utensils, bags of charcoal for grills, and so forth.
The upper surface of this portable outdoor table is made of stainless steel for preparing and serving food. It's a highly sanitary surface and can easily be cleaned and disinfected should raw meats be placed on it. On the left side of the table there is a bar with 4 hooks to hold cooking utensils and on the right side of the table are two bars to hold paper towels, kitchen rags, or spices. There is also a bottle opener.
Between the storage compartment of the table and the upper stainless steel surface, there is a gap where you can place plates, bowls, pans, or ingredients. The underneath storage compartment has a capacity of 54 gallons of interior storage. The total dimensions of the interior are 40. 9 in. W x 16. 3 in. D x 18. 5 in. H. The Total exterior dimensions are 52. 7 in. W x 20. 5 in. D x 35. 5 in. H.
What We Like:
Thousands of positive reviews
Great accessory to have for your outdoor patio kitchen
Comes in two colors, Espresso Brown and Dark Gray to best match your outdoor decor
Two cabinet doors and under storage
Interior capacity of 54 gallons
Open space between the upper table and lower storage compartment to place dishes or ingredients on
3 sidebars for kitchen rags, to hold utensils, and for ingredients
Bottle opener
---
3. Keter Westwood 150 Gallon Resin Large Deck Box
Sale
Last update on 2023-09-16 / Affiliate links / Images from Amazon Product Advertising API
Extremely popular with nearly 5,000 positive ratings and able to serve a dual purpose, the Keter Westwood 150 Gallon Resin Large Deck Box acts both as a large storage bin and as additional seating. It's available for purchase in two colors, Dark Brown and Dark Gray, and has Exterior dimensions of 61 in. L x 28. 5 in. W x 25. 4 in. H. The interior has an overall capacity of 150 gallons and the Interior dimensions are 56 in. L x 24. 6 in. W x 22. 8 in. H.
This patio box is made of resin, a durable and strong material that is both weather-resistant and visually appealing with its faux wood design. Unlike wood, though, the material of this patio box won't peel or dent. It also won't rust and is perfect for outdoor use.
As we briefly mentioned, this patio box doubles as extra seating and can be a perfect loveseat for two adults. It can hold up to 660 pounds without an issue.
What We Like:
Comes in two colors, Dark Brown and Dark Gray
150-gallon total interior capacity
Can be used as additional seating
5,000 positive reviews
Relatively affordable
Water-resistant, durable material
Visually appealing and faux wood design
Can hold up to 660 pounds
Won't rust, dent, or peel
---
4. Brightown 50Ft Outdoor Patio String Globe Lights
Sale
Brightown Outdoor String Lights - Globe Patio Lights 30 Ft with 30 G40 Shatterproof Bulbs, Waterproof Connectable Dimmable Commercial Hanging Lights for Backyard, Bistro, Porch, Cafe, Deck
Updated Version Energy Efficient 30FT Outdoor String Lights: With hooks updated version design, you do not need to buy additional hooks, installation is easier and more efficient. 30 feet long lights for backyard come with 30 clear G40 shatterproof bulbs. The distance between lights is only 12in for more brightness. Light bulbs have candelabra (E12) socket base, 1W per bulb. End to end connect up to 24 strands.
Outdoor Patio Lights Waterproof and Safe : The backyard lights are built with weatherproof technology, which can withstand extreme temperatures, rain, wind, and damp climates, perfect for outdoor decoration. It is UL certified, safe and durable. Either with an E12 socket base and a built in spare fuse for easy replacement
More Brighter and Lightweight Outdoor Globe Lights: These bistro lights come with 6 inch lead with male plug, 12 inch spacing between bulbs, 6 inch tail with female connector, total length 30 feet. Lightweight and portable size for easy carrying and storage
Easy to Install and Dimmer Compatible Patio String Lights: The bulb lights for patio is very easy to install with a cable tie or cup hook(search suspension kit if you need the hanging accessory), fix it or place it anywhere as you need. The G40 Christmas light string is very flexible and practical, a light bulb that goes out does not affect other lighting bulbs. G40 edison bulbs are dimmer compatible
Widely used Outdoor Hanging Lights: These edison bulb string lights are the perfect decoration for balcony terrace, garden, porches, pergola, gazebo, deck, tent, party, barbecue, city roof, umbrella, dinner, wedding, birthday, New Year party, cafe and more.
Last update on 2023-09-16 / Affiliate links / Images from Amazon Product Advertising API
Patio string lights have become an increasingly popular design choice among homeowners. They light up your outdoor space at night and look modern, providing a nice warm glow to your evening. These Brightown 50-foot Outdoor Patio String Globe Lights are high-quality and would look great just about anywhere.
They come in three colors, black, green, and white to best match your patio's decor, and are waterproof, making them an excellent choice for placing just about anywhere.
What We Like:
50 feet of lights
Come in black, green, and white to best match your patio's decor
Perfect for outdoors
Modern look
Affordable
Waterproof
---
5. NICETOWN Outdoor Divider Waterproof Patio Curtain
Sale
NICETOWN Outdoor Divider Patio Curtain Waterproof for Public Space, Thermal Insulated Rustproof Grommet Room Darkening Panel Safe for Yard/Arbor, Greyish White, 1 Panel, W100 x L84
NICE MATERIAL: Sold by individually per package. The material with waterproof effect. Curtains are durable enough to hold their beauty through rain, wind, or shine. Both sides of the curtains are the same material and color.
GOOD PERFORMANCE: The extra wide outdoor curtains adopt triple weave technology, can block out sunlight to keep cool in summer. They also can serve as shower curtains as well as indoor or outdoor public space dividers.
STYLISH&PRIVACY: Outdoor curtains are heavy enough to have a nice vertical sense and wide enough to cover your outdoor living space. Meanwhile, these panels provide a real sense of separation & privacy which benefits both yours and your neighbors.
RUSTPROOF GROMMETS: Silver Stainless steel grommets make the curtain luxury and upmarket. Although exposed to wind and rain, it will also display with the original look, durable and exquisite for its rustproof feature.
EASY CARE: Good quality finishing will withstand years of use. Machine washable and Wash the water temperature below 86F. Low-temperature ironing. Don't hesitate to contact us if you have any questions or requests.
Last update on 2023-09-16 / Affiliate links / Images from Amazon Product Advertising API
Adding even more privacy to your enclosed patio is a great way to keep you separated from nosy neighbors or just create a more separate, enclosed look for your outdoor space. The NICETOWN Outdoor Waterproof Patio Curtain is an excellent way to make your space more private without making it look unappealing.
This curtain comes in 11 sizes to best suit your enclosed patio and 7 colors to match your patio's decor including Biscotti Beige, Gray, Grayish White, Tan, Brown, Teal Blue, and another shade of Gray. The material is made of polyester and polyester blends and is both waterproof and blackout to shade you from the sun and other elements.
The grommets of the curtains are made of rust-proof stainless steel, so no matter what weather conditions they're faced with, they end up looking just how you got them.
What We Like:
Comes in 11 sizes to best fit your enclosed patio
Available in 7 colors
Waterproof and blackout to protect from the sun
Makes your patio even more separate
Rust-proof grommets
---
Wrap Up
One of the best ways to create an inviting outdoor environment is to add a patio cover. The amount of shade and protection you need will determine the type of patio enclosure you choose. For instance, if you live in a warm climatic area and wish to create a tropical island vibe, then a thatched patio cover will come in handy. On the other hand, if you live in a cold region, a better option would be a wood or glass patio cover. Hopefully, our list of enclosed patio ideas will help you on your journey to building your own!
Looking for more outdoor design ideas? Check out our Best Backyard Design Ideas, Wood Fence Ideas, Pool Landscaping Ideas, and Inspiring Koi Pond Ideas articles!