For many homeowners, getting a patio is their idea of a dream come true. If you're the sort of person who is always throwing parties and events at your home, then a patio will come in handy. Patios can be the perfect space for your guests to hang out, and if parties are not your cup of tea, a patio provides a place where you can relax after a long day at work.
That said, there's just one problem left. Most patios are designed as open spaces, which leaves you vulnerable to environmental elements. If you live in a warm region, then the temperatures won't be much of a problem, but if you live in a place that can get colder than a polar bear's toenail and it rains often, the concept of a patio can seem a tad pointless – but all is not lost; we've compiled 15 of the best enclosed patio ideas, and highlighted everything you need to know to get started.
How Much Does a Patio Enclosure Cost?
Many are surprised to learn how costly it is to enclose a patio. You can spend as little as $500 or as much as $23,000. On average, you can expect to spend about $15,500 on the whole project. This article breaks down the cost of installing a patio enclosure so you can get an idea of how much yours may cost.
Although this expenditure is anything but small, you should keep in mind that an enclosed patio comes with multiple benefits. The most important of these is that it increases year-round living space that you can enjoy at any time. Among all the rooms in a home, there's no better place to lounge than a patio.
Factors that Determine the Cost of an Enclosed Patio
As with all home renovation projects, a variety of factors come into play when determining a patio enclosure cost. The main aspects include:
Size
This is a no-brainer. The biggest aspect that influences the cost of installing an enclosure is the size of the patio. For example, you'd spend much less enclosing a patio with an area of 300 square feet than you would if the patio was 1000 square feet. A bigger patio will require more materials, not to mention that such a project will take longer; thus requiring a higher investment in labor costs.
Choice of Enclosure
When it comes to patio enclosures, there is a myriad of options to choose from. The first, and most traditional, method is to put up a roof. The average cost we mentioned earlier largely relates to traditional patio roof enclosures. With this alternative, a roof is used to surround and cover the gazebo.
Another popular option is an awning. Some people prefer awnings because they are cheaper to install than roofs. With an awning, all you have to do is cover the sides of your patio using screens. The downside to using awnings is that they're not as strong as actual walls or roofs.
Windows
Should you decide to use a basic enclosure, then you'll spend the largest portion of your budget on the windows. If you live in an area that experiences heavy winds, ensure you go for strong and durable windows for your patio enclosure. A cold climatic region calls for double-glazed windows for better insulation.
Keep in mind that high-quality windows will cost more than the conventional type. You're sure to spend less on screens, but these can only protect your patio against pests and debris – which is why screens are mostly used in mild and warmer climates.
Permits
Each city and state has its own rules and regulations regarding building patios and patio enclosures. Most of them require you to have a permit for enclosing a patio. So before you start shopping for materials, check in with your local building department and go through the regulations.
Be sure to follow every detail outlined in the permit, especially if you're installing a patio in a state that requires them. If you fail to follow regulations, then you might be asked to pull down your entire patio.
Why Consider an Enclosed Patio?
There are many benefits that come with enclosing your patio. They include:
Creating an Entertainment Space at your Home
Whether it's a well-illuminated home office or second lounge that you've always wanted, an enclosed patio gives you a simple way of adding an extra room. If you want maximum light, go for tinted glass or smart glass to allow the natural lighting through.
Increasing the Lifespan of Your Outdoor Furniture
An enclosed patio minimizes the exposure of your outdoor furniture to external elements. If you leave your chairs and tables outdoors for a long time, they'll start to fade and deteriorate. If you have cane furniture, it will begin to lose its luster and if it's made of wood, it's likely to crack. Fortunately, a patio enclosure will keep your furniture looking good over time.
Enjoying Protection Against Downpour and the Summer Heat
Your furniture isn't the only thing an enclosed patio can protect from extreme weather conditions. Another perk of enclosing your patio is that you get to relax in it regardless of the weather. When it's raining, you can sit dry and happy, watching the rain from your enclosed nook.
Enclosed Patios Ideas
1- Wooden Outdoor Patio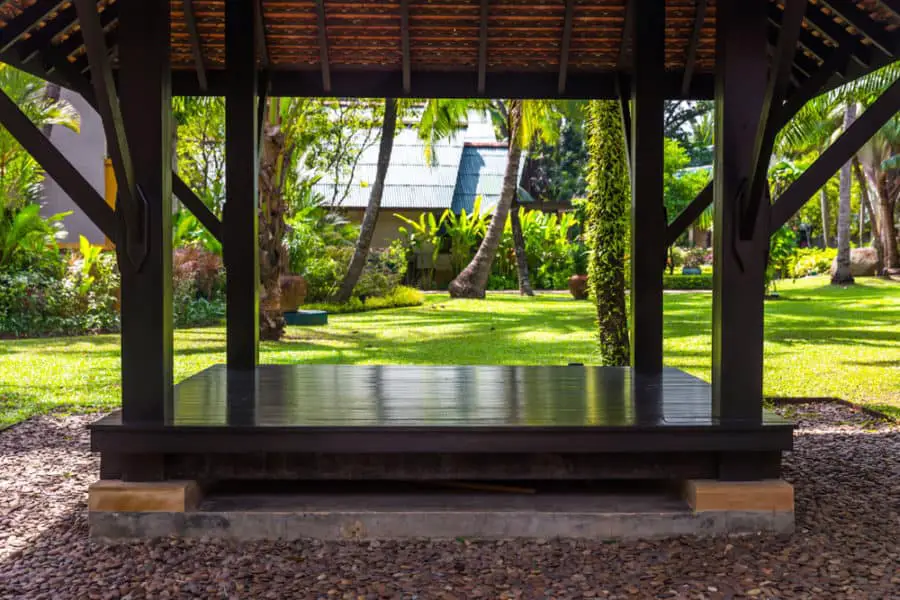 A wooden patio enclosure is the most widely used, and for good reason. It looks aesthetically pleasing and it's sturdy enough to keep weather elements out.
2- Sun-Room Patio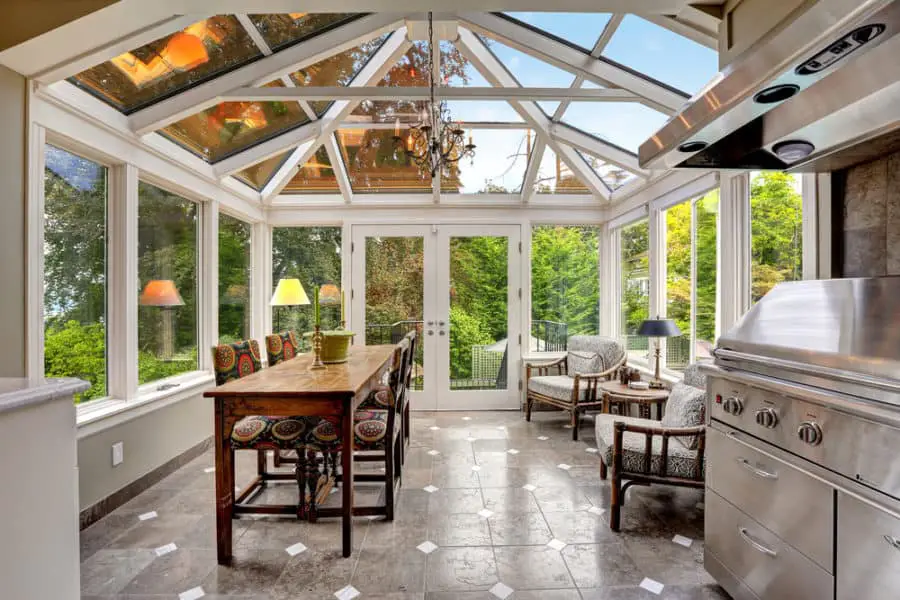 Considering a patio enclosure? This glassed-in space attached to the house, which doubles up as a living area, is a great choice.
3- Patio with Long Sun-Shade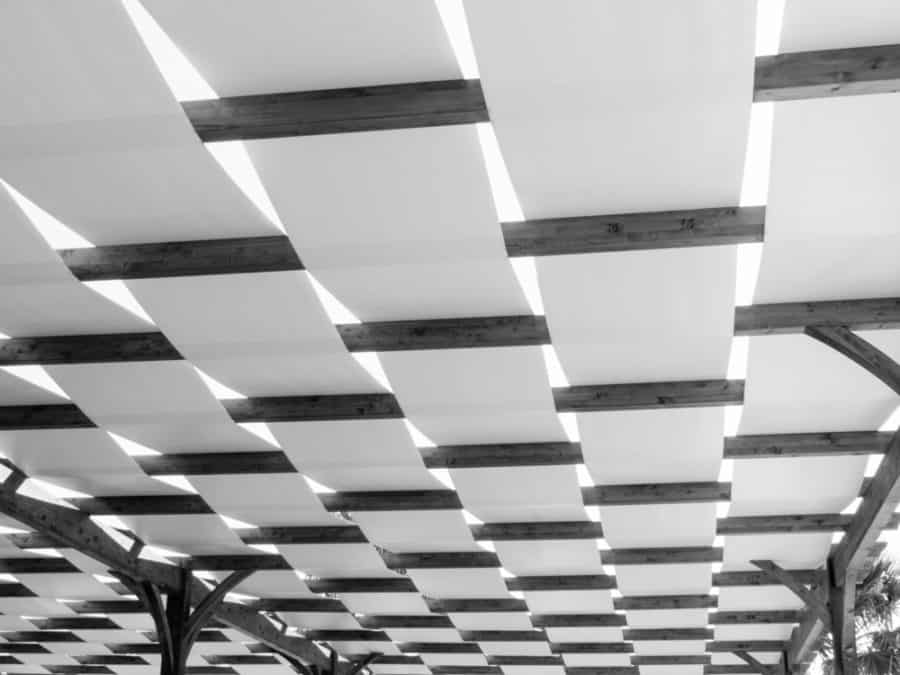 Your patio doesn't have to be all about basking in the sun. Occasionally, you might want to relax in a shaded patio like this one.
4- Modern Design Wooden Patio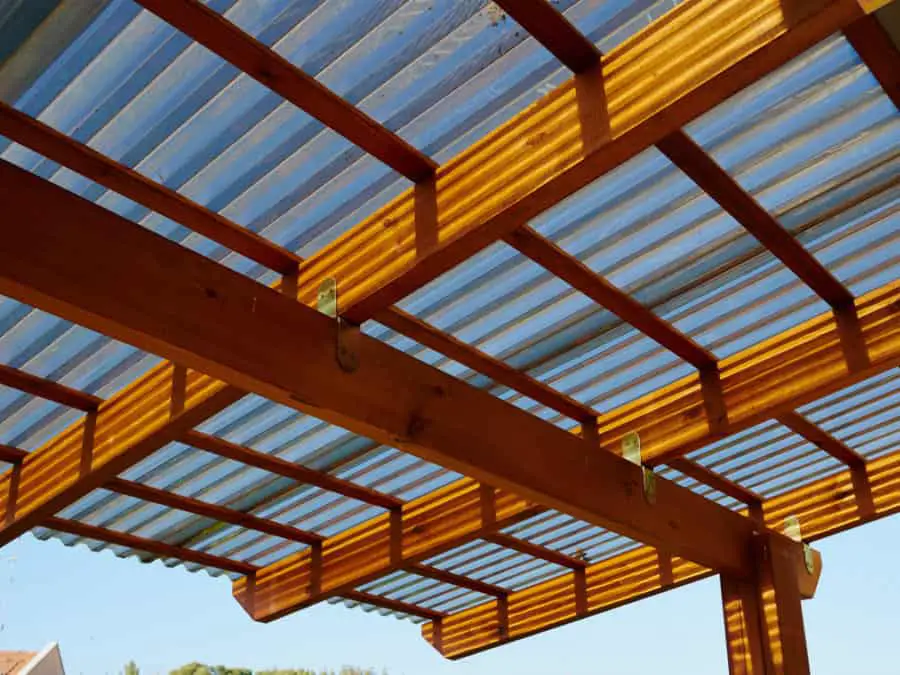 The beauty about this patio enclosure is that it combines wood and a translucent material. So while the wooden cover provides durability, the translucent sections allow light into your patio.
5- Blue and White Striped Patio Sun-Shade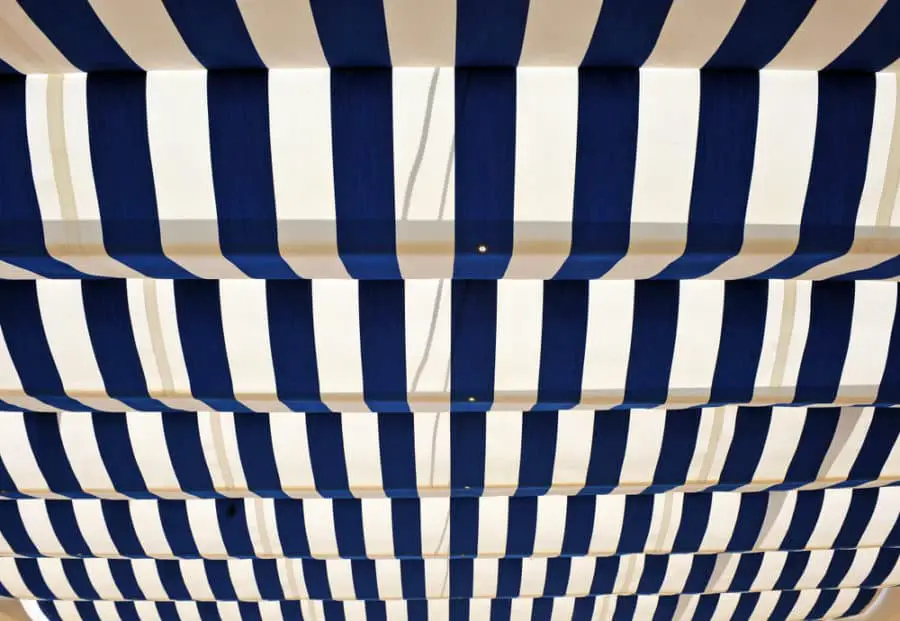 This patio enclosure consists of a blue and white striped sun-shade. Such an enclosure is only meant to prevent the harmful rays of the sun and not extreme weather elements.
6- Patio with Green Awning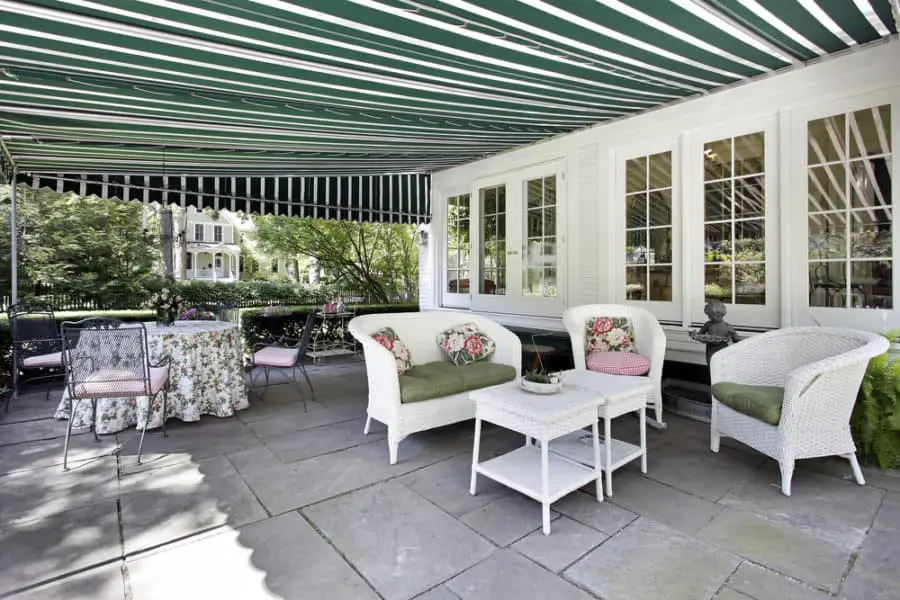 If you're looking for a patio enclosure that will complement the look of your home, this patio with a green awning is an excellent option. It's very spacious so you can place a variety of furniture and still have a generous amount of space left.
7- Roofing of Patio with Rope Tensioning Awnings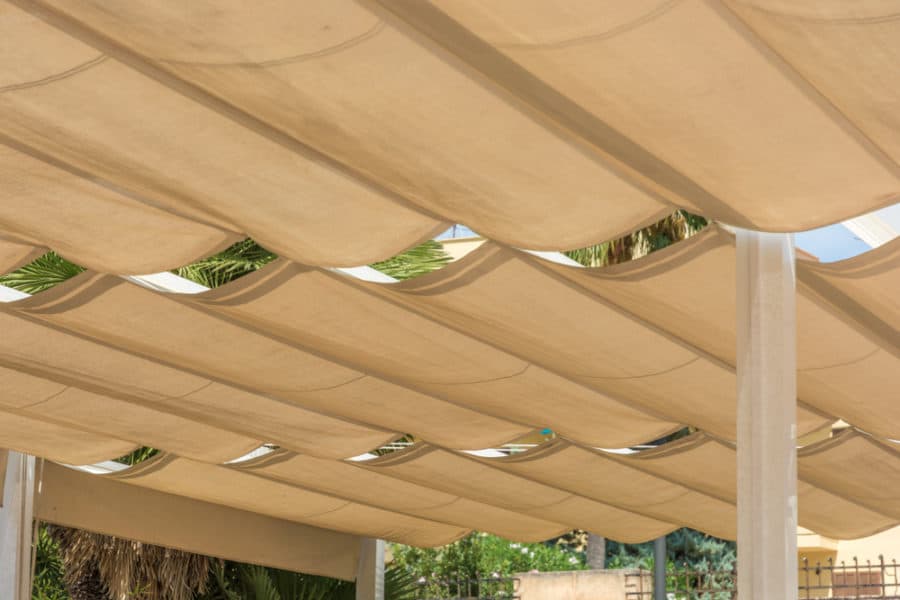 This patio is equipped with simple awnings. Although it's not as sturdy as other options, this patio enclosure can still protect you against light showers and harmful UV rays.
8- Modern Rooftop Patio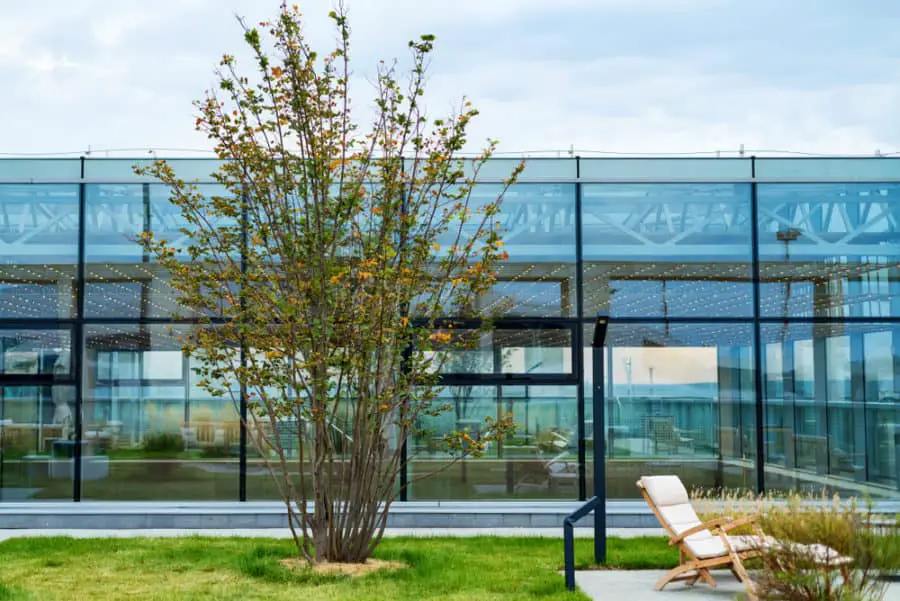 If you want maximum sunlight in your patio and still be protected from the rain and snow, this glass-covered patio is your best bet. This particular enclosed patio has clear lines that make it look elegant and sleek.
9- Screened in Patio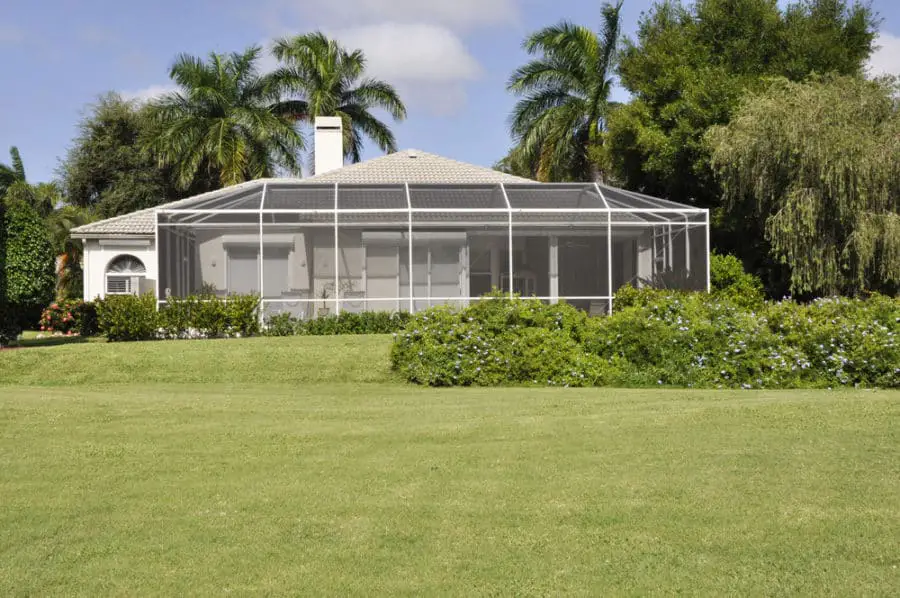 This screened in patio is beautifully enclosed with window screens all around it. This type of enclosure not only prevents the entry of bugs and debris but it also lets in the natural light.
10- Retractable Awning Patio Cover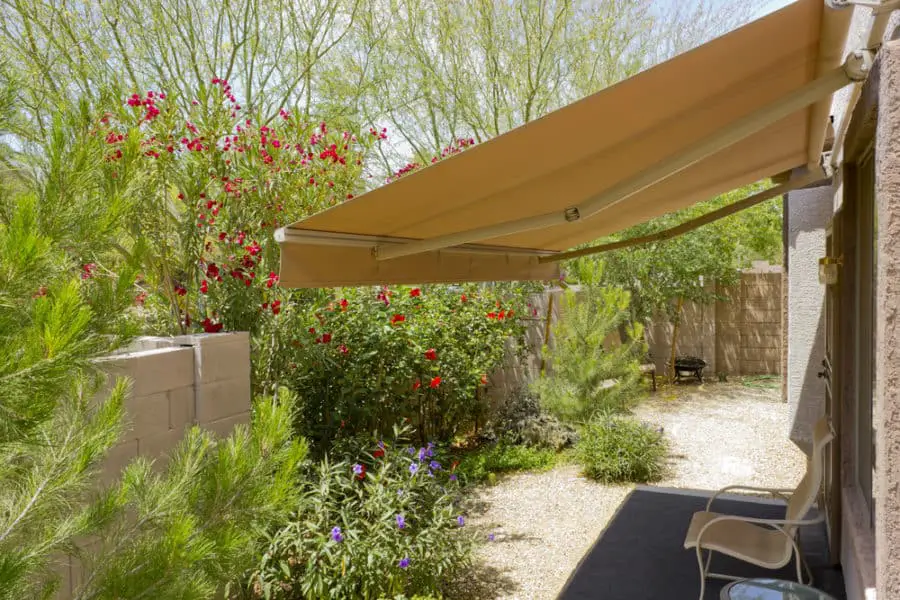 If you've been looking for a user-friendly patio enclosure, you can't do better than this retractable awning cover. With a simple click of a button, you'll be able to roll and unroll the patio cover as you want.
11- Thatched Patio Enclosure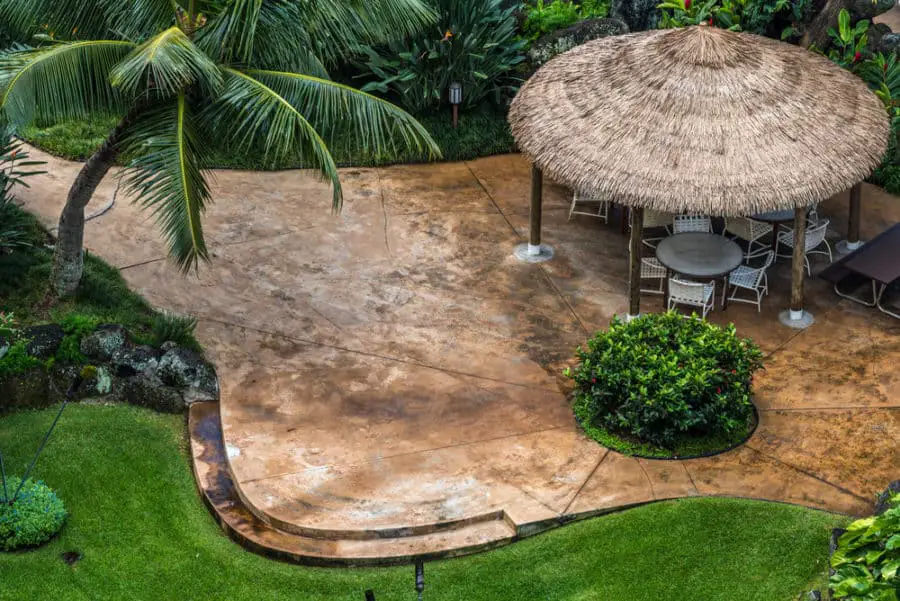 Looking to create a tropical island vibe in your backyard? Then this thatched patio enclosure is just what you need.
12- House Patio Cover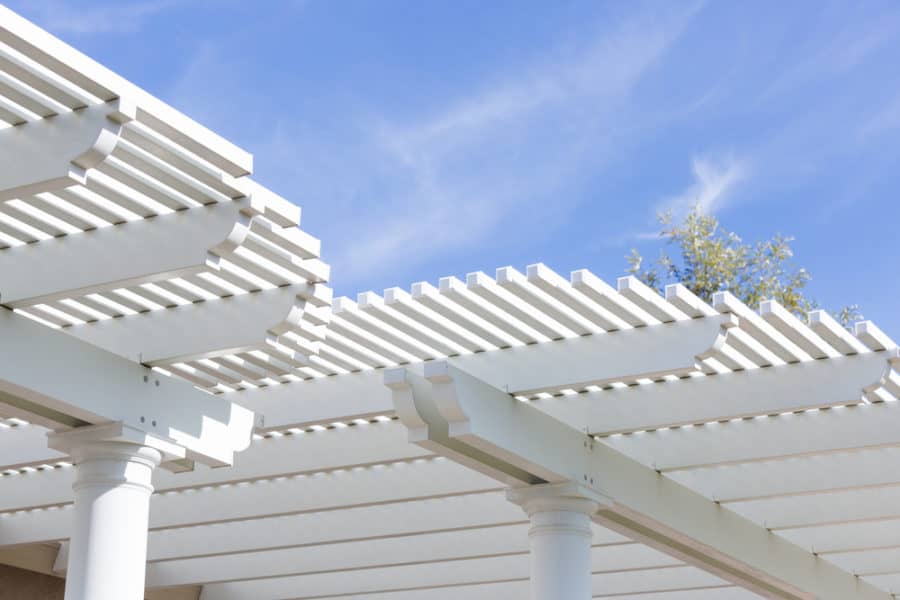 This is an unobstructed patio enclosure; hence, it illuminates your patio naturally. Plus, it warms up your patio space on those bright summer evenings.
13- Enclosed Patio with Wood Ceiling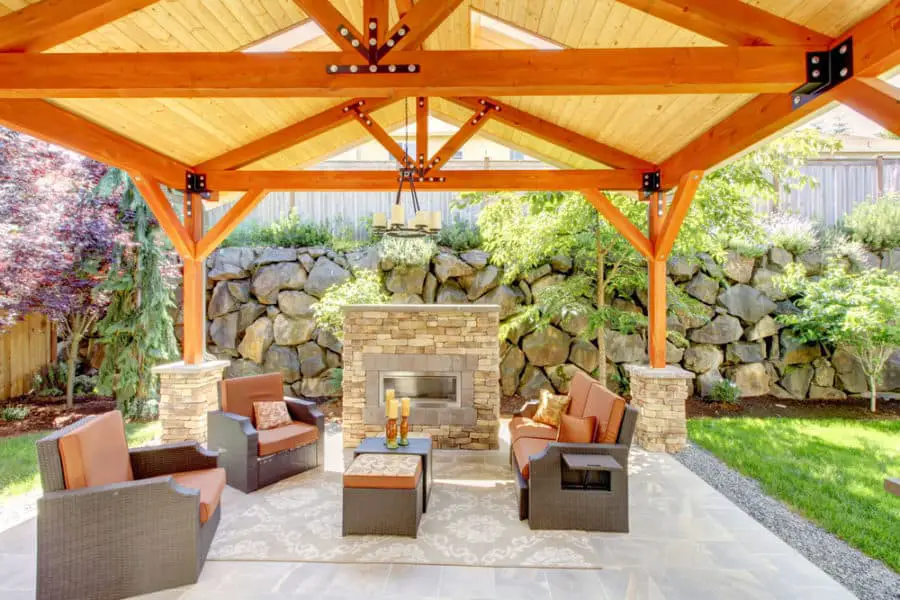 With the wooden ceiling, this simple patio is transformed into a real living area. The wooden cover matches well with the furniture and stone fireplace.
14- Patio with Steel Roof Enclosure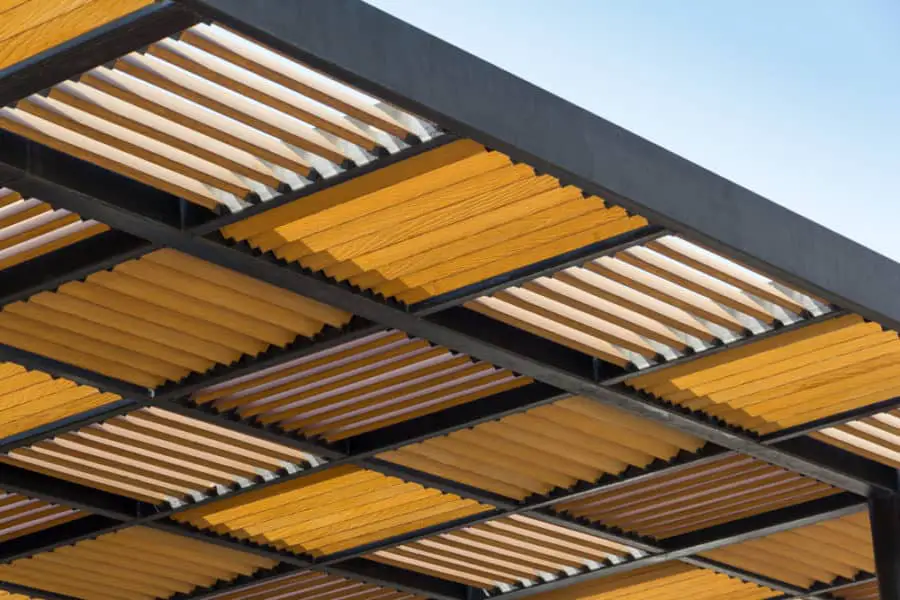 This enclosed patio consists of wooden slats and steel roof structure. These patio covers are used for both residential and commercial purposes because of their durability.
15- Patio Umbrella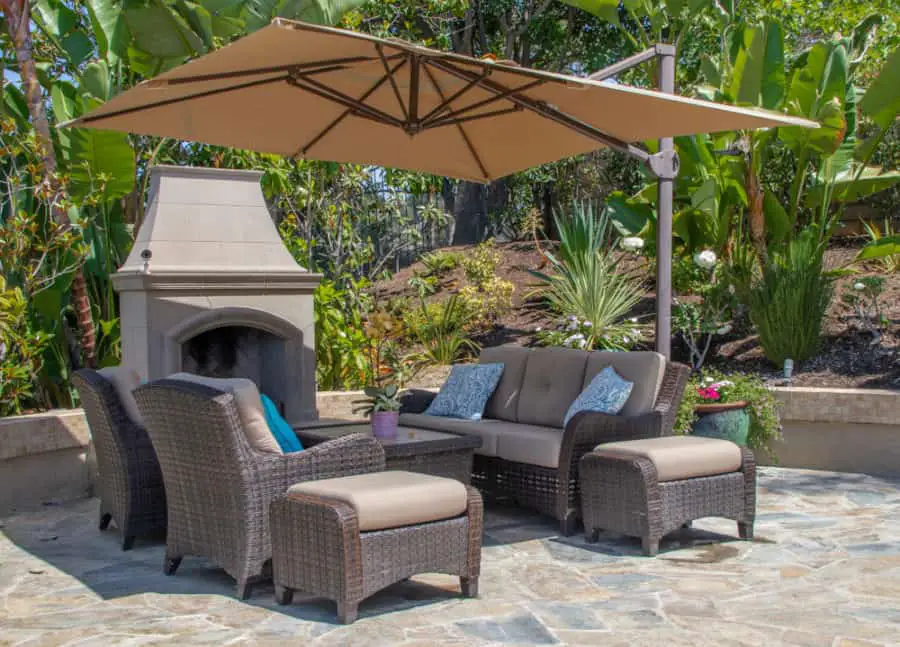 In case your budget or space limits you in terms of the patio enclosure, a patio umbrella is a good option to consider. However, it's important that you find a reliable source, determine the size of your space to ensure it fits, and know the features to look for when purchasing an outdoor umbrella.
Wrap Up
One of the best ways to create an inviting outdoor environment is to add a patio cover. The amount of shade and protection you need will determine the type of patio enclosure you choose. For instance, if you live in a warm climatic area and wish to create a tropical island vibe, then a thatched patio cover will come in handy. On the other hand, if you live in a cold region, a better option would be a wood or glass patio cover. Hopefully, our list of enclosed patio ideas will help you on your journey to building your own!
Looking for more outdoor design ideas? Check out our Best Backyard Design Ideas, Wood Fence Ideas, Pool Landscaping Ideas, and Inspiring Koi Pond Ideas articles!