Are you looking to give your backyard pool a new look? Having a pool can be very refreshing (they keep you healthy, too), not to mention the addition to the real estate value of your house. Just having a pool isn't enough, however. It needs to accentuate the features you want to highlight in your backyard, and you'll want to do some landscaping around your pool to make it look more invigorating and refreshing.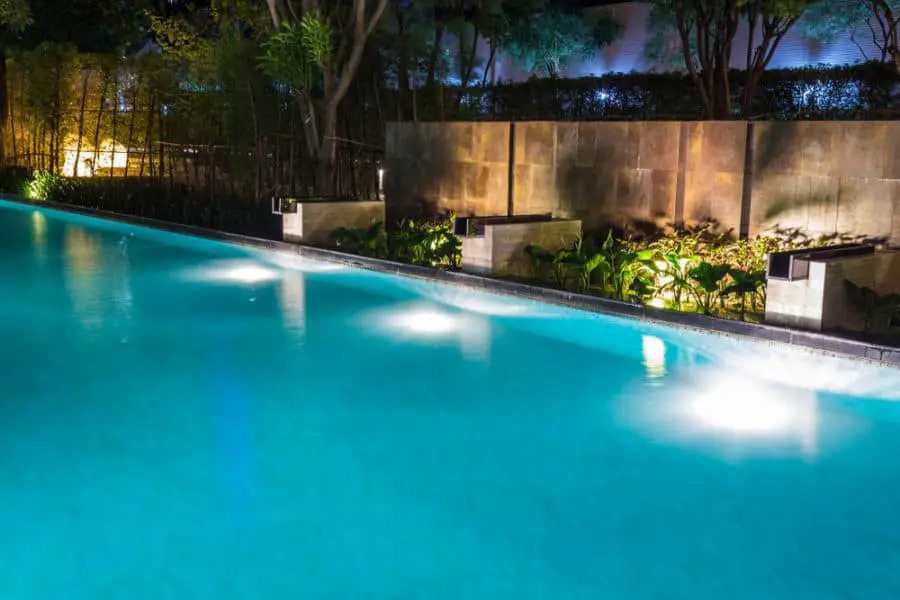 Pool landscaping can be expensive, but it doesn't necessarily have to be. Whether you want a modern and simplistic look or a vibrant futuristic design, there are many affordable landscaping ideas you can easily implement to create more interest around your pool. It all boils down to your individual creativity and resourcefulness.
In this article, we will discuss some great low-cost pool landscaping ideas to make your backyard look gorgeous. Many of these ideas do not require much investment, and some even take advantage of common household items. You can either do them yourself or call in a professional to help if you're short on time. Don't forget to check out our other article for Swimming Pool Ideas if you need more inspiration!
Things to remember before landscaping
Before you start landscaping your pool, it's important to consider a few things first. Ask yourself questions such as "what do I want to get out of this landscaping?" and "what type of design do I want?" If you have a pool that you want to redecorate, you'll have to take into consideration the amount of space available, the shape and size of the pool, and proximity to the surroundings.
There are many broad pool landscaping (and Budget Landscaping, if you're interested) ideas to consider. The possible options are limitless. However, resort style pools have been very popular for many years. These pools give you the feeling of being at an upscale resort and involve a deck and lawn chairs surrounding the pool. There is often lighting within or around the pool at night and a handful of tropical plants that make the entire environment very soothing.
The type of landscaping you can do will very much depend on the shape and size of your pool. If, for example, your pool is rectangular in shape, then you will have to add rectangular features around the pool, such as square chairs, rectangular flower pots, square lights and so on. If you have space available, you can sometimes add a pool deck and waterfall, as well.
Once you've decided what features you want in your pool, the next step is to do some housekeeping before actually implementing these ideas. Make sure that the pool deck is clean, and that your lawn is devoid of any weeds or dead plants. Mow your lawn to avoid foliage and other debris from getting into your pool.
Now, let's take a look at some of our favorite ideas for pool landscaping!
1. Add Nightlights
Nightlights make the pool look gorgeous at night, and create an atmosphere for family gatherings in the evenings. Clean landscaping with nightlights exudes an image of luxury and elegance.
2. Accented Stone Deck to Outline Your Pool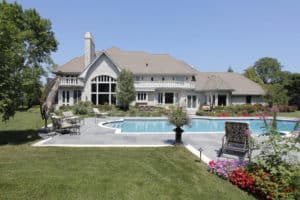 A blue accented stone deck can make your pool look a lot more vibrant! Add some patio furniture as well around the pool to provide a comfortable all-around feel.
3. Waterfall and a Hot Tub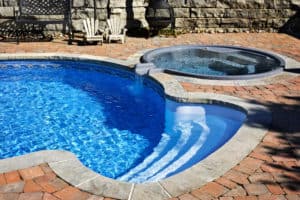 A waterfall can make things really interesting. Waterfalls and hot tubs don't necessarily have to be built into the pool from the beginning. They can be added later, given enough space (and of course the budget).
4. Mood Lighting with Garden Landscaping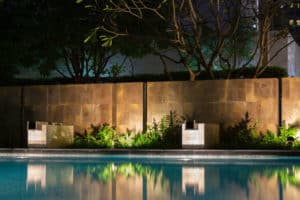 For all the romantics out there, some mood lighting at night coupled with garden landscaping and tropical flora can create the perfect romantic evening, every day. These lights are variable with respect to color and brightness and can be adjusted according to the mood.
5. Simple and Sophisticated Landscaping at a Low-Cost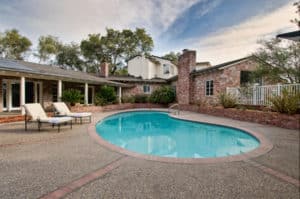 You don't always need fancy stuff to brighten up your backyard. All it takes is tidying up a bit, taking care of the greenery around the patio and putting some lawn chairs at the right place to give off a really neat and tidy look – and it doesn't cost much, either!
6. String Lights Around the Pool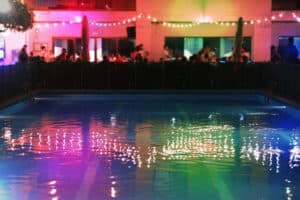 String lights look great around a pool. They are cost-effective and add just the right amount of brightness to the environment. White LED lights are easily available, and much easier to set up. They're also highly energy efficient.
7. Add an Assortment of Lights and Plants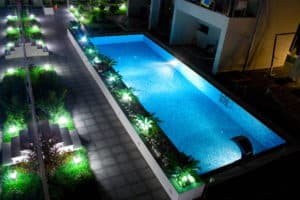 Looking at this image example, I'm sure you can understand our obsession with pool lighting. Use a bright light to illuminate the water, and a set of smaller lights spread all around the border along with an assortment of plants to give your pool a really luxurious, high-end look.
8. Add Decorative Stones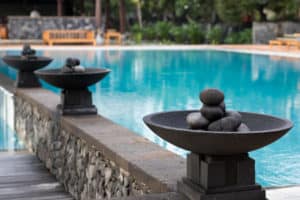 You can add decorative stones and other ornaments around your pool to give it a classy appeal. These can be anything, from carved out sculptures to just ordinary round stones you find near a riverbed.
9. Set up a Fire Pit Near the Pool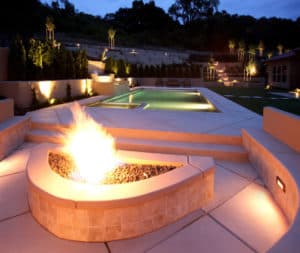 Fire pits are great places to hang around and can act as a light and heat source around your swimming pool.
10. Set up a Wall of Hedges for Privacy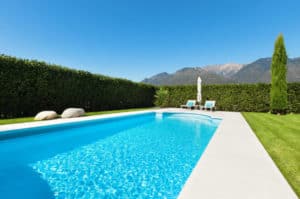 You want your pool time to be yours alone and don't need anyone prying around. A wall of hedges provides an excellent privacy screen while maintaining lush greenery.
11. Pool Fountains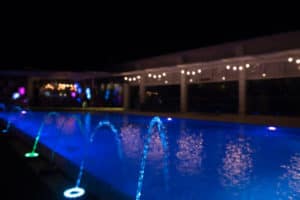 Pool fountains are always fun to watch -and they're not very difficult to install either.
12. Upscale Urban Pools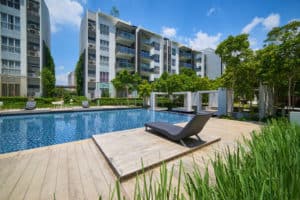 If your residence is in an urban area, a clean and elegant pool landscaping design can be the way to go.
13. If You want Something Closer to Nature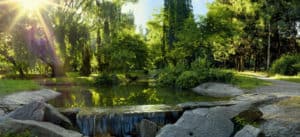 This park-themed pool would be ideal for enthusiasts who love to explore nature.
14. A Wooden Affair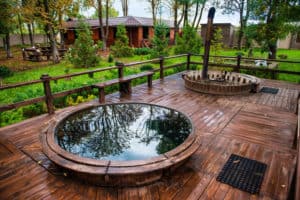 Despite a shortage of space, you can go wildly creative and choose a wooden theme for a sauna pool or jacuzzi.
15. Furniture Choice and Placement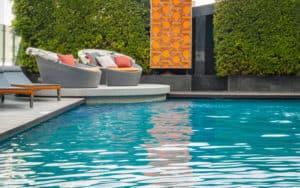 Sometimes, it's all about where you put your furniture around a pool, and how well it blends in against the surroundings.
16. Simple and Elegant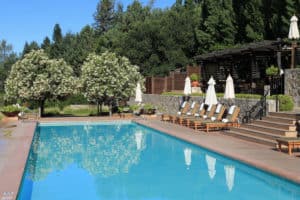 A simple and elegant pool with ornament trees and lawn chairs on its sides.
17. Underwater LED Lights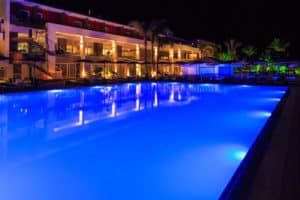 Installing underwater LED lights can give your pool the extra detail that it needs. It's best to go with white LED lights, but you can choose different colors as well and mix and match them according to your preferences.
18. Casual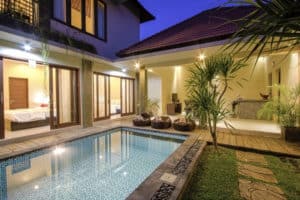 Low on space? No problem. A little bit of greenery, and some bean bags and you're all set to enjoy a lovely evening with your family in a casual manner.
19. Glass Walls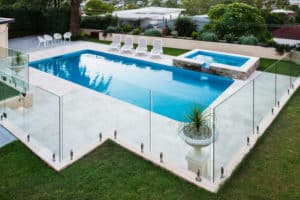 Consider a fence or a set of glass panels around the swimming pool. This can be used to cover pool areas and prevent unwanted entry, while also giving your pool a more modern appearance.
20. Lush Vegetation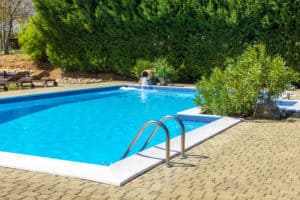 Having rich natural vegetation around the swimming pool can be quite aesthetically appealing. It will, however, create a lot of foliage regularly as the plants grow which will need to be cleaned up and maintained every now and again.
21. Another Example of Vegetation Detailing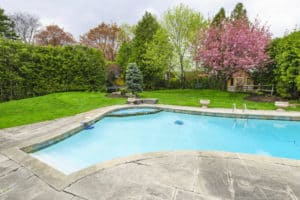 This great residential pool is another example of using lush greenery for additional detail when landscaping.
Final Thoughts
These gorgeous outdoor pool landscaping ideas should give you a general idea of what features and designs you can incorporate into your own pool. There is virtually an endless array of designs to choose from, and the fact is that what might look appealing to someone might not look too good to another person.
Pick up ideas that appeal to you most, and start implementing them, even if your neighbor (or someone else for that matter) suggests otherwise. What's important is that you should be at complete ease when relaxing in your own pool. We hope these ideas will help you make a decision towards remodeling your backyard pool. Good luck!
Interested in backyard design? Check out our Brick Patio Ideas, Walkway Design Ideas, Tire Planter Ideas, and White Picket Fence Ideas articles!