It's always fun to play with your kids or dogs in the backyard. Piles of dog poop can make the fun playtime end in disaster. Yuck! If you clean up after your dog there will be no worries when it comes to watching where you step. You can relax and enjoy your time in the backyard if you do not have to step over or around piles of poop. Depending on the size of your fur baby the piles could be huge! The solution to this problem is to simply clean up after your dogs. We have 5 steps to help you deal with dog poop in your backyard.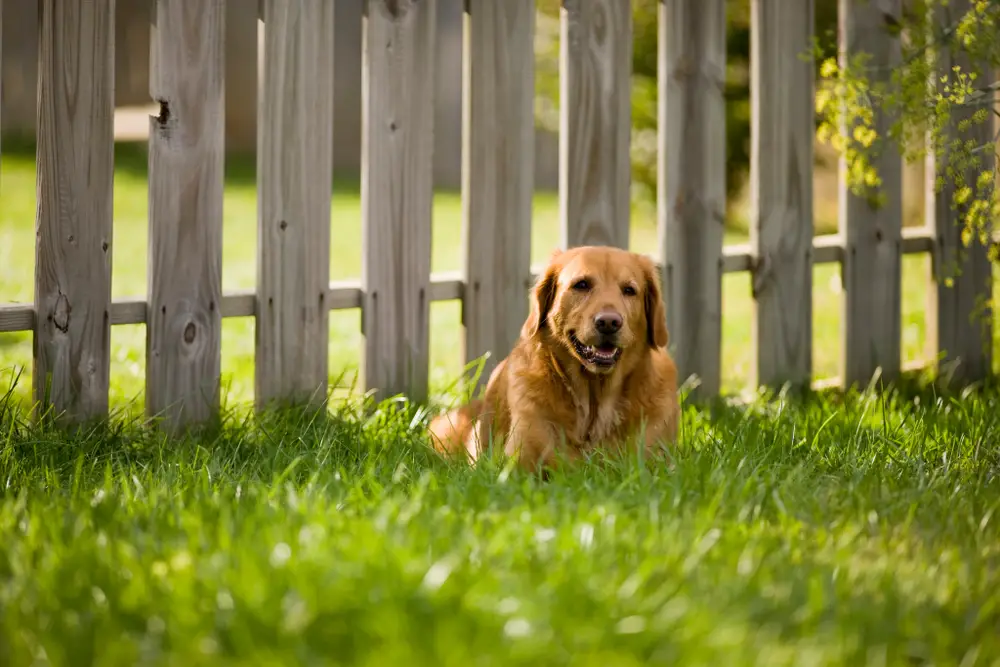 The Importance of Cleaning Up Your Dog's Waste
It is very important to clean up your dog's waste. According to Wikipedia, "Parasites, particularly intestinal worms such as hookworms, tapeworms, and roundworms, can be transmitted in a dog's feces." There are disease-causing bacteria and parasites that can live in the waste and soil if it is not cleaned up. They can linger for a long time and are harmful to humans and dogs. Dog waste is high in both Nitrogen and Phosphorus, causing it to have the opposite effect of fertilizer. It does not help your yard at all. In fact, it can cause bare spots in your yard if left there.
Dog waste does not wash away. It can take a long time for it to dissolve. If you let it just dissolve the harmful bacteria and parasites will stay there and be in the soil. Lastly, dog waste stinks. It can stink really badly and people can step in it. Worse your dog can step in it. Have you ever had to clean your dog's paw after they step in their own feces? It is not fun at all!
Important Reasons:
There are harmful bacteria and parasites in dog waste.
It can be harmful to humans and dogs.
Dog waste will not wash away, in fact, it can take up to a year to naturally break down.
It stinks!
No one wants to step in dog poop!
Step 1: Get the Right Tools
There are many tools on the market for pet waste. There are tons of pooper scoopers, foldable jaw clamp scoopers, metal trays with rakes, and many other tools to help you pick up after your beloved fur baby. Below is a list of the best tools to help you deal with dog poop in your yard.
Sanitary Items
Gloves: To be extra cautious you may want to use gloves when picking up your pet's waste. You do not have to since you will most likely be using a bag as well. However, if you prefer to be extra cautious pick up some gloves to use when cleaning up after your dog.
Disposable bags made for dog waste: You are required to pick up after your pet at your local parks, out in public spaces, and at the veterinarian. These bags are a great tool to use when picking up your dog's waste. They even make biodegradable bags now that will degrade when taken to the local city dump. Be sure to turn the bag inside out and put the bag on your hand like a glove. Scoop up the poop with the bag and then bring the bag back in the right way. Then you tie the bag up.
Freeze Spray: This spray could be very helpful when picking up after your fur baby. It freezes the feces, which makes it less messy when picking it up. This would especially be helpful with loose stool.
Best Pooper Scoopers
1. Shark PS380 Wet/Dry Power Scooper: This is perfect for cleaning any household mess and even mentions cleaning up after your pet. It is battery operated and lightweight and operates like a handheld vacuum.
Sale
Shark PS380 Wet/Dry Power Scooper
With a simple press of a button your worst messes are quickly deposited in a small bag
Convenient way to pick up after all types of household messes
Includes extention accessory for large messes
Battery operated and lightweight
Adjustable strap for easy carry or storage
Last update on 2023-05-20 / Affiliate links / Images from Amazon Product Advertising API
---
2. Auggiedog Pooper Scooper: The Auggiedog Pooper Scooper comes with a clean station to store it in between uses. You just follow the directions that come with it. It will scoop the poop up.
3. Pet Power Products Pooch Power Shovel: The Pet Power Shovel is a battery-powered device to help you clean up your pet's waste. This one uses the bags to prevent the waste from ever touching the device. Remember to check it in case it does need cleaning. 
Step 2: Get Organized
To make all of this easier for you to keep all your pet items together. You may need an outside space designated for your poop-related tools. Then an inside space designated for all your other dog-related items. Keep extra disposable bags in this inside area.
Being organized can make this unpleasant task go a bit quicker. If you know where all your tools are then you will be more likely to grab them and get the job done. Now that we are organized let's move to the next step.
Step 3: Make a Pickup Schedule
We suggest picking up after your dog right after they go to the bathroom. If you take your dog out on a leash then this will be easy for you. If you are like many other people and let your dog go where ever in your fenced-in backyard it might be a bit more difficult. That's okay though. We have some ideas for you.
Make a pick-up schedule.
Decide if you want to pick up after each potty break or once or twice a day.
Having a pick-up schedule will help you learn how to deal with dog poop in your backyard by keeping you organized and get you in a routine.
Step 4: Train your Dog
Though not a necessary step, we've found that it is very important to train your dog. Training your fur babies is very beneficial to both you and your dog. You could train your dog to use the bathroom in a designated area. This will help when you are trying to clean up after your dog, making the task easier.
If you live in a city where there is not a yard then consider training your dog to an indoor potty area. They have some really great indoor potty areas for dogs. You can use puppy pads and train your fur baby to pee pads. Don't forget to use training treats when training your fur babies. When they do good be sure to give them a treat quick so they will know they did a good job.
Sale
Artificial Grass Puppy Pee Pad for Dogs and Small Pets - 20x25 Reusable 3-Layer Training Potty Pad with Tray - Dog Housebreaking Supplies by PETMAKER
DOG GRASS PAD WITH TRAY - This artificial turf dog pee pad provides a sanitary place for your pet to relieve themselves inside or on your balcony or patio. It's a reusable alternative to disposable dog training pads for small to medium-sized pets.
EASY PUPPY TRAINING - Potty training your new best friend just got easier, even if you live in an apartment or work long hours. This dog grass pad helps avoid accidents while enforcing your pup's training that they should go potty on grass.
THREE-LAYER SYSTEM - The artificial dog grass mat sits on top of a secure plastic drainage insert that allows liquid to empty into the durable collection puppy pad holder to avoid messes and spills.
EASY CLEAN-UP - Cleaning this reusable grass pad for dogs is quick and easy. Rinse the three layers of the dog potty tray with soapy water and clean-up is complete.
PRODUCT DETAILS - Materials: Synthetic Plastic (Grass Mat) and Hard Plastic (Tray and Insert). Dimensions: (L) 25" x (W) 20" x (H) 1.25". Color: Green and Black.
Last update on 2023-05-20 / Affiliate links / Images from Amazon Product Advertising API
---
Step 5: Clean Up After Your Dog
Take your schedule and clean up after your pet. Really commit to it. Remember to pace yourself and check where your dog usually goes to the potty first. Sometimes our fur babies have specific places they like to relieve themselves. If so, that will be the place to start cleaning. While you are picking up just remember the benefits of cleaning up after your pet. Keep in mind that cleaning up after your dog will result in health benefits for your dog, yourself, and your family.
Clean Up Strategy:
Let your fur baby go outside to potty.
Pick up on your scheduled times. If it is dark use a flashlight.
If you can watch your dog while they are outside your job will be easier also.
Conclusion
We hope we have helped you figure out the best route to take when cleaning up after your dogs. It can be a tiresome task if you have more than a few dogs. However, we believe our 5 steps will help you to get organized and complete the task. How will you choose to deal with dog poop in your backyard?
We know cleaning your dog's waste is not a pleasant job, but it is a necessary thing to do. It will help you and your family stay happy and healthy by preventing the spread of harmful bacteria and diseases that can be found in dog waste.