Just like humans, our furry friends need exercise and time outdoors. Sometimes it isn't practical to just let your dog out in the yard to run by themselves. This is why knowing how to build a dog run in your backyard can be crucial to your pet's overall health.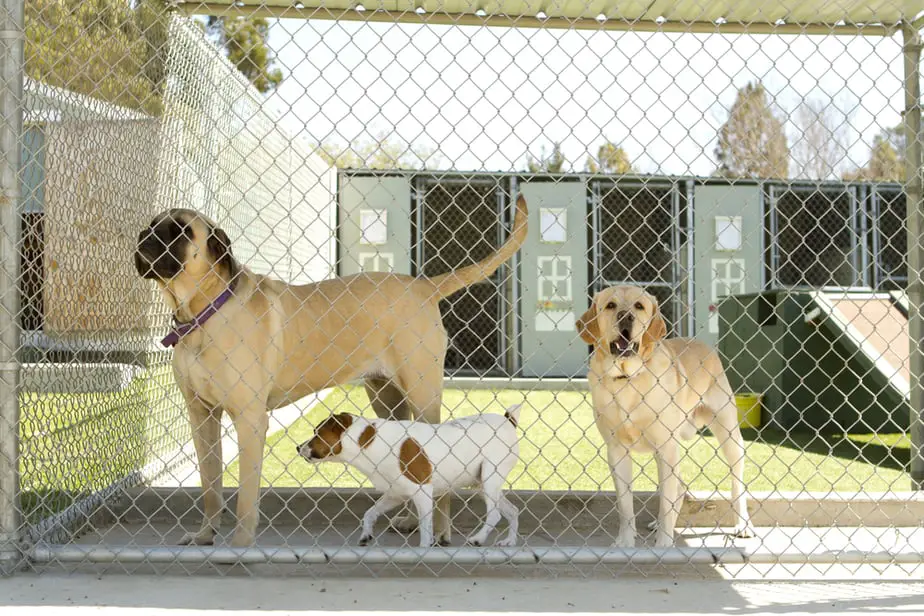 Dog runs can provide a safe, stable, and happy area for your dog to get outdoors and exercise. While some think that their dog will enjoy going on a morning jog around the neighborhood, the American Veterinarian Medical Association states that not all dogs enjoy running. However, all dogs do need to be outdoors at times and get moving.  Dog runs are the perfect option!
We will take you step-by-step on how to build a dog run in your backyard that will suit your dog and work for your backyard style.
What is a Dog Run and Why Build One?
A dog run is a fenced-in area where your dog can relax and exercise leash-free. The look of a dog run can vary widely in shape, size, and construction. Dog runs are a great idea for any dog owner that shares a backyard with their furry friend.
Perhaps your yard is not fenced and therefore not safe to let your dog run freely. On the other hand, it may be nice to confine the dog to their own space in the yard separate from where you or the kids play.
A benefit of a dog run in your backyard is that you can leave toys out. Poop will also be confined to a fenced-in area, preventing you and your kids from stepping in a stinky mess!
Exercise is also crucial to every pet. However, in our modern world, we are very busy and not always available to take our pets to dog parks daily. A dog run at home will give your pet the outside exercise they need without having to go anywhere!
How to Build a Dog Run in Your Backyard
Follow these step-by-step instructions to learn how to build a dog run in your backyard. There are many decisions to make on the kind of dog run you will be building. The tools and materials that you will need will vary greatly depending on your choice of materials. You can purchase a playpen for your pet or build a fence on your own. If you will be building a fence, some tools you will need include a post digger, shovel, wheelbarrow, basic tool kit, and electric screwdriver. Make a plan for your dog run including dimensions, ground cover, fencing, and shade before visiting a store to load up on materials.
Step 1: Choose Size and Location Of Dog Run
First, look at your backyard and choose a location for the dog run. The side yards of houses are usually a great spot for a dog run. Side yards are often shaded at certain times of the day, which will come in handy during the warmer months. Side yards are also usually out of direct sight from the back patio, so you don't have to worry about constantly viewing unsightly dog messes.
The larger the dog, the more room you will need for your dog run. The minimum dog run should be 3' wide and 10' long. However, the most effective dog runs will give your dog enough room to really sprint up and down. If you have a large dog or a dog that likes to jump, then you will need much higher walls.
Think of the dog run as a long rectangle.  Measure your available space and map out a rectangle that will be suitable for your breed of dog.
Use a tape measure and mark the dimensions in the desired location using chalk paint or with stakes and twine. Do you have a difficult space to measure? We are here to help with our tutorial on how to measure your backyard.
Step 2: Choose Ground Cover
There are several options for the floor in a dog run. Choose the one that will best fit your budget and purpose. Some materials are not suitable for pets. Avoid any gravel with sharp corners. If the weather in your area gets extremely hot or cold during certain months, then plan ways to make the ground cover comfortable for sensitive paws.
Dirt
The first option is to leave the existing dirt. While this is the most budget-friendly, consider the cons of using dirt before you decide to go this route. Dirt will become mud after rain and snow. If you plan on letting your dog into the run after rain or snow, keep in mind that your dog's paws will be covered in mud and may leave tracks throughout your house! Do you need to fix a muddy backyard? Check out how in this muddy dog run post.
Grass
Grass is a cheap option and may already exist in your dog run area. However, the grass that is currently in your dog run will probably not last after a few weeks of use and you may soon be left with dirt. Don't plan on grass preventing mud!
One option is to plant a grass that is hearty and can withstand dogs. Keep in mind that grass will also need to be maintained regularly.  This will mean watering and mowing in the dog area. You may also need to replant to cover bare spots. Try a few other tips that may help prevent bare or urine spots in your lawn.
Mulch or Wood Chips
Wood chips are another common ground cover for dog runs. Mulch and wood chips will help prevent mud after the area is wet. Mulch and wood chips are also paw-friendly options.
However, mulch and wood chips will need to be replenished periodically as they breakdown. If you have a garden, consider recycling the wood chips by using them in garden beds! You will also need to scoop out the poop regularly. Spraying the wood chips often can help with the urine smell, but will not always rid it completely. If you think the smell may bother you, consider a different ground cover option.
Cement
Cement will be the most durable material, but also one of the more costly. If you choose to lay cement, make sure to include a comfortable area for the dog to rest such as a dog bed.
During hot summer months, cement may get hot for dog paws. Spray the area down with water, or put straw on top of the cement to cool it down. Cement dog runs make clean-up easy!  Just spray off the cement and you are good to go!
Pea Gravel
Pea gravel is a great and common option for dog runs. Make sure to use pea gravel since it is round pebbles that don't have sharp corners that hurt pet paws. Pea gravel can be sprayed down to rinse urine and it is easy to scoop up messes from.
Paving Stones
Like cement, paving stones are another durable option for dog runs. Paving stones will run more than cement, but they look gorgeous! If you are concerned about the look of cement, but like how easy it is to clean, then this is the option for you!
Synthetic Grass
Using grass in the dog run requires maintenance. Synthetic grass will not require mowing or watering and bare spots will not easily appear. Synthetic grass is soft on dog paws. This grass can also be sprayed off regularly and will not become a muddy pit. Artificial grass also makes it more difficult for dogs who like to dig to create holes in your dog run.
Rubber Padding
Rubber padding is a great addition to concrete or dirt ground cover. Rubber will be soft on sensitive paws and provide enough cushion for your pet to relax.
Step 3: Create Floor
You will want to make sure the ground is relatively level to prevent injuries to your dog. This may mean that you need to level the area. Follow our tips in this article on how to level your yard. You will also need a few good tools, including a post hole digger.
Dirt and Grass
If you chose to use grass or dirt as your ground cover, you are almost ready to install the fence. Spray down the dirt area lightly. Plant any grass that you want in the area and allow time to grow and establish.
Mulch/Wood Chips
To use wood chips, you will need to order enough to cover the dog run area to a depth of about 2 inches. It may be helpful the frame the dog run with pieces of lumber to keep the mulch in the area. Use a rake to spread and even out the wood chips. Before you purchase wood chips, make sure they are safe for pets! Don't use mulch that is made from pressure-treated wood. Lean toward natural mulch or even make mulch yourself!
Concrete
First, calculate how much cement you will need for the size of dog run that you have and purchase the materials. To pour concrete for the floor of the run, you will need to build a frame to pour the cement. This can be down by digging out the existing dirt or using lumber. For a wood frame, use 2'x6' lumber and wood screws to create the border around your dog run rectangle. In a wheelbarrow, mix the concrete and water. You may need to do this several times depending on the size of your dog run. Pour concrete and level out over the floor.  Smooth the surface and let it sit for the recommended time.
Pea Gravel
Pea gravel can be ordered from a local stone company and delivered to your house. Calculate how much you need by using an online calculator. Once you have the gravel, dump and smooth it out in the dog run.
Paving Stones
Paving stones are best left to the professionals. If you are familiar with laying paving stones and you have the tools, then jump right in! If not, we recommend getting quotes from a landscaping company in your area.
Step 4: Install Fencing
Again, you have many options for fencing. First, consider how tall you would like your fencing to be. Small dogs will not need as high a fence as large dogs. The minimum height we suggest is 4 feet. If you have a dog that enjoys jumping, take this into consideration when planning your fence! On the other hand, some dogs like to dig! For diggers, bury the fence about 1 foot into the soil. Why do dogs dig holes anyway? Here are the options you may choose when installing a fence.
Chain link fence
Chain link fences are affordable, sturdy, and relatively easy to install. They also come with door sections. Any home improvement stores have chain link sections available along with tutorials on how to install a chain-link fence. For dog runs near roads or walking paths, you may want to add some privacy slats.
Sale
Brown Wave Slat (9 Colors Available) Single Wall Bottom Locking Privacy Slat for a 6 ft high Chain Link Fence (Slat Length 68.5", Brown)
Brown Fence Slat - Designed for a 6' high fence, slats are approximately 68.5" in length to accommodate the bottom locking channel and to prevent the slats from being above the top of the fence. (Available Colors: Beige, Black, Brown, Gray, Green, Redwood, Royal Blue, Sky Blue, White)
Made in the USA. 30-year limited warranty. Lasts much longer than wind screen or privacy tape.
Designed for 2" to 2.375" diamond and 9, 10, 11, 11.5 gauge wire. Slat width is approximately 1.25". A 2" diamond will provide approximately 85% privacy, a 2-1/4" diamond will provide approximately 80% privacy and a 2-3/8" diamond will provide approximately 75% privacy (a larger diamond will have less privacy and a smaller diamond size will provide better privacy). Make sure you measure your chain link fence diamond before placing an order.
Wave Slat™ has been sold in all 50 states. Good for hot or cold climates. Made of HDPE (plastic) - High Density Polyethylene with UV inhibitors to help against sun fading.
Each box contains 82 slats and will cover approximately 10 linear feet of fence based upon a 2" diamond (depends on diamond size and how tight your fence is stretched). Includes 10' of bottom locking channel. It is recommended ordering everything you need at once to ensure exact color match, an adequate supply of inventory and best price.
Last update on 2023-11-20 / Affiliate links / Images from Amazon Product Advertising API
---
Buy Fence Kit
When looking into making a dog run, you may consider buying a playpen that is all ready to go! Instead of re-inventing the wheel, order one straight to your door! This one has 16 panels and you can choose a height of 40" or 48". You can configure it in any arrangement you like. The kit is also expandable, foldable, and includes a gate.
Giantex 40inch 16 Panel Pet Playpen with Door, Foldable Dog Exercise Pen, 13ft x 8ft Configurable Freestanding Cat Duck Chicken Rabbit Fence, Outdoor & Outdoor, Metal Pet Exercise Fence Barrier Kennel
【Heavy Duty Dog Playpen】 Constructed with heavy duty metal material, Giantex pet dog playpen is sturdy and durable enough for your long-time use. And it is rust proof and weather resistant, providing a comfortable and safe exercise pen perfect for safely restricting your furry friends especially for outdoor use.
【Changeable Shape】 The 16 panels are connected and secured together with sturdy ground stakes to keep the playpen in place. And these panels can also be rearranged into multiple shapes to match your space, such as square, octagon, rectangle, 2 small squares and divider fence.
【Added Secure Design】 This dog exercise pen confines your pets in the exact place to ensure safety. Besides, its round edges keep your pet safe and away from scratching or injured. Door with double locks well makes sure your pet does not get loose.
【Folding and Expandable Pen】 Our pet exercise pen is either foldable or extensible. Flexible connections allow you can buy additional extension sets to create any size pen. Its wire design gives your pets a good vision and a chance to be close to the grass.
【Easy to Set it Up】 This dog playpen comes with 16 panels and is quite easy for you to set it up or break it down. No tools are required during assembly. Besides, its foldable and portable features aim to convenient storage and transportation for you, which is good for both indoor and outdoor use. The item will come in two packages.
Last update on 2023-11-20 / Affiliate links / Images from Amazon Product Advertising API
---
Wood and Wire
Another option is to build a fence using landscape timbers and 4×4 posts. This may be a slightly cheaper option, but it will require more tools and labor.
Wood Fence
If you already have a wood fence around your yard, you may like to idea of coordinating your dog run to the existing fence. Wood can be a good option for fencing. Look at these fun examples of wood fencing! Make sure the spacing between the fencing allows you to see in but doesn't allow the dog out. Painting the fence will add a nice touch. Use non-toxic outdoor paint that will be safe around pets.
Metal Fence
Metal fences are sturdy, durable, and visually appealing.  You can choose a wide variety of designs that will look beautiful in your yard. Metal fence sections can be purchased at home stores or any fencing company. Make sure the slats are close enough that your dog will not escape the fencing. Or place chicken wire inside the metal fence and buried a foot below the fence.
Vinyl Fence
Vinyl fences come with a variety of options as seen in our article on vinyl fence ideas. These fences will look like an ornate enclosure that coordinates with your backyard theme. Vinyl fences require little to no maintenance. Make sure to choose a style that allows you to view inside the dog run, but doesn't allow your dog to slip through the spaces.
Step 5: Add Shade
A dog run is not complete without providing a shady spot for your pooch to hang out on sunny days. Adding a roof to at least part of your dog run will keep your dog in the shade.  We have provided a list of a few options below, but the possibilities are endless!
Shade cloth
We recommend a tarp or shade cloth for a quick and easy shade solution. Tarps and shade cloths can be removed when you want or during certain seasons. Tarps and shade cloths can be replaced easily when needed. To install, fasten the cloth or tarp using plastic cable ties.
Last update on 2023-11-20 / Affiliate links / Images from Amazon Product Advertising API
---
Roof
A roof for the dog run can be as simple as corrugated metal or as extravagant as building a full roof. Since it is for a dog run, we recommend attaching a metal roof to one of the corners for a simple shaded area.
Dog house
Putting a dog house in the dog run will serve multiple purposes. The dog house can provide relief from the sun and a comfortable place to rest when they are finished exercising. Check out our list of 23 Dog House Ideas!
Tangkula Dog House, Outdoor Weather-Resistant Wooden Log Cabin, Home Pet Furniture, Pet House with Adjustable Feet & Removable Floor, Pet Dog House (Medium)
🐕【Weatherproof Structural Design】The sealed protective coating of the Tangkula cabin dog house, raised floor and sloping asphalt roof provide protection against elements, keeping the cabin comfortable and dry.
🐕【Multi-Function Foot】The adjustable foot of the wooden dog house is balanced on all surfaces for easy placement.
🐕【Beautiful & Classic Design】The traditional design of the Tangkula dog lodge complements any backyard. Decorate your garden while giving your dog a comfortable home.
🐕【Durable & Sturdy Construction】Solid wood and stainless steel hardware, outdoor dog shed for durability and long-term protection.
🐕【Available in 3 Sizes】External Dog Shelter All small, medium, large and giant to choose from to accommodate pets of all sizes. You can choose the right dog house according to the size and variety of your dog.
Last update on 2023-11-20 / Affiliate links / Images from Amazon Product Advertising API
---
Tree
Do you have an existing tree that can shade your dog run area? A tree can naturally provide shade for your dog run. Check that there is shade during the hottest time of the day. On the other hand, you will want there to be sunny spots during the day where your dog can bask in the sunlight.
Patio Umbrella
No tree? No problem! A patio umbrella is a quick and easy solution. Post the umbrella on the outside of the dog run and angle it to give shade during the hottest time of the day.
Sale
Sunnyglade 7.5' Patio Umbrella Outdoor Table Market Umbrella with Push Button Tilt/Crank, 6 Ribs (Tan)
CLASSIC TYPE & HIGH QUALITY- 7.5 feet diameter patio straight umbrella for extra strength, featuring heavy-duty fabric is especially designed to keep you cool and comfortable, apply to the yard, beach, square and other places .7.5 Ft. diameter shades your area with 3-4 chairs and table, Ideal for both residential and commercial locations.
LIGHT WEIGHT ALUMINUM POLE- Light weight aluminum poles unscrew at middle for easy and compact storage, in prevention of rust and lighter than the steel center pole umbrella, easy for operation.
BEAUTIFUL COLOR & 100% POLYESTER- Made of breathable, light filtering fabric with vent, long lasting, fade resistant, easy to clean.
PUSH BUTTON TILT FOR MORE ANGLES- Tilt with push button for more angles of shading, crank handle for easy opening and closing, air vented at the top, cool and can withstand sudden gust.
Please search (ASIN:B06XT1TFJN) for a compatible base( Base not included, sold separately ).
Last update on 2023-11-20 / Affiliate links / Images from Amazon Product Advertising API
---
Completing the Job
With all of these ideas on how to build a dog run in your backyard, I am sure you have found the right fit for you and your furry pal!
We took you through the steps how to build a dog run in your backyard. First, we determined a size that will work for your dog, whether small or large. Next you chose a ground cover that will suit your needs and style. Then, we got to work on installing the floor and fence. Finally, we provided some comfort with shade in the dog run.
If you enjoyed this article, you may want to check out the article on plants that repel ticks! Or are you tired of dealing with dog poop in the backyard? Check out our article on how to deal with dog poop! We hope to see you again soon as you make your backyard an oasis for your family and pets to enjoy!