"Ugh. It's raining again, but the dogs need to potty. They'll get so muddy!". Sound familiar? Well, luckily for you, there are ways to prevent a muddy mess. In this article, we'll walk you through how to fix a muddy backyard dog trail!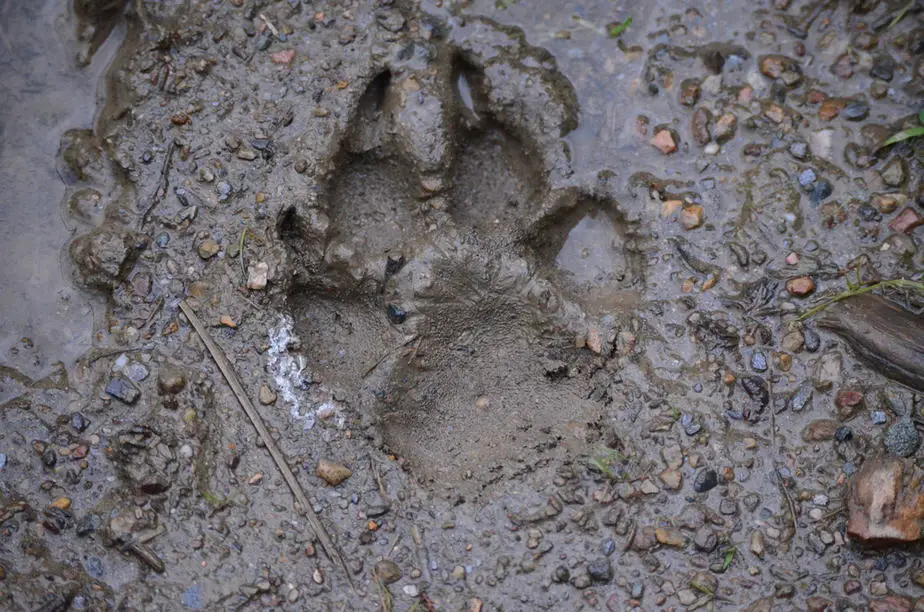 Common Complaints
Every pet owner wants the best for their four-legged baby. However, they don't want mud or dirt from outside to come inside in the form of muddy paw prints. After all, it's hard enough keeping your house clean from day-to-day.
Common complaints for pet owners are their fur babies digging, destroying plants or furniture, and tracking mud, dirt, or sand inside. Most of these problems could be solved with obedience classes with the exception of the tracking in mud, dirt, or sand.
Dogs track stuff in without even knowing they do. It's not their fault, it's just part of owning a pet. They roll around, lay down, run and play in the yard and sometimes your yard may be muddy or have spots of dirt and sand.
Dogs are notorious for finding just one mud puddle to play in.  It's adorable while they are doing it but then there's the cleanup, which is never fun.
Let's go over the ways to prevent them from bringing the outside in with them.
Step 1: Plan Ahead
Here, we'll walk you through five ways to fix your backyard dog trail. First, we have a few things for you to consider when deciding which route to take to fix your backyard mess.
You should first consider your budget. Do you have money saved up to fix the messy spots in your yard? Do you need to plan it out and then start saving? Or perhaps you hope to use some items you already have to fix the spots.
Next, consider how many dogs you have. Do you have only one dog? Maybe you have four dogs?
Consider what kind of dogs you have. Do you have a giant breed like a Great Dane? Maybe you have a smaller breed like a Pomeranian. Or perhaps you have two of each. Different breeds will need more space than others.
Also, consider how big of an area you will be sprucing up. This will also go with considering your budget. Maybe you need to fix up certain spots one at a time if they are big.
Step 2: Choose a Solution of How to Fix a Muddy Backyard Dog Trail
Our second step in our "how to fix a muddy backyard dog trail" guide is to choose a solution. We have five solutions for you to choose from.
Solution 1: Temporary Fixes
Straw or Hay are quick temporary fixes. You usually spread straw out onto your lawn to prevent the ground from washing away. It could also cover up mud or dirt.
Artificial Grass is another temporary fix. You will need to consider the size of your yard. Consider whether to only put it on the dog trail or through certain parts of your yard.
STARROAD-TIM 39.3 x 31.5 inches Artificial Grass Rug Turf for Dogs Indoor Outdoor Fake Grass for Dogs Potty Training Area Patio Lawn Decoration
[Grass Pad for Dogs]: 39.3 inches by 31.5 inches.Grass ​Mats have realistic colors, soft and dense grass silk, which looks like real lawn.It's friendly to Pet Potty Training.It has drainage holes at the bottom and is highly permeable to drain liquids quickly.Your dog will love our Fake Grass,let it at home can feel like a real outdoor lawn.
[High Quality Products]:Artificial Grass made of high quality synthetic material, Superior resilience and durability. Fireproof, odor resistant, portable and weatherproof,easy to cut, UV resistant, not easy to fall off, reusable. Grass Pad can be without fading or falling for a long time in rain or sunshine.Works well even in harsh conditions.
[Easy to clean]:Just wash with soap and warm water, then dry. Drainage holes and high permeability make Dog Grass mats easy to clean and fast drying. Not machine washable.Dog Turf uses special design.The backing layer in the four-layer structure can reduce the generation of odor and prevent the growth of unhealthy stuff.
[Multifunctional Fake Grass]:Professional high -quality grass urine pads can not only be used as pet toilet training pads, but also very Perfect for Outdoor rugs, such as Garden, Lawn, Patio, Landscape, Backyard, Deck, Porch and other outdoor place.DIY Decorations for Fence Backdrop. Creative design on party, Wedding, Christmas decorations.
[Customer Support]: Thank you for choosing our professional Artificial Turf.We strive to provide the best satisfaction for all our customers. If you are not satisfied with Artificial Grass Rug, you don't need to worry,please feel free to contact us and we will send you a replacement or give you a full refund.
Last update on 2023-09-17 / Affiliate links / Images from Amazon Product Advertising API
---
Solution 2: Quick Fixes for How to Fix a Muddy Backyard Dog Trail
Sand will cover up mud, but sand can be tracked in just like dirt or mud. Sand gets everywhere. Dogs will roll around in it and play in it and it gets all over them. Then they run in and shake and it goes everywhere and you find yourself walking through your house feeling like you're at the beach without the sound of the waves and the relaxation.
Mulch is another quick fix. Mulch can cover up anything. You need to only use mulch if you will be monitoring your dogs while they are outside.  Mulch can cause splinters and the dogs can try to chew on it and that could turn bad quick. So only use mulch if you plan to monitor your fur babies when they are outside.
Rocks are another quick fix. You can buy them at different nurseries or home improvement stores by the bucket full or in bags. Choose between River Rocks or Pea Gravel. If you have kids, we suggest going with River Rocks, as Pea Gravel is small enough for children to swallow.
Solution 3: Permanent Fixes
Concrete paths are a great way to spruce up the dog trail. If you have kids and make them wide enough they could even ride their bikes or cars on the paths with their fur babies running beside them.
Flagstone paths are another great permanent solution. You might even use rocks or mulch with the stones to turn them into a beautiful path.
Solution 4: Easy Fixes
Prefab Pavers are an easy fix. Run to your nearest nursery or home improvement store and grab some prefab pavers. Put them out in the spots you want to fix up and you are done. Make sure they are level or flat. You could even place them in little designs.
Kennel Decking is something you can buy to put down.  It literally looks like a deck on the ground. This could be good for an outdoor dog kennel. However, we think it could be used for a dog trail also. This would be good for larger spaces that need to be covered. This decking is easy to clean, also.
No products found.
---
Solution 5: The Longer Route for How to Fix a Muddy Backyard Dog Trail
This idea will take a little bit to finish: reseed your messy spots. Grass seed such as Bermuda is always a good start. You throw the grass seed out in your yard and put wheat straw down over it to prevent the seeds from washing away. You need to consider the time of year when deciding to choose this option, though. If it's the right time to seed, go grab some grass seed and get to work. Don't forget to water!
Step 3: Plants and Flowers That are Safe for Dogs
Now that you know what you're going to use to fix the muddy mess or your dirt spots, you'll need to figure out what you'll use to add color back to your yard! If you think you want plants in your yard, we have some ideas that are safe for dogs.
According to aspca.org, The American Society for the Prevention of Cruelty to Animals, there are toxic plants for dogs and non-toxic plants for your fur babies. Here you can find their detailed list of toxic and non-toxic plants for dogs.
Some of the plants even have smells that deter certain insects or animals from your yard. They have plants listed that prefer full sun and some that love shady places, along with low maintenance choices and ones that require daily attention. If you love working in your yard maybe it's time to choose some plants or flowers that are safe for your fur babies.
Our Favorite Dog-Safe Plants for Fixing Muddy Trails
If you just want a few short ideas without having to sift through all of the plants listed on the ASPCA website, here are our favorite plants to use for fixing middy dog trails!
1. Marigolds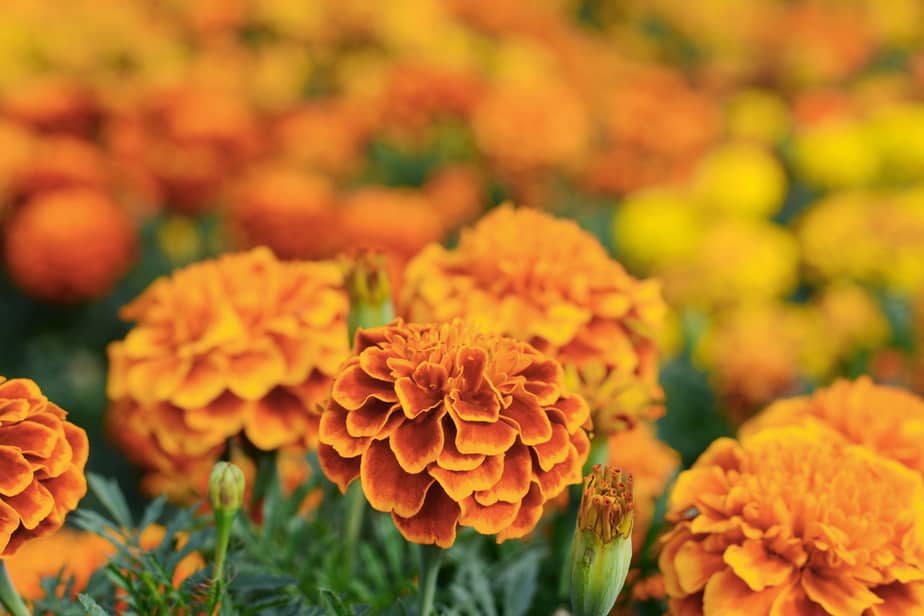 Bright, bold, and beautiful, Marigolds are fragrant, insect-repelling flowers that are 100% dog safe. They're easy to maintain and would look excellent in muddy dog runs that are along a fenceline or near the house. Marigolds are incredibly hardy and can grow practically anywhere, and will grow in Zones 2 through 11 without much effort.
Last update on 2023-09-17 / Affiliate links / Images from Amazon Product Advertising API
---
2. Sunflowers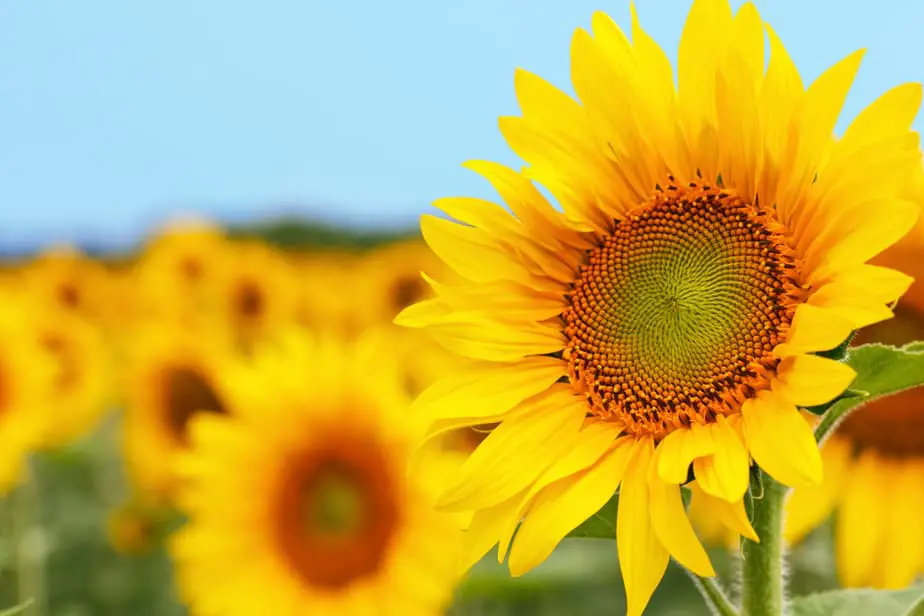 With the potential to grow over 6 feet tall in magnificent clusters of bright yellow flower heads, Sunflowers are an excellent option for filling in a fence-line muddy mess. These mammoth flowers are best grown in Zones in 4 through 9 and love warm, sunny environments.
In the fall, the petals fall off and the seeds will mature and begin to fall, as well. The seeds can be collected for roasting, yourself, or can be left for the birds.
Sale
Sunflower Seeds for Planting to Plant Mammoth Sunflower Seeds Packet of About 100 Flower Seeds (Asteraceae Asterales Helianthus giganteus) !
About 100 premium giant sunflower seeds to plant very tall sunflowers in your garden that can reach a growing height of eight to twelve feet!
Mammoth flower seeds for planting outdoors to grow large sunflowers with heads of twelve to twenty four inches!
High germination rate of 80% or more, non-gmo mammoth grey stripe sunflower seeds!
Great flower seeds for planting, baby shower favors. Wedding favors or Bridal shower gifts. Check out our other seeds like dwarf sunflower or sunflower mix.
Product of the U.S.A. by Raw Earth Colors. That's right. As a small family owned and operated business we source our seeds from reputable suppliers in the U.S.A.. Then we hand pack them just for you. Thanks for supporting a small business, we really appreciate you!
Last update on 2023-09-17 / Affiliate links / Images from Amazon Product Advertising API
---
3. Aster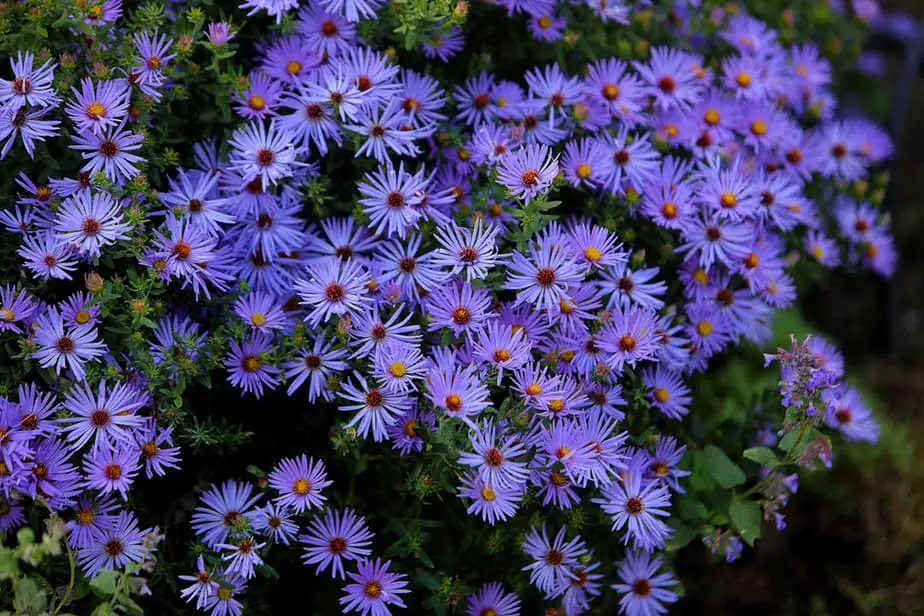 Covered in dozens of purple blooms, Aster can be planted in hardiness zones 3 to 8 with no issues. Their heights range from 1 foot to 4 feet at maturity and would look beautiful in run-down, dog trekked areas around fencelines or near the home. These are full-sun plants and will need to be planted in an area that receives at least 6 hours of sun daily.
Outsidepride Aster Blue Garden Flower Plant Seed - 2000 Seeds
Aster Alpinus Blue grows as a perennial in USDA Zones: 4 - 8. It does best in full sun but can grow in partial shade areas and is extremely cold tolerant.
Blue Aster flowers have large flower heads that bloom in different shades of blue throughout the summer and into early autumn.
These heirloom flowers are perfect for rock gardens, flower gardens, or as a container plant. They will attract bees and other beneficial instects.
Sow at 4 seeds per plant in well-drained soil and keep moist until germination occurs in 14 - 21 days.
Our seeds are always Non-GMO and packaged for the current year.
Last update on 2023-09-17 / Affiliate links / Images from Amazon Product Advertising API
---
4. Crape Myrtle Trees
If you're looking for a larger, permanent solution to your garden woes, Crape Myrtle Trees boast colorful, fluffy blooms during the warmer months and color all year round. They come in a variety of colors including ranges of whites, pinks, purples, and reds. They can grow well over 10 feet tall and are perfect for larger yards. Crape Myrtles are cold hardy in Zone 7 and 6 and generally prefer areas that have a warmer environment.
Last update on 2023-09-17 / Affiliate links / Images from Amazon Product Advertising API
---
Plants to Avoid Planting Around Dogs
As with the dog-safe plants listed above, in this section, we'll be providing you with a quick guide of plants to avoid if you don't have time to sift through the long ASPCA list.
Garlic, Onions, and Chives. All of these Allium Plants, though great for a vegetable garden, are toxic to dogs. If consumed, dogs can experience adverse health effects such as vomiting, diarrhea, lethargy, drooling, and in extreme cases, dogs can die from consuming garlic, onions, and chives.
Iris. Though these bright, beautiful flowers would bring color to any dull aspect of your dog-trodden backyard, if your furry family member were to ingest these flowers, it could result in vomiting, diarrhea, and excessive drooling.
Tulips. Yet another bright and beautiful flower, Tulips look pretty in a garden but are toxic to dogs. If consumed, Tulips can cause dogs to experience hypersalivation, vomiting, and diarrhea.
Hydrangeas. These large, bushy flowering plants can take up a lot of space in a barren garden, but they aren't suitable to have around curious dogs. Both the leaves and the blooms of the Hydrangea plant are toxic to dogs and can result in vomiting, lethargy, and diarrhea when consumed.
Begonias. This brightly-colored plant is favored among many homeowners as both an indoor and outdoor plant. When ingested, dogs can experience extremely uncomfortable symptoms including burning in the mouth, irritation in the lips, vomiting, excessive drooling, and difficulty swallowing, along with a lack of appetite.
If you're unsure if the plants you want to spruce your backyard dog trail with are toxic to your dog, it's best to avoid purchasing those plants and instead opt for plants that you know are dog-friendly.
Conclusion
Whether you have small spots in your backyard or large ones, dogs tend to find and make every messy area of your yard worse. Which, in turn, makes things even harder when trying to keep your house clean. We know from experience how hard that can be on a pet parent.
Take the time to fix those spots in your yard that are desperate for your attention. Choose whichever choice above and make it your own backyard oasis, creating a backyard you can be proud of that's completely safe for your fur babies.
We hope our guide to how to fix a muddy backyard dog trail helps you to fix up your backyard!