Is there anything better than having your friends and family over, heating up the grill, and enjoying the weather in your backyard? Adding in a few BBQ party games for adults not only spices things up for your guests but gives them something to do while they're waiting on the BBQ to finish up. Choosing the best BBQ party games depends on the interests of your guests, so keep that in mind when going through our list below.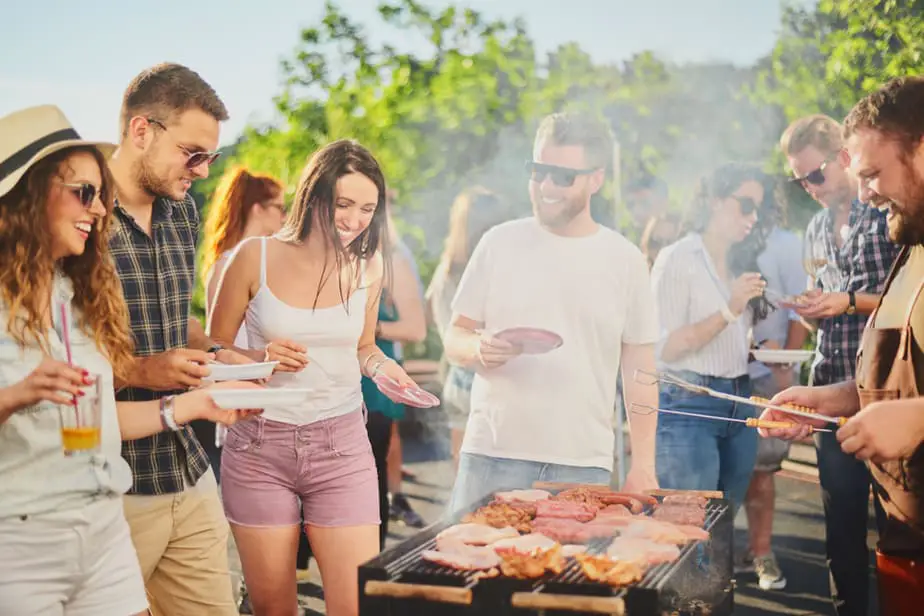 Backyard Tossing Games
1. Cornhole
One of our favorite BBQ party games for adults, Cornhole, goes by a few different names, depending on where you live or who you talk to. Regardless of what you call it, cornhole is a classic BBQ party game that is always a hit!
To play, you will just need a cornhole set, a few friends, and some space in your backyard. You can either play a one-on-one game or group up everyone into teams. 
Each sandbag that goes through the hole is worth 3 points, while each sandbag on the platform loses you 1 point. The goal is to hit 21 points before your opponent(s) can, which can surprisingly be a challenge.
Here is a review of our favorite cornhole bags and cornhole boards.
2. Horseshoes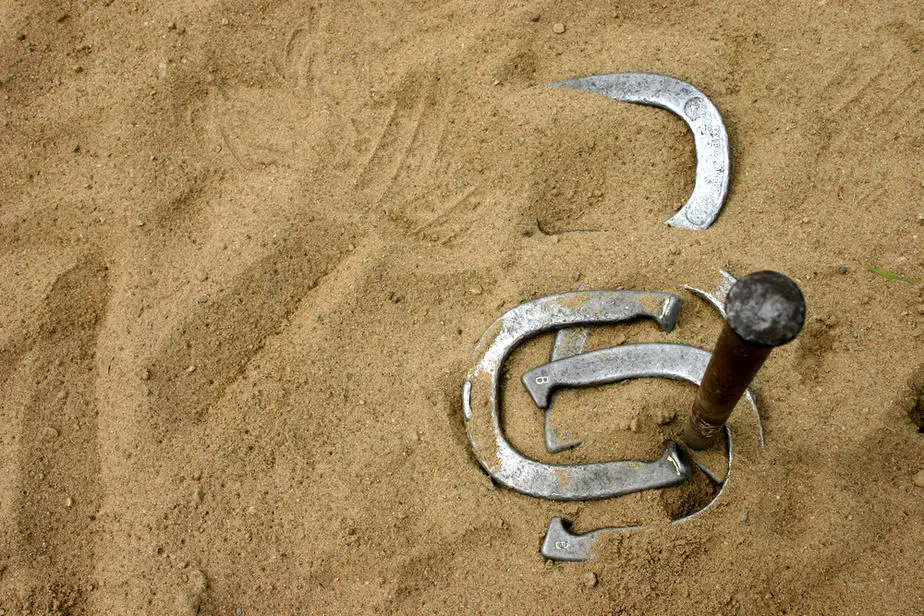 Horseshoes aren't just for horses; they are also a great part of an exciting backyard game. This throwing game is easy to learn but can be challenging to win. 
To play horseshoes, all you need is four horseshoes and two stakes. Traditionally, you would place the stakes 40 feet apart, but you can arrange them accordingly, depending on the size of your backyard. 
You get three points for ringing the horseshoe around the stake, and 1 point if it lands within 6 inches around the stake. You play until one player or team hits the predetermined score, such as 20 points. However, you can choose to make it 20, 30, or even 50 points if you like.
To reduce the bouncing and sliding of horseshoes, you can choose to add a pit of sand around each stake. Doing this is not required, however.
Here is a review of a few of our favorite horseshoe game sets.
3. Washer Toss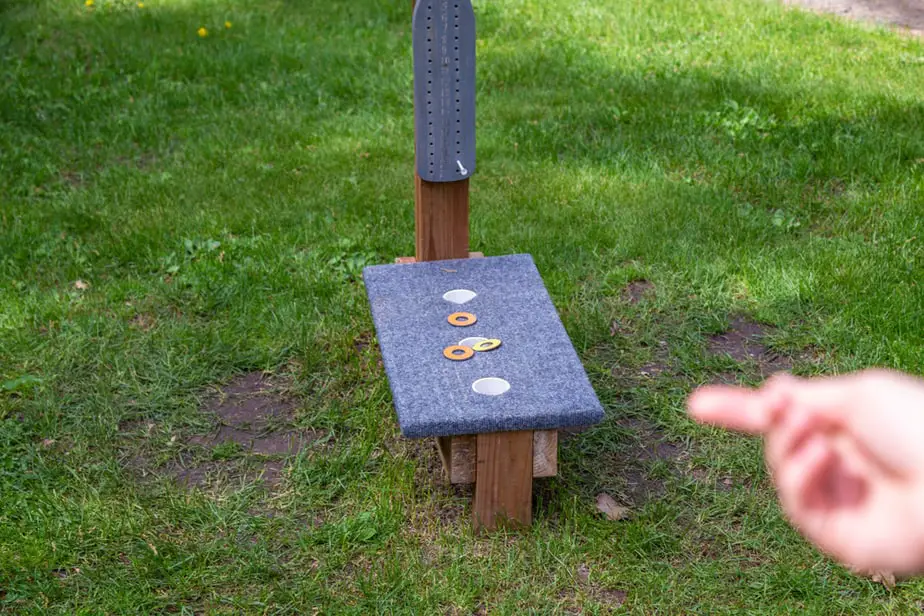 The game of washer toss is somewhat similar to cornhole and horseshoes. Washer toss is another tossing game where you're aiming at a specific area across the yard to rack up points. 
To play, you'll need to purchase a washer toss set from Amazon. You could DIY it yourself if you prefer to do it that way, too. You'll need two washer pits with a hole or cup in the center (along with a few washers, of course). 
Similarly to the games mentioned above, a washer that lands in the center cup will earn 3 points, and 1 point for each washer within the box. Typically, you play until someone gets to 21 points.
GoSports Premium Birch Wood Washer Toss Game
BACKYARD CLASSIC: Includes 2 targets & 8 washers, fully assembled so friends and family are playing in no time
HANDCRAFTED: Premium birch wood with mitered corner joints
REGULATION SIZE: Perfect for enthusiasts, set meets regulation size guidelines for practice and competitive use
PORTABILITY: Targets latch together for easy transportation and storage
Last update on 2020-12-11 / Affiliate links / Images from Amazon Product Advertising API
---
4. Ladder Toss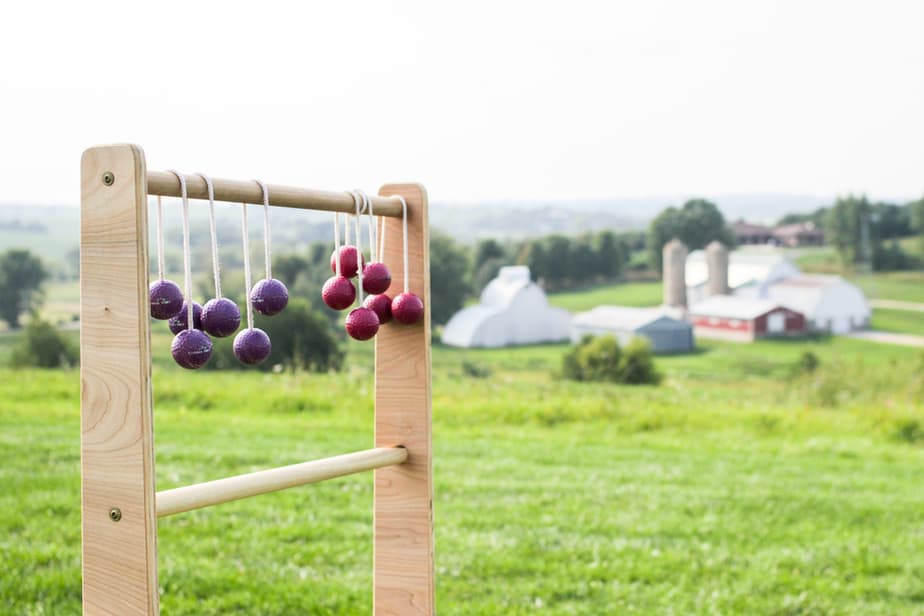 There is speculation that ladder toss actually goes back to the cowboys in the wild west. Cowboys would throw snakes at branches or fences to compete for points, which is similar to how you play ladder toss.
You may have heard of this game before, perhaps by a different name such as hillbilly golf, ladder ball, ladder golf, or ball rope. To play, you'll need a ladder with three tiers and three bolas (assuming you don't want to play like the cowboys). 
The top tier is worth three points, the second tier is two points, and the bottom tier is worth one point. Aim for the top, and try to rack up as many points as you can to win the game. 
Sale
Win SPORTS Indoor Outdoor Ladder Toss Game Set, Ladder Ball Toss Game - with 6 Weighted Bolos, Carrying Case and Sand Weighted PVC Piping (red/Blue/Green)
★PERFECT SET CONSTRUCTION : Set Includes 2 Targets with Score Trackers, 6 Bolos, Carrying Case & Rules.This tournament style game is made of durable 2.5 mm Virgin PVC tubing & sand-weighted bases.The bolos are made with resin.
★EASY SETUP AND STORAGE : PVC Targets are Pre-Glued so Assembly Takes Under 2 Minutes,and with backpack style carry bag, it is easy to store & carry along. Use the premium, heavy-duty carrying case for an impromptu drinking game, wherever you go.
★INDOOR/OUTDOOR GAME :Ladder Toss Game is a party game for adults that both beginners and professionals will enjoy.With jumbo outdoor games being all the rage, this multi person drinking game set is a must-have accessory. Can practice knocking the ball indoor too as the bolo is less damaging. Being a multiplayer game, Ladder ball toss game is the most interesting game outdoors. Occupying up to 6 persons at once.Great for Yard, Party, BBQ, Camping or other outdoor activities.
★STEADY BASE AND STURDY TRAVEL CASE:Base is filled with sand to add weight and stability to the whole frame.Both ends of the targets are capped to prevent the sand from leaking.The stylish orange and blue bag is made with 600D canvas and provides safe storage conditions and an easy means to transport the bolas and ladder combo.
★PERFECT FOR KIDS:Not just for adults-Different scores for different rungs also provides a fun way for kids to practice mental arithmetic and hand-eye coordination.Score trackers are included to make score keeping easy.These kid-friendly ladder ball games can be enjoyed by children and teens, too!Plus, it gets the little ones outside and interacting.
Last update on 2020-12-11 / Affiliate links / Images from Amazon Product Advertising API
---
5. Lawn Darts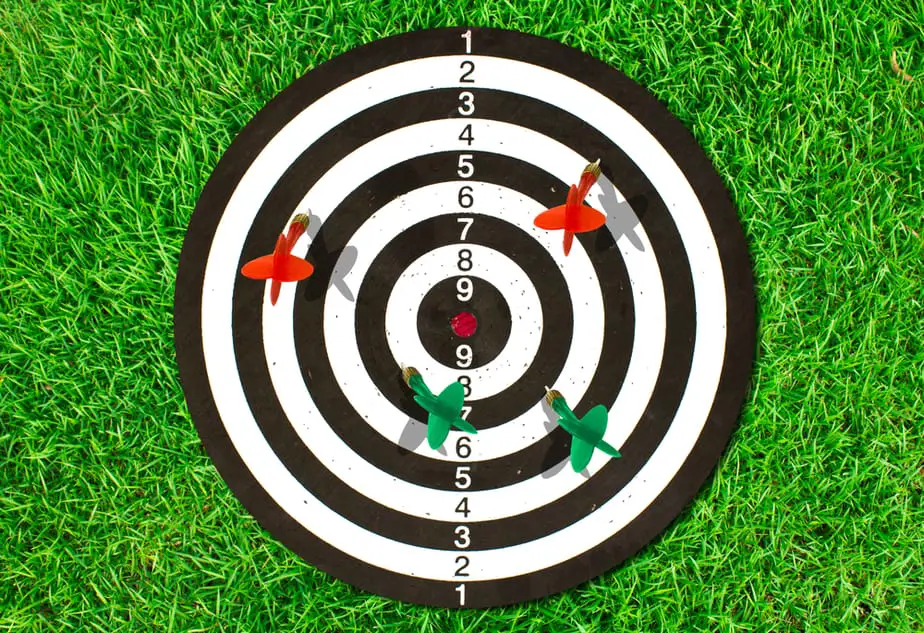 If you haven't been introduced to the game of lawn darts, then you need to give it a try for your next BBQ. This BBQ party game for adults is similar to wall darts, except you get to enjoy the fresh air in your backyard while you play. 
As the name suggests, you'll be aiming the darts at your lawn rather than a standard dartboard. You can even buy glow in the dark sets if you want a fun backyard game to play in the dark. 
To play, you'll need a set of target rings and lawn darts. Place the targets around your backyard, pick up a dart, and aim! Oh, and don't worry, these darts are yard-friendly. 
Sale
Lawn Darts Game – Glow in The Dark, Outdoor Backyard Toy for Kids & Adults | Fun for The Entire Family | Work On Your Aim & Accuracy While Having A Blast
A GAME FOR YOU & YOUR KIDS: Spend some quality with your children, go outside and play a game of darts! There's no better way to improve your aim and have a blast at the same time.
TIPS THAT GLOW IN THE DARK: As long as there is a light on the dart tips, they will glow in the dark, making them perfect for a late-night game of darts with your family!
HAVE A DOSE OF OUTDOORSY FUN: Perfect for the beach, the lawn or your backyard, these glow-in-the-dark darts are perfect for all soft surfaces but not so much for harder surfaces since they would bounce.
EXCELLENT CRAFTSMANSHIP: Our darts are made with rubbery soft, plastic materials that are durable enough to last you for years to come! Make a game out of them and see who gets the highest score!
LOVE THEM OR YOUR MONEY BACK: Make our lawn dart game yours today and if you or your children are not fascinated with it, let us know and we'll send your money back!
Last update on 2020-12-11 / Affiliate links / Images from Amazon Product Advertising API
---
6. Kan Jam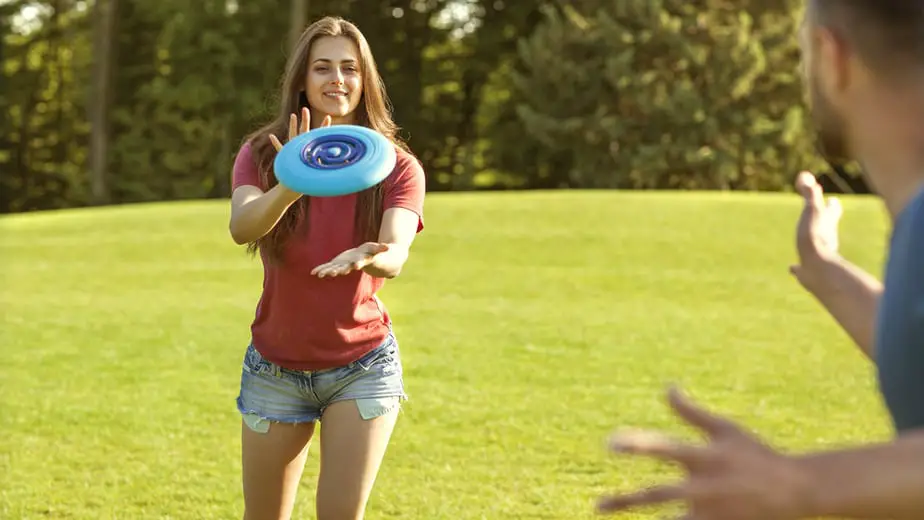 If you want an easy-to-set-up BBQ party game for adults, then kan jam will be right up your alley. It's kind of like playing frisbee, but instead, you aim to hit a target. 
Also known as garbage can frisbee, Kan Jam is a game where you toss discs toward a can with the goal of getting exactly 21 points. Your partner will stand behind the can to assist you in hitting it.
If you hit the can, you get 1 point. Your partner is there to assist you, so if he/she hits the thrown disc and it hits the can, that's also worth 1 point. However, if your disc lands perfectly inside the front slot, you get an instant win.
Sale
Kan Jam Original Disc Toss Game
THE No 1 OUTDOOR PARTY GAME IN AMERICA: Kan Jam is a tremendously fun and a popular competitive team game in the same family as cornhole, horseshoes, and washer toss
4 PEOPLE TO PLAY: In two teams of two players, take turns throwing or deflecting the flying disc across the yard, beach, or park at the goal - 21 points wins, or go pro and slot the flying disc for an instant WIN
EASY SETUP: With minimal no assembly needed, you can play in seconds! Set includes two high quality, Made in the USA, one official Kan Jam flying disc, and game play instructions
ADJUSTABLE DISTANCE: Play at the regulation 50' distance or tailor the distance to your skill level. Pull goals in closer for beginner skill level or play at full regulation for advanced players
PLAY WITHOUT LIMITS – Kan Jam is perfect for college campuses, indoor, outdoor, backyard, beach, tailgate parties or camping - kids and adults can compete together
Last update on 2020-12-11 / Affiliate links / Images from Amazon Product Advertising API
---
7. Pong Golf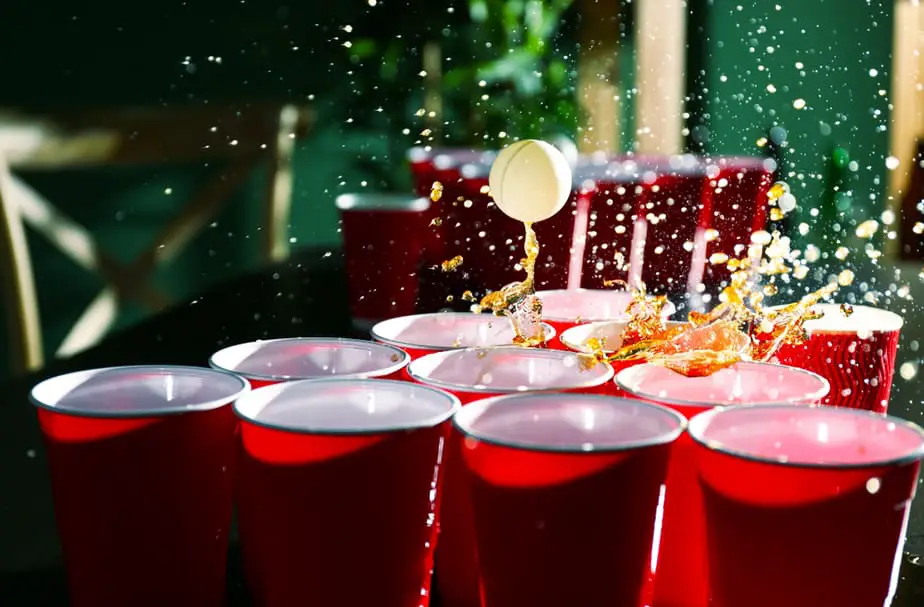 Pong golf: a game where beer pong combines with golf. Whether you're an avid golfer or just want a fun BBQ party game for adults, pong golf is one you should give a try. 
Similarly to beer pong, the goal is to sink the ball in all of your opponent's cups. Instead of tossing the balls, you'll use a golf club to aim the balls into the opponent's holes. 
Whoever removes all of the other team's cups wins!
2-FNS Golf Putting Game Set, Golf Putting Green Game Set Practice Putting Mat with 4 Golf Balls,Golf Training Mat for Indoor Outdoor
😁A NEW TWIST AND BLAST ON GOLF: Golf and Pong, who said only can choose one? This golf putting green game set definately meet your expection to enjoy golf and pong game at the same time
😄FUN FOR EVERYONE: Learning this golf game is very easy, everybody can enjoy the putting fun, no matter you're pro golfer or golf beginer, man or woman, kids or adults
❤FITS FOR ALL OCCASIONS: With the size of 11.5 * 1.64ft, this golf putting game set is so portable that you're easy to bring it to your office, backyard, house party or the beach for the ultimate golf pong gaming experience
⛳COMPLETE SET ACCESSORIES: This golf pong game set includes almost you need to play (well, except for the putters): 1 golf green mat, 4 golf balls, 2 slope bases, 12 hole covers
🆒100% SATISFACTION GUARANTEE: Every parcel is carfully checked before sent. If you meet any problem in our golf putting green game set, please don't hesitate to contact us, we will try our best to make it right. Your 100% satisfaction is our priorty
Last update on 2020-12-11 / Affiliate links / Images from Amazon Product Advertising API
---
8. Bottle Bash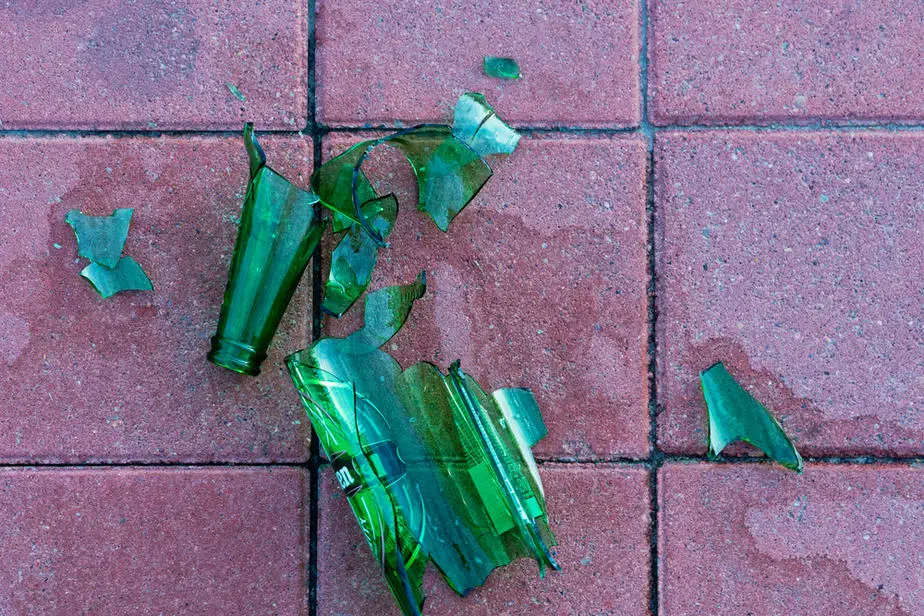 Bottle bash is a simple tossing game where you toss a frisbee and try to knock the bottle off of a pole.
To play, you'll need 2 or 4 players. One person will begin by tossing the frisbee while the defense tries to catch the frisbee and bottle before it hits the ground. You get two points if the bottle hits the ground and 1 point if the frisbee hits the ground.
Like a lot of tossing games, the first person or team to get to 21 points is the winner.
Sale
Bottle Bash Standard Outdoor Game Set – New Fun Disc Toss Game for Family Adult & Kid to Play at Backyard Lawn Beach Game - Frisbee Target Yard Game with Poles & Bottles (Beersbee & Polish Horseshoes)
Ideal for endless backyard fun for the whole family, tailgating, camping trips, the beach, and more
Enhances eye-hand coordination, all players active with every throw of the disc, great team game
Game set up takes less than one minute and can be played on 20, 30, or 40 foot long areas depending on skill level
Includes: (2) Non-breakable life like bottles, (2) Telescoping metal poles for use on sand or turf with built in scoring system
Accessories:Multi-surface base with built in cup holders for use on pavement, gymnasium floor or other hard surface
Last update on 2020-12-11 / Affiliate links / Images from Amazon Product Advertising API
---
9. Kubb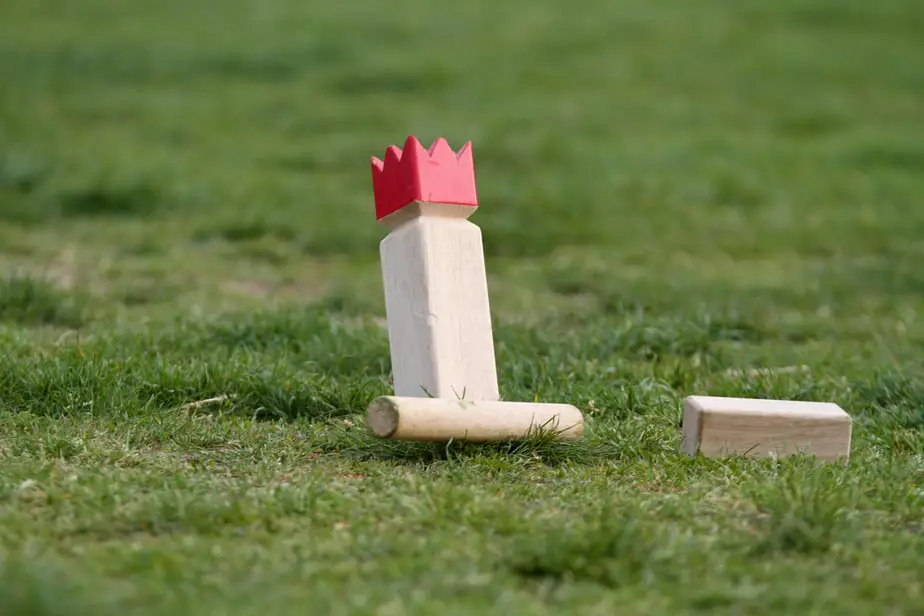 Believe it or not, this game has been around so long, it's actually older than golf and croquet. In Kubb, you take turns throwing sticks at your opponents' blocks. Although it seems simple enough, you only get a set number of sticks to throw, so you need to play wisely. The game really heats up when the last "king" block is standing, and all you have is one stick to make it count.
Yard Games Kubb Premium Size Outdoor Tossing Game with Carrying Case, Instructions, and Boundary Markers
Yard Games Premium Size Kubb Outdoor Tossing Game is beautifully crafted and made with durable, eco-friendly, shock-absorbent hardwood and is a fun game inspired by the Vikings!
Premium Size includes 10 Kubb Blocks (6" x 2.25" x 2.25"), 6 Dowels (12" x 1.5" dia.), 1 King (12" x 3" x 3"), and 4 corner stakes to mark the field of play
This game is the perfect team building experience that includes strategy and skill and will provide hours of fun with friends and family.
Includes high-strength, durable nylon carrying case for easy storage and transport. Perfect to take to parties, BBQs, camping or just a nice day in the sun
Kubb provides fun for all ages, anyone can play this game and it's perfect for getting everyone outside and active.
Last update on 2020-12-11 / Affiliate links / Images from Amazon Product Advertising API
---
Giant Games
10. Giant Yard Pong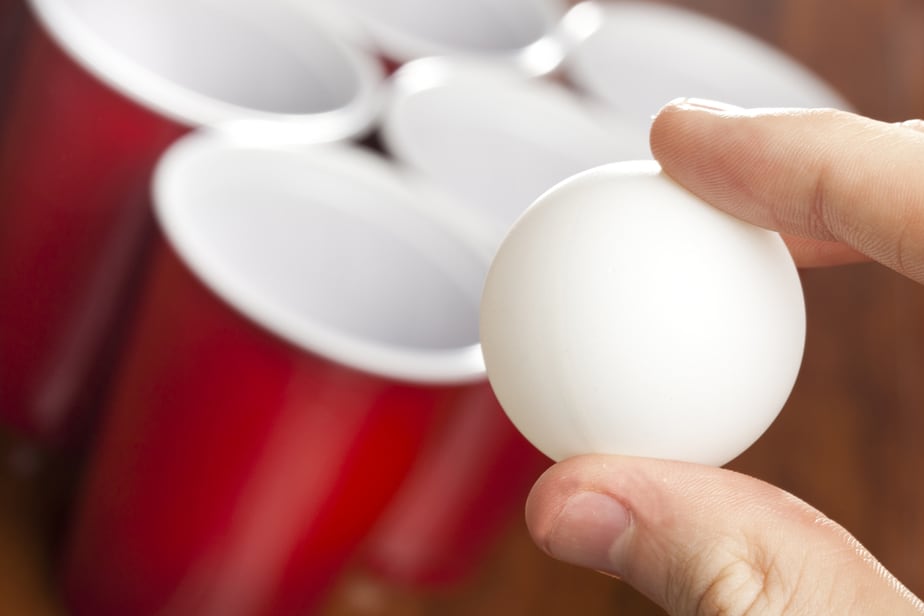 Everyone who's ever been 21 years old has likely heard of beer pong. However, with yard pong, you're working with giant cups, so you probably don't want to fill these up. 
Each team takes turns throwing a set of balls at six giant buckets. If the ball lands in the bucket, it is removed. Whichever team can eliminate the other team's buckets, wins.
What's really fun about giant yard pong, is that you can also play it in your pool! The buckets and balls float, so if you have a pool, this is a great option. 
Sale
Yard Games Giant Yard Pong with Durable Buckets and Balls Including High Strength Carrying Case
12 giant buckets and 2 heavy duty plastic balls that don't blow in the wind! Exact ratios for buckets and balls to enjoy your favorite beer pong games
Includes instructions and high-quality and high-strength carrying case to play your favorite pong games the way they were meant to be played at a larger scale!
Perfect for outdoor events such as parties, BBQs, tailgating, group events, camping and much more
100% Satisfaction Guaranteed. We are a US based company and will replace any piece of this game if you are not satisfied. Or if it's just not working out, send it back for a full refund.
Last update on 2020-12-11 / Affiliate links / Images from Amazon Product Advertising API
---
11. Giant Jenga
What's not to love about Jenga? It's an exciting game that requires a little strategy and a lot of stamina. Giant Jenga takes things to a whole new level (literally)!
To play giant Jenga, you'll stack rows of blocks into a tower (alternating how they lie in each row). Each player takes turns carefully removing a block, hoping it's not the one that makes the tower collapse. 
Whoever moves a block that causes the tower to fall loses. 
Sale
Last update on 2020-12-14 / Affiliate links / Images from Amazon Product Advertising API
---
12. Giant Bowling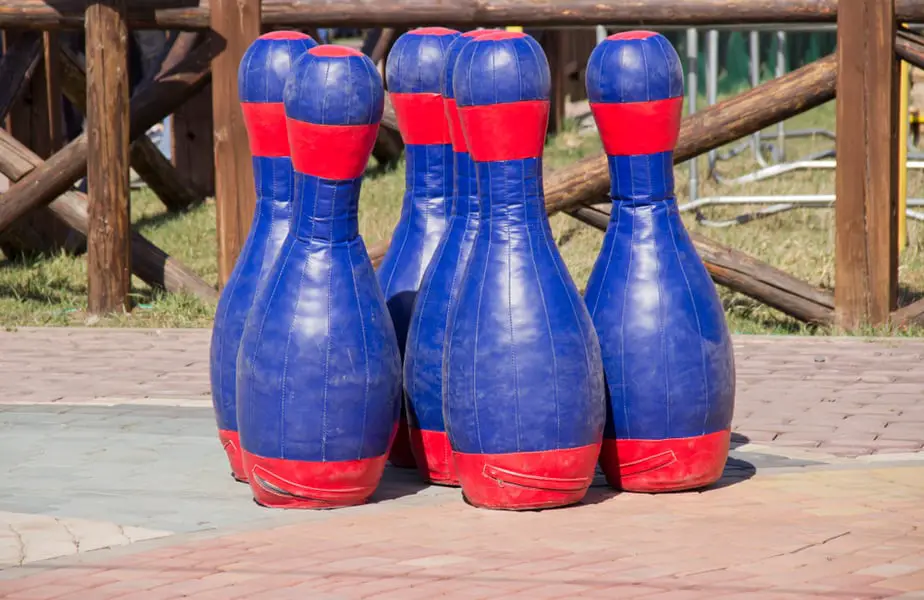 What's more fun than bowling in a bowling ally? Giant bowling in your backyard! Giant bowling sets typically come up with a huge bowling ball and pins that you blow up. 
Take the ball and knock down as many pins as you can – just like standard bowling. This is great for those who say they aren't any good at bowling. Everything is oversized, so it's hard to miss hitting a few pins. Even avid bowlers will have fun with this game, though.
Novelty Place Giant Inflatable Bowling Set for Kids & Adults, One 18 Inches Ball with Six 24 Inches Pins
✔ TONS OF FUN - This inflatable bowling set is a must-have if you're throwing a party! Everyone would love to participate in a bowling competition!
✔ HASSLE FREE - Gone are the days when you had hassle before having fun! The featured quick-inflate valve allows you to inflate them within minutes. Get your party started in no time!
✔ ANTI-DEFLATION - Made from heavy duty vinyl material. Paired with the anit-deflation valve enables you to enjoy them for hours and hours! You will fully appreciate the workmanship when they arrive!
✔ SPECIFICATION - 1✔ inches diameter bowling ball and 24 inches high bowling pins. Each set contains 1 bowling ball and 6 bowling pins
✔ WARRANTY - We stand behind our products! All items sold by Novelty Place come with a 3-MONTH replacement warranty.
Last update on 2020-12-11 / Affiliate links / Images from Amazon Product Advertising API
---
13. Giant Yahtzee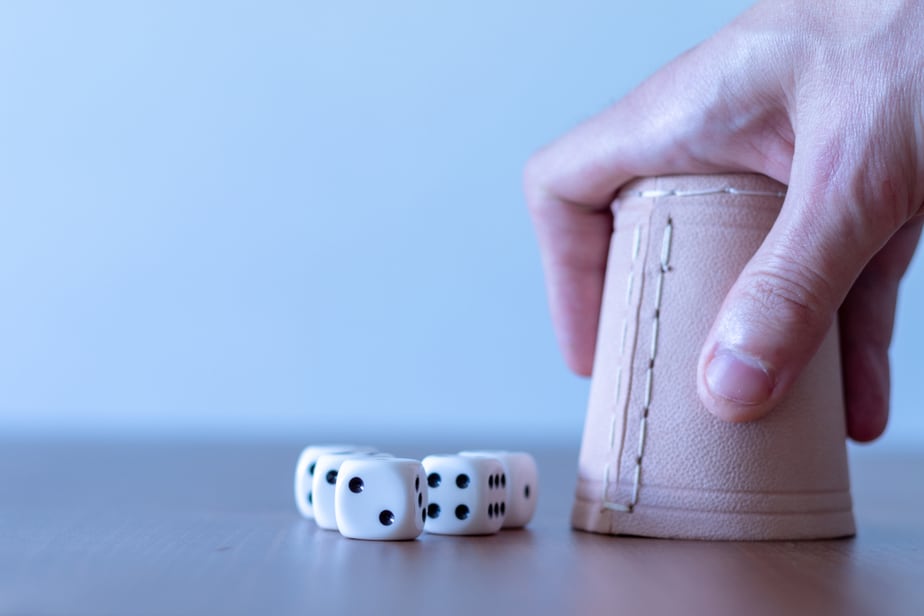 If you're looking for a simple BBQ party game for adults involving strategy, giant Yahtzee is a fun spin on the original game. What's fun about giant Yahtzee is getting to roll the dice in a lifesized bucket and tossing into the yard. While it's still a pretty low energy game, this adds a little bit more movement and excitement to it.
Yahtzee is a game of half strategy and half luck. You roll the dice and try to match different combinations on your scoresheet. If you get 5 of one die within three rolls, you get to yell, "YAHTZEE!" and get an extra 50 points. The person with the most points at the end wins.
Instead of Yahtzee, you could also use the giant dice to play other dice games.
Sale
SWOOC Games - Yardzee, Farkle & 20+ Games - Giant Yard Dice Set (All Weather) with Collapsible Bucket, Lid, 5 Big Laminated Score Cards & Marker - Backyard Lawn Game - Indoor / Outdoor
✅ ALL-IN-ONE - All equipment included for Yardzee & Yard Farkle for up to 5 players. Includes 6 solid wood jumbo dice, 5 large reusable score cards, collapsible bucket, lid, & marker for a complete giant yard dice set.
🎲 INCLUDES 20+ GAMES - Never get bored with this lifesize game. Includes everything necessary to play over 20 different huge dice games.
💦 WEATHER & WATER RESISTANT - Polished and sealed to withstand the elements. Perfect to use whenever, wherever. Take to the beach, pool, camping, picnic or to the lake. Great for indoor and outdoor use.
🌲 SUSTAINABLY SOURCED NEW ZEALAND PINE - These extra large wooden dice are guaranteed not to split, crack, twist or warp. And no more bags that rip and tear with our durable bucket.
🔝 GIANT SIZE - More than 150 times the size of regular dice! Each oversized die is 3.5" x 3.5" x 3.5". Bucket is 10" tall and can collapse down to 3". Despite the huge size, the entire set only weighs a lightweight 6lb.
Last update on 2020-12-10 / Affiliate links / Images from Amazon Product Advertising API
---
14. Giant Checkers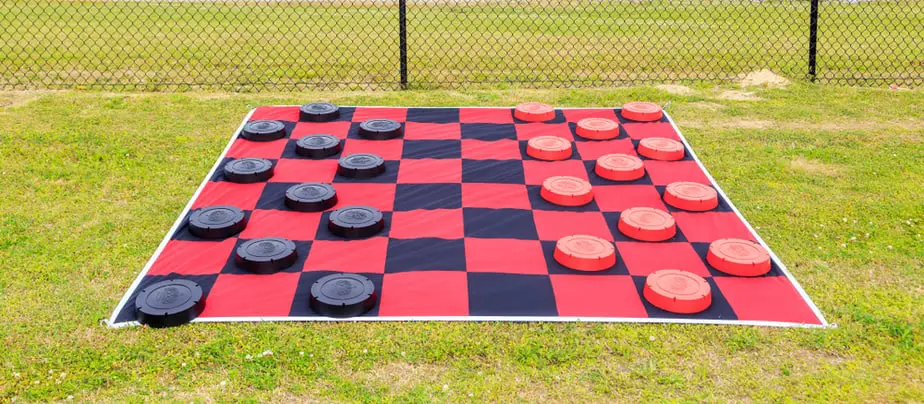 Giant checkers are another great BBQ party game for adults. Especially for those who want to play something that doesn't require a lot of movement since it's more strategy-based. Checkers is a board game classic, but it's even more fun on a giant game board. 
Just like the original game, each player or team starts with either black or red checkers on the board. The goal is to move around the board without giving your opponent the opportunity to "jump" over your piece and take it off the board. 
With giant checkers, you get life-sized game pieces along with a large blanket as the board. You can start the night by playing checkers on the blanket, and end it by sitting on it in the yard while you eat your BBQ.
Lulu Home Jumbo Checkers,  Giant 3-in-1 Checkers Game Rug with Super Tic Tac Toe Game Set
Material: Made of soft,woven material,machine wash gently cycle, lay flat to dry.
Three classic game:Tic Tac Toe, Super Tic Tac Toe and Checkers.
Reversible Rug: measures 28" x 28" with a checker board on one side, tic tac toe on the other.
Including: 24 giant checkers about 2.9" wide, 12 pieces red and 12 pieces black.
Widely usage: Great for indoor play on cold or rainy days, or for use on camping trips,picnics or parties.
Last update on 2020-12-11 / Affiliate links / Images from Amazon Product Advertising API
---
Other BBQ Party Games for Adults
15. Kickball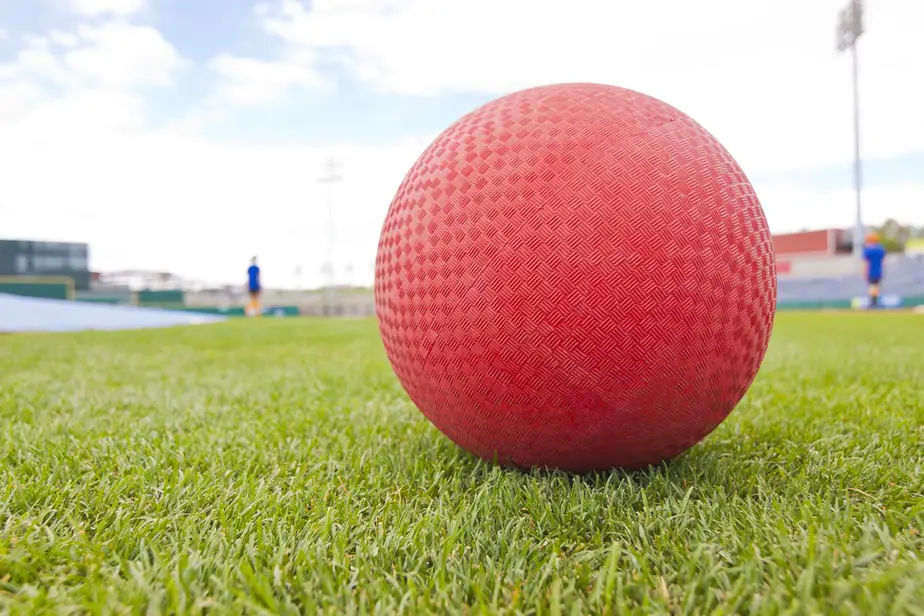 If you're playing kickball, you may want to find a nice spot in the backyard that isn't too close to the grill. Kickball is similar to baseball, but as the name suggests, you kick the ball rather than hit it with a bat. While this is a game that kids play in school, it's just as fun for adults to play.
To play, you'll need to split everyone into two teams, with one team in the field and the other up to bat. The pitcher will roll the ball to the kicker, who then kicks the ball and runs to first base. All of the rules in baseball apply to the game of kickball, with the exception of kicking the ball instead of using a baseball bat.
What's great about kickball is that you don't need a bunch of equipment. All you need is a group of friends and a ball to play with, and you're ready to go!
Sale
Last update on 2020-12-11 / Affiliate links / Images from Amazon Product Advertising API
---
16. Bocce Ball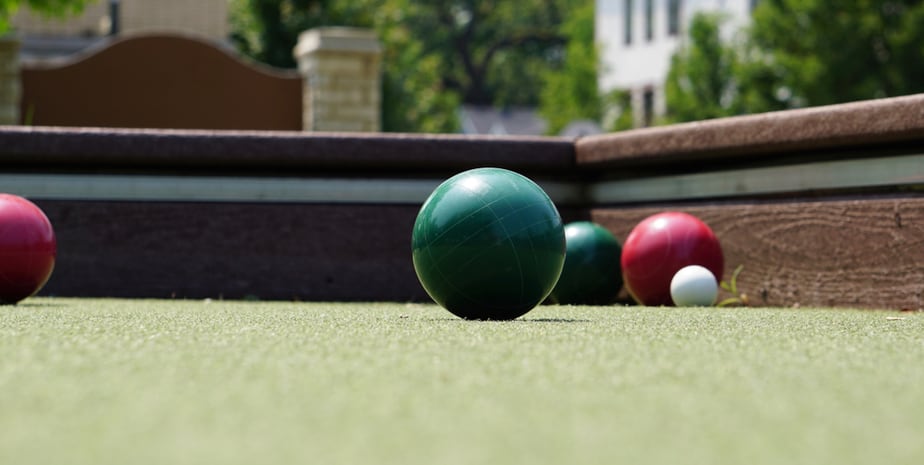 Bocce ball is a fun backyard game that is basically bowling, and skeeball rolled into one sport. It's a great game for your friends who may not be the best at sports, but are looking to have a good time. Unlike some other sports games, bocce ball is fairly easy to learn and doesn't require a lot of skill or strength.
First, someone will throw the smallest ball, called the pallino, which is used as a marker. The first player will step up and throw their bocce ball as close to the pallino as possible. Each person or team goes back and forth until all of the bocce balls are thrown. Whoever gets closest to the pallino, wins that round and are considered the "in" team.
The "in" team gets points for every ball that is closer to the pallino than the other teams. The game continues until one person or team has reached 13 points, or however many points you predetermine are needed to win.
Play Platoon Bocce Ball Set with 8 Premium Resin Bocce Balls, Pallino, Carry Bag & Rope
PREMIUM, DURABLE BOCCE BALLS - Play Platoon bocce balls are made with premium resin that's crack and damage resistant so they'll stay looking new year after year.
INCLUDES FREE CARRY BAG & MEASURING ROPE - This complete bocce set comes with everything you need for a great time: 8 resin 90mm (3.5") bocce balls (2 red, 2 blue, 2 green, 2 yellow), 1 pallino, measuring rope, and a free carrying case.
GREAT FOR GROUPS BOTH LARGE & SMALL - This addictive game of strategy and skill can be played with 2 to 8 players. Provides hours of outdoor entertainment!
PERFECT FOR ALL AGES & LOCATIONS - Whether in the yard, at the beach or indoors, bocce ball is fun for families and groups of all ages. Ideal for parties, barbecues, cookouts, tailgates, get togethers, weddings, family reunions and more!
LIFETIME WARRANTY - Play Platoon stands behind all of its outdoor yard games 100%. This Bocce Ball Set comes with an automatic 1 year warranty. Register online for a free lifetime warranty.
Last update on 2020-12-11 / Affiliate links / Images from Amazon Product Advertising API
---
17. Track Ball
Remember when you were a kid and would play catch with a baseball and a catchers mitt? Track ball is kind of like that, but you're using a special racket meant for track ball instead. This is a simple game to play, and a lot of fun if you have a large backyard to throw the ball in. These rackets can throw the ball far, so a bit of distance is needed for this game.
NextStepCo LLC Trac Ball Set
TRAC BALL SET (2) - An old school classic game that keeps you or your kids outdoors and active!
The set includes (2) rackets (21.5") and (2) balls (3.5") -Play outdoors! Stay active! Awesome for your front or back yard, beach, park or anywhere outside!
High quality rackets that can throw the balls long distances - Awesome for your front or back yard, beach, park or anywhere outside!
Easy game to learn that will keep you improving and loving every minute of it!
Throw and catch with simple, accurate tossing motion (once this is accomplished - curved throws and distance is the next step) (For ages 6 and up)
Last update on 2020-12-11 / Affiliate links / Images from Amazon Product Advertising API
---
18. Croquet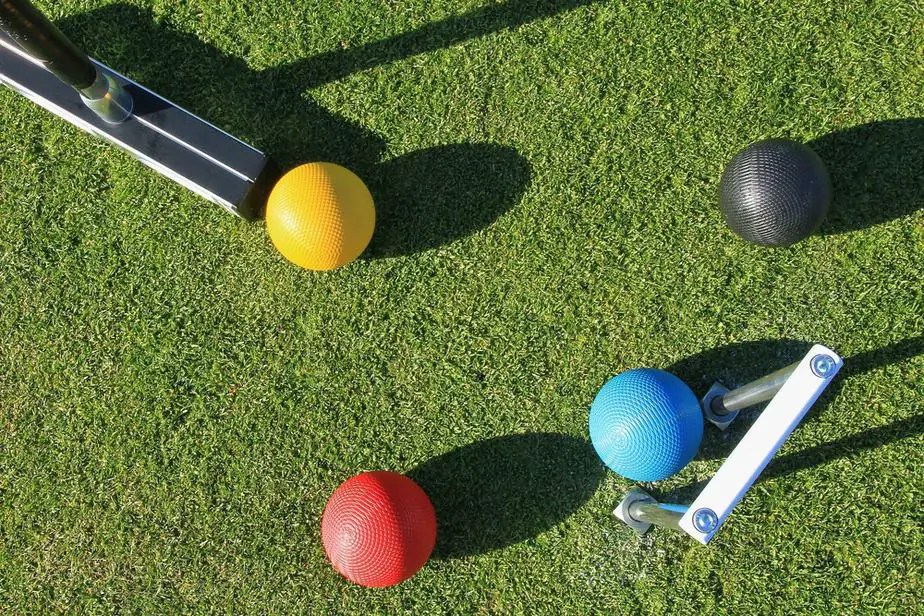 Does it get any more classic than playing a game of croquet? Croquet is a popular game that has been around for thousands of years and may have even been played as early as the 1300s.
Croquet is another game that doesn't require any special skills or a lot of athletic ability. To play, you just need a standard croquet set with croquet mallets and balls.
You can check out our favorite croquet sets here.
19. Spikeball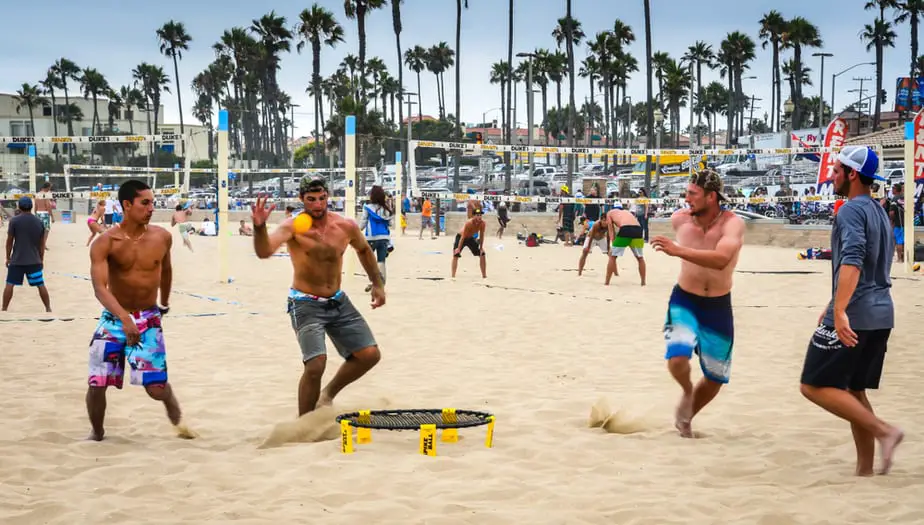 Spikeball is basically a combination of volleyball and foursquare. This one can be a little challenging and get pretty competitive, so keep that in mind when making your BBQ game list.
Like volleyball, the goal is to hit the ball over the net to the other team in a way that makes it hard for them to hit it. Spikeball scoring is kind of complicated to grasp at first, but after a few rounds, you'll start getting the hang of it.
Points are awarded for:
The ball hitting the ground

Hitting the ball directly into the rim.

Rolling the ball across the net instead of bouncing.

When the same player hits the ball more than once in a row.

A player catching or throwing the ball instead of hitting it cleanly.

The ball bouncing back and hitting the net.

When the server faults twice in a row.
Spikeball Pro Roundnet Kit (Tournament Edition) - Includes Upgraded Stronger Playing Net, New Balls Designed to Add Spin, Portable Ball Pump Gauge, Backpack - As Seen on Shark Tank TV
FOUR PLAYER ACTION – Spikeball is a fun, active, and competitive (if you want it to be) 2 on 2 game played with rules kind of like volleyball; Enjoy outdoors, indoors, lawn, yard, beach, gym, tailgate, family get togethers, vacations, virtually anywhere and for any event
33% STRONGER RIMS AND LEGS - Less likely to break from an errant fall or dive. More stable playing surface.
BETTER BALLS - Added texture on the Pro Balls enable more spin and control on hits.
BE LIKE THE PROS - The Spikeball Pro Set is our tournament-standard and used at the National Championship Tournament.
SHIPS IN A SPIKEBALL BRANDED BOX! Choose "Ship in Amazon Packaging" at Checkout if it is a surprise!
Last update on 2020-12-21 / Affiliate links / Images from Amazon Product Advertising API
---
20. Badminton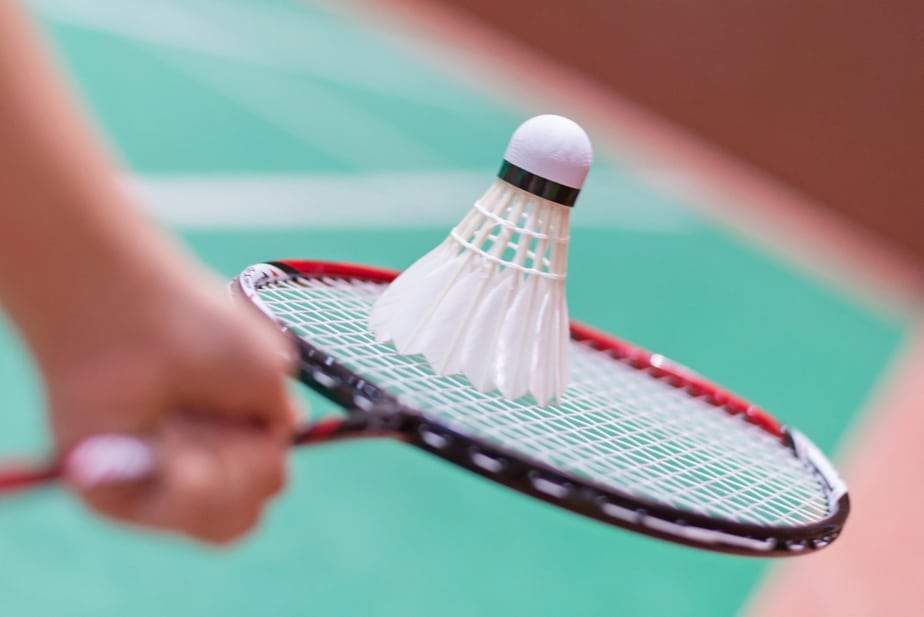 Badminton is another classic, old-school sport that has been around for centuries. It is an extremely popular sport in Asian countries, specifically China and India, where some of the best players in the world are from.
Instead of playing with a ball, you use what is called a shuttlecock. You can play one on one or with a team of doubles. Each player uses a stringed racket, sort of like a tennis racket but smaller. Each time you hit the shuttlecock over the net and into the court before your opponent can hit it, you score a point.
Here is our review of the best badminton rackets and if you really want to take things seriously, the best badminton shoes.
21. Battlechip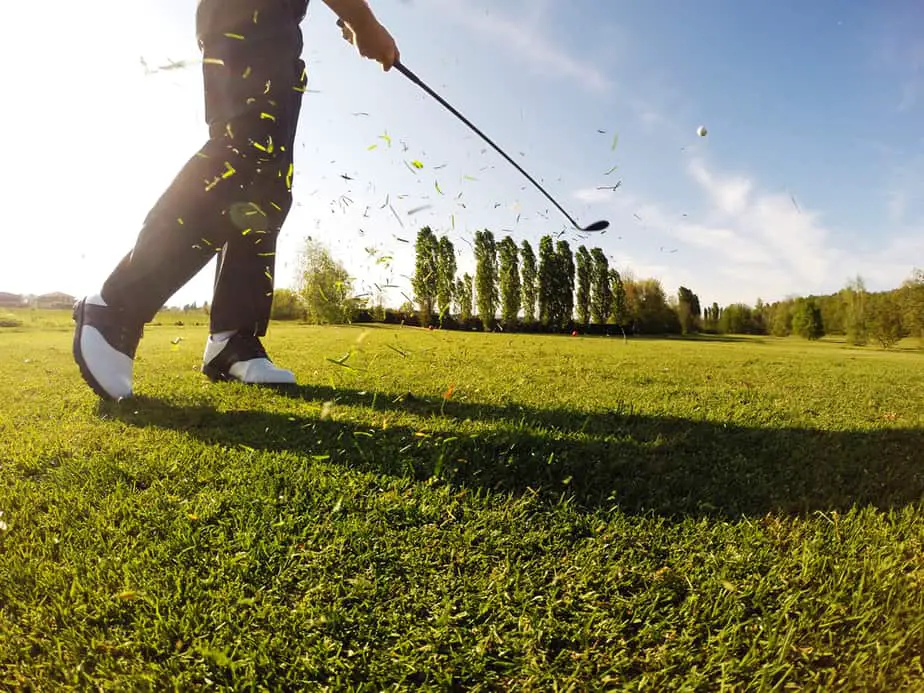 Battlechip takes the game of cornhole and pairs it with the sport of golf to create a fun take on each. It's a simple game that works well for all skill and athletic levels. 
There are three holes that mimic a golf course on each board. If you hit your ball in the "green," you get three points. However, there is a hole located in "water" and a "sandpit," and if you land in one of those, you actually lose a point. If your ball hits the board but lands in no holes, you will receive one point. 
Each kit comes with a target, a hitting mat, foam golf balls, and a dry-erase scoreboard. 
GoSports BattleChip Backyard Golf Cornhole Game, Includes Chipping Target, 16 Foam Balls, Hitting Mat and Carrying Case
BATTLECHIP: An exciting new hybrid between golf and corn hole for the ultimate outdoor game; easy to learn and fun for all skills levels – includes 3'x2' target, hitting mat, 16 color foam balls and carry case
TOURNAMENT PLAY: Dynamic gameplay over the course of 9 holes; Players move the included chipping mat around the play area and aim for the target main hole to score the most points just watch for the water and sand hazards
CHIPPING IRON NOT INCLUDED: We made this game affordable so B.Y.O.C – bring your own club; we recommend using a wedge, sand wedge or lob wedge for maximum enjoyment of battle chip
KIDS AND ADULTS: You don't need to be a pro golfer to become battle chip champ, it's a hole in one for all skill levels
U.S. Patented Product
Last update on 2020-12-11 / Affiliate links / Images from Amazon Product Advertising API
---
Final Thoughts
Backyard games are an exciting way to add a little fun and friendly competition while the food is cooking. Hopefully, after scrolling through this list, you have found a game or two to try at your next BBQ. Give a couple of these BBQ party games for adults a try, and enjoy the time with your friends and family, while trying to beat them, of course. 
Maybe you saw a game that you've played before and forgot about, or maybe you stumbled upon something you've never heard of. If you're having trouble making a decision, go with something you've never tried before to keep things fresh and interesting!
We really like this game! Give it a try if you haven't already.