You only need to experience it once to know that it's the worst of the worst. Just one time, and you'll be scrambling to learn how to fix backyard flooding for good.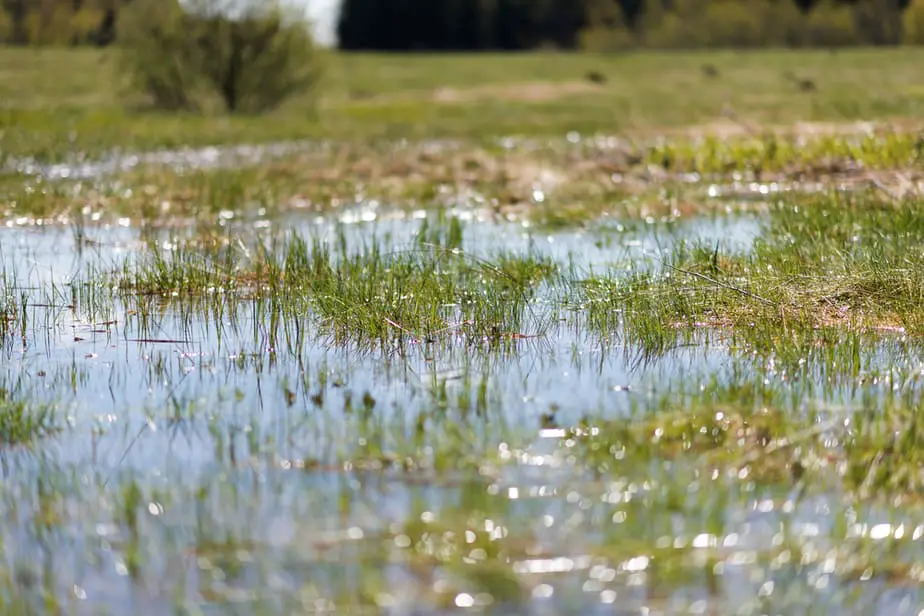 Your concerns are valid. Flooding causes an estimated $8 billion in damage each year.
That's saying nothing about the mess that is left with the mud, mold, and the mosquitoes. The last one, by the way, is the most dangerous organism on the planet because of all the diseases they transmit.
Preventing flooding in your yard takes a plan of action that goes right to the source. Let's get the ball rolling with your first task.
Step 1: Assess the Problem
Before we can even talk about solutions, you must know what you're dealing with to find the right fix. Let's begin with some questions:
Is the flooding seasonal or a year-round pain?
Does it happen every time it rains?
Is it clear where the water is coming from?
Does the water drain quickly or linger for a few days?
Are there places where the water flow is carving ditches in your backyard?
The answers provide valuable clues toward a solution. If you know where the water is coming from, you're halfway there to a fix.
Sometimes, there is an underlying reason for the flooding. For example, if you live on a floodplain, the chances are that nature is taking its course with the excess water the waterways receive by discharging it onto your property.
Your property may also sit on wetlands. These ecosystems thrive because of water, with soils and plants that love getting their feet wet and attracting the wildlife and birds that feel the same way.
If that's the case, your options are likely limited since most states protect these vital habitats. After all, over 40 percent of the country's endangered species depend on wetlands for all of their lives, or at some point during their life cycle.
But, that doesn't mean that you've hit a brick wall.
Step 2: Stop the Flow
There are several things you can do as a homeowner to keep the flow at bay. Some involve a trip to your home improvement store for a few inexpensive supplies.
Begin by finding out how water drains from your house and off your roof. Clogged gutters and downspouts are a common cause of seepage in your basement. Clean out all of them to make sure that the water flows freely. Then, get an attachment for your downspout so that you can direct the flow someplace else.
Also, determine where the water from your sump pump is going, if you have one. You can also redirect the flow with an extension if it's pooling and causing flooding in your backyard.
Sale
Last update on 2023-09-17 / Affiliate links / Images from Amazon Product Advertising API
---
Deal with the Runoff
If you live in an urban area, the chances are that impervious surfaces like roads, sidewalks, and driveways are the problem. Many of these places are also flood-prone.
The telltale sign of a runoff problem is a ditch that water has begun to carve out because of the volume and speed of the water flow. Any bare patch of your yard is vulnerable to soil erosion. The longer you let it go, the worse it's going to get. The ditch will become wider and may end up becoming a hazard to small children and pets.
The best way to deal with this type of backyard flooding is to slow it down to a trickle. That means adding river rocks to the trench to impede the water flow and take away its eroding force. It doesn't have to look like a ditch with rocks. Make it attractive and aesthetically pleasing with your choice of stones and putting in a curve or two so that it looks natural.
Step 3: Explore Your Solutions
There are two basic groups of possible fixes for a water problem if the simple ones above didn't do the trick.
You can work with nature and create a plan that lets it help you. The alternative is to take matters in your own hands and drain the water off of your land.
The benefits of the first one include:
Creating habitat for wildlife
Upping your landscaping game with native plants
Filtering contaminants out of the runoff
Improving water quality for the community
Saving money from repairing flood damage
On the downside, it's hard work to create a rain garden or build wetlands. We won't lie. However, we think that the pros outweigh the cons.
The alternative is to manually drain your backyard to prevent future flooding. It's labor-intensive and can be expensive, to say nothing of the permits and other legalities involved with these options.
Let's discuss each one in detail:
Natural Solutions
One of the best ways to prevent flooding is to take control of the flow with a rain garden or water feature. It's the proverbial win-win with giving you a fix while adding to the aesthetic value of your home.
Rain Gardens
The process is straightforward. You select a spot based on what you've observed with the drainage in your yard.
Then, you must prepare the ground by digging a hole where water will pool where you want it to. Next, amend the soil with sand or compost to making draining easier and quicker. To protect the rest of the yard, you can put a berm around the back edge with stones or boulders. It's another opportunity to use your flooding fix as a landscaping feature.
You'll likely have a few different zones with varying wetness, depending on the slope. The idea is to keep it gentle to avoid soil erosion. We suggest using only native plants in your rain garden. They offer several advantages over non-native ornamental ones. For example, they're used to your weather and climate. That means you'll have better chances of success with the plants becoming established.
If you want to attract wildlife and birds, the native varieties will provide excellent food sources that these animals recognize and use.
It's always smart to draft a plan for the plantings before you start digging holes. Some need a good-sized space when they reach maturity, so don't be tempted to crowd them together when they're small. We also recommend avoiding aggressive and fast-growing plants like cattails, goldenrod, or willows. They often outcompete other varieties and take over the garden.
Scientists call it a monoculture. We call it a boring selection of food with only one choice.
Water Features
Alternatively, you can build a water feature to do double-duty for flood control and aesthetics. The process begins as a water garden, only you must put in a liner.
You also need a filtration system or fountain to keep the water moving and filter out contaminants. You can also add goldfish or koi if you want to add interest.
The one caveat we'd add with this option is to give it a pass if runoff from the street will get into the pond. The salt and contaminants from the road will likely kill the plants and any other aquatic life that makes it a home.
Sale
Firestone 45mil EPDM Rubber Pond Liner 15ft.x20ft.
EPDM rubber pre cut and boxed pond liner
Flexible for creative designs
Environmentally friendly; fish friendly
Easy maintenance; lasting beauty
Measures 15-feet length by 20-feet width by 0.045-inch thick
Last update on 2023-09-17 / Affiliate links / Images from Amazon Product Advertising API
---
Other Manual Fixes
These projects are more involved and costly, but they're a decent option if you want a set-it-and-forget-it type of solution. The maintenance is minimal compared to keeping a rain garden. You'll also see results quickly versus the time it takes for the natural option to become established.
These projects usually involve digging — and a lot of it! Many are underground with little, if anything, visible on the surface. They also have more moving parts. You must sod or landscape after the earth-moving to keep the soil intact and prevent erosion.
If you tap into the local water supply, you must check with your utility company and municipality in the case of building permits and permission to dig.
The scope of these solutions varies with the amount of water you must move and how far it must go. You may find that combining both types of projects is the best way to get the flooding under control.
Possible fixes include:
Dry Well
Drainage Trench
French Drain
Soil Grading
All involve discharging the water someplace else. Do yourself a favor and call your city's planning office before starting work. While you can make any of these a DIY project, we suggest that you call in a professional or at least seek out the advice of your local extension office.
Step 4: Get Professional Help
Before you start digging, take the time to explore your other options from a professional perspective. You may find that you can get advice and assistance from an expert in the field with funds to pay for the project.
The USDA Natural Conservation Service has several programs for providing financial and technical assistance to landowners who manage their property to better the environment. Many state DNR departments have similar initiatives.
Tips for Success
Prevention, of course, is always the best solution for flooding. However, any of these fixes will put you on the right track. Other things to remember include:
Call 811 before the first shovelful of earth leaves the ground.
Keep mosquitoes under control by using dunks once a month in any standing water.
Monitor the progress and feel free to change or add other methods to control the flooding.
Last update on 2023-09-17 / Affiliate links / Images from Amazon Product Advertising API
---
Final Thoughts
Flooding carries so many problems in addition to messing up your yard. It creates a habitat for mosquitoes and can cause serious environmental issues from soil erosion.
Fortunately, you can get a handle on it with some quick and some not-so-quick solutions for how to fix backyard flooding. We encourage you to explore your options and take back your yard once and for all.