Have you always dreamed of relaxing beside a beautiful outdoor water garden in your own backyard? No matter how big or small your yard, we have the 29 best water garden ideas to help you choose a water feature to suit your space and budget.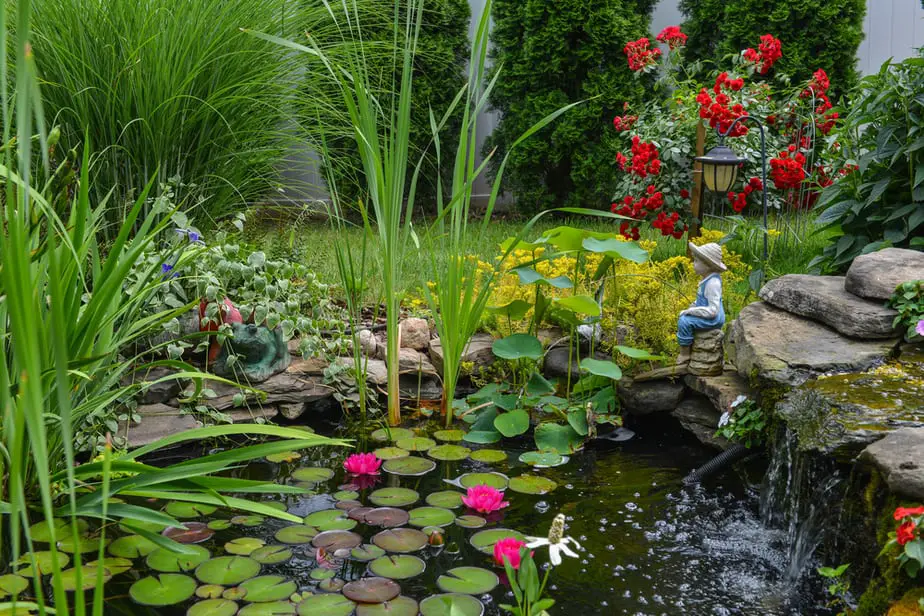 Adding a water garden to your yard involves planning and preparation. But the results will yield hours of relaxation in nature just footsteps from your own home.
Even if you live in an apartment with no yard at all, you can incorporate a decorative water feature on your balcony, rooftop, or even indoors.
Whether you want to impress the neighbors or just create a beautiful space where you can unwind at the end of the day, these water garden ideas will "wow" you (and your neighbors, too).
1. Peaceful Pond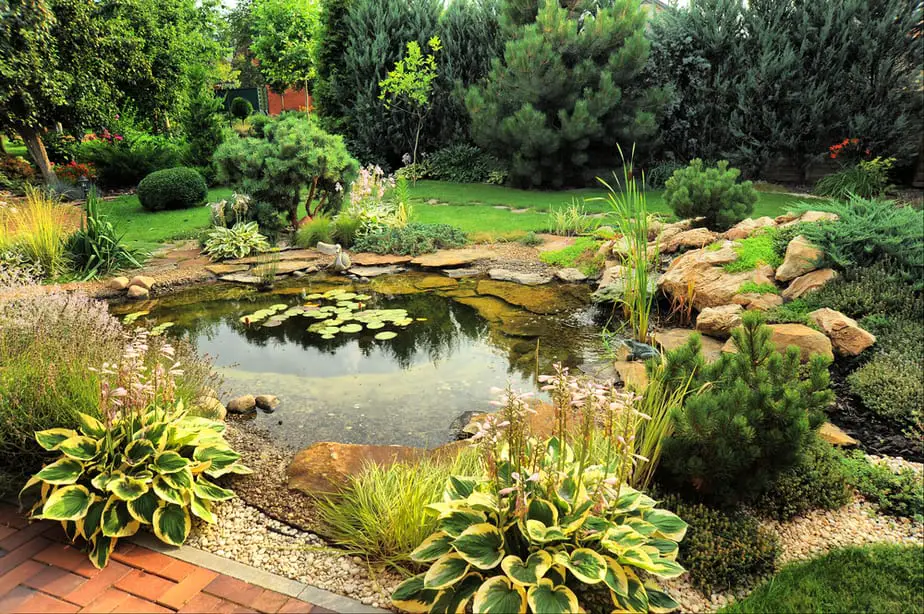 A water garden resembles a natural pond habitat. Ideally, a good water garden will make you feel like you just stumbled upon a hidden watering hole during a meandering hike.
2. Perfect Circle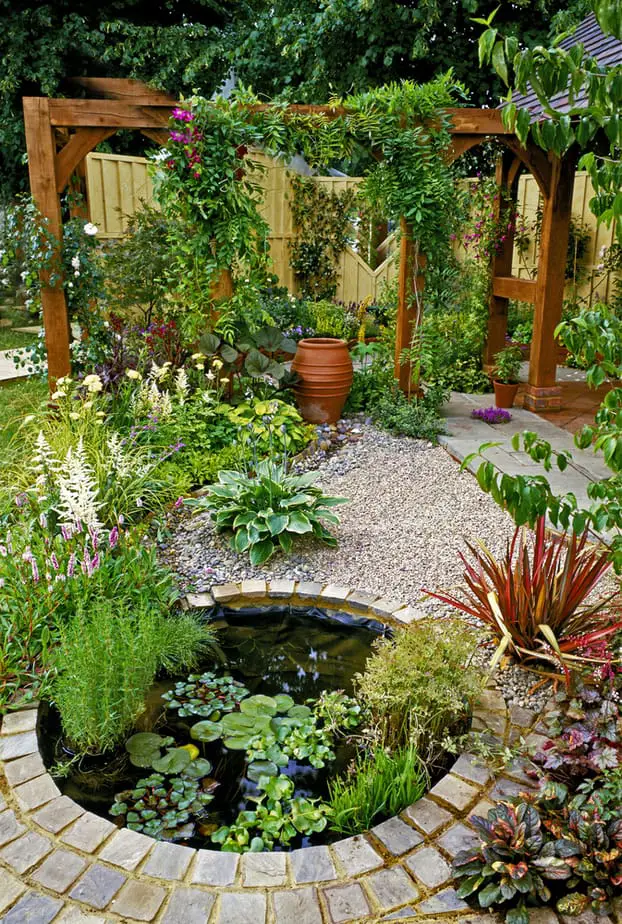 This small water feature is bordered by bricks, making it a nice addition to the simple gravel patio. Natural plantings soften the perfect circle. A pergola adds height and dimension to this outdoor space.
3. Garden Gazebo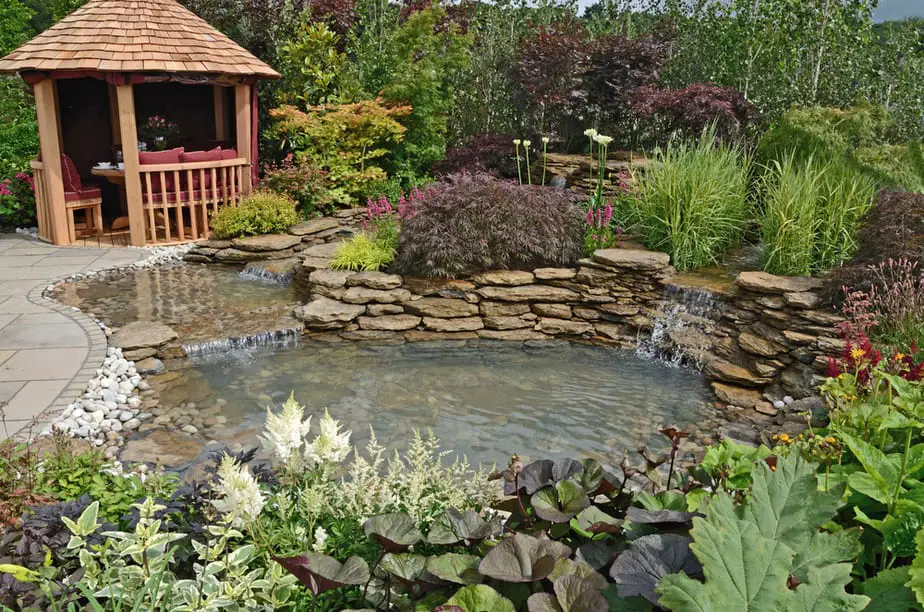 Adding a wooden gazebo near your water garden will provide ideal shade seating. From the comfort of a gazebo, you can sit and meditate, picnic with your family, or read a book while admiring your water garden.
4. Cottage Charm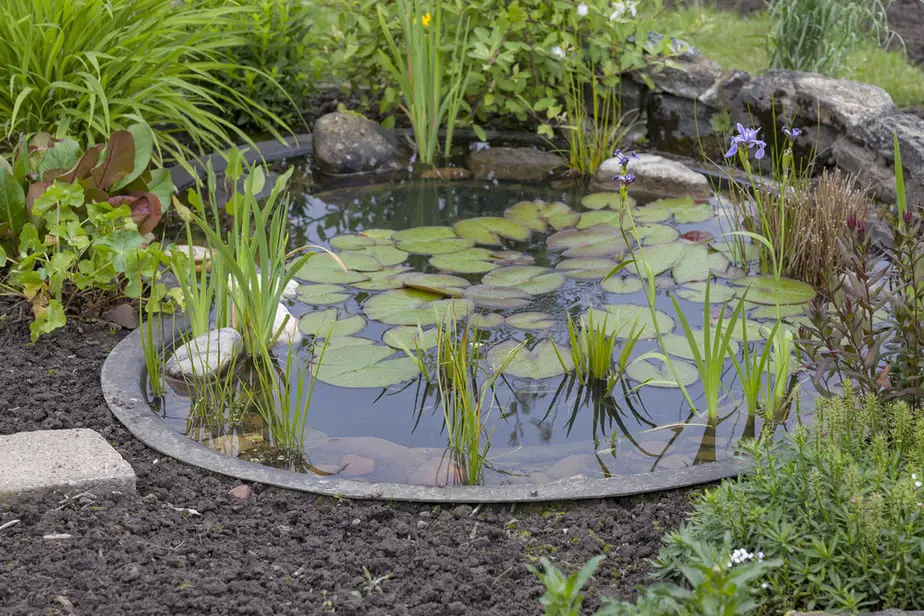 A miniature water feature can be "just right" size-wise for a cottage garden. Although this water feature is about the same dimensions as a plastic kiddie pool, it adds instant charm to a rustic cottage yard.
 5. Bold Foliage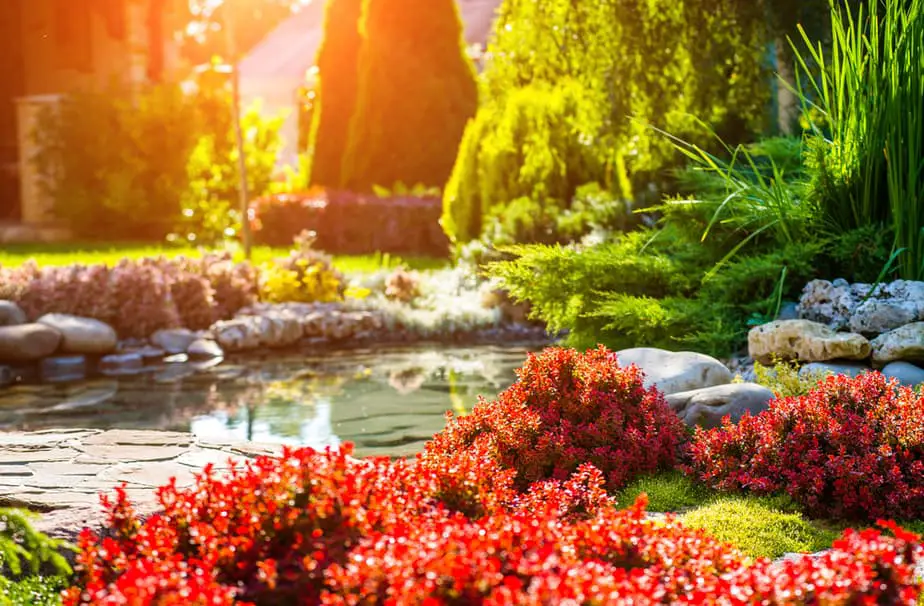 Dramatic crimson foliage adds excitement to this garden. It will also create beautiful reflections off the water at sunset. The combination of bold colors, textures, and billowy reeds give this garden an Asian-inspired feel.
6. Tumbling Waterfall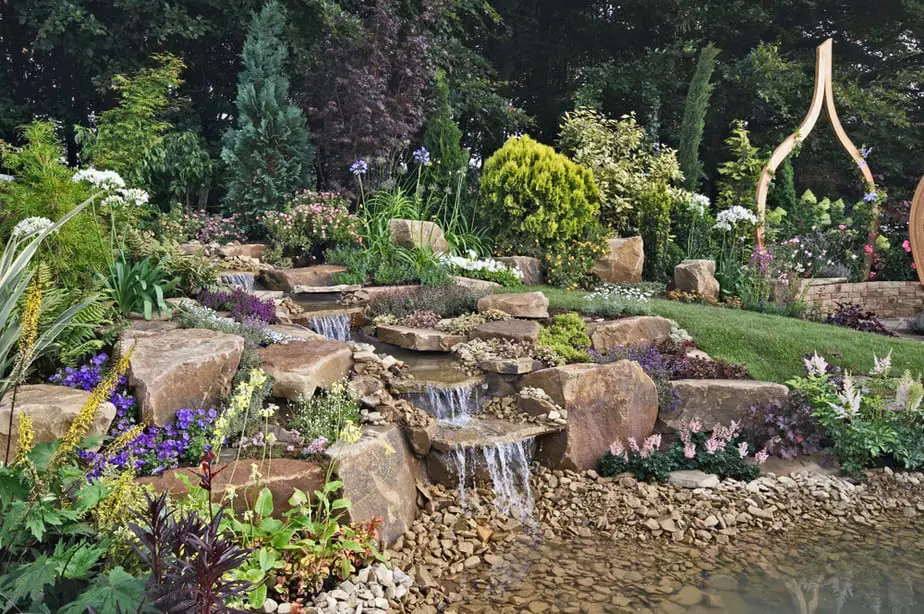 Whenever we see water tumbling over layers of rock, we think of a mountain stream bubbling over the landscape. We love how natural this looks.
7. Hidden Bistro Table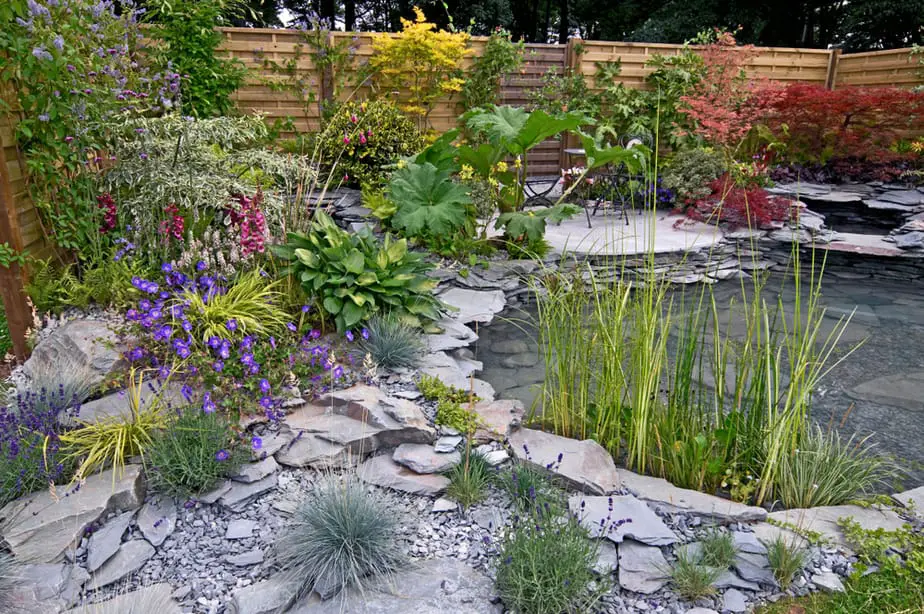 If you look closely, you will notice a hidden bistro table and chairs. Sitting beside this water garden would be the perfect place to enjoy a cup of tea and a scone on a summer morning.
8. Mini Waterfalls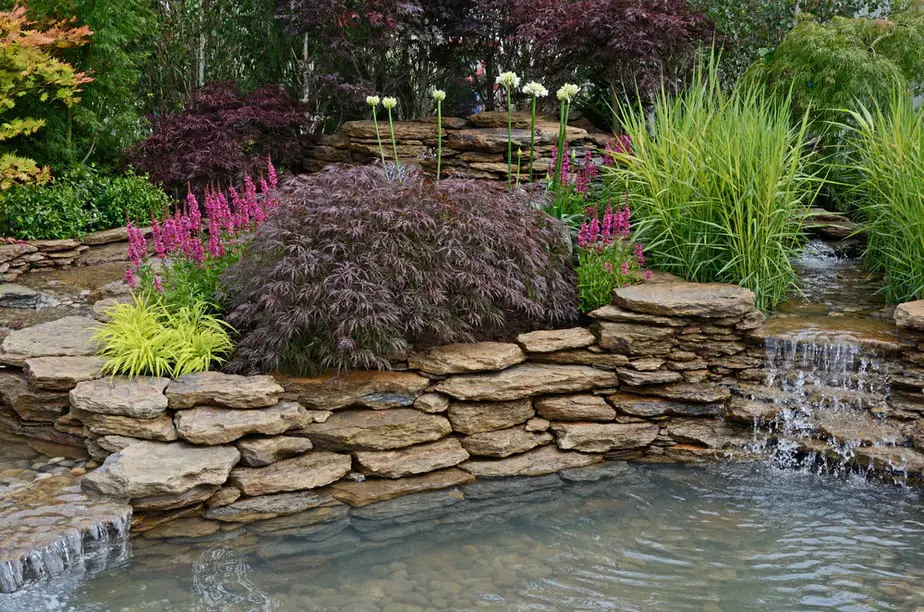 This water garden is small, and the landscaping is relatively simple. But the addition of two small waterfalls of varying heights gives it an unexpected twist.
9. Koi Pond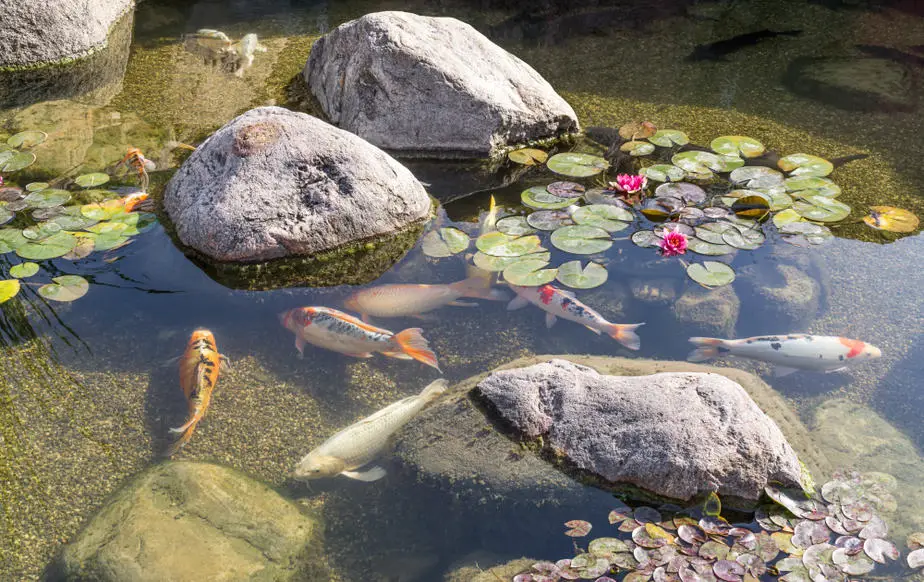 Koi ponds make us feel as though we've stepped into a Zen garden. When a brightly-colored koi fish catches your eye, it's impossible not to stop whatever you're doing and just enjoy the present moment.
10. Tiny Watering Hole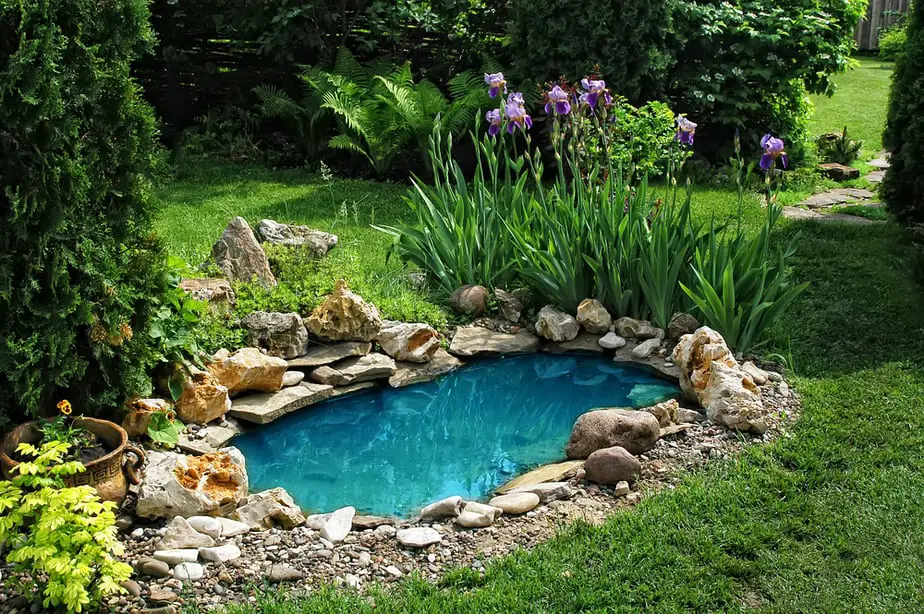 Although this is probably one of the tiniest in-ground water gardens, it has plenty of charm. Flanked by arborvitae, irises, a terra cotta pot, and a variety of rocks, it has character. If space is an issue in your yard, go with a small, basic design, and then focus on the surrounding details!
11. Antique Masonry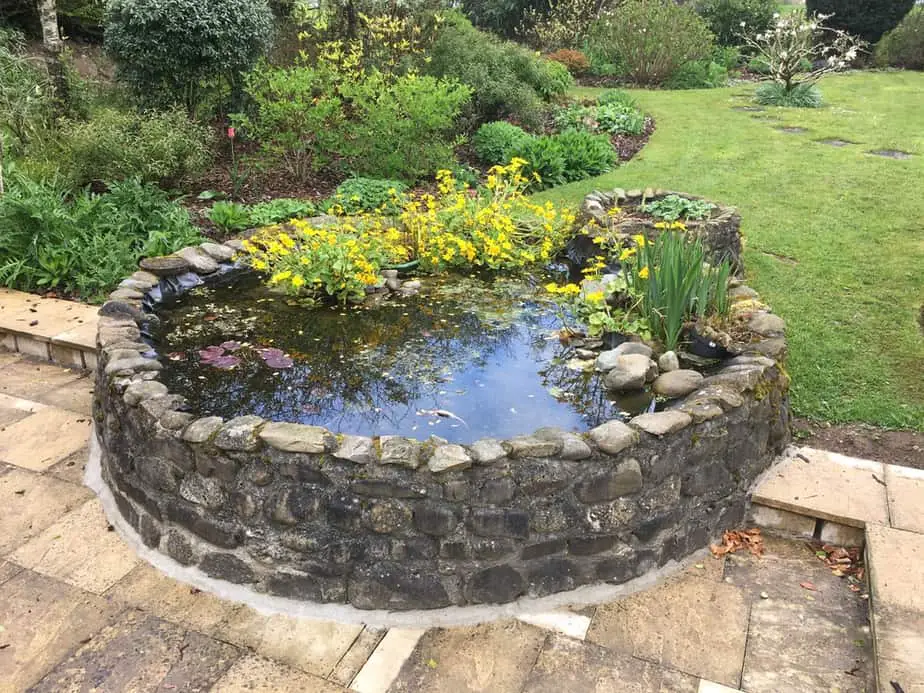 The masonry on this water feature is beautiful and adds a ton of vintage charm to this stone patio. Plus, the design creates a place for you to sit and enjoy the ambiance.
12. "Ramble On"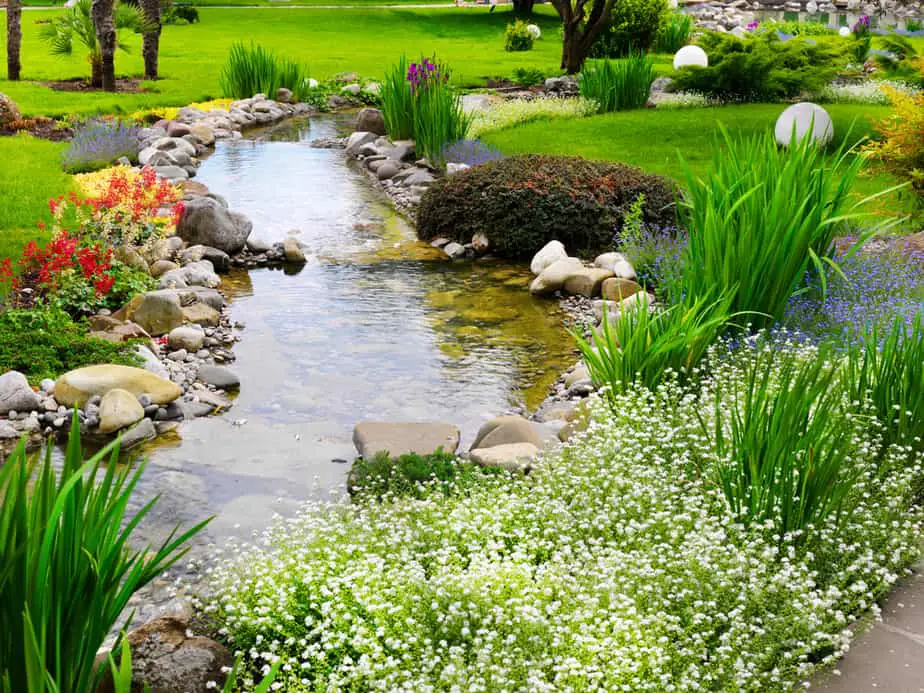 If you have enough room in your yard, you could create a water feature that resembles a gently moving stream. There is nothing more soothing than the sound of flowing water.
Budget-Friendly Alternatives
Let's continue our list of the 29 best water garden ideas by checking out a few options for those that don't have much space or are on a tight budget. We've got you covered with unique water features. Some of these can even go indoors!
13. Contemporary Reflection Pond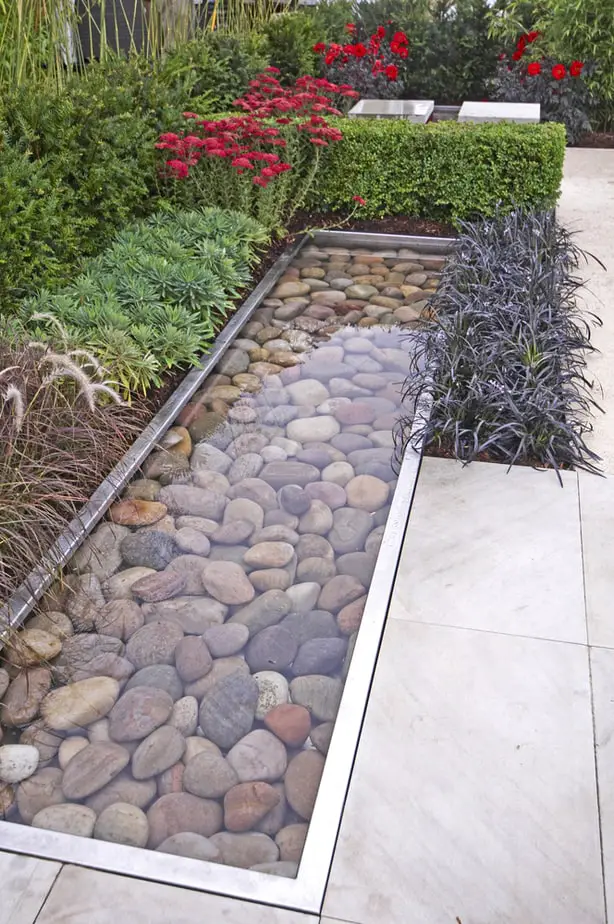 Instead of filling up a plastic kiddie pool with a garden hose, here is a much more refined way to add a water feature to your yard. Of course, this isn't meant for wading in, but it will add visual interest to your yard.
14. Garden Bowls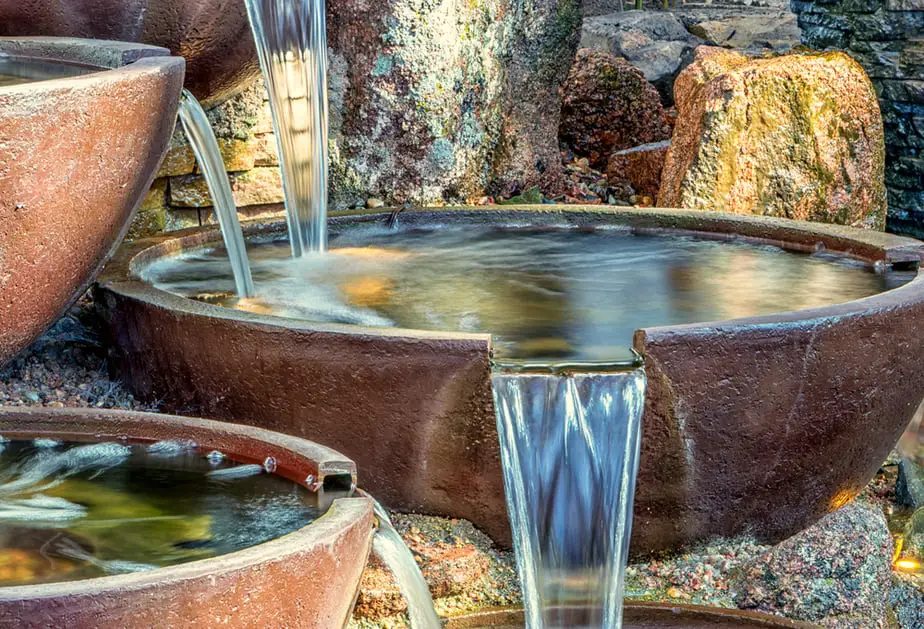 These decorative ceramic bowls are an attractive alternative to an in-ground water garden. The cascading design reminds us of ancient water clocks, which kept time based on the flow of water from one basin to the next.
Amazon offers several options for cascading fountains. Here's a portable fountain that can even fit on an indoor tabletop:
Sale
Alpine Corporation Tiered Column Tabletop Fountain with 3 Candles, Mini Waterfall for Indoor Spaces, Relaxation Water Feature, 11" Tall, Brown
3-TIER INDOOR FOUNTAIN: Perfect for creating a serene and romantic ambiance in any space of your choice, such as your living room, bedroom, bathroom, or office
ELEGANT ACCESSORY: Features natural stone-like pillars and real river stones for a rustic charm that helps brings the beauty of the outdoors to your indoor spaces, creates a beautiful centerpiece for your dining table, coffee table, or kitchen island
RELAXED VIBES: A water stream trickles from each tier mimicking the comforting sounds of a small waterfall, tealight candles create a subtle and warm glow for a zen-like ambiance to calm your mind
EASY SET UP: Simply plug into an outlet, fill lower basin with water, and the interior pump will create a lovely water flow, no elaborate installation needed
IDEAL SIZE: Fountain measures 9"L x 9"W x 11"H, the perfect size for any table or countertop in your home, and includes a one-year manufacturer's warranty from date of purchase
Last update on 2023-09-17 / Affiliate links / Images from Amazon Product Advertising API
---
15. Rustic Duck Spout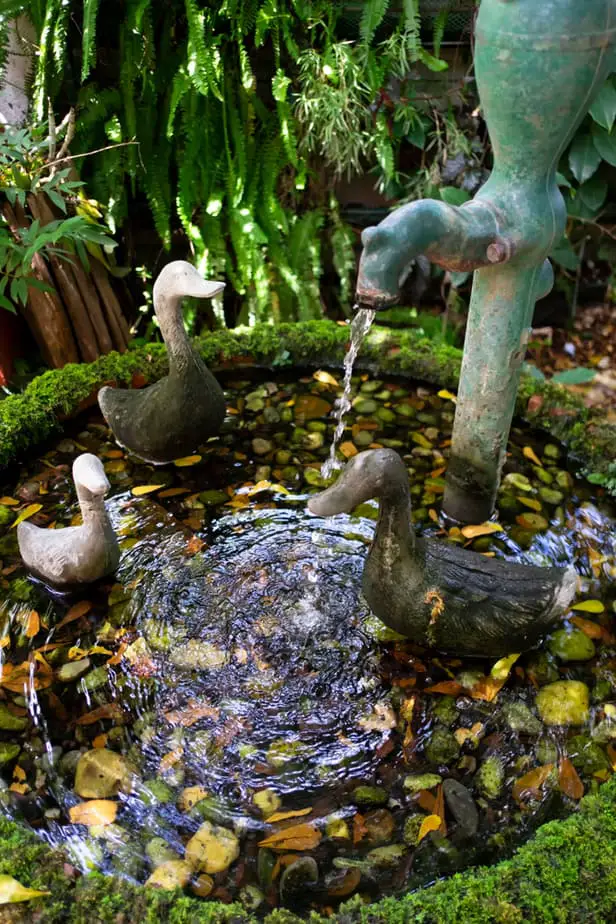 Carved duck statues in varying shapes and sizes give this water feature a lot of personality. We love how much beauty can be found in an old spout providing a splash of water on a warm summer day.
16. Small Pagoda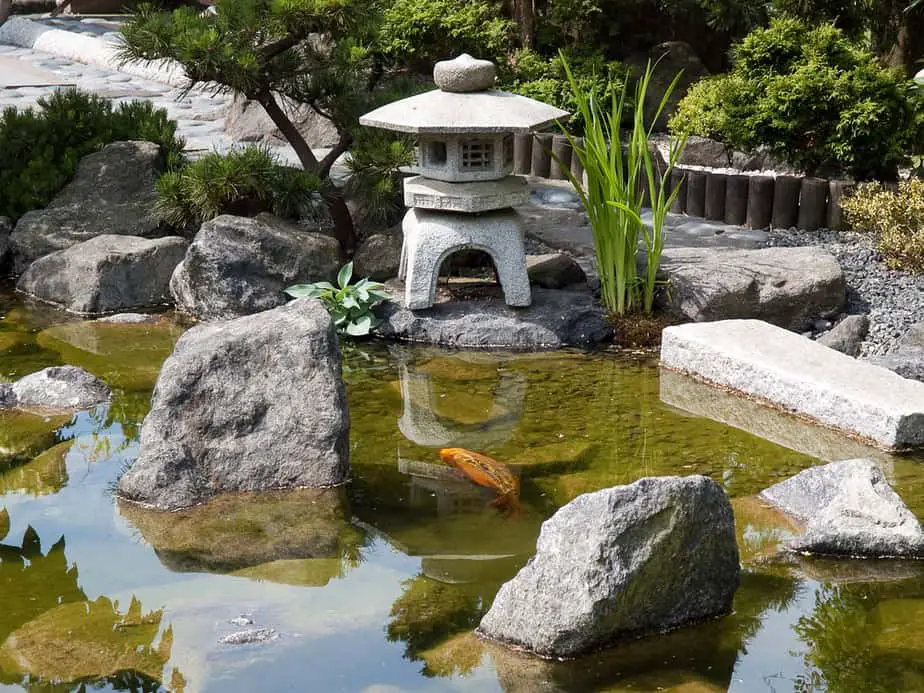 This tiny Japanese stone pagoda instantly transports us to peace and tranquility. Even the koi fish looks extra chill.
17. Wishing Fountain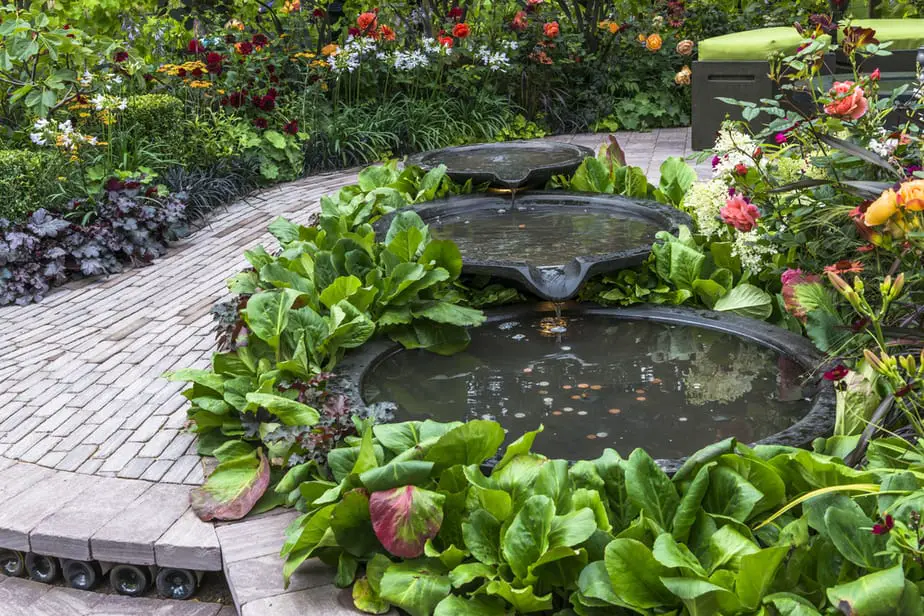 Toss a penny and you'll have good luck! This tiered fountain looks right at home among the colorful plants, patio furniture, and brick walkway.
18. Funky Fountain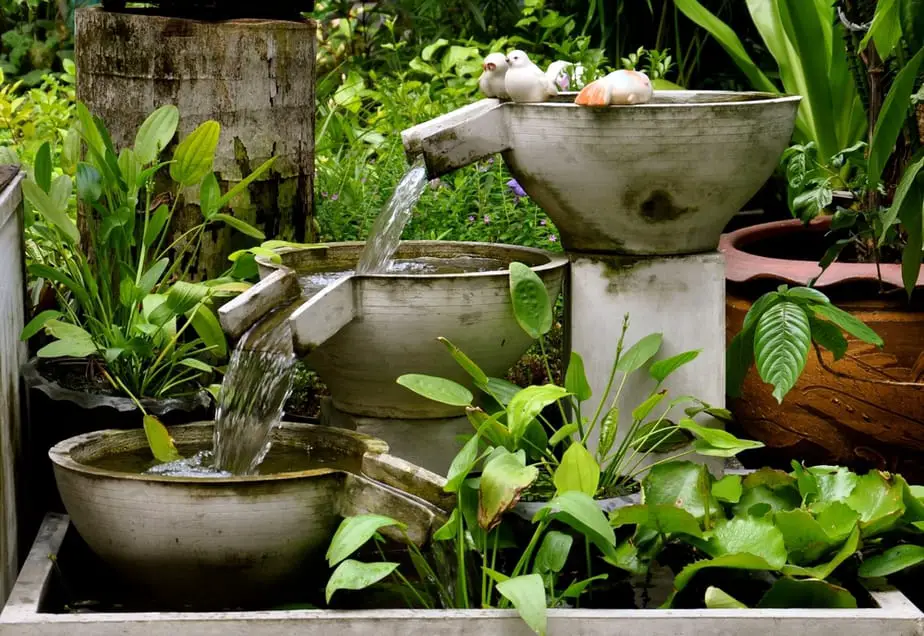 This water feature has a cool retro vibe. With its gray color and industrial shape, it would look great in an urban roof garden or a city backyard with a rustic flair.
19. Solar-Powered Fountains
A solar fountain is a simple, environmentally-friendly alternative to an in-ground water garden. Because it's powered by the sun, you won't need access to an electrical outlet or even a battery.
Here is a great option on Amazon. You'll get the benefits of spouting water, while also enjoying the birds that this fountain attracts.
Last update on 2023-09-17 / Affiliate links / Images from Amazon Product Advertising API
---
Ultimate Water Garden Inspiration
Let's finish out our list of the 29 best water garden ideas with some ultimate water garden inspiration. These eclectic options will get your imagination going.
20. "The Spa"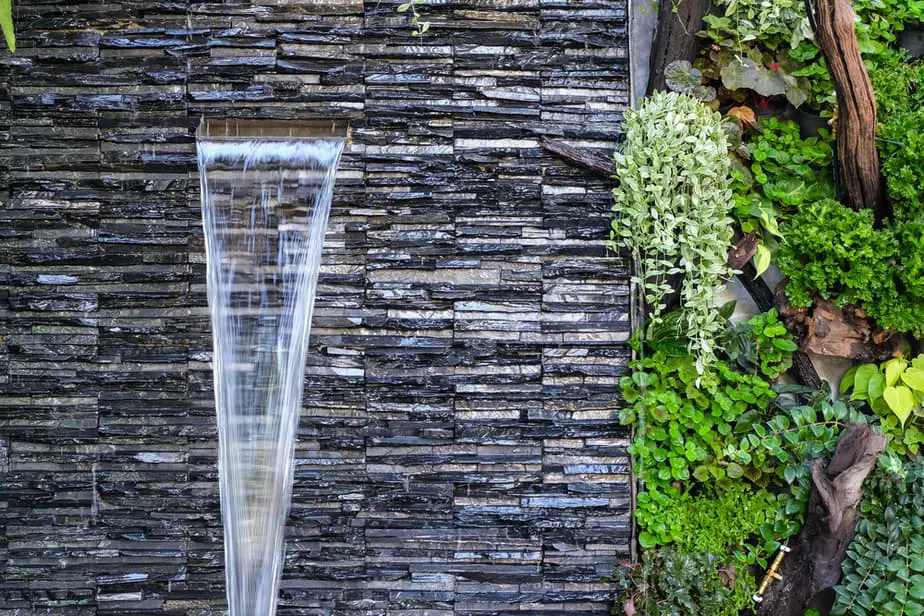 This ultra-modern waterfall design is cool and contemporary, with a spa-like simplicity. The hanging plants are the perfect complement, adding verdure to this elegant outdoor landscape.
21. Dancing Fountain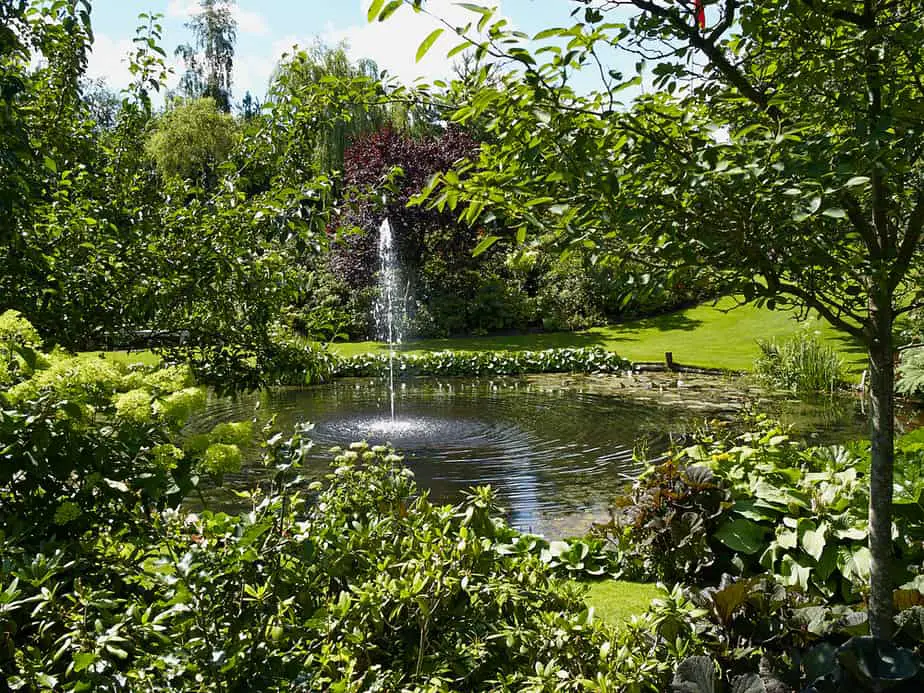 Whenever we see a fountain sending shoots of water high into the air, we think it's cause for a celebration. Hooray! It's time for you to relax.
 22. Modern Stone Steps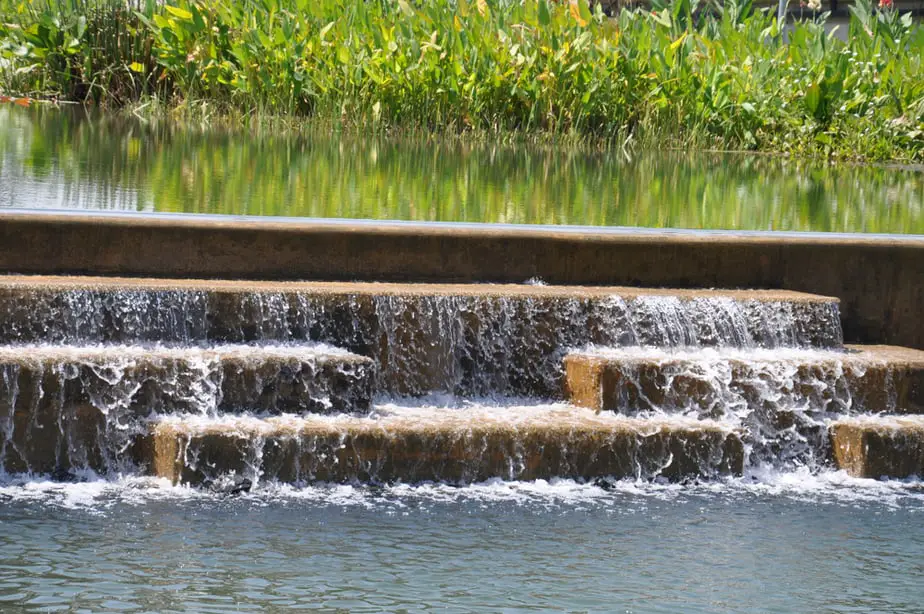 This dramatic water feature requires sufficient space (and a large budget), but we love how the steps create a dramatic backdrop for the cascading water.
23. Vacation Vibes
This water feature has an instant resort feel. This would definitely "wow" the neighbors.
24. Maximum Minimalism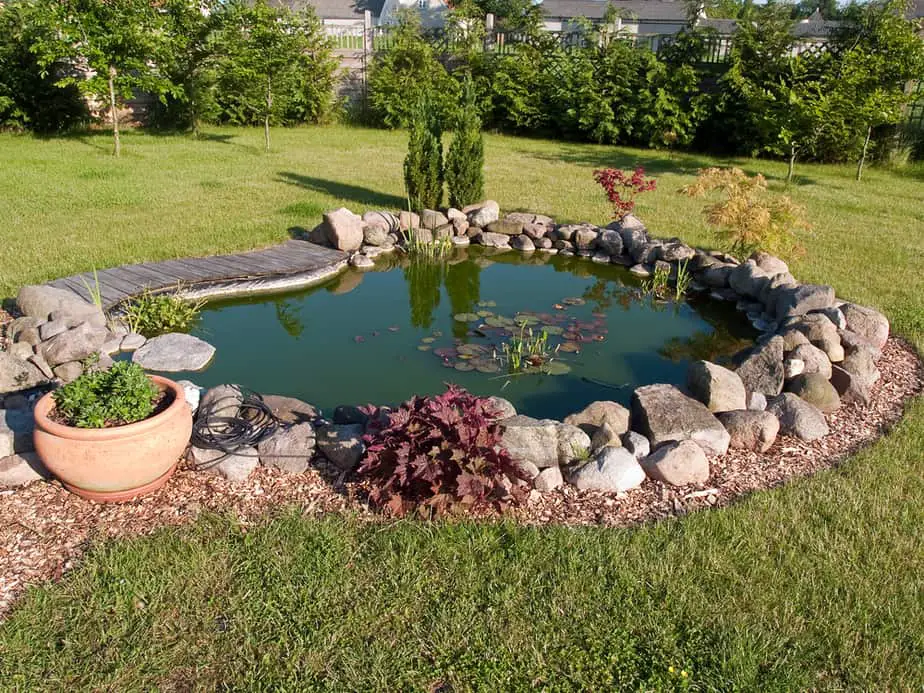 Sometimes simple really is best. We're almost tempted to sit on the wooden planks and dip our toes in.
25. Classical Style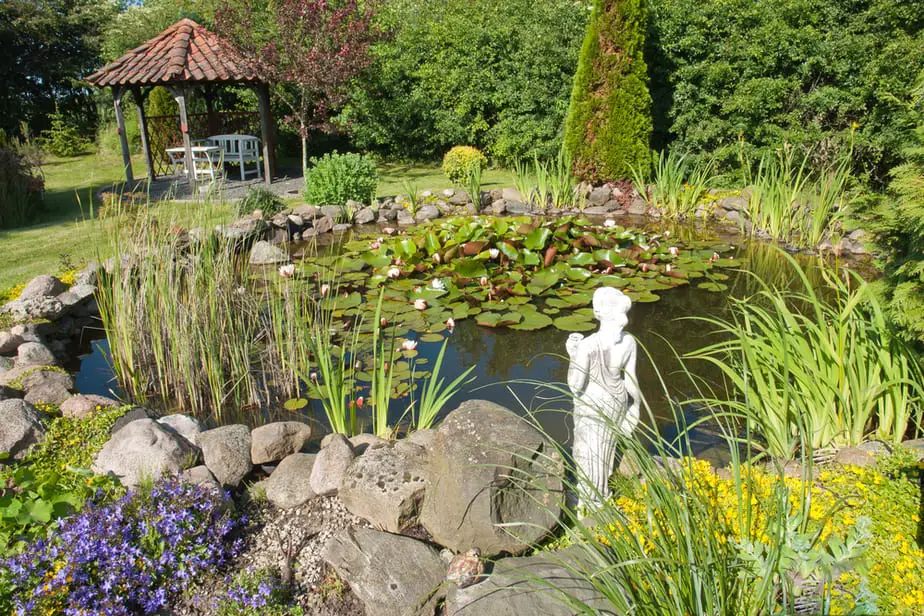 The statue in this garden gives it an "Old World" kind of charm. If you want to add a European flair to your water garden, consider including an antique statue that shows natural signs of age.
26. Tiered Granite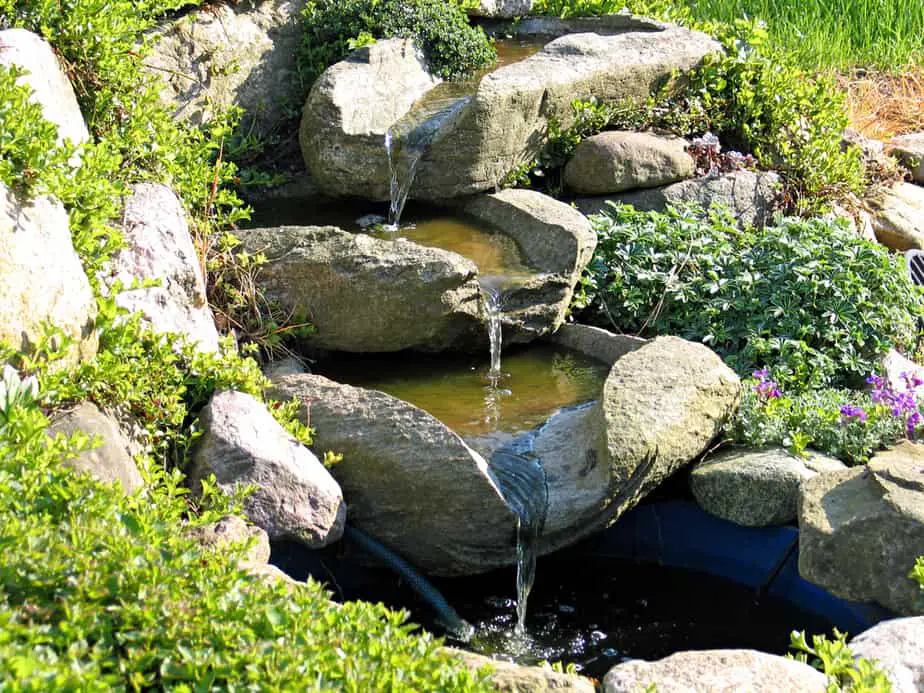 This intriguing water feature feels authentic, as if the water slowly sculpted the rock over many centuries. We love how the rock creates the effect of a natural spring.
If you love this look as much as we do, here's an indoor, portable version on Amazon:
Last update on 2023-09-17 / Affiliate links / Images from Amazon Product Advertising API
---
27. Simple Bamboo Spigot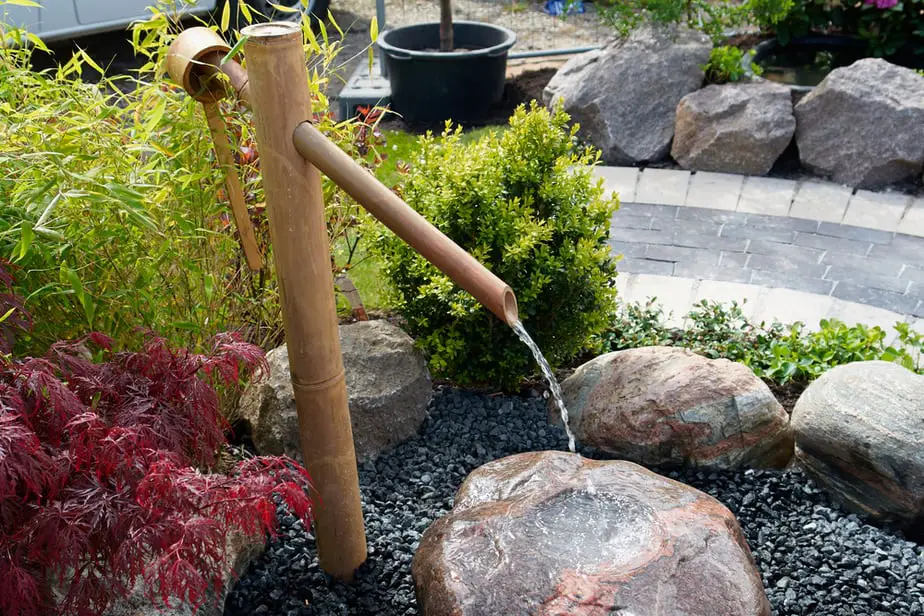 We like the clean lines and utilitarian functionality in this simple bamboo spigot. The water just looks so refreshing.
28. Italianate Water Garden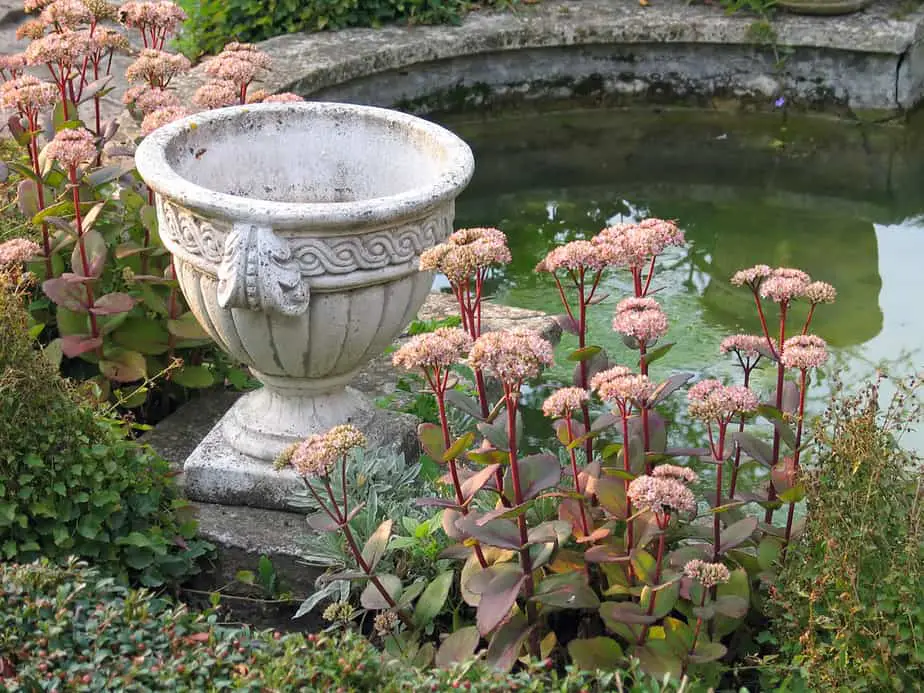 The ornamental urn beside this water garden makes it feel like a scaled-down version of a traditional Italian garden. Ancient Roman and Renaissance-era gardens often incorporated water features like this.
29. Row Your Boat Home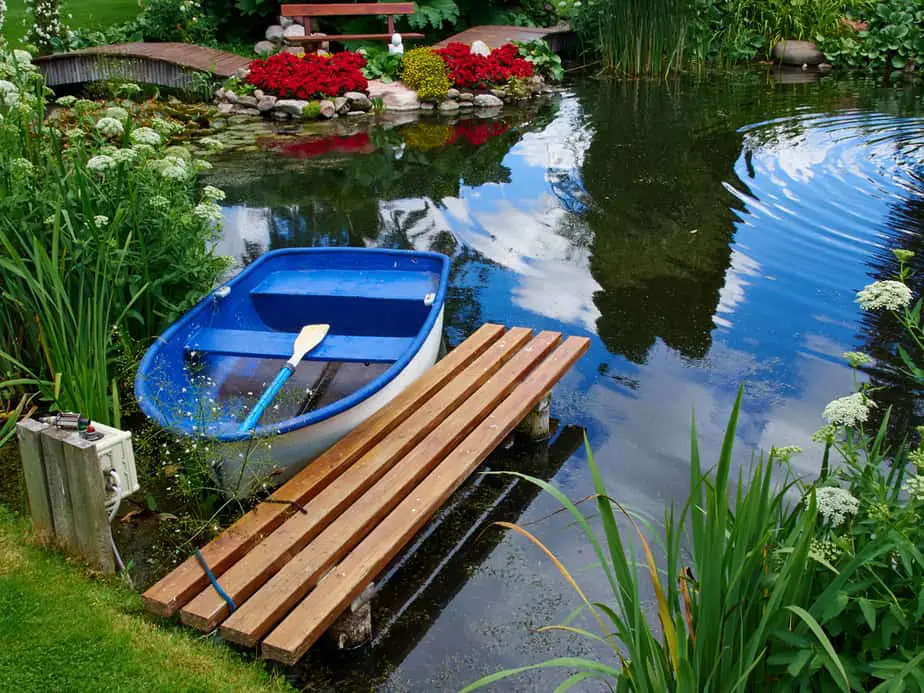 Who wouldn't want a rowboat in their backyard? This large pond is an ultimate water garden inspiration. Time for dinner? Just paddle on home!
Wrap Up
As you can see, there are a number of different elements to consider, from ponds to fountains to waterfalls.
Whether you have a rowboat-worthy pond or a small, portable water feature on your nightstand at home, these LED floating lotus flowers will light up your water garden even after dark.
There are several solar and battery-powered versions available on Amazon:
Sale
Superdream Water Floating Foam Large Lotus Flower for Pond Decor, Set of 6
They look pretty realistic, it can be used with the pond, fish tank, fountain, pool, birdbath and so on
Floating freely, they are a weather vane as they float in the direction the wind is going
The loops on the bottom are good for anchoring, or for linking them to each other with a cord
Suitable for both outdoor and indoor, they will add a nice touch to your home, garden, patio, fountain, birdbath and etc. Great for little gifts
Package: Red 10cm, White10cm, Green 18cm, Purple 18cm, Orange 18cm, Pink 30cm
Last update on 2023-09-17 / Affiliate links / Images from Amazon Product Advertising API
---
LACGO 12 PCS Floating Lotus Lights - Artificial LED Lotus Waterproof Battery Operated Water Activated Color Changing Fake Lily Pad Lights for Pool Pond Lantern Garden Outdoor Decor
You will get 12 pcs floating lotus lights, made of high-quality soft foam EVA materials and water activated. Each lotus flower decor with 3 layers of lotus petals and a fake lily pad, looks so real. Diameter 5 inch, operated by 1 X CR2032 battery(included).
A nice touch in your pond created the perfect atmosphere. This floating LED lotus comes change in 5 different colors: red, yellow, green, blue, and cream, can last more than 48 hours continuously. You can replace new batteries when the power is gone.
Easy to use, simply place it on the water to light up and bloom in the middle of the pool, just like a real lotus flower. Our artificial lotus lamps can be used to add atmosphere to your swimming pool or pond.
Exquisite design, how lovely the artificial LED lotus looks in the pond. It can play its charm in your swimming pool, pond, Diwali, bachelor party, fish tank, bathtub, garden, fountain or outdoor wedding.
If you have any questions about these floating lotus lights, please feel free to contact us.
Last update on 2023-09-17 / Affiliate links / Images from Amazon Product Advertising API
---
Sale
LOGUIDE Floating Pool Lights,Battery Operated Floating Flowers, Pond Decor,Floating Pool Flower Lights Color-Changing -for Wedding Outdoor Party Decorative 6 Pack (Dragonfly)
☻☻☻BEAUTIFUL & LIFELIKE☻We have a new design patent.Lotus Made of good foam Material, Very lifelike Artificial Lotus Flowers have bright colors with excellent color fastness performance. The color will stay vivid and won't fade in the water.This product is not only beautiful but also easy to use,it could float on the water due to the leaves. That is perfect to decorate the pond.
☻☻☻UPGRADE WATERPROOF☻We optimized the bottom waterproof battery box to make it rotate smoothly.In order to bring the Best quality of experience.
☻☻☻COLORS CHANGEABLE☻We now adopt the gentle and comfortable slow flash transformation, which is no longer uncomfortable dazzling light (Red Green Blue Purple Cyan Yellow White)
☻☻☻BATTERY CAN BE REPLACED☻Every lotus include 2 CR2032 and Provide up to about 100 hours of continuous work, so it can be reused just with new battery.
☻☻☻VARIETY OF USAGE☻Easily pool lights that float on the water, the flowers are great decorations for water features, home and special events like Weddings or parties. They will add a classy touch to your pond or the event.
Last update on 2023-09-17 / Affiliate links / Images from Amazon Product Advertising API
---
The colorful illumination provided by these floating lotus flowers will allow you to admire your water garden even after the sun goes down, which makes them ideal in combination with any of the 29 best water garden ideas above!