The deck is a structure without a roof attached to a house that resembles a ship's deck. It is usually built of treated lumber, and its purpose is a gathering and meeting place.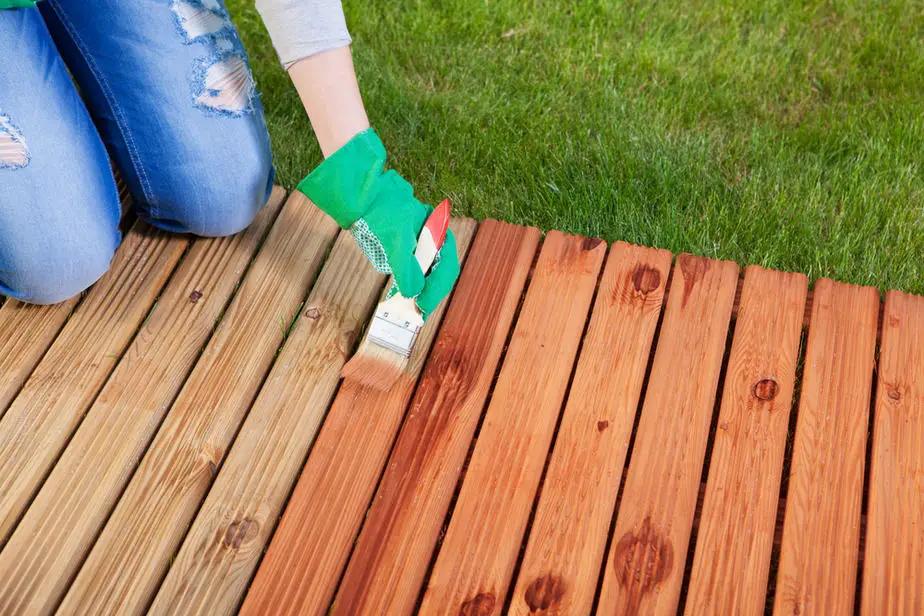 A new deck built of pressure-treated wood that is stained beautifully is a significant enhancement of any home. It quickly becomes everyone's favorite place to be. They can enjoy the weather, the view, and each other. It is also a major investment. Whether you do the job yourself or not, it adds significant value to the home. The deck boards are stained for preservation and to enhance the beauty of the new wood.
There Are Three Main Types Of Timber Used In New Decks
Pressure-treated hardwood is tough and comes in a variety of colors. It is costly compared to other types of pressure-treated wood, but many think it worth the cost for a beautiful deck. Hardwood is harvested from mainly rainforest areas, and this type of tree takes a long time to grow. Modern growers have a responsibility to replant accordingly. Varieties include; alder, balsa, beech, hickory, mahogany, maple, oak, teak, and walnut.
Pressure-treated hardwoods are more densely packed and are therefore harder to work with than softwoods. Pressure-treated hardwood is solid and durable and is used for many furniture and building projects. The tightly packed cells are naturally more fire-resistant than softwoods. Hardwoods can be deciduous or evergreen. Hardwood is the wood of angiosperms and is hard and heavy with a rough texture.
Pressure-treated softwoods are faster growing and, therefore, a more sustainable variety. Some of the common pressure treated timbers used for decking include pine, spruce, hemlock, fir, red cedar, and redwood. Softwoods are more easily replaced, so this type of treated lumber is cheaper. While being much easier to work with, this type of new wood will wear out more quickly and is much less fire retardant.
Softwood is a conifer. This includes most evergreen trees. It makes up about 80% of the world's production of lumber. Softwood is the wood of gymnosperms. This wood is mostly soft and light with a fine grain and texture.
Treated For Preservation
Most of the hard and softwood varieties of decking timber are treated to enable resistance to mold and disease and to preserve the wood. Treating the timber in this way enhances the durability and life of the wood. The process involves placing the raw lumber inside a vacuum chamber, extracting the air from within the chamber, and forcefully replacing it with the preservative solution. This method ensures the preservative penetrates deep into the timber. Modern timber treatments have an added fire retardant, one which inhibits the wood's ability to burn with a flame. The timber is then allowed to dry for 24 to 48 hours before the wood is delivered to retailers.
This kind of treatment does not impact mill glaze. Mill glaze is the flattening of the wood's pores caused by the heated impact of the saw blades. Mill glaze effectively prevents the wood from absorbing moisture or deck stain. To remove this, the best solution is to lightly sand the lumber and apply a commercially prepared mill glaze remover. If mill glaze is a problem, you can deal with it when you sand the new deck in preparation for staining.
It's recommended that a pressure wash is used to help open up the timber's pores before staining a new deck, so this is the time to use the mill glaze remover. Any of the other products like wood brightener and wood cleaner would be used at this point also. Wood deck brightener, also called deck neutralizer, lowers the pH level of the lumber, making it more acidic. This opens up the wood pores and brightens the wood bringing out the grain.
Treated lumber will often be quite heavily soaked with the pressure applied preservative when you purchase it. It's fine to build with, but it will dry out considerably over time. If any stain or varnish or paint is used at this stage, the wood will not be able to absorb the additional moisture, and the product will be wasted. A good gauge of when the deck is ready is to drop a few drops of water; if it beads on the deck's surface, then the wood is not ready for deck stain.
Wait Before Staining Your New Deck
How long you need to wait before staining depends on the moisture content of the treated wood, whether the wood is in the sun or shade, and the climate and weather conditions in your area. Importantly, wait for the weather to be as moisture-free as possible before you begin staining deck work. Some people say it is better to wait for at least twelve months before you stain a deck. Others believe a shorter period is fine depending on the wood and drying conditions, and you should wait 4 to 8 weeks after installation before staining a deck. It is essential to let the wood dry.
Most manufacturers suggest that you wait a minimum of at least 6 months to stain or treat pressure-treated wood. It can be advisable to let the deck weather through a winter. All timbers, including pressure-treated wood, will begin to turn grey in this period, but the preparation, including the use of wood brightener and a wood cleaner, and the staining will change the color.
Once the surface has leached out any excess product and stabilized, you should pressure treat the surface and allow the wood to dry for a few more days. The acceptable moisture content of the wood should be around 14% to 18%.
How To Stain A New Deck
It would help if you had the equipment for staining, paint tray, a pump sprayer, roller and extension pole as well as the product. Refer to the manufacturer's instructions.
To prepare the deck, you will need a broom and a plastic bucket. Safety is essential, so use gloves and safety glasses.
Try the water drop test to establish that the new lumber is ready to take the stain. If a few drops of water on the deck are absorbed, it is ready to be stained.
Apply an even coat of the stain, working it in as best you can with a brush. Many types of stain require only one layer, so be guided by the product instructions. If needed, allow four hours between coats. Repeat this process every two years or as required.
It costs upwards of $5000 to build a deck. It costs an average of $700 to prepare and stain. This varies according to the quality of the materials, the cost of labor, and the deck's size. Having spent $5000, do you want to spoil the final effect by being too impatient to wait long enough for the timber to settle in and weather?