Whether you live in a drought-prone region or are simply eco-conscious when it comes to your home and yard, harvesting rainwater can save you money and help the planet, too. If you live in a place where it's legal to collect rainwater, adding a rain barrel to your backyard could be a great option.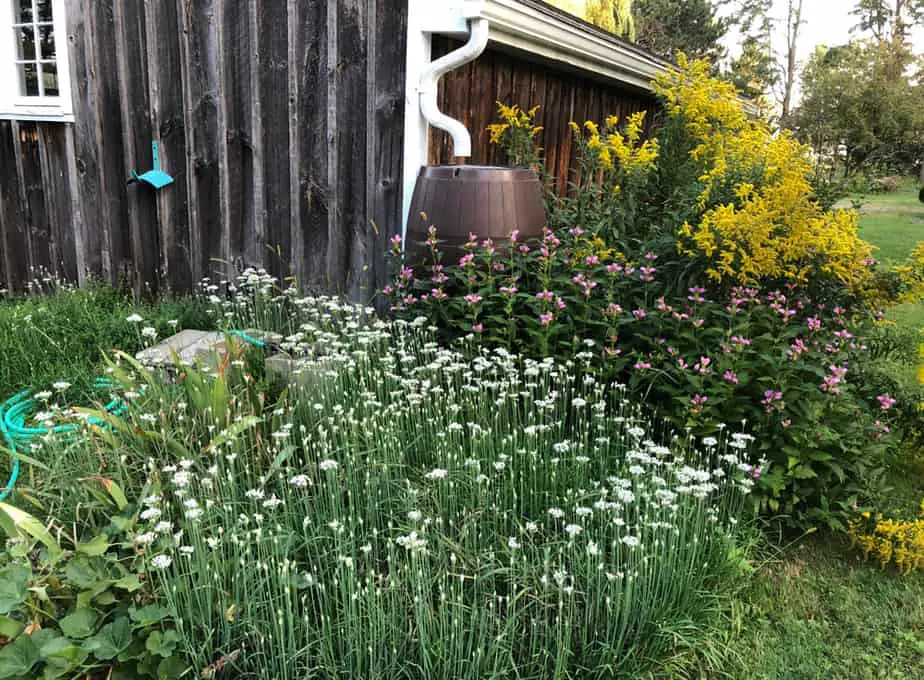 Collecting rainwater runoff from your roof means storing excess precipitation for a multitude of purposes, from watering your lawn to washing your car. We've got the 5 best rain barrels to benefit your wallet, as well as the earth!
In a Hurry? Here's Our Top Picks…
1. RTS Home Accents 50-Gallon Rain Water Collection Barrel with Brass Spigot
Sale
RTS Home Accents 50-Gallon Rain Water Collection Barrel with Brass Spigot, Brown
Authentic oak barrel texture is molded into each barrel; Will not fade or rot
Flat back to sit flush against a wall; Linkable to other barrels to increase water collection. Rain Barell is 33.5" tall x 24" wide x 18.25" deep
Save water and money by capturing rainwater to use for your lawn and garden; Optional stand to make filling watering cans easier (sold separately, item # 55100002008081)
Aluminum screen keeps out debris; Designed to be child and pet safe with no large opening
Brass Spigot shut off valve for hose hook-up with dual overflow; A front side overflow keeps water from flooding against your outside wall
Last update on 2023-11-25 / Affiliate links / Images from Amazon Product Advertising API
The RTS Home Accents Rain Water Collection Barrel can store up to 50 gallons of rainwater. Featuring the look of an authentic whiskey distillery barrel, it's actually rendered from UV-resistant, Food-Grade Polyethylene. This durable synthetic material is able to withstand most kinds of weather. And compared to wood, it's more resistant to fading, mold, insect damage, and rot. The RTS Home Accents barrel also features a flat back, so you can place it flush against your house.
When you're ready to use the collected rainwater stored in the barrel, just hook up your garden hose to the sleek brass spigot at the bottom. Although many people chose to mount their rain barrel on cinder blocks, the RTS Home Accents barrel has an optional stand available for separate purchase. Adding the stand makes it easy to elevate the barrel so that you can fill up a watering can. Plus, the stand is more attractive than cinder blocks.
If it's pouring outside, the RTS Home Accents barrel also has a front-facing overflow valve to release excess water, so that it doesn't pool up against your house and damage your home's wood siding. Keep in mind, the material is durable, but it's not 100% leak-proof or crack resistant. When temperatures drop in the wintertime, it's best to bring this barrel into your garage or shed so that you don't end up with a crack that could cause a leak.
What We Like:
Holds up to 50 gallons of water.
Comes in several different faux wood tones: Brown, Tan, and Wood Grain.
RTS Home Accents also offers the same design in 100% recycled resin. Check out the RTS Home Accents ECO Rain Barrel.
The Wood Grain option is sanded and hand-painted to give this synthetic barrel a touch of hand-crafted appeal.
RTS Home Accents barrels are cast from actual whiskey barrels, contributing to their authentic look.
What We Don't:
You'll have to shorten the downspout of your gutter to feed into the top of the barrel.
The brass spigot must be installed by hand when you set up your barrel. Right out of the box, it can be tricky to get the threads of the brass spigot aligned with the opening.
The barrel comes with an aluminum covering to keep out insects and debris, but it's a bit on the flimsy side. One strong gust of wind could blow it away. Your best bet is to secure it with a rock.
Check Price and Reviews on Amazon
---
2. Gardener's Supply Company Flat-Back Rain Barrel
No products found.
With 50 gallons of rainwater storage, the Gardener's Supply Company Flat-Back Rain Barrel has a higher price-point. However, it offers the added convenience of a solid brass spigot that is higher on the barrel, so that you can fill up your watering can without needing to elevate the entire container. With one flat side, this barrel will hug your house and collect rain from the downspout of your roof without losing a drop. A removable screen provides partial access to the interior of the barrel, but keep out any debris or animals.
The brass spigot on this barrel is also separate from the hose attachment. That means you can keep your garden hose hooked up to the barrel and also fill up a bucket with water at the same time. This is perfect if you want to use your garden hose to run a sprinkler to water your lawn while filling up your watering can to tend your flower garden.
The Gardener's Supply Company is a reputable, fashionable brand admired by landscape designers and backyard gardeners alike. If you're planning to give this item as a gift, the brand name recognition alone could go a long way towards impressing the recipient. Plus, it looks like the kind of aged-wood barrel that you'd see at a Napa Valley winery.
What We Like:
Durable, food-grade, UV-resistant Polyethylene.
Attractive, authentic look of aged wood.
Two different wood tone options: Oak or Wood Grain.
Solid brass spigot is located at the mid-point, so you can easily fill up your watering can without mounting the whole barrel on a stand or cinder blocks.
Also includes a hose attachment, which is separate from the brass spigot, making it easy to leave your garden hose connected at all times while still being able to fill up your watering can.
Great brand name recognition, a favorite company among backyard gardeners.
What We Don't:
You'll still have to shorten the downspout of your gutter to feed into the top of the barrel, although this is true of all rain collection barrels.
As with any polyethylene barrel, it's prone to cracking and leaking if left outside during the winter. Store this barrel in your garage or shed during the colder months, especially given the higher price point for this option.
Check Price and Reviews on Amazon
---
3. Algreen Products Cascata 65-Gallon Rain Barrel
Algreen Products Cascata Rain Barrel with Rain Barrel Spigot, 65 Gallon, Dark Brown
Rain Water Collection Barrel: This rain collection barrel combines the timeless aesthetic elegance of ceramics with the enduring durability of modern plastics
Durable Design: Specially designed withstand harsh temperature changes, this rainwater collection barrel is made from roto-molded plastic that won't chip, crack, or fade
Convenient Features: This double-walled rain collector barrel comes with a 6-foot garden hose with a shutoff nozzle, a corrosion-proof screen guard, a brass spigot, and an easily removable crown planter on top
Designed for Convenience: A dual water overflow allows sufficient water to escape the rain catcher barrel when full and allows you to link multiple rainwater barrels with Algreen's rain barrel connector kit
Versatile Functionality: This rain water barrel can be used to collect water for your grass and flower gardens as well as water for washing your car; Compatible with the Algreen Rain Barrel pump kit for pressurized garden watering
Last update on 2023-11-25 / Affiliate links / Images from Amazon Product Advertising API
Made of fade-resistant and crack-resistant plastic (BPA free), the Algreen Products Cascata Rain Barrel offers a 65-gallon pear-shaped barrel for rain collection. You can link it with other barrels to maximize your water collection capacity, using the Algreen's Linking Kit. It will also work in conjunction with the Algreen Rain Barrel pump kit, which gives you a great option for pressure-watering your garden.
The Cascata Rain Barrel contains a built-in planter so that you can grow a few flowers or plants on top of the barrel, as long as they don't require too much root depth. There is a separate hole for the downspout of your roof to feed into the barrel so that the rainwater collection will not interfere with the planter.
Another benefit to this rain barrel is that it features a fully removable top. This means that you can give it a good, thorough cleaning at times when it's not filled with rainwater.
What We Like:
Looks like the real thing: faux terra cotta has a warm, earthy look.
The pear-shaped design is pretty.
It features a planter where you can grow flowers or other plants, such as succulents or herbs, at the top of the barrel.
You can link it with other rain barrels to maximize your water collection capacity.
It has a fully removable top.
What We Don't:
The planter does not have a hole for drainage, so your flowers or plants could get waterlogged.
Check Price and Reviews on Amazon
---
4. Good Ideas Impressions Nantucket Rain Saver 50-Gallon Rain Barrel
Sale
Impressions Nantucket 50 Gallon Rain Saver - Dark Brown
50 Gallon capacity rain barrel and a 4-inch planter top
Wicker finish adds class and style to your rain harvesting
Meshed screen blocks debris from entering your water supply
Equipped with two sturdy brass spigots which won't rust or break like plastic alternatives
Routed channel diverts excess water to the front of the barrel to avoid flooding your foundation
Last update on 2023-11-25 / Affiliate links / Images from Amazon Product Advertising API
The Good Ideas Nantucket Rain Saver Barrel shares some features in common with the option described above. In particular, it features a shallow 4-inch planter at the top of the barrel for growing succulents, herbs, or flowering plants.
Imitating the look of wicker, this synthetic option looks similar to the real thing, but it has the benefit of never warping or fraying with the heat and humidity. This barrel will maintain its concave shape season after season while storing up to 50 gallons of water.
It offers two separate spigots – one at the bottom and one at the mid-point of the barrel. Additionally, there is an integrated channel at the top to control overflow water and divert it to the front of the barrel, so that it will not cause flooding around your house's foundation. A mesh screen also protects insects and leaves from falling in the water.
What We Like:
The faux wicker design style.
Features a 4" planter at the top.
Double brass spigots so you can keep your garden hose connected.
Front-facing overflow spout to protect your home's foundation.
The concave shape fits nicely against the exterior wall of a house.
What We Don't:
It's only available in limited colors (black and dark brown). We think that a natural wood tone (such as tan) would have been a better option for faux wicker.
Check Price and Reviews on Amazon
---
5. Kyoto 55 Gallon Sand-Stone-Look Rain Barrel
Last update on 2023-11-25 / Affiliate links / Images from Amazon Product Advertising API
Our last selection, the Kyoto Sand-Stone-Look Rain Barrel, will hold 55 gallons despite its deceptively small-looking shape. It's made of UV-Resistant Plastic with one brass spigot. This option is exceptionally sturdy and it features feet, which slightly elevate it off of the ground. It also comes with a safety grid screen guard to keep critters and children out. Plus, the bottom has a drain plug so that you can easily clean out the interior when it's not filled with water.
This option would look great beside a stucco home or other desert-style dwelling. The design is the most compact and minimalistic of all our top options. So, if you don't have much space in your yard, the Kyoto Sand-Stone-Look Rain Barrel would be perfect near a patio or deck.
What We Like:
Charming shape.
The feet raise it off of the ground.
Color and look of faux sandstone are minimalist and attractive.
Top points for style. It's practically a contemplative art piece.
What We Don't:
 There is only one spigot.
There is no overflow spout for the excess water.
Check Price and Reviews on Amazon
---
For Your Information
Today, there are incredible designs on the market for rain barrels made of synthetic materials that imitate the look of wood, clay, or stone. For centuries, wood barrels, terra cotta pots, and stone containers were used to collect rainwater. However, vessels made of natural materials are more easily subject to mold, mildew, weather damage, and decay. The synthetic options now available are durable and functional, while also earning top points for style.
The faux wood rain barrels on our list have the rugged look of aged Oak like you'd see in a whiskey distillery or winery. This style would fit in well with backyards that have a lot of naturalized plantings or those that are in close proximity to woods. The historic look is also reminiscent of the cargo hold of an antique ship, so this style would work equally well at a beach house or a lodge.
By comparison, the faux terra cotta and sandstone barrels on our list evoke the earthy look and feel of desert living. These options would blend well in a backyard with real terra cotta clay pots or stone planters, which you might already have for growing plants on your deck or patio. The rust and sand-colored earth tones also have a warmer look than imitation wood. When it's raining out, terra cotta hues will add comfort to a gray day.
Remember, you can purchase additional hoses so that you have the option to connect each rain barrel to other barrels, in order to maximize your water collection. A rain barrel is great on its own if you don't have a lot of average rainfall. But if you live in a rainy climate, you'll probably want to increase your storage capacity so that you can optimize your rainwater collection.
Finally, rain barrels work with gravity as a passive means to collect and then extract the water for different uses. Adding a pressurized hose will give you greater options for rainwater usage, such as running a sprinkler. And for a more significant cost, you can also install a pressurized pump system, and pump the water indoors for specific uses. In addition, there are excellent options available for rainwater filtration systems which will remove germs and contaminants so that your rainwater can be used for household purposes.
Know the Rules
Please be aware that certain states do have strict laws and restrictions against harvesting rainwater, and the penalties can be harsh. In drought-prone regions, the laws can be especially stringent. We don't want you to get in any kind of trouble, so definitely make that sure you are aware of all the rules and regulations of your state first.
Some laws and restrictions harken back to the idea that rainwater is a common resource that cannot be privately collected or owned. Other laws in practice today seek to maintain a fair distribution of water for all residents in drought-prone regions.
In many parts of the world, harvesting rain was an ancient practice and it remains important today. Long ago, people used dried, stretched animal skins for catching and storing rainwater. In one place or another, people have always harvested the rain.
If you live in a place where you're legally allowed to have a rain barrel in your backyard, then, by all means, carry on. And keep reading for frequently asked questions about the specifics of rainwater collection and usage.
Frequently Asked Questions
Q: Is rainwater drinkable?
A: Generally speaking, no. In many parts of the world, rainwater is harvested for washing, cooking, and drinking. However, given that your rainwater is coming off of your roof, which contains chemical materials as well as exposure to animals, you should not drink the rainwater unless you also install a filtration system. There may be some pollutants in the rainwater, especially if you live near an urban or industrial area.
Q: What is "Food-grade" Polyethylene?
A: "Food-grade" Polyethylene is a plastic material that has been designated safe from chemical leaching. Nevertheless, on hot summer days when there are hours of prolonged, intense sunlight, some chemical breakdown of plastic could occur. For this reason, you'll want to give consideration to how you use the rainwater that you collect, since some uses may be safer than others.
Q: What can I use collected rainwater for?
A: There are many potential uses for your rainwater. For example, you can use the rainwater to water your lawn, garden, or houseplants. You can also use it to wash your car or to hose down garden tools or lawn equipment. Indoors, you can use it to do laundry or even flush your toilets, if you install a system to pump the rainwater inside.
However, avoid using unfiltered rainwater for activities like washing dishes or showering, especially if the water is runoff from your roof, which, as we've mentioned, can contain chemicals and bacterial contaminants. Any potential contamination of your rainwater will depend on where you live and whether you are collecting the rainwater indirectly off of a roof.
Q: How much rainwater can I collect?
A: It will depend on how many barrels you have set up and/or connected to one another. One inch of rain has the potential for 600 gallons of water collection from the average 1000-square foot roof. The average-sized rain barrel will hold approximately 50-65 gallons of rainwater before overflowing unless it's connected to another barrel. Of course, it also depends greatly on where you live and how much average rainfall your area receives.
Wrap Up
During the average rainstorm, your roof becomes the destination for hundreds of gallons of rainwater. Normally, this water makes its way into your gutters, only to fall to the ground amidst puddles and mud. Capturing this overflow can go a long way towards having a free source of water for a myriad of uses in your home and yard.
As you can see from our list of top picks for the 5 best rain barrels, you don't have to compromise when it comes to looks or functionality. Today, you'll find durable outdoor materials blended with traditional designs that imitate the look of authentic natural materials. When the sky turns gray, a functional yet stylish rain barrel is a must-have for your backyard!