The lawnmower is one of the most popular yard tools around the world and with good reason. They've become even more popular with battery-operated options, so you may be wanting to compare Greenworks vs Ego lawnmowers.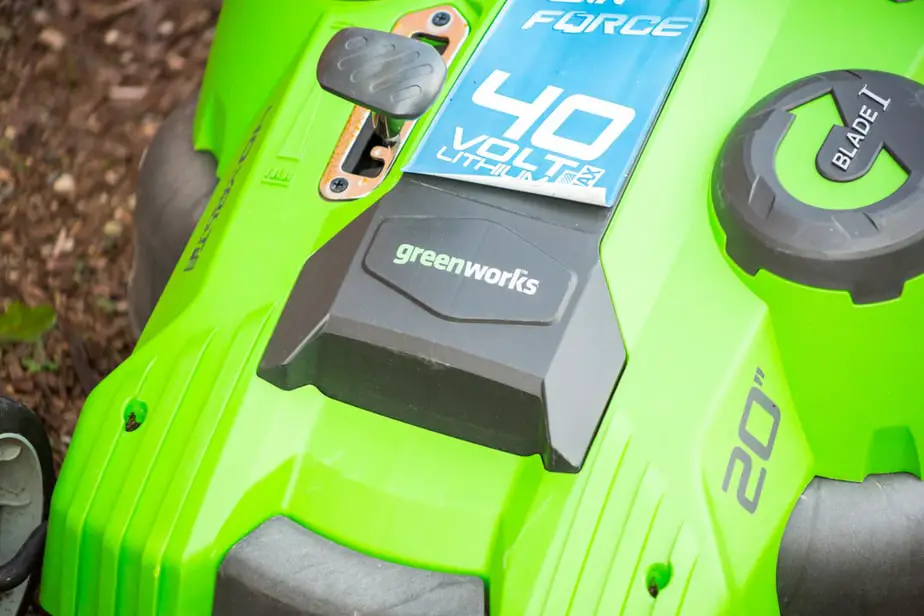 For most of history, the average person had animals like cows, goats, and sheep to eliminate pesky grass that grew around the home. Since fewer people are invested in agriculture in modern times, it became necessary to have a machine capable of eliminating excess grass. The result was the original push lawnmower, which eventually expanded to gas and then battery-powered options for your convenience.
When shopping for a lawnmower that suits your needs, you want to make sure you are getting the best quality for your money. Individuals interested in cordless battery lawnmowers need to pay extra attention since companies will often promise the moon while only delivering a piece of granite.
There are two main battery-powered lawnmower manufacturers on the market: Greenworks vs. Ego. This simple guide will tell you the pros and cons of each one by explaining the general design of a battery-powered mower and how well each manufacturer is able to deliver on the end product.
In a Hurry? Here's Our Top Picks…
| Image | Title | Price | Buy |
| --- | --- | --- | --- |
| | Greenworks 17-Inch 40V Cordless Lawn Mower, 4.0Ah Battery and Charger Included MO40B411 | | CHECK ON AMAZON |
| | EGO Power+ LM2000-S 20-Inch 56-Volt Lithium-ion Cordless Walk Behind Lawn Mower - Battery and Charger Not Included | | CHECK ON AMAZON |
| Top | Greenworks 16-Inch 40V Cordless Lawn Mower, 4.0 AH Battery Included 25322 | | CHECK ON AMAZON |
| | EGO 21 in. 56-Volt Lithium-ion Cordless Walk Behind Self Propelled Mower Kit with 7.5Ah Battery and Charger Included | | CHECK ON AMAZON |
Product prices and availability are accurate as of the date/time indicated and are subject to change. Any price and availability information displayed on [relevant Amazon Site(s), as applicable] at the time of purchase will apply to the purchase of this product.
Prices pulled from the Amazon Product Advertising API on:
How a Battery Powered Mower Works
The battery-powered, cordless mower is also called a cordless electric lawnmower. These electric models are the most popular type in the 21st century because they don't require frequent fuel replacement or the frustrating pulling of a cord to start the mechanical mower.
Instead, companies like Greenworks and Ego designed a device that runs using often rechargeable batteries that can be removed, replaced, and often recharged as needed. The battery powered lawn mower saves on how much fuel is consumed and also creates a machine which is smaller, lighter, and quieter than gas-powered options.
The Pros of Going Cordless
There are several primary reasons why the average person chooses to invest in a cordless electric mower, and it is against these criteria that Greenworks and Ego will be compared. In general, people choose to go cordless for three main reasons:
Less maintenance
Lower costs
Better maneuverability
The standard cordless lawnmower will have less maintenance because it doesn't have the standard components of a gas model. You will not need to mess with any spark plugs, oil changes, air filters, or fuel injectors. The only part you need to handle is the batteries when they need to be recharged or changed.
In terms of lower costs, you will not need to buy gasoline or oil, as you would with a gas mower, to keep this mower satisfied. The electricity to keep one of these models charged so only cost between $5 and $20 AT MOST.
Finally, there is the maneuverability. People like used cordless electric mowers because they are lightweight, do not vibrate as much as gas alternatives, and often featuring self-propelling mechanisms. The smaller models are also easier to turn, even over thicker grass, and the overall device produces little noise.
With these three characteristics in mind, how do Greenworks and Ego compare?
Greenworks vs Ego
Greenworks Tools is a relatively modern company focused on creating environmentally friendly alternatives to traditional gas-powered lawn equipment and tools. It is based out of Seattle, where it established its founding office in 2017. Although a relatively new company, it has become well-known because of its quality, focuses on e-commerce, and distinctive light green shade on its equipment.
Ego, on the other hand, is a smaller brand controlled by the larger corporation of Chevron, which is based in China. Chevron possesses over two decades of experience and developed Ego to also make alternatives to traditional gas-powered tools and machines. It has become popular in the commercial sector and is branching out into residential models to be used by the average individual at home.
Key Differences
Overall, these brands operate on a similar level. They both produce lightweight models intended for residential use and emphasize the importance of lithium-ion batteries to create a powerful alternative energy source. Beyond this, there are a couple of key differences that become noticeable after comparing the produces on an individual level.
The EGO lawnmower possesses a longer warranty than Greenworks, with an average time of 5 years compared to Greenworks' 4 years
EGO also offers a better warranty on batteries, covering replacement for 3 years compared to Greenworks' 2 years
The battery pack used by EGO are longer lasting than those used by Greenworks, and most models only require one instead of two
EGO batteries can be charged in roughly 30 minutes, while the Greenworks batteries take 60 minutes
You can use your Greenworks mower with only one battery and charge the other as needed, while the EGO will be out of commission once the single battery has died
Your EGO battery is compatible with other EGO devices, while the Greenworks tends to use different battery types in its variety of devices
The EGO motor has a larger cut range than the Greenworks mower
Greenworks mowers are quieter than their EGO alternatives
The EGO lawn mower offers a longer cutting time on average, with 45 minutes compared to the Greenworks 30 minutes
Greenworks motors are smaller and lighter on average
On average, the EGO cordless electric lawnmower is more likely to be self-propelling than the Greenworks alternative
To better process this information, you can refer to the chart below.
| | | |
| --- | --- | --- |
| Feature | EGO | Greenworks |
| Warranty | 5 years parts; 3 years battery | 4 years parts; 2 years battery |
| Time to Charge Batteries | 30 minutes | 60 minutes |
| Battery Lasting Time | 45 minutes | 30 minutes |
| Self-Propelling? | Usually | Infrequently |
| Number of Batteries | 1 | 2 |
| Battery Compatibility | Yes | No |
| Adjustability | High | Average |
| Maneuverability | High | High |
| Weight | Average | Light |
These features are determined as averages, so it is natural that some models will deviate from the chart above. However, these are common trends seen across all of the products currently available from these brands.
Which Is Better?
Ultimately, it will depend on your preference when it comes to deciding whether or not to get an EGO mower or a Greenworks mower. However, after reviewing each manufacturer's product lines and comparing them to one another, EGO seems to be the better choice.
EGO cordless electric mowers simply offer more benefits than the Greenworks option when looking at the three criteria listed above:
Less maintenance
Lower costs
Better maneuverability
Less Maintenance
The EGO powered lawn mower stands out for offering a battery-powered device with batteries that last a reasonable amount of time, are compatible with other machinery, and do not require long charging times. Although it only comes with one rather than two like Greenworks, you will still spend less time maintaining your power source when using an EGO.
Lower Costs
While Greenworks is less expensive overall, EGO requires the user to spend less time charging their machine. Electricity still costs money, especially for the average homeowner who needs to the entirety of their utility bills. Greenworks will cost less money at the outset, but EGO makes up for the lower costs by having faster charger times and more time spent mowing without the batteries dying.
Better Maneuverability
At first glance, this quality seems to go to Greenworks. When you buy a Greenworks model, you tend to get a smaller and lighter mower that is better when it comes to turning and going up and down hills. The main issue appears when it comes to propulsion. The majority of Greenworks models are not self-propelling, which means you will need to push it up and down hills yourself.
EGO, on the other hand, produces a broad range of cordless, self-propelling electric lawnmowers. There is also greater flexibility when it comes to the cut range of the blades. You can raise and lower the cut height as needed, making it easier to tackle different parts of the yard.
Conclusion
In the war between Greenworks vs. EGO, EGO emerges as the clear victor. They are one of the best brands to buy from while on the market for a cordless electric lawn mower because of the manufacturer's maneuverability, low maintenance, and low costs. These devices are also simple and easy to use and often come with better features like longer battery life and a propeller.
If you are still undecided about which brand you prefer, check out some of our other manufacturer reviews. We compare both EGO and Greenworks to other options currently on the market to help you make an informed decision as a consumer.