Next to raccoons, squirrels are the bandits of the animal world! And if you've been seeing pesky squirrels hanging onto your bird feeders by their thieving little paws and reaching for nuts and seeds, then you know the frustration of trying to keep them away. In this article, we'll be discussing how to keep squirrels out of bird feeders for good!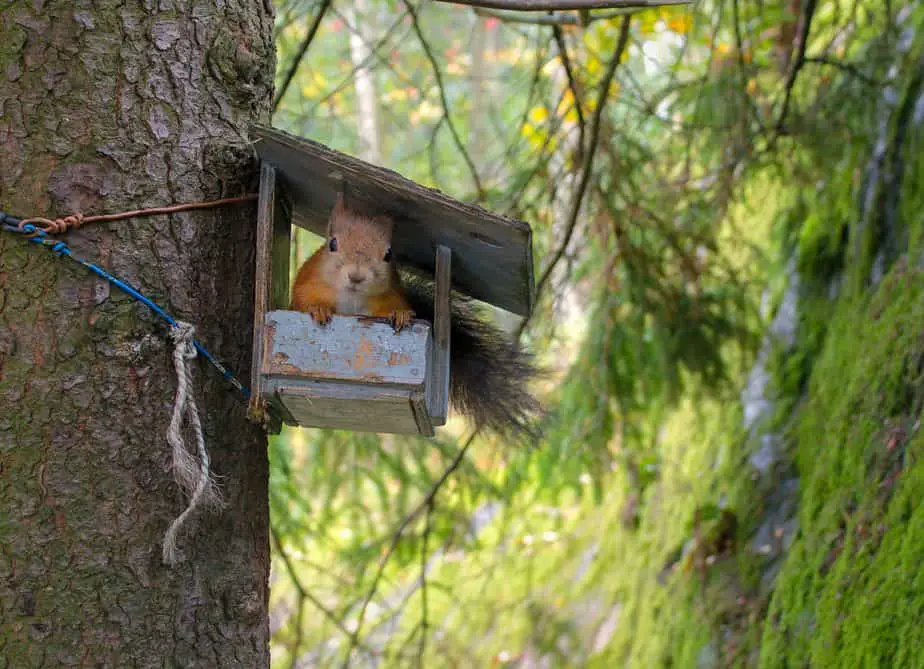 Without further ado, let's jump right into the most reliable squirrel preventative methods!
1. Give the Squirrels Their Own Feeder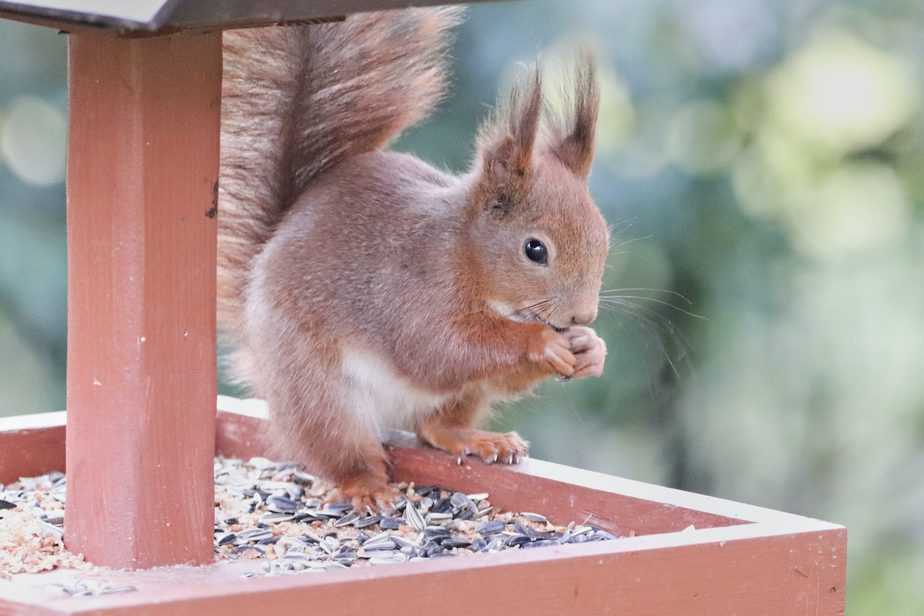 The first thing you can do to prevent squirrels from ravaging your bird feeders and scaring away your feathered friends is by providing them with their very own squirrel feeder. Squirrels will be attracted to these more open feeders and the easily-attainable pickings. If you're one who loves to feed all kinds of local wildlife, this is the preventative option for you!
Here are a few of our favorite squirrel feeders:
Uncle Dunkels Backyard Squirrel Feeder
Uncle Dunkels Backyard Squirrel Feeder (w/Gallon Glass Jar); Rustic Handmade Squirrel Food Box
SUPERIOR CRAFTSMANSHIP: Built by experienced southeastern Kentucky artisans, each wildlife feeder is individually handcrafted to ensure quality and attention to detail
STURDY DESIGN: Crafted with durable 3/4 inch solid pine wood, waterproof glue and rust proof screws
FEEDING FUN: Enjoy the entertainment of watching squirrels grab their tasty treats out of the large glass feed jar
SIZE: 16.5 inches long by 5.8 inches wide by 16 inches high; MATERIAL: Real pine lumber and glass
UNCLE DUNKELS SQUIRREL FEEDER COLLECTION: Check out our Uncle Dunkels product line of squirrel feeders such as the teeter totter squirrel feeder or the "outhouse" squirrel feeder
Last update on 2023-09-10 / Affiliate links / Images from Amazon Product Advertising API
This adorable squirrel feeder is constructed with a gallon-sized glass jar so that you can watch the squirrels eating the nuts or seeds inside the feeder.
The Uncle Dunkels Backyard Squirrel Feeder is made with two side holes for the squirrel to enter the feeder, and one hole leading to the open glass jar where the feed is. This unique design protects squirrels from predators that may otherwise terrorize them while they're eating, such as hawks, dogs, or cats.
It's surprisingly well-ventilated, as well, to keep the nuts and seeds dry, while also protecting the feed from the elements.
What We Like:
Gallon-sized jar for lots of feed
You can see through to the squirrel eating
An affordable squirrel feeder option for the quality and size
Made of quality materials
Keeps squirrels safe from predators while they eat
The glass jar is well ventilated and protects nuts and seeds from the elements
Overall, this is a great feeder to protect your bird feeders and the squirrels from potential predators, while also giving you an entertaining look into the animal world.
---
American Heritage Industries Squirrel Picnic Table
American Heritage Industries Squirrel Picnic Table- Picnic Table Feeder for Squirrels with Corn Holder…
PICNIC TABLE SQUIRREL FEEDER- Beautiful cedar table for your playful neighborhood squirrels to sit at and eat corn on the convenient corn cob holder
SQUIRREL TOY- This fun toy will keep your woodland critters entertained, and you will be entertained as well; You and your family will watch in amazement as squirrels sit at your backyard restaurant to dine on dry corn, sitting at a table like little people!
AUTHENTIC CEDAR- Cedar is a naturally weather-resistant wood; This model comes as a rustic and authentic wood; The natural roughness of the wood will smooth out with rain and wind, while the cedar will change color over time; This wood is free of any stains or treatments that could be harmful to the squirrels
HANDMADE QUALITY- These cedar squirrel tables are made by hand here in Cleveland, OH; The harshness of the weather here, and the changing seasons, means we've tested these tables through all sorts of conditions; Handmade wooden items come with a quality and attention to detail that manufactured items, or items made overseas, often are lacking
AMERICAN HERITAGE GUARANTEE- These squirrel tables come with the American Heritage guarantee; If you have any issues at all with your squirrel picnic table, or any questions, or customer service team based in Cleveland, OH will be here to answer any questions or make suggestions
Last update on 2023-09-10 / Affiliate links / Images from Amazon Product Advertising API
Coming in at an affordable, budget-friendly price, the American Heritage Squirrel Picnic Table is super cute and great for feeding local squirrels corn on the cob. It's in the shape of a picnic table and features two tiny bench seats and a table. The table has a vertical screw for securing the cob in place.
Simply screw this squirrel picnic table into the trunk of a tree, put corn on the cob in place, and watch as your neighborhood squirrels entertain themselves!
What We Like:
Great price, even for those who may be on a tighter budget
Adorable picnic table style
Great for feeding squirrels fresh corn on the cob
Made of sturdy, natural materials
Screws onto the trunk of a tree to keep squirrels away from the ground and safe from domestic predators
All in all, this squirrel feeder doesn't offer much variety in terms of feed, but it's simple to clean and easy to use!
---
Pennington Cedar Squirrel Snacker
Pennington Cedar Squirrel Snacker Feeder, 1 LB Capacity
This multi-functional feeder can be used for squirrels or birds
Constructed of Eastern Red Cedar natures renewable resource
Easy to fill and clean
Easy to hang with hanging hardware included
Attracts squirrels and chipmunks or birds
Last update on 2023-09-10 / Affiliate links / Images from Amazon Product Advertising API
The final favorite squirrel feeder of ours, the Pennington Cedar Squirrel Snacker not only has a cute name but has a lovely construction to add to the scenery in your yard. It can hold up to nearly 3 pounds (2.7 pounds, to be exact) of nuts and seeds, and protects the feed behind a clear plastic pane to prevent spills.
This squirrel snacker doubles as a feeder for birds and features a large platform for squirrels or birds to rest on as they eat. The Snacker is made out of naturally weather-resistant cedar wood and has a beautiful color to it. This feeder is easy to hang and includes a mount for hanging on the side of a tree. The top of the feeder opens for easy access for refilling the feeder.
What We Like:
The plastic pane holds feed in place and prevents spills onto the ground below
Multifunctional for both birds and squirrels
Beautiful construction
Holds nearly 3 pounds of seeds and nuts
Naturally weather-resistant
The top of the feeder opens for easy refilling
Comes with everything you need to mount the feeder
---
2. Use a Squirrel-Proof Bird Feeder Pole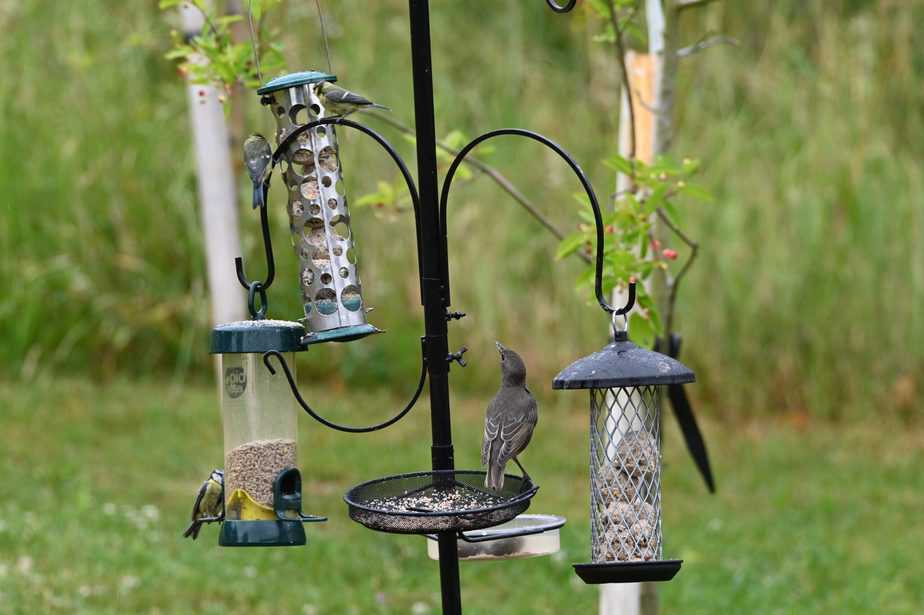 Another way to keep squirrels at bay is by hanging your bird feeders on a squirrel-proof bird feeder pole. These poles are meant to be positioned away from trees and other structures, as to not give squirrels something to grip on to in order to reach the birdseed.
They're designed in such a way to either prevent squirrels from reaching the feeders altogether or to spin when the squirrel reaches the feeders and puts its weight on the pole… no worries, squirrels don't get hurt when they fall (and it's actually kinda funny to watch).
Take a look at the brief review of our favorite squirrel-proof bird feeder pole, below.
Squirrel Stopper Bronze Deluxe Squirrel Proof Pole
No products found.
Now, this squirrel proof pole is on the expensive side, however, if you're an avid bird watcher and have a huge problem with squirrels scaring away your birds, this is honestly a worthwhile investment!
It has a beautiful construction, and is available in two colors, black and textured bronze to best match your outdoor decor. This particular squirrel proof pole has 8 hooks to hang your feeders on and uses both a squirrel baffle on the pole to prevent squirrels from crawling up to the feeders and spinning poles at the top just in case the agile squirrel makes it up top.
The bottom of the pole features a ground auger to make installation a breeze, and because this pole is made out of steel, you can rest assured that this is a sturdy, long-lasting option (especially for the money).
What We Like:
A worthwhile investment for bird watchers and areas with a large squirrel population
Beautiful and high-quality construction
Prevents squirrels from reaching bird feeders
Comes in black or textured bronze color
Made of steel
Easy to install
Uses 2 methods to prevent squirrels from getting to the bird feeders
---
3. Place Your Bird Feeders Away From Trees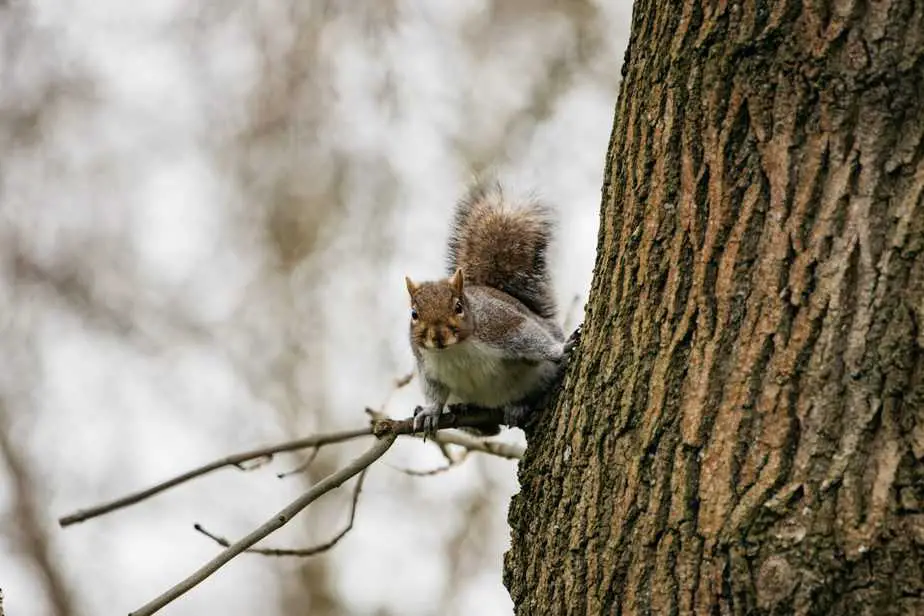 … And structures.
Squirrels can jump 5 feet up from the ground, and 7+ feet horizontally and will get to your bird feeders with little effort if they're placed next to a tree, house, shed, fence, or other structure. If you're able, place your bird feeders on a squirrel-proof pole in the middle of an open area of your property, preferably a place without trees.
And even if you do place your feeders in the middle of nowhere on a squirrel-proof pole, an innovative squirrel may still find their way to your feeders… which brings us to our next preventative method: squirrel proof bird feeders.
4. Invest in Squirrel-Proof Bird Feeders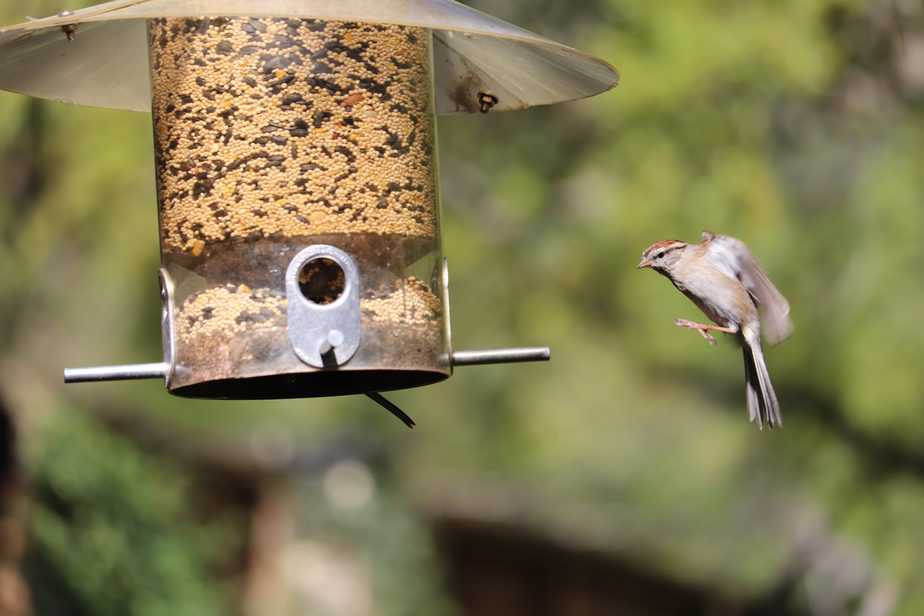 If you've found that no matter what you try, squirrels just keep getting in your bird feeders, it may be time to invest in a bird feeder upgrade. When all else has failed, try a squirrel proof bird feeder!
Squirrel-proof bird feeders are constructed with conniving little squirrels in mind, and will generally have cages or very small openings that keep squirrel paws out and allow tiny beaks in.
Take a look at our review of the best squirrel-proof bird feeders, below.
Squirrel Buster Standard Squirrel-proof Bird Feeder
Squirrel Buster Standard Squirrel-proof Bird Feeder w/4 Metal Perches, 1.3-pound Seed Capacity, garden green
COMPACT DESIGN FOR TAILORED BIRD FEEDING
TRULY SQUIRREL-PROOF: Openings in the shroud align with the feeding ports, providing birds access to the food. When a squirrel climbs onto the feeder, its weight automatically forces the shroud down, closing access to the ports. Squirrels and some large birds are foiled but not harmed in any way
PAYS FOR ITSELF IN SAVED SEED: Squirrels can no longer steal your wild bird seed. Over a short period of time this adds up to substantial savings that will pay for the purchase of your feeder
RECOMMENDED BIRD FOOD: Black oil sunflower or/and safflower seeds
LIFETIME CARE: This is how we support you and our planet. Should you need a part covered under our warranty, we will provide it for free to extend the life of our products, and shipping is on us. The future of the planet must be linked to the vision of products made to last. Please call us for advice or help, a real person will be happy to answer
Last update on 2023-09-10 / Affiliate links / Images from Amazon Product Advertising API
With thousands of positive reviews, it's clear that the Squirrel Buster Bird Feeder works as described. This squirrel proof bird feeder is designed to shroud the bird food with a metal cover when a squirrel jumps onto the feeder. The container for the seeds is made of hard plastic, and there is a cage around the container to keep the seeds extra secure. The only way to the seeds is through the small feeding entrances that birds can stick their beaks into.
If a squirrel tries to get into these entrances, their weight with force the entrances shut, preventing them from getting their paws inside. This bird feeder also features a unique ventilation system to keep the seeds fresher for longer to avoid wasting seeds.
What We Like:
Thousands of happy users
The weight of adult squirrels causes the feeding entrances to close
Bird seed container is made out of sturdy material and features a cage for extra protection
Relatively affordable for the quality and functionality
Seed ventilation system to keep the seeds fresher for longer
Design protects bird feed from the elements
---
Final Thoughts
When it comes to how to keep squirrels out of bird feeders, there are a few ways you can go about it. We would recommend implementing a few of these deterrents in your yard for the best effect.
Our ideal way to deter squirrels would be by placing a squirrel feeder somewhere in the yard and utilizing a squirrel-proof bird feeder. That way, the squirrels won't be missing out on any yummy seeds and nuts, and they'll stay out of your bird feeders!
We hope this guide was helpful!