Croquet is a fun game to play with the entire family. It combines strategy with skill in a slow-paced and less competitive way when compared to sports like basketball or football. The best kids' croquet set brings all these elements together along with an understanding of the rules of the sport. While it has seen better days, getting your child involved in the sport can rejuvenate it.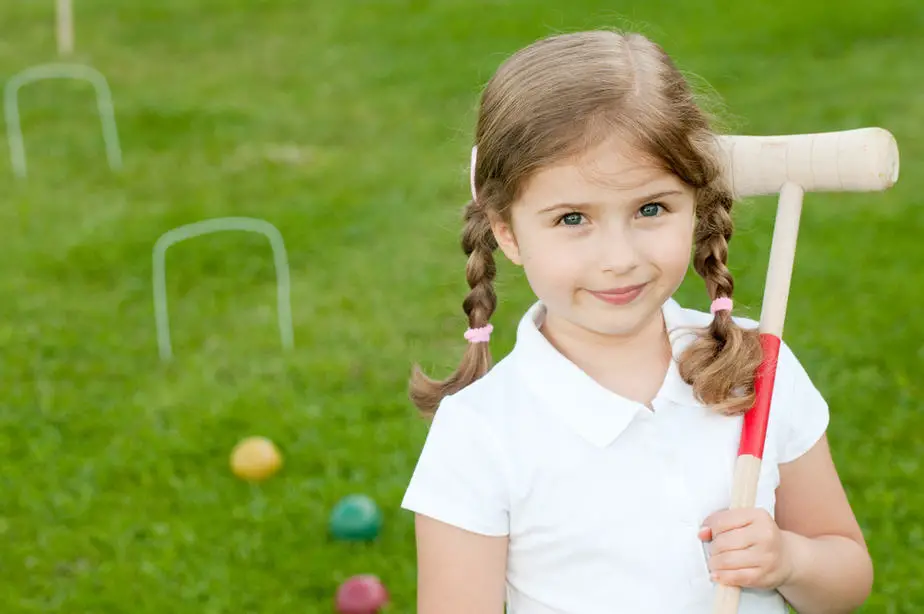 Who knows?
Maybe your child will pick it up and play it professionally in a club or league.
In a Hurry? Here's Our Top Picks…
1. Harvil 6-Player Croquet Set
Harvil Complete 6-Player Croquet Set with Mallets, Balls, Stake Posts, Wickets and Carrying Case
COLORFUL HARDWOOD MALLET - This croquet set includes 6 colorful, two-piece mallets made of strong hardwood. The mallet head is made of chip resistant bamboo that makes the mallet more durable and unlikely to break.
DURABLE AND RECREATIONAL - Each set comes with 6 brightly colored polymer balls in the following colors: blue, green, red, purple, orange, and yellow. The balls are elastic and protect mallets from chipping. The ideal construction and weight of the balls ensure long-lasting fun games.
COMPLETE SET AND EASY SET UP – This croquet set has everything you need for an exciting game. It comes with two 24-inch long stake posts featuring the colors of the balls, and 9 heavy-duty steel wickets, vinyl coated to prevent from rusting.
PORTABLE AND EASY STORAGE – The nylon zip-up carrying bag has mesh bags and elastic straps for clean and organized storage. Just pack all the components in the bag and go outdoors for play!
DAZADI MONEY BACK GUARANTEE and WARRANTY - Your set will arrive to your door with all the necessary parts, without defect and/or shipping damage. Well ship new replacement parts or an entirely new set for free in the event of defect or damage. If you still arent satisfied, youll get a full refund. During the 90-day warranty period, we will repair or replace defective parts at no cost to the purchaser.
Last update on 2023-09-17 / Affiliate links / Images from Amazon Product Advertising API
The Harvil 6-Player Croquet Set has the typical number of pieces, along with a nylon carrying case. It is partitioned to hold everything in place neatly. The mallets are hard wood with a 30-inch handle and 1.5-inch detachable head. The balls are polymer but don't include the standard colors if that makes a difference to you.
Pros:
The set is affordably priced.
The manufacturer backs up their product with a satisfaction guarantee.
The mallets are well-balanced.
Cons:
The croquet balls don't stand up well to heavy use.
Check Price and Reviews on Amazon
---
2. GoSports Six Player Croquet Set
Sale
GoSports Six Player Croquet Set for Adults & Kids - Modern Wood Design - Choose Deluxe (35") or Standard (28")
COMPLETE CROQUET SET: Includes 6 color mallets, 6 balls, 9 wickets, 2 end posts and rules
KIDS AND ADULTS: Full size 35 inch handles can be used by players of all sizes, not just kids; Handles are wrapped for superior control and comfort; The croquet balls are 3 in diameter and 10 oz each
PREMIUM CONSTRUCTION: Mallets are crafted from premium hardwoods for durability and feature a modern design that will look great on any lawn or backyard
CARRYING CASE: Includes handy storage bag so you can neatly store the set and take it out to the park or parties
Last update on 2023-09-17 / Affiliate links / Images from Amazon Product Advertising API
The GoSports Six Player Croquet Set is a quality product that succeeds at being a game for the entire family. You can get the deluxe offering that includes 35-inch mallets or the standard with 28-inch ones. It also includes six balls, nine wickets, and two stakes. The company is US-based too. We'd place this product squarely in the kid realm as opposed to the adult side.
Pros:
The mallets are well-constructed with comfortable grips.
The manufacturer offers a 100-percent satisfaction guarantee.
The balls are well-balanced with bright colors.
Cons:
The wickets are short at only 6 inches high.
Check Price and Reviews on Amazon
---
3. Juegoal Six Player Croquet Set
Juegoal Six Player Croquet Set with Wooden Mallets Colored Balls for Lawn, Backyard and Park, 28 Inch
Includes 6 x 28" Burlywood hardwood handles, 6 x 8" hardwood mallets with caps for added protection, 2 x 18" hardwood ending stakes, 6 x 2.8" weather resistant molded balls, 9 x steel wickets with vinyl coating.
Easy set-up, hardwood handle and hardwood mallet are easy to install, simply screw the handle into the mallet, takes few seconds.
Easy to carry, with a extra drawing bag, all mallets and balls can be easily stored without disassembly. This thoughtful bag let you storage and transport croquet set conveniently.
Durable and long lasting design, suitable for 2-6 players, enjoyed by people of all ages and ability levels.
Leisure sport for your parents, friends. Perfect for family gathering, picnics, parties and more. Manufacturer recommended age: 6 years and up
Last update on 2023-09-17 / Affiliate links / Images from Amazon Product Advertising API
The Juegoal Six Player Croquet Set ticks off some boxes for its attention to detail. The mallets have a 26-inch handle with an 8-inch head that is 2 inches high. It also has caps on the end to protect both it and the balls. Unlike comparable products, you don't have to take them apart to store them. They are lightweight yet balanced, making them well-made for children.
Pros:
The manufacturer designed the set with kids in mind with a comfortable size and caps on the heads.
The carrying case is well-made and extra roomy.
The stakes are sturdy.
Cons:
Though well-constructed, the set isn't the best choice for older children.
Check Price and Reviews on Amazon
---
4. ROPODA Six-Player Croquet Set
Sale
ropoda Six-Player Croquet Set with Wooden Mallets, Colored Balls, Sturdy Carrying Bag for Adults &Kids, Perfect for Lawn,Backyard,Park and More
【EASY & FUNNY FOR EVERYONE】 - ROPODA croquet set for families/adults/kids is quite easy to learn and funny, also a great croquet set for lawn and backyard games. It can be played with 2 to 6 players and provide hours of funny.
【COMPLETE CROQUET SET】 - ROPODA crocket game set includes 6 handles, 6 mallets with protection cover, 6 balls, 2 ending stakes, 9 steel wickets and a carry bag. Here are all items you need to play the croquet game.
【UNBEATABLE QUALITY & EASY SET-UP】 - Handles and mallets are made of premium hardwood and easy to install. Croquet balls are made from resin that's crack and damage resistant so it can keep looking new for long-term.
【TAKE IT ANYWHERE】 - ROPODA croquet set includes a durable carrying bag for easy storage and transport. It is a perfect yard/outdoor games for families, kids and adults.
【ROPODA HELP】 - Customer satisfaction is our first priority. If you have any question, please feel free to contact us. We are very willing to help you.
Last update on 2023-09-17 / Affiliate links / Images from Amazon Product Advertising API
The ROPODA Six-Player Croquet Set is an excellent value. It has six 31-inch mallets, six 3-inch diameter balls, two 21-inch stakes, and nine wickets that are 8.5 inches tall by 6.7 inches wide. Like the previous product, there are caps on either end of the mallet head. There is also a carrying case. Overall, the pieces are well-constructed and should handle kid treatment well.
Pros:
The balls have a good weight to them.
The mallets are durable.
The materials are high-quality.
Cons:
The carrying case is a bit flimsy.
Check Price and Reviews on Amazon
---
5. Amish Toybox Deluxe 8-Player Croquet Game Set
Last update on 2023-09-17 / Affiliate links / Images from Amazon Product Advertising API
The Amish Toybox Deluxe 8-Player Croquet Game Set is for families that take their game seriously. Beautiful isn't a word we'd always use to describe this kind of product, but it is. The entire set is hand-made. It has both 28 and 32-inch maple handles so that everyone can play. The set is durable and made to last. The mallets and balls have a good heft to them.
Pros:
The product is gorgeous and well-made.
Up to eight players can get in on the fun, more than comparable products.
The rack makes for convenient storage.
Cons:
Check Price and Reviews on Amazon
---
Kids' Croquet Set Buying Guide
Durability and accessibility are the best qualities of a kids' croquet set. Croquet rules address sportsmanship and proper conduct to other players and spectators, alike. Nevertheless, you probably know that your children will test the bounds, taking a toll on the equipment.
You'll likely find durability the primary consideration with the mallets and wickets. You need this quality to handle the abuse they'll likely get. The latter are sitting ducks. The official regulations address these concerns with specifications on the size, material, and diameter of all the necessary equipment, if you want to keep it official.
Let's discuss each one in detail with recommendations on which products are best for kids.
Mallets
The most common material you'll see is hardwood. That covers the durability factor well. Younger children can use plastic, which will also hold up and weigh less. We suggest looking at the overall construction, especially the attachment of the head to the shaft. Steer toward products that have a warranty, if possible.
Height is the other thing to keep in mind when choosing the best kids' croquet set. Usually, product descriptions will specify if the item is suitable for children, adults, or both. The standard size is typically 3 feet long. You'll often see shorter ones at 30 inches or less, which is ideal for younger players.
Wickets
Regulation wickets or hoops are 12 inches long and are made of iron. The recreational sets have steel ones, often coated with a weather-resistant material like vinyl. Pay attention to how many are included with your purchase. You need six to player Association Croquet. But, it's always appreciated when there are extras on hand.
Some sets skimp when it comes to the wickets. You may find them flimsy and hard to place. If some get bent, we recommend upgrading to a more durable product.
Balls
You'll see various materials such as hard plastic or polymer for croquet balls. Many manufacturers make them with the standard United States Croquet Association (USCA) colors of blue, black, red, yellow, orange, and green. The choices probably don't matter too much for your children. Most sets include at least four or sometimes six.
Stakes
The stakes are another piece of equipment that may get some abuse since players have to strike their balls against it. Wood is the usual material, though less expensive products may have plastic ones instead. Most have pointed ends to make placement easier. You may find it easier to toss in a rubber mallet wit the set, just in case.
Other Accessories
The best kids' croquet set has a carrying case to hold all the equipment. It's a godsend for keeping everything together. You can also add a few extra items to your kit if they aren't included with your purchase. Some things to consider are:
Flags for marking boundaries
String
Tape measure
Another item you might consider is getting a deadness board if you want to play the game seriously. It keeps track of the balls that a player cannot hit or make a roquet. Generally, you have to wait until you score again before you can strike the ones you've hit before again.
If your child takes a liking to the sport, you can upgrade for professional-grade equipment. One word of caution: serious croquet is not a cheap sport, despite its association as a backyard game. Even items like wickets can cost over $100.
How to Play Croquet
Playing the game is easy since most products include instructions for setting up the court and gameplay. The object is to get your ball through all the wickets in the correct order forward and backward, followed by striking the stake, first. You can play with either six or nine wickets. The layout and size vary between the two versions.
A standard sized court is 105 feet long by 84 feet wide. If you don't have that much space, you can scale it back, trying to keep it with a 5:4 ratio between the dimensions. For example, a 50 foot by 40-foot area will fit the bill so that you can place the wickets correctly. That's where the tape measure comes in handy. You can set up stakes with string to mark the boundaries.
The only other requirement is that it should be flat. The balls must roll easily across the surface. We don't recommend playing the game indoors. Most croquet sets include weighted balls that can damage floors easily.
Rules and Gameplay
Each player gets one swing per turn to get their ball completely through a wicket. Each one is worth one point. You can earn extra shots if you score or hit another player's ball with your striking ball. Each of these scenarios gets you one continuation shot. That's where your strategy comes into the game.
Despite its casual appearance, croquet has strict rules about how to play, covering what you can and cannot do. Parents will appreciate this teaching moment since many cover the horseplay that you'd likely see if they didn't exist. Players can only strike their ball with their mallet. You also shouldn't hit any of them out of bounds, even if you make a roquet. Some variations make it a penalty.
If you have older children, you can play other versions that can make it more exciting. Allowing a rover or poison ball makes it more competitive. The gameplay is the same. However, instead of staking out, you hold off and play the spoiler. You can still make a roquet shot and hit the balls of your opponents to give your teammate time to catch up and win the game. That's called a rover ball.
You can raise the stakes even more by making it a poison ball. In this case, any ball you hit goes out of the game. The same thing applies to you if someone strikes yours. The last player on the court wins the game.
Another fun version is golf croquet. You play this game like Association Croquet, the standard six-wicket match. The setup is the same along with the identical order of wickets. However, this time, only one person scores a point by going through the wicket. The first one to reach seven wins the game.
Best Croquet Set Brands
GoSports
GoSports specializes in a variety of team sports from baseball to bocce ball to cornhole—and everything in between! The California-based company has been manufacturing its line of products since 2007, all developed in the United States.
Amish Toybox
Amish Toybox is a small, family-based business that manufactures high-quality wooden toys. Their products are handmade and built to last. The company began as a furniture company before taking up croquet equipment production. They make a full line of games and toys.
Oakley Woods
Oakley Woods produces a wide line of croquet equipment for both the recreational and serious player. The Ontario-based company has extensive experience with croquet and the USCA. The founder was on the boards of both the USCA and Croquet Canada.
Frequently Asked Questions
Q: What comes in a croquet set?
A: If you get a recreational set, you'll likely get six mallets, six balls, nine wickets, and two stakes. Most products include rules of the game and a carrying case. Professional equipment usually has four balls and mallets. Some of these sets will also include clips and a deadness board.
Q: How do you start a game of croquet?
A: A coin toss starts the game. The winner gets their choice of either blue-black or red-yellow balls. The blue ball goes first. However, there isn't a competitive edge whether you go first or second. The gameplay goes blue-red-black-yellow.
Q: How long is a croquet mallet?
A: The adult size mallet is usually 3 feet long. Recreational sets often have shorter ones at 30 inches or less, depending on the age group. We recommend looking for a product that has more than one size so that both adults and children can play the game.
Final Thoughts
The best kids croquet set makes it easy for children and their parents to play this fun backyard game together. It has equipment that both age groups can use. We also like products that use the official rules for players that want to take it to the next level. Playing as a child is only the start. It could be the beginning of a beautiful relationship.