If you live in or around Mount Washington, New Hampshire, you know all about being in one of the snowiest areas in the United States. It makes the drive time more treacherous and long – and that's not saying anything about the driveway. So, which is better when considering a snowblower vs plow? Let our guide give you the scoop on the best ones to consider.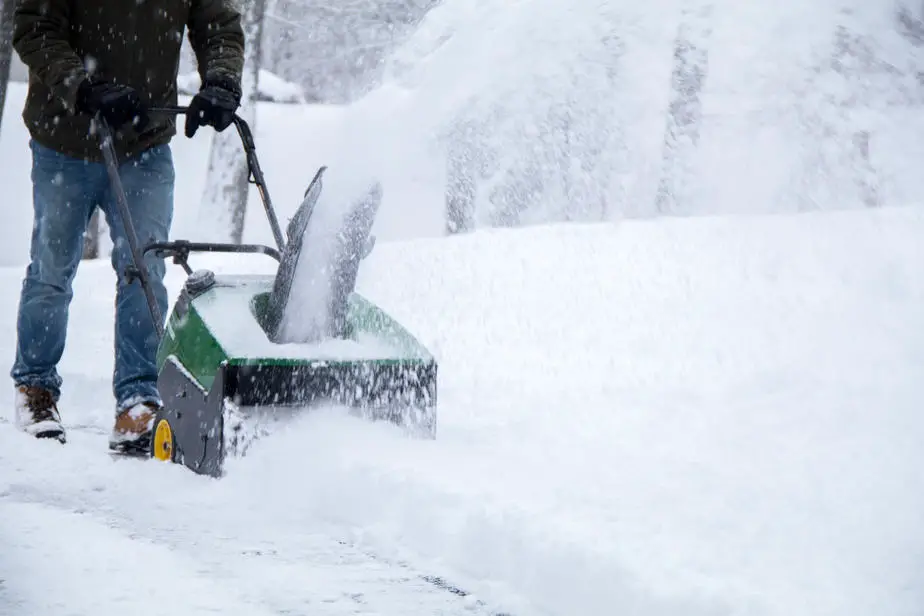 In a Hurry? Here's Our Top Picks…
Reviews
In this section, we'll be going over our favorite snowblowers and plows to give you a better idea about the best product for you.
1. TACKLIFE Snowblower
No products found.
The TACKLIFE Snow Blower is one of two electric models on our list. That fact offers several advantages over other types. For one thing, it's quiet. While the company doesn't provide a decibel reading, it's surely less than the 90 dB we'd expect from a similar device, like a lawnmower. There is also no maintenance, although it requires proper storage in between uses.
On the downside, you're not going to get far with its short cord. You'll definitely need an extension cord to use this one. The blower packs a decent punch for what it is with a 15 amp motor. It has an adjustable, 180-degree chute that will loft the snow up to 30 feet away as long as it isn't heavy. The product has an impressive height distance at 10 inches. However, it belies the fact that it's out of its reach.
Things We Liked:
The product includes a 24-month warranty and lifetime tech support.
The tires grip the snow well and won't slip.
It has a push start and is easy to maneuver.
The assembly is simple.
Things We Didn't:
The power cord is short for all but the smallest of jobs at 30 feet.
The snow blower cannot handle heavy snowfall.
Check Price and Reviews on Amazon
---
2. Husqvarna ST224P Gas Snowblower
No products found.
The Husqvarna ST224P Gas Snow Blower is a beast at nearly 200 pounds and able to handle larger jobs. It has both of our essential features: electric start and heated handgrips. It is 5.4 horsepower and 208 cc. By contrast, the average lawnmower is 140-190 cc. It also has power steering and LED headlights, making it easy to use.
The product is well-built with quality materials. It handles heavy snowfall well with no slipping, thanks to its 15-inch tires. The maneuverability is excellent with individual control over all four wheels. Its working width is 24 inches, which is ample enough for the average driveway. While it is a two-stage snow blower, it works like a three-stage model.
Things We Liked:
The manufacturer backs up their product with a three-year warranty on the machine and a five-year one on the motor.
It is quick starting.
The blower handles any weight of snow well.
Things We Didn't:
This blower is heavy at almost 200 pounds.
It is expensive.
Check Price and Reviews on Amazon
---
3. PowerSmart DB72024PA Gas Snowblower
Last update on 2023-09-12 / Affiliate links / Images from Amazon Product Advertising API
The PowerSmart DB72024PA Gas Snow Blower is comparable to the previous product with a slightly larger 218 cc. It weighs 187 pounds and also features an electric start engine. Overall, it's an excellent option if you need a powerful machine to get the job done. It does well in any conditions. However, it isn't the easiest of products to assemble.
The two-stage blower handles well with its power steering and six speeds from which to choose. The engine is reliable and starts right up with no issues. The only issue—other than assembly—was the stiffness of the chute that made it hard to set correctly. However, it shoots the snow a decent distance away from you.
Things We Liked:
It handles any weight or density of snow like a champ
The blower doesn't clog easily.
The maneuverability is top-notch.
The machine is versatile with its settings and can take on any job.
Things We Didn't:
The assembly isn't intuitive.
The tires don't grip as well as we'd like sometimes on glare ice.
Check Price and Reviews on Amazon
---
4. Black Boar Snow Plow Kit ATV Kit
Black Boar Camco ATV Snow Plow Kit | Features a 48-inch Adjustable Straight Blade and Adjustable Tension Safety Trip Springs (66016)
Strong, Durable Snow Plow: Mounts to ATV chassis to easily clear snow and fits most models of ATV with round or square tubular frames
Straight Blade Measurements: 48-inches long, 2mm thick with reversible wear blade for extended life
Adjustable Blade Angles: Angles of 0, 7 ½, 22 ½ and 30-degrees in both the right & left direction, plus adjustable skid pads for proper blade height setting
Easy to Install/Uninstall: Blade can be quickly installed or removed from the mounting bracket via two quick pins
Durable Construction: Constructed of durable, black powder-coated steel; Note: Winch required for use (not included)
Last update on 2023-09-12 / Affiliate links / Images from Amazon Product Advertising API
The Black Boar Snow Plow Kit ATV Kit includes everything you need to get started clearing your drive using your vehicle. You'll also find several parts available to extend the lifespan of the product. The design is simple and straightforward. It uses two pins to connect it and is universal-fit that is compatible with most models.
The black powder-coated steel blade measures 49 inches long by 23 inches wide by 13 inches high. It is tall enough to handle a decent snowfall. The frame is durable for most loads. The curved edges scoop snow easily and protect surfaces, such as gravel. You can adjust at several levels for matching the job with the plow's performance.
Things We Liked:
The reversible blade adds to its value.
The tension springs protect the blade from damage and dings.
It is versatile with nine options for adjusting the blade.
The plow is affordably priced.
Things We Didn't:
The pins may freeze in place, making removal difficult.
Check Price and Reviews on Amazon
---
Snowblower vs Plow Buying Guide
If you have anything but the shortest drive, getting a snow blower or plow is a must-have if you don't want to pop for service and wait until they get around to your house. However, it is a significant purchase, which makes knowing the ropes essential to get the most out of your investment.
The Difference Between a Snowblower and Plow
A snow blower is a self-contained unit, not unlike a lawnmower. An auger does the work instead of a blade. You'll see products described as one, two, and three-stage machines. A one-stage product shovels the snow up and tosses it to one side through a chute.
A two-stage snow blower does it in two steps, bringing the snow to the machine and directing it out the chute. A three-stage snow blower does both actions at the same time. The advantage of these two types is that they have more powerful motors and thus, can handle larger driveways and more snow.
A plow, on the other hand, is an attachment that you can put on your ATV or vehicle. It can handle even larger areas, making it a wise choice if you have a lot of ground to cover. You'll get it done faster without getting wet from the flying snow.
On the downside, you're more likely to cause damage because you're higher off the ground with the power of the vehicle driving it forward. You may find that a plow is more expensive, making it a spendier investment.
Features of a Snowblower
The two features we always like to see in a snow blower are an electric start and heated handgrips. The former is a godsend for preventing back pain. Using a manual recoil can easily cause a muscle strain from the awkward, jerky movement of pulling the cord.
The second one goes without saying, especially if the wind chill is a factor. The fact remains that you'll likely get wet, whether it's from the snow flying back at you or having to unclog the blower. That sets up the perfect storm for frostbite.
Other things to consider are:
Headlights
Chute controls
Operator-assist features and power steering
Multiple operating speeds
Horsepower (gasoline-driven models)
We also prefer products with plastic versus a metal chute. Snow slips off the former easier than the latter, which will make your job quicker. It'll also last longer and won't rust. That will help keep your operating costs in line.
We'd also suggest going with airless tires instead of pneumatic air-filled ones. You'll spend less time checking and refilling them, not unlike the tires on your vehicle during the winter.
Features of a Plow
A plow is a no-brainer if you have a large driveway and already own an ATV or vehicle on which you can attach it. There are several factors to consider when getting one. They include:
Type
Material
Hydraulic system
Attachment and installation
You'll see both straight and V-shaped blades. The former is the cheaper of the two. The latter can deal with frozen snow better because of its angle. It is also more versatile since you have more control over where it goes. An adjustable product is essential.
You'll find steel, stainless steel, and poly. The difference between them is the cost and ease of use. Steel is the most affordable, while poly is more durable. You also won't have to worry about snow adhering to it. You're more likely to ding stainless stell if you're not careful. However, the material is corrosion-resistant.
Hydraulic systems are a must-have for using a plow on your truck, car, or SUV. Some are self-contained with their own power source. Others rely on your vehicle's engine to drive them. However, buying a model with one means more maintenance and things that can go wrong. Fortunately, you can get one with a hydraulic system that you can clear your drive.
The attachment is a big deal with us. After all, one of the selling points with a snow blower vs a plow is that the latter is quicker. We'd strongly urge you to pay close attention to the fine print when it comes to getting the plow on your vehicle. Fast and easy don't mean the same thing. Also, consider the removal process too. Remember that it will be snow and ice-covered when you're done.
Best Brands
Deere & Company
Deere & Company has come a long way from its humble beginnings in Grand Detour, Illinois, where the founders invented the plow of a different sort. It is a global leader in the manufacturing of consumer and professional-grade agricultural and gardening equipment.
The Toro Company
The Minnesota-based Toro Company got its start in 1914 manufacturing agricultural equipment. Its product line includes several brands, specializing in snow removal, landscape maintenance, and irrigation both for consumers and commercial clients.
Husqvarna Group
The Husqvarna Group is one of the oldest companies around, producing firearms in 1689. In the early 20th century, it turned its focus to lawn and garden maintenance, including chainsaws, lawnmowers, and snow blowers.
Ariens Company
Snow blowers are one of the primary product lines of the Wisconsin-based Ariens Company, with production beginning in 1960. The manufacturer has produced over 4 million machines as of 2018. They also make residential lawnmowers.
Craftsman
Craftsman is a familiar name in a variety of industries, including construction and lawn maintenance equipment. They sell a full line of hand and power tools, now managed by Stanley Black & Decker. The company is probably best known for its unlimited lifetime warranty for its hand tools.
Frequently Asked Questions
Q: Which is better for a gravel driveway?
A: The question of whether a snow blower vs plow is better for a gravel driveway is that both will work well, especially if the ground is frozen. You should use the normal setting on the former so that you won't dig into the gravel and dislodge it. The same applies to the height on the latter.
What you don't want to use is a snow thrower, which we'll discuss in a later question. The problem with that power tool is that it will shoot out the pebbles from the chute, making it riskier to use for you, bystanders, and your drive.
Q: How long will a snow blower last?
A: The answer to this question depends on how well you take care of the machine. Whether it's electric, battery-powered, or gas-driven, you must maintain it, on and off-season. The last type is the most work because of the fuel. You'll need to add a stabilizer product to the tank if you want it to start the following season. It's a smart idea to use it between snowstorms too.
Q: Is an ATV good for snow plowing?
A: Adding a plow attachment to your ATV is an excellent way to extend its usefulness. However, it's only appropriate for lighter snowfall amounts, typically under 1 foot. Otherwise, you're pushing it to its limits. On a positive note, you'll stay dry while plowing versus using a snow blower, especially if it's windy.
Q: What is the difference between a snow thrower and a snow blower?
A: A snow thrower is the least powerful of the two. You can think of it as mechanized snow shoveling. The machine scoops it up and tosses it to the side. A snow blower, on the other hand, uses two processes to gather up and deposit the snow away from your path.
The former is an affordable option if you don't have a long driveway and typically don't get a lot of snow at one time. The latter is the big guns for handling heavy snowfall and taller drifts. It is also more expensive.
Final Thoughts
Advances in technology have made snow removal an easier task, no matter if you opt for a snow blower vs plow. They run more efficiently and require less effort. That's a great thing if you have to get your driveway clear so that you can get to work on time. The right product will get you on the road quickly.