When the weather begins to get chilly and the ground becomes covered with a layer of frost, it can only mean one thing: winter is nearly here! Luckily, we're sharing our winter bucket list ideas to keep you inspired all winter long.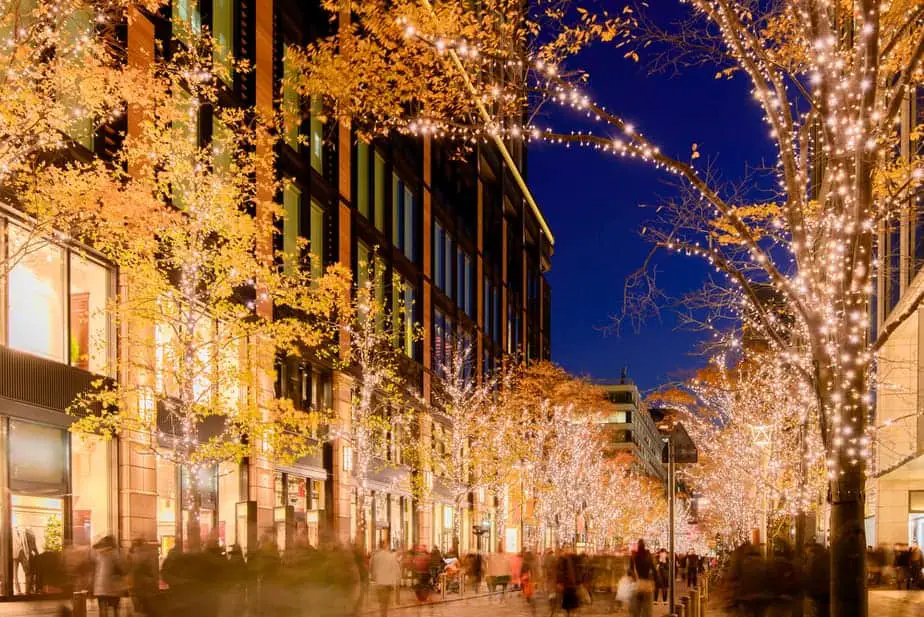 With the noticeably colder temperatures, not to mention the shortening days and waning sunlight, it can be tempting to spend the entire season curled up indoors. However, it would simply be a shame to miss out on the full range of seasonal offerings this winter. Keep reading for 29 wonderful winter bucket list ideas!
1. Go Star-gazing
At the top of our list, we're picking up right where we left off with our Fall Bucket List ideas. Grab your cold-weather gear and head outside on a winter's evening for some incredible star-gazing.
A winter sky filled with stars includes constellations that only appear during certain months of the year. By downloading a star-gazing app like SkyView, Sky Chart, Star Rover, or Sky Walk 2, and you can experience the real-life equivalent of an IMAX planetarium show!
2. Paint the Season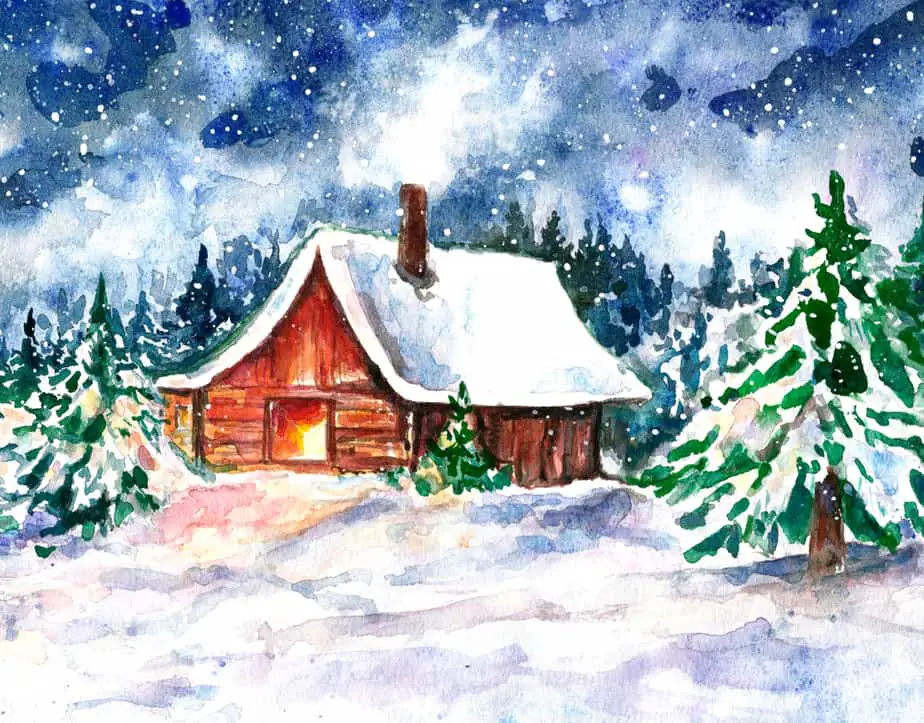 If you're more into daytime activities, then consider channeling your inner artist by heading outdoors and setting up an easel outside to capture the beauty of winter on canvas. During the winter, the sunlight light is lower in the sky and also more diffused. This makes the cold weather months a perfect time to paint the colors of the season while capturing the "mood" of winter. In addition to an easel and a blank canvas, you'll also need paint brushes, paints, and an artist's palate.
3. Go Snowshoeing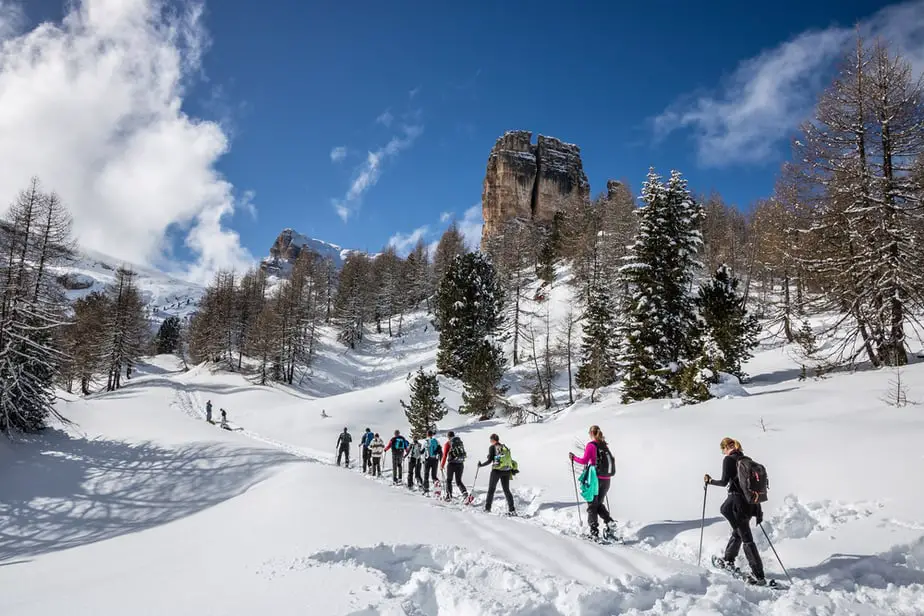 Snowshoeing is an ideal winter activity whether you're with a large group or on your own. Because it's a low-impact activity, you can still carry on a conversation while doing it. This makes snowshoeing a great wintertime activity for hanging out with friends or family outdoors.
Snowshoeing also offers an interesting alternative and scenic vantage point compared with downhill skiing. Instead of flying down the mountain at top speed, snowshoeing is a lot closer to cross-country skiing. Like walking or hiking, the motion of the body while snowshoeing is natural and intuitive.
Another cool aspect of snowshoeing is that snowshoes are designed to allow you to actually walk on the surface of the snow without sinking down into it. Plus, the slower pace of travel allows for time to really take in the sights and sounds of winter.
4. Hangout Fireside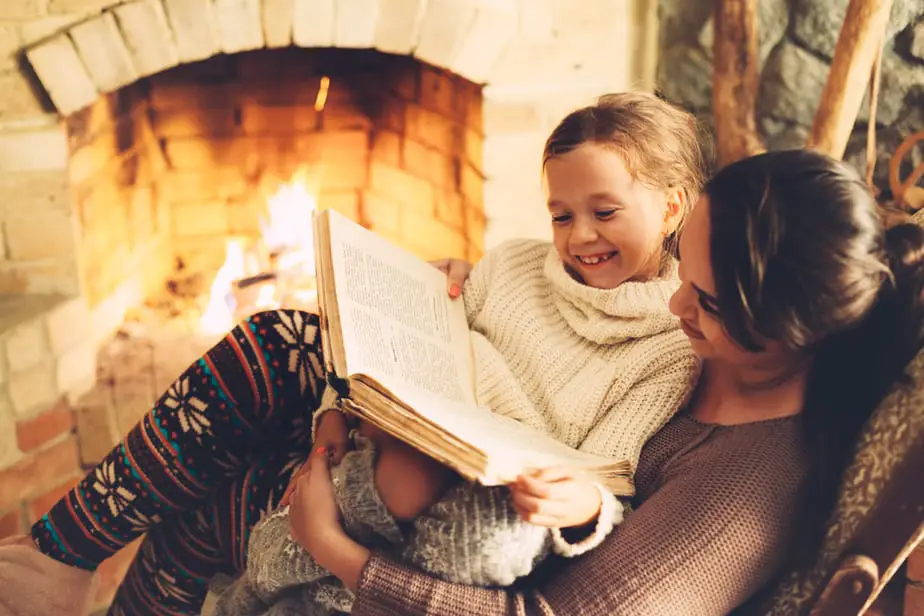 Does anything say "winter" quite like hanging out by a crackling fire while warming your toes in the flickering glow? To make the most of your fireside downtime, make sure that your fireplace and chimney are in good working order before the weather gets too cold.
For example, chimneys need to be swept at least once a year to keep them free of debris and soot. In addition, your stack of spare firewood needs to be kept cool and dry, preferably for at least six months before burning. This really helps to minimize smoke and soot so that you can fully enjoy cozying up by the fire at home without compromising your indoor air quality.
5. Get Your Garden Ready for Spring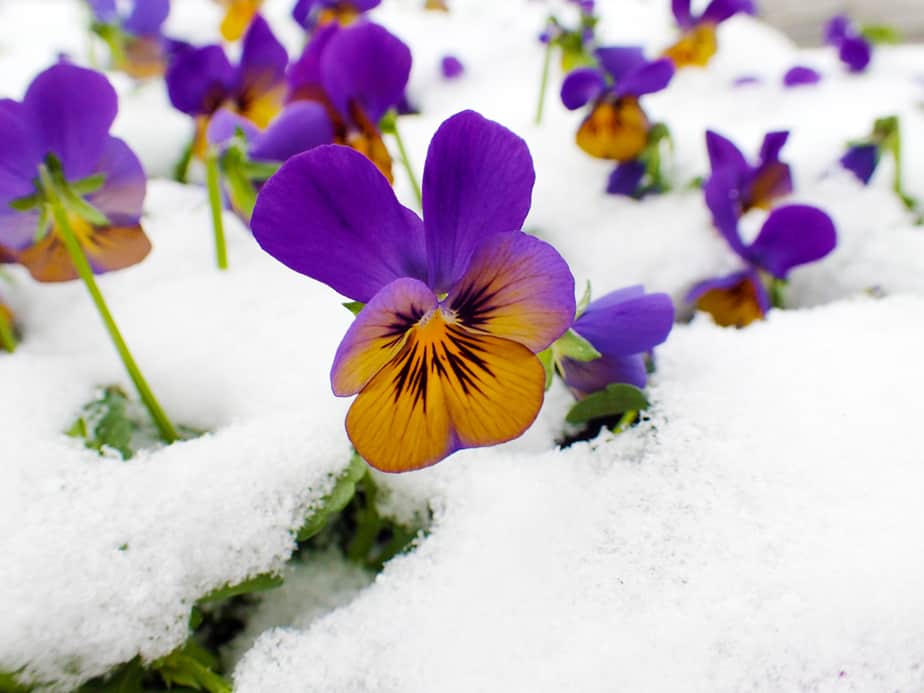 As any good gardener knows, winter is no time to slumber through the season. Instead, it's an ideal time for planning and prepping for all of your gardening activities come spring.
First of all, winter offers a great opportunity to organize your garden workbench or clean up your garage space. Next, it's also the season to enjoy looking through all of the seed catalogs that arrive in the mail. Winter gives you a chance to plan ahead and pick out your spring planting scheme!
6. Attend a Winter Market Festival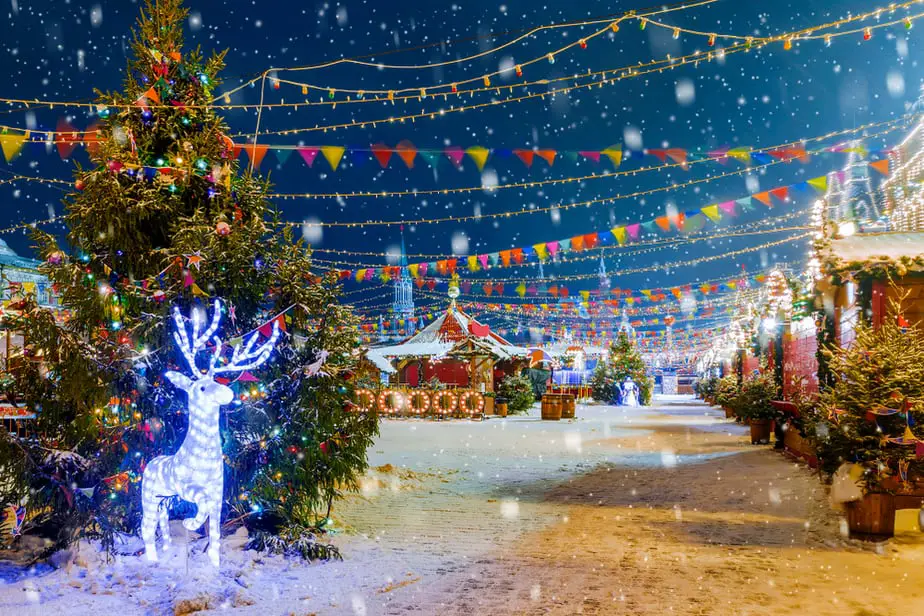 Winter market festivals are especially popular in Europe. However, their U.S. equivalents are usually just as festive.
Traditionally, outdoor winter markets offer something for everyone. You'll find deliciously hot and flavorful foods and beverages, plus an array of exquisitely handcrafted goods for sale where you can find the perfect gift for everyone on your list.
Many winter market festivals are also replete with shimmering lights, colorful streamers, tree boughs laden with decorations, and even illuminated reindeer decorations. Enjoy the ambiance and the warmth of the season while strolling with friends at an outdoor winter market festival.
7. Spend the Day in Pajamas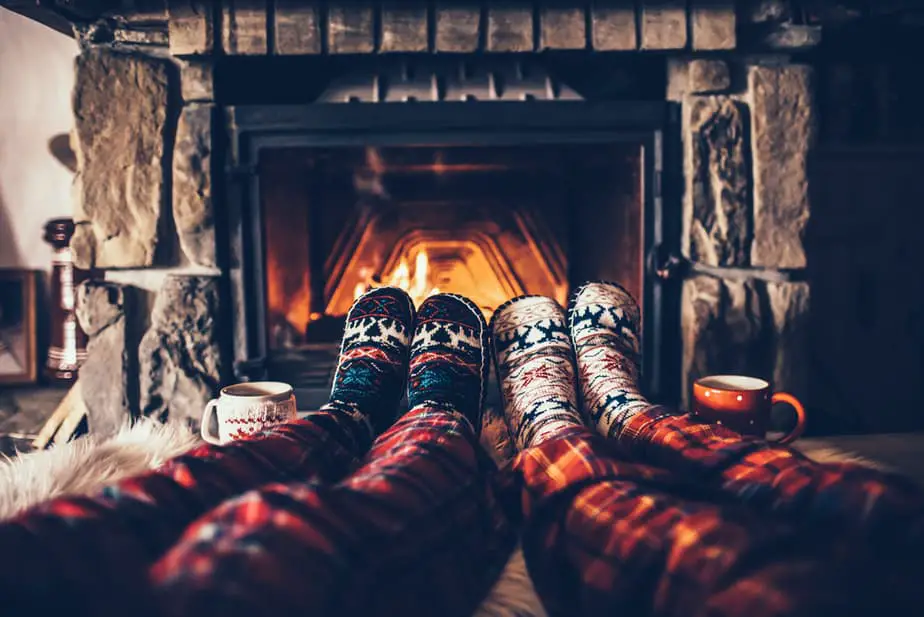 Wintertime holidays create the perfect opportunity to spend the whole day in your pajamas, without having to be at home sick with the flu. Better yet, take a classic photo this year in matching PJs with the whole family gathered around together.
Capturing this kind of corny but sweet moment has once again become something of a trend among the current Instagram generation. Plus, it's a wonderful way to make memories that you'll treasure forever.
8. Watch Old Family Home Videos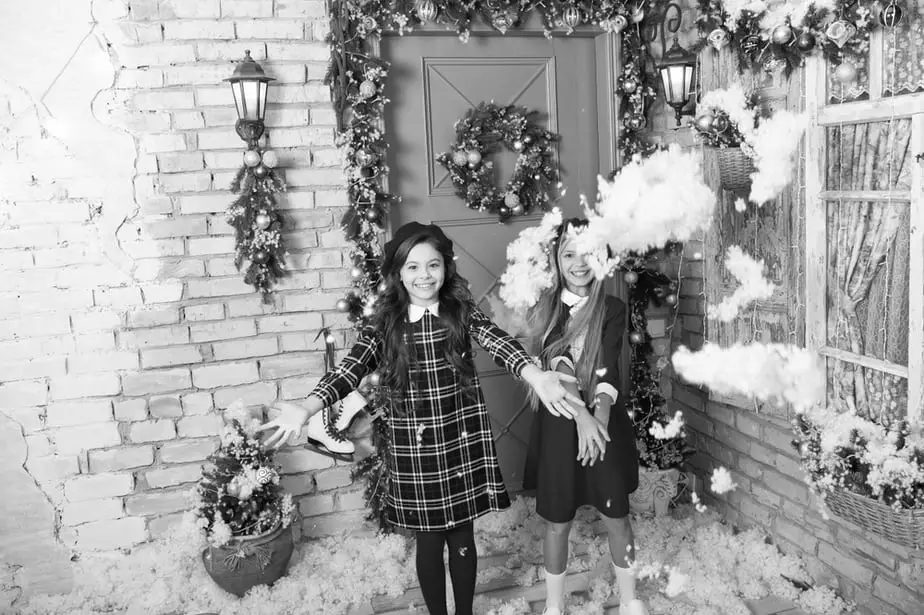 While snuggling up on the couch or hanging out in your PJs, why not also spend a few hours watching those old family home videos that nobody has seen in years? Relive the memories along with your grandparents or older family members. Give them a chance to share stories about their own fond memories of winter back when they were growing up!
9. Go Ice Skating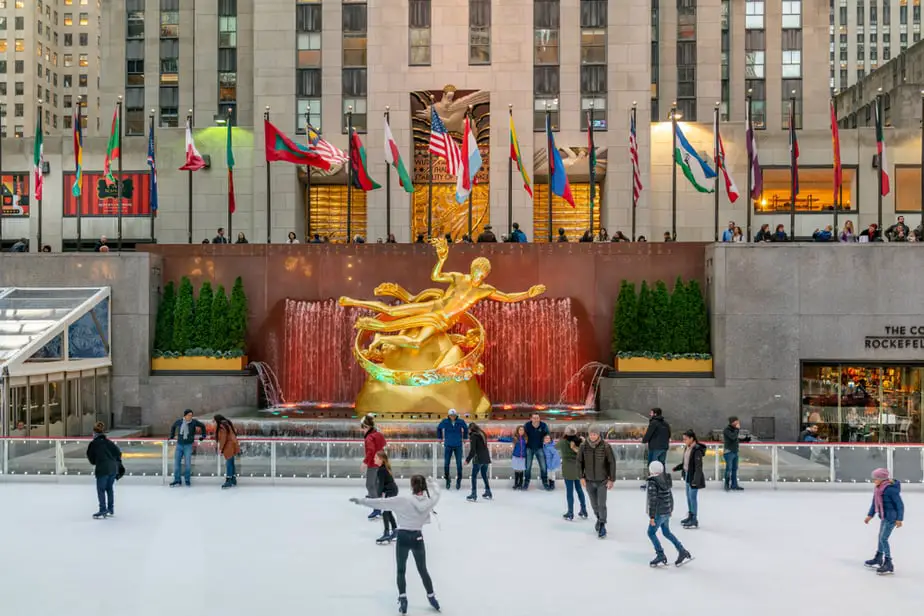 Next to cozying up fireside, nothing quite says 'wintertime' as much as ice skating. If you don't have access to a frozen pond or lake nearby or an ice skating rink in your own backyard, then head to the nearest public arena for some quality time with friends and family out on the ice.
Or, if you find yourself in one of the big cities over the holidays, be sure to check out one of the famous outdoor ice-skating destinations, such as the rink at Rockefeller Park in New York City. This seasonal public ice rink has been memorialized in countless holiday films over the years. You, too, can rent a pair of ice skates, take a few spins on the ice, and get in on the fun!
10. Visit Rockefeller Center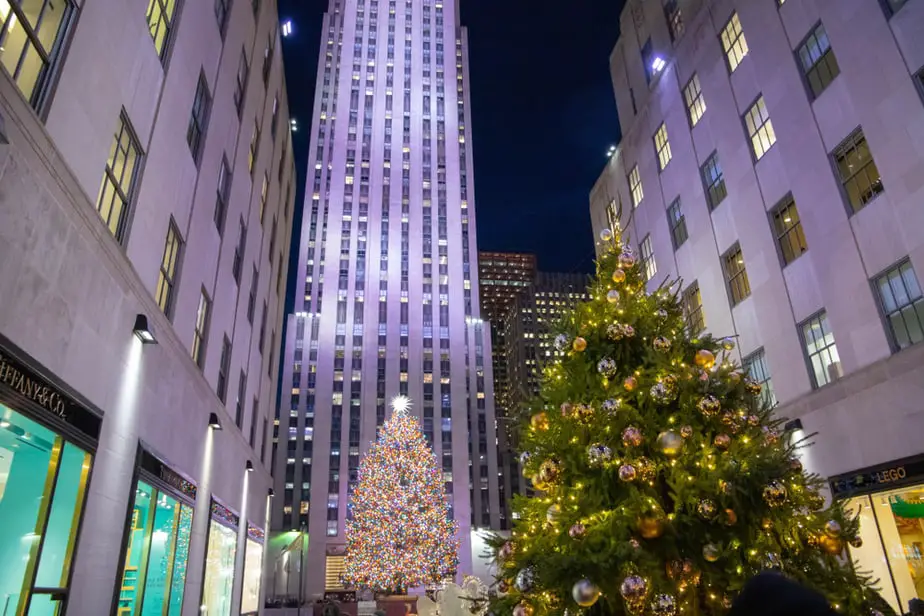 Regardless of where in the world you live during the year, visiting Rockefeller Center during the winter is something you have to experience at least once in your lifetime. In addition to the seasonal ice-skating rink, which is open to the public, the winter display also includes a towering evergreen tree that is transported into the city and decorated to the hilt.
The Rockefeller tree is usually a Norway spruce standing as high as 100-feet tall. No matter which winter holidays you and your family celebrate, the glow of the holiday lights and the general atmosphere of good cheer makes visiting Rockefeller Center an ultimate winter bucket list activity.
11. Build a Snowman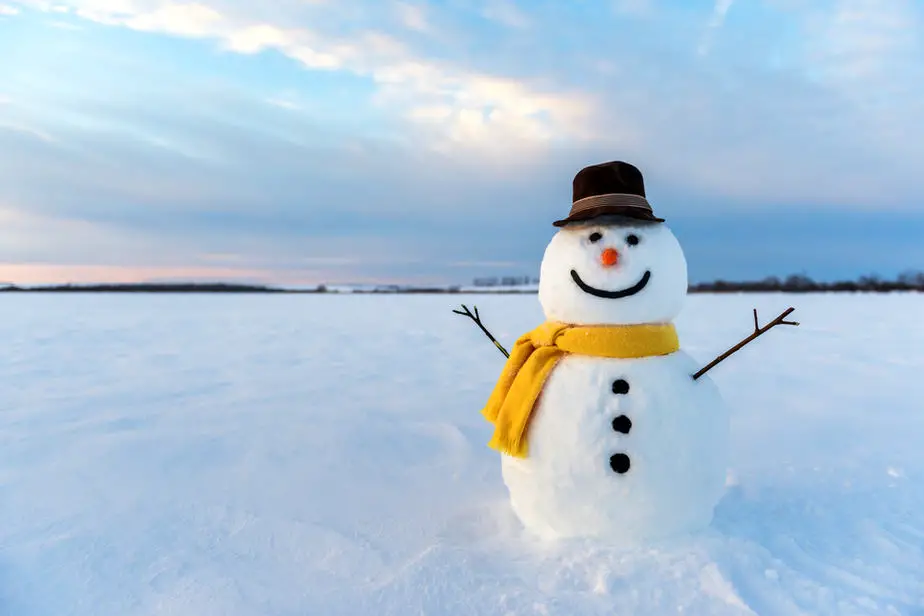 Building a snowman out of actual snow definitely deserves a place on your winter bucket list. If you've got some fluffy snow in your backyard, then you can have fun reliving scenes from Frozen or you can go old school and make Frosty the Snowman come to life in your backyard.
Just roll and stack three giant snowballs end to end. Then add a corncob pipe, and a button nose and two eyes made out of coal! Oh, and don't forget a cozy scarf and Frosty's top hat, too. If you don't have any of those items, just have fun and improvise!
Indoor Winter Bucket List Ideas
If you live in a no-snow zone, you can still enjoy lots of "wintertime" activities, especially some of the indoor traditions on our winter bucket list. You can even craft a snowy winter scene of a different sort. Keep reading below for a DIY craft project where you can evoke the feeling of winter even if you have no actual snow!
12. Make a Snow Globe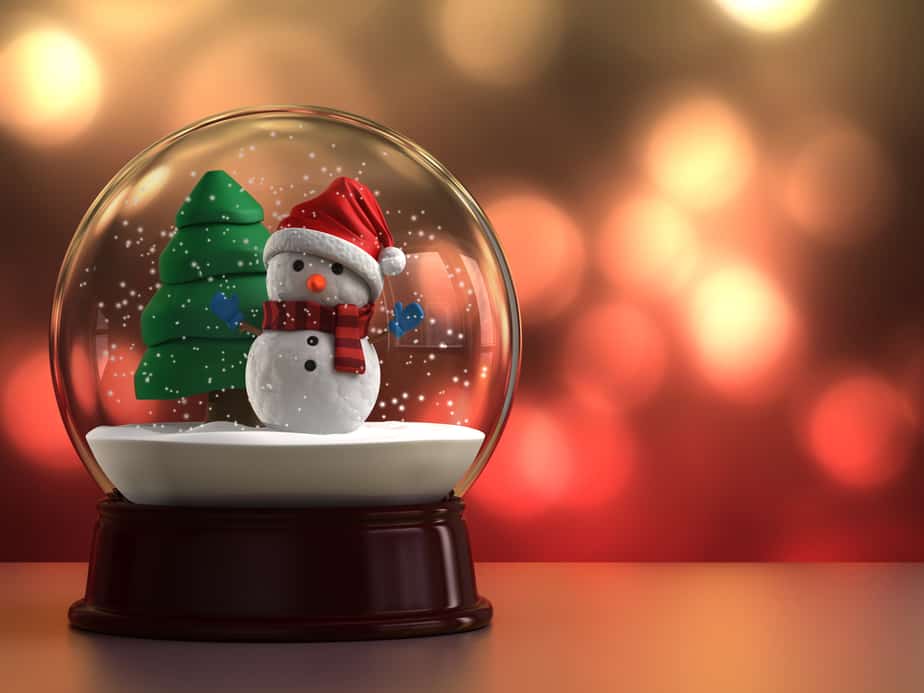 Everybody knows that snow globes are a quintessential wintertime decoration. But most people probably aren't aware that the first snow globe was patented in Pittsburg, Pennsylvania, in 1927. Snow globes became especially popular in the 1940s when companies began advertising them in catalogs.
Today, there is a resurgence of interest in snow globes made by hand. It's relatively easy to make a cute handmade snow globe at home using materials such as a small mason jar, glycerin, sequins, glitter, water, and hot glue.
If you're making a snow globe along with your kids, check out PBS for Parents, which offers a helpful step by step guide. You can even let your kids pick out their favorite lego or another small plastic toy to feature inside the snow globe as its centerpiece.
13. Make a Handmade Dreidel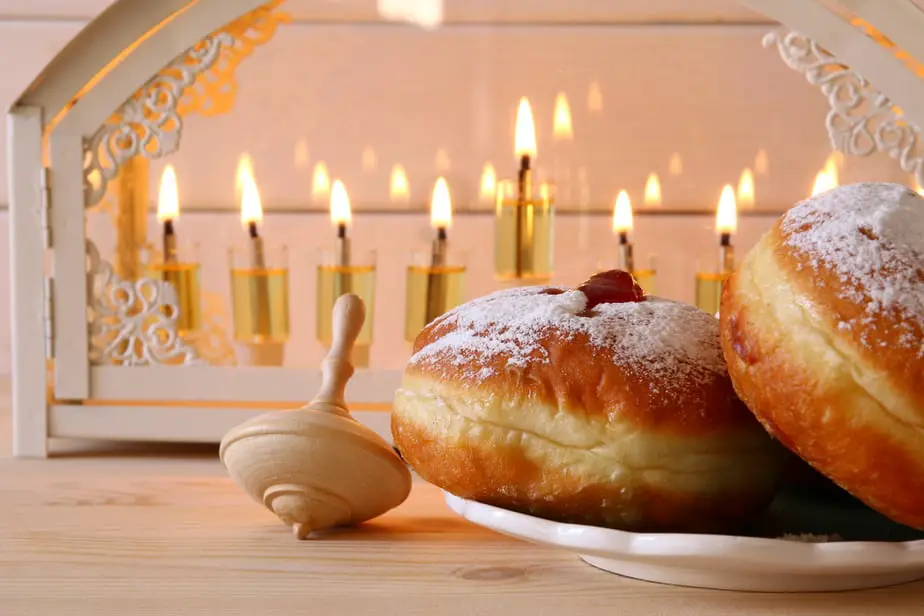 Making a homemade dreidel out of wood or clay is a great DIY project if you want to create something high-quality and lasting that your children can enjoy playing with for years. It will also give you the opportunity to teach your kids about family heritage traditions or about the traditions observed by other children and families.
Alternatively, if you want to make a homemade dreidel along with your kids as a child-friendly craft project, there are also simpler DIY versions made with a basic pattern, construction paper or cardboard, plus scissors, tape or glue.
14. Make Homemade Bread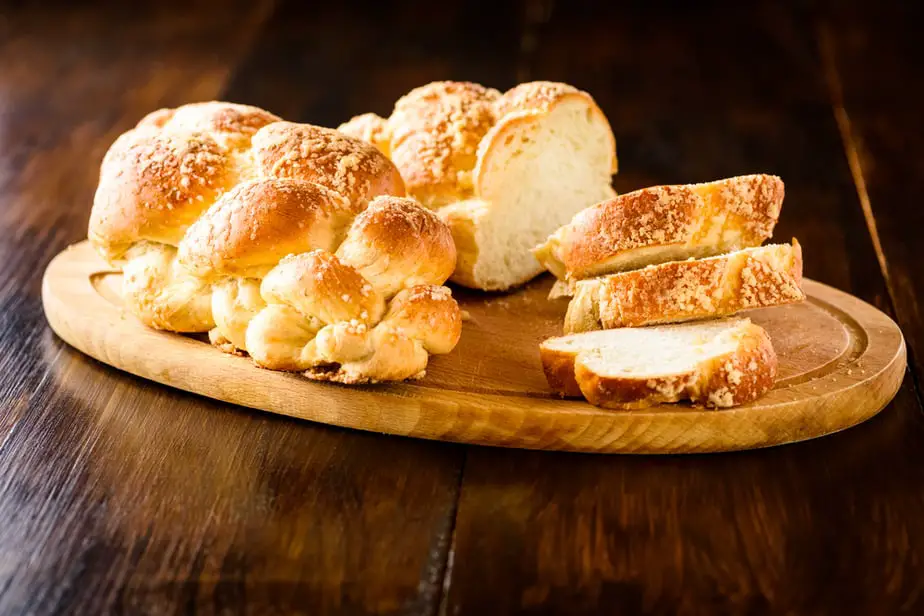 No winter bucket list is complete without including an attempt at a special homemade bread. There are lots of options for artisan-style bread, many of which hold important traditional meanings.
From beautiful braided Challah Bread to Irish Soda Bread or Italian style Panettone, making bread by hand is also a wonderful way to make memories with your family. If you're still looking for more bread-baking ideas, we recommend the rich, buttery taste of Brioche, which makes a nice treat when served with fig jam on a winter morning.
15. Make Homemade Egg Nog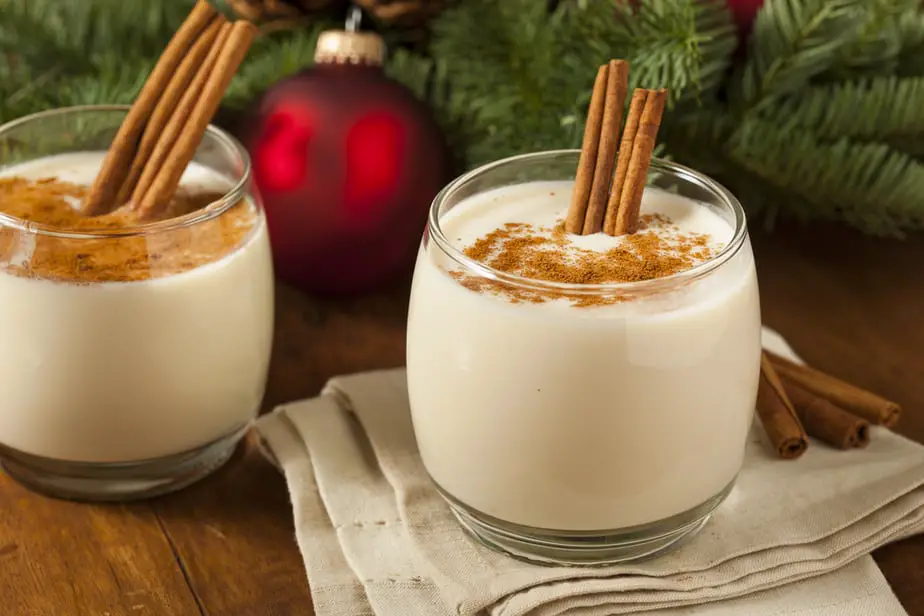 To make homemade egg nog, you will want to start by combining milk or cream with cinnamon, nutmeg, and vanilla in a small saucepan over low heat. Allow this to simmer low and slow until it reaches a gentle boil. Next, get a separate bowl in which you will whisk together your egg yolks and sugar.
Keep whisking lightly until the sugar and egg yolk mixture becomes a paler shade of yellow. Then, pour your heated mixture of milk and spices over the egg yolks in small batches.
Pour slowly and pause for a minute after each pour, in order to allow the eggs to temper. This ensures that the egg yolks will not curdle.
Once the egg yolks have been properly tempered, you can safely combine the egg yolks with your heated stovetop mixture of milk or cream and spices. Allow the ingredients to come together over medium heat until the mixture reaches 160 degrees.
If you don't have a confectionary thermometer, then the easiest way to tell that your egg nog is ready is to stir it lightly with a spoon. If the mixture is just thick enough to coat the back of a spoon, you know that it's done and ready to drink!
16. Make an Evergreen Wreath or Topiary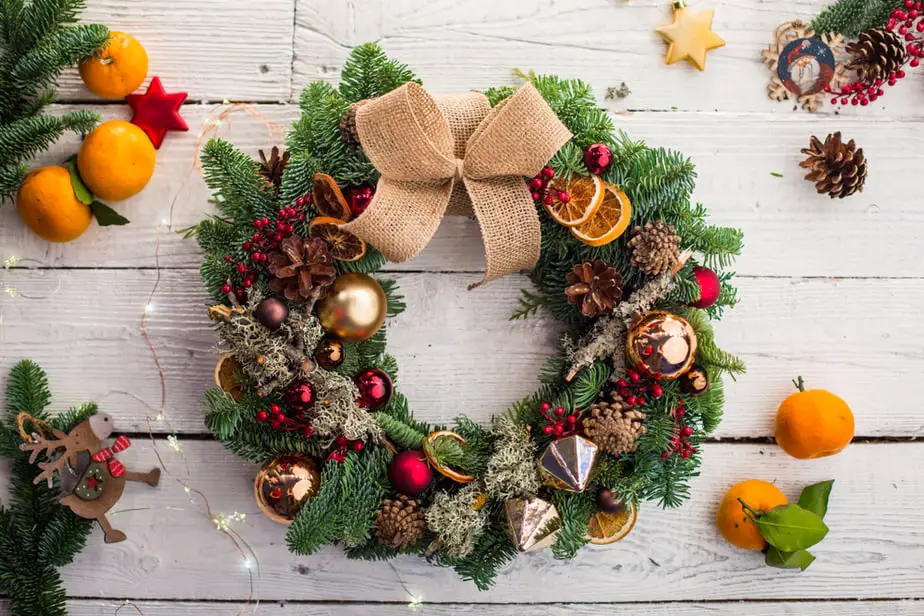 Garlands, wreaths, and topiaries filled with pinecones, berries, and ribbons will brighten up your house and allow you to bring a bit of nature inside. Whether you decide to make a handmade wreath for your front door or hang one above your mantle, consider making your own evergreen wreath or topiary from fresh greenery to decorate your home this winter.
17. Make a Grapevine Wreath or Succulent Wreath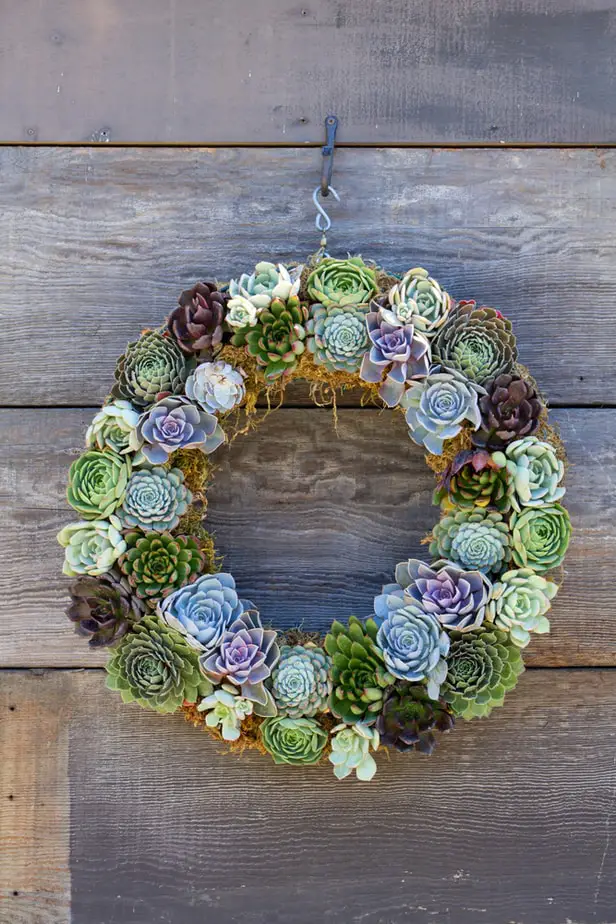 Evergreens are always classic in cold weather climates. However, if you live in a warm-weather location, consider an alternative, such as a homemade grapevine wreath. For another alternative, you can also create a succulent wreath featuring drought-resistant succulent plants. Or if you want something easier, you can even decorate a cactus!
18. Hand-knit Something Cozy
If you're someone who enjoys crafting and knitting, winter is the perfect season to hand-knit a pair of socks for someone you love. If you don't have as much experience with handmade crafts, you can start with something simpler.
For beginning knitters, we would suggest getting started by making something like a hand-knit mug koozie. Remember, the end results need not look perfect in order for your homemade creation to function superbly. Even a homely hand-knit koozie will suffice in keeping your mug of hot cocoa extra toasty.
Ultimate Winter Bucket List Ideas
19. Go on a Sleigh Ride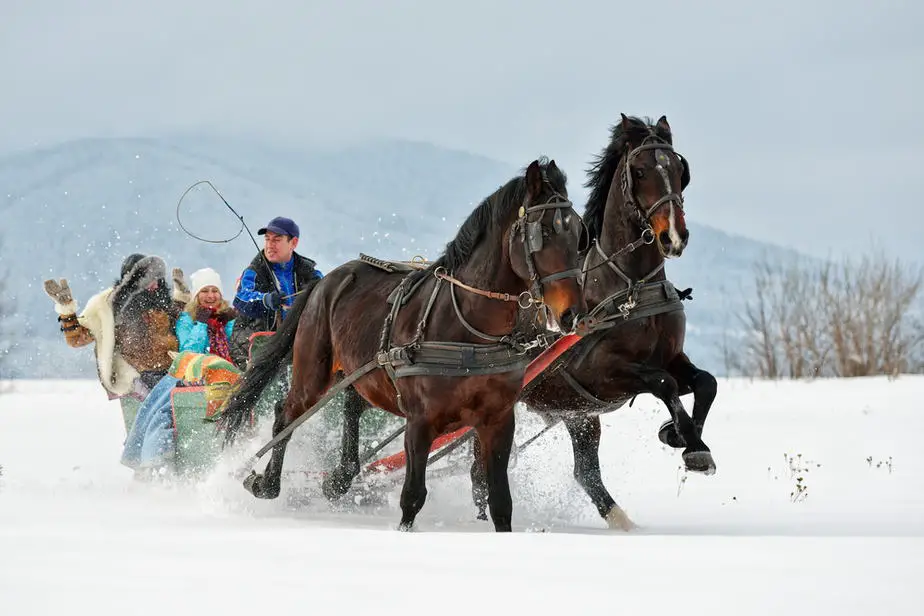 Like many of our other winter bucket list activities, going on a proper winter sleigh ride will inevitably involve some snow, which makes it one of our ultimate winter bucket list activities.
Granted, you may be able to go on a horse-drawn sleigh ride through an urban park in a city near you. However, this is not exactly the same as having a full sleigh riding experience (nor is it usually entirely animal-friendly).
Instead, consider adding to your winter bucket list a true winter sleigh ride at a place like Old Sturbridge Village in Massachusetts, when there is real snow on the ground. During their annual Christmas by Candlelight event, you can experience an old-fashioned sleighing experience in a bucolic natural setting, complete with snow-laden boughs and horse bells that jingle.
20. Make a Backyard Igloo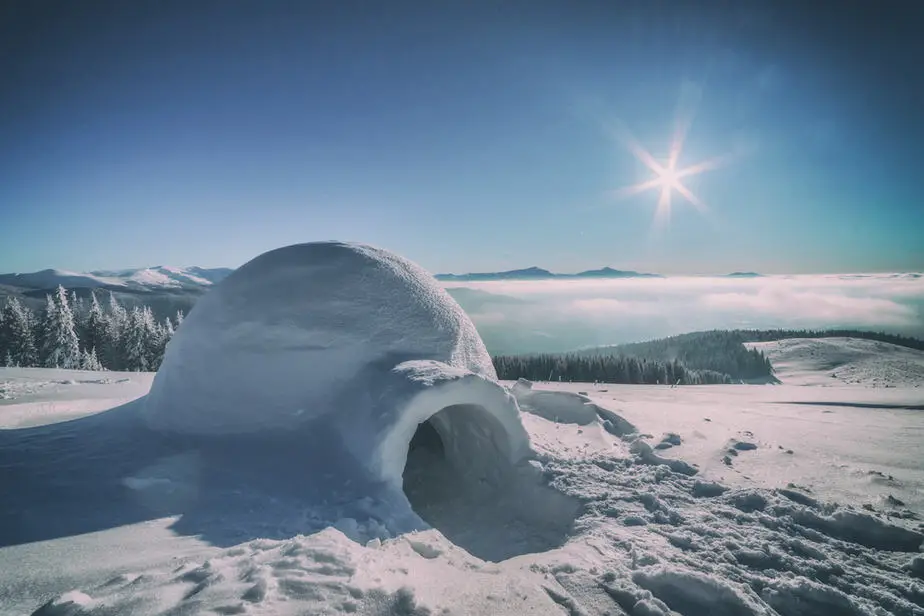 An igloo is a dome-shaped hut made entirely of packed snow. This style of outdoor snow hut originated long ago among the communities that formed near the Arctic circle in places like Alaska, Canada, and Greenland.
But if a blizzard visits your neck of the woods or you just happen to have enough snow, you can make your very own igloo right in your backyard.
First, map out the outline of the igloo first to make sure that its circular shape will be uniform in size. Then, begin rolling snow to create the walls and dome, while adding water in order to compactly pack the snow into place.
Finally, add a short, tunnel-shaped entryway that's large enough to enter and exit but small enough to keep out the wind chill. Once your igloo is fully constructed, you can add all kinds of things like blankets or lanterns in order to create a cozy hideaway amidst even the most frigid temperatures.
21. Go Sledding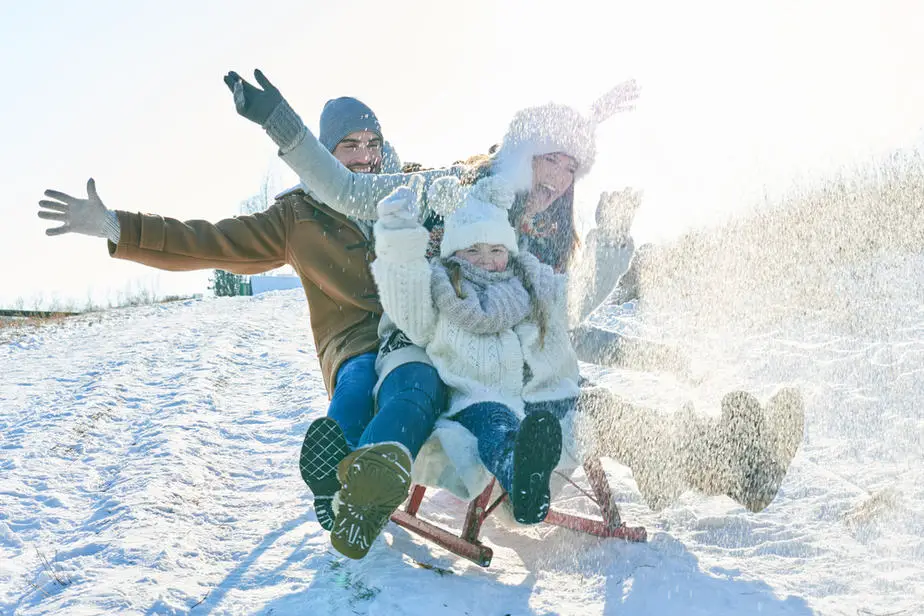 Today, sleds are manufactured from high-tech fiberglass or constructed as soft, cushiony inflatable plastic tubes filled with air. Long ago, however, early sleds and toboggans once served an essential purpose in transporting people and goods across snowy Arctic regions.
At one time, sleds and toboggans were actually constructed using thin strips of local larch or birch wood. However, whether you choose to go sledding on a vintage toboggan or on a soft, cushiony air tube, sledding down a hill covered with fresh snow is an ultimate winter bucket list activity.
22. Experience an Amazing Winter Light Display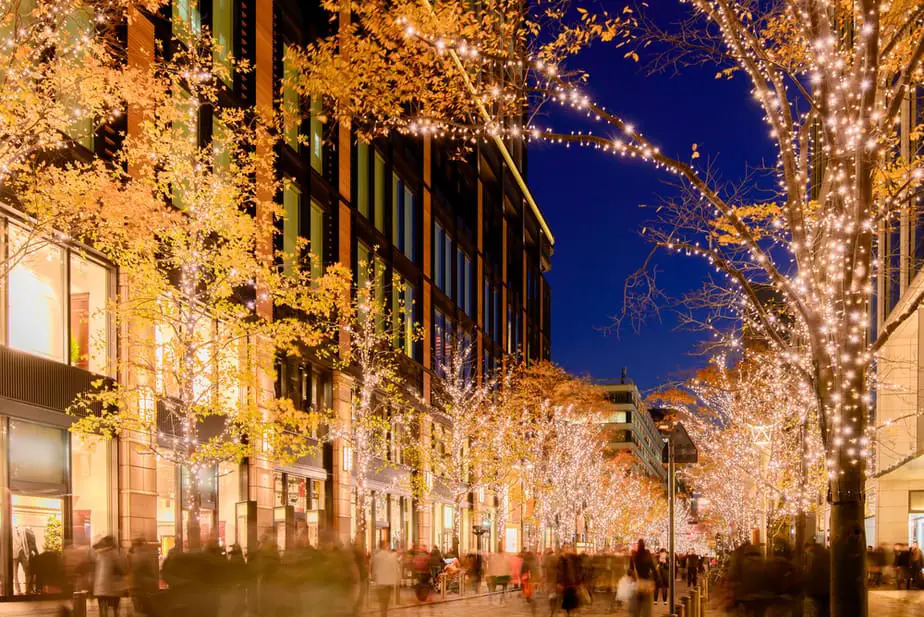 Holiday light displays have become so popular for winter tourism that you can now factor into your travel plans a list of the best winter light displays in every state across America! Some of these winter light displays are even coordinated to music, making this a must-see (and must-hear) experience for your winter bucket list this year.
Not only can you enjoy watching a high wattage display of colorful, changing lights, but by turning your car radio to certain local stations, you may even be able to see a winter light display synched up with classic holiday music or modern renditions by groups like the Trans-Siberian Orchestra.
Good Vibes and More Mid-Winter Magic
Although the wintertime can be strikingly beautiful, in cold weather climates, it is also usually the harshest season of the year. During the bleak midwinter, a little bit of goodwill towards others can go a long way. Here are a few winter bucket list activities that are sure to warm some hearts this season.
23. Donate to a Toy Drive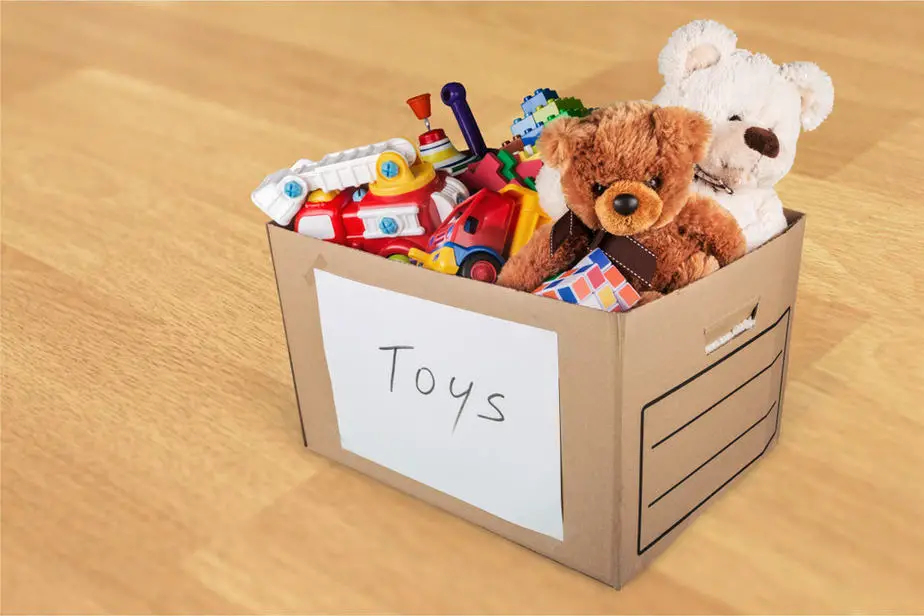 Throughout the holiday season, there are usually frequent toy collections around town where you can bring all of those once-loved items that are now collecting dust in your basement or attic. Consider giving those vintage stuffed animals or plastic toy trains a second go-around by donating them to a toy drive near you.
This winter bucket list activity could be the perfect chance to spread some love and cheer this season by donating a few toys that your family once loved. Involving your kids in this process can help to teach them about giving and sharing. It's also a great way to free up space in your house and de-clutter as part of your annual pre-spring cleaning ritual.
24. Volunteer at a Soup Kitchen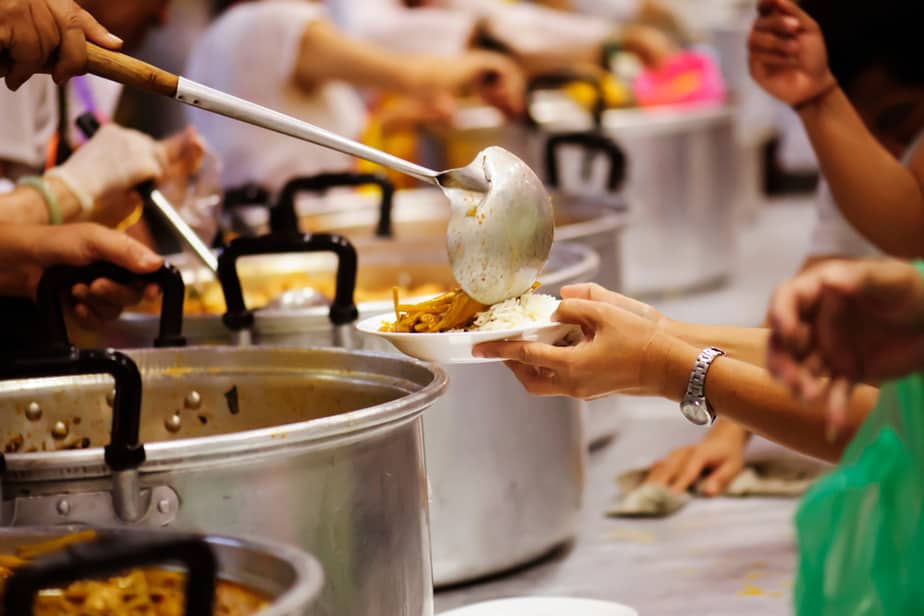 Similar to the above, volunteering at a soup kitchen is a good opportunity for group bonding with friends, co-workers, neighbors, and family, in addition to your community at large. In addition to serving a meaningful practical purpose, giving your time through volunteering can also create positive feelings of connection with others, which is especially important during the long, cold wintertime when many people don't have family or loved ones nearby.
25. Donating to a Canned Goods or Coat Drive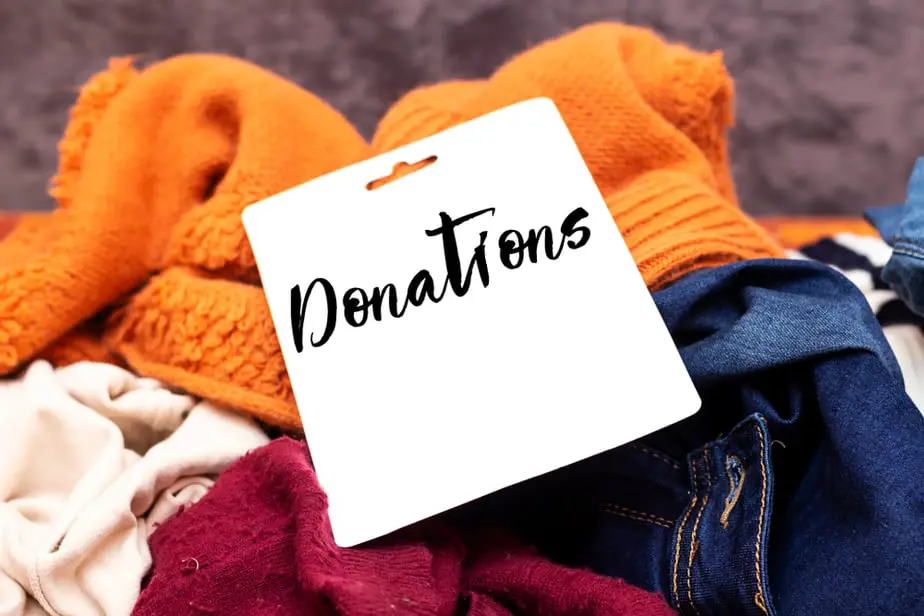 Donating warm coats or canned goods is a perennial winter bucket list activity, meaning that even if you've already done it in years past, it's always worthy of an annual place on your winter bucket list.
If you've been trying to figure out how to give back to your community but you're short on free time, consider donating canned goods or some gently worn winter coats as an alternative to volunteering. Giving boosts feelings of connection and community, which is why this is another great winter bucket list activity to consider this year.
26. Send Out an Old School Family Newsletter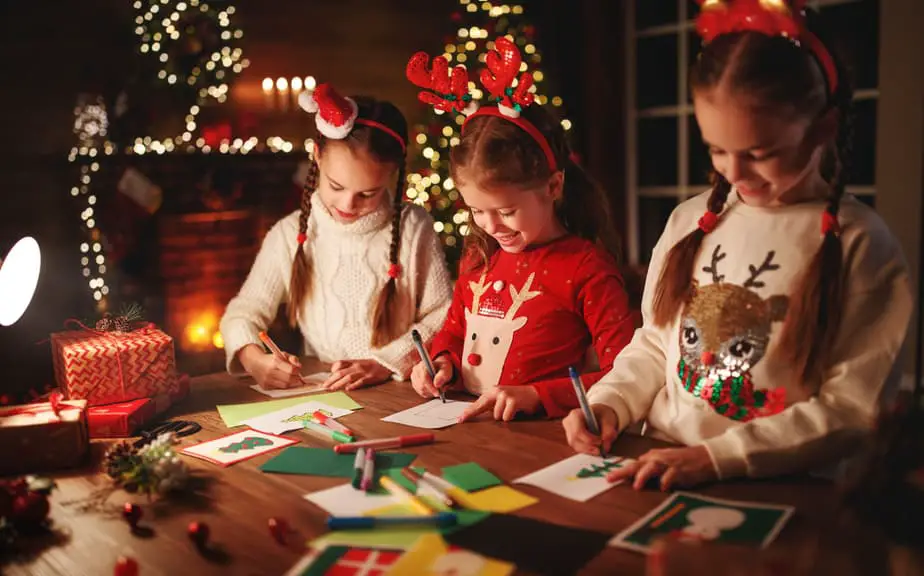 Nowadays, it common for everybody to easily stay on top of the latest happenings in everybody else's lives thanks to social media, email, and the internet. But not too long ago, people did things the old-fashioned way: sending out a holiday newsletter to the extended family with all the latest important family news.
This winter, consider bringing back the concept of the holiday family newsletter from days of yore. Whether you choose to create your family newsletter on actual paper or create it digitally on a site like Canva, either way you can create a newsletter with a personal touch. Perhaps it's high time to revive the old tradition!
If a holiday family newsletter sounds a bit too wordy, then you could also think about making your own homemade holiday cards for an extra special touch. Today, you can easily paint or draw your design, and then print it out using a website like Paper Culture. The paper is even eco-friendly.
Special Winter Bucket List Ideas
In addition to sending out some good vibes, these last couple of activities on our winter bucket list will also help you to spread the love and positivity and help you get motivated to be your best self.
27. Set New Year's Goals (rather than resolutions)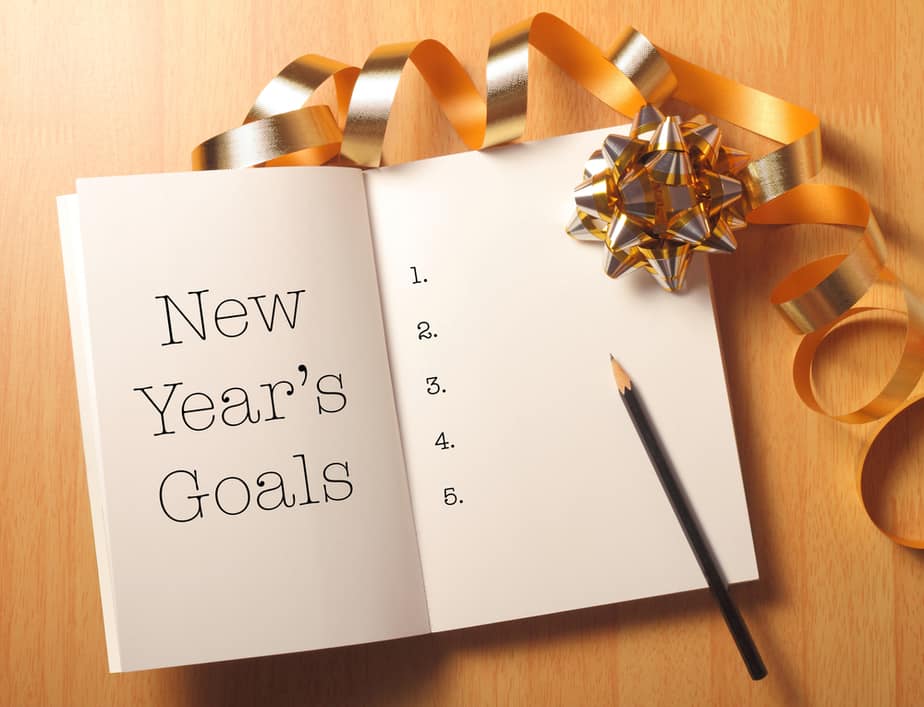 We all know how hard it can be to make (and keep) New Year's Resolutions. This year, think about setting reasonable goals that you can actually stick to.
Instead of impossible-to-keep resolutions, create a list of smaller, specific goals that are feasible. Then, take a few moments at the beginning and end of each day to journal, reflect, or meditate on your list.
Also, try sharing a couple of your goals with a trusted friend or family member who has your best interest in mind. Compare notes, and create a buddy system where you can encourage each other to stick to your list.
This winter, set yourself up for success by establishing a positive mindset early on and making a commitment to feasible goals. Then, check them off one by one!
28. Surprise Someone with a Valentine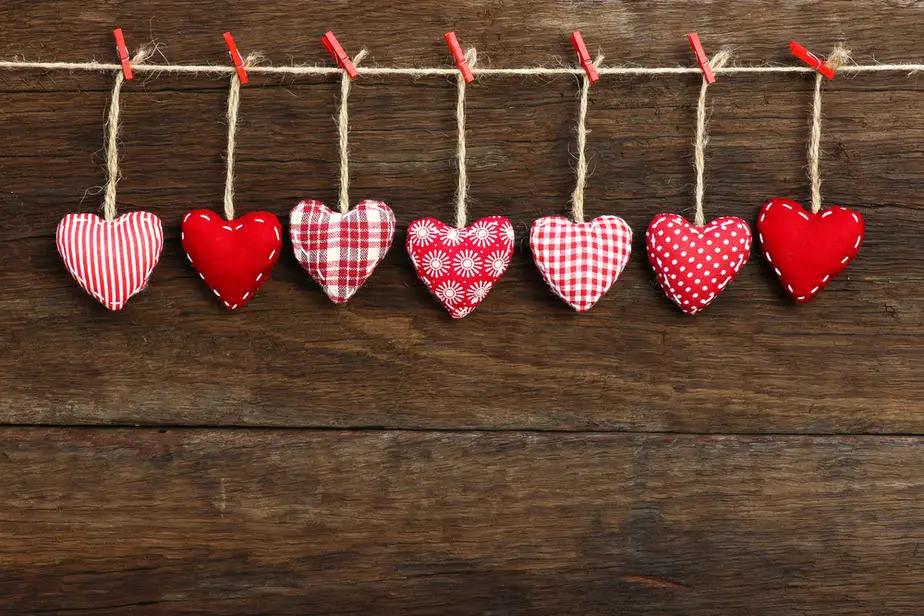 Valentine's Day is a winter holiday that's best known for its lush red roses, delicious boxes of chocolates, and sweeping romantic overtones. However, Valentine's Day can also be a good opportunity to express simple words of thanks or to give tokens of appreciation to the people you care about in your life.
This year, surprise someone you're thankful for by sending them a "Gratitude Valentine." This meaningful trend is about reimagining the traditional Valentine's Day holiday, and it deserves a place on your winter bucket list. This activity is all about taking a moment to show someone that they are appreciated, so don't be afraid to get creative!
It's also completely acceptable to make a Gratitude Valentine for yourself. Hang it on your refrigerator, bulletin board, or somewhere that you'll be able to see it each day. This can be a wonderful exercise in self-care as a way to show yourself appreciation for everything that you're juggling during the busy season of winter!
29. Scoot into Spring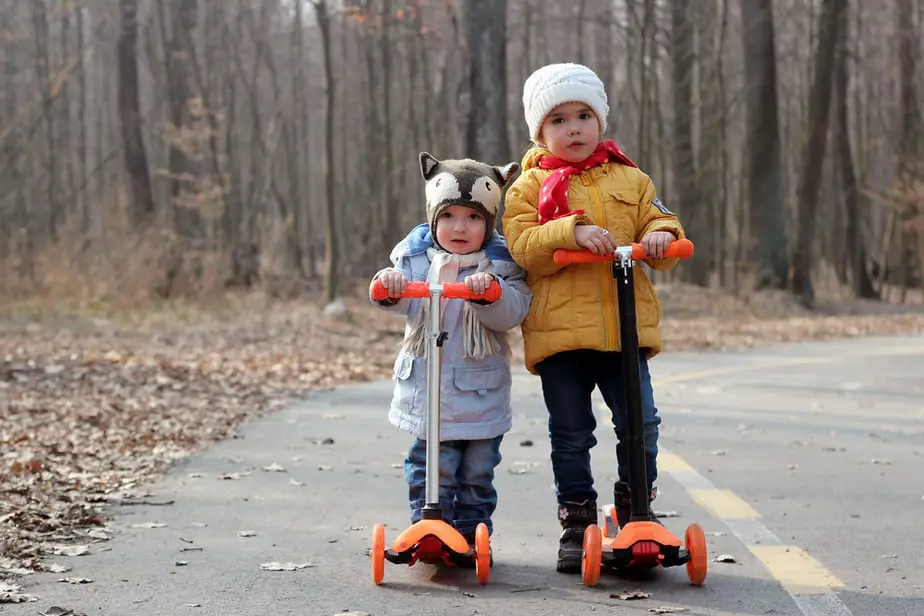 Before you know it, the winter season will be coming to an end. Before it does, we suggest bundling up once more in your hats, coats, and mittens and then scooting on into spring!
Winter Bucket List Wrap Up
From fall to winter and from winter to spring, seasonal change is a part of life. Once the seasons start to change again for the warmer, we know that you'll be looking forward to spending more time outdoors with the longer days and promise of better weather. But before that happens, we hope you manage to first finish checking off each festive, fun, and rewarding activity on our winter bucket list of ideas!