How magical would it be to have a backyard ice skating rink? Does someone you love play hockey or just love to ice skate? Why not build a do-it-yourself ice rink? We have a guide just for you! In our "How To Make A Backyard Ice Rink" Guide, we will discuss the supplies you will need and walk you through the steps to build one in your own backyard.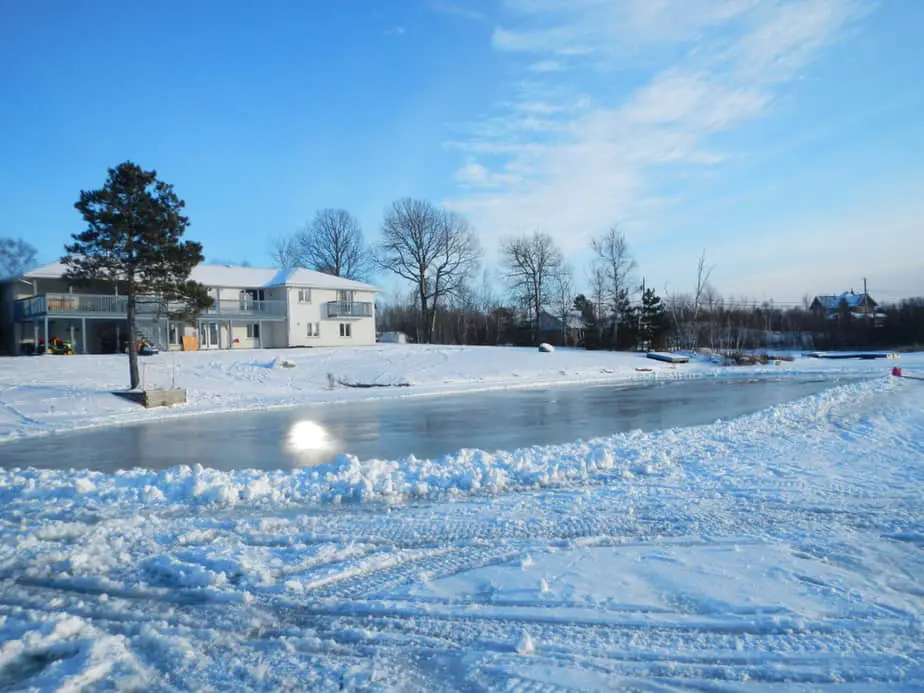 Why Would Someone Want a Backyard Ice Rink?
Perhaps you want to surprise your children, grandchildren, or significant other with a fun night in the backyard. Making an ice rink would be an awesome project to surprise them with this winter. Or perhaps you or your family member plays an ice sport, making a backyard ice rink a necessity during the colder months.
No matter your reason, we have a comprehensive guide to help you get started.
How to Make a Backyard Ice Rink
Step 1: Find Your Perfect Spot
First, you need to find your spot for your ice rink. Do you want it level? How big do you want it? Measure your space and write it down somewhere. That way you will know the exact measurements when you go to the store for supplies. This is a great time to start cleaning up the area you pick for your rink. You need to make sure there are no rocks, trash, or anything sharp that could puncture the liner while you are building or skating.
Step 2: Gather Your Supplies
Now that you have found your perfect spot it is time to gather supplies. Most, if not all, of these supplies, can be found at your local hardware store. There are different materials you can use to build your ice rink. Below we have listed the supplies you can use next to what it will be used for. The quantity needed of each material will depend on the size you decide to build.
Supplies Needed:
Water Hose
Sprinkler
Rink Wall – You can build this out of plywood, lumber, iron sleek polysteel boards, or PVC.
Liner – Make sure to get a fully white liner. This will help prevent the ice from melting due to the UV rays from the sun. If it is fully white it should protect your grass as well as prevent heat absorption.
Support Boards – You could use iron steel brackets. 2×4's will also work if you build your own support boards like they do in this post. They are used to hold up the rink walls.
Screws – If you choose to use the materials needing to be screwed together, do not forget the screws.
Corner Brackets – They will help brace the rink walls together.
32 degree weather – Of course you need freezing weather so that the water will freeze.
3 inches of ice minimum to skate.
Figure out which materials from each of the supplies listed above will work best for you.
Step 3: When to Build Your Ice Rink
You should start setting up your ice rink a few days before freezing weather. This way when it starts freezing you will have it all set up with water in it. This would also allow the water to freeze over evenly.
Step 4: Setting Up Your Ice Rink
It is time to set up your ice rink. Below are some basic guidelines, but if you need more help, here is an article with some pretty good tips to follow.
Level your rink area. Make sure your rink area is free from any trash, rocks, ice, or anything that can cut the liner.
Build your rink walls. Check out this post that uses PVC to build the rink.
Brace your rink walls. Use the support boards you decided to use to brace the walls of your rink.
Lay your liner down. Make sure it goes over the rink walls. Don't forget to have something that can hold the liner in place. Be sure to wait and lay it down once you are ready to fill it with water. Make sure it reaches the outside ground over the walls. Do not fasten the liner to anything until after it is fully filled. Use temporary clasps to hold the liner in place while the water freezes.
Step 5: Fill Your Rink With Water
Now for the fun part. You have the walls built and braced up. Your liner is spread out and ready to go. It is finally time to fill your rink up with water. Remember you will need three inches of ice to skate on. Don't forget to measure your water and ice.
Fill your rink with water.
Watch the water freeze!
Enjoy your new backyard ice rink!
Once the water thaws you will need to tear it down.
Step 6: Decorating Your Ice Rink
You will need lighting so that you can skate in the dark. The possibilities are endless when you think of how to decorate your awesome new backyard ice rink. We can not help but drift to lots and lots of rope or string lights. They are a great source of light that you can plug in as needed. Plus they make things look so magical when hung the right way.
Check out our previous post about rope lights. To make your ice rink and your backyard look even better click on our previous post about Winter landscaping ideas. Are you going to plant some Winter plants mentioned in the article? Be sure to put somewhere for you, family, and friends to sit. That way you can rest and watch whoever is still on the ice.
Step 7: Maintaining Your New Ice Rink
It is important to maintain your new rink. After all, you did just put in a lot of hard work and effort while building your latest project!
Step 8: Enjoy Your New Ice Rink
The hard work is finally done. Your ice rink is set up. The water is frozen into solid ice. You have plenty of lights and all the decorations you want or need. Now time for the fun to begin! Grab your skates, hockey supplies, and warm clothes and head to the backyard to enjoy your new ice rink!
Step 9: When to Put the Ice Rink Away
You should put your ice rink away when the freezing weather is over and the ice is thawed. Consider using a new white liner each year. We recommend saving all the other supplies for next year's ice rink.
Step 10: Putting Your Ice Rink Away
When it is time to put your rink away. Drain the water first. After draining the water you can begin disassembling your rink. Start with the brackets and braces. Put them in storage. Move to the walls and store them in a safe place, as well.
Conclusion
We hope our "How To Make A Backyard Ice Rink" guide helps you complete your ice rink with ease. Enjoy your new ice rink and make lots of memories!