Tossing the pigskin is an American family tradition. Whether for the annual Turkey Bowl, the Super Bowl, or just a pick-up game, a football field in your backyard is sure to thrill. We will guide you step-by-step on how to make a football field in your backyard.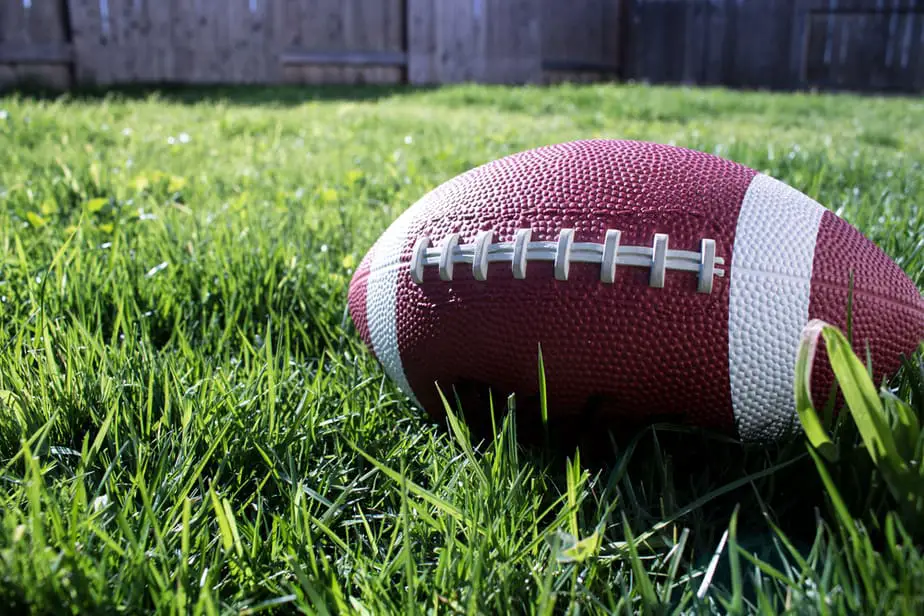 First, you need to ask yourself a few questions that will help guide your decisions in the next sections.
Will your field be a permanent or temporary fixture?
Do you have room for a regulation size field? (120 yards x 53 yards)
If not, what scale of a standard field will fit in your space?
Is look more important that true-to-life measurements?
Standard Football Field
A standard football field is 120 yards long and 53 1/3 yards wide. Measure the area in your backyard where you want the field and make sure it is large enough for a standard field. If so, congratulations on a fantastic sized yard! If you are like most people with smaller sized yards, this section will give you some important information on standard-sized fields. In the next section, we will learn how to make a backyard football field based on the standard field.
Learning about the standard size of football fields will help you when you are learning how to make a football field in your backyard of any size.
There are three levels in American football: high school, college, and NFL. All fields are the same length and width. However, the levels will have a few differences in goal posts and hash marks.
The playing field is 100 yards, and each endzone is an additional 10 yards. A yard line should be marked every 5 yards. Every 10 yards is marked by a field number. If you are writing numbers, the field numbers are typically 6 feet high and 4 feet wide.
Next, you will add hash marks. Hash marks are centered to the goal post and placed different widths depending on which level playing field you have.  High school has marks are 53 feet, 4 inches. College hash marks are 40 feet wide. NFL hash marks are 18 feet, 6 inches wide.
Especially if you are making a permanent field in your backyard, you will want to add goalposts. Goalposts are 10 feet high to the crossbar and an additional 20 feet high beyond that for a total of 30 feet high. Goalposts widths are different depending on the level of play.
High school goal posts are 23 feet, 4 inches wide. Both NFL and NCAA (college) goal posts are 18 feet, 6 inches wide.
How To Make A Football Field In Your Backyard: Any size!
Don't despair if you don't have the full 120 yards required for a standard-sized field. We can still show you how to make a football field in your backyard that will be just as much fun!
Step 1: Measure Field Length And Width
Measure the backyard where you desire to have your field. This will give you the dimensions to work in. Making a rectangle, set a length and width for your field. The ratio of length to width for a standard field is about 2.26:1.
Some options for your replica field are to create a ½ scale, 1/3rd scale, or 1/6th scale of the standard field.
Half scale field dimensions are 60 yards (180 feet) by about 27 yards (81 feet).
A third scale field would be 120 feet by 53 feet.
At 1/6th scale, you would have a field 60 feet by about 27 feet.
Step 2: Level Field And Add Turf
Is the ground where you want the field level? If not, consider leveling the area. Regulation football fields have a slight 1.2-degree rise to the middle from the sidelines. The most important way to prep is to ensure there are no holes or large divots in the ground.
Lay down artificial turf or plant grass. If you plan to have a permanent field in your yard, we recommend using artificial turf. This will prevent you from having to mow and repaint lines as frequently!
Step 3: Mark Boundaries
First, place orange cones or sports pylons in the four corners of your field.  Stretch a rope or string down the length of the field from the corner of one end zone to the other. Use lawn-safe paint or chalk to mark the outer boundaries of your playing field, using the rope as a guide.
Sale
Crown Sporting Goods Anchorless Weighted Football Pylons (Set of 4), Orange
Set of 4 NFL-sized pylons: 4" x 4" x 18", each pylon weighs about 2 lbs.
Each pylon is anchorless and stands on its own, great for uneven or sloped turf and windy days
Durable and visible fluorescent orange vinyl-nylon cover
Safe, poly-foam core with weighted bottom
More precise, meaty and visible than corner flags or other improvised markers
Last update on 2023-11-17 / Affiliate links / Images from Amazon Product Advertising API
---
Step 4: Create Yard Lines
Next, divide your field into 12 increments. If you know the measurement of the length of your field, divide it by 12. This will give you the measurement of each yard line.
Equally, mark off twelve sections down the length of the field. It is easiest to measure down one sideline, making 11 notches on the line for the twelve sections.  Then repeat on the opposite sideline.
Connect the sideline notches by painting a horizontal line across the field. You may choose to stretch your rope across the field from one notch marking to the other to use as a straight line guide as you paint. Now you should have 12 "yard" lines drawn on your field.
*These will not be accurate yard measurements. If you want to make actual 5 or 10-yard increments, you may not be able to fit 12 on your custom field. Decide if you want accurate yard measurements or the "look" of a real field.
Last update on 2023-11-17 / Affiliate links / Images from Amazon Product Advertising API
---
Step 5: End Zones
The endzones are the two sections on opposite ends of the field. Mark the end zones with additional cones or pylons. This would also be a great time to paint the logo of your favorite football team inside each end zone! See how this Eagles fan painted his end zones:
Step 6: Field Numbers And Hashmarks
Write the field numbers in uniform height and width on your ten "yard" lines. Then determine the width of your hash marks and mark them on the field. Four hash marks are spaced equally between each section.
Standard hash marks widths for high school are 53 feet, 4 inches wide. College hash marks are 40 feet wide. NFL hash marks are 18 feet, 6 inches wide. We suggest choosing a goal post option below, then making them the width of your goalposts to mimic NFL hash marks.
Step 7: Goal Post
There are a couple of options when choosing a goal post. You can definitely make one yourself from PVC or wood. However, purchasing with save you time. There is a wide range of options also available for purchase. Consider the quality you want and your budget.
Some satisfactory budget-friendly options include plastic, yet realistic-looking goal posts.
One example is this Franklin Sports adjustable goal post:
Franklin Sports Youth Football Goal-Post Set — Kids' Football Goal Post with Mini Football — Fun Football Goal for All Ages — Easy Assembly — Adjustable Height — Weighted Base
Easy to assemble: Why settle for an inflatable football goal post when you can enjoy a durable goal post that's easy and fast to assemble? Be up and running quickly with this football goal post for kids
Great for families: Help your child kick a football field goal with this football goal post set for kids; It's perfect for families that are looking to teach their kids the fundamentals of football and how to kick a football through the uprights
Future champion ready: Includes a mini 7.5 inch football that's perfect for small feet This complete football goal post set helps instill a love of the game in a way that's exciting and fun
Weighted base: Prevent your football goal post from flying away with a weighted base designed for fast assembly. Perfect for practicing making a football field goal, this kids' football goal post has everything you need
Wide football goal: Not every football field goal is created equal. Franklin's wide football field goal post, 6ft x 4ft, is designed to encourage good kicking and field goal preparation habits from an early age
Last update on 2023-11-17 / Affiliate links / Images from Amazon Product Advertising API
---
A middle-ground goal option is this FORZA PVC Football/ Soccer combination goal. As opposed to the Franklin goal post, you will get a larger-sized football goal.  They have three sizes available: 8ft x 5ft, 10ft x 6ft, or 12ft x 6ft.  If you are willing to invest a little more money, this goal post can be the perfect addition to your backyard football field.
No products found.
---
If you are going for a higher-quality and more durable option that will be used year-round, then you may consider a more official and permanent goal post. One example is this First Team Girodon goal post. It comes at a higher price tag, but it is made of aluminum. The crossbar is 6 feet 6 inches and 7 feet wide. The posts extend 7 feet, 4 inches above the crossbar.
Step 8: Sidelines, Spectators, Equipment, and Rules
Why not create a full replica by adding some final touches? Our instructions on how to make a football field in your backyard would not be complete with mentions of these final touches.
Mark out sidelines and add some chairs for tired players. Create a viewing section for spectators that are sure to come!
Have equipment ready! Purchase scrimmage practice jerseys to make distinguishing teams during play easy. We also recommend touch or flag football when playing in the home field. Check out our article on reviews of the best flag football sets!
Finally, don't forget to regulate the rules in your field. Avoid on-field arguments, by making sure all players know what the marks on your field mean for gameplay.
Wrap up!
People will be clamoring to see your replica field now that you have learned how to make a football field in your backyard! We showed you how to use the space that you have in your yard to create a visually stunning and functional backyard football field.
Whether you are having a super bowl party, turkey bowl, or a pick-up game, you will have the perfect space to play! Who knows, maybe your field will be the start to the next Joe Montana!