Backyards come in all sizes and shapes, each with their challenges. If you're having a problem with erosion, you should learn how to landscape a steep slope on a budget with plants for steep sloping terrain.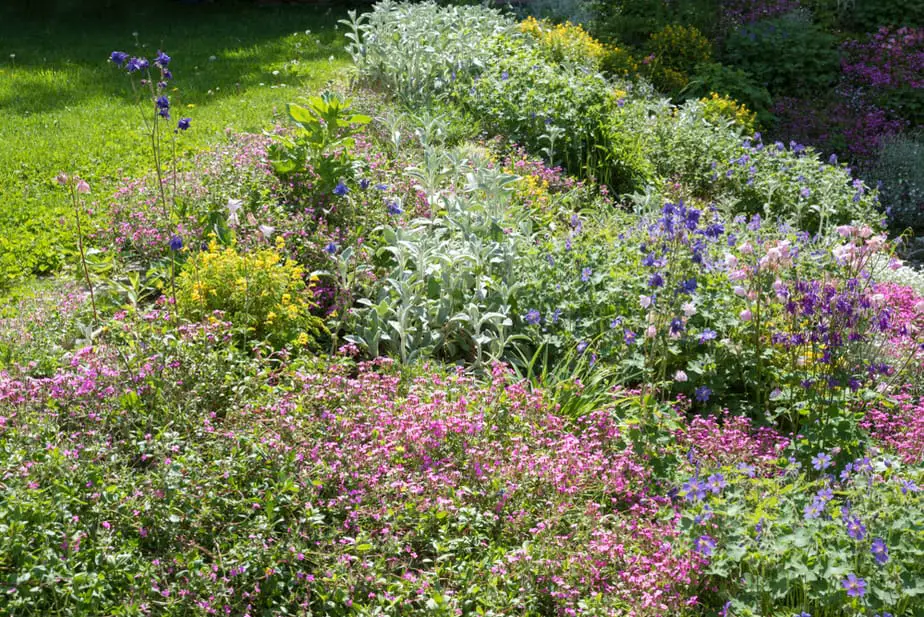 Why You Must Manage Soil Erosion
Soil erosion is an insidious landscaping problem. It often starts off small that you may not even notice that it's happening. Then, there's heavy rainfall, and suddenly the flowers you planted along your garden path are gone.
That's when you must tackle the problem with plants for steep sloping terrain.
Over time, soil erosion can:
Undercut sidewalks, driveways, and patios, creating more headaches
Cause sediment build-up in streams and other waterways
Harm the vitality of wetlands and other habitats
Lower your property value
Threaten structures on your land
The fact remains that it will only get worse. The time to act is as soon as you spot it.
Sale
Sunnyglade 9' Patio Umbrella Outdoor Table Umbrella with 8 Sturdy Ribs (Red)
Made of 100% polyester that can be waterproof, long lasting, easy to clean.
Powder Coated Aluminum Pole(40mm Diameter aluminum pole) and 8 sturdy ribs provides stronger support. Includes single wind vent for stability
9 feet diameter- Wide enough to your 42" to 54" round, square or rectangle table with 4 to 6 chairs.
Easy crank open function with push button tilt, keeping cool and comfortable form the sun.
This Patio Umbrella include Push Button Tilt/Crank. Note:The base is not included in this item.You can buy the sunnyglade umbrella base (ASIN:B06XT1TFJN) to match it.
Last update on 2023-09-18 / Affiliate links / Images from Amazon Product Advertising API
---
Causes of Soil Erosion
The topography of your yard is a significant cause, the proverbial perfect storm waiting to happen. Other things can speed up the damage such as:
Your home's location
Amount of impervious surface
Construction in your area that changes the flow of surface runoff
Plant loss due to disease or other unexpected events
How to Landscape a Steep Slope on a Budget
There are many things you can do to get a water issue under control. Even small changes can have a profound impact without spending a lot of money.
The first step to controlling the problem is to identify the source. Next time it rains, don your raincoat and observe what's happening in your yard.
Note where the water is coming from while looking for obvious signs of erosion such as ditches, bare earth, and plants laying flat. This task is essential to give your plants for steep, sloping terrain a chance by stemming the water flow.
We'd also recommend taking a walk in the neighborhood to see if other places have similar runoff issues. If you live in an urban setting, the chances are that the problem goes farther back than your yard.
Knowing the patterns of the water flow can help you with a long-term solution to prevention.
Choosing Plants for Steep Sloping Terrain
The best choices are those that send down deep roots, fast. That makes trees and shrubs viable options for anchoring the soil in place. You can also use plants for steep, sloping terrain with another structure that will add a decorative touch along with its practical purpose.
Let's explore some ways to tackle the problem.
Go Natural
Native grasses like Indian grass, big bluestem, and other prairie species develop extensive root networks going over 10 feet underground. Of course, they take at least a year to get established. You can plant a quick-growing cover like annual ryegrass to hold the soil in place the first season.
The advantage of going this route is that you'll have plants that are suited to your area, which will minimize your maintenance. Many also send out runners that further protect the slope.
Choosing a mix of grasses and forbs can create a focal point with flowers blooming throughout the summer and into early fall. This method is inexpensive and offers excellent results.
Make it a Water Feature
If there is a regular water flow throughout the season, you can always use it to your advantage by making it a water feature. Using river stones or boulders can create a stunning backdrop for your other landscaping. It will also benefit wildlife and birds that will frequent an area with a reliable water source.
It's imperative to make it a meandering path instead of a straight shoot down from the street to your yard. Each bend will slow the water flow. It's when the runoff gains momentum down a steep slope that causes the most damage.
Water-loving plants such as sedges, swamp milkweed, asters, and marsh marigold are excellent choices that will add some color and interesting textures to your terrain.
We strongly urge you to give invasive, non-native plants like wintercreeper or pachysandra a pass. Often, these species breach their borders and take over an entire hillside.
This option is more expensive, but it also allows you to incorporate your landscaping theme into the solution.
Try Terracing with Plants
Another option for how to landscape a steep slope on a budget is to use terracing. The action is similar to the meandering creek because it slows the flow. It's a great way to make lemonade out of lemons with an attractive feature.
It doesn't have to be a rigid set of layers. You can liven up each one by creating a quiet spot to take in the view with a garden bench. Adding a waterfall into the terraces can make it even more relaxing.
You can take this option as far as you'd like with multiple layers with or without the other landscaping elements to keep your costs in check.
Sale
Garden Bench Outdoor Bench Patio Bench for Outdoors Metal Porch Clearance Work Entryway Steel Frame Furniture for Yard
【The Safe Bench】The Garden Bench's edges are all finished --- no raw cuts or drips to catch on clothing.The Metal Bench can give you the safe relax.The Park Bench is safe for you and safe for your cloth.Park Bench Metal Bench outdoor benches clearance Garden Bench Patio Bench Yard Bench
【Perfect for Outdoors】You can put the Garden Bench near your entrance to your driveway, will be adding a Little Free Library next to it soon.You can read books on the Metal Bench .Also you can put the Park Bench in your garden.Metal Bench outdoor benches clearance Garden Bench Patio Bench Yard Bench Park Bench
【Sturdy and Rust-Resistant】The Garden Bench is powder coated with rust-resistant finish, super smooth. The Park Bench is made of reinforced steel to ensure sturdiness and stability, durable and the Metal Bench perfect for use for years.outdoor benches clearance Garden Bench Patio Bench Yard Bench Park Bench Metal Bench
【Perfect Design】The lively and exquisite vines embellishments of the Garden Bench are distributed on backrest and make whole Metal Bench look beautiful. Not only does the Yard Bench offer comfortable sitting experience but also serve as a good decorative ornament.Garden Bench Patio Bench Yard Bench Park Bench Metal Bench outdoor benches clearance
【Easy to Assemble the Metal Bench】 Specific manual and complete accessories of the Garden Bench greatly help you spend short time to finish the assembly work. All parts of the Park Bench are given a number and detailed assembly steps are listed for your reference.Patio Bench Yard Bench Park Bench Metal Bench outdoor benches clearance Garden Bench
Last update on 2023-09-18 / Affiliate links / Images from Amazon Product Advertising API
---
Build a Retaining Wall
A retaining wall combines the functionality of terracing with climbing plants that will thrive with its support. You can get interlocking bricks to help keep the structure in place. We prefer a more natural look with stones with varied lines.
Putting pea gravel behind the wall will fill in the gaps that could erode it while providing more texture for crevice-loving plants to take hold. It will also give the surface runoff a place to flow. Installing a drainpipe can direct the water where you want it.
If there is standing water at your site, you can add plants such as water plantain, wood reedgrass, or water horsetail to stabilize these areas. Many of these species are also favorites of wetland wildlife and birds to make your yard friendly for them as a bonus.
This project requires more time and effort on your part. However, it is an effective way to manage runoff without having to wait for hillside plants to become established.
Trees and Shrubs to Control Erosion
You can get the biggest bang for the buck with larger ones that will have more extensive root systems. Several plants for steep, sloping terrain do well in these habitats while providing the soil support you need. They offer set-it-and-forget fixes for every budget.
Some trees and shrubs to consider are:
Low-growing junipers
Buttonbush
Willow species
River birch
Aspen
Cottonwood
Sale
Last update on 2023-09-18 / Affiliate links / Images from Amazon Product Advertising API
---
Tips for Landscaping with Plants for Steep Sloping Terrain
We understand the challenge that this type of terrain poses for homeowners, especially if it's a new problem. Here are some things to bear in mind to minimize any hassles.
Contact your city planner, county office, or conservation district before you start any work that can affect water flow.
Consider the water flow patterns of the changes you're proposing to make sure that you don't make your soil erosion someone else's headache.
Plant in the fall to give them a headstart before the spring rains.
Mulch new plants with shredded materials to help them stay in place.
Prevention is the key to managing these terrains. That's why we suggested you look for the source of the problem. If you can divert or slow the flow when it first reaches the sloped areas, you'll save yourself a lot of time and effort with repairs and other additions.
Place rocks and boulders down the path of the water flow to slow it down and minimize the damage. If possible, divert it away from your property to give the land a chance to heal.
If an increase in impervious surfaces like parking lots or roads has caused the issue, reach out to your city planner for advice and options that you or the local government can implement.
Last update on 2023-09-18 / Affiliate links / Images from Amazon Product Advertising API
---
Final Thoughts About Plants for Steep Sloping Terrain
Plants are such wonderful additions to your home, both inside and out. They can perk up any living space with color while helping to clean the air too.
Many species are ideal for combatting soil erosion. If you've noticed the telltale signs of damage, rest assured that the plants for steep sloping terrain will provide a solution that works.