When winter comes, many of us who love nothing more than a little bit of outdoor-time in the yard are apt to despair. The colder temps, shorter days, and blanket of frost or snow, after all, make getting our fill of fun in the yard just a little less easy.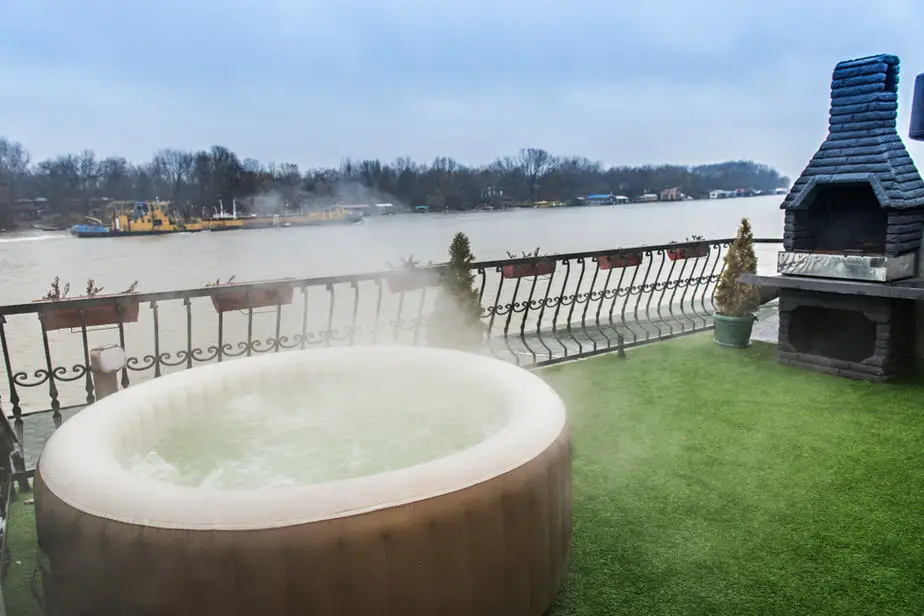 There, are, however, a few ways in which we can make the most of the year's coldest season and all it entails, and the best of these is to equip our yard with an inflatable hot tub. To help you upgrade your winters from grim to glorious, in this article we'll introduce you to the best inflatable hot tub for winter in 2019 and four very worthy runners-up.
In a Hurry? Here's Our Top Picks…
1. Intex Pure Spa 6-Person Inflatable Hot Tub – The Overall Best
Intex 28409E PureSpa 6 Person Home Inflatable Portable Heated Round Hot Tub Spa 85-inch x 28-inch with 170 Bubble Jets and Built in Heat Pump, Blue
TOTAL RELAXATION: Pampering yourself is easy in this relaxing heated water surrounded by soothing bubble jets; Lean your head back on the included headrests and enjoy the multi-colored LED light system
FITS UP TO 6 PEOPLE: Provides relaxation at the touch of a button for up to 6 people with the easy-to-use control panel; The easy to use control panel activates the 170 high powered bubble jets surrounding the interior of the spa for a refreshing massage; Dimensions: (L x H): 85 x 28 inches; Cord length: 25 feet
HARD WATER TREATMENT: Built-in hard water treatment system makes water gentler on skin, clothes and the entire spa system; PureSpa provides simple maintenance with two easy to replace filter cartridges for clean refreshing spa water. Replacement filters sold separately (stock # 29001E)
INCLUDED: Spa Tub, Cover, Heating System, test strip, 10W Hard Water System, Filtration System with 2 filter cartridges, Floating Pool Chlorine Dispenser, Ground Cloth, Inflation Hose, Headrests, Carry Bag, Cover straps with child security lock
REQUIRED: This item requires 28523E energy-efficient cover for purchases shipped to California - if not, the order is subject to be canceled due to shipping restrictions
Last update on 2023-02-26 / Affiliate links / Images from Amazon Product Advertising API
For families or those who plan on taking their winter soaks with friends, they don't come much better than the Intex Pure Spa Inflatable Hot Tub.
This hot tub wins our vote as the best inflatable hot tub for winter for a number of reasons, but more than anything because it delivers on each of the key features desirable in any watery winter warmer.
Although this tub isn't quite roomy enough to hold the six people its manufacturer claims, it's still one of the most spacious models on the market and can seat four or even five adults comfortably. It also takes very little time to heat up—in the region of twenty minutes—and springs to life with just the touch of a button, activating 170 bubble jets located in the tub walls.
Other features working in the Intex Pure Spa's favor are the slip-resistant seats, which allow you to sit in the tub without fear of sliding down and becoming embroiled in involuntary games of footsie with you friends or family members and can be adjusted to a height of either 3 or 5.8 inches to accommodate taller and shorter users, the inflated headrests that allow you to tilt your head back and take a nap (supervision advised!), and the built-in heating system that allows you to adjust water temperature to suit without having to exit the tub.
In terms of construction, this hot tub ticks all the boxes that need ticking. It's made with strong, durable, puncture-resistant Fiber Tech material with 48 integrated Fiber-Tech beams, 2 easy to replace filter cartridges for clean refreshing spa water, and the built-in hard water treatment system makes the tub's water far gentler on the skin.
What We Like:
It's high-capacity (though it's more suitable for 5 rather than 6 people)
Powerful bubble jets
Reasonably priced
Durable and puncture-resistant construction
Short heat time of around 20 minutes
Easy to inflate & deflate
What We Don't Like:
Maintenance accessories sold separately
Check Price and Reviews on Amazon
---
2. Coleman SaluSpa – Runner-Up Best Inflatable Hot Tub for Winter
Sale
Coleman SaluSpa Inflatable Hot Tub Spa | Portable Hot Tub with Heated Water System and 140 Bubble Jets | Fits Up to 4 People
ENJOY THE ULTIMATE SPA EXPERIENCE: Nothing beats the feeling of sinking into a warm, bubbling hot tub after a long, hard day while jets project bubbles to massage your back, neck, and shoulders.
EASY TO OPERATE: The digital control panel lets you dictate the water temperature (up to 104 degrees Fahrenheit) and pressure of the jets. A power saving timer can even automate the temperature of the spa up to 72 hours prior to save energy and money.
DURABLE & INNOVATIVE CONSTRUCTION: The spa's durable PVC material and I-beam construction offer superior strength and stability while ensuring your hot tub never loses its shape.
SIMPLE SETUP & MAINTENANCE: No extra tools are needed to setup This portable spa. Simply inflate and deflate with the included pump. A cover comes with for an extra Safety feature, maintain the water's warm temperature, and prevent debris from getting in the tub.
BENEFITS OF A PORTABLE HOT TUB: With lift handles, the spa can be moved around with ease. This spa deflates compactly for optimal storage and transportation purposes.
Last update on 2023-02-26 / Affiliate links / Images from Amazon Product Advertising API
For those buying on a tighter budget but keen to make minimal compromises in terms of overall quality and performance, the Coleman SaluSpa merits its place somewhere very near the top of your shortlist of potential purchases.
Over the years, the brand name "Coleman" has become almost synonymous with quality and value for money, and the SaluSpa continues that tradition in fine form. This tub, which has been Coleman's bestseller for several years, can accommodate up to 4 people and packs enough power in its 120 bubble jets to very nearly mimic the feel of a real jacuzzi.
The SaluSpa is also very easy to set up and maintain, uses an effective water filtration system that helps to keep things clean, can heat water up to a balmy 104°F, and has a very handy automatic Start/stop timer-controlled heating system that allows you to program heating so the water is nice and toasty when you get home after a long day in the office.
In terms of construction, the SaluSpa's a bit of a winner, too, boasting a puncture-resistant exterior made with a TriTech 3 ply reinforced material, featuring a polyester mesh core encased in two layers of PVC, for extra strength and durability, I-Beam supports that allow users to sit on the sides without the spa bending or buckling, and a separate air pad cushioned floor which sits underneath the spa for additional comfort and insulation.
What We Like:
Great customer service
Easy to set up and maintain
Decent power in the built-in bubble massage system
Timer function allows you to program start/stop time
Effective filtration system
What We Don't Like:
Water jets not quite as powerful as those used in other models on our list
Max capacity more like 3 people than 4
Check Price and Reviews on Amazon
---
3. Bestway SaluSpa Miami AirJet Inflatable Hot Tub
Sale
Bestway SaluSpa Miami Inflatable Hot Tub, 4-Person AirJet Spa
Enjoy the ultimate spa experience: Receive total relaxation when you slip into this soothing portable hot tub after an exhausting day. 120 bubble jets soak sore muscles for a luxurious treat.
Operate from inside the hot tub: The digital control panel lets you change the water temperature (up to 104 degrees Fahrenheit) and flow of the jets without stepping out of the tub. A power saving timer can even automate the temperature of the spa up to 72 hours in advance; Disclaimer: This spa cannot be used in temperatures less than 39 degrees Fahrenheit.
Superior strength and durability: The puncture-resistant tri-tech material and I-beam construction ensures your hot tub never loses its shape and stability even when people sit on the side walls.
Simple setup and maintenance: No extra tools are needed to setup this portable spa. Simply inflate and deflate with the spa's own pump. A cover comes with to provide safety, maintain the water's warm temperature, and keep the water clean from debris, such as rain or leaves.
Dimensions: 71" W x 26" H. Inner Size: 52" W. Cord length: 9 feet
Last update on 2023-02-26 / Affiliate links / Images from Amazon Product Advertising API
If an inflatable hot tub that's affordable, easy to use, feature-rich, and built just about as tough and sturdy as they come sounds like something you might be interested in, the Bestway SaluSpa Miami Airjet Hot Tube might well be worth considering.
Beyond being one of the most affordable hot tubs on the market, this tidy little tub does just about everything we could ask a hot tub to do. It may have a very spartan, frill-free design, but the SaluSpa Miami AirJet merits its inclusion on any list on account of its very short heating up time, toasty max temp of 104°F, the ease with which it can be set up and inflated, low electricity consumption, and durable, puncture-proof materials.
Other endearing features in this tub are its effective water-filtration system, idiot-proof digital control panel, automatic timer-controlled heating system, and I-beam structure that makes the tub walls rigid enough to support even most sizeable of soakers.
The only downsides to this tub are its slight lack of power and shortage of legroom—both highly forgivable flaws if you don't plan on packing it with too many people and aren't expecting the performance of a premium jacuzzi.
What We Like:
The smaller size makes it ideal for smaller yards
Rapid heating system makes water toasty in no time
Easy to set up and maintain
Filtration system and chemical floater included
Easy-to-use digital control panel
What We Don't Like:
Bubble jets lack the power of pricier models
A fraction short on legroom
26-inch height a little on the low side
Check Price and Reviews on Amazon
---
4. GoPlus 4-Person Portable Inflatable Hot Tub
Sale
Coleman 90454 Atlantis SaluSpa 71" x 26" 4-6 Person Outdoor Portable Inflatable Square Hot Tub Spa with 140 Air Jets, Cover, and 2 Cartridges, Blue
The Coleman SaluSpa inflatable hot tub is made for up to 6 people and heats up quickly to a soothing 104 degrees with 140 surrounding air jets
Relax at the touch of a button with the soothing AirJet Spa, rapid heating system, and integrated water filtration; Cushioned floor with convenient drain valve; Heating and bubbling provide comfortable massage experience
TriTech 3 ply inflated walls for durability and comfort; Reinforced cover with safety lock clips and built-in air chamber for insulation; 2 easy-lift handles to help move the spa pool (when empty)
Includes 1 pool liner, 1 pool cover, 1 spa pump, 1 chemical floater, 2 filter cartridges (VI), 1 air pad protector, 1 repair patch, 1 AirJet system
Water capacity (80% filled): 222 gallons, Heat range: 40-104 degrees F; (L x W x H): 71 x 71 x 28 inches; Disclaimer: Cannot be used in temperatures less than 39 than degrees F
Last update on 2023-02-26 / Affiliate links / Images from Amazon Product Advertising API
This stylish little hot tub is one for those with a keen eye for aesthetics but has a lot more going for it than looks alone.
Boasting a 210-gallon capacity while weighing in at just 48.5 pounds when empty, this is one of the most portable of the larger-sized tubs in our review, meaning you can shift it from inside the house or garage out into the yard without difficulty.
Other features adding to this tub's convenience are a very handy, user-friendly panel located on the rim of the tub so you don't have to hop out to adjust the water temperature, an insulated cover that keeps out debris between uses, an integrated hard water treatment system, and the fact that the pump and heating units are built-in to the sidewalls, thereby reducing the tub's overall footprint in your yard or—importantly, particularly if these are limited in terms of space—on your balcony or patio.
In terms of performance, this tub does pretty much what you'd expect from such an inexpensive product. While it's 130 bubble jets are adequately powerful for most users, they don't quite pack the same punch as the pressurized jets found in pricier models. The only other downsides to this tub are that it's rather slow to heat up the water and has a slightly noisy pump.
All told an efficient and effective tub that might not have the "wow factor" of pricier models but offers great value for money nonetheless.
What We Like:
Grab handles make for easy transportation
Easy to set up and maintain
Sturdy, rigid walls
The built-in hard water treatment system
No external pumps
Fabric-coated material gives seating area a softer feel
Insulated ground cloth prevents heat loss
What We Don't Like:
A bit slow in heating up
Noisy pump
Capacity is closer to 3-person than 4-person
Check Price and Reviews on Amazon
---
5. GYMAX Outdoor Spa, 6 Person Portable Inflatable Hot Tub
Intex 28431E PureSpa Plus 85" x 28" 6 Person Outdoor Portable Inflatable Round Hot Tub Spa with 170 Bubble Jets, Cover, LED Light, & Heater Pump, Navy
Pampering yourself is easier than ever with 170 soothing high-powered jets that give you the ultimate spa experience in relaxing water up to 104 F
Provides relaxation at the touch of a button for up to 6 people with the easy-to-use, tilt-adjustable control panel
Built-in hard water treatment system makes water gentler on your skin, clothes, and the entire spa system
Includes insulated grey cover, heater water system, multi-colored LED light, 2 filter cartridges, 2 headrests, thermal ground cloth, inflation hose
This item requires 28523E energy-efficient cover for purchases shipped to California - if not, the order is subject to be canceled due to shipping restrictions
Last update on 2023-02-26 / Affiliate links / Images from Amazon Product Advertising API
With a capacity of 264 liters, the GYMAX Outdoor Spa is a hot tub that does something many other "6-person" hot tubs don't—namely, accommodate six people comfortably!
Beyond its spacious proportions, this tub wins our approval for several other reasons, most notably its elegant appearance, ease of use, and superbly sturdy construction.
Available in both beige and coffee, the GYMAX will appeal to buyers keen on avoiding the often garish coloring of many models of hot tub or looking for a tub that will blend in more easily with their patio or yard furnishings. The tub also features an integrated hard water treatment system, boasts a duo of carry handles that allow you to shift it around with ease, has a max temp of 104 degrees Fahrenheit, and comes with an insulated cover and lock to help make sure your kids aren't having any unsupervised pool parties in your absence.
This tub might lack the power of some of the other models on our list, but given its commodious size and bargain-basement price, it's a great option for those looking to enjoy their tub with all the family without having to rob a bank in order to do so.
What We Like:
The built-in hard water treatment system
Extra filter cartridges included
Carry handles for easy transportation
gallon capacity
Reasonably priced for such a large tub
What We Don't Like:
The temperature controller can be a touch temperamental
Check Price and Reviews on Amazon
---
How to Choose the Best Inflatable Hot Tub for Winter
Capacity
One of the most important factors to take into account when buying your inflatable hot tub is just how many people you'd like to squeeze in there. While knowing how many peeps are in your family or anticipated crew for soaking sessions is, of course, the most important of factors to consider with regard to capacity requirements, a handful of other variables come into play when making your decision, most notably:
The amount of space you're working with on your patio, balcony, or in your yard—higher-capacity tubs naturally have larger footprints and take up more space
The strength of your patio or balcony flooring—again, larger tubs will weigh considerably more when full and occupied by soakers and might prove to be excessively hefty for the foundation or flooring you intend to place it on
How convenient you wish your tub to be as regards heating and filling times—smaller tubs, owing to their lower volume of water, are typically quicker to fill and heat up than larger ones
When surveying your potential purchases, it's very wise to take the manufacturer-provided person capacity in any hot tub with a pinch of salt and skepticism. Though we'd be loathed to suggest tub makers are guilty of bending the truth, there's no doubt that many are not above exaggerating their tub's capacity in order to boost its appeal to potential buyers, meaning that their claimed 6-person hot tub may, in reality, be suitable for no more than 4 or even three full-grown adults, particularly if those adults are fond of their personal space.
The way to get around this potential pitfall is to pay attention to the specs in the product listing, particularly the tub's inner dimensions and depth. While a tub's outer dimensions will let you know how much space the tub will take up in your yard in terms of its footprint, this measurement gives little indication of the tub's overall capacity owing to the varying thicknesses of tub walls. The tub's inner dimensions, on the other hand, are what will determine just how many people can fit inside.
To give you a ballpark idea of how many inches are required to accommodate varying numbers of adults comfortably, take a peek at the following:
50-60 inches = 2 adults
60-70 inches = 3 adults
70-80 inches = 4 adults
80-90 inches = 5 adults
90-100 inches = 6 adults
In addition to the width of your hot tub, the depth of the model will also help give you a better idea of how many peeps is can host. Most hot tubs are between 24 and 28 inches deep. While this difference may seem negligible and unlikely to have much of an impact spatially, it can make a big difference, primarily because deeper water means the tub's occupants don't need to scoot down so much to keep their shoulders and upper body covered and thus take up more room in the center of the tub.
Finally, as a general rule, square hot tubs are normally more spacious than round models as the corners provide a little added legroom and less congestion in the center.
Set-Up Time
The term "inflatable" typically strikes fear and despair into the hearts of buyers who envision hour-long, lung-bursting sessions of blowing endlessly into a rubber mouthpiece that seems to be filling the air chamber to which it's connected in no hurry at all.
Thankfully, setting up an inflatable hot tub involves no such ordeals and is actually much easier than you might expect. One of the benefits of choosing an inflatable model of the hot tub over a hard-cased tub is that you don't need any special skills or tools and can assemble the tub without the help of a specialist. In most cases, that means all you need to go is put the hot tub in position, attach the motor, and kick back and watch while it does the donkey work of inflating the tub for you.
In most cases, the time required to set up your inflatable hot tub from the box to ready for filling should be no more than 20 minutes.
Water Heating Times
The bad news for buyers of inflatable hot tubs is that although most models are fairly easy to set up, after doing so it might still take as much as a day and a half before you can take your first dip…
After inflating your tub, you'll then have to fill it with water—a process that can take as long as an hour, depending on the strength of your water supply and the capacity of the tub in gallons.
Then begins the heating process…
Most inflatable hot tubs on the market—and even those with "rapid" heating systems—heat the water at a rate of between 1.5 and 6 degrees Fahrenheit per hour. While even a 2-degree variation in heating times may seem negligible on paper, in practice it could amount to a difference of around 15 hours' waiting time to reach the industry-regulated max temp of 104 Fahrenheit, depending on the temperature of the water from your faucet and outside temperatures.
The take-home? If you happen to be of a particularly impatient disposition, live in a colder climate where heating times are likely to be prolonged by the frigid air, or just can't wait to get your soak on, be sure to opt for a model that can heat water at a rate of at least 3 degrees Fahrenheit per hour.
To speed up the heating process, we highly recommend filling your tub with hot water from your house supply—you might have to fork out a little more for the extension hose required to do so, but it could save you countless hours of waiting if you plan on using your tub frequently, not to mention a significant sum of $ in electricity.
Massage/Jet Bubble System
The power and effectiveness of the massage system used in any hot tub depend both on how many air or bubble jets the hot tub has and just how potent or pressurized those jets are.
The air jet system in most inflatable hot tubs is delivered by way of a series of "blowholes" located on the inside of the tub's surrounding walls, as in a traditional jacuzzi. Most models have somewhere between 100 and 200 jets, depending on the size of the tub. While the number of jets is important—having more means the pressurized bubble streams are evenly distributed and so capable of providing a full-body massage—the quality and degree of pressure, and, hence, power, provided by the pump system is what determines just how authentically jacuzzi-like the jets will feel.
While most manufacturers don't provide details on the power of the jets in their hot tubs, the best way to get an idea of how strong the jets are in any model is to read through the user reviews to find feedback on the power of the tub's pumps. While doing so, however, it's best to take the reviews with a pinch of salt—many users are prone to unreasonably high expectations, having assumed that their inflatable tub will provide performance on a par with spa jacuzzis, which, sadly, just isn't the case.
Product Weight and Filled Weight
One aspect many would-be buyers are apt to overlook when choosing their hot tub is how much their product weighs when empty and how much it will weigh when full. Both of these factors, however, are well worth giving some thought before you click on the "buy" button. Here's why…
A hot tub's weight when empty—in addition to its inclusion or lack of carrying handles—will determine just how portable or movable the tub is. While this might not strike you as a very weighty consideration, it just might once you've got the thing out of the box and then have to drag it dozens of feet across the yard or onto an upstairs balcony on your lonesome! This is also an important consideration for any buyers who envision taking their tub along with them on trips or vacations, where transporting the tub more than a few yards is likely to be necessary.
Even more important, perhaps, is the tub's weight when full. Most 4-person hot tubs hold somewhere in the region of 200 gallons of water. Given that a single gallon of water weighs around 8 pounds, that means the weight of your tub will be circa 1,600 pounds when filled with water and closer to 2,500 pounds, maybe, once you've thrown in all of its adult soakers, which isn't far off the weight of a small car!
Needless to say, this weight will require a very solid foundation. Buyers who plan on putting their hot tube on a deck or balcony, therefore, should make sure these are sturdy enough to hold such a hefty load. Even those who plan to place their hot tub on their lawn, moreover, might want to consider the damage this weight might do to their prized turf!
Accessories and Extras
When buying your inflatable hot tub, it's wise to check that it's sold with all the necessary accessories required for maintenance. Although these "add-ons" should be included as a matter of course, a few less reputable (not to mention greedy) brands sell them separately, thereby adding to the overall cost and reducing their product's value for money. Given that purchasing these extras separately could set you back in the region of $100, it's well worth taking the time they're part of the deal in order to avoid any nasty surprises when your new tub is delivered.
The most important add-ons you should expect to be included when buying include:
A digital control panel with hard water and filter cleaning control option
A chemical float that makes measuring, adjusting and maintaining the correct chemical level in your tub easier
A pair of spare filter cartridges
An insulated cover to keep debris out of the tube when not in use and reduce heat loss
An insulated ground mat to minimize heat loss through the base of the tub
Repair patches
Best Inflatable Hot Tub for Winter Brands
Coleman: This Chicago-based brand has been in business for almost 120 years and in that time has developed a reputation for making very affordable but high-quality and durable products.
Intex: Intex Recreation Corp. has been making airbeds, above ground pools, spas, toys, furniture, boats for over 40 years and prides itself on providing the highest quality products at an affordable price, impeccable customer service, and an environmental ethic.
Bestway: This Shanghai-based brand has been making inflatable products since 1994 and in that time has evolved into a worldwide concern, with its products can now found in over 110 countries across six continents.
Inflatable Hot Tub FAQs
Q: How often do I need to change the water?
A: For the sake of hygiene, it's a good idea to change the water in your hot tub every few weeks or after every 5/6 uses. If the water becomes discolored or you notice a green or yellowish residue on the material, this is usually an indication that your tub has an algae problem and that it's time to refresh your H2O.
Q: What temperature should I keep my hot tub in the winter?
A: The industry-regulated max temp provided by inflatable hot tubs is 104 degrees Fahrenheit and most models on the market offer max temps between 100 and 104. While lowering the temperature to 90 degrees between uses might seem like a good idea for the sake of saving energy, it's worth bearing in mind that the power required to reheat the tub to the recommended temp of 102 degrees will likely undo any saving made by reducing temps when not in use.
Q: Are hot tubs safe for kids?
A: While the depth of most hot tubs is too low for them to present a real drowning hazard for most kids over three or four years of age, we'd highly recommend you only allow kids to use your hot tub under adult supervision. For users of all ages, hot tub sessions should be limited to around 30 minutes at a time to prevent dizziness and/or fainting.
Q: Do inflatable hot tubs need maintenance?
A: Inflatable hot tubs are generally low-maintenance, but to make sure your tub stays in good working order and to increase its lifespan, there are a few things you can do. These include giving the plumbing system a good flush every so often to remove any build-up that might have accumulated in the pipes/tubes, cleaning the filter regularly to make sure the water can flow freely, and replacing the water to avoid the build-up of algae.
Conclusion
Inflatable hot tubs offer a very affordable and fuss-free way to bring some winter fun to your yard.
Whether you're planning a New Year's pool party, inviting your chums around for a chat and a glass of something bubbly while enjoying the views of the stars, or just relaxing your wearied bones and brain after a day at work, few additions to your yard's furnishings—or anything else, for that matter—can make quite so big a difference to your quality of life in wintertime.
But just which of the tubs featured in our review of the best inflatable hot tubs for winter will be best for your needs? While this will largely depend on your budget and the number of soakers hoping to claim a spot beside you in your tub, our review has found the best performer overall to be the Intex Pure Spa 6-Person Inflatable Hot Tub.
While it might be a stretch to say this is a bona fide 6-person hot tub, it can accommodate 4 large adults comfortably, heats up very quickly, and has a more rigid design and more powerful bubble jets than any other hot tub in our review. All things considered, few other tubs come even close to offering this much bang for your buck…