Airsoft is a fun action-packed game sure to get the heart pumping. Combining athleticism with accuracy, this competitive team sport encourages players to work together to take out opponents. In many ways, it is similar to paintball. Each player is equipped with an airsoft gun that shoots pellets, making it definitive when a player is out of the match. However, it can also be hazardous if players do not protect themselves well. The airsoft helmet is an essential component of the sport – a piece of equipment designed to protect the head and eyes from damage. Finding the best one is essential to ensure maximum defense while also looking wicked on the field. Here are the best airsoft helmets of 2020 with their unique advantages and disadvantages.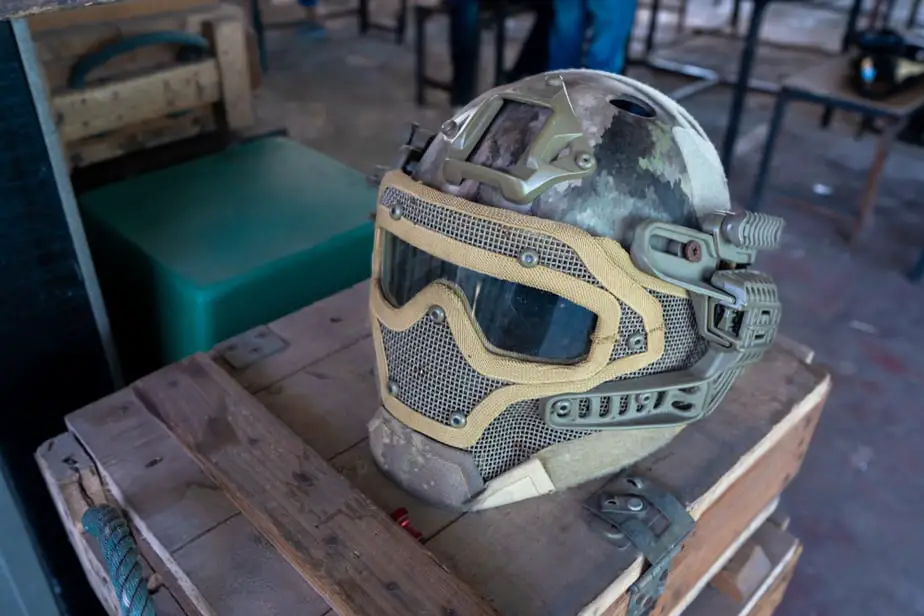 In a Hurry? Here's Our Top Picks…
1. ATAIRSOFT Adjustable Maritime Helmet
ATAIRSOFT Adjustable Maritime Helmet ABS for Airsoft Paintball(Black,L/XL)
[ Material & Weight ]: Made by high quality ABS, Lightweight but durable // Weight: about 840g
[ Fully Adjustable Size ]: Adjustable dial knob for head size adjustment. M/L Size: 53-57 cm (21-22.5 inch); L/XL Size: 58-61 cm (22.5-24 inch).
[ Features 1 ]: Side rails w/ goggle strap clips & front NVG shroud, fits a variety of accessories // Bungee retention for NVG // Vecra panels allow fitment of patches, IFF, safety lights, and nametapes. NVG mount is replaceable with only 3 screws.
[ Features 2 ]: Soft pad inside the helmet for greater comfort and protection. Chin strap is also adjustable.
[ Note ]: Please check the size Instructions in the picture carefully to make sure the helmet fits your head circumference. If you feel a little tight, try removing the mat from the helmet.
Last update on 2023-09-19 / Affiliate links / Images from Amazon Product Advertising API
The ATAIRSOFT Adjustable Maritime Helmet is a classic example of what an airsoft helmet should be. It is lightweight and durable, comfortable without sacrificing protection, and suitable for a broad range of players. It follows a standard design meant to protect the crown of the head without limiting mobility. There is increased padding and material placed over the back of the skull to reduce the chances of unpleasant injuries caused by being shot from behind or falling while in play.
This ATAIRISOFT model is meant for players who typically need a Small or Medium. The interior circumference is suitable for 21 to 22.5 in. heads and can be adjusted as needed. The primary material is high-quality ABS plastic reinforced with reduced shock foam inside. The interior foam mat can be removed and replaced with other forms of padding if you find it restricting or uncomfortable.
The Maritime Helmet includes side rails where you can attach accessories as desired. When tested, it was able to hold a broad range of things like safety lights, nametags, patches, and other markers. This is great since it means you can customize at will and ensure you stand out from the competition.
The chinstrap is made from nylon and buckled. It can be adjusted on the go and does not come loose while playing. The helmet is available in three separate colors and types of camouflage print.
Overall, this model stood out from the competition precisely because it is simple and functional. It does not try too hard to look cool and instead focuses on providing ultimate protection. It is rated for both airsoft and paintball.
What We Liked
Sturdy against large ammunition
The padding can be removed and repositioned
Includes durable side rails
Customizable
Suited for smaller heads
What We Didn't Like
Was slightly smaller than advertised, making for a tight fit
Check Price and Reviews on Amazon
---
2. ATAIRSOFT PJ Type Tactical Multifunctional Fast Helmet with Visor
ATAIRSOFT PJ Type Tactical Multifunctional Fast Helmet with Visor Goggles Version DE
★★★ NOT suitable for big head!!!!! Hat size: 59 //Internal width: 6.69" (17cm); Internal length: 8.66" (22cm)
★Light weight: 550g /easy-carrying
★Include sliding goggles / Adjustable chin strap. ( It is not recommended to wear glasses under the visor )
★Side Rails fit a variety of accessories, Integrated NVG mount compatible with most GoPro NVG style mounts (NVG mount not included)
★ Great protection for tactical activities/ airsoft/ paintball// ***Warning: This item is for adult only.
Last update on 2023-09-19 / Affiliate links / Images from Amazon Product Advertising API
If you have a smaller head or are looking for a helmet that will fit an older child, then this ATAIRSOFT model is the one for you. It comes in hat size 59 and provides superior comfort and durability without being too expensive or lightweight. It is easy to carry and includes all of the basics of protection and functionality with little room for frills or additional features.
Like many other airsoft helmets, this ATAIRSOFT model is meant to protect the crown of the head. It is made from reinforced plastic to reduce the force and impact of projectiles and has foam padding inside. The foam extends down around the ears but leaves the main part open so hearing is not affected. These side pieces can be removed if you find them uncomfortable or distracting during play.
The main perk of this helmet is the inclusion of a sturdy plastic visor. This protects the eyes with a low risk of shattering, increasing overall defense and helping you avoid unpleasant injuries like a bruised or damaged eye. The visor can be raised and lowered while you are wearing the helmet so you do not have to worry about taking it off.
This ATAIRSOFT is only available in one color: black. Covers can be worn over it to improve longevity. When it comes to functionality, I discovered the helmet only weighs about one pound and sits comfortably with little shifting, even while running and jumping.
Like most airsoft helmets, this model has a nylon chin strap which can be adjusted while on the go.
What We Liked
Simple but effective design
Includes a functional visor for better protection
Lightweight and easy to cover
Suitable for smaller players
What We Didn't Like
The chinstrap can dig into the skin, leaving marks
Check Price and Reviews on Amazon
---
3. Jadedragon PJ Tactical Fast Helmet
Jadedragon PJ Tactical Fast Helmet & Protect Ear Foldable Double Straps Half Face Mesh Mask & Goggle (Black Python Lines)
Package includes: 1X Fast Helmet, 1X Foldable mask, 1 XTactical Goggle, A set of accessories
Helmet Lightweight But Durable, High Quality Construction for Head Protection. Adjustable Half Face Mesh Mask makes it easy to carry
The two side rails of the tactical helmet are compatible with other equipment,Such as Goggle Strap Clips,flashlights, NVG Shroud, Hook&Loop Panels Allow Fitment of Patches, IFF, Safety Lights, and Nametapes
Embedded Night Vision mount is perfect for those looking to affix their Night Vision system,  Bungee Retention Cord is easily accessible and fastens your devices securely.
Adjustment Rear Dial Knob for Head Size adjustment. One size fits most, Head circumference 21.2-23 inch
Last update on 2023-09-19 / Affiliate links / Images from Amazon Product Advertising API
This is a helmet meant for serious players who demand extreme protection for intense action. This JadeHelmet product includes the base tactical helmet, a mesh face mask, tactical goggles, and a full set of accessories. This means you get a cover and bag to accompany the helmet and protect it from damage that could affect its appearance or integrity.
This helmet has two side rails which are compatible with a broad range of equipment. It is an effective place to attach goggle strap clips, flashlights, shrouds, patches, safety lights, and nametags. This improves the overall customization and makes it easier for teams to recognize one another while in the game, making it a personal favorite. There is even a mount for a night vision attachment for the goggles if you want to play at night and startle your friends.
The face mask is adjustable and can be removed as needed. While the helmet itself is made of durable plastic polymers, the mask is steel mesh. This allows for increased ventilation and mobility and does not restrict how well a player breathes.
More mesh protects the ears. The chin strap, meanwhile, is quite simple and made of nylon. It can be tucked out of the way and is adjustable through the use of a couple of buckles and simple slips. There is a knob on the back of the helmet which allows the wearer to adjust the size. This helmet is meant for individuals with a head circumference of 21 to 23.5 inches, so it fits a smaller class than some of the other models I covered.
Plus, the JadeDragon PJ Tactical Fast Helmet is available in multiple colors and styles of camouflage. If you want to be able to customize your helmet, this is the one to get.
What We Liked
Super adjustable and includes numerous accessories
Suitable for players with smaller heads
Combines plastic with steel mesh
Superior protection
It's easy to attach accessories
What We Didn't Like
The helmet is rather heavy and unwieldy
Check Price and Reviews on Amazon
---
4. Raptors Tactical RTV Helmet
Sale
Raptors Tactical RTV Helmet, Tan
Lightweight, Hard Shell Design
Removable and adjustable internal padding
Velcro panels on right and left for Morale Patches, Nameplates and IR/Reflective Tabs
Polymer Construction
Tactical Rails
Last update on 2023-09-19 / Affiliate links / Images from Amazon Product Advertising API
The Raptors Tactical RTV Helmet is actually one of the most simplistic ones currently on the market. It possesses few frills or accessories but instead focuses on maximum comfort and functionality. The overall design is quite traditional, offering coverage for the top of the skull and back of the head without including a visor or additional padding for the face and ears.
This helmet is made from reinforced plastic polymers and uses a durable foam in the interior to reduce impact pressure. These polymers are extremely durable, with airsoft pellets not even leaving a scratch on the exterior despite intense play. The foam extends to around the ears without covering them, allowing players to wear a communications headset if they like.
One unique feature about this helmet is the inclusion of Velcro patches on the left and right, where you can attack patches, nameplates, or reflective tabs to make you easy to recognize. The chinstrap is narrow and made from basic nylon with a clip for security. It can be adjusted as needed.
One annoying feature about the Raptors Tactical RTV Helmet is that it didn't mention the measurements when I tried it out. However, it appears to fit people with a head circumference between 21 and 24 in. Otherwise, the helmet is quite basic and straightforward, weighing a mere pound for better mobility and comfort. It is only available in tan.
What We Liked
Being able to customize the appearance of the helmet
Room for a comm. set
Easy to adjust while wearing
Super lightweight yet durable
What We Didn't Like
There is minimal padding and it is hard to add more
Check Price and Reviews on Amazon
---
5. HYOUT The U.S. Military Tactical Fast Helmet
HYOUT Fast Base Jump Helmet PJ Style Airsoft Tactical Adjustable Helmets U.S Military Tactical Helmet for Paintball Outdoor Sports Hunting Shooting
【Best Size】:HYOUT PJ Type helmet is fit for the Person Who Head Circumference is 22.04-24.00 inch.Adjustable suspender straps and chin/neck pad for best fitting. Note: This helmet is not suitable for people with larger head circumferences.
【Durable & Lightweigh & Comfortable】:HYOUT airsoft helmets Constructed of high quality ABS Engineering Plastics + EPS Anti-seismic Foam Plastic + Velcro + Nylon.Helmet internal full use of high quality foam feature lightweight and comfortable.
【Practical Design】:An adjustable system with replaceable leather front, nape, and side pads quickly detach to allow convenient donning and doffing of comms headsets with internal top headbands.
【Great Multi-Function Helmet 】:Side Rails fit a variety of accessories, Integrated NVG mount compatible with most GoPro NVG style mounts. Perfect For Training, Search and Rescue, Enthusiasts, CS Airsoft and Paintball Games, and other outdoor activities.
【Why HYOUT】:You will receive 1 headwear free when you purchase 1 helmet offered by us.You have nothing to risk by buying our helmet ! You can't beat the real thing ! You're worth it !
Last update on 2023-09-19 / Affiliate links / Images from Amazon Product Advertising API
This Hyout helmet obviously emulates traditional tactical models used by the U.S. military. It is simple and straightforward, covering the top of the skull as well as the sides above the ears. It is held in place with a traditional adjustable chinstrap with padding to improve the wearer's comfort.
It is made with ABS engineering plastics and features padding made from EPS anti-seismic foam. The strap uses a combination of Velcro and nylon to remain form-fitting and comfortable while you play. The overall design is meant to be lightweight to improve mobility and reduce the pressure placed on you. Multiple parts can be removed to customize the appearance and protection, including the leather front, nape, and side pads.
The removable side pads are actually quite excellent if you and your friends prefer to play with a larger comm. set, since there is plenty of room for it to sit comfortably. The Hyout U.S. Military Tactical Fast Helmet can fit players with a head circumference of 22-24 in., which is slightly narrower than expected. It is available in multiple colors and forms of camouflage.
The top of the helmet has air vents to improve airflow and stop you from overheating. The helmet can be used for airsoft and paintball and is easy to clean and maintain.
A five warranty is even included from the manufacturer for this model.
What We Liked
Military appearance
Excellent protection without being complicated
Fits to size
Easy to adjust while wearing
What We Didn't Like
Poor retention means you can add attachments or accessories
Check Price and Reviews on Amazon
---
6. SUNRIS Ballistic Helmet
No products found.
This model is included here because it is an excellent example of being functional yet cool. The only way to describe it is as resembling a Stormtrooper mask from Star Wars, as it includes full protection for the front and sides of the head as well as the crown and the back.
A clear plastic visor is built into the helmet and can be raised and lowered while you wear it. While the visor does cover the nose and mouth, steel mesh along the lower sides of the helmet allows for increased ventilation so you can breathe easily while on the go. The lens is exchangeable.
This is one of the most adjustable helmets, suitable for anyone who falls within a 21 to 25 in. head circumference. The helmet can be adjusted with a knob at the back to tighten or loosen it as needed. The primary material is reinforced plastic polymers, although the SUNRIS Ballistic Helmet is a good example of weaving plastic and steel mesh together to get the best of both worlds.
This was one of the few helmets which mentioned its impact resistance, which gave me a chance to try it out. It can withstand a hit at 310 fps with high-grade pellets and barely have a scratch. Plus, it is easy to clean and buff even if it does become damaged.
The only major downside is this is a heavy helmet, weighing in at 3.3 lbs. While this doesn't sound like a lot, it can mean a lot of pressure on your neck when you're trying to escape your friends and avoid being shot.
What We Liked
Form-fitting but practical design
Highly durable and able to withstand hard hits
Combines plastic with steel mesh
Includes a visor and places for accessories
What We Didn't Like
Surprisingly heavy
Sometimes the visor would become stuck
Check Price and Reviews on Amazon
---
Buying Guide
Airsoft can be a fun, engaging, and safe sport when you invest in the right equipment. The helmet is an essential piece of any set because it protects the brain, eyes, nose, mouth, and other valuable parts of the body. This is why it's important to find the right one. As this short guide will attest, there are a couple of key features to look for when choosing the right helmet for you. These include material, comfort, ventilation, and any included accessories.
Material
Airsoft helmets tend to be made from similar materials designed to be comfortable and protective: Plastic and steel mesh. Each one has its own advantages and disadvantages, and it is normal to see the best helmets have a combination of both.
Plastic is considered the ideal choice for players who want to protect their heads and resist damage with less focus on comfort. This is because plastic is lightweight yet durable, deflecting projectiles and distributing force evenly. The downside is plastic does not promote airflow and can become hot and uncomfortable when worn around the entire head.
Steel mesh, on the other hand, is defensive but allows wearers more flexibility. The mesh allows more air to reach the face, making it easier to breathe and cool down. While the steel mesh is usually good at deflecting individual hits, it can shatter when struck by a projectile from a powerful airsoft gun.
Based on this information, the better material for the majority of players is plastic because it is less likely to break. However, you can find models that use both to balance the strengths and weaknesses of each material.
Comfort
Comfort is one of the most important traits of a helmet. You won't wear something that you find uncomfortable, especially if it pinches or obscures your vision or breathing. Before buying any helmet, you should measure your head and make sure the model you like comes in the right size.
Some other features which contribute to comfort are the type of padding included as well as the way in which helmet stays on the head. Padding should be as thick as you are comfortable with, but also removable so you can make adjustments. An adjustable chin strap is also essential so the helmet sits in the right position without digging into your chin or neck.
Finally, comfort can be affected by weight. While some of the heavier helmets look cool, you have to consider whether you will be able to move, function, and play well with the extra pressure.
Ventilation
Ventilation can be affected by the material of the helmet and any attachments you might place on it. In short, ventilation is how well you can breathe and how much air passes through the helmet to reach your face. Improper ventilation can make it difficult to play like normal and also allow sweat to build up around your face.
To find a helmet with proper ventilation, look at the materials it is made from. A small amount of steel mesh can be great to improve your ability to breathe. Lower padding is also ideal, as well as a visor or face cover which can be lifted whenever you would like.
Accessories
While you need to buy most airsoft accessories, there are several helmets on the market that come with them already attached. Ultimately, though, you want to ensure the helmet is still wearable when you place any additions on it. This means the accessories won't make the helmet too heavy or affect your comfort and ability to play.
If you are a new or inexperienced player, keep the accessories to a minimum. Focus instead on having a solid base on which you can build later, and don't sacrifice protection to look cool. You should never put yourself in harm's way for the sake of appearances or a game.
Best Airsoft Brands
Atairsoft
The brand which stands out the most in the airsoft world is Atairsoft. This brand manufactures a broad range of helmets suited for beginner to advanced players alike. They tend to focus on safety and comfort more than appearances, making them a good choice for conscientious players. The only downside is there is little room for accessories, as the helmets are quite plain if functional.
JadeDragon
Another common brand to see is JadeDragon. This manufacturer is well-known for making helmets and face masks for airsoft and paintball. Their gear tends to be lightweight and durable, made more for speedy players than those who want to be on the defensive.
Unfortunately, few other brands stand out when it comes to helmets. While there are numerous excellent manufacturers for guns and other forms of airsoft equipment, the majority of helmets are made by lesser-known names that operate for a larger sports conglomerate. Dick's Sporting Goods, for example, owns numerous smaller brands that can be found in-store and online.
Ultimately, you should focus less on the brand and more on the build of the helmet to ensure it meets your requirements and is safe for play.
FAQs
Q: Do I need a helmet cover to protect my helmet?
A: Most helmets do not come with covers because they are an accessory and not a necessity. However, a good cover can keep your headwear looking like brand new for a long time. What the cover does is sit snugly over the regular material of the helmet and prevent scratching and breaking.
Q: Can a helmet prevent injury?
A: You should NEVER play airsoft without a helmet. The helmet is essential for preventing a broad range of injuries, including concussions, lost eyes, and damaged hearing. This is done by reducing and spreading out the force of a projectile when you are struck. The padding ensures you don't feel as much of the force and don't have to worry about the hard surface of a shot damaging your skin and skull.
If you do not have a helmet at present, do NOT engage in an airsoft game. It is a recipe for disaster and can result in serious harm.
Q: Can steel mesh be used to protect the front of the head?
A: When buying an airsoft helmet, you will often see a mix of materials used in the construction of the product. Plastic is ideal for the outer shell and protecting the back of the skull because it is strong and durable. It also won't shatter like steel mesh.
However, steel mesh makes a comfortable material to use on the front of the helmet to decrease weight and improve ventilation and flexibility. The only catch is it might shatter.
Q: Will shattered steel mesh hurt me?
A: Steel mesh is comfortable but has some clear detractions as a helmet material. It can break under impact from projectiles and shatters into small pieces. While these pieces can hurt, they lose velocity once broken. This means they can cause minor cuts and scratches, but should not bruise or result in traumatic head injuries like concussions.
Q: Can I wear my airsoft helmet for other sports?
A: Depending on the type of helmet you get, it is possible to wear it for other high octane outdoor sports. However, you want to make sure it matches the specifications for the sport you wish to wear it for. For example, if you want to wear your airsoft helmet to go dirt bike riding, you need to ensure the top of the head is adequately padded and protected.
There are some airsoft helmets that are deliberately manufactured and marketed to be multiuse. It is best to invest in one of these if you know you want to engage in more than one sport or activity that requires a helmet.
Q: Do all airsoft helmets have visors?
A: No. Although the visor is beneficial for protecting the eyes, not all helmets will incorporate one. If you know you would like the extra protection, try to find a model that includes one.
Q: Are airsoft helmets suitable for paintball?
A: Some airsoft helmets can be worn for paintball as well since they include all of the basic features, including a hard exterior shell and internal foam padding. If you want to wear yours for paintball, consider putting a cover over it so it does not become stained with the paint, which can be hard to wash or buff out.
Wrap-Up
When it comes to an airsoft helmet, you never want to sacrifice function for fashion. While it can be tempting to get the cool-looking helmet, it is important to instead pay attention to the material, comfort, and how well-ventilated you will be while in play.
Out of all of these models, the ATAIRSOFT Adjustable Maritime Helmet and the Sunris Ballistic Helmet were no doubt the best. These combined multiple materials to get the best of both worlds, fit well without becoming loose or uncomfortable while in play and can take a hit. They also resist damage and are just fun to wear.
However, if you don't like either model, there are plenty of other helmets on this list that are sure to do the job and do it well.