Buying an airsoft spring pistol is not a walk in the park. There are a plethora of options to choose from. Additionally, there are accessories that you may not know about.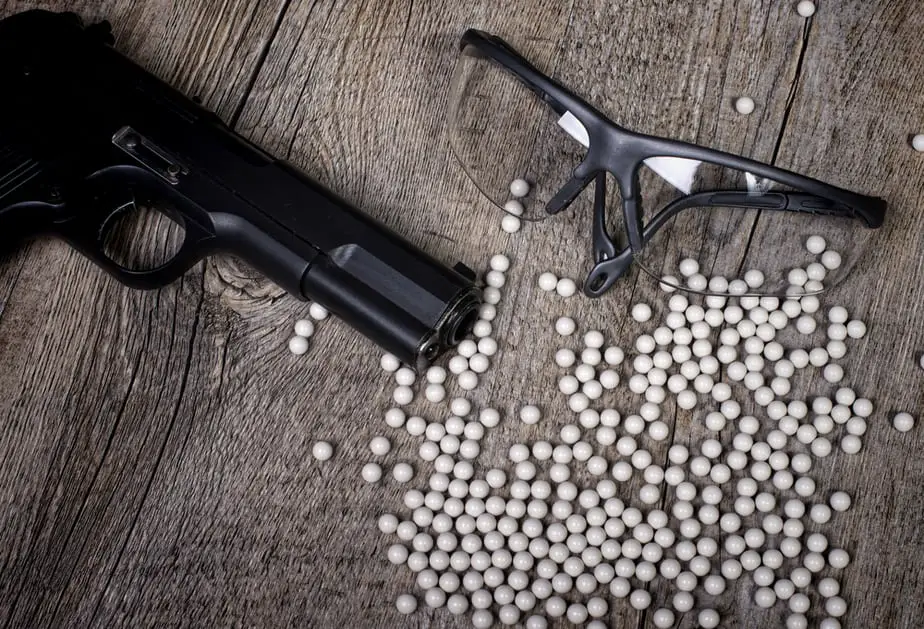 You will need an ultimate guide with explanations on the selection process. We have developed the guide below through research and testing to help you make the right decision.
The important factors in helping you achieve an effective and exciting experience are the physical specifications of your spring airsoft spring pistol. Beginning with the weight, to length and feet per second the specifications of your gun will have a lot of bearing on your play. It boasts some good specification including, a net weight of 2.65 Lbs., has a length of 36" and has 315+ feet per second.
In a Hurry? Here's Our Top Picks…
Image
Title
Price
Buy

Top

TSD Sports UA938B 6 inch Spring Powered Airsoft Revolver (Black)
CHECK ON AMAZON

Top

Top

Crosman Stinger P311 Airsoft Pistol (Black)
CHECK ON AMAZON

Top

BBTac BT-1911A1 Metal and ABS Spring Airsoft Pistol 250-FPS Airsoft Gun
CHECK ON AMAZON

Top

FN Herstal FNS-9 Spring Powered Airsoft Pistol, Black, 300 FPS
CHECK ON AMAZON
Product prices and availability are accurate as of the date/time indicated and are subject to change. Any price and availability information displayed on [relevant Amazon Site(s), as applicable] at the time of purchase will apply to the purchase of this product.
Prices pulled from the Amazon Product Advertising API on:
1.
Crosman Stinger P311 Airsoft Pistol
Sale
Last update on 2023-11-24 / Affiliate links / Images from Amazon Product Advertising API
The first spring powered airsoft pistol on our list, the Crosman Stinger P311 is a #1 Best Seller and a reliable, quick option. It shoots up to 325 FPS and has a magazine capacity of 12 rounds. The magazine is super easy to reload, making this airsoft pistol a great backup on the airsoft field.
It's pretty lightweight, coming in at only a little over a pound, so it's not as realistic feeling as other options on the market. Aside from the weight, though, the quality is pretty heavy-duty. It has the appearance of a real gun and the materials are overall sturdy. The Crosman is pleasantly accurate, able to shoot on-target 50 or so feet away, even in windy conditions.
In general, this is an affordable, durable, and accurate spring airsoft pistol that would be great for both the beginner and the airsoft pro.
Things We Liked
An affordable option. Would suit those who are on a budget
Accurate up to 50 or so feet, even in windy conditions
Has the look and general feel of a real gun
The magazine has a 12 round capacity and is easy to unload and reload
Airsoft gun shoots quick with a 325FPS
Things We Didn't Like
It's only about a pound in weight. Depending on your preferences, this could be a pro, but the lack of heaviness does make this airsoft gun feel less like a solid replica and more like a toy
Check Price and Reviews on Amazon
---
2.
TSD Sports UA938B 6 inch Spring Powered Airsoft Revolver
TSD Sports UA938S 6 Inch Spring Powered Airsoft Revolver (Silver)
Silver, spring powered, double action revolver. Comes with 8 single round shell magazines.
Hammer can cock back manually; shells load into the cylinder
260 FPS with 0.12g BB's; Single round loading shells; Single shot hammer action; Fixed hop-up; 6 inch length barrel
No batteries needed
This product is restricted from shipment into the state of New York
Last update on 2023-11-24 / Affiliate links / Images from Amazon Product Advertising API
A super cool-looking airsoft pistol, the TSD Sports Spring Powered Airsoft Revolver will have you the envy of the airsoft field. This is an ultra-realistic replica of the Colt Python, and it's an option that would make anybody feel like they're back in the old west.
It's not incredibly fast, but it would serve its purpose as a good sidearm. This airsoft revolver only shoots at 240 FPS max, but the fact that you load your BBs into the revolving chamber and manually pull back the hammer is just too cool of features to pass up.
The rear sight is adjustable, the gun itself is made with durable, high-quality materials, and both sights are painted to help you keep your shots on-target at all times. Plus, it's an affordable option that would work for anybody on a budget.
Overall, this is a hard airsoft pistol to beat. It's realistic feel and awesome features make this one of our favorites on the list.
Things We Liked
The realistic feel — a nice recreation of the Colt Python
Really cool features, including loading BBs in the chamber (holds up to 6 rounds)
Affordable. A great budget buy
Made of quality material
Manual feature of pulling back the hammer to shoot
Things We Didn't Like
It only shoots at 240 FPS. Not the fastest, but it'll do as a decent backup
Check Price and Reviews on Amazon
---
3.
BBTac BT-1911A1 Metal and ABS Spring Airsoft Pistol
Last update on 2023-11-24 / Affiliate links / Images from Amazon Product Advertising API
The BBTac Spring Airsoft Pistol is a true-to-life replica that is made with high-quality metal and plastic components. It uses .12g, 6mm BBs, and unloading and reloading the magazine into the airsoft gun is effortless.
To shoot, you simply cock the airsoft gun and pull the trigger — it's as easy as that!
Overall, this is a durable option at an affordable price. Although, the lightweight and plastic body of the pistol makes it feel not so realistic in the hand.
Things We Liked
Affordable
Takes 6mm BBs
The magazine is easy to unload and reload
Simple to shoot
Durable airsoft pistol
Things We Didn't Like
Full-plastic construction. Doesn't give this airsoft pistol an overall realistic feel
Check Price and Reviews on Amazon
---
4.
FN Herstal FNS-9 Spring Powered Airsoft Pistol
FN Herstal FNS-9 Spring Powered Airsoft Pistol, Black, 300 FPS, (200101)
POWERFUL SPRING: 300 FPS with 6mm ammo
READY TO PLAY: Shoots 6mm ammo in a single shot. Includes 50 starter BBs
REPLICA: made with high strength ABS polymer for a realistic feel. Weighs 0.7lbs
EASY TO LOAD: Magazine holds 120 rounds
FEATURES: Picatinny rail on frame for handgun lasers or lights
Last update on 2023-11-24 / Affiliate links / Images from Amazon Product Advertising API
This power airsoft pistol option hurls BBs at a quick 300FPS. It shoots 6mm BBs in a single shot, comes with 50 BBs, and the magazine falls out and loads without a hassle. The magazine holds up to 120 rounds.
Made with high-strength polymer materials, the FN Herstal has a pretty realistic feel that will help to immerse you in your airsoft game like never before. It weighs just under a pound, so it isn't too heavy, which could either be a pro or a con depending on your preferences.
This airsoft pistol is also an affordable option (though, more expensive than some of the other choices on our list), making it good for budget-buyers.
Things We Liked
Made of quality polymer materials. Made to last
Shoots at 300 FPS
The magazine is easy to unload and reload and holds up to 120 rounds
Affordable
Things We Didn't Like
Lightweight. Not our favorite feature about this gun, but it could be a pro if you prefer light airsoft guns
Check Price and Reviews on Amazon
---
Airsoft Spring Pistol Education
Do you need some help in picking out the right airsoft gun? If so, you're not alone! With everything from airsoft spring pistols to AK-47s available with the click of a button, an easy mistake to make is choosing the wrong airsoft gun, and it's also a costly one.
For you to avoid wasting your hard-earned money on a subpar airsoft gun that won't cut the mustard, you need to take a few things into consideration. Lucky for you we have Brocken down step-by-step.
Step 1-Think about Your Budget
If you don't have enough money to spend on airsoft, you'll be better off saving up some dimes for a quality model that's been proven in the field. You may have to wait an extra week or two, but trust me; you'll be better in the long run.
There are plenty of good airsoft guns available for budget-conscious players. Although you could spend several hundred for the absolute best airsoft gun, you don't need to dominate the competition. You could splurge and buy the best airsoft assault airsoft spring pistol or the best airsoft spring pistol money can buy, but your performance will depend just as much on your skill and tactics as it will on your airsoft weapon.
Though, you should be ready to spend at least $100 for a decent airsoft gun. You should be prepared to spend a little more if you want the best beginner airsoft gun.
Step 2-Consider What You'll Be using it for
After knowing how much you want to spend, the next step is considering what you plan on using it for. Do you want to use it for the action-packed thrills of CQB and tournament play? Perhaps you want an airsoft gun just to have some fun with your friends?
Step 3-Determine Your Role
Similar to deciding upon the type of airsoft activities you want to participate in, the next step is determining the specific role you want to play. Any airsoft gun can work if you just want to mess around with friends in your backyard. If you plan on playing in tournaments and attending events, you need a clear picture in your mind of what role within the team you want to play.
For instance, do you want to be right upfront in the middle of all of the action, or would you prefer to hide in the background while you pick off targets and provide cover for your team?
Step 4- Decide On a Type of Weapon
From M16s and MP5s to G36s and P90s, there are dozens of different types of airsoft guns made to resemble and shoot just like the real thing. After knowing your budget and the type of shooting activities you want to do, the role you'll play within your team if you go the competitive route, you need to decide which specific type of gun you want for your arsenal. It all depends on your needs, likes, and wants out of your airsoft gun because there's no right or wrong answer here.
Step 5- Consider the FPS
The speed at which an airsoft gun can propel a pellet is described as EPS. If you plan on sniping, the higher the FPS the better, because a sniper airsoft spring pistol with a high PFS will shoot more accurately. If you're into CQB, however, a high FPS might not necessarily be a good thing because getting pegged at close distance by a sniper airsoft spring pistol or another high-FPS gun is anything but fun.
Step 6- Don't Forget About Weight
It's important to consider the weight of an airsoft gun. Although it may seem cool to run around with a fierce M60 or RPK, the weight of these beastly guns is way too much for most airsoft players to handle.
If you're built like a middle linebacker and have the strength to tote one of these boys around with you all over the place, more power to you. However, chances are you'll be much better off going with a versatile lightweight model.
Our airsoft gun buying guide and in depth reviews will certainly help you make up your mind. Think about these tips and check out the rest of the resources on this site in order to find the right airsoft gun for you today!
Best 3 Airsoft Spring Pistol Brands
Tipx
Since 1986, Tippmann Tipx has been the premier manufacturer and designer of high-performance paintball and airsoft accessories and markers for players all over the world. Their reputation for services, innovation, and quality makes this brand a recognized industry leader in the development of products that are technologically advanced.
In 2014, the company spent the year joining two great companies namely V-Force and GI Sportz. This is when they expanded and concentrated on the airsoft market with their branded products such as Tipx.
All their products are made in the United States in Fort Wayne, Indiana. They focus on the manufacture of outstanding American-made airsoft and paintball products.
BBTac
BBTac offers one of the highest quality airsoft accessories, BBs, and guns on the market. They strive to consistently bring in quality items through innovation.
They are a process-centered and market focused organization that delivers and develops innovative solutions and products to their clients. This is the reason why they can outperform their competitors.
Colt
In 1836, Samuel Colt built his first factory after issuing the US Patent for the first Colt firearm. In 1847, Samuel H. Walker collaborated with Colt to develop a more powerful revolver which was named the Walker. Samuel Walker at the time was in the United States Army.
Since then, Colt has been providing quality firearms for the public and US army. Today, they have ventured into the airsoft industry. This is why their airsoft spring pistols are popular among airsoft enthusiasts.
Airsoft Spring Pistol FAQs
How Do Airsoft Guns Work?
They fire BBs through air compression. There are various ways airsoft guns can function. They can be spring, electric, or gas powered.
Each gun type has its pros and cons. For more details, we have a guide that'll help you get started.
Why Is Airsoft A Good Sport?
It's about more than just shooting plastic BBs at other players and accomplishing objectives. Win or lose airsoft is about the camaraderie built between players.
It's about playing with honor and ultimately having a good time. Just like any sport, airsoft fosters friendships and helps to bring people together.
What Should I Wear While Playing with an Airsoft Spring Pistol?
Eye protection should be worn at ALL TIMES in order to prevent injury to your eyes. As you play at your own risk, please play safely!
The consumer or purchaser releases Airsoft Station of all liability, regarding use of the product or otherwise, by agreeing to the terms at checkout and by successfully submitting/placing an order online or over the phone.
Why Does My Airsoft Spring Pistol Have An Orange Tip?
They are required to have the tip of the barrel permanently colored in orange by Federal Law. Any person who changes alters, removes, or obliterates any coloration or markings that are required by any applicable state or federal law or regulation, for any imitation firearm (replica firearm), or device in any way that makes the imitation firearm (replica firearm) or device look more like a firearm is guilty of violating the state or federal law. Removal of the orange tip immediately voids your product warranty!
Airsoft Spring Pistol Wrap-Up
Spring Airsoft spring pistols have come a long way and have advanced significantly too. With the passage of time what started as out as a simple hobby has grown into a huge culture with millions of people buying airsoft spring pistols, not only for a hobby but competitive sports, for training purposes, to play airsoft wars, to practice target shooting and so on.
As such with the increase in its popularity, the number of manufacturers and sellers has also significantly increased too with the market being diluted with a lot of manufacturers. This has created problems for buyers as it becomes difficult for them to make the correct and appropriate choice for themselves. As such, the above list will help you to make the best choice and select the best airsoft spring pistol for yourself.
The above guide has a list of the best airsoft spring pistols you can find in the market. We have tried and tested all five products. You can use the above guide to gather information on the best airsoft spring pistols in the market.