Croquet is a fun and classic game that can be a great group activity for a fun outdoor day. If you enjoy playing outdoor games and are looking to build your collection then the classic croquet set can be a great way to keep people entertained right in your own backyard.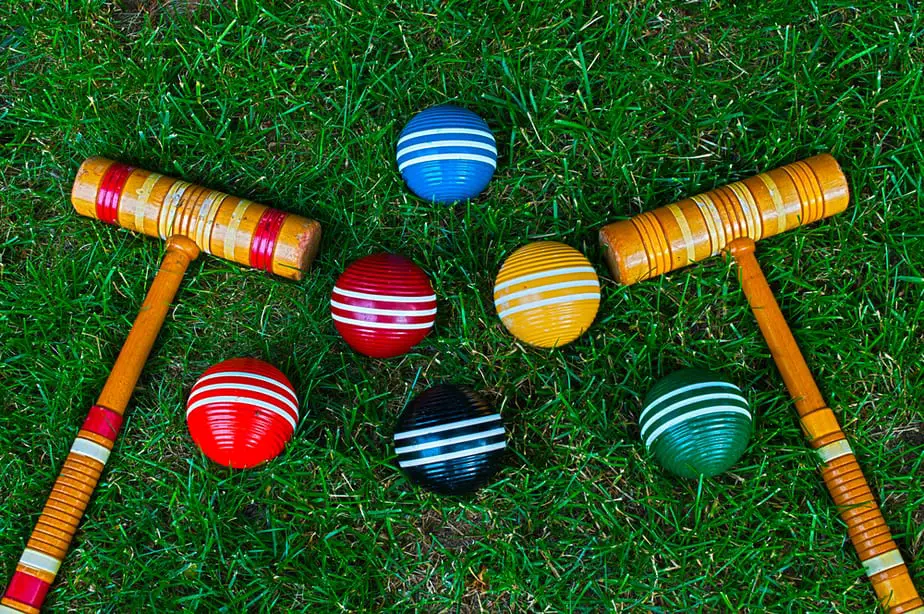 Whether you really enjoy entertaining your friends in your backyard, or you have a large family who enjoys playing croquet, having a croquet set large enough for a crowd can be an extremely beneficial task. Unfortunately, croquet sets for eight people are really hard to come by. If you're looking for a smaller set, check out this list of reviews on six-person croquet sets.
In a Hurry? Here's Our Top Picks…
1. Amish-Made 8-Player Croquet Set with Rack
8 Player Croquet Set Amish-Made in Wood Rack with 32" Handles
Hardwood Maple Mallets for 8 Players - 32" Handles
Amish Made in the USA. Built by skilled Amish craftsmen in Lancaster County, PA - the heart of Pennsylvania Dutch Country.
The Deluxe Croquet Set has durable hardwood Maple handles and mallets with metal bands that protect the mallets from splitting while adding a touch of beauty, too.
The wooden storage rack which holds all the extremely durable plastic polymer colored balls, mallets, 2 stakes, and 9 metal wickets.
Shipping is included as is a pamphlet with Lawn croquet rules so you can get right to the fun of playing.
Last update on 2023-11-07 / Affiliate links / Images from Amazon Product Advertising API
This croquet set is handcrafted from maple wood by the men living in Amish country. It is fully made and produced in the USA and as an added bonus it comes with a rack for easy storage of your croquet set. The Amish actually spend a great deal of time playing classic games like croquet after their long days at work, this means that
The frame that comes with this set makes it extremely easy to pick up and carry around. So, if you are thinking about purchasing a set to take with you on family gatherings, tailgating events, or even to vacation, then this is a great set to purchase.
This set is available in 28" or 32" handles which is extremely convenient for families who have height restrictions. Additionally, the mallets are secured with a solid brass ring. The solid brass ring serves as further protection against cracking on the beautiful lathe-turned wood that makes up these mallets.
Pros:
Made from Maple Wood
Sturdy Rack for Storage
Cons:
Hand Crafted is More Expensive
Check Price and Reviews on Amazon
---
2. Amish Toy Box 8-Player Croquet Set
AmishToyBox.com Deluxe Croquet Game Set - 8 Player - with Wooden Stand (Eight 32" Handles)
Our Deluxe Croquet Set is Made by Amish Craftsmen in Lancaster County, Pennsylvania.
Hard-to-Find 8 Player Croquet Set Allows for More Players to Join the Fun!
The Croquet Set is Made with Maple Hardwood for Exceptional Durability and Beauty.
Comes Ready-to-Play with Instructions and Convenient Wooden Storage Holder.
Play Croquet Together and Bring Back that Old-Fashioned Fun to Your Family!
Last update on 2023-11-07 / Affiliate links / Images from Amazon Product Advertising API
The Amish Toy Box croquet set is another beautiful hand-crafted set made entirely of top quality maple hardwood. One of our favorite things about all of the eight-player sets available is that they are a fabulous quality product that is built to last. If you are buying this set because you have a large family with a lot of kids, you will not have to worry about your kids tearing up the croquet mallets because they are built to last.
This set also comes with a wooden carrying rack that is built to match the set. This is a really nice feature that makes the set a bit more portable and allows you to store it neatly out of the way without having to awkwardly find ways to store the mallets and balls.
These mallets also can be ordered in either 28" or 32" making this set a bit more customizable than most of the less expensive sets on the market.
Pros:
Made from hand-turned Maple Wood
Matching Rack for Storage
Cons:
Hand Crafted is More Expensive
Check Price and Reviews on Amazon
---
3. Family Traditions Amish Made 8-Player Croquet Set
Last update on 2023-11-07 / Affiliate links / Images from Amazon Product Advertising API
Holmes County, Ohio is home to an amazingly talented Amish community that produces handcrafted yard games for families all over the United States. This croquet set, named the family traditions set, is one of the many types of goods that the Amish community in Ohio produces.
The name family traditions is meaningful for this type of product because the product represents the time that you can spend with your family. Further, the Amish community that builds these beautiful sets has built a family tradition of their own in creating these stunning croquet sets.
This set is crafted from hard maple wood with the durability factor in mind. The mallets in this set have square heads instead of a more traditional rounded set which makes them a bit more unique than many other mallet sets.
This set also comes with a fabric carrying bag. This is a great feature if you plan to take the croquet set to family outings, tailgate parties, or even for simple storage. However, the bag is not a high-quality bag and will probably easily get some wear and tear through repeated usage. Eventually, the bag will need to be replaced.
Pros:
Made from Maple Wood
Made with a square Mallet head
Cons:
Hand Crafted is More Expensive
Bag Less Sturdy than a Rack
Check Price and Reviews on Amazon
---
4. Amish Toy Box 8-Player Croquet Set with Carrying Case
Last update on 2023-11-07 / Affiliate links / Images from Amazon Product Advertising API
Tucked into the beautiful land in Lancaster County, Pennsylvania is an Amish community that spends their days tending to a life lived from the farmland. They do not use power and do not typically shop or spend time outside of their small community. Their simple lifestyle has allowed them to enjoy the beauty of playing a family yard game like croquet.
Their love for tradition has led the Amish to produce high-quality croquet sets built for large groups of players. This set is built entirely of stunning maple wood, hand turned on a lathe, and then sanded and sealed for a stunningly clean look.
This set comes with a fabric carrying case, but the case is far less durable than the wooden crate sets that are mentioned above. Although the set will likely outlast the bag by a few generations, this is a set that is still worth looking at.
Pros:
Made from Maple Wood
Polished Brass Ring adds security
Cons:
Hand Crafted is More Expensive
Less Durable Storage and carrying case
Check Price and Reviews on Amazon
---
The History of Croquet
The Croquet Foundation of America attributes the first games of croquet to low-class French citizens in the 13th century. That means that the game of Croquet is seriously old. During early games, people used sticks to tap crude balls through hoops that they had created from branches of a willow tree.
However, it was not until 1852 when a game known as "Crooky" was brought into Ireland that we are able to directly link a traditional game to the game we now know as croquet.
John Jaques, a sporting goods manufacturer from London began mass production on the tools needed to play croquet. This mass production of croquet tools fed its popularity and it quickly became London's favorite game to play in the pastime.
By the year 1870, the game had reached the Americas through the British colonies. Thinking back to the rules surrounding dating in the Victorian era, it is easy to see how women would have enjoyed the opportunity to play a competitive outdoor game with a man who was courting them. There were no age or gender restrictions on this game because it was wildly simple and required no athletic skill.
The game has recently begun regaining popularity, although now, more often than not, families partake in the casual backyard game rather than the more traditional highly competitive version of the game played in the Victorian era.
One of the major draws of the game of croquet is that it requires very little athletic skill in order to play successfully. This is one of the major reasons that experts believe the game has remained wildly popular over the years.
Who Can Play Croquet?
Virtually anyone can play croquet. This is what makes it a great game to purchase as an investment for parties where a little entertainment may be needed. Even women during the Victorian era were allowed to indulge in a game of croquet on a regular basis, and that is saying a lot about the ease of playing the game and learning a skill. The Victorian era had strict rules regarding women's permissions to play sports or engage in activities outside of the household.
How to play Croquet
Anywhere from 2 to 8 players is an acceptable number for the number of players on a croquet field. One of the largest draws of the game is that it is a strategy game rather than a game based on strength. Of course, you need to be able to swing a mallet, but only slightly and you do not need much force behind that swing in order to make the shot.
If you are playing with 6 to 8 players, then each player needs to have a corresponding ball. The player shares a color with their ball, and they must shoot the ball in a specific order that should be determined before the game begins. The players use a mallet to strike the balls and move them through the wickets that are set up on the croquet field.
At their turn to take a shot, the player must shoot the ball through the correct wicket in order to score a point. The game is best played on short, freshly cut grass.
Buyer's Guide
When it comes time to invest in a family tradition, like being able to play a classic game with your children right in your backyard, you want to be sure that you are buying the absolute most compatible product to your situation. There are several factors that you will want to consider when you begin to search for your ideal croquet set for your backyard.
Materials
When looking to buy a croquet set, you may soon learn that this is a major investment and not a minor one. For that reason, you want to be sure that you are purchasing a set made from high-quality and durable materials.
Wooden sets, crafted from a strong wood like maple, are going to be the sets that can be passed down to generations of family members. On the other hand, plastic sets may not make it through an entire year of games if your family decides to play often. Making sure that you purchase a set that is built of durable materials is going to be your best bet in making sure you are making a wise investment.
Height of Players
One of the most important factors to research when making a purchase on a croquet set is the height of the mallets. If your family is taller than the average person, then they may be uncomfortable bending to play with a standard mallet. Be sure to do some reading about the size of the mallet before you make your purchase.
Age of Players
You also need to make sure that you are making the right purchase for the age of the players you are buying for. This review guide focuses on croquet sets built for adults or teenagers. However, many companies have made sets that are specifically built for children.
Does it have a frame?
You probably want to ensure that your croquet set has some kind of system ready for ensuring that everything is easy to store. There is nothing more frustrating than a messy shed where materials for a needed game cannot be found. Croquet sets that come with a pre-built frame or a storage bag are really nice to help keep all the pieces together.
Top Brands for Croquet Sets
Franklin Sports
Although Franklin Sports does not currently have an 8-player set listed on the market for the croquet game, they are still a highly recommended brand. If you are looking to purchase a smaller brand, then you may be interested in checking out Franklin Sports.
Amish Made
The Amish take pride in producing products that relate directly back to their values. Even though they remain mostly cut off from our modern world, they still like to give us a taste of their hobbies. In researching this article, we found that almost all of the 8-player croquet sets on the market are built almost entirely by the Amish.
They make quality products by hand, and the products are extremely durable. Many people even mention that they like to give these Amish made croquet sets as Christmas gifts because they make good family heirlooms.
FAQs
Where is Croquet typically played?
Finding a place to set up a croquet field is as simple as locating a square patch of grass. Croquet can be set up anywhere that is grass to drive the stakes into, and it is a really easy game to set up!
Why are so many 8-Player Sets Amish made?
The Amish really enjoy being able to help provide for their families by selling hand-crafted items. Almost always, these items are things that the Amish have enjoyed doing in their own homes. So, it is no surprise that they have managed to create beautiful hand-crafted croquet sets without the use of modern technology.
Can I play Croquet if I do not have a grassy lawn?
Sure, you can play croquet even if you do not have a grassy area of your lawn by thinking outside of the box a little. You can set croquet up easily in a park or even in a friend's yard if they have a grassy area in their yard.
Final Thoughts
Finding an 8-player croquet set is not an easy task, and all of the ones found at the time of this guide were handcrafted by the Amish. However, the handcrafted goods are highly durable and will be long-lasting investments that can provide fun and fellowship for your family and friends for years to come.
Investing in a high-quality croquet set is an investment in your future and in family bonding time. It is not hard to see how your investment in a full croquet set will pay off with your children and grandchildren. Further, friends and family will love enjoying these portable set at outdoor get-togethers for years to come.
Any of the sets listed in this buyer's guide are created by the absolute most amazing craftsmen the Amish community has to offer. These sets are gorgeous and easy to set up and use, but my favorite thing about all four of them is that they come with either a stand or an easy go bag to keep the materials organized.
You cannot go wrong with purchasing one of these handmade Amish croquet sets. These also make excellent gifts for family and friends for Christmas or birthdays and it is a gift that can give back to you because you are liable to get to play the game too. No matter which set you decide is right for you, you will be left with a stunning croquet set that will likely outlive any other outdoor game set you can find on the market.