Airsoft suppressors are an extremely popular cosmetic upgrade that can be purchased for your airsoft gun. Sometimes referred to as "silencers," the legal airsoft suppressors that are sold in the United States do not technically "silence" anything on your gun.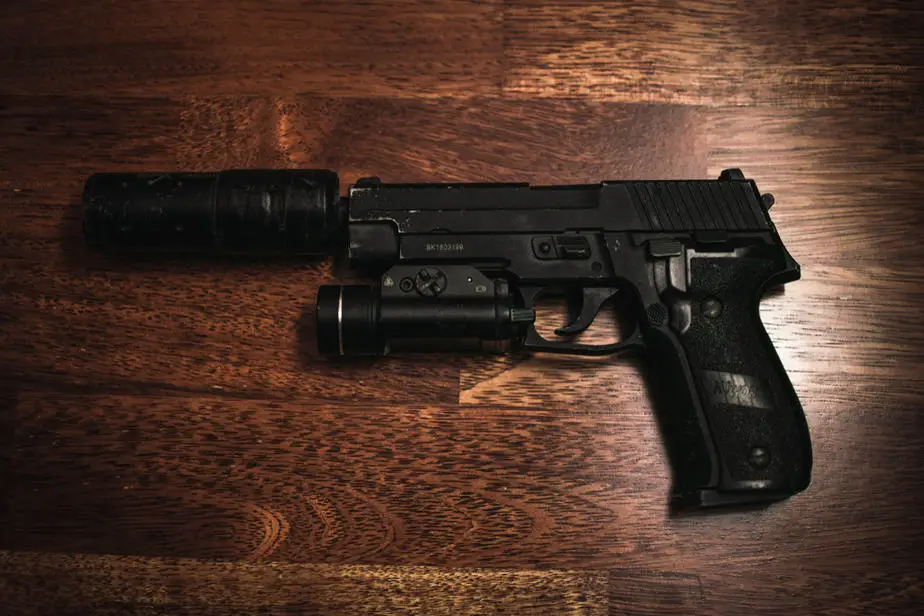 So, while airsoft suppressors are wildly popular, they do not actually do anything to change the functionality of your airsoft gun. Rather, they are simply an addition to your gun that makes it look really cool. This is actually for the best because most airsoft guns are not actually loud enough to have any sort of need for a noise suppressor.
This guide will discuss the most popular airsoft suppressors sold on the Amazon platform. Through reading this guide, you should be ready to make an informed decision about which suppressor is best for your airsoft gun and why.
In a Hurry? Here's Our Top Picks…
1. ACETECH Lighter Airsoft Pistol Suppressor
Last update on 2023-09-22 / Affiliate links / Images from Amazon Product Advertising API
The ACETECH lighter is a small pistol suppressor for an airsoft pistol that is a nice cosmetic addition to the look of your airsoft gun. This particular suppressor is nice because in addition to adding a sharp look to the end of your gun, it comes equipped with a laser for tracing where you are wanting to shoot the gun.
The suppressor comes with a removeable plastic cap on the top of the tracer that can be unscrewed counter-clockwise. Underneath this cap is a micro-USB port that allows you to charge the suppressor's laser. It takes two hours to obtain a good charge on the suppressor which is not an incredibly long time when compared to other units.
The body and base of the ACETECH lighter are made from aluminum material. The threads are a standard size (14mm) and run counter-clockwise. This is a definite positive because it maintains true that this suppressor will likely fit most airsoft pistols.
However, you can purchase an Adaptor from ACETECH in the event that you need a different size for your particular gun. Some brands do not sell adaptors, so this is also a positive for this suppressor. You can also purchase other adaptors for clockwise guns where the threads are inside the barrel. This makes this suppressor versatile in function.
One of the big selling points for the suppressor with the addition of a tracer on it is the addition of a laser while shooting the airsoft gun. It is extremely pleasurable to see the laser pointer go off during the shooting of this gun. It almost looks like when those movies that feature high tech guns are shot and they have lasers pointing during the shooting. It really is a cool idea to add that sort of effect to the shot of your gun.
Tracers are another form of cosmetic enhancer that can be added to an airsoft gun. They do not change the actual function of the gun, but they make the bullets look like they are pushed out by an epic ray of light. The combination of a tracer and a suppressor on your gun makes the shooting look far more epic than a plain airsoft gun looks without the enhancements.
Pros:
Rechargeable battery
Tracer Included
Cons
Only one thread direction
Foam Silencers not included
Check Price and Reviews on Amazon
---
2. ACETECH Airsoft Tactical Suppressor
Last update on 2023-09-22 / Affiliate links / Images from Amazon Product Advertising API
The ACETECH Predator L Suppressor is an excellent choice for a cosmetically appealing suppressor with the added bonus of a tracer hidden inside the suppressor unit. This particular option has an 18000 tracer unit stored inside the suppressor unit.
This suppressor has threaded ends at both sides of the shaft, one runs clockwise and the other runs counter-clockwise.  This feature makes the suppressor a good fit for virtually any gun. Inside the caps on either end are foam pieces intended to enhance the silencing effect of the gun.
If you remove the tracer unit from inside of the suppressor, you will find where to place the batteries. This particular unit uses 4 AAA batteries, which may be a downside if you are like me and not great at remembering to keep batteries around the house.
Pros
Tracer Included
Dual Thread Directions
Cons
Uses separate AAA batteries
Requires disassembly to turn tracer on/off
Check Price and Reviews on Amazon
---
3. Acetech Airsoft Predator Suppressor
Last update on 2023-09-22 / Affiliate links / Images from Amazon Product Advertising API
The ACETECH Predator is like no other airsoft suppressor on the market. The convenience of owning this particular suppressor/tracer unit makes it well worth the purchase of this product. Just like in other suppressors/tracer unit combinations, the tracer unit is neatly tucked away inside the mock suppressor unit for a sleek look.
As an added incentive for this model, the tracer unit included in the predator is an upgrade from most combinations. In this model, the tracer unit included is the AT2000 as opposed to the AT1800 included in most of the combination units.
This Predator model is a quick draw (QD) model which means that it does not require you to stop shooting in order to remove the suppressor. This is extremely beneficial if you find yourself changing your gun frequently in the middle of practice or playing.
The predator looks like a real deal suppressor and is modern in its design. It has a mesh look with black metal on black metal for an added effect of industrial style. This makes the mock suppressor look even more like the real deal than most other models.
One of the possible downsides to this model is that the tracer unit hidden inside the suppressor requires four AAA batteries. This means that the unit must be entirely disassembled frequently in order to make sure it has enough power to work. While this is certainly an inconvenience, there are plenty of pros about this model that outweigh this one con.
Pros
Aesthetically Pleasing
Quick Draw
Cons
Check Price and Reviews on Amazon
4. ActionUnion Tactical Airsoft Suppressor
Last update on 2023-09-22 / Affiliate links / Images from Amazon Product Advertising API
The Action Union airsoft suppressor is yet another unit that combines the ability to include both a mock suppressor and a tracer on the unit in one single addition to your gun. Although ActionUnion is a less well-known brand, this suppressor option is definitely worth mentioning for any gun accessory enthusiast.
This suppressor can fit a 14mm or an 11mm automatic rifle making it significantly more versatile than other models. As an added bonus, there is no need for an additional purchase of an adaptor which makes this an extra special choice.
The tracer unit can be charged with any USB port which makes this an extremely convenient unit. As opposed to units that require the purchase of external batteries. Further, the shooting life of this tracer will be longer than others because of the charging capacity.
This unit also automatically turns off after forty minutes in an effort to conserve the battery. Additionally, the blinking light can be hidden easily during shooting time to remain conspicuous.
Pros:
USB Chargeable
Versatile Fit
Cons:
Less interesting design (plain and simple)
Check Price and Reviews on Amazon
---
5. ACETECH Airsoft Pistol Suppressor
Last update on 2023-09-22 / Affiliate links / Images from Amazon Product Advertising API
The last unit we are reviewing is the ACETECH Lighter BT which is a powerful combination of suppressor and tracer unit. This unit has several added benefits that other units within the ACETECH brand do not have. This one has a clear advantage over the others with these benefits included.
One of my favorite aspects of the Lighter BT is that it has the capability to shoot both green and red colored bullets. Almost all of the other units can only shoot green, this gives you an advantage in bullet purchasing as well.
Further, this model is able to hide the blinking light without the purchase of an additional accessory. This is a great selling point for this type of gun because the blinking light on the tracer will give away your position in the event you are shooting in the dark.
This model can fit on the end of a rifle or a pistol and will adapt to the end of a 14mm or an 11 mm model gun. Further, it is 100mm long which means that while it definitely makes the gun look cool, it does not interfere with your ease of shooting or add too much weight to the end of the barrel.
This particular model has pill-shaped texturing around the edge of the tracer and is a bit thicker than the other models in the ACETECH family. For an added texture, the end cap has a faux serrated style. All of this makes the suppressor look more and more like the real deal.
Pros
Looks like a real suppressor
Versatile
Cons
Requires batteries
Must Screw to Remove
Check Price and Reviews on Amazon
---
Buyer's Guide
For an avid airsoft enthusiast, choosing the most practical versions of airsoft accessories is important in order to make the most of their weapons. There are several factors that you should consider when looking at making an accessory purchase for your airsoft gun.
One thing that all buyers should be aware of is that all suppressors sold legally in the United States are likely purely created for cosmetic purchases. There is too much paperwork and licensing required to sell and purchase functional suppressors, the legality hurdles are not worth the mild changes the product makes to the functionality of the gun.
What type of Gun are you buying for?
Remember that different accessories will fit different sized guns. Before clicking the purchase button, do some research as to whether or not that model is going to fit the gun you are buying the accessory for. Many of these accessories do have adaptors that can be added to make sure they fit, but you want to double-check on this before making the purchase.
Materials
There are some mock suppressors that are made from less than ideal materials. Some such materials are plastic, metal mock suppressors are going to be much more durable and appealing than other materials. Foam inserts are going to add extra silencing and should be considered a benefit when deciding which item to purchase.
Suppressor vs. Suppressor and Tracer Combo
All of the suppressors listed in our best-of list are suppressor and tracer combination units. These have several benefits including the ability to choose whether or not you want to use the tracer function. In the long run, purchasing a combination is more economically savvy than making two separate purchases at a later date.
What type of power supply does it require?
Some tactical suppressors that include a tracer hidden within are rechargeable through the use of a USB charger. Other suppressors require additional purchases of batteries. This can make a big difference in both the overall cost of running the tracer and the convenience of using it frequently.
Is it a quick draw?
A quick draw suppressor can be convenient if you find yourself frequently needing to remove the suppressor for any reason.
Style/Tactical Appearance
There are varying styles in tactical suppressors. Most of the suppressors are fairly simple in their design, but some of them are far more visually appealing than others. You may consider checking out the ones who have a significant visual edge over the others. After all, the whole purpose of buying a suppressor is adding a cosmetic advantage to your airsoft gun.
Best Airsoft Suppressor Brands
ACETECH
The ACETECH brand by far has the edge on the airsoft accessory market. They are extremely reputable and offer a variety of airsoft products that consumers love
ActionUnion
Though less well-known, ActionUnion creates extremely high-quality products that get extremely good reviews on every product. Because they have less of a following, they have fewer products to offer at this time.
FAQs
Q: Do I need a suppressor on my airsoft gun?
A: The simple answer to this question is no. You do not need a suppressor on your airsoft gun because a suppressor does not change anything about the gun other than the way it looks.
Q: How does a suppressor affect the functionality of my airsoft gun?
A: A suppressor is not going to affect your gun in any way. Because of the red tape surrounding gun accessories, airsoft guns are simply cosmetic additions to the gun rather than actual differences that change functionality.
Q: What's the difference between a suppressor and a tracer?
A: Suppressors are made to look like a real silencer, but they have no value beyond cosmetic addition. A tracer is also cosmetic but shoots a really cool beam of light when the gun is fired.
Q: Should I buy a suppressor and buy a tracer later?
A: In general, if you think you might want both a tracer and a suppressor, then you likely need to go ahead and purchase the combination now. If you purchase a suppressor and then later choose to buy a tracer the tracer may not fit into the suppressor as the combinations do when you buy them straight from the company.
Q: What does QD stand for?
A: QD stands for a quick draw suppressor. A quick draw suppressor is designed to be able to be quickly removed from the gun and reinstalled in a simple motion. This is in opposition to the traditional look of a threaded suppressor where you have to screw it onto the gun.
Q: What kind of bullets do suppressors tolerate?
A: Each suppressor is going to be compatible with different types of bullets. You will need to make sure you read the product description carefully before making your purchase and before purchasing bullets to go with the suppressor.
Final Thoughts
If you are looking to add a cosmetic upgrade to your airsoft gun, then a suppressor is a good accessory to consider for your first upgrade. Remember, because there are various sizes of airsoft guns you will need to make sure that you select the right size for your gun or that there is an adaptor sold by someone to make it fit your gun.
The suppressor is a great addition to make your airsoft gun look really cool, so while you may not need one, you probably really want one, and that is okay! Having fun with a practice gun in your backyard has never been easier.