Ultimate Frisbee is a wildly popular and quickly growing sport that combines the best of many different team ball games with a twist – it's played with a Frisbee. While many players prefer to play barehanded, Ultimate gloves are emerging as a must-have piece of equipment for serious and casual players.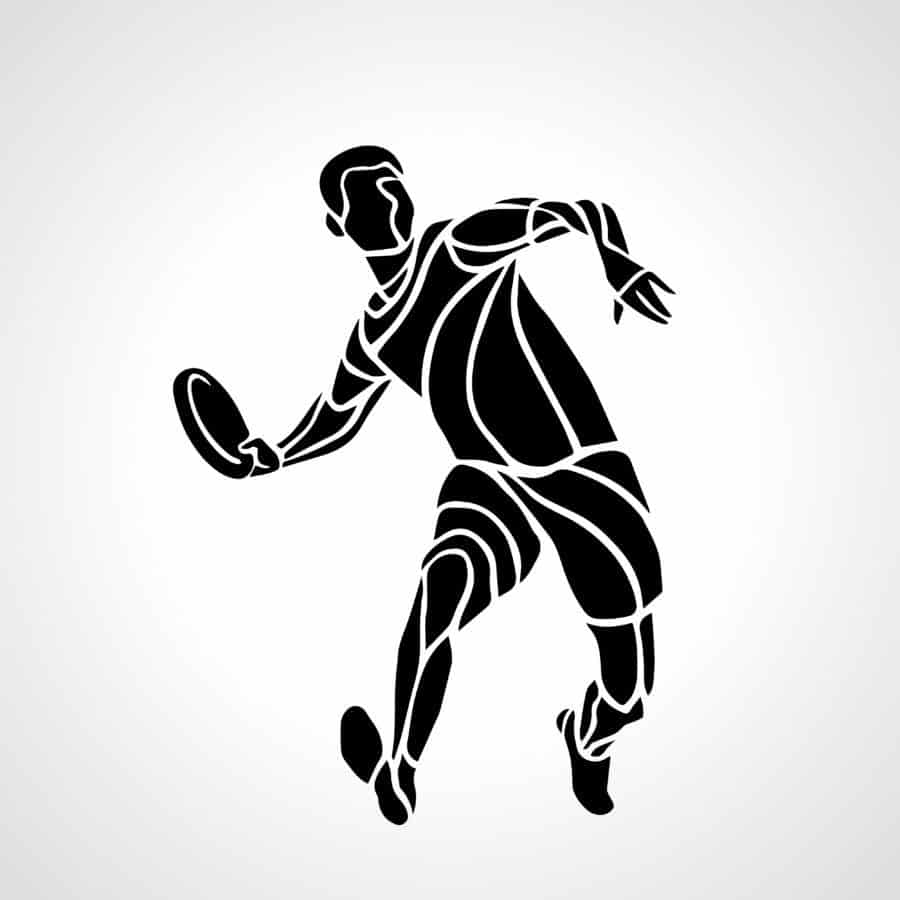 This guide will take you through the greatest brands to help you find the best Ultimate Frisbee gloves!
In a Hurry? Here's Our Top Picks…
CFTECH Ultimate Frisbee Gloves
No products found.
These unique gloves are made from breathable Ice Silk that keeps your hand cool and the gloves lightweight. The palm is coated in non-slip silicone for durability and, more importantly, better handling of the disc. The silicone grip lets you catch and throw easier than barehanded, even when the weather conditions aren't great.
The CFTECH gloves have a couple of handy additional features as well. They feature a toweled thumb for wiping sweat away when you're racing down the field and have a conductive layer on the index finger, which allows you to use touch-screen electronics without having to take the gloves off. The touchscreen compatible finger is an excellent addition!
The main downside to these gloves is that they're made from a cloth material and tend to lose their gripping power when they get wet. If you're playing in a dry place, they're a great (and affordable) option.
Things We Like
Ice Silk material keeps you cool in the summer and protects you from cold breezes in the winter
Conductive index finger lets you use your smartphone without having to remove your gloves
Most affordable option on the market for high-quality gloves
Check Price and Reviews on Amazon
---
Friction Gloves Friction Ultimate Frisbee Gloves
Friction 3 (Men's Medium)
Rubberized Grip for Throws & Catches: Friction ultimate frisbee gloves feature rubberized palms and fingers to give you a great grip in ALL conditions. They are fantastic for playing in wet, cold, dusty, or humid conditions. Friction Gloves will improve your throwing and catching, allowing you to play your best
FOR PLAYERS OF EVERY LEVEL: All over the world, ultimate frisbee players at every level play with Friction Gloves. From recreational to pro players, our ultimate frisbee gloves are terrific for playing your best. They are a great accessory to have in your bag for the wet and cold weather.
BETTER THROWS AND CATCHES: Improved grip on the disc will help your throws and catches. Our gloves are designed to breathe, keep your hands warm in inclement weather, and allow you to keep a consistent grip in all conditions.
PERFECT GIFT: Give this as an ideal gift for that special someone who loves playing ultimate frisbee. It's the ultimate all-weather hand grip for ultimate frisbee no matter the outdoor weather conditions. Enhance their game all while putting a smile on their face!
ABOUT THE BRAND: Friction Gloves is the company that introduced gloves into the ultimate world. From youth teams to professional leagues worldwide, ultimate frisbee players of every level play with Friction Gloves. We live and breathe our sport and are passionate about our gloves. Our superior customer service can help you with any questions or concerns, and we'll get back to you immediately!
Last update on 2023-09-18 / Affiliate links / Images from Amazon Product Advertising API
Friction Gloves was the first company on the scene and are the originators of gloves designed specifically for Ultimate, made by people who love the sport. The gloves feature rubberized palms and fingers to give you a strong grip no matter what the weather is. They will noticeably improve your catching and your throwing, giving you better accuracy and more spin.
The thumb has 4-Way Stretch to keep the glove firmly connected to your skin and avoid webbing when you go in for a catch. The upper palm is reinforced and the entire glove is double-stitched to make these gloves extra durable, no matter how enthusiastically you use them.
These gloves are great for bad weather, increasing your grip and helping to control your throws in rain and snow, or even if you're just a little sweaty. They handle moisture like it's nothing and users of these gloves stand by their quality.
Friction Gloves also offers a 100% money back guarantee if you don't like the product and we like to see companies standing so firmly behind their work.
Things We Like
Rubberized palms and fingers noticeably increase your ability to catch and throw, especially in poor weather conditions
4-Way Stretch keeps the glove from webbing and getting in the way of the game
Durable double-stitching and reinforced palm mean you can use these gloves every day without wearing them out
Check Price and Reviews on Amazon
---
Layout Ultimate Frisbee Gloves
Layout Ultimate Frisbee Gloves - Ultimate Grip and Friction to Enhance Your Game! Perfect for Ultimate, Disc Golf and All Disc Sports!
Balanced all-weather control for handling and catching: rain, shine, snow, sleet, the 'Ultimate Grip' for any weather condition!
Synthetic leather palm for durability against turf, grass, mud & more, extremely durable grip that will not rip!
The Flick-Grip technology (added grip to middle finger) will give you more control over your flicks with added spin to further distance and sharpen accuracy!
More grip = more rotation on release which can improve accuracy, speed and distance of your throw, perfect for Ultimate or any disc sport
Light-weight material with breathable back keeps your hands cool and prevents gloves from becoming water-logged with rain or sweat
Last update on 2023-09-18 / Affiliate links / Images from Amazon Product Advertising API
The Layout Ultimate Frisbee Gloves are probably the most popular Ultimate gloves on the market right now, and their users swear by them.
These gloves have a synthetic leather palm that's durable and tacky even when you're diving on turf, mud, or grass; and it helps to reduce the sting of bullet passes. The all-weather grip lets you control the disc easily, even when it's wet, and the lightweight synthetic material is double-stitched and designed to wick away water and sweat so your glove doesn't get waterlogged, while thick enough to provide an added layer of warmth in cold weather.
The thumb is toweled so you can wipe away sweat from your eyes, and the back of the glove is made from a mesh material for ventilation. These gloves fasten with a thick velcro strap at the wrist which, when tightened, leaves no room for slipping.
They also feature Flick-Grip technology, which means there's added grip on the middle finger to give you more control over your flicks, so you can throw further than you could barehanded. The added grip means you get more rotation when you release the disc, which helps with speed, accuracy, and distance. One of the reasons these gloves are so appreciated by their users is the grip, which will definitely improve your catching as it helps to stop the disc in its tracks.
These are one of the best options out there in terms of Ultimate gloves and, as the many reviewers will tell you, you can't go wrong with them.
Things We Like
Synthetic leather palm provides excellent grip in all weather, even when dirty
Flick-Grip technology on middle finger gives you better control over your throws
Made from durable materials that will hold up to extended play
Toweled thumb for wiping sweat away from your eyes
Check Price and Reviews on Amazon
---
Premium Ultimate Frisbee Gloves by Mint
Mint Ultimate - Sports Gloves with Friction Grip, Breathable Gloves for Ultimate Frisbee, Cutter 4 Premium, Small, Black
Boosts Superior Disc Handling - Our friction gloves have Maxx Tack technology that provides a firm grip for superior control in catching and handling a frisbee disc, even under wet and/or windy conditions.
Added Cushioning for Protection - Likened to a catch mitt, these gloves are built for Cutters and Handlers. It has a specially designed impact-absorbing padding to protect the bony parts of your palm from long distance frisbee hard-thrown discs.
Made from Breathable Material - After playing for hours, your hands get sweaty. Our breathable gloves have Coolflex backhand material. This mesh lets your skin breathe easily, so your hands stay dry and comfy while wearing our sport gloves.
Supports Your Hand Motions - Frisbee is a type of ultimate sport requiring moving your wrist often. That's why we designed our breathable grip gloves to accommodate your wrist's natural movement. So, you can throw and catch frisbee discs without tension.
Provides a Comfy, Snug Fit - The seamless, fold-over fingertip design of our friction grip gloves fits your hands perfectly. Made of flexible fabric, it has wrist snaps with a secure fastener that gives an exact, comfortable fit.
Last update on 2023-09-18 / Affiliate links / Images from Amazon Product Advertising API
Mint's Premium Ultimate Frisbee gloves are a game-changer among Ultimate gloves. Their lightweight and low-profile design feels like an extension of your hand and is designed to improve your game by working in tandem with your body. The palms have added padding for impact absorption to keep your bones safe and the glove is designed with Coolflex panels and backing to allow for easy ventilation and comfortable movement. It's like you're not wearing gloves at all!
Their MAXX Tack grip has just the right amount of tackiness to help you catch and handle the disc without impeding your throws. Plus, it's completely smooth to the touch! These Mint gloves are some of the only ones without reviewers expressing concerns about the tackiness getting in the way of their throws. These gloves feature fold-over fingertips that are comfortable and don't get in the way of your grip!
Unlike most other Ultimate gloves, these have a low-profile fastener that stops just above the wrist so that you can move freely and without putting any tension on your body. The synthetic materials are durable and allow you to grip and throw confidently in all weather conditions. These gloves also have a toweled thumb for wiping away sweat and are compatible with touch screens! Mint designed these gloves with the intention of elevating the sport and they've done a phenomenal job. If I had to suggest just one pair of gloves, it would be these.
Things We Like
Combination of MAXX Tack grip and super flexible Coolflex paneling means the glove molds to your hand without webbing or discomfort
MAXX Tack grip is super effective without being tacky to the touch
Durable synthetic materials will stand up to any weather, plus dirt, mud, sand, or whatever else you're diving into
Low-profile design is ergonomic and sleek
Compatible with touchscreen devices
Check Price and Reviews on Amazon
---
What is Ultimate?
Ultimate, or Ultimate Frisbee, is a fast-paced team sport, which takes elements from many popular ball sports and combines them into one, with a distinct difference. Instead of playing with a ball, you use a throwing disc or Frisbee. It's a completely unique game, one which is self-officiating, so instead of having a referee, the players fill that role. It's the only sport recognized by the International Olympic Committee of its kind.
If you want to learn more about the game and its history, you can check out the What Is Ultimate website!
Why Play Ultimate?
Whether you're looking to get some friends together and play casually, want to join a league, or introduce your kids to a fun new pastime, Ultimate has a lot to offer its players. The Ultimate community is known for being inclusive and close, with many players referring to their teams as their family. Through hours spent playing together and building relationships as members of a team working towards a common goal, players develop lifelong friendships.
Ultimate is also a great workout. Between all of the running, jumping, and throwing, you'll be in better shape before you know it, all while having a blast!
USA Ultimate has a great flyer for introducing youth to the sport!
How to Play
Ultimate is played with two teams of seven players, although teams are typically much larger and will substitute players in and out. Much like football, points are scored by getting the disc to your team's end zone. Unlike football, the only way to do this is to catch the disc there.
The game begins with a "pull," where the defensive team throws the disc to the offensive team. Once they've caught the disc, it's game on. If a player has the disc, they have to stop running and can only pivot, but they can throw the disc in any direction to any other player on their team. This video is a great place to get started learning how to play the game.
If a player drops the disc, misses a catch, or if it goes out of bounds, possession of the disc is given to the other team. Possession is also awarded in the case of fouls. Without referees, how do you know when a foul has occurred? Ultimate players act as their own referees and strive to preserve what's known as the "spirit of the game." This means they make an effort to hold themselves accountable and be honest about what has happened on the field.
Games are typically played to either 15 or 17 points, or to an hour.
You can read more about the specific rules at the USA Ultimate site.
Where to Play
Ultimate is a growing sport that is enjoyed by people all over the world and the best way to learn is to find people playing near you and join them!
Pick-Up Games
Pick-up games are the most casual games you can join, often scheduled weekly. They're great for new players and casual players who just want to throw the disc around and learn the ropes. It's a no-commitment sort of event that you can just show up to and join or watch.
Clubs and Leagues
If you're looking for something a little more structured, you can join a club or league team. They're also good environments for new players looking to learn the ropes and build relationships within the Ultimate community. It's less competitive than joining a team for tournaments and lets you match up with other players who have similar skill levels, while still learning from more experienced players. If you're looking for one near you, check out this site.
Gloves or bare hands?
Since the first Ultimate gloves came on the scene, there's been a debate about whether they're worth the money, and whether or not they're actually superior to playing with bare hands. People can have strong opinions here, but in terms of improving your game, even if it's just a little bit, you can bet that gloves help.
In perfect playing conditions, they won't make a big difference. Ultimate gloves shine when you're playing in rougher conditions such as: if it's raining or snowing, if you're playing early in the morning and dew is getting on the disc, or if you're working hard and sweating.
Of course, some people just prefer the feel, and sting, of the frisbee on their skin. That's okay too! It all boils down to what you prefer and how seriously you take the game.
Best Brands
CFTech is a company that manufactures many different kinds of products and, though their focus isn't on the Ultimate world, they've managed to create a glove good enough to be on this list.
Friction Gloves was the first company built around creating gloves for Ultimate, as they introduced gloves to the sport. Established in 2012, they continue to work towards a bright future for the sport.
Layout Ultimate is a Canadian company made up of passionate Ultimate players who want to see the game grow. They work with input from players in the American Ultimate Disc League to create gloves that will improve your game.
Mint Ultimate is a company created by Ultimate players with a passion for elevating the competitive nature of the game by creating high-quality products that are carefully designed with players in mind.
FAQ
Q: Will Ultimate Frisbee be in the Olympics?
A: Not yet, but our fingers are crossed! Ultimate was officially recognized by the International Olympics Committee, so strides are being made towards the sport becoming a more mainstream activity.
Q: What kind of disc do you need for Ultimate Frisbee?
A: While there are many different disc brands to look at, all you officially need is a well weighted, 175-gram flying disc. You can check out our article on the best Ultimate Frisbee discs for more information!
Wrap Up
Even for casual players, Ultimate gloves will improve your game and turn Ultimate into a sport you can play with consistency, no matter what the weather is. For competitive players, they're a valuable addition to your Ultimate arsenal. Most gloves will increase your ability to catch and, ideally, help improve your throws with their added grip.
If you're looking for a pair of gloves that will last for more than a season and improve your game in all weather conditions, I recommend going for the Mint Gloves. They're the best ultimate frisbee gloves on the market and lovingly engineered by passionate Ultimate players to improve every aspect of your game.
Need ideas for your new frisbee gloves? Take a look at our 106 Backyard Games and Best Ultimate Frisbee Cleats articles!