Learning how to decorate your backyard can seem like an impossible task if you have no idea where to even begin. From the endless themes, color schemes, and styles to gardening for the right visual appeal and using natural elements to enhance the overall feel of a yard; there's just so much to boggle the mind.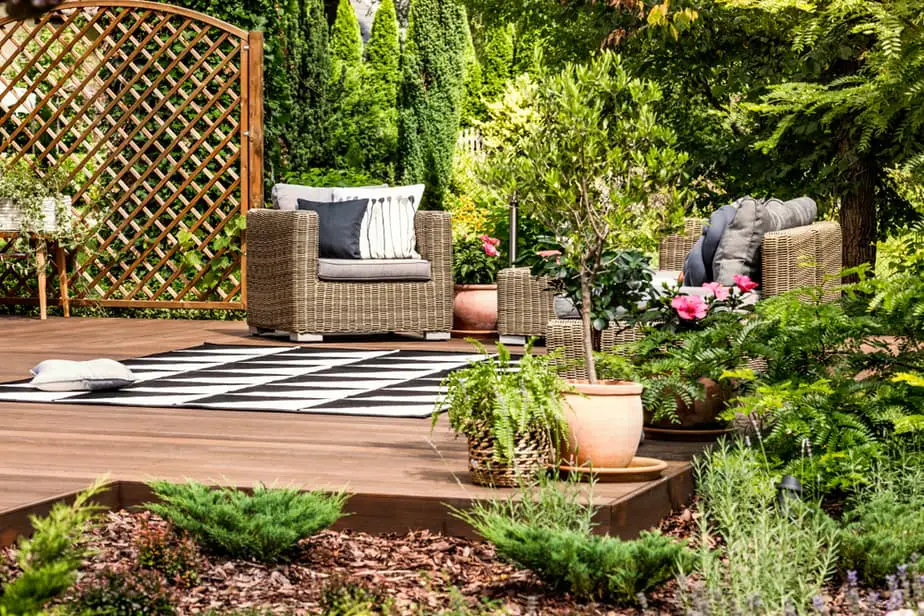 If you're a novice at backyard decorating, then you're in luck! In this article, we'll be covering the basics of decor to help you achieve a yard you can love.
Let's get started!
Step 1: Clean Up Your Yard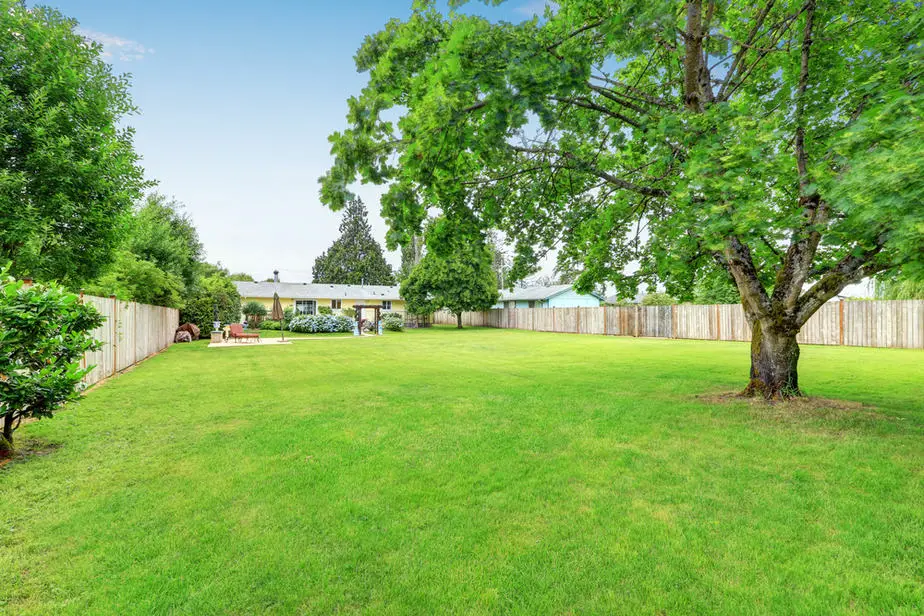 Before you can even think about decorating your yard, you need to make sure it's tidy and free of debris. A cluttered property can lead to frustration as you decorate your backyard, and nobody wants that.
Here are a few things to get out of the way before you begin beautifying your outdoor space:
Pick up any debris, such as toys, trash, and sticks.
Mow your lawn to remove tall grasses and weeds.
Trim back unruly tree limbs or bush limbs.
Take care of areas with poor drainage and pooling water or an abundance of mud.
Remove any dead plants and unwanted or broken garden features.
Sell, donate, or trash unwanted or unused outdoor furnishings and utensils.
Overall, you know what you want in your yard and what your backyard does and doesn't need. Whatever will remain unused (or ugly), take it out and start anew!
Step 2: Decide on a Color Scheme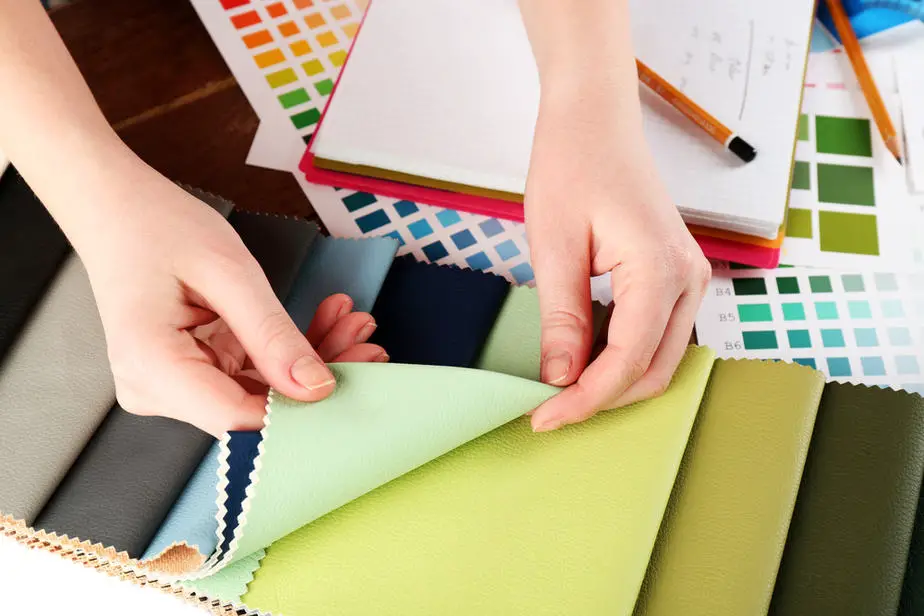 When it comes to decorating your backyard, and decorating in general, you want to be sure to choose colors that won't clash with one another. The best color schemes to create style and appeal are monochromatic colors and complementary colors. Let's go over each in more detail.
Monochromatic Color Schemes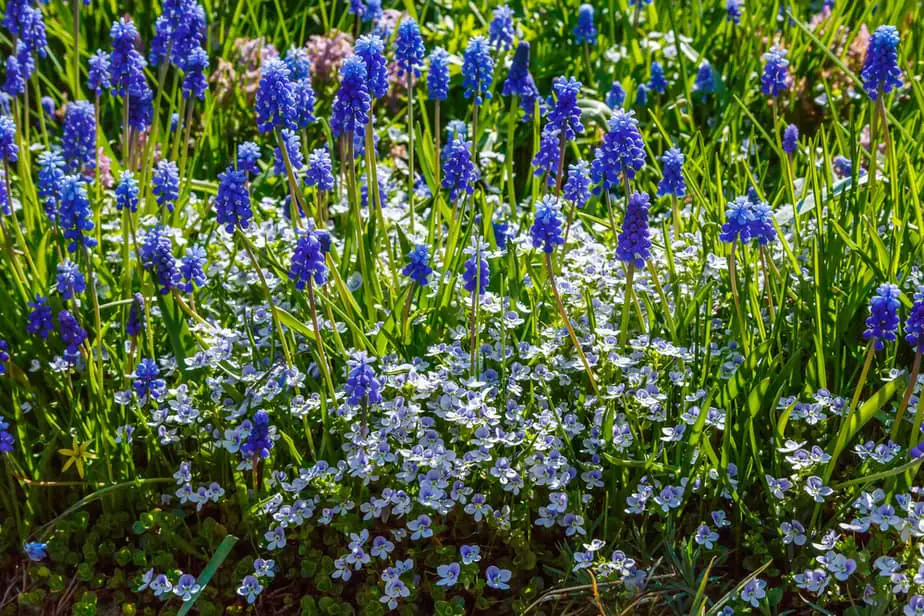 Monochromatic refers to the various tints, tones, and shades of a single hue. For example, you may decide that you want your yard to be filled with a monochromatic of blue. Therefore, you may include sky blues, ocean blues, baby blues, etcetera into your garden decor. Notice how monochromatic blue was used with Forget-Me-Nots and Blue Bonnets in the flower garden shown in the photo above.
We find that the most flattering monochromatic color schemes for backyards are blues, greens, yellows, and reds. But, as with everything, color preference is in the eye of the beholder and what works for one homeowner may not work for another.
Play around with a monochromatic of your ideal color and see what shades, tones, and tints work best for you and your backyard.
Complementary Color Schemes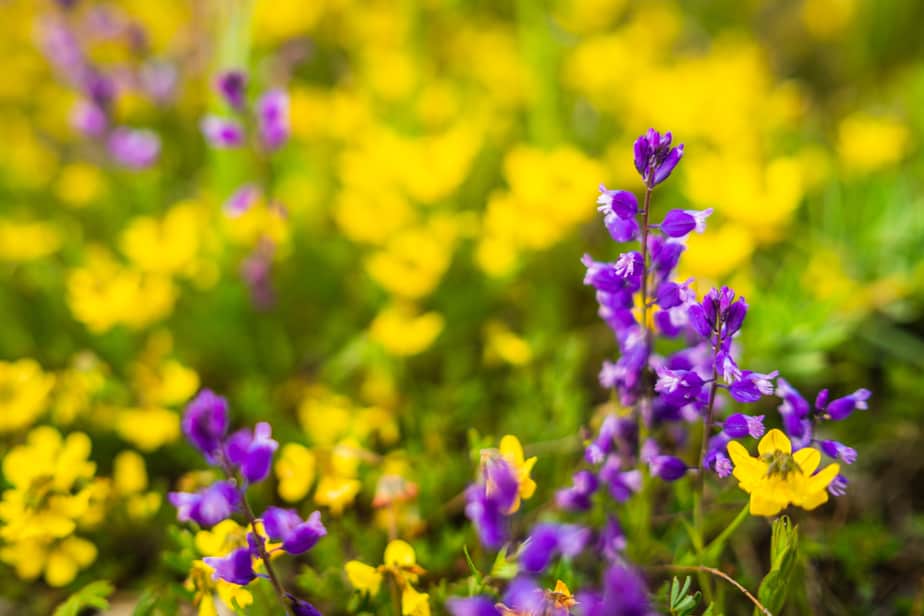 Complementary colors refer to two colors directly opposite one another on the color wheel. Notice the deep purple and yellows in the flower garden above. These colors are complementary to one another.
Take a look at the color wheel below: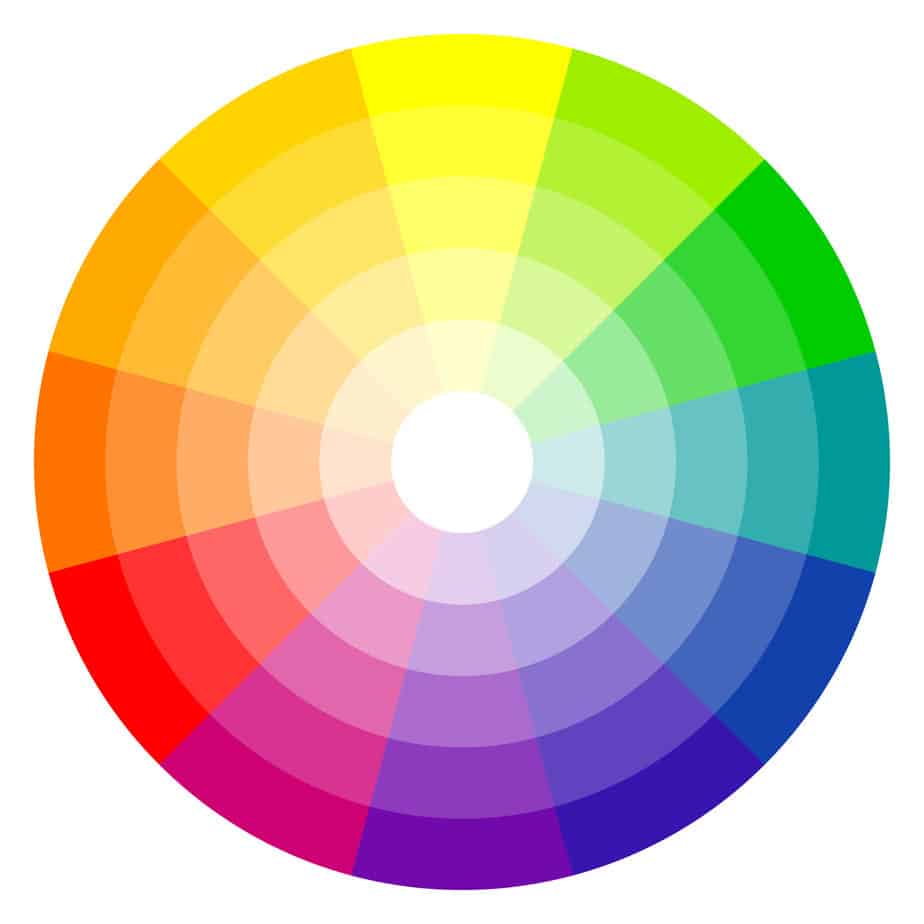 Any color opposite to another is considered complementary and would work wonderfully in backyard decor. Some complementary colors that we think would work best in a backyard include red and green, purple and yellow, and orange and aqua, teal, or turquoise.
Step 3: Create a Focal Point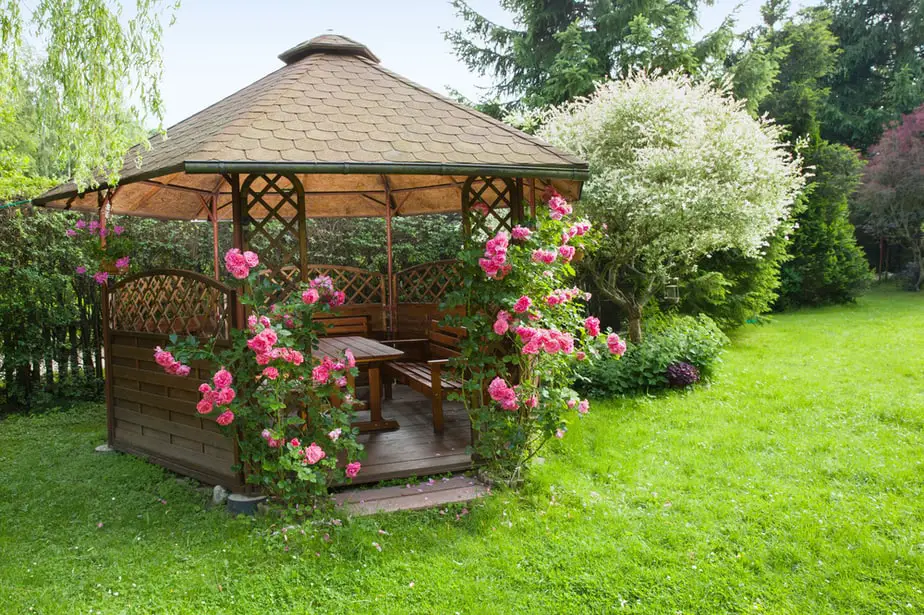 A yard should have one centerpiece that draws the eye. Depending on the size of your property, there are a few structural additions to choose from that make for aesthetically pleasing focal points:
Gazebos: Being quite a large structure, gazebos would be the ideal focal point for a more spacious backyard. You can choose from a plethora of styles, colors, and materials; an open roof or enclosed roof, with seating or without (among other design options). For more on gazebos, check out our articles on Metal Gazebo Roof Ideas and 37 Gazebo Ideas for Your Garden!
Arbors: Though these structures can be rather tall, arbors are still much smaller than gazebos and would look perfect at the entrance to any sized garden. Arbors are often placed in areas with climbing, flowering plants so that they can grow up onto the feature; creating a stunning appearance.
Sculptures and Statues: If you're more of the artsy or sophisticated homeowner, you may want to consider a sculpture or statue as your yard's focal point. The most beautiful statues, in our opinion, are stone statues featuring people or magnificent beasts (such as lions, which are often found on old estates). However, you can also use abstract sculptures as a focal point — this is entirely dependant on your artistic preferences.
No matter which type of centerpiece you choose for your backyard, be sure not to surround it with other large structures or anything that may take away from its uniqueness.
Step 4: Make a Lounge Area
With your decided color scheme in mind, it's time to create (or enhance) the lounge area in your backyard. Here are a few ways in which you can do that:
Place Outdoor Furniture
Add a rug
Build a deck… or restain it
Utilize potted plants
Make a fire pit your hangout spot
Make a gravel patio, slate patio, or wood patio
Create walkways to your patio or deck from the yard
Hang curtains
Add warm lighting
Add a fireplace
For the home chefs, have an outdoor kitchen or neat little grilling area
The possibilities for a design for your outdoor lounge are endless, but we find the most important aspects of a backyard lounge are comfortable seating, an easily recognized theme, comfortable lighting, and pretty flowers during the warmer months and a means of warmth during the winter months.
Step 5: Enhance Your Yard with Natural Elements
Regardless of the types of plants you choose to put in your yard, or what animals you decide to attract, bringing natural elements to your backyard is one of the best ways of decorating an outdoor living space. Not only does nature bring interesting colors and visitors, but it also brings pretty birdsongs, adorable play, and an overall peaceful and happy garden experience.
In the next few sections, we'll be addressing how you can tastefully incorporate natural elements in your backyard to really tie things together!
Wild Animals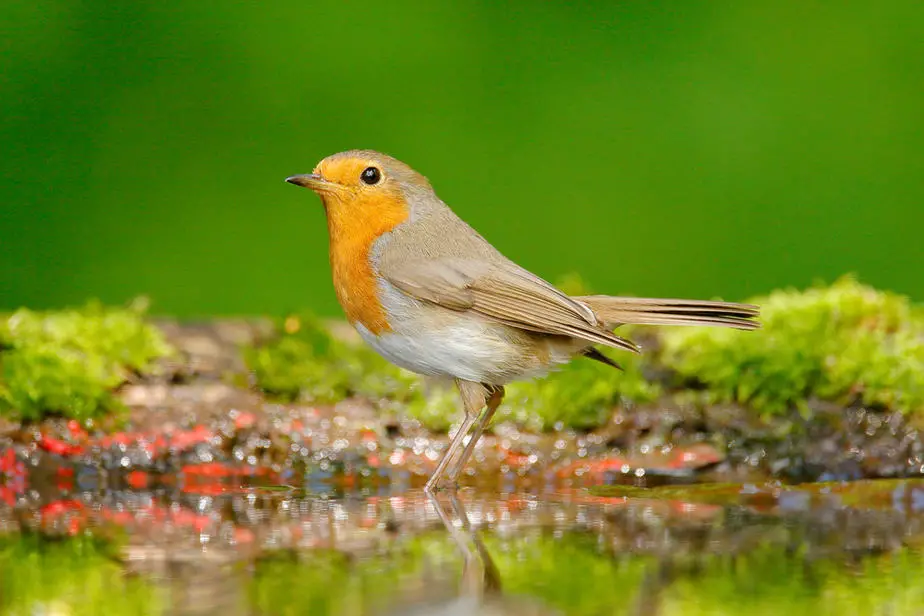 Attracting a variety of small woodland animals to your yard will bring a playful aura to your garden decor. Below are some of the animals you can attract and how you can bring them to your yard. For more in-depth information on using wildlife to enhance your landscape, check out this article!
Birds are one of the more common backyard visitors, but if your yard isn't friendly enough to them, you can expect a decline in their appearances. In order to keep birds coming back, consider placing a general bird feeder or hummingbird feeder in one of your trees or on a shepherd's hook. For more on attracting backyard birds, refer to this informative article.
Perky Pet 2-Tier Bird Feeder:
Perky-Pet 325C 2-Tier Copper Panorama Bird Feeder
Evenseed technology uses two separate compartments so ports stay active longer
Sure Lock cap locks lid in place to keep squirrels out
Circular perch and seed tray offers 360 degree feeding on both tiers
Decorative antique copper finish looks great anywhere
Holds up to 4.5 pounds of black oil sunflower seed, peanuts, a fruit and nut blend, or mixed seed
Last update on 2023-05-26 / Affiliate links / Images from Amazon Product Advertising API
---
Squirrels are another common yard visitor, but if you're wanting to attract more bushy-tailed guests, you can place a squirrel feeder out in your yard to keep them coming back.
Squirrel Diner Feeder:
Sale
Woodlink Squirrel Diner Feeder Model 75590
Woodlink Squirrel Diner Feeder has steel construction with powder coated green finish to resist chewing
Holds 4 lbs. of peanut, corn or wildlife mix
Mounting hardware for tree, post or deck included
Fully assembled
Last update on 2023-05-26 / Affiliate links / Images from Amazon Product Advertising API
---
Butterflies are some of the most beautiful, and one of our favorite, garden visitors. From their wide variety of colors and shapes to their quiet fluttering from flower to flower, what's not to love about these sweet little creatures? To attract butterflies to your yard, you'll want to have an abundance of vegetation and flowers that are known to lure butterflies. These include Lantanas, Butterfly Bush, Marigolds, Lavender, and Sunflowers (among others).
Butterfly Bush:
Last update on 2023-05-26 / Affiliate links / Images from Amazon Product Advertising API
---
Water Features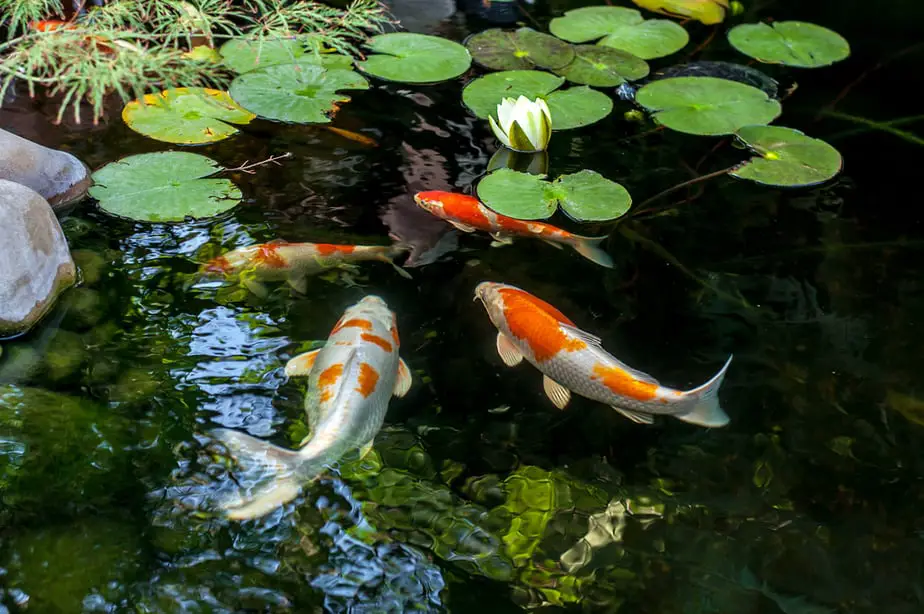 Though water features are technically artificial natural elements, they still bring a natural aura to the backyard — especially if they're designed to replicate organically-occurring water sources. Below are some ways in which you can incorporate water into your backyard decor.
Bird Baths
To really bring a natural feel to your backyard, consider placing a birdbath in your flower garden or in a quiet, vegetation-filled part of your yard. This will, of course, attract a variety of species of birds, bringing birdsong and little, happy splashing sounds to your home. Not to mention bird baths, themselves, are a staple in the garden and often have gorgeous designs that add to the appeal of garden decor.
Need inspiration? Check out our article covering 25 Stellar Bird Bath Ideas for Your Yard!
Charming Birdbath in Antique Gold:
Best Choice Products 32in Outdoor Garden Pedestal Bird Bath Yard Decoration w/Double Bird Sparrow Statues, Fleur-de-Lis Accents - Gold
WEATHER-RESISTANT: Durable resin construction is frost- and weather-resistant to keep your yard or garden full of songbirds all year long
FILLABLE DESIGN: Fill the hollow space in the pedestal column with sand or water to weigh down your birdbath and keep it upright for all your feathered guests
PASTORAL DECORATION: Enhance your lawn or garden with a unique, clam-shell basin, antique finish, a set of bird statues, and Fleur-de-Lis accents
DURABLE: High-density polyresin is non-reactive, lightweight, and prevents tarnishing over time in the sunlight, standing water, or crack during an accidental fall
PROMOTES HEALTHY GARDENS: Attracting birds will help to aerate the soil, distribute additional nutrients, and bring in more water while discouraging invasive species; OVERALL DIMENSIONS: 13.5"(L) x 19.5 "(W) x 32"(H)
Last update on 2023-05-26 / Affiliate links / Images from Amazon Product Advertising API
---
Koi Ponds
Another common and beloved garden water feature is a koi pond. Koi ponds are great for giving a calming ambiance to your yard through the rippling water and colorful movement of the fish. They can also create a sort of "white noise" to block out any nearby traffic sounds, neighborhood ruckus, or any other noise you may want to blot out whenever you spend time outside.
If you're in need of design ideas, check out our article covering the most magnificent Koi Pond Ideas for Your Backyard. And once you've made up your mind, you may find this article covering How to Build a Koi Pond in Your Backyard helpful!
Water Gardens
Similar to koi ponds, water gardens create a beautiful living ecosystem right in your backyard, adding to the natural feel and calming ambiance of the yard (but without the fish). Unlike koi ponds, water gardens rely heavily on various plant life to make it aesthetically appealing. And because there are no animals present in the water, water gardens can be virtually any size and fit in practically any sized yard.
Lily Pads, Cattails, Marsh Marigold, and Water Hyacinth are all great plant options for water gardens because their roots and part of their stems love to be submerged or partially submerged in water.
Last update on 2023-05-26 / Affiliate links / Images from Amazon Product Advertising API
---
Waterfalls
Waterfalls are a great addition to both water gardens and larger koi ponds. They add to the white noise of the rippling pooled water and create a lovely visual appeal that draws the eye to the falling water. If you're trying to decide on whether or not to add a waterfall to your koi pond, consider the size of the koi pond. If you have a relatively small koi pond, you might want to avoid adding a waterfall as to not disturb the fish with the rapid movements. However, if your koi pond is more elaborate, a waterfall stationed on one end of the pond may be fine.
As for water gardens, waterfalls would be perfect for enhancing the overall beauty. Or, if neither a koi pond or flourishing water garden is your cup of tea, you can focus solely on the structure of the waterfall, enhancing its appearance with stones and other natural material.
For waterfall design ideas, check out this article.
Flowers and Decorative Vegetation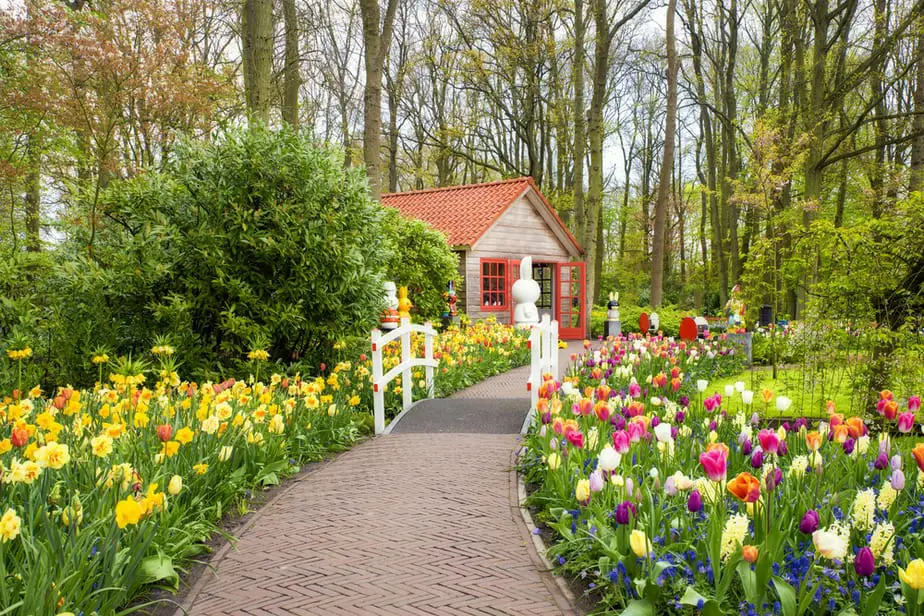 Keeping with your color scheme, plant flowers in areas that are barren or in need of color. One way to make your flower beds more aesthetically appealing is by layering them. Placing shorter plants frontward and taller plants towards the back works to give your backyard depth and draws the eye outward.
Low-lying or filler plants such as Creeping Jenny are great for filling in areas in between thick or tall plants and add color to areas that the sunlight can't reach as well. Be sure to select plants and flowers that thrive in the conditions in your area.
For more information on flower gardening, check out these articles:
Last update on 2023-05-26 / Affiliate links / Images from Amazon Product Advertising API
---
Rocks
Rock gardens
If you live in a particularly arid climate, a rock garden is a surefire way to incorporate an intriguing "garden" bed into your yard. They're wonderful for giving that desert, western feel and are especially stunning when cactuses or other heat-tolerant plants are placed in them. Though, you don't necessarily need plants to make rock gardens pop. The key to a good rock garden is by having an array of colors, sizes, textures, and placements.
For rock garden inspiration, check out this article.
Dry river beds
If your yard has drainage issues or you would like to divert rainwater away from your home, a dry river bed is a gorgeous way to do that. You can also fill in a winding ditch in your yard with river rocks, so rather than having a gaping hole in your yard, you'll have an attractive landmark to tie it all together. Dry river beds can additionally act as a divide between garden beds, separating the plants and making each bed appear more distinctly.
Boulders
You can also add to the terrain of your backyard by placing artificial (or real) boulders in your garden beds, under trees, and in any barren areas of your yard.  The great thing about artificial boulders is that you can choose from a variety of colors and mineral mimics for a price much lower than that of a natural boulder made of expensive minerals.
Sale
Emsco Group 2182 Medium – Lightweight Landscape Rock-Resin, Sandstone
Overall dimensions- 14.75" x 19.5" x 14.5" (HxLxW). Review the rock dimensions photo showing variations in both height and overall footprint. Keep in mind rocks have an irregular shape and are tapered.
Natural texture and appearance that blends with gardens, lawns, and landscapes. Due to variances in screen calibrations and manufacturing process, coloration may vary.
Withstands extreme weather conditions and comes with two stakes to anchor into the ground.
Covers up landscape utilities, place over wells, pipes, sprinkler valves, block them from sight, thus enhancing the landscape's natural beauty.
A complete line of architectural rocks is available from EMSCO in many different sizes, along with an assortment of detailed textured rocks.
Last update on 2023-05-26 / Affiliate links / Images from Amazon Product Advertising API
---
Step 6: Don't Forget Lighting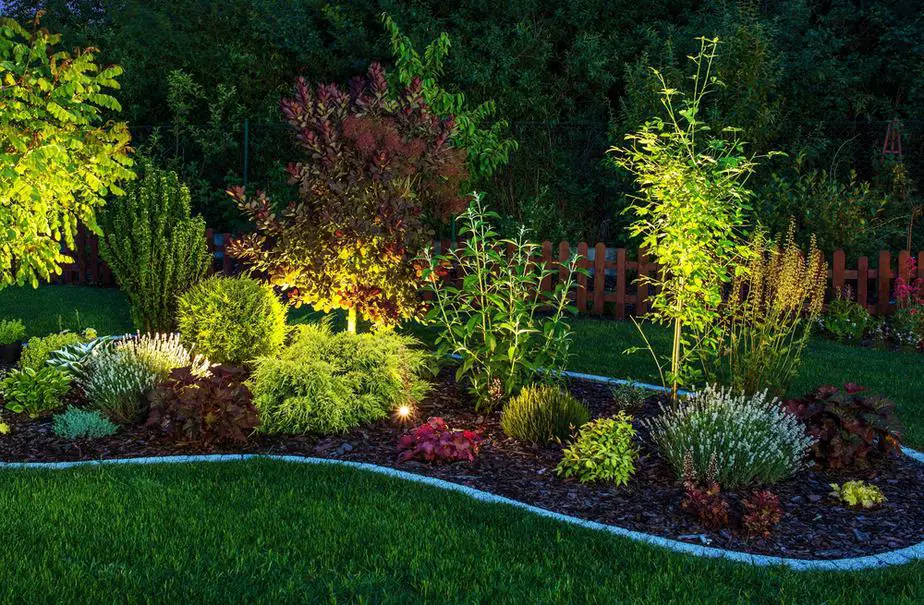 Proper lighting at night can make a world of difference in a scenic backyard. Instead of looking outside into blackness, you'll be surrounded by a softly lit outdoor sanctuary sitting right outside your backdoor. Not only is outdoor lighting great for nighttime aesthetics, (uplighting your most beautiful garden beds and garden structures) but it also doubles as a security measure, keeping would-be intruders off of your property for fear of being spotted.
It's a win-win!
Final Thoughts
As the old saying goes, "less is more" — and that premise applies to many aspects in life, including when you decorate your backyard. Too many overpowering objects, crazy colors (that don't complement one another), and clutter placed in your backyard can take away from the overall beauty of it.
We recommend that you put an emphasis on natural elements in your yard (flower beds, attracting wildlife, including rocks into your landscape, and so on) and only add crucial pieces of human touch where they're needed. But, of course, your backyard is just that — yours. So feel free to do whatever you like to make it appealing to you and your family's tastes.
We hope we were able to provide you with the basics of how to decorate your backyard to make it more visually appealing and homey!
Happy decorating!