Kite flying is not what it used to be. Modern technology combined with various materials and aerodynamics makes kite flying easier and more fun than ever. There is something about being outside and watching your kite soar through the sky while you work with (and sometimes battle against) the wind.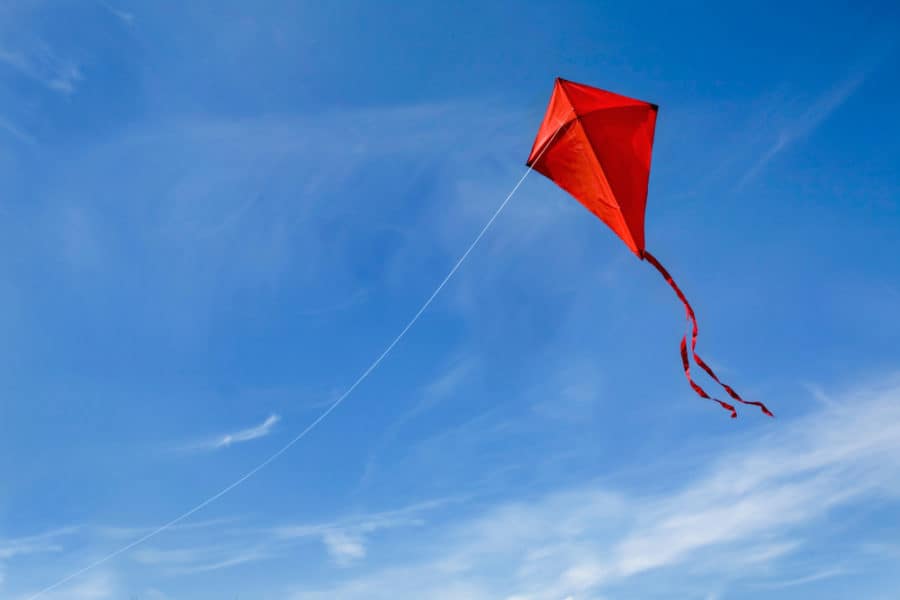 If you want an excuse to take your kids out on a windy Saturday morning or just need some alone time, kite flying can be the answer to both. This guide will help you find some of the new kite technology that is available to make kite flying a success. There are more styles, colors, and sizes than ever before – not to mention, kites are now easier to put together, get into the air, and fly.
Read on to learn about some of the new kite technology and some of the old kite history, along with great options in kite styles and prices for the best kites for adults and kids alike.
In a Hurry? Here's Our Top Picks…
Prism Kite Technology Zenith 5 Single Line Delta Kite
Prism Kite Technology 5ZENG Zenith 5 Single Line Delta Kite, Aurora
A classic high-flying delta with a modern look
Bungee cords inside frame make assembly a snap
60" wingspan folds to just 21" for easy travel
Elastic bungees inside Comes ready to fly, with everything you need including tangle-resistant braided polyester line and an easy-to-use hoop winder the frame make assembly easy and let you fold it small for travel
Last update on 2023-03-21 / Affiliate links / Images from Amazon Product Advertising API
Prism has been making kites for 25 years and the Zenith 5 is designed to combine all of the science of modern kite technology with the fun of old-time kite flying. Delta kites fly high and are easy to get into the air.
This one is particularly nice because it's designed to remain stable in the roughest of winds. It also has better light wind performance than older models. Basically, this is a kite that loves to fly, and you will love flying it. It comes in 3 color choices and is really a nice-looking kite.
It has a 5-foot wing-span, yet folds up in a 21-inch long case. Additionally, assembly and disassembly are super easy. It has a rod system that snaps in place like tent poles, and bungees inside the frame that holds everything together.
The Zenith 5 has two tails that snap on and off in hoops that are built into the kite. This makes the tail interchangeable and removable if snagged on a tree or other object. Also, this versatile beast flies smoothly with or without the tails.
This kite includes 200 feet of braided flying line and an easy-to-use hoop winder. This is a really nice kite that's easy to fly for beginners and advanced users at an affordable price.
Prism Zenith 5 Feature We Like
Flies in strong or low winds
Easy to assemble and disassemble
Can fly with or without tails
Comes with a line and hoop winder
5-foot wingspan folds to 21 inches long
Beautiful Colors
Fun to Fly
Check Price and Reviews on Amazon
---
Prism Synapse Dual-line Parafoil Kite
Sale
Prism Synapse Dual-line Parafoil Kite, 140
Dual-line kiting made easy, so you can carve up the sky wherever you go with instant setup and a compact, travel-ready package
Learn 2-line basics with spins, dives, and figure 8's, then hang on and wrestle with the wind when the breeze picks up
With no frame parts to lose or break, it packs up small to fit in a backpack or glove compartment so you're always ready to fly
The Synapse 140 measures approximately 53"" x 20", and packs down to 10" x 5" x 2. 5"
Includes everything you need to fly: 60' x 80# polyester flying lines, winder, instructions, and storage bag
Last update on 2023-03-21 / Affiliate links / Images from Amazon Product Advertising API
Show the wind who's boss with this Prism Synapse dual-line parafoil kite. This kite comes ready to go with two 60-foot, 80-pound flying lines. There is no frame, and the all-fabric kite is ready to go when removed from the pouch.
If you are ready to take your kite-flying to the next level and learn tricks such as spins, dives, and figure-8s; this kite is a great option. Whether you're an old pro or a beginner, this parafoil kite can give you hours of flying enjoyment.
This kite is yet another high-quality, yet affordable option by Prism to take your kite flying to the next level. It's beginner-friendly, and the experts at Prism have excellent customer service.
Prism Synapse Dual-line Parafoil Features We Like
Ready to go straight out of the bag
Fits into a compact pouch when done
Comes with two 60-foot, 80-pound flying lines & a winder
Designed for speed and agility
Perfect for beginners to learn dual-line kite flying
All-fabric design with no frame to damage
Great for spins, dives, and figure 8s
Comes in 3 color options
Check Price and Reviews on Amazon
---
In the Breeze 2973, Rainbow
Last update on 2023-03-21 / Affiliate links / Images from Amazon Product Advertising API
This is another dual-line parafoil option in a fun rainbow color. This one is also a frameless stunt kite that comes with 80 feet of 50-pound line, straps, and a winder. It also packs in a bag at the end of the day.
The Rainbow is made from ripstop polyester with strong stitching. This is a more affordable option and is beginner and intermediate-friendly.
This kite can really catch the wind and is a popular beach flying option. Because of the strong pull of wind forces, this kite is recommended for fliers ages 12 and up.
Rainbow Features We Like
Bright Rainbow Design
Suitable for beginners and intermediate-level fliers
Made with strong ripstop polyester
Comes with 80 feet of braided line, winder, and 2 straps
Affordable price
Check Price and Reviews on Amazon
---
Hengda Kite 15m Large Power Snake Kites with Flying Line Outdoor Fun Sports Kite
HENGDA KITE 49ft Large Power Snake Kites for Kids & Adults, with Flying Line Outdoor Fun Sports Kite
✔We designed a new cobra snake kite,which is a mythical masterpiece, beautifully illustrated with high resolution graphics.These monsters of the sky are truly amazing in flight.
✔Give your children the best memory to fly the kite - The varied bright color and lively shape is the greatest characteristic.
✔Flying the kite is undoubtedly an entertaining activity for both kids and adults. Use it any open area, from beaches to parks, and enjoy spending quality time with your family.
✔Made in the International Kite Capital - Weifang,Shandong,China.The company is the Weifang kite Industry Association governing units.
✔Size:1500cm/50ft
Last update on 2023-03-21 / Affiliate links / Images from Amazon Product Advertising API
This kite will make a statement. The Hengda 15 meter snake kite looks as beautiful as it is graceful as it flies across the sky with its long, flowing tail. This kite is perfect for tricks and stunts, and it's beginner-friendly as long as there is at least a 3-to-5 mile wind.
This kite is perfect for beach flying and learning the art of stunt flying. It's well made, easy to put together, and stands out. This is a great kite for both kids and adults to fly, and have a great time together.
Hengda 15 Meter Power Snake Kite Features We Like
Easy to put together
Durable and well made
Really big
Fun to fly and try stunts
Looks like a snake floating through the sky
Check Price and Reviews on Amazon
---
Hengda Kite-Beautiful Large Easy Flyer Red Octopus
Sale
Hengda Kite Software Octopus Flyer Kite with Long Colorful Tail for Kids, 31-Inch Wide x 157-Inch Long, Large, Red
This Is Entirely Software Made Kite, It Takes Only A Minute To Get A New Kite, You Take It Out Of The Bag Without Assembly You Can Easily Start Playing.In The Park, On The Beach, Just Get It Pointed Into The Wind And You'Re Off And Flying.
Give Your Children The Best Large Easy To Fly The Kite - This Is A Full 31 Inches Wide!
Flying The Kite Is Undoubtedly An Entertaining Activity For Both Kids And Adults. Use It Any Open Area, From Beaches To Parks, And Enjoy Spending Quality Time With Your Family.
Made In The International Kite Capital - Weifang,Shandong,China.Our Company Is The Weifang Kite Industry Association Governing Units
Last update on 2023-03-21 / Affiliate links / Images from Amazon Product Advertising API
Aside from its amazing looks, this kite is easy to fly and very affordable. This is a great backup kite or addition to your collection if you want to add variety to your kite flying choices.
No matter who's flying this kite, people are sure to notice. This kite is an eye-catching 31-inches wide, with a 157-inch long tail! To make things even better, there's also a selection of kite and tail color options for you to choose from. All of them are either bright red, orange, pink, purple, or rainbow.
Lastly, there's no assembly required and this kite is easy to get in the air with the right wind speed. You can't go wrong with this big bundle of fun!
Hengda Easy Flyer Red Octopus Kite Features We Like
Ready to fly right out of the package
Really big with a long tail
Easy to fly and get in the air
Bright, vivid kite and tail colors
Looks like a giant flying octopus
Check Price and Reviews on Amazon
---
Best Kites for Kids
Kites and kids go hand-in-hand. Most of the larger, harder-to-fly kites along with the parafoil kites are for adults or adult supervision (though some are interchangeable). So we've come up with a selection of kid-friendly kites that kids will love.
Best Delta Kite
Best Rainbow Delta Kite, Easy Fly for Kids and Beginners, Single Line w/Tail Ribbons, Stunning Blue & Purple, Materials, Large, Meticulous Design and Testing + Guarantee + Bonuses!
NEVER BUY A TERRIBLE KITE AGAIN! Top Quality, hi-tech materials are used throughout. Unlike others, our kite is tough, strong, light, flexible, and rust-proof. Hand-made by the World's Best kite factory, it will last forever... crash, bang, or crunch, KIDS JUST CAN'T BREAK IT!!
Ships from USA with EVERYTHING INCLUDED: Single-line Delta Kite measuring 60" (150cm) Wide x 32" (80cm) Long with 8.5ft (2.6m) Twin Tails, single 200ft (60m) anti-tangle Flying Line on Handle, Assembly and How-To-Fly Instructions, Spare Parts Kit, Durable Storage Bag with Carry Handle
UNSURPASSED FLYING PERFORMANCE: Fully tested "By Kids For Kids", easy to fly, and perfectly balanced, our kite's vivid colors and sleek styling looks fantastic, and it virtually flies itself in almost any conditions. Let's Go Fly a Kite!
Oh-so SIMPLE and VERY EASY: Comes partially pre-assembled and INCLUDES easy-to-follow ASSEMBLY instructions. And thanks to our kid-friendly tail and line clips, they'll be flying like a pro in no time! Oh, and did we mention that it's unbreakable...??
MAKES THE PERFECT GIFT: Includes exclusive BONUSES you'll love, like FREE replacement upon loss with our exclusive Sea-'n'-Tree "No-Loss" Guarantee! Get ready to take off for an amazing kite flying experience…
Last update on 2023-03-21 / Affiliate links / Images from Amazon Product Advertising API
This single-line delta kite is kid-friendly and easy to fly. This is a meticulously crafted, colorful kite that looks great in the sky and on the ground. The colorful tail is a great accent to this large delta-shaped flying kite. The string and a plastic winding handle are also included.
When it comes to kites, one of the toughest things is getting them to fly. This one will fly as long as there is even a hint of wind or breeze. This is a great choice for simply enjoying the outdoors and the pleasure of holding a string connected to a kite soaring high overhead.
Best Delta Kite Features We Like
Great Color
Long Tail
String and winder handle included
Easy to start and fly
Kid-friendly
Check Price and Reviews on Amazon
---
Diamond Rainbow Kite
Diamond Kite for Kids and Adults, Rainbow Kite Large 47" for Outdoor Games, Beach and Backyard Activities, Easy to Fly Single Line Kites in Nylon Fabric, Rods, Spool, and Line
DIAMOND KITES FOR CHILDREN ALL AGES - A 47 x 39 inches kite that can be played by both kids and adults age 8 to 80. Highly enjoyable boys and girls kite that's also good for beginners and even pros. Infinitely fun, ideal for learning basic kite flying, and best for casual kite fliers. Fly it everywhere: in the backyard, at the park and beach, during spring, summer, and autumn.
EASY TO FLY RAINBOW KITES - Easy flyer kites that fly easily with moderate air. It flies with have the wind speed of other kites. It also fliers with no running start needed. Stays longer in the air without falling or losing flight. Also comes in a storage bag so it can be brought anywhere and stored anytime.
TOP NOTCH WELL MADE KITES - Made from sturdy and tough ripstop polyester fabric that doesn't easily rip or tear. The bracing rods are made from durable and slightly bendy fiberglass so it doesn't easily break or snap. The stitching around the kites, between the fabric and especially the pole pockets, are secure and hard-wearing that don't easily fray. It also comes with a thick flying line string and is very easy to assemble.
BEST KITES FOR KIDS ON ALL OCCASIONS - A brightly colored rainbow kite that's very visible from high up the sky. It's very appealing and exciting to children. The size is good and easily manageable for young kids and teens. . Because of its polyester and fiberglass materials, it can withstand multiple crashes and water. It easily dries off and can be flown over and over again. At 0.4 pounds, this kite is very light, very portable, and travel-friendly.
FUN GIFT - Small Fish diamond kite is the ideal gift for birthdays, Christmas, Easter, and other holidays, especially in summer It is also a good party decoration or as a party favors. With an ASTM F963 International Toy Standard and CPSIA Certificate, this kite is child safe and worry-free.
Last update on 2023-03-21 / Affiliate links / Images from Amazon Product Advertising API
Who doesn't like rainbows? The diamond rainbow kite is one of the best kites for kids. It takes the design of the original diamond kite and upgrades it with durable nylon material, and easy-to-snap-together fiberglass rods.
This kite is simple to get in the air and fly, and it looks colorful and bright, too. It's created by SMALL FISH toys which is a company that has put an emphasis on fun and learning. Kite flying can teach kids about winds, directions, and aerodynamics. The diamond rainbow kite is sturdy, tough, easy to assemble, and a great toy for a beginner.
Diamond Rainbow Kite Features We Like
Tough and Sturdy
Bright Rainbow Design
Made with ripstop polyester
Flexible fiberglass rods
Comes with string and a flat line winder
Easy assembly
Easy flight
Check Price and Reviews on Amazon
---
Cool Kite for Kids
Easy to Fly Large Nylon Delta Kite for Kids and Adults Great for Beach Trip and Outdoor Activities Perfect for Beginners Flies High in Light Breeze Flying String Line Included Big Flyer Childrens Toys
FUN DELTA DESIGN: Very easy and fun to fly kite. This super cool design is suitable for kids, teens, adults, boys and girls alike. Made from colorful rainbow ripstop nylon fabric and has a super long tail! Great for beginners.
MAKE MEMORIES: Perfect to create fun memories on your next beach trip. Simple and quick assembly
HIGH QUALITY: Well constructed and stitched, with strong fiberglass rod supports. Will stand up to a stiff breeze easily! Kite measure 26" x 41" with a 56" long tail
GET OUTSIDE: You'll be flying high in minutes as string, line is included, you just need some wind. Get your kids away from screen-time and enjoy some outdoor time instead! Makes a great gift!
SATISFACTION GUARANTEED: We are a US-Based, Family-Owned business that strives for high quality products and amazing customer service.
Last update on 2023-03-21 / Affiliate links / Images from Amazon Product Advertising API
The Cool Kite for kids is a fun, easy-to-fly kite that's ready to go in minutes. This brightly-colored, delta-style kite will have your little ones enjoying the sport of kite flying in no time.
This kite has a durable fiberglass frame that makes it easy to get in the air. It's also 40 inches and assembles in seconds. The Cool Kite comes with 130 feet of kite string and a winder handler. It's also super affordable. What's better than great value and endless amounts of fun and joy?
Cool Kite Features We Like
Big and bright
Easy to assemble
Easy to get in the air
Fun for kids to fly
Comes with string and winder handle
Check Price and Reviews on Amazon
---
Batman Kite
XQDSP Kite Batman for Kids and Adults - Large Size Cute Design Perfect for Outdoor Activities Built to Last,Black
Easy To Fly: It is dead-easy to fly even in a breeze, of course it prefer to a little heavier wind, then it won't fly, but will soar!
Easy To Assemble: 2 minutes is enough to fix it, You can take more time to enjoy the flying Big kite
High Quality Kite Line:Plenty of durable line and handle included, nothing more need to be prepared.
Parents and children alike will love building this beautiful, high-flying kite.
Flying kites is a great way to stay active through running, jogging, playing and absorbing Vitamin E from the sunshine.
Last update on 2023-03-21 / Affiliate links / Images from Amazon Product Advertising API
The Nicely Home Batman kite for kids is super easy to fly and a great choice for children who admire superheroes. This kite might also bring back nostalgic memories for those old enough to remember the classic easy-to-fly bat kites of the past.
This kite is durable, easy to assemble and even comes with a 180-day warranty. The kite comes in classic black and green batman colors, comes with a storage case, along with a string and a winder. It's easy to fly as long as there is a decent wind.
Batman Kite Feature We Like
Cool black and green colors
Easy to assemble
Easy to fly
Comes with string and winder handle
Everybody loves bat kites
Check Price and Reviews on Amazon
---
Kite Flying Basics
Kite flying is pretty simple. You need to make sure your kite is put together correctly and that you have enough wind to fly, but not so much wind that you will crash or lose control. A medium wind is usually between 5 to 25 mph. Visible signs of wind like this are trees and bushes moving gently.
However, you really don't have to rely on windsocks or looking at bushes to estimate the wind speed. Kites are not only better these days, but we have accurate wind speeds at our fingertips. Just check on your phone, computer, or ask Alexa what the wind speed is, and then you will know if you fall into the best flying range.
You want to fly your kite someplace that isn't obstructed by trees or power lines. A nice field, a school playground, on top of the levee, or a beach near a lake or ocean are great places to fly. Especially, if it's the offseason and the beaches aren't crowded.
The place where the strings attach to the kite and flying line is called the bridle. To fly your kite, hold onto the bridle and give enough slack to catch some wind, and then let out more until you're airborne. If it's a low-wind day, having a friend hold the kite bridle while you let out slack and pull the line hand-over-hand simulating wind to get the kite up might work.
Many kites will have tails. These usually brightly-colored tails not only look great, but they help your kite remain stable in strong winds. Many modern beginners-kites have removable tails that easily come off and attach back on. These kites can be flown without the tails, but whenever you're ready for more advanced heavy wind flying, you can gain that extra control by putting the tail back on.
One of the best times to fly your kite is in the spring when the weather is nice and the winds are stronger. National Kite Month even happens in April. Although, kite-flying isn't only limited to spring or summer. As long as there's decent wind, your kite will soar just fine!
Brands of the Best Kites and the Best Kites for Kids
Prism Kite Technology
Prism Kite Technology was founded by two friends named Mark and Scobie. They both had backgrounds in sailing and aviation. When a friend brought a dual-line kite to college, they thought it was the coolest thing that they had ever seen. In 1988, kite design and technology were just starting to take off.
Now, new aerospace materials make modern-day kites and windsurfing look like something out of science fiction. They use carbon fiber composites, Spectra fiber, and Kevlar to design some of the strongest and highest-flying kites available. This is a kite company founded by lovers of the sport and that shows in the products, performance, and workmanship.
In the Breeze
In the Breeze is a really fun company that makes kites, kite accessories, hanging decor, ground decor, pinwheels, and wands. They have a great selection of spinners, windsocks, and twister tails; along with other cool wind, kite, and decor items. The company was founded in 1985 by Bill Dual and Debbie Schomberg.
They have many different styles and designs for their products, including custom designs. They're always looking for innovative product offerings and have multiple awards. Including "best booth" from the Kite Trade Association International.
Weifang Hengda Kite Manufacture Company
Weifang Hengda Kite Manufacture Company is a Chinese company located in Weifang City – the capital of kites. The company was founded in 1982 and is now one of the largest kite manufacturers in China.
They offer a large assortment of kites, including the Cool Octopus featured in this article. They also have accessories, including round kite reels and winders that can really make a difference in the quality of your kite flying experience.
StuffKidsLove
StuffKidsLove seems to focus on a very limited amount of educational toy products including our Delta Kite for kids. I wouldn't really consider them a kite brand, they appear to be more of a reseller, but since we featured one of their kites they get a mention.
Frequently Asked Questions
Q. When were kites first made and flown?
A. Chinese philosophers were the first known kite fliers around 2800 years ago.
Q. Why do kites need tails?
A. Kites need tails for stability.
Q. What is a Delta kite?
A. Delta kites are designed to be flown in light winds. They can be flown side-to-side in search of lift, which adds another dimension to the flying experience.
Q. What kind of kite should I fly at the beach?
A. You can fly any kite at the beach as long as the wind isn't too strong. A lot of advanced kite-fliers fly large parafoil kites in fun shapes – from sharks to giant birds and everything else in between.
Final Thoughts
Kites are great fun for the whole family, or for someone just wanting to get out of the house and relax. Those of us who flew kites as kids are often pleasantly surprised to find out how calming and relaxing kite flying can actually be in our later years.
There are kite festivals all over the world – especially at beaches. You don't have to go to a kite festival to enjoy a kite at the beach. Even if it's too cold to swim, you can enjoy flying your kite without so many people around.
Having the beach to yourself gives you a lot more freedom to enjoy all that the open space and soft sand have to offer. You can take a break in the dunes or relax with a game of beach bocce with a bocce ball set.
Kites are also an inexpensive hobby, at least when you first begin. As your kite skills progress, you'll find more things that you'll need, and new kites that you'll want to try. You can even have an assortment depending on the wind or your kite flying goal for the day.
Hopefully, this guide will help you find some great options for some of the best kites and best kites for kids so that you and your family can start enjoying the fun sport of kite flying.
Need more ideas for outdoor fun? Check out our How to Throw a Horseshoe, How to Play Tetherball, 106 Backyard Games, and Best Cornhole Boards articles!