Rabbits are cute, fuzzy little creatures. They make great pets, create the most beloved storybook and television characters, and are adorable to watch as they hop to and fro. But it's not all hops and giggles with rabbits.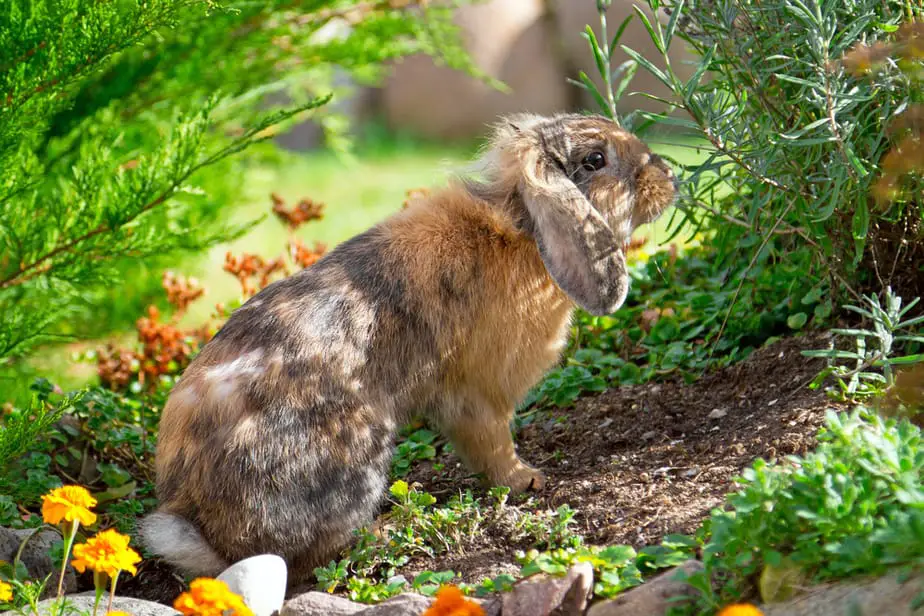 When rabbits make their way into your flower beds and gardens, they can wreak havoc; destroying your petunias and leaving rabbit-shaped teeth marks in your home-grown carrots.
If you've been searching for a way to deter rabbits from mosying into your garden beds, look no further. In this article, we've made it our mission to bring you the best rabbit repellents available today (along with a few tips and tricks to help you out a bit more).
In a Hurry? Here's Our Top Picks…
1.
Enviro Pro Rabbit Scram Repellent 
Sale
Enviro Pro 11006 Rabbit Scram Repellent Granular White Pail, 5.75 Pounds
Rabbit scram repellent granular white pail
No mixing is required and the granular formula is easily sprinkled in any conditions
Rabbit Scram is not harmful to humans or animals
Periods of extended sunlight with little or no rain will result in the need to apply Rabbit Scram more frequently
This product contents 5.75 Pounds
Last update on 2023-11-17 / Affiliate links / Images from Amazon Product Advertising API
Rabbit Scram is a granular repellent that works wonders to ward off any and all rascally rabbits. This particular pail contains 6 pounds of granules that are ready-to-pour straight away without any need for measuring, deluding, or mixing.
After it's sprinkled onto the ground around the No-Rabbit Zone, Rabbit Scram will remain potent for approximately a month. Even during wet or extreme weather conditions, you can expect this repellant to last for weeks on end.
Once freshly opened, this mixture won't have a pleasant smell. However, the scent (for humans) will quickly dissipate, leaving only enough aroma to drive off bunnies.
And the best part? This formula is completely safe and neither harmful to people or animals.
Likes:
Affordable, especially for a large amount of repellent
The scent doesn't linger to the point of bothering humans
Long-lasting. It will only need to be reapplied once every month
Water-resistant and can be applied in any weather condition
Ready to go straight out of the pail – no mixing or deluding
Won't harm animals or people
Dislikes:
The granules can not be applied directly to plants (of course). Some may prefer to spray repellent onto their flowers for better results
---
2.
Liquid Fence Deer & Rabbit Repellent 
Sale
Last update on 2023-11-17 / Affiliate links / Images from Amazon Product Advertising API
The Liquid Fence Rabbit Repellent is a harmless, but powerful, concentrate meant to be sprayed directly on vegetation. This would be a great option to use in large spaces, flower beds, and other ornamental plants.
Unlike some liquid repellents, the Liquid Fence Rabbit Repellent does not need to be consumed by rabbits to deter them. The overpowering scent alone is enough to keep bunnies at bay. This is a long-lasting formula that holds up wonderfully in all types of weather conditions, even in heavy rains.
This repellent is a concentrate, which means it won't be ready to use right out of the gate. Be sure to mix the concentrate with water in the amounts directed on the product packaging.
Likes:
A wonderful choice for large spaces and decorative or flower gardens
An affordable and potent formula
Long-lasting concentrate that holds up in all weather conditions
Not harmful to people, pets, or wildlife
Can also repel deer, if needed
Dislikes:
It may not be a great option for vegetable or fruit gardens
---
3.
Nature's Mace Deer and Rabbit Repellent
Sale
Nature's MACE Deer & Rabbit Repellent 40oz Concentrate/Covers 28,000 Sq. Ft. / Repel Deer from Your Home & Garden/Safe to use Around Children, Plants & Produce/Protect Your Garden Instantly
POWERFUL DEER REPELLANT: Our university backed spray has 400% more active ingredients than leading brands. Our repellent works best for deer, however it does contain ingredients used in our rabbit repellent.
ALL-NATURAL INGREDIENTS: Our deer repellent is strong and powerful because it uses a combination of scents & odors found in nature.
SAFE FOR USE: Nature's MACE products are bio-degradable and non-toxic. Our spray is safe for use arounds plants, pets, vegetation and children. Feel confident in protecting your garden without using harmful chemical on vegetables and fruits.
YEAR-ROUND PROTECTION: Repel Deer all season long weather it spring, summer, fall or winter. Our Spray will not wash off during rain, irrigation or normal use.
MAKES 16 GALLONS: Our Deer repellent formula is so strong; a few sprays will create a deer free barrier in minutes. Cover 2 Acers with our deer & rabbit repellent.
Last update on 2023-11-17 / Affiliate links / Images from Amazon Product Advertising API
Yet another potent concentrate, Nature's Mace is a repellent that rabbits won't soon forget. This 40-ounce bottle of concentrate is enough to make 5 gallons of ready-to-use repellant spray that is long-lasting, weather-resistant, and odorless (to humans) when dried.
This concentrate can be used at any time of the year and is harmless to people, pets, and wildlife – including aquatic animals. According to the manufacturer, Nature's Mace contains three times the amount of active rabbit-repelling ingredients than other brands.
Nature's Mace concentrate relies on both taste and scent to ward off rabbits (and deer) to make for a more effective solution than other leading repellents and alternative methods.
Likes:
Affordable, even for those who may be on a tighter budget
Enough concentrate to make 5 gallons of repellent spray
Environmentally friendly – not harmful to plants, people, or wildlife
The strong scent dissipates once the solution dries
Nature's Mace contains 3X the amount of rabbit-repelling active ingredient than other leading brands
Aside from rabbits, Nature's Mace also keeps deer from eating your vegetation
This concentrate uses both taste and smell to ward off rabbits, compared to other solutions that only rely on taste
Dislikes:
This will keep deer from coming near, so if you're a fan of Bambi, this may not be the concentrate for you
---
4.
Plantskydd Granular Animal Repellent 
Plantskydd Animal Repellent - Repels Deer, Rabbits, Elk, Moose, Hares, Voles, Squirrels, Chipmunks and Other Herbivores; 3.5 LB Granular Shaker Jug (PS-VRD-3)
For year round control of deer, rabbits, elk, moose, hares, voles, squirrels, chipmunks and other herbivores
Protects approximately 1,750 square feet
Application frequency: Active growing season (6-8 weeks), Dormant Season (apply at start of dormant season and again before snow fall).
100% Dried Blood (Porcine and/or Bovine). No animals parts are used.
OMRI listed (Organic Materials Review Institute) for Organic Use. Made in the USA.
Last update on 2023-11-17 / Affiliate links / Images from Amazon Product Advertising API
Plantskydd's Organic Animal Repellent is a completely natural and safe formula, harmless to plants, animals, and people alike. It's made with 100% natural ingredients, including dried blood, to make rabbits instinctually flee from potential predators.
The 3.5 container holds enough granules to cover nearly 1,800 square feet of property, and the 8-pound container has enough granules to cover 4,000 square feet. This would be a great option for lining large flower or vegetable gardens with low-lying plants. This formula will last come rain or snow for up to 8 weeks before more product needs to be applied.
Use caution when applying this rabbit repellent near edible plants. It can be used to line vegetable and fruit gardens, but take care not to get this solution onto the plant produce, itself.
Likes:
Affordable
Available for purchase in a 3.5 or 8-pound container
Made with 100% all-natural and organic products
Harmless to plants, people, pets, and wildlife
Lasts up to 8 weeks without reapplication
Repels rabbits along with voles, elk, moose, beavers, porcupines, and opossum
Dislikes:
Depending on your preference, you may or may not want to repel multiple kinds of animals. This rabbit repellent does drive off various creatures aside from rabbits (listed above)
This repellent works best in gardens that contain low-lying plants at a maximum height of 2 feet. For plants taller than 2 feet, the manufacturer recommends purchasing a liquid repellent
---
5.
I Must Garden Rabbit Repellent
Sale
I Must Garden Rabbit Repellent: Mint Scent Rabbit Spray for Plants & Lawns – 32 oz. Ready to Use
SPECIFICALLY TARGETS RABBITS – This repellent was formulated for one specific purpose – to protect plants from rabbit damage. It contains concentrated botanical oils from plants they naturally avoid eating – creating a spray that tastes and smells terrible to rabbits
PROTECT YOUR LAWN & GARDEN – Safe to spray directly on grass and any plants that are being damaged by rabbits. Contains triple the number of active ingredients than any other repellent for stronger protection
PLEASANT MINT SCENT – Don't be fooled by the fresh mint scent! Every ingredient in this repellent plays an important role in protecting your plants - especially the botanical mint oils that smell nice to people, but are highly irritating to rabbits
FORMULATED TO LAST LONGER – Contains strong natural sticking agents that make the repellent adhere to the leaves of your plant. Provides long-lasting protection – does not need to be re-applied after average rainfall
SAFE FOR PETS & POLLINATORS – Made from natural ingredients and botanical oils that are safe for pets, people, and the environment. Contains NO harmful chemicals or glues that threaten nearby wildlife
Last update on 2023-11-17 / Affiliate links / Images from Amazon Product Advertising API
Yet another all-natural rabbit repellent, the I Must Rabbit Repellent is a safe formula that is humane and unharmful to people, plants, pets, and wildlife alike.
Unlike the other repellents on this list, the I Must Repellent doesn't have a disgusting odor that lingers until the product dries. This repellent uses mint oil to repel rabbits and not people.
Similar to the other rabbit repellents on our list, this repellent is incredibly long-lasting and rain-resistant. There's no need to reapply after rains (unless it's frequent) or varying weather conditions – only reapply after 4 weeks. This repellent is meant to be sprayed directly on your flowers and plants for the best results.
This is a great option for those who are health-conscious or looking to keep their gardening products as clean and environmentally friendly as possible.
Likes:
Botanicals and all-natural products are used in this formula to create a safe, but effective, rabbit repellent
Affordable
Tested and approved by gardeners everywhere
Has a pleasant, minty scent unlike most rabbit repellents
Ready-to-use right out of the gate – no mixing or measuring!
Dislikes:
This formula may not be as potent as others on our list
---
More Tips and Tricks
Planting Undesirable Plants
Rabbits favor plants that have a more neutral taste, such as multiple varieties of lettuce, carrots, broccoli, and some beans. Pansies and Petunias are some of their favorite snacks in the floral family. Planting plants that are less desirable to rabbits is a good way to potentially discourage them from traveling to your yard.
Strong-smelling edibles such as garlic, onions, and heavily aromatic herbs (like basil) make for decent deterrents. Geraniums, Sweet Alyssum, Lantanas, Sunflowers, Marigolds, and other similar flowers may also disinterest rabbits.
Putting Up Barriers
Placing barriers around your garden beds is one of the most effective ways of stopping rabbits from getting to a vegetable garden or flowers. Chicken-wire is likely the best bet for garden protection but remember: rabbits love to dig and they can hop like it's nobody's business. So, be sure that when you're placing the chicken wire, that it is at least 2 feet tall and buried 6 to 12 inches beneath the ground.
Of course, the higher and deeper the fencing goes, the better. But generally 2 feet tall and 6 inches deep is a good rule of thumb.
Keeping Your Yard Tidy and Busy
Rabbits are skittish animals. They and their large families prefer wooded areas filled with a thick brush to shield them from potential dangers. Keeping your yard and gardens well-trimmed and free of debris is a wonderful way to caution rabbits not to get too close. Wide-open spaces are unappealing to rabbits, so be sure to remove any unnecessary brush, weeds, tall grasses, and stick or leaf piles.
Because rabbits are so skittish, any type of motion or sign of a human's presence is usually enough to scare them away. Adding lights to your garden, having an outside dog, or putting motion scare devices in your yard are a few ways to ward off unwelcome bunnies.
FAQ
Q: Will water affect the potency of the repellent?
A: It depends. With daily watering or frequent, the repellent should last around a month. However, we do recommend that you try your best to avoid putting water in direct contact with the rabbit repellent. Always read the description and directions on your rabbit repellent to ensure that you're getting the most out of the product.
Q: Will rabbit repellent harm my plants?
A: Most rabbit repellents are safe to use around plants. Of course, you wouldn't want to apply the repellent directly to your plants unless otherwise directed. Rabbit repellents are meant to be placed, usually in a thick "trail", around garden or flower beds.
Q: Are rabbit repellents harmful to animals?
A: No. None of the rabbit repellents on our list are harmful to pets or people, though the scent may be unappealing! Regardless of the lack of toxicity, we do recommend that you keep a close eye on pets and children. Rabbit repellents should never be consumed or come in contact with bare skin.
Q: How often should I reapply rabbit repellent?
A: Depending on the product you purchase and the weather conditions (rain will affect the life of the repellent), you should reapply the rabbit repellent every 3 to 6 weeks.
Q: Will the rabbit repellent keep wildlife that I like from coming to my yard?
A: No. Rabbit repellents are made to deter just that – rabbits. Some of the options on our list will also deter deer, however. So if you're wanting deer in your yard, it may not be in your best interest to purchase those.
Otherwise, there's no need to worry. All of the wildlife you love will still come to visit you when you've treated your yard with rabbit repellent.
Q: Will the repellent work in the winter?
A: Yes. You can use rabbit repellents at any time of the year. Just keep in mind that melting snow or ice may wash away the solution.
Q: What exactly does rabbit repellant do?
A: As you can tell by the name, rabbit repellant is designed to repel rabbits. Rabbit repellents are made up of natural ingredients that give off a distinct, distasteful odor that keeps rabbits from wanting to get too close.
Q: Will I need to use multiple repellents for the best results?
A: No. There's really no need to mix multiple rabbit repellents or combine them with other products. The scent of a single repellent will be enough to deter rabbits.
Final Thoughts
Though rabbits make cute pets and cartoon characters, they're the natural enemy of any garden bed filled with yummy vegetables or flowers. Rabbit repellents are a great and inexpensive way to ensure that your edibles and petunias are safe and sound – while keeping your family, pets, and wildlife unaffected in the process.
We hope you enjoyed our article covering the best rabbit repellents on the market today! Happy gardening!