Every little kid dreams of having a treehouse that they can play in and have a special place to call their own, which is why, in this article, we've compiled of list of the most beautiful and fascinating treehouse ideas available!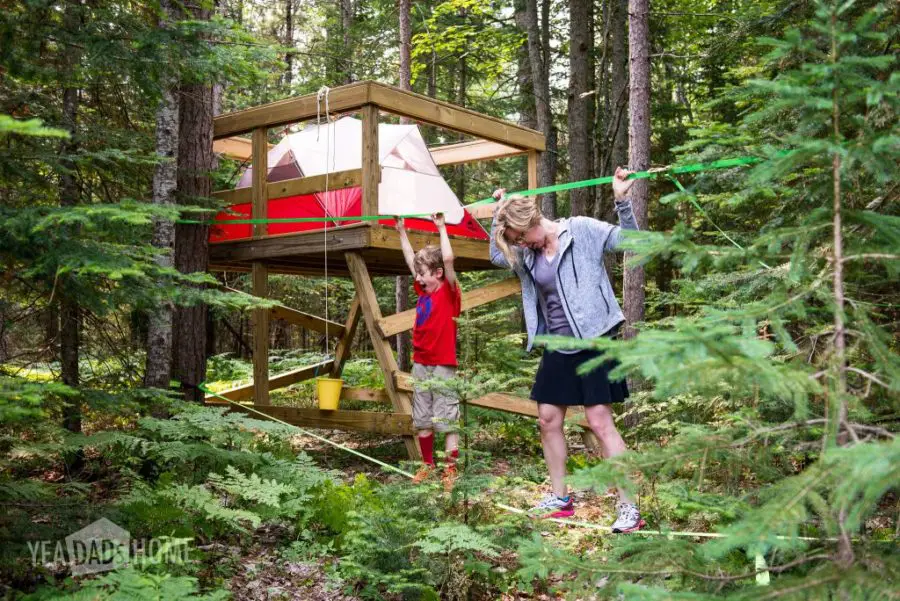 You will get so much satisfaction once you complete the project and you see the huge smiles on your children's faces. Take a look at all these wonderful treehouse ideas to get some inspiration for your treehouse project, and don't forget to check out our Best Tree Swing Ideas article for more fun tree-related ideas!
1. DIY Deck Treehouse
Instructables gives detailed building instructions on how you can build your own deck-style diy treehouse idea in only four steps! It's nice because you don't have to worry about making a roof — the tree does the covering for you! See how here.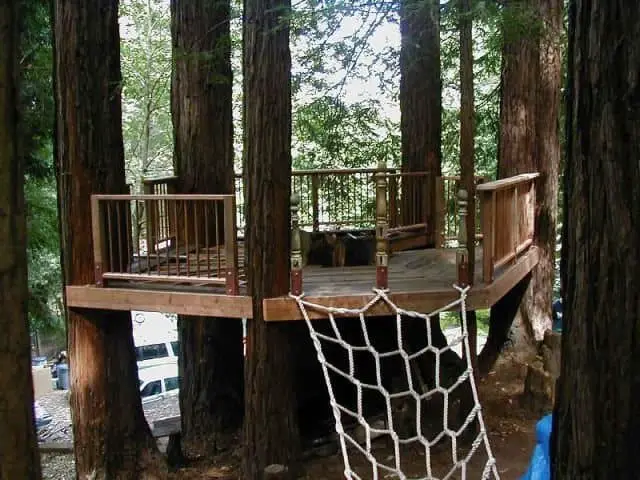 2. A Trendy Treehouse
The Handmade Home will give you some inspiration with their gorgeous backyard treehouse. They have lots of different directions for each section, as well as ideas for decorating your new treehouse! You have to see this!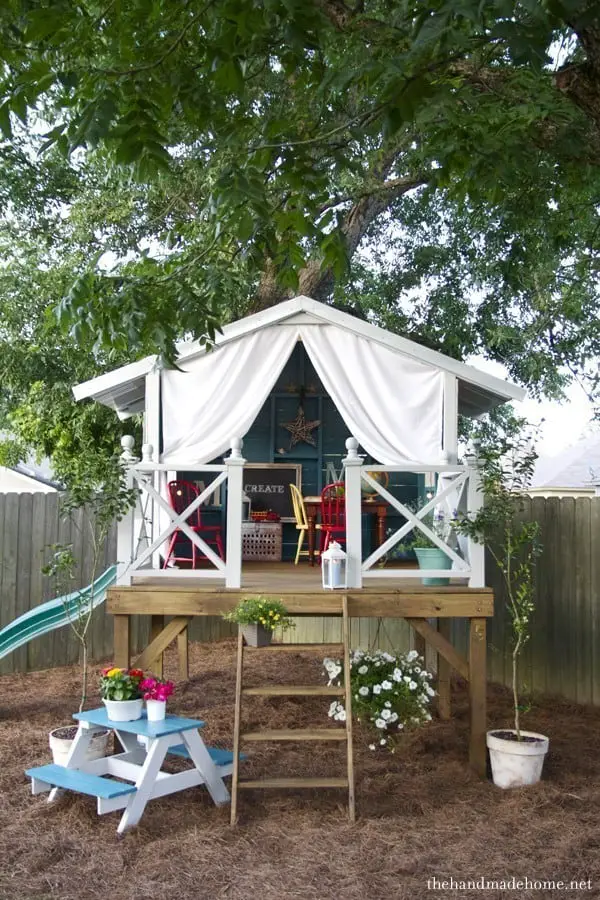 3. Modern Style Treehouse
Dornob shows you exactly how they built a modern treehouse that will blow your mind! It's such a cool treehouse and your kids will love to play in it! Make your own.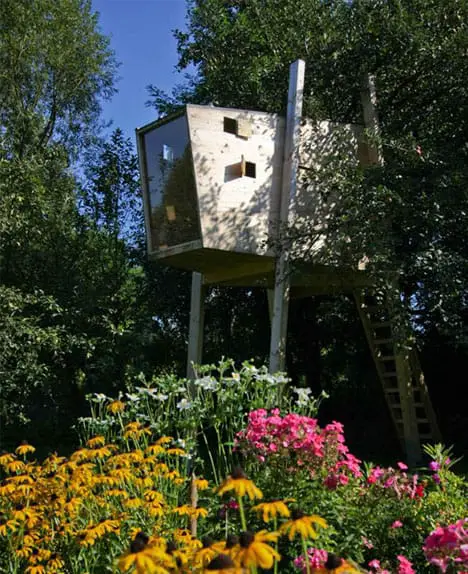 4. Simple Treehouse
Mark over at Yea Dads Home shows how they built this fun and comfortable treehouse with a few supplies, tools, and hard work. Don't be afraid to tackle this project, because you won't regret it when it's completed. See how to make yours.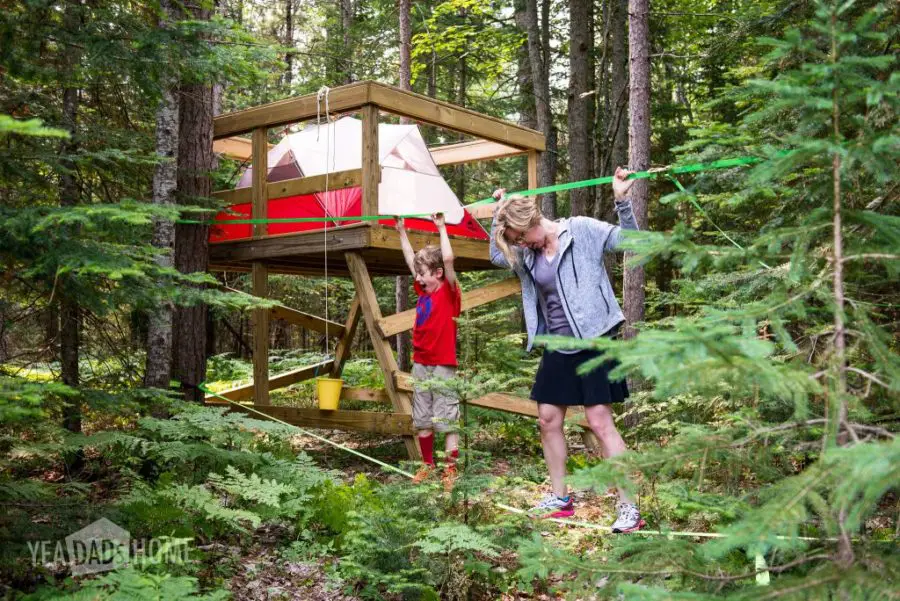 5. Deluxe Tree House
The Classic Archives has complete plans on what supplies you need to create a deluxe treehouse yourself. It turned out gorgeous, and we're sure your children would get lots of use out of it. See how to make your kids one!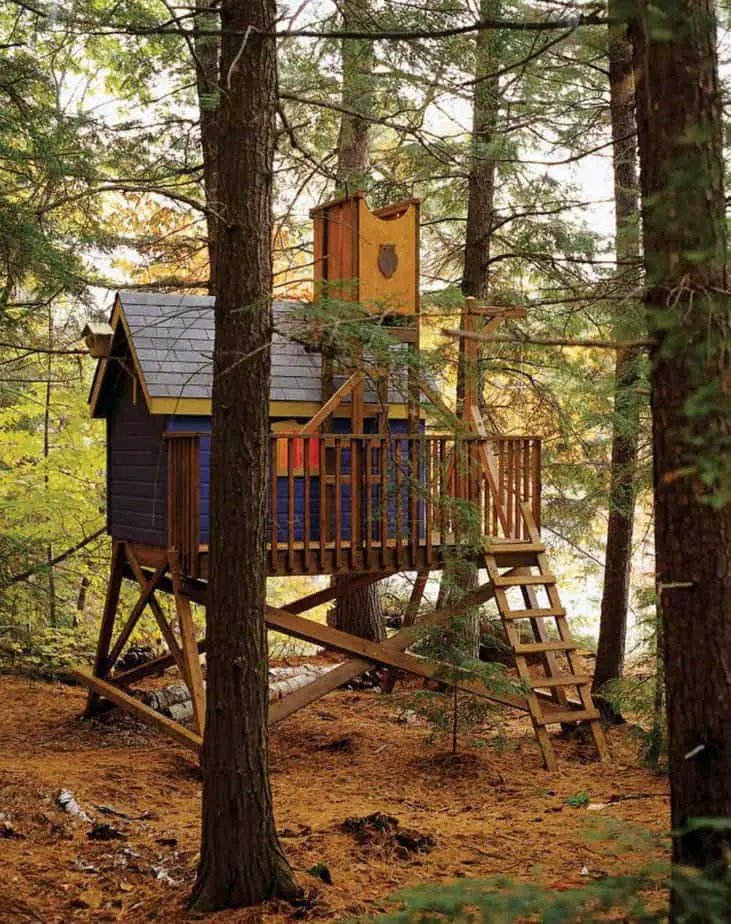 6. DIY Tree Fort
Village Custom Furniture explains how he made this tree fort with a ladder. It's a straightforward design that is perfect for a beginning DIY'er. See how he made it here.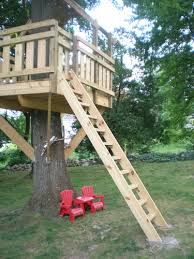 7. Ultimate Tree House
Instructables made the type of treehouse we all dream of having. They give a step-by-step tutorial along with lots of photos to help you make one yourself. You can't miss this one.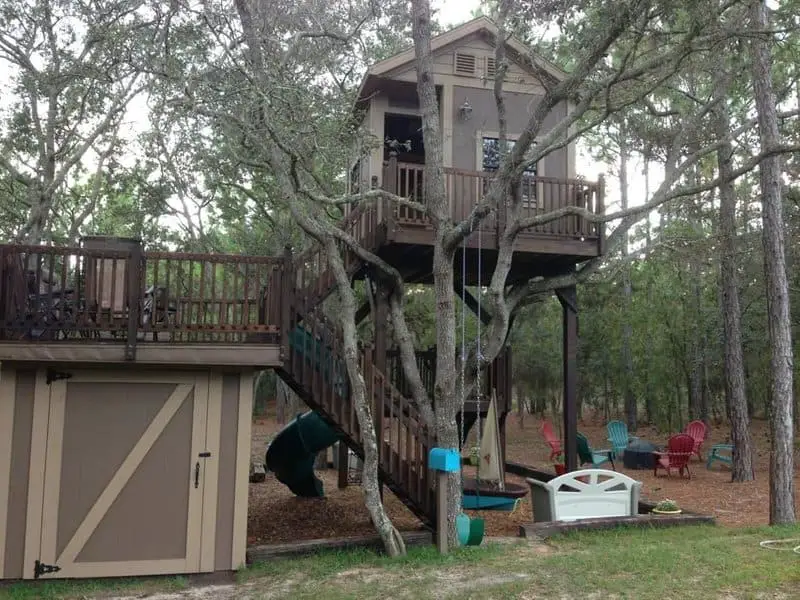 8. Build A Luxury Cabin Treehouse
Family Handyman gives lots of tips and information on how to build the perfect treehouse for your family. They even explain how to pick the ideal location, avoiding restrictive tree growth, and other helpful tips. Take a look!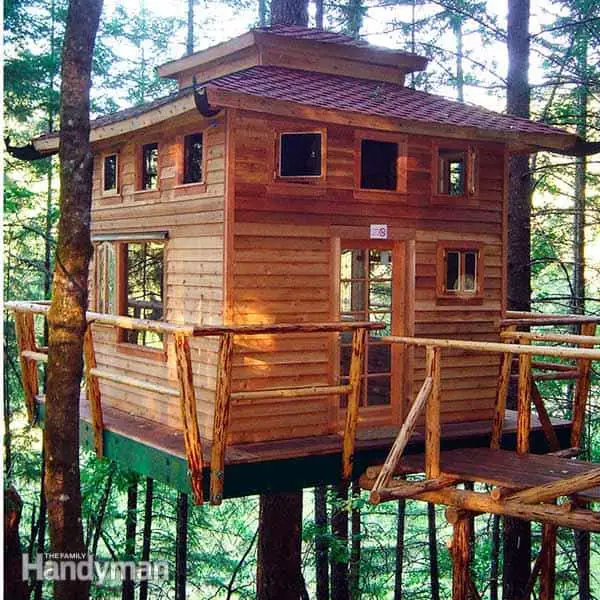 9. Converted Tree House
Over at Imgur, you will find that they had an existing children's play area that they did some work to in order to turn it into a new and improved playhouse. We love the extra character it has! Take a peek at what it looks like.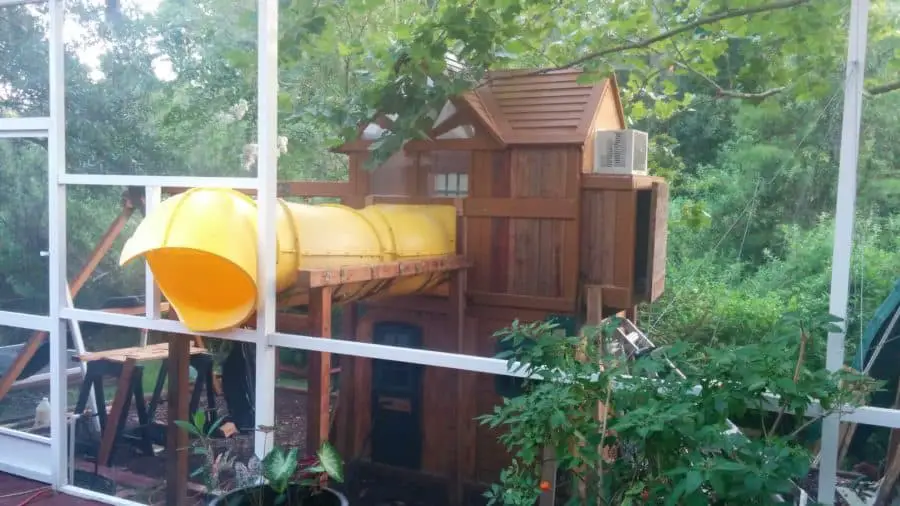 10. Make Your Own Tree House
Popular Mechanics developed instructions on making a treehouse to fit your area. They ended up with an adorable treehouse that has a little bit of everything. Get started making yours.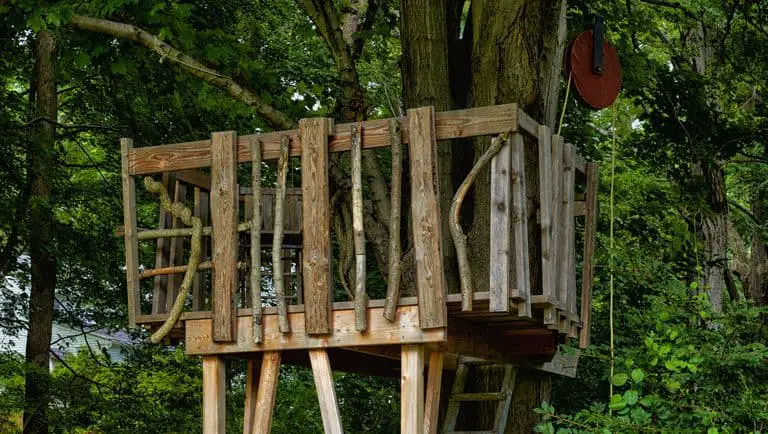 11. Easy Tree House
Maxwell at Apartment Therapy wanted to make a secure treehouse on a weekend for his daughter. He shares how it completed this project. Make your own DIY treehouse here.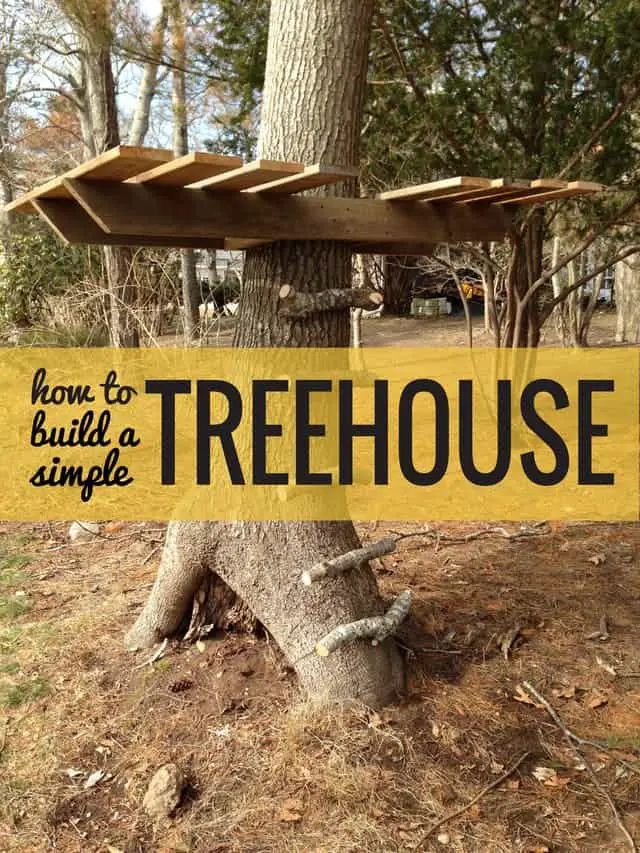 12. DIY Tree Fort
Houzz shares that with some hard work, internet guidance, and a few materials, they were able to make an astonishing tree fort! You are going to want to see this one! Find out how they did it.
13. Capturing Joy Treehouse
Kristen at Capturing Joy shows how the whole family can come together and build a fantastic treehouse! All the effort they put in was worth it because it turned out great! See how they made it.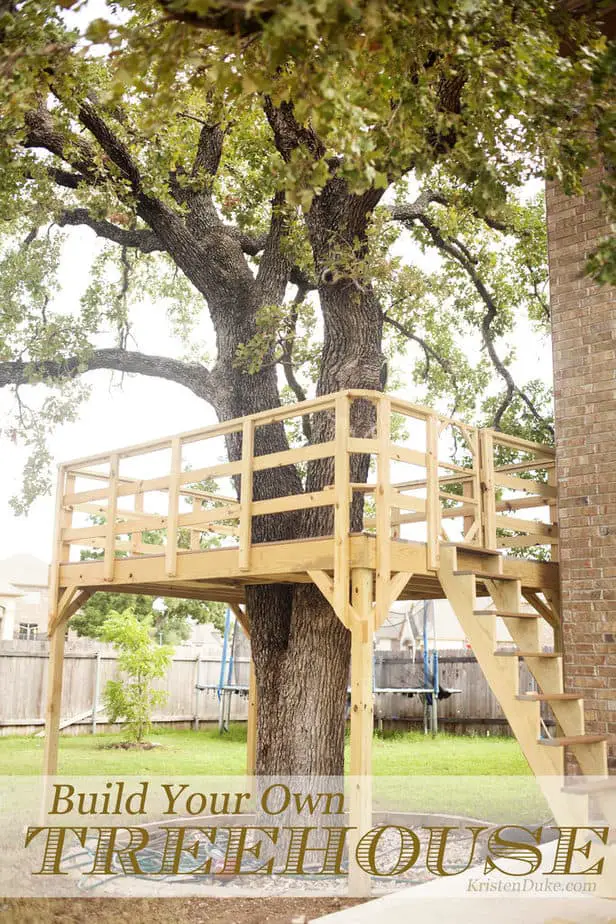 14. Adorable Tree House
Made With Happy was inspired to make a cute little hideaway treehouse for her kids. We love the colors and style they chose! The treehouse really took their yard from drab to fab! Try it out yourself.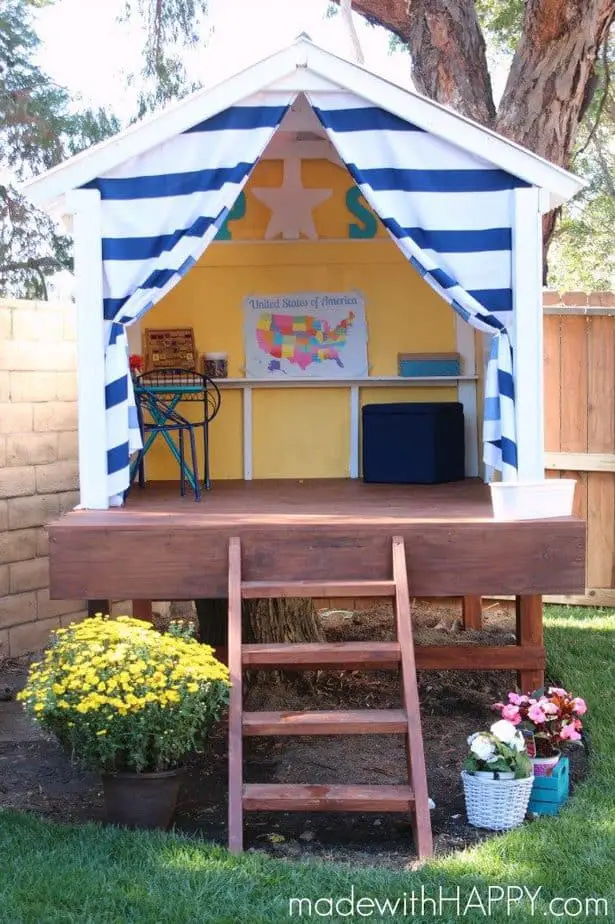 15. Hanging Treehouse
DIY Network gives us a peek at how to make a treehouse like nothing you have ever seen before. In about two days you can complete this unique project yourself. Have a look.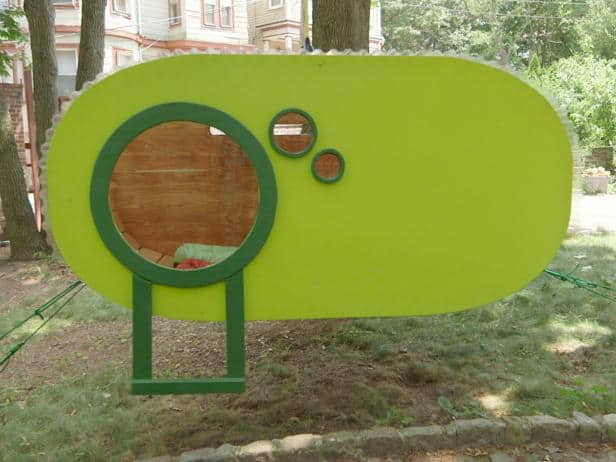 16. Exercise Tree House
Wellness Mama developed an exciting way to introduce exercise and healthy living into the treehouse they built.  It has a rock wall and even a zip line! Can you even imagine how much fun your kids will have with this one? Check it out.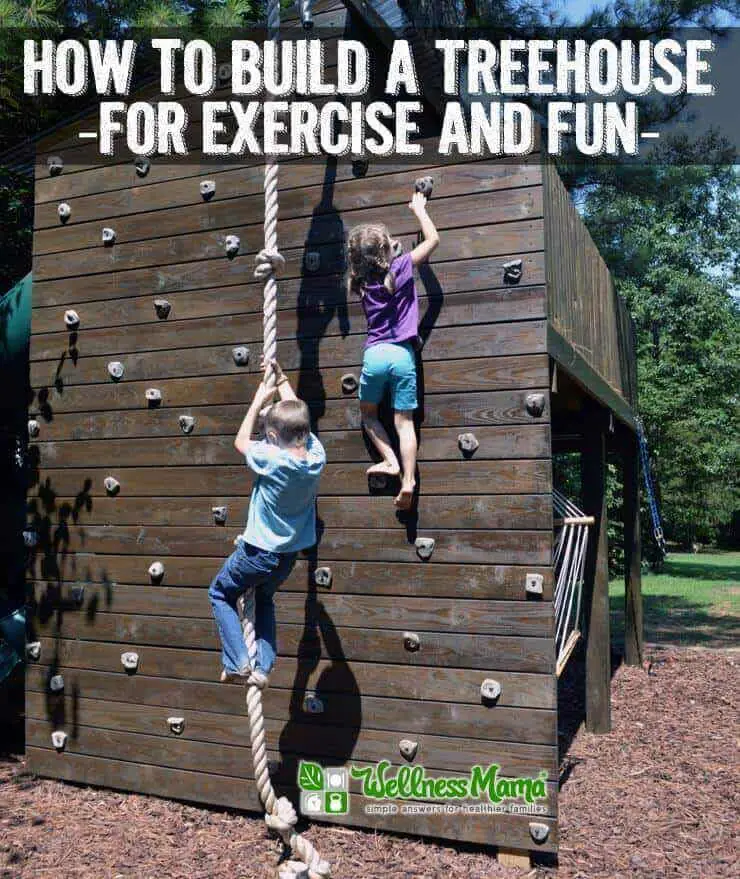 17. Build Your Own Nelson Treehouse
Nelson Tree House made an outstanding treehouse that is gorgeous and perfect for all the playtime your kids can imagine. They break down all the instructions so they are easy to follow and you will be building your own in no time. Take a look.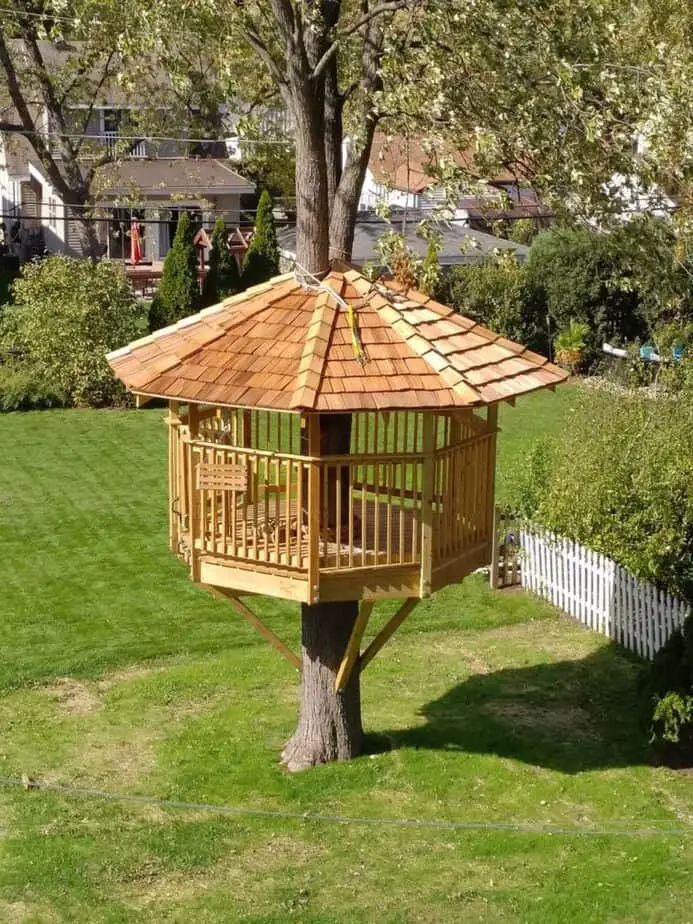 18. Tree House With Slide & Swing Set
If you are looking for more than your ordinary treehouse, this may be the perfect one for you. You can include a slide and a swing set so your children can have a little bit of everything. See how they did it here.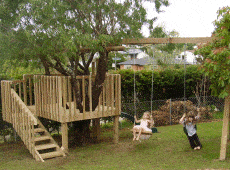 19. Pirate Themed Tree House
If your kids love pirates, they are going to go crazy for this treehouse made by John at Instructables. It has everything a little pirate lover could ever want. You and your kids are going to be so happy you completed this project. See how to make yours.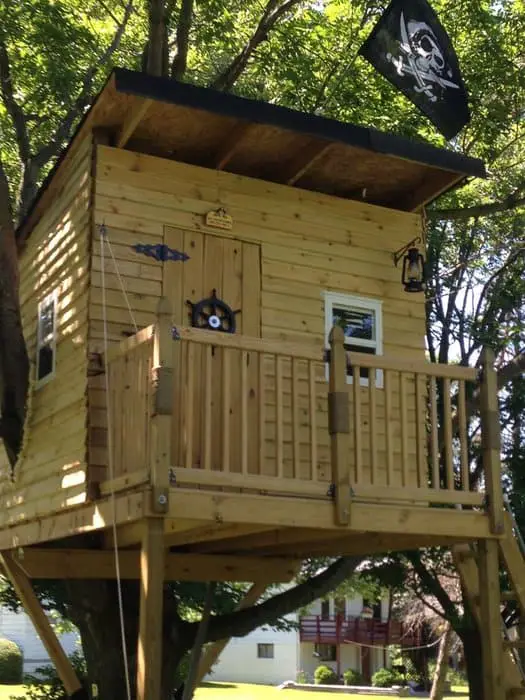 20. DIY Tree House
Ron Hazelton provides a video and instructions on how to make a comfortable treehouse or tree fort. It's a simple design that you can easily make yourself. Plus, your kiddos can even help you make it so you can have some family time, too! How he did it.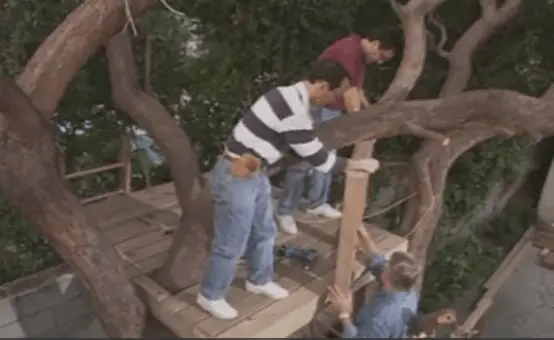 21. Classic Tree House
Wood Archivist shares directions on how to make a classic treehouse as they made in the old days. The coolest part is these plans still work today. So get busy doing your newest DIY project.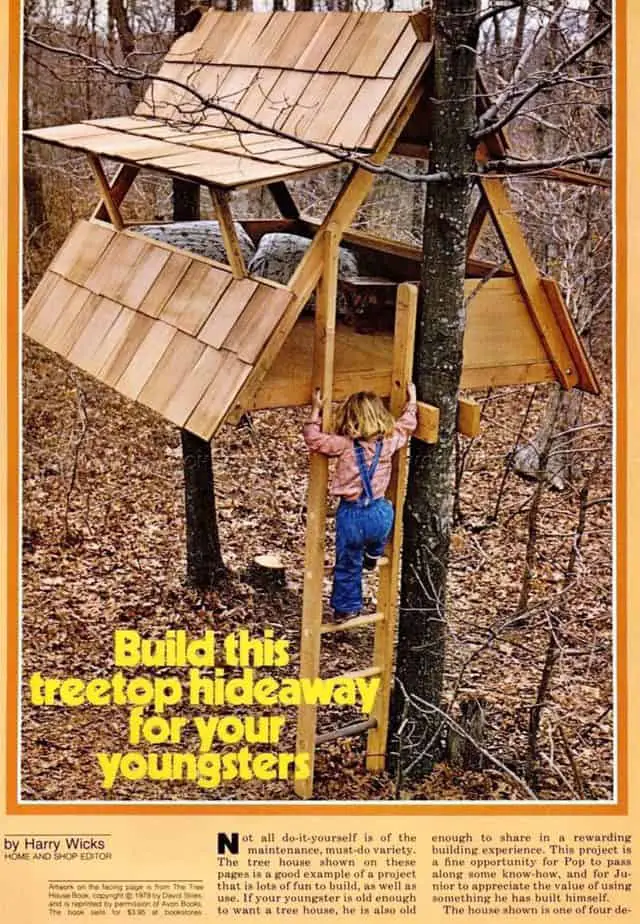 22. Basic Tree House
Hunker gives you information on how to make your own treehouse with minimal effort. You don't have to create something that is huge and extravagant for your children to enjoy it. See their instructions.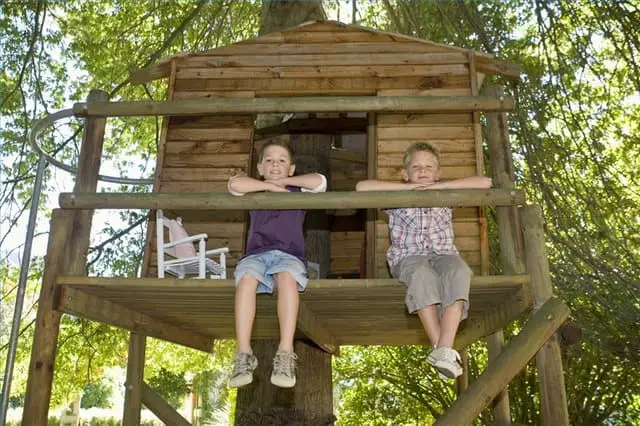 23. Tree Fort
DIY Network shows you how to assemble and install a tree fort with a kit. It is adorable, and you can leave it as plain wood or paint it to add some colors to it. Either way, this is a fun project! See how to do it.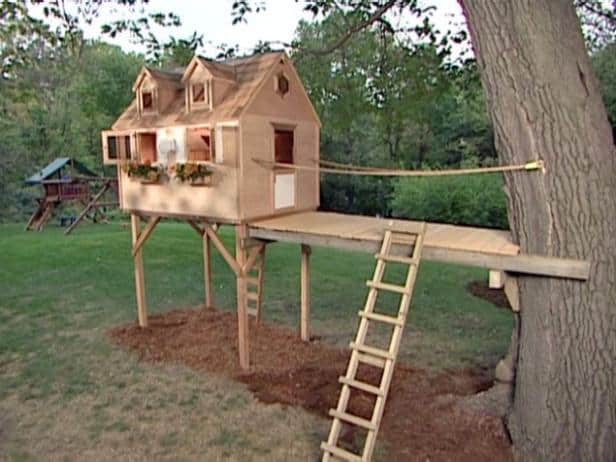 24. Tree House With Pully System
Instructables gives a detailed guide on how to make a treehouse and add a pully system. Your children will have a blast sending the basket up and down all the time. See how to make yours.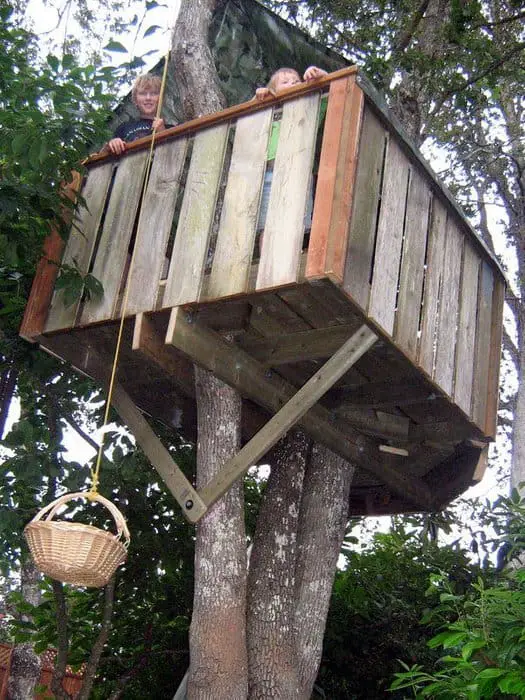 25. Inspiring Tree House
Crafty Texas Girls gives you some inspiration for a treehouse with their custom design. This treehouse is fun to build for everyone in the family. Check out their page for some ideas.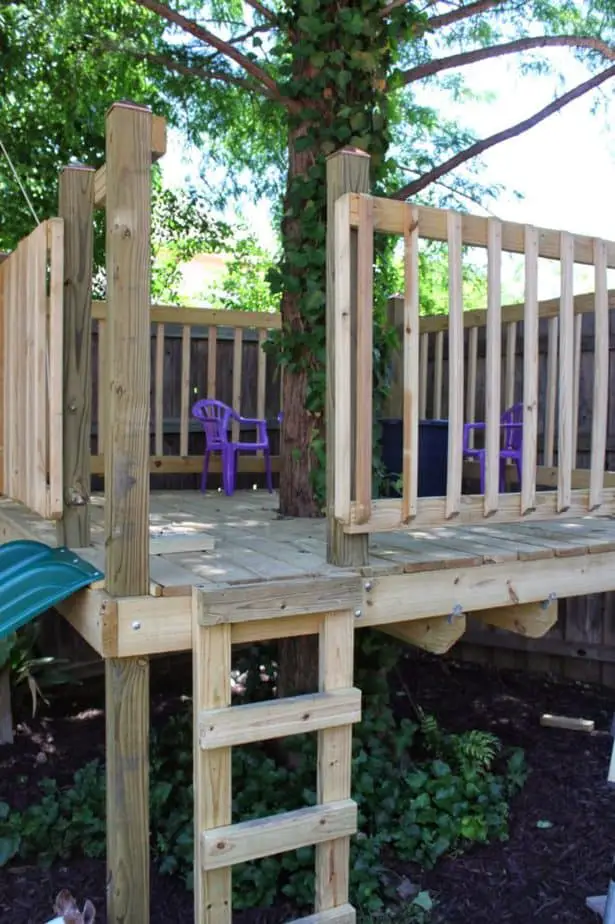 Our Favorite Treeh0use Accessories
Now that you've decided on which treehouse idea to go with, in this section of the article, we'll be sharing some of our favorite treehouse accessories to make your child's treehouse even more exciting!
1. AMIR Upgraded Solar Powered String Lights
Sale
AMIR Upgraded Solar String Lights Outdoor, 8 Modes Mini 39Feet 120 LED Copper Wire Lights, Solar Powered Fairy Lights, Waterproof Decoration Lights for Garden Yard Party Wedding Christmas (Warm White)
☀️Upgraded 120 Brilliant LED lights - 120 Super Bright LED bulbs on 39ft high quality copper wire, with steady 360 degree viewing angle they illuminate in every direction. Ideal for decorating your gardens, patio, gate, yard, wedding, party etc.
☀️High Quality & Flexible Copper Wire - Made with thin and flexible copper wire, coiled with bobbin winder to avoid a mess, the solar powered string lights (low voltage, no transformer included) is easy to storage and ready for the next use. Also, it is environmental- friendly, high energy conversion rate, durable and safe to use.
☀️2 Switch Buttons - POWER ON/OFF & Mode Switch. When you turn on the light, it will light up automatically when the environment is dark and auto off at sunrise. There are 8 modes for you to choose. (Modes: combination, fireflies flashing, waves, fading, chasing/flashing, fading slowly, twinkle/ flashing and steady on.)
☀️Long Lasting & Water Resistant - The solar fairy lights can work continuously for more than 12 hours at night if the panel absorbs enough sunshine during day. Both the string lights and the solar panel are IP65 Waterproof. No worry to use them in the rain.
☀️Easy to Shape - Flexible copper wiring can easily build the shapes you want: wrap around tree trunks or gazebos. In the dark, the wire fades to invisible, leaving only the bright lights.
Last update on 2023-11-16 / Affiliate links / Images from Amazon Product Advertising API
What's a treehouse good for if you can't play in it at night? These outdoor, waterproof string fairy lights are both great for lighting up a large area and pretty to look at.
These lights are solar-powered, meaning you won't have to have an outlet in your treehouse or nearby for them to work. Zip tying the solar panel to a sunny post of the treehouse is enough to charge the lights efficiently. The AMIR String Lights come in sets of 33 feet of lights for only a few bucks.
They also come in different colors, including blue, green, pink, purple, red, warm white, and white so that you can personalize your child's treehouse with their favorite color or make it blend in with your outdoor decor with either of the white lights.
With a press of a button, you can turn these lights on or off and change their mode to either Steady On or Flashing. Or, you can leave these lights to their own devices and allow them to turn on or off with the rising and setting of the sun.
What We Like:
33 feet of lights for only a few bucks
Comes in pink, green, blue, purple, red, and warm white or white
Perfect for outdoor use — waterproof
Lights turn on or off with the rising and setting of the sun
You can automatically turn the lights on or off
With a press of a button, you can change the mode from flashing to steady
No need for an outlet
---
2. OUTREE Kids Pod Swing Seat
Sale
OUTREE Kids Pod Swing Seat Cotton Child Hammock Chair for Indoor and Outdoor use (Blue)
【Fun & Sensory】- OUTREE Kids Pod Swing Seat will give children a peaceful and warm place to play, and provide kids a sense of safety while at the same time provide soothing sensations that can help them regulate sensory and relax,
【Comfortable】- The 100% cotton-canvas material is soft, warm and breathable, it makes the kids hammock chair is quite comfortable to sit in while reading, watching TV or listening to music. It's a great choice for sensory swing.
【High Quality & Safe】- The sensory swing's design with reinforced nylon edgings and double stitched to increase safety, soft PVC air cushion make you don't worry about mold problem. The swing can support up to 100 pounds, easily taken down and stored away at any time to make more room.
【Universal Use】- Our kids pod swing is great for indoor or outdoor use. Whether you hang it from your ceiling, or thinking about hanging it from a tree. Besides, it would make a great addition to a child's room, especially as a reading nook.
【Easy To Install And Use】- This kids swing is easy to hang and all hardware is included. Different from others, we provide adjustable nylon belt, and two kinds of screws: expansion bolt for concrete and screws for wooden .
Last update on 2023-11-16 / Affiliate links / Images from Amazon Product Advertising API
Every treehouse needs cushiony seats and these OUTREE Kids Pod Swing Seats are both cool to sit in and comfortable for relaxing after a long day of playing pretend in the treehouse. These swing seats are super affordable and can be bolted into the treehouse ceiling or secured to one of the treehouse tree branches. Keep in mind that if it's placed in an area that's open to the elements, it will need to be removed during bad weather as to not ruin the material.
The 100% cotton canvas and cushioned inner seating area are breathable, yet comfortable enough to snuggle up in and read a book or take a quick nap. The cocoon shape provides a fun hideaway for kids and helps to cradle their bodies to make relaxation in this pod seat a breeze. These swing seats are easy to assemble and can be set up in a matter of minutes.
These seats are available for purchase in 7 different color combinations including blue with green inside, blue with yellow inside, green with red inside, green with blue inside, light pink with white inside, hot pink with blue inside, and orange with white inside.
The maximum weight is 100 pounds, so this is best suited for younger children.
What We Like:
Comes in 7 different colors to choose from
Affordable
Great for young kids
Easy to assemble and takedown
Perfect for indoor and outdoor use (just make sure to remove the swing when you notice bad weather on the horizon)
100% cotton canvas and comfy materials
Comfortable cocoon shape
---
3. Jungle Gym Kingdom Pirate Telescope
Last update on 2023-11-16 / Affiliate links / Images from Amazon Product Advertising API
Whether your child wants a treehouse pirate ship or just wants a birdseye view of the whole backyard, this Jungle Gym Kingdom Pirate Telescope will keep them entertained for hours on end. It comes in two colors, green, and blue, and is super affordable.
The base of this toy telescope can be secured practically anywhere, even on the railing of the treehouse, and features a 360-degree spin for an optimal viewing experience. Keep in mind that this toy doesn't have any magnification like a regular telescope. It's just a toy and doesn't have any additional features.
What We Like:
Comes in blue or green to best match your child's treehouse
Affordable
Can attach just about anywhere
360-degree spin for viewing the whole yard
---
4.
Upstreet Outdoor Dinner Bell
Upstreet's Outdoor Bell & Indoor Dinner Bell/Made of Black Large Bell, Cast Iron Bell, Ideal for Wall Mounted Bell, Bracket Mounts Metal Dinner Bell and Hanging Bell for Home, School or Church
🕭 DURABLE AND STURDY 🕭 - Charming frontier-style dinner bells for outside farmhouse made of durable cast iron dinner bell coated in a resistant black finish that can withstand harsh weather conditions for many years to come.
🕭 CLASSY LOOK 🕭 - Cast iron bell rings loud and clear. Designed to be an elegant addition to any home or vintage dinner bell. All necessary hardware is included with the bell.
🕭 MULTIFUNCTIONAL USE 🕭 - Bell can be used as a doorbell, dinner bell, or a simple decorative bell. Ideal for inside and outside, farmhouse, farm, school, church, home, house, fire department mounted wall
🕭 GALVANIZED METAL BELL DECOR 🕭- Bell bracket mount works well with indoor or outdoor walls and hanging bell, door, fence, post or roof. has loud ringing noise to call kids and children to all meals. iron quality.
🕭 DESIGNED TO IMPRESS 🕭 - We want you to set your expectations high. If you're unsatisfied with your purchase – for any reason whatsoever -- you may return your outdoor dinner bell within 30 days for a full refund
Last update on 2023-11-16 / Affiliate links / Images from Amazon Product Advertising API
Let your child's imagination take them anywhere with this outdoor dinner bell. With the Upstreet Outdoor Dinner Bell, your child can pretend they're on the prairie calling for dinner, on a ship alerting of danger, or in a firehouse altering firefighters of nearby flames.
This dinner bell is relatively affordable and is available for purchase in 5 different styles including black, cinereous, red, russet, and Venetian bronze to best match either your outdoor decor or your child's treehouse decor. The back of the bell can easily be attached to the side of the treehouses or onto a limb with a few screws and the bell rings loudly and clearly when the rope is pulled.
Overall, this would be an imaginative and charming addition to any child's treehouse.
What We Like:
Endless imaginative capabilities with this dinner bell
Can be attached to the side of the treehouse
Comes in 5 different colors and styles
Rings clearly
---
5. Jungle Gym Kingdom Pirate Ships Wheel
Last update on 2023-11-16 / Affiliate links / Images from Amazon Product Advertising API
The final best treehouse accessory, the Jungle Gym Kingdom Pirate Ships Wheel would pair well with the Jungle Gym telescope. Complete your child's treehouse pirates ship with this fun wheel available in either blue or green.
This is an easy-grip toy ship wheel so that your child can fasten their hands around the wheel and dodge oncoming ships, rocks, and other imaginary perils with ease. It's exceedingly simple to mount onto any vertical wood structure and would also be a great addition to the treehouse's railing, next to the telescope.
What We Like:
Affordable
Comes in either blue or green
A perfect match for the telescope
Easy-grip wheel
Simple to install
---
Final Thoughts
Tree houses have been loved by children for decades. Building your own tree house is a great way to make the process even more fun for your children and add a touch of originality to your child's getaway! Don't forget that once you have your kid's treehouse built, you'll likely want some fun decorations like lights, hanging seats, bells, and telescopes to make imaginative play even more fun!
Which of these treehouse ideas was your favorite? No matter which treehouse idea you choose to go with, we wish you luck working on your new building project (and your kids a fun time playing in their new getaway)!