For decades, tree swings have been the primary joy of children when playing outside on long summer days. Not only can these swings be entertaining, but they can be leisurely as well. Tree swings come in all shapes and sizes, and not every swing has to be for rambunctious playing. Here we've compiled 21 of the most unique tree swing ideas we could find, suitable for the child and adult alike. Take a look to see how you can transform your trees into something (even more) visually appealing and fun for the whole family!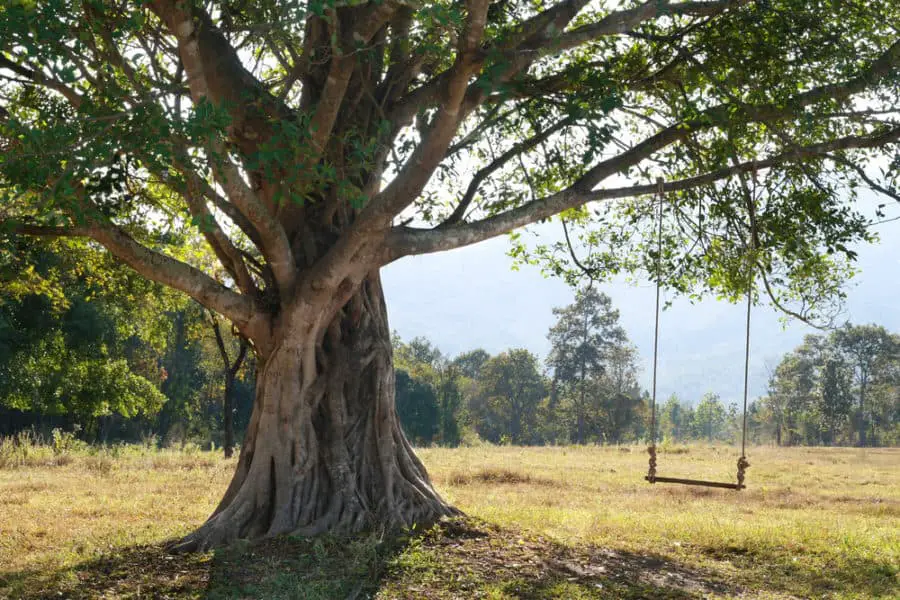 If you're interested in more ways you can use your trees, check out our Tree Stump Ideas article!
Tree Swing Ideas for Kids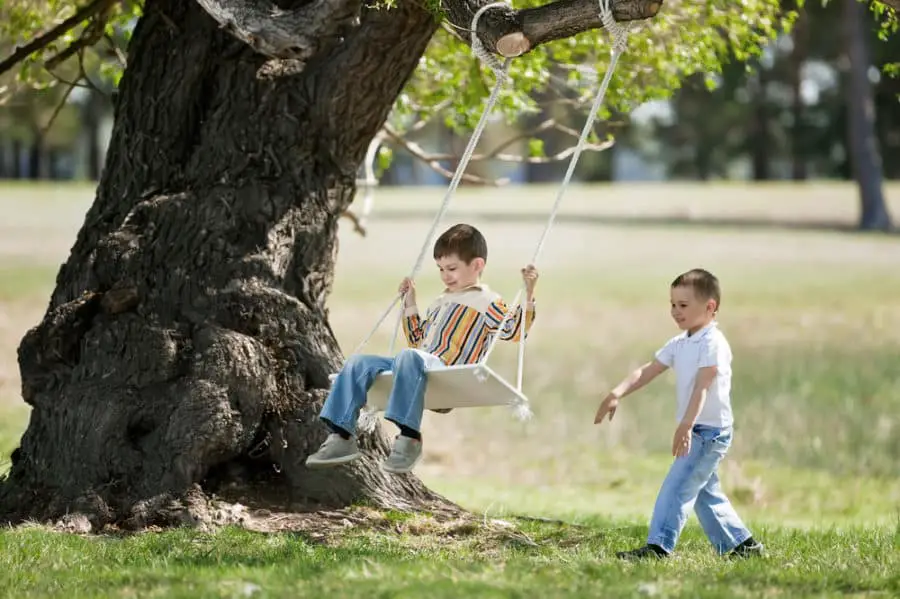 1. Wooden Rope Swing
Wooden rope swings are the epitome of tree swings. These classics are perfect for both kids and adults! HGTV explains through photography and written instruction on how to build one. In only 14 steps you can build a wooden rope swing from scratch! See how here.
2. Tire Swing
Tire swings are effortless to hang up, and an old-fashioned joy for kids to sit in and swing on! Not to mention they're the most affordable swings on the market! The team at Hunker explains how to quickly (and effectively) hang your tire swing. Click here to learn how.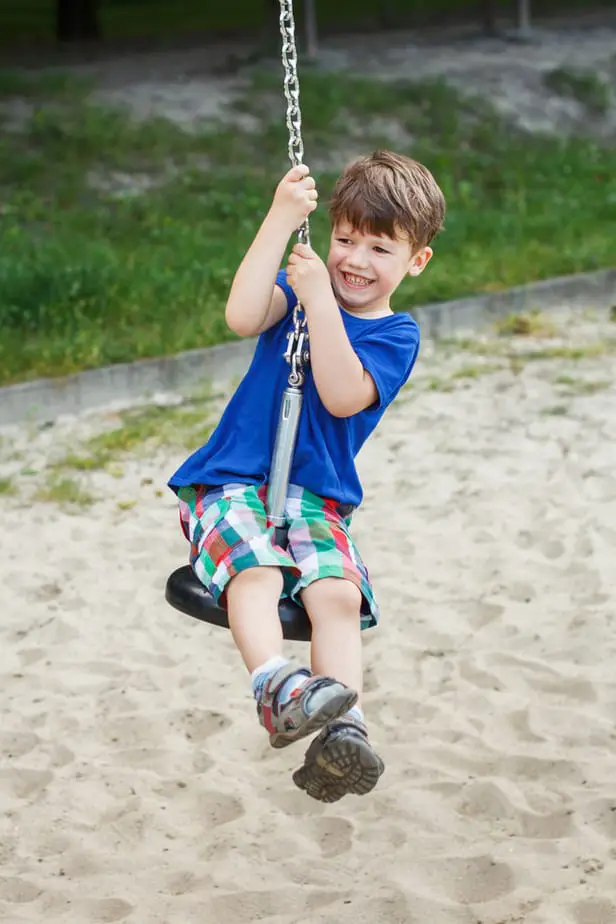 3. Disk Swing
Disk swings are supportive and easy to hang on to! They're a blast for kids (and adults, too). This instructable not only explains how to hang your disk swing, but how to make your own entirely, as well! See how here.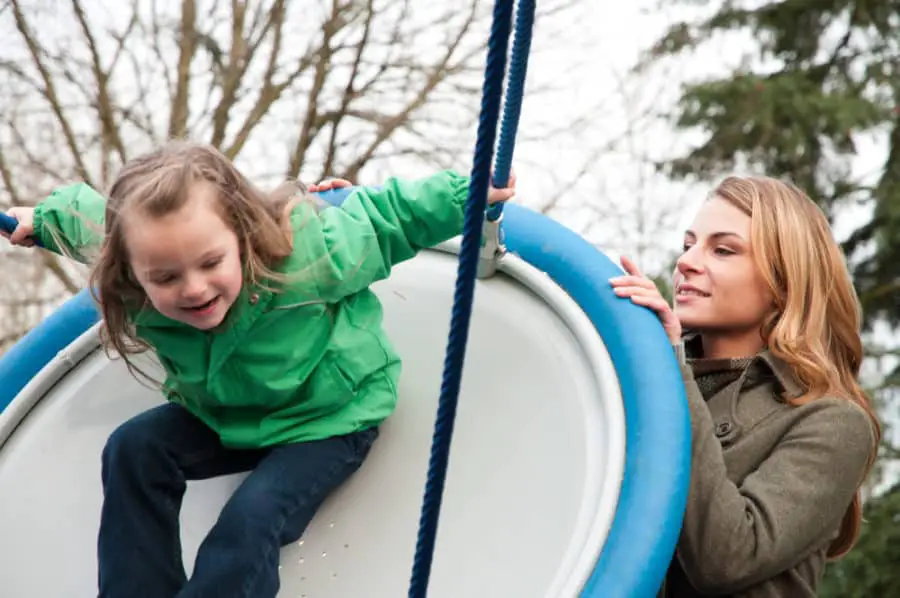 4. Flying Saucer Swing
Flying saucer swings are spacious with a wide, solid base. Perfect for multiple kids to play on! KcSwings discusses how you can choose the best flying saucer swing on the market! Read how here.
5. Spider Net Swing
Spider net swings don't just look cool. They're also sturdy, able to hold up to four kids at a time! Most of these swings have a maximum weight capacity of 400 pounds! Home Depot gives detailed instructions on how to install your own WebRiderz spider net swing on trees. Learn how here.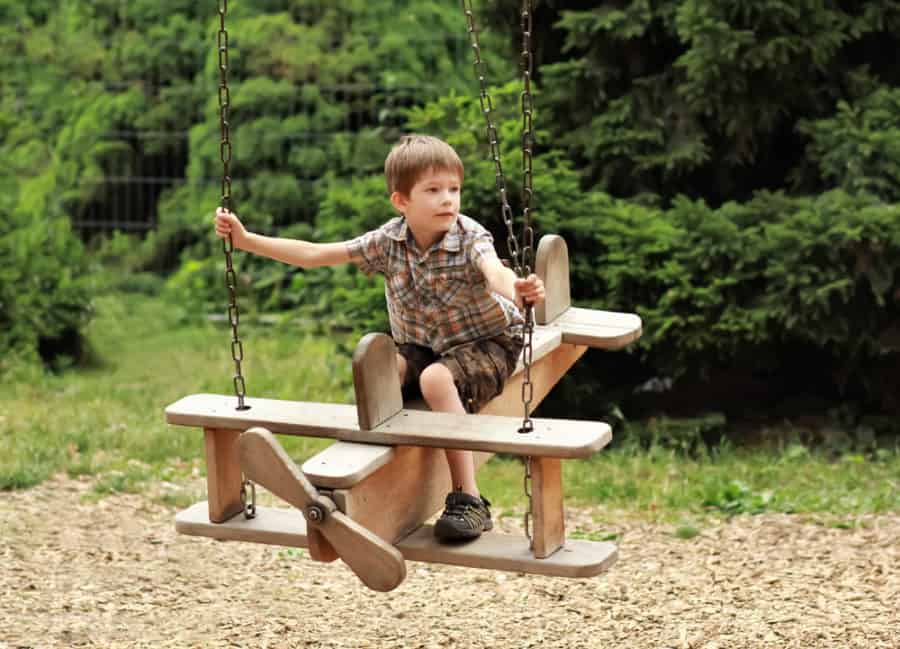 6. Airplane Swing
Building an airplane swing may be quite the DIY project, but it's sure to wow your children and spark their imaginations! Kirsten at Dunn Lumber details how to build an airplane swing from scratch! See how it's done.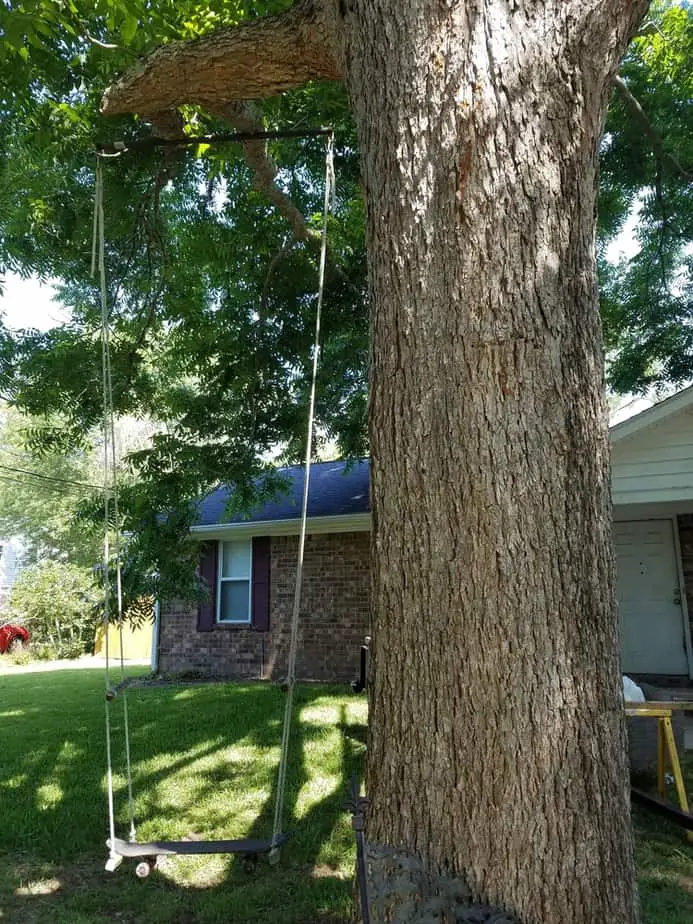 7. Skateboard Swing
DIY skateboard swings are an innovative way to reuse the old skateboard in your garage. They make great standing swings for kids, and look cool too! Ben at HomeMade Modern uses photos and step-by-step instructions to explain how to make your own. See how here!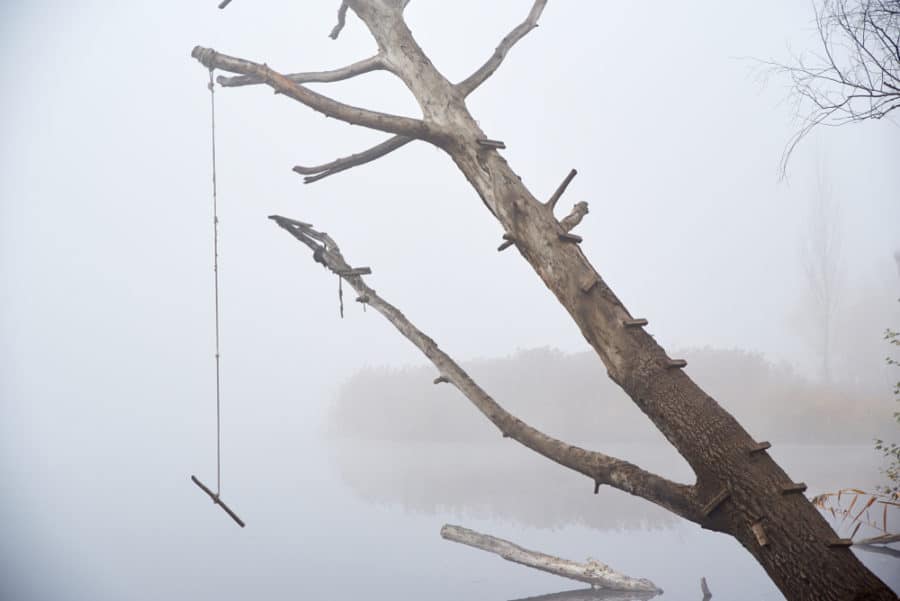 8. Single-Branch Swing
This tree swing may not be very comfortable, but it sure is a simple swing that can be easily constructed in a hurry. It's perfect for kids who don't mind a little rough play.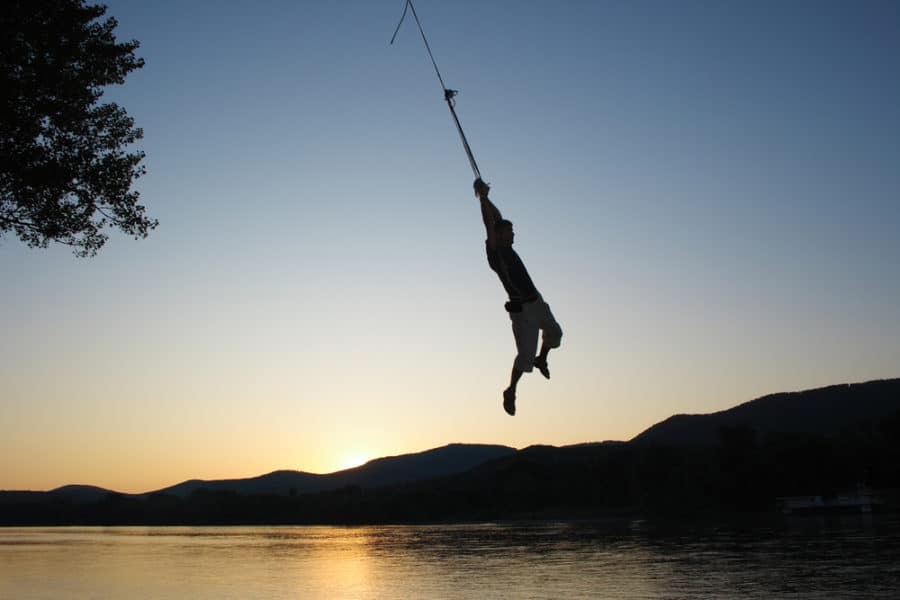 9. Rope Swing
If you happen to have a pond on your property with trees next to it, a rope swing may be the ideal summer pastime. Not only are they fun, but they're simply made from a long, knotted rope. Couldn't be easier.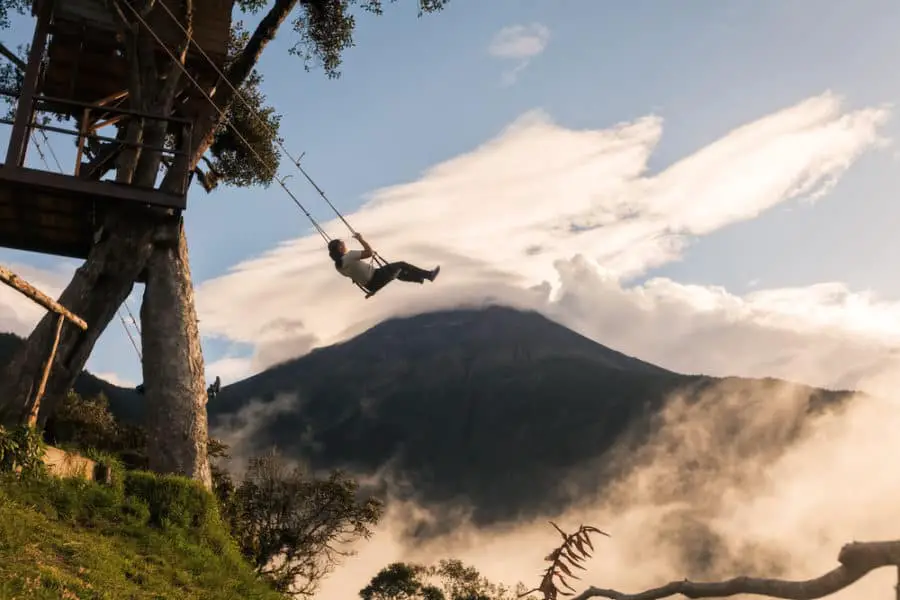 10. Tree Swing Treehouse
If you have a treehouse in your backyard, or just want a huge project to work on, a tree house with tree swings is a grand idea. While your kids enjoy the imagination of their home in the trees, they can stop to swing any time they'd like.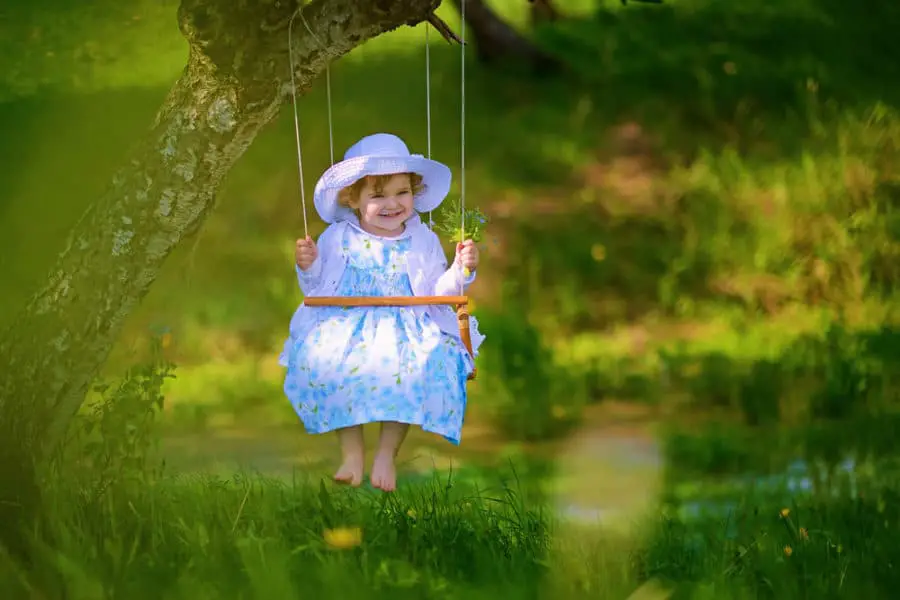 11. Child-Safe Swing
For very small children or babies, this wooden tree swing with a protective front and back bar would be the perfect addition to a young family's home. It's dainty, and adorable – just like your little one.
---
Tree Swing Ideas for Leisure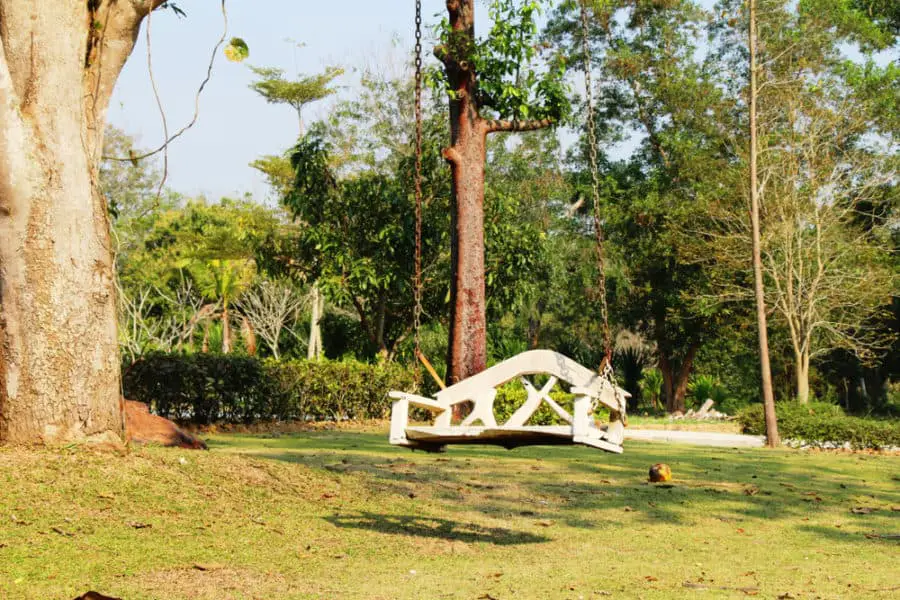 12. Porch Swing on a Tree Limb
Porch swings are a beloved piece of the past… but, what if you don't have a porch? Megan at Hunker.com instructs how to stylishly hang a porch swing on the limb of a tree! See how to do it.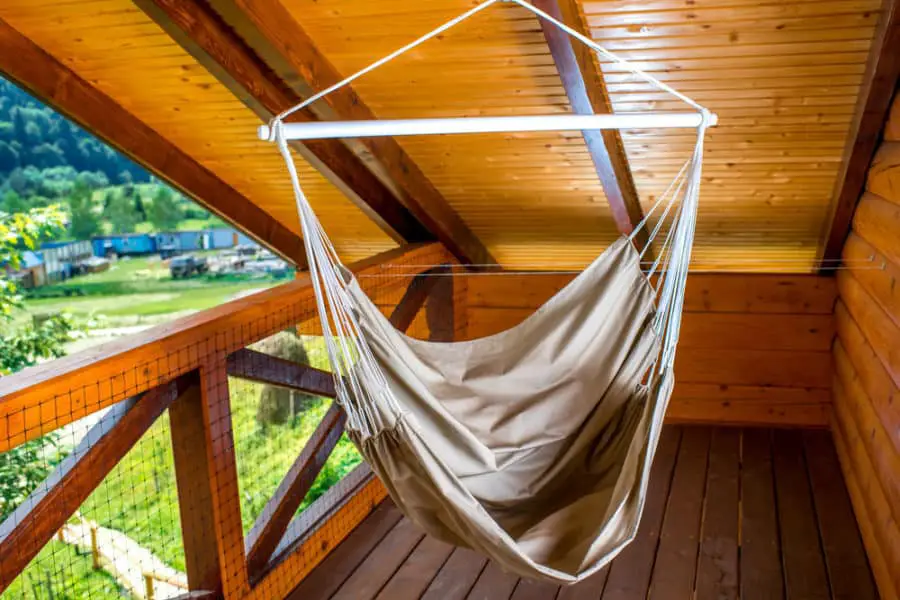 13. Hanging Hammock Chair
What's better than rolling around and getting tangled in a regular hammock? A hammock chair. No tangling, no stress – just sitting and relaxing. The New York Magazine lays out the best hanging hammock chairs of this past year. Browse for yourself.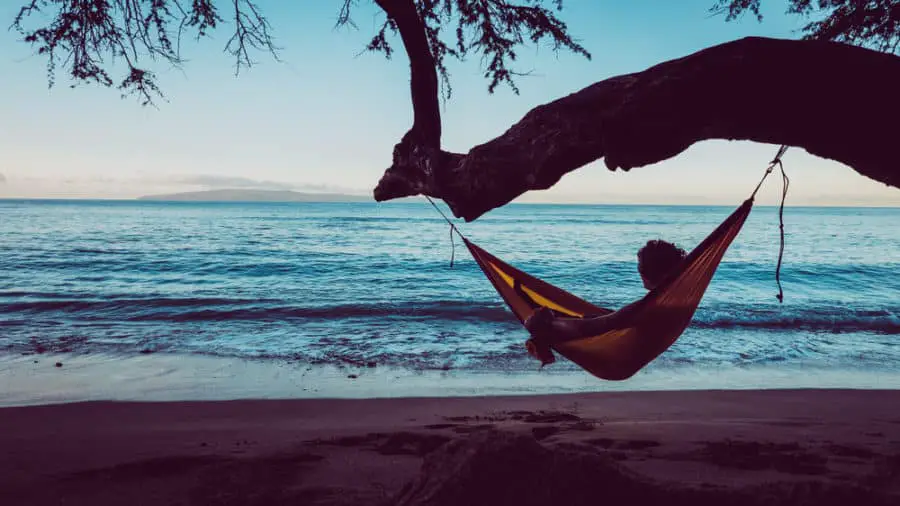 14. Traditional Hammock
While traditional hammocks can be a little tricky to manage, they're still a classic when it comes to outdoor lounging. They're comfortable to lay on and great for a sunny afternoon. Yellow Leaf Hammocks describes the best methods of hanging your traditional hammock indoors and outdoors. See how.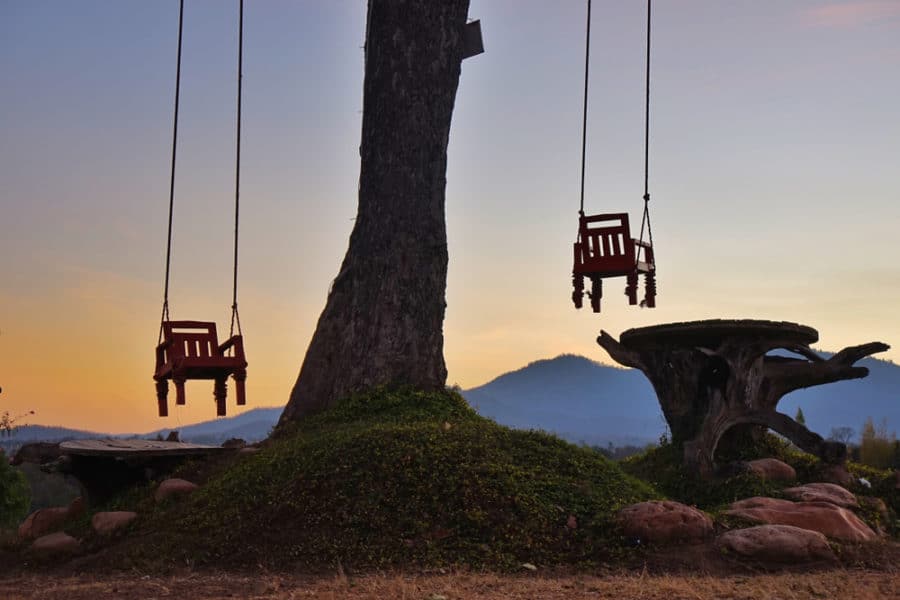 15. Swing Chair
If you have an unused or old chair around your home, making a swing chair out of it is a great way to reuse it. SFGate provides detailed instructions on how to create your own DIY swing chair. See how here.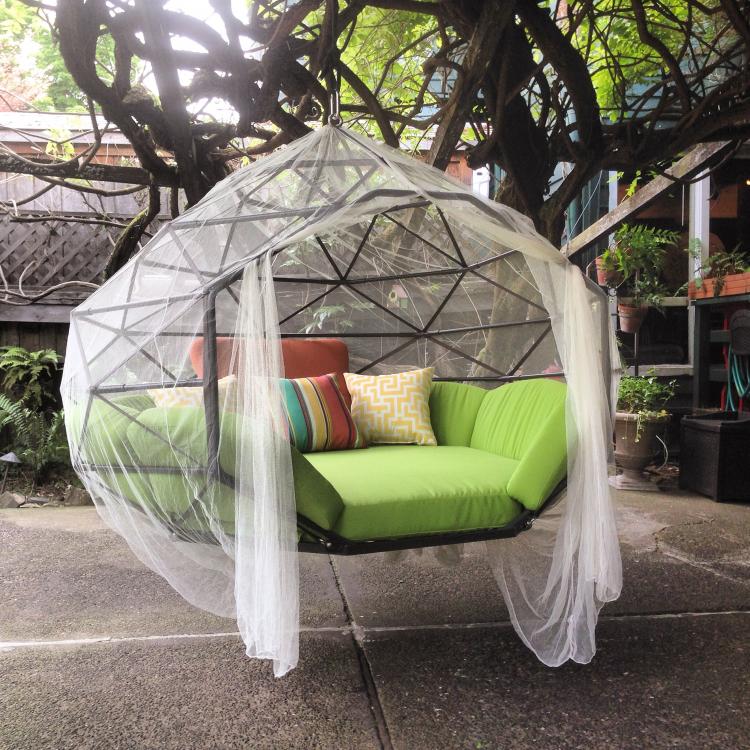 16. Caged Hammock
Caged hammocks are multi-person, huge hanging swings. They're artistic and perfect for when you have a large family or friends who like to spend time lounging with you. You can learn more about these hammocks through the Kodama website, here.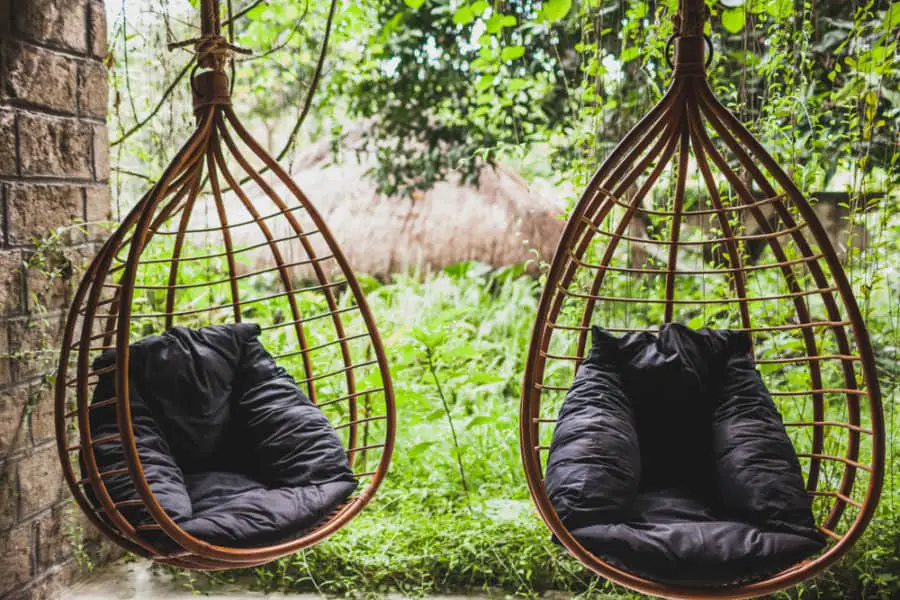 17. Hanging Rattan Wicker Chair
These 1960 design inspired rattan wicker chairs are the perfect addition to the backyard of an old soul. Just add cushions to the bottom to make your vintage-inspired chair a comfy seat to relax in. Hayneedle.com provides inspiration on how to decorate your rattan wicker chairs. See their ideas.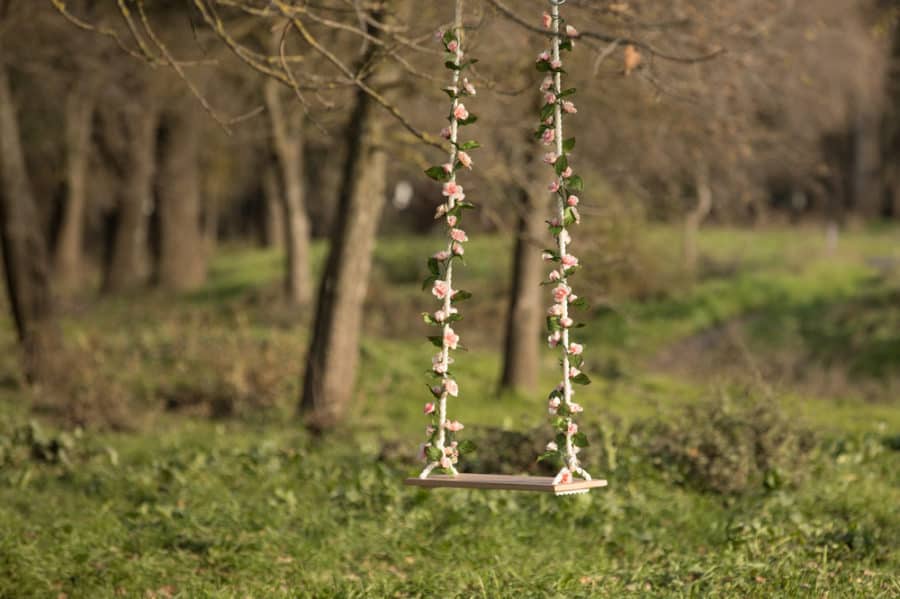 18. Tree Swing with Entwining Faux Flowers
This simple wooden rope swing is made elegant with the addition of fake wire flowers wrapping around the ropes. It's a perfect way to transform your plain swing into something feminine and colorful.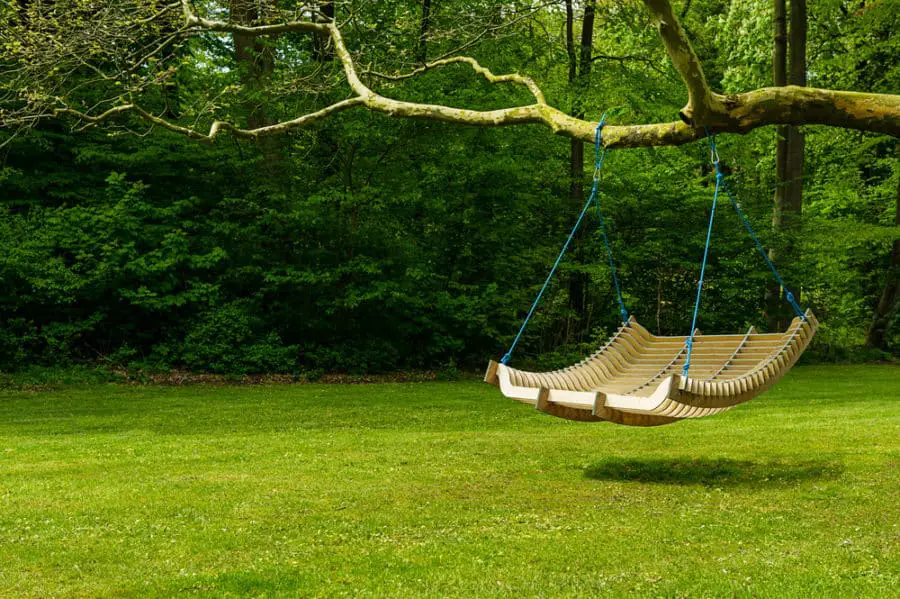 19. Swing Bench
Swing benches, as shown in the photo, are a wide and spacious tree swing perfectly suited for relaxation. Not only are they large, but they're odd-looking, adding a unique and distinct appearance to your already-personalized yard.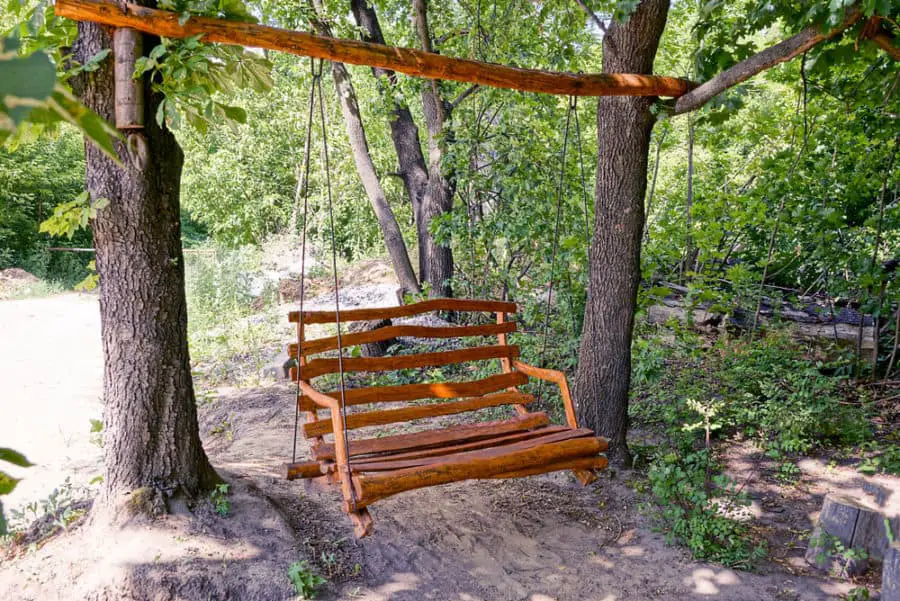 20. Rustic Wooden Chair with Wooden Beam
If you enjoy a rustic, country-side look, this wooden chair tree swing with a wooden beam may be the way to go. Not only does this swing give off a rural vibe, but it also blends in perfectly with the nature surrounding it as to not take away from the natural beauty in your yard.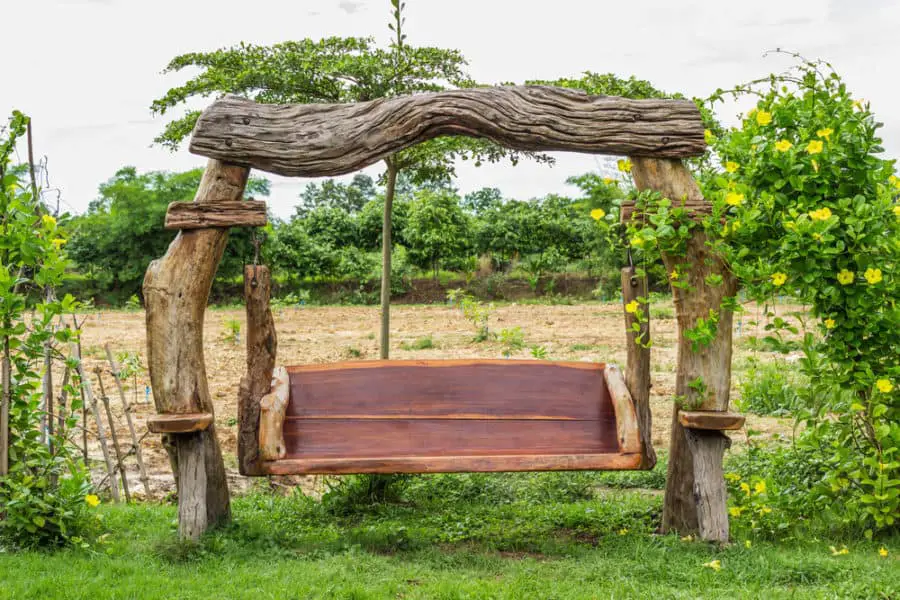 21. Swing Made of Trees
Last but not least we have this (quite literal) "tree swing". This backyard swing is made entirely out of rugged tree stumps and smoothed wood (aside from the metal bolts and chains). The obvious uniqueness of this swing is why we've included it on our list. How couldn't we?
Best Tree Swings on the Market
Now that you've gone over our favorite tree swing ideas, in this section of the article, we'll be reviewing some of the top tree swings available on the market today! As with our tree swing ideas that we just covered, we'll be reviewing swings for kids and adults.
1.
Royal Oak Saucer Tree Swing
Sale
Royal Oak Saucer Tree Swing,Giant 40 Inches with Carabiners and Flags, 700 lb Weight Capacity, Steel Frame, Waterproof, Easy to Install with Step by Step Instructions, Non-Stop Fun! (Blue)
FABRIC UPDATE - The Strongest and Most Durable Industry leading1680D Oxford Polyester Fabric is used for all our swings.
CERTIFIED AND APPROVED: ASTM F963-11 and CPSIA section 101 (a)(2) approved.
ULTRA SAFE AND BUILT TO LAST - We take safety seriously and that's why we are the only company that uses the strongest and safest materials like 1680D Oxford fabric with industry leading protective coating, no lead and an industrial strength steel frame. Keeping safety in mind, instead of including poorly made unsafe straps, our higest quality Easy Hang Straps are sold seperately. With a load rating of 700 lbs., this swing can handle multiple children at the same time.
WEATHER RESISTANT: Our saucer swings are known to take a beating from the weather and continue looking great. Our unique and strongest 1680D Oxford fabric with industry leading protective coating means that rain and snow are no match for this swing. We also use commercial grade rope so you don't have to worry about repairs. We built this swing to handle anything Mother Nature throws its way.
SIMPLE INSTALL: What good is a swing if it's complicated to put together and take apart? We designed our swing with simplicity in mind. Our easy to follow instructions make it a breeze to put together or take apart for winter storage. Hang it from a large tree branch or attach it to a swing set.
Last update on 2023-09-17 / Affiliate links / Images from Amazon Product Advertising API
The first best tree swing on the market, the Royal Oak Saucer Tree Swing is a giant, 40-inch tree swing that the whole family can enjoy (even mom and dad!). It has a weight capacity of 700 pounds, making this is a great choice for use by multiple children or kids and their parents at the same time.
It comes in an astonishing 12 different colors and styles including American Flag, Blue, Camo Blue, Camo Green, Green, Multicolored, Orange, Pink, Purple, Rainbow, Red, and Yellow to match your backyard decor best or your child's favorite color. This is a relatively affordable tree swing, especially for its quality, size, and weight capacity, and is an ultra-safe option.
The installation of this saucer tree swing is simple and makes it easy to set up or take down for storage. Keep in mind that the straps are sold separately.
This saucer string is not only durable, but it's also weather-resistant and made with resistant material to prevent rain and snow from taking a toll on the quality of the swing. The ropes are also commercial grade, so you don't have to worry about snapping or the weather causing the rope to wear.
What We Like:
Made of high-quality materials
Commercial grade rope
Weather-resistant materials
Weight capacity of up to 700 pounds
Great for multiple kids or adults
Available for purchase in 12 different colors and patterns
Easy to assemble and disassemble for storage
---
2. Pellor Wood Tree Swing
PELLOR Wood Tree Swing Seat, Indoor Outdoor Rope Wooden Swing Set for Children Adult Kids 17.7x7.9x0.6 inch
INDOOR&OUTDOOR WOOD TREE SWING: Our wood tree swing designed with a Non - slip ridged seat & raised sides. 120cm - 180cm adjustable rope, galvanized metal rings and fitting Also can be hung from a tree branch or a beam.Brightly coloured wooden swing seat for adult and children offers fun, quality and great value.
HIGH QUALITY: Natural wooden material provides you with security and comfort. Painting on the surface of the wood swing seat can protect it from moldy before you play outside. The wood tree swing with 180cm adjustable rope galvanized metal ring and accessories, easily be hung on the branch or beam. Max load weight: 100kg, seat size: 45x20x1.6cm /17.7x7.9x0.6 inch, Big swing chair seat fit for children and adults. It is very security for you and your family.
ENJOY CHILDHOOD WITH YOUR FAMILY: Pellor wood swing is the perfect choice to satisfy your inner playful self! Suitable for both average adults and kids, take a ride on our outdoor adult swings within your home or playground, and enjoy the surrounding outdoor breeze and carefree feeling of childhood!
EASY INSTALL: The tree swing no hardware tools required to install this swing sets, very easy install!First, choose the branches of a sturdy hardwood tree - oaks are ideal! Avoid fruit trees, evergreens, or trees that split easily. Then, tie the rope or the straps in the hanging kit around the tree branch and adjust to your desired angle, done! Such a great fun to your backyard !
SATISFACTORY SERVICE: We are committed to ensuring that you are 100% satisfied. If you have any problem during the use, not satisfied with our products or services please contact us by email first time, we will try our best to offer you with satisfactory and friendly service.
Last update on 2023-09-17 / Affiliate links / Images from Amazon Product Advertising API
This tree swing is an old-fashioned style with modern quality. It's a traditional rope and wood tree swing and while it comes at a bit of a higher price tag, the quality and durability of this swing make up for the cost.
The ropes are adjustable so that you can get the perfect height for your kids (or yourself) and are secured by galvanized metal rings for the utmost safety and durability possible. While this option is a great choice for both children and adults, it only has a maximum weight capacity of 220 pounds, meaning that it may not be the best option for some dads.
This tree swing is a breeze to install and requires no tools to secure this swing to a branch. Overall, this is a pretty great choice for the whole family to enjoy, even though the weight limit may not suit all parents. It's sturdy, made of weather-resistant materials, and made with the highest quality ropes, fasteners, and wooden seat possible to ensure the safety of your family.
What We Like:
Old-fashioned, traditional style
Good choice for adults and kids (up to 220 pounds)
Made of weather-resistant, high-quality materials
Easy to install — no tools needed
Adjustable rope height
---
3. Y- STOP Hammock Chair
Sale
Y- STOP Hammock Chair Hanging Rope Swing, Max 500 Lbs, 2 Cushions Included, Large Macrame Hanging Chair with Pocket, Cotton Weave for Superior Comfort, Durability (Dark Grey)
Safe and strong , the sturdy spreader bar makes the hammock chair more stable. The anti-slip grooves on both sides can effectively prevent the rope from sliding, and the maximum weight is up to 500 Lbs
Our portable hammock swing chair has a side pocket. The unique side pocket can hold mobile phones, books, iPads and drinks, which is very convenient and provides you with a good reading space
Easy to install: The stylish hanging chair comes with Stainless SteelCeiling Mount and a stainless steel chain, which can be hung anywhere, you can easily move it anytime, anywhere. Just find a branch, beam or hammock frame, and it's easy Install it
Comfortable hanging chair swing provide the best reading place for busy people. You can easily meditate or enjoy the scenery. It is very suitable for use in bedrooms, balconies, courtyards, and gardens. If you need a return, do not remove the tag from the hammock chair
Last update on 2023-09-17 / Affiliate links / Images from Amazon Product Advertising API
The Y-STOP Hammock Chair probably won't be your kid's first pick in a tree swing, but it's definitely a great, leisurely option for mom to relax and read a book in. This frilly, super cute hammock chair with a tassel design is surprisingly affordable for its quality and is available for purchase in three colors including Beige, Gray, and Light Gray.
This chair is made of a soft polyester and cotton blend and features two pillows and padding in the seat for a comfortable experience. It comes with everything you need to hang the chair and even comes with a hanging pocket that can be used to place your phone, glasses, books, or other belongings in when you're outside relaxing.
The design of this hammock chair allows you to sit up straight or lean back and recline with full head support. It's large enough to accommodate a single adult or an adult and one child and has a max weight capacity of 330 pounds.
While it can be used outdoors on a tree, you'll need to be sure that you take it down and store it when bad weather rears its head. Luckily, taking the swing down is just as easy as installing it, and you simply need to lift it off of the hook in order to store it.
What We Like:
Super cute tassel, frilly design
Comes in Beige, Light Gray, and Gray
Comfortable and leisurely
Surprisingly affordable for the quality
Comes with two pillows and a comfy cushion
Has a side pocket to store your belongings in
Max weight capacity of 330 pounds
Large enough for one adult and one child
Can recline back
---
4. Trekassy 700lb Giant 60″ Platform Tree Swing
Trekassy 700lb Giant 60" Platform Tree Swing for Kids and Adults Waterproof 2 Hanging Straps (Blue)
✅STURDY LARGE PLATFORM SWING: 60" x 32" steel frame with tight weave fabric seat fits 5 kids or two adults. Weight rated to 700 pound as a great platform swing. Safer for child to swing for a long time.
✅SWING STRAPS: Our tree swing include 2 pack tree straps. No need to buy extra straps or other accessories.
✅UPGRADED PLATFORM SWING SEAT: Made of high quality material, the spacious swing seat is wear-resistant,UV-resistant and Non-fading,lasts much longer than swing in other material, bring you comfortable sit and swing in all weather.
✅DURABLE HANGING ROPES: Extra thick adjustable ropes are made from high quality PE webbing with metal rings for secured fastening. Strong UV resistant and won't fade for years.
✅EASY TO ASSEMBLE: This platform tree swing includes step by step picture instructions, complete hardware and mounting gears,you can easily attach this swing seat to trees in minutes. Backyard swing or playground fun for kids, teens, and adults.
Last update on 2023-09-17 / Affiliate links / Images from Amazon Product Advertising API
The Trekassy Platform Tree Swing is one of the coolest, biggest, and best quality tree swings available on the market today. This modern tree swing has a 700-pound capacity, and a 60″ x 32″ steel frame, making it a great choice for multiple adults, multiple children, or for use by both children and adults!
This tree swing comes with everything you need to set it up for your tree and includes a pack of two 5-foot quality ropes with the ability to withstand the pressure of 2,000 pounds each. It also comes with 2 stainless steel carabiners. The steel frame is rust and weather resistant and the fabric is also weather and fade-resistant, able to hold up to all kinds of weather conditions without negatively affecting the quality of the swing over time.
The Trekassy Platform Tree Swing is a breeze to install to your tree's branch and only takes minutes to fully complete the installation. The only potential downside to this swing is that it only comes in one color (blue), while other large platform swings on our list come in color varieties to choose from.
What We Like:
A great choice for kids and adults to use
Max weight capacity of 700 pounds
Large frame
Can hold multiple people at once
Comes with everything you need to install the swing
Installation takes minutes
Material is high-quality, fade and weather-resistant
The steel frame is rust and weather-resistant
5-foot ropes are commercial grade and can withstand 2,000 pounds of pressure
---
5. Swurfer – the Original Stand Up Surfing Swing
Sale
Swurfer Stand Up Tree Swing, Swingset Outdoor Play with Adjustable Handles For Kids, Durable, Weatherproof, Easy Installation, 200lbs, Ages 6 and Up
VERSATILE - Any child or adult can hop on and soar away; Adjustable handles for any height; Great for a little one looking for a calm swing and for big kids looking for excitement; Best for ages 6 and up
INNOVATIVE DESIGN - Unlike swings made of flat pieces of wood, Swurfer's unique, curved shape is engineered for more power, stability, and a wider range of motion; Each swingboard is individually shaped, sanded, and finished by hand for optimum quality
GREAT FOR ACTIVE PLAY - Swurfer is great for improving core body strength, balance, and toning leg and arm muscles; It's so much fun, you won't even realize what a workout you're getting!
EASY INSTALLATION - Sets up in minutes; Each Swurfer comes with easy-to-follow installation instructions and all necessary components
SPECIFICATIONS - Board measures 33 x 10 in; Includes 60-ft double braided rope; Supports up to 200 lbs
Last update on 2023-09-17 / Affiliate links / Images from Amazon Product Advertising API
The final best tree swing market option in this section of our article, the Swurfer Surfing Swing is not exactly what you'd call a traditional tree swing. It's a great option mainly for kids over the age of 6 and adults under 200 pounds and allows the user to stand up and swing back and forth as if they're riding waves.
The footboard is curved for better foot stability and the Swurfer features 4 60-foot commercial grade adjustable ropes that are both UV and mildew-resistant for increased lifespan. Each pair of ropes features a wooden bar that you or your child can hold on to for balance as they swing. The handles can also be adjusted to your liking and they're UV resistant to prevent fading and premature breaking down.
This tree swing by far gives you the most extreme performance with its long ropes and can be hung from the highest branch in your tree (up to 30 feet in the air) or adjusted for a more mild experience to a lower branch (as low as 8 feet). Though it's a tad on the expensive side, we feel that the quality and the experience of this swing is well worth the investment, especially if your family loves spending time out in the backyard.
What We Like:
Excellent quality wooden board
Board is curved for optimal foot stability
60-foot ropes for extreme swinging performance
Ropes can be adjusted to your liking
Handles can also be adjusted
Made of UV and weather-resistant materials
Great for kids ages 6 and up and adults up to 200 pounds
Unique, modern tree swing
---
Final Thoughts
Tree swings have been a favorite for centuries, and not every tree swing is the same! You can build your own unique tree swing with our favorite tree swing ideas above or purchase one of the highest-quality tree swings available on the market today with our review.
No matter if you decide to build your own swing or purchase one from the store, we hope you enjoyed our unique list of best tree swing ideas and got some ideas of your own! Happy decorating!
Need more design ideas? Check out our Pergola Ideas, Enclosed Patio Ideas, and Landscape Border Ideas articles!