If you're new to gardening, you may be having trouble starting out. Wondering how often you should water your garden, and how to maintain your beds can be frustrating for beginner gardeners. Which is why, in this article, we've put together a comprehensive guide for all-things gardening!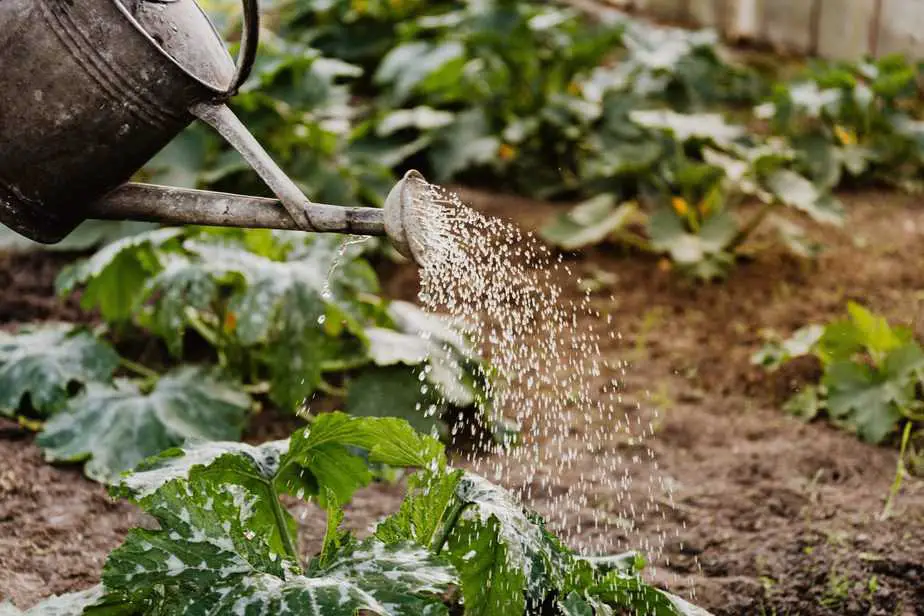 From flower gardens to vegetable gardens, we cover everything you need to know! Let's get started!
Take a Look at What You're Growing
What you're growing will affect how much you should water your garden. Different flowers, vegetables, fruits, and herbs will require various amounts of water, at various times of the day, and may not even have to be watered every day.
If You're Growing Flowers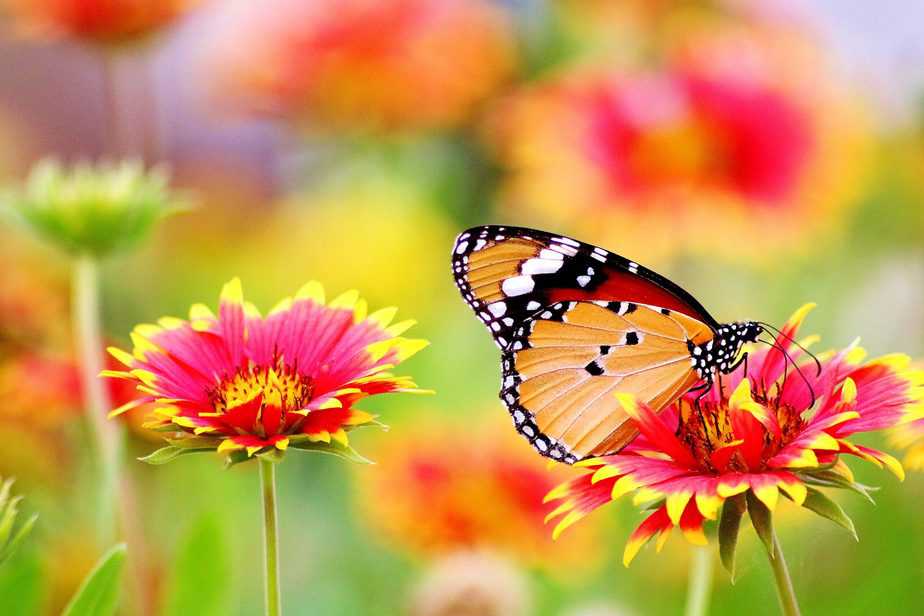 Now, there is no guarantee that your flowers will have to be watered this much in X-amount of days. However, there is a general rule of thumb for everything, including watering your flower gardens.
Before you follow the guidelines for watering below, be sure that you check up on your plant's specifications and needs. You can find sunlight and watering needs on seed packages, the original flower container or tag,  or by researching the flower's species in books or online.
General Watering Guidelines for Flower Gardens
Typically, you should be watering your flower garden once every week to 10 days. Of course, how often you water also depends on the weather conditions. For example, if it's been raining a lot one week, skip out on watering during the sunny days. You may even want to skip the next week of watering. Or if the weather has been scorching hot, you may want to water every other day when the sun is at its coolest (early mornings and evenings).
Watering Tips for Flower Gardens
Water deeply only once a week, rather than lightly multiple times a week. Watering deeply will help to saturate the multiple layers of soil, keeping your plants watered for longer. This is especially important during the summer when the ground dries out more quickly.
Don't pour water over the leaves, rather, water at the base of the plant nearest to the roots. While watering the leaves of some plants may not affect them, for others, such as cacti, succulents, and frail flowers, it could mean the spread of disease. Aim to water at the base of the plant, targeting the roots, rather than watering petals, leaves, and spines.
Consider your soil type and water accordingly. Various soil types will respond to water differently. For example, clay soil will hold water more than sandy soil.
Mulch your flower beds. Mulch helps to protect plans and prevents water from evaporating too quickly. Make sure that you mulch your beds newly during planting season, and whenever it looks run down and dull.
Signs That You're Watering Too Much
Monitor your plants closely to see if how much you're watering is too little or too much. Some signs that you're watering your flowers too much include:
The soil is visibly wet all the time
The tops of the leaves of your plants become brown, wilted, and soft or "soggy" to the touch
Lower leaves begin to turn a yellowish hue
You may notice root rot
New buds won't form
Leaves will fall
You'll see bruising on the plant from burst cells (a result of overwatering)
If you begin to notice any of these signs, stop watering immediately and wait until the soil is completely dried out.
Signs That Indicate Too Little Water
On the other hand, you may be watering your plants or flowers too little. Some signs of underwatering include:
Brown, dry, crusty leaves
The soil is hard and visibly dry with no damp undersoil
Overall dull appearance to what should be vibrant plants
Overall, pay close attention to the needs of your plants. If you're unsure how much you should be watering your plants, call a gardening center or do some research.
---
If You're Growing Edible Plants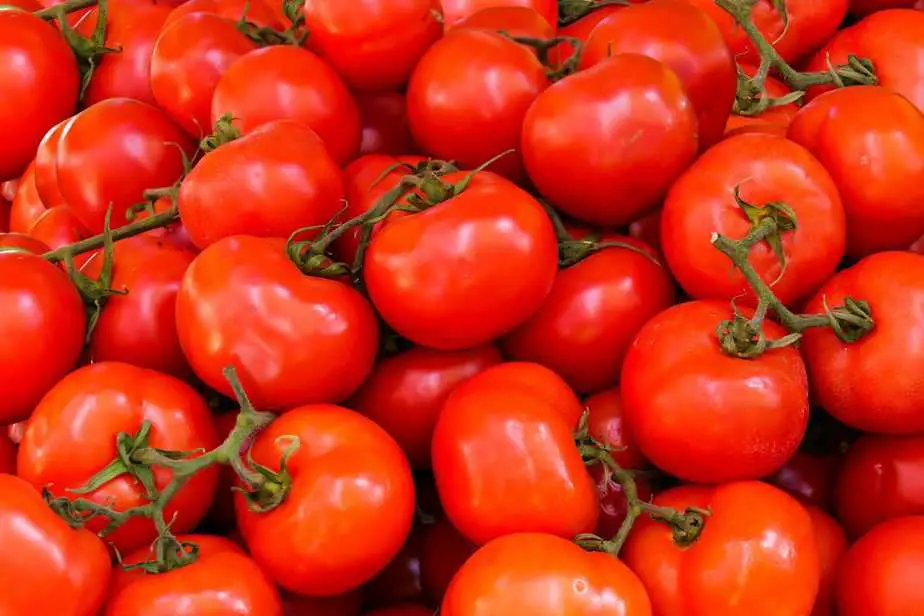 Like with flowers and decorative plants, there's really no "one size fits all" solution when it comes to watering your edible gardens, either.
Vegetable gardens are filled with different kinds of plants, which means that they will all require various amounts of water. If you water too much, you risk drowning your plants; and if you water too little, you won't yield the produce that you otherwise could, and your plants may wither and die.
It's important that you have an understanding of the types of edible plants you're growing, and their needs. Below are general watering guidelines for vegetable gardens, but you should always follow the watering recommendation found on the plant's container or seed packet.
General Watering Guidelines for Vegetable Gardens
In general, you should aim to water your vegetable gardens deeply once per week. You should be providing your garden with about 2 inches of water weekly. However, this varies depending on the size of your vegetable garden, the weather conditions, and the soil type.
If it's been raining often, or you know that your soil retains a lot of water, you'll want to water your vegetable garden less (maybe once every other week).
Watering Tips for Vegetable Gardens
Weekly, water until the soil is visibly wet and penetrates deeply into the ground. This will ensure that your plants have enough water to last them throughout the week or two weeks.
Don't pour water over leaves, fruits, or vegetables. This could encourage disease. Instead, water at the base of your plants, nearest to the roots. You'll also want to avoid watering the stalks or stems of the plants.
Don't water again until the topsoil is visibly dry. Even if the topsoil is mostly dry, it's likely that the undersoil is still wet enough to sustain your garden.
Water in the mornings and evenings. Watering while the sun is at its hottest will scorch your plants.
Signs That You're Watering Too Much
Closely monitor the amount of water you're using on your vegetable gardens. If you feel you're watering plenty, but your plants are still withering, it may be that you're watering too much. Here are a few signs of overwatering:
The soil is continuously wet or pooled on the topsoil
The leaves of your plants are beginning to turn yellow
The leaves are wilting and soggy to the touch
You notice cuts or bruising on the plants as a result of burst water cells
Your plants are blossoming or yielding fruits as they should
If you're overwatering, cut back drastically and begin watering again once the soil is completely dried out, even down into the soil 2 to 4 inches.
Signs You're Watering Too Little
On the other hand, you may be giving your vegetable garden too little water. Here are some signs of underwatering:
The leaves of your plants are dry, flaky, and falling
Leaves are brown and wilting
Developing fruits shrivel and wither
Plants are blossoming or yielding fruit as they should
The ground is visibly dry and possibly cracked
If you're watering too little, begin frequent watering up to 2 inches.
Gardening Tips for Beginners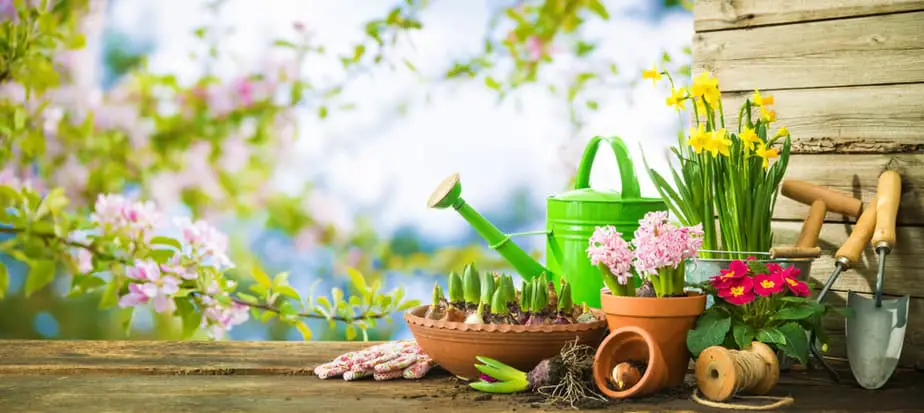 Chances are, if you're new to gardening, you have more questions than answers. In this section, we'll be providing you with beginner gardening tips to help you start and maintain the best garden possible!
1. Research the Plants and Their Needs Before Purchasing
Plants like Hydrangeas are beautiful, but they're definitely NOT beginner plants. That's why it's important to do your research and find out what plants would be easiest for you to care for. Consider how much sunlight they need, what soil is best to plant them in, and how often they should be watered.
The worst mistake a new gardener will make is purchasing plants that will be too difficult to keep up with.
Along with researching the plants, you'll also need to know which zone you live in to choose the best plants that will grow in your area. Keep an eye on frost and planting dates, as well, to avoid planting too early or too late.
2. Know Your Yard
Different areas of your yard will receive various amounts of sunlight throughout the day. Different kinds of plants will require varying amounts of sunlight, so be sure that you know which parts of your yard receive the most, and the fewest, amount of sunlight.
If you're planting a flower garden, choosing a site in your yard that receives some shade is generally okay. For vegetable gardens, you'll want to choose the sunniest area in your yard, preferably an area that receives 6+ hours of sunlight throughout the day.
3. Start Off Small
If you aren't sure if gardening is a hobby you'll enjoy, start off with a small flower or vegetable garden. Better yet, start off with potted plants. A container plant is less of a commitment than a backyard garden, and if you make a sunlight mistake, you can simply pick up your potted plant or plants and move them to an area that receives less or more light.
4. Make The Most Out Of Compost
Compost is an excellent way to add nutrients to your garden without the use of chemical fertilizers. It will help keep your plants strong and healthy, and may even encourage them to yield more fruit if you're growing a vegetable garden.
Compost is also a great way to reduce waste in your kitchen, as it uses kitchen scraps to fertilize your garden. Check out this guide to how to make compost for more ideas!
5. Keep Pests At Bay
This is especially important if you're growing a vegetable or fruit garden. Pests such as rabbits, beetles, caterpillars, and other insects can ravish your garden if you don't keep them under control. To keep wild rabbits out of your garden, installing a chicken wire fence around your garden is your best bet.
When it comes to keeping insects out of your garden, you may want to consider using an insecticide. We recommend that you choose an organic option, to keep you, your family, and the earth healthy. Check out this article for natural insecticides you can make on your own!
Gardening Tools and Accessories
Now that you know our beginner's gardening guide through and through, you'll want to make sure that you have the right tools to complete the job! As you've seen, gardening doesn't come down just to how often you should water your garden — and you'll need to be prepared for maintaining your plants.
Here are 10 of our favorite gardening tools and accessories to do just that!
1. Watering Can
Sale
Fiskars 20-47287 Easy Pour Watering Can, 2.6-Gallon
Easy to carry and pour because of unique handle design
Holds 2.6-gallons of water
Dual handles accomodate multiple hand postions
Spout rotates for adjustable flow control, from a gentle shower to a steady stream
Filling hole is located on the side so the handles don't get in the way
Last update on 2023-10-01 / Affiliate links / Images from Amazon Product Advertising API
Having a watering can is a MUST for any gardener! They're great for watering potted plants and are easier on delicate flowers than a water hose is. They're also great for watering gardens that are out of the reach of a water hose.
This particular watering can holds up to nearly 3 gallons of water, making it great for virtually any sized backyard garden. The easy handle design allows you to get a good grip on the can so that you can pour with ease, and not have to worry about dropping the can or pouring out too much water.
The water spout is adjustable and allows you to water your plants with a more gentle or strong stream. The filling hole is positioned on the side of the can to prevent the handles from interfering.
Overall, this is an affordable and high-quality watering can that will endure years of use!
---
2. Weeding Tool
Sale
Berry&Bird Japanese Weeder-Scraper-Hoe, 12.67-Inch Gardening Sickle Hoe, Stainless Steel Bent Angle Weeding Sickle, Weeder Hoe with Ergonomic Ash Wood Handle for Weeding, Soil loosening, Digging
WHAT YOU GET - 1 * Japanese Weeder-Scraper-Hoe. Our garden weeder-scraper-hoe are made by traditional manual process and can be used for more than 10 years. The more the wooden handle and stainless steel will be used, the smoother it will be.
ELBOW DESIGN - The gardening weeder hoe adopts a special stainless steel elbow design, which is a very practical gardening tool. The elbow design makes it easy for the hoe to dig with a flat blade or dig with a pointed tip. Perfect to clear an area with not alot of room to work with. The weeder-scraper-hoe are great for weeding, allows you to effectively weed without disturbing vegetables and flowers.
WIDE APPLICATION - A practical and lightweight gardening weeder hoe that helps you removing weeds or clearing unwanted plants from areas in a small ground soil area, like a flower-bed that requires a precise clearance. The gardening weeder can be used for daily gardening work such as weeding, loosening soil, growing vegetables, gardening flowers and fruits. The hoe garden tools are a good helper for garden work.
SUSTAINABLE - We pay attention to the environmental protection of forests and are committed to ensuring a sustainable and responsible forest management system through clear standards and certifications. Our japanese weeder-scraper-hoe is designed with an ergonomic ash wood handle which come from Forest Stewardship Council (FSC) certified, government controlled forests. This regulates the use of wood and the replanting of trees for a greener environment.
100% SATISFIED GUARANTEE - 30 Days free replacement and 2-YEAR warranty. Berry&Bird is a traditional brand of gardening tools, we provide professional service for consumer, so please feel free to contact us if you have any issues, we will provide you with a satisfactory solution within 24 hours.
Last update on 2023-10-01 / Affiliate links / Images from Amazon Product Advertising API
Weeds are unfortunately a part of gardening, and when they rear their ugly heads, you'll need a tool to help you remove them quickly and right down to the root!
This weeding tool is sharp, affordable, made of high-quality materials, and pierces deep into the ground to remove weeds at the root. It's also great for chopping into thicker weeds, and can even be used to loosen hard topsoil.
---
3. Gardening Gloves
Sale
Last update on 2023-10-01 / Affiliate links / Images from Amazon Product Advertising API
Working with your hands in a garden can lead to insect bites, scratches, cuts, and dirty fingernails; which is why having a good pair of gardening gloves is essential!
These gardening gloves are made of 100% breathable cotton to keep your hands cool and protected and features an adorable flower print with a knit wrist  — the perfect lady's gloves! They feature PVC dots on the palms to keep your palms protected. This is a pack of 3 pairs of gloves so that when you wear 1 pair out, you'll still have 2 more to fall back on!
---
4. Tiller
Sun Joe TJ604E 16-Inch 13.5 AMP Electric Garden Tiller/Cultivator,Black
[POWERFUL]: 13.5-Amp motor cultivates up to 16 in. Wide x 8 in. Deep
[DURABLE]: 6 Steel angled tines for maximum durability and performance
[EASY STORAGE]: Handle folds for convenient storage and easy transport
[ADJUSTABLE]: 3-position wheel adjustment
[WEVE GOT YOU COVERED!]: Your new tiller and cultivator is backed by the snow Joe and Sun Joe customer promise. We will warrant New, powered products for two years from the date of purchase. No questions asked. Contact snow Joe and Sun Joe customer Support at 1-866-766-9563 for further assistance.
Last update on 2023-10-01 / Affiliate links / Images from Amazon Product Advertising API
If you're planting a large vegetable or flower garden, then you may find yourself in need of a tiller. This is an electric tiller, which is better for the environment, and much easier to operate than its gas counterparts. It's powerful and features 6 blades to easily penetrate the topsoil, leaving behind a soft and manageable garden.
(By the way, we have an awesome guide to electric garden tillers if you need help selecting the right model for you!)
---
5. Shovel
Last update on 2023-10-01 / Affiliate links / Images from Amazon Product Advertising API
Life is easier with a shovel! When it comes to planting large plants, a shovel is a key tool to making the process run smoothly. This shovel is commercial-grade and features a sharp head to easily penetrate the ground for a clean hole. It has a strong grip handle, and a high-quality fiberglass neck to ensure years of use.
---
6. Trowel
Last update on 2023-10-01 / Affiliate links / Images from Amazon Product Advertising API
For planting smaller plants like flowers, a trowel can help give you a precise hole. This trowel is made of quality materials and polished stainless steel for a gardening tool you can trust! It's also highly affordable, making it a great budget buy!
---
7. Rake
Sale
TABOR TOOLS J205A Level Head Rake with Strong Long 54 Inch Fiberglass Handle, 14-Tine Garden Rake.
GARDEN RAKE: A must-have garden tool for raking up clippings, leaves, and other light debris. Perfect for loosening or breaking up compacted soil, spreading mulch or other material evenly, and leveling areas before planting. Use this rake to level soil, break up clumps of soil, and spread topsoil, compost, or gravel.
RED FIBERGLASS HANDLE WITH COMFORT GRIP: The lightweight fiberglass handle with an anti-slip vinyl sleeve grip is comfortable to use. The handle is lacquered for weather resistance, and because of the noticeable red color, the tool is easy to spot in the green grass.
WELDED 14-TINE HEAD: The wide tines remove debris without damaging plant feeder roots. The steelhead and teeth are forged, so you will not experience tooth breakage.
STEEL FERRULE: The steel ferrule assures a strong blade-handle connection.
ORDER WITH CONFIDENCE. We at TABOR TOOLS stand behind our products. Please don't hesitate to contact us for support, questions about our products, or spare parts you might need.
Last update on 2023-10-01 / Affiliate links / Images from Amazon Product Advertising API
Having a rake is a great way to keep leaves out of your garden and the soil nice and even throughout the beds. This garden rake is made with high-quality materials, including steel, and a comfortable fiberglass handle that will last you years of continuous use.
---
8. Wheelbarrow
Marathon Yard Rover – 2 Tire Wheelbarrow Garden Cart - Green/Black
The yard Rover features two, air-filled wheels, making it easier to lift, balance and maneuver.
The loop handle allows users to effortlessly push, pull or dump the contents of the yard Rover.
It features a rust-proof 5-cubic foot poly tray and 300-pound load capacity, perfect for residential use.
It takes minutes to assemble. The only tools required for assembly are a crescent wrench and flat-head screwdriver.
At 25 pounds, It weighs about 25% less than an average wheelbarrow.
Last update on 2023-10-01 / Affiliate links / Images from Amazon Product Advertising API
If you're planning to have more than one garden, or a very large garden, then a wheel barrow is a tool we highly recommend that you consider. Wheelbarrows are great for hauling in large yields of fruits and vegetables, and they're also great for moving soil or compost from one place to another.
This wheelbarrow is only 25 pounds, making it incredibly lightweight and easy to lug around compared to other options, and has a 300-pound load capacity.
---
9. Pruning Shears
Sale
VIVOSUN 6.5" Gardening Hand Pruner Pruning Shear with Straight Stainless Steel Blades Orange
Reduce Hand Strain: These micro tip snips are made to reduces hand fatigue which makes them great for those with arthritis, carpal tunnel, hand or wrist issues; Comfortable "grip" handles will make it easy to work for long-time use without making you feel hand pain
Ultra Sharp Blades: These quality snips come with stainless steel precision-sharpened blades and are ready to tackle all of your deadheading, trimming, and shaping jobs for your roses, annuals, vegetable, bonsai and small-flower gardens
Secure, Easy to Lock: These micro tip snips feature a safe and secure sideways locking mechanism that keeps your blades protected and closed when not in use; The design of these pruning snips are perfect to use whether you are right or left handed with ease
Make Precise Cuts: With these micro tip snips, you can easily get between plants to "clip and snip" only the area or part that you want to cut with one-hand, while not damaging the other vital stems and branches of your other plants; Note: Clean blades after each use
Applications: Trimming trees and flowers, cutting papers, opening boxes and so on
Last update on 2023-09-30 / Affiliate links / Images from Amazon Product Advertising API
With over 20,000 positive reviews, it's no wonder these pruning shears made it to our list!
These shears are a budget-friendly option and are bright orange so that you don't have a chance of losing them as you work in the garden. They feature two straight stainless steel blades for a clean and quick cut, and are great for snipping off dead or overgrown limbs and blooms!
---
10. Garden Hose with Adjustable Nozzle
No products found.
If you have a large garden, an adjustable water hose is a great way to make watering an enjoyable, easy task! This garden hose can reach up to 25 feet with water pressure, and soon as you turn off the water, the hose shrivels back down to a manageable 9 feet.
The nozzle is adjustable so that you can water your more delicate plants and your hardy plants using the same head at different pressures and stream types. It's also incredibly affordable at less than $30, given the quality and multiple applications!
---
Final Thoughts
So, how often should you water your garden?
After all is said and done, both flower and vegetable gardens should generally be watered deeply once a week. However, all plants and gardens are different and will require different water amounts in order to thrive.
Be sure that you keep an eye on the weather and use common gardening sense when it comes to watering. We hope our guide to beginner gardening has been helpful!
Happy gardening!