Okay, it's time to admit it. You have yard envy because you think your yard is tiny compared to your neighbors. Instead of lamenting about your lack of space, we suggest that you learn how to make small backyards look bigger and make yours the one everyone else is jonesing to have.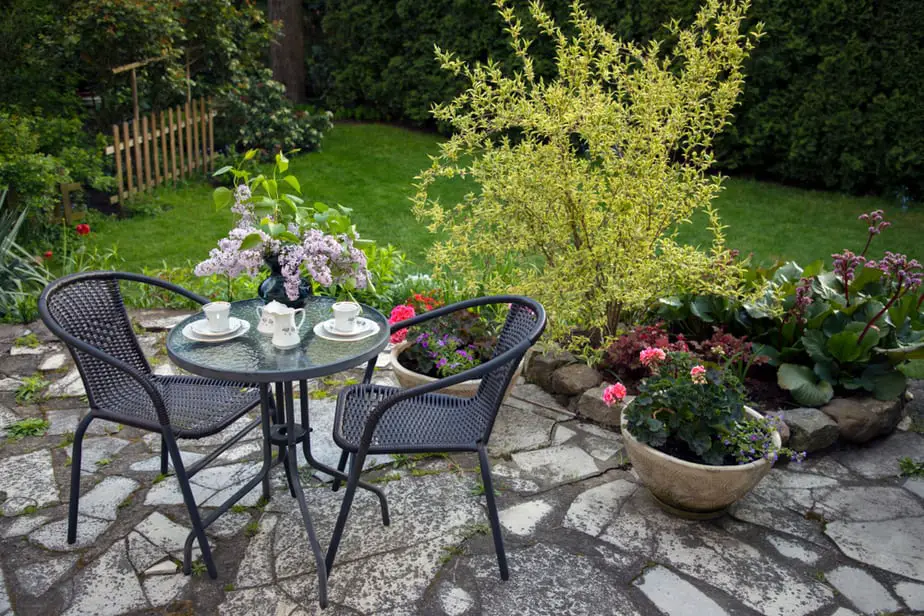 And we're here to help you do it. Let's get started!
Step 1: Learning From the Masters
While you probably can't make your yard larger, you can create the illusion of space to make it seem like it is. For this task, we'll turn it over to the masters, the great artists of today and yesteryear.
If you think about it, your backyard is essentially your canvas for a 3D painting that you'll create with your landscaping. Art, therefore, can teach you ways to transform it into something that seems larger.
Art tells us that there are several ways to make a small backyards look bigger. The basic concepts include:
Color and hue
Size
Placement
Overlapping
Linear Perspective
Detail
Let's look at each one in detail and discuss how to use each concept in your backyard.
Sale
Last update on 2023-11-02 / Affiliate links / Images from Amazon Product Advertising API
---
Color Choices
Color has a profound impact on your landscaping because of the different moods it can create. For example, warm colors like yellow, orange, and red appear inviting as if they're drawing us into the space. Think of a campfire and snuggling around it.
Cool colors like blue and green share the previous welcoming trait, but they're also calming. How many times do you find yourself just staring at the water when you go to the beach or lakeside cabin? It's addicting!
You can use color and its value to your advantage for creating the illusion of space in your backyard. Consider how an artist uses these concepts in a painting. Objects and figures closer to the forefront are often darker in color, while distant things are paler and more neutral in tone. That's the effect of distance and the atmosphere in action.
For your yard, you can place colorful plants and flowers toward the front, near the entrance or at the end of it to make coming into your space more enticing and intriguing. You create a sense of mystery, which is compelling and hard to resist.
Another way to do it is by creating something eye-catching with your entrance such as an arbor or pergola. The splash of warm colors at the end of it or within it creates that mood and draws you into the backyard.
Size of the Elements
Next, let's consider the effect of size. The artists have this one down pat with placing larger objects in the forefront and smaller ones in the back.
It's especially effective if you use something that you expect to be big but isn't. Think of a potted Norwegian pine that looks like it belongs in an evergreen forest.
You can create the same illusion using container plants strategically placed.
Placement of the Yard's Features
This concept plays on the fact that things that are closer to you are sometimes lower than ones in the distance, which are higher. Think of looking out across a prairie with the flowing grasses appearing smaller and higher up the farther they are from you.
A wall with shelves for potted plants can replicate this effect.
Overlapping Objects
We think this idea is especially effective for making small backyards look bigger. When you place something in front of another, it creates depth.
You can use this concept in several ways with your landscaping. You can plant your garden in layers with the smaller ones in front and larger elements like shrubbery or small trees in the back.
Place them right in front of each other to give the illusion that there is a lot of space between them.
Your eye will follow the pattern naturally, giving you the sense of space. You can create it using shelves that will also give that sense of depth by placing smaller plants on the top and larger ones in front.
The other advantage of using it is that it makes your landscaping more interesting. Having just one of a thing is boring. If you have layers, you're encouraging someone to explore to discover what other treasures there are.
That's an essential part of what makes a yard seem inviting. It also optimizes your landscaping when you have limited room with which to work.
Horizontal and Vertical Perspective
Going hand-in-hand with overlapping is perspective. Again, it's about drawing the viewer's eye into the landscape in a deliberate way to make small backyards look bigger.
You've probably learned in grade school how to create perspective by drawing converging lines. You can see it in action when driving on a long stretch of straight road. The fog lines on either side of the highway seem to come together far in the distance. You can create the same effect in your yard in several ways.
For example, by placing the boards on your deck to point out to the distance diagonally instead of horizontally will make your yard seem larger. And if you can make it look like the lines are converging, even better.
The same concept works with heights, too. Imagine walking the streets of some big city with the skyscrapers all along your path, drawing your eyes up to see how high they go. You can do that in your garden with a trellis or ivy growing on an existing wall or fence. It can do double-duty with the overlapping you're doing with your other landscape elements.
Trees with narrower profiles are another way to add height without overwhelming the space. Planting one with attractive foliage or flowers will draw visitors' eyes to the distance and make small backyards look bigger.
It's All in the Details
Let's go back to our painting illustration. We discussed how the color of objects changes with distance. That also applies to the amount of detail you'll see.
Again, the atmosphere plays a role along with our eyesight in obscuring the details of distant things. You can make it happen in your yard by placing simpler objects in the background.
Plants with a lot of texture in the front with less showy ones in the back provide that same sense of depth by fooling you into thinking there's a lot of room between you and the plainer elements. Combine this concept with your choice of a paler color, and you have a winner on your hands!
Step 2: Make a Plan
Because you have a definite purpose for your landscaping it's essential to begin with a plan. You must balance the features that will make your yard seem larger without adding too much clutter that will undo your hard work.
We recommend taking the time to do your homework and explore your options. You'll be surprised to learn how much you can do even with a small yard.
We strongly urge you to measure your backyard not once, but twice. Find out how much space you have to work with including the heights where it matters. Using graph paper is an excellent way to deal with dimensions realistically before you break ground with any plants. You'll also find several smart device apps that can help with the process.
Add any other features that you want as part of your landscaping such as a birdbath, yard globe, or any other decorative object. Think about the size of the footprint of each one, including walkways, shrubbery, and existing trees.
Tip: Don't forget to add the full-grown sizes of any plants you get to avoid overcrowding them.
Last update on 2023-11-02 / Affiliate links / Images from Amazon Product Advertising API
---
Step 3: Deciding How to View Your Yard
All of these concepts are well and good on their own, but you also must consider how you want the viewer's eye to move through your landscaping. That will help with your plan and design.
Having a defined entrance makes it easy. People enter the space and their eyes immediately focus on the endpoint.
If that isn't possible, think about how people are coming into your yard. Is it from the sliding doors in the back of the house? Are they going through the side yard?
Put yourself in their place and imagine how you're experiencing the backyard. That way, when we talk about layering and placement you'll know what perspective you need to consider.
Step 4: Making it Happen
Now, let's discuss how you can put these ideas into place using the principles of design. The goal is to create a sense of harmony and balance that will make your landscaping pleasing while getting that sense of space that you're craving.
Having a Focal Point
A focal point or a feature is an excellent way to draw attention to something unique in your landscaping. It's also a smart idea of disguising the fact that there's an effort to make small backyards look bigger.
This element works well, especially if you have an entrance of some kind. We'd strongly suggest ditching the fence because it creates boundaries and disrupts the flow of depth.
Make it an Extension of Your Home
An effective technique to create space is by using what you already have and incorporating it into your backyard. A deck outside your backdoor, for example, gives the sense that your house and yard flow together, creating a larger space.
If your visitors enter your yard from here, then make sure and place the board diagonally going out from the door and flaring out a bit if possible. And if your budget allows, put in a sliding glass door to make the passage from indoors to outdoors smoother and seamless.
Using the Space Around Your Backyard
Likewise, you can add even more space by making your yard an extension of the land around it. An effective way to do it is with the same or similar-looking plants at the edge of your property.
That will make it seem like your yard keeps going and going. That's part of the concept of an infinity pool that makes it such a dazzling effect.
Don't Forget the Side Yard
The same concept applies when it comes to the space on the sides of your house. Too often, homeowners neglect the potential that it has for increasing their usable land.
The colorful plants we discussed earlier are an excellent way to make your backyard inviting. Using the same kind of plants offers a sense of harmony and unity, too.
Mind Your Lines
We love stone paths in landscaping design. They encourage exploration and lingering, which are precisely the moods we're after in our layout. However, the lines of the walkway have a huge influence on the feel they create.
Straight lines are more formal and discourage browsing off the beaten path. A meandering walkway, on the other hand, creates movement and offers that sense of space because of that effect.
It's also an opportunity to use texture to generate interest. Flagstone, for example, offers an attractive option to plain pavers. Pieces with curvaceous lines are a bonus.
You can use this concept of lines elsewhere in your design, too. A string of lights hung around your patio adds height with this curvy element.
The same thing applies to your edging, placement of plants, and even your choice of vegetation. If you think about it, few things in nature are straight lines.
Gardeneer by Dalen HammerEdge Pound in Edging - 16 Durable Interlocking Pieces -18 feet of Coverage - Made in USA - Easy to Install - 1 Pack
EASY TO INSTALL: No heavy-duty tools required. Our Shark Tooth cutting design eliminates the need to dig trenches. Use a rubber head mallet to avoid damaging the top edge during installation. Designed to work on soft topsoil, will not penetrate frozen areas or hard rocky surfaces.
RUGGED AND DURABLE: Made from High Quality, Non-toxic, recycled materials to withstand the harshest environments. HammerEdge installs quickly using just a rubber head hammer or mallet.
PROFESSIONAL LANDSCAPE FINISH: It´s the perfect touch to enhance and organize your garden. Keeps areas divided, clean, and prevents mulch, wood chips, and decorative rock from washing away.
CUSTOMIZABLE TO FIT ANY PROJECT: It Works for corners, curves, or straight edge installation. Sections are 5 1/2 inches tall so you can pound in according to your specific needs. Each kit contains 18 feet of lineal coverage (16 interlocking pieces).
MADE IN THE USA: Satisfaction guaranteed. As with all our products, we offer a money-back guarantee. If for any reason you are not happy with your purchase, reach out to us, and we will make it right
Last update on 2023-11-02 / Affiliate links / Images from Amazon Product Advertising API
---
Step 5: Other Factors to Consider
Your mind picks up a lot of clues subconsciously when you first enter a space. You may notice it with the vibe that you get that either makes you fall in love or has you looking for the exit.
You can put this concept into effect with your landscaping with the other elements or finishing touches you add to it. The goal is keeping with the theme of spaciousness and roominess with no sense of feeling confined.
That applies to other things in your landscaping such as furniture. Wicker or open pattern on cast iron contributes to that sense of airiness that makes the yard feel more dynamic and alive.
Adding ornamental grasses is another excellent way to create movement and openness. We'd suggest going with native plants for the best chances of success and to benefit wildlife and birds.
Privacy Fences
We cherish a feeling of privacy in our backyards just like anyone else. However, there's a fine line between claiming your space and feeling trapped. Keep things light by using a natural privacy barrier with shrubs or hedges instead of a fence. It's the proverbial win-win.
With a natural barrier, you'll have the privacy you want with the openness of the foliage, making your small backyard feel less confining. You'll also have the feeling that you can just walk if you want without opening a gate and shutting the occupants inside their yard.
Natural fences also provide an opportunity for creating layers with this taller element taking on both tasks. Good choices for plants include:
Privet
Cypress
Arborvitae
Boxwood
Another option is to plant taller grasses like Indian grass or big bluestem. They can get up to 8 feet tall with root systems going down 10 or more feet, making for a suitable living fence.
You can get the same effect with potted plants such as bamboo. The advantage here is that you can bring them in during the winter if temperatures dip below -20 degrees Fahrenheit.
If you don't want to bother with living plants, artificial screens that resemble the real thing are an excellent alternative, offering the same benefits. You can also use them for a temporary fix until your shrubs get taller.
Nisorpa 12 Pack Artificial Boxwood Hedge 24x16in Green Faux Wall Panels Privacy Screen Greenery Wall Backdrop for Outdoor Indoor Garden Patio Backyard UV Protection
【Large Size】Include 12 Pack artificial plants wall boxwood hedge mats. Each mat size is 60X40X4CM/23.62"x15.75"x1.57",come with 308 pieces plants on each panels.
【Safe and Recyclable】Nisorpa Artificial Boxwood Hedges are made from lightweight and super-strong high density polyethylene that's soft to the touch.Eco-friendly and does not release toxic chemicals.After receiving the package,please leave it outside for a couple days,the wind will blow away the smell.
【Easy to Install】Can attach to any wood frame or chain link fence easily. (24) Attachment cable ties Fasteners Included.Using scissors it is easy to cut, fit and shape to any space. Snap and lock using the products interlocking connectors for easy installation.Please refer to the video we uploaded for the installation progress.
【Realistic & Durable】Realistic decorative green wall boxwood hedge mat feature lifelike HDPE leaves on sturdy plastic netting that attaches easily to most structures.Green screen panels are uv-protected,weather-resistant,great for interior and exterior use.
【Multiple Use】Our greenery leaf panels perfect for privacy,aesthetically enhance your area with a realistic look to beautify and transform your backyard fence,patio,garden,yard,walkways,rooms,walls,indoor or outdoor.
Last update on 2023-11-02 / Affiliate links / Images from Amazon Product Advertising API
---
Tips for Success
Making small backyards look bigger isn't difficult, but it does take some planning to carry it off in style. As Abraham Lincoln once said, "Give me six hours to chop down a tree and I will spend the first four sharpening the ax."
Your plan is the ax.
Other advice that we can offer includes:
Consider the purpose and other uses of your backyard to guide your choices for the design elements.
Make use of the small spaces in your yard to add interesting plants or other features to keep visitors looking.
Incorporate different textures with the plants with the more elaborate ones toward the sitting area.
Repeat like elements such as the same color or shape throughout your landscaping to encourage exploration and create harmony.
Use color to your advantage to create the mood you want to bring to your landscaping.
Finally, we have to address the elephant in the room — clutter. Nothing will ruin the sense of openness faster than a bunch of stuff lying around with no purpose.
Make sure the kids know to put their bikes and toys away when they're done. The same thing applies to the extra folding chairs you put out when your neighbors stopped by the other day.
Keep the yard tidy.
Last Words
Having a smaller yard doesn't have to mean that it has to feel confining. Think of it as a challenge and opportunity for making it something special.
The great masters of art have many lessons to teach us about how to create depth and spaciousness with limited space. Fortunately, many translate well into a landscaping design with similar results.
Learning how to make small backyards look bigger is an excellent way to make the most of your space in an attractive and interesting way. You'll probably find that you'll spend a lot more time outdoors now that you have the extra room.