Autumn is the season for making s'mores and sipping cider. But when the weather gets chilly, it can be tempting to tuck inside at the first sign of frost. Why should you have to spend the season indoors, when we've got excellent solutions to make your backyard warm?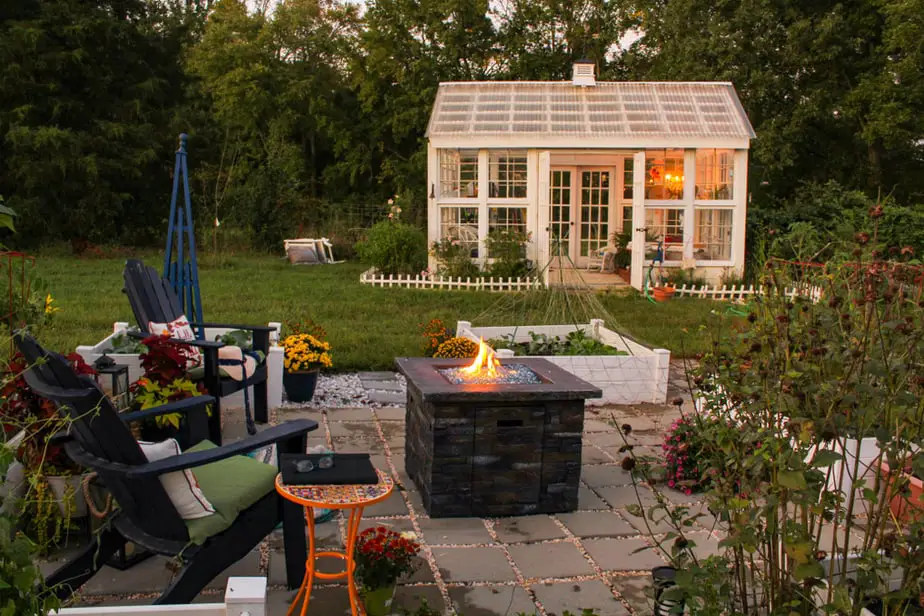 Thanks to our tried and true tips, you'll be able to enjoy spending time outside while staying cozy at the same time. From heated flooring to portable fireplaces, keep reading for our top ways to keep your backyard warm!
Method 1: Outdoor Fire Options
When it comes to outdoor fire sources, there are several different options to choose from depending on your preferred function, mobility, style, and size. Let's go over a few:
Fire Pit
A fire pit is probably the first thing that comes to mind for many of us when contemplating how to warm up a backyard. A fire pit is not only functional, but it's also ideal for gathering people together around a focal point of ambient light.
If you want to evoke the feel of camping out in the woods and roasting marshmallows in your own backyard, a wood-burning fire pit would be a perfect choice. This option is also great for cooking or grilling.
You can choose a portable wood-burning fire pit, such as one made from metal, or you can choose a custom fire pit using bricks or stone, which can be integrated with your hardscaping.
Check the local laws in your area regarding whether or not you are allowed to burn wood on your property. This could affect the choice of fuel that you are allowed to burn in your fire pit, so plan accordingly – and remember, safety first!
As an alternative to a wood-burning fire pit, opt for a portable propane fire pit, which is also great for cooking, while adding warmth to your backyard. Propane fire pits can be a good option if you need to get around any wood-burning restrictions in your area.
For another alternative, create a custom fire pit by using natural gas. This is a fairly inexpensive option if your backyard already has a natural gas line in place; otherwise, the installation might be cost-prohibitive.
Natural gas outdoor fireplaces can be above-ground or sunken into the landscape. Since sunken fire pits can be a bit hazardous, make sure that people watch where they step.
Some above-ground portable fire pits are made from copper with a luxury feel. Other styles have decorative cut-outs in shapes such as the moon and stars.
Portable Fireplace
A portable fireplace is similar to a fire pit. However, the big difference between a portable fireplace and a fire pit is that the flame will be considerably more enclosed within a portable fireplace.
If you have small children or pets that might be running around, consider a portable fireplace rather than the open flame of a fire pit.
DIY Outdoor Fireplace Kit
DIY outdoor fireplace kits typically involve masonry (mortar and stone), basic hand tools, and a few hours of your time. These kits are user-friendly, so they should not take all day or require specialized tools to assemble.
When you select a DIY outdoor fireplace kit, you'll have a choice of whether you'll want to burn either wood, coal, or natural gas. Some outdoor fireplace kits come with the option to modify your fireplace with custom sizing and specifications, such as enlarging the hearth or lengthening the chimney.
Method 2: Heated Flooring
Heated flooring uses radiant heat to melt snow as soon as it lands, keeping your brick or stone patio free of snow and ice. Radiant heat will also keep you warm as the heat permeates up from the floor and is absorbed by tables, chairs, and your body.
In addition to a radiant heating system below your patio, you can install radiant heat flooring beneath your outdoor walkways and steps. These systems can be so effective come wintertime, you won't even have to shovel areas supplied with radiant heat.
Because heated flooring involves a lot of wires, pipes, and plumbing, this job is best left to professionals rather than attempting to install a DIY radiant heating system. While this is one of the more expensive options on our list, it will definitely make your backyard warm and keep your guests nice and toasty!
Method 3: Clay Chimineas
Clay chimineas were first created in Mexico centuries ago using traditional methods of building with local natural clay. The bottom part is rounded, while the top extends into a long narrow neck, or chimney-shape, to vent the hot air.
Overall, chimineas have a charming, rustic appearance, similar to oversized gourds. The soft orange hue of dried clay will give your patio a touch of terra cotta ambiance.
When burning wood in your chiminea, be sure to avoid all chemicals, gas, or lighter fluid when starting the fire. Clay is porous, so it will absorb these chemicals indiscriminately.
Because clay is a natural material, a clay chiminea will need to be treated with special care. Although well-suited for summer or early fall nights, excessive rain and snow could damage a clay chiminea.
Due to the clay expanding and contracting with changing temperatures, which could potentially cause cracking, we do not recommend leaving your clay chiminea outdoors year-round unless you live in a very mild climate. If you're looking for a multi-season chiminea for usage in cold-weather climates, we'd suggest an iron chiminea, or a galvanized steel chiminea, similar to a traditional pot-bellied stove.
Method 4: Outdoor Kitchens
Do you relish the idea of grilling outside, even during the winter? Are you an outdoor enthusiast who loves cooking over an open flame even when the mercury drops?
If so, we suggest installing an outdoor kitchen. It'll keep your backyard warm and give you an excuse to cook al Fresca throughout the fall and winter.
Furthermore, if you're an outdoor enthusiast and an out-of-the-box cook, then we recommend an outdoor pizza oven for your patio. These outdoor pizza ovens will cook up a pizza in mere minutes – far less time than it would take to order delivery!
Method 5: Hot Tubs
You can create the feel of a natural Icelandic hot spring in your backyard by installing an illuminated outdoor hot tub for frosty cold nights. Turn on your hot tub while entertaining outdoors so your guests can warm up, even just by sitting around and dipping their toes into the water.
An outdoor hot tub will create a playful Nordic atmosphere in your backyard. Sure, a hot tub is great in the summer, but in the wintertime, it becomes an especially good conversation starter.
Method 6: Patio Heaters
Always popular at restaurants, bars, and coffee shops with outdoor seating areas, patio heaters provide ample heat to keep your backyard warm.
Electric outdoor patio heaters require access to a plug, but they are perfect for exposed outdoor areas or underneath a porch. You can also choose a patio heater that burns propane or natural gas, but whichever you choose, bring your patio heater into a garage or sheltered area during inclement weather.
The best thing about patio heaters is that they emit radiant heat, similar to radiant heat flooring. Rather than blowing out hot air, which can quickly dissipate within the cold air, patio heaters send out waves of radiant heat which warms up actual objects (and people) rather than just the air molecules.
Method 7: Throw Blankets and Rugs
Of course, outdoor rugs and woolen blankets will also help to make your backyard warm. Plus, they'll make an evening under the stars feel extra cozy.
Choose washable natural fibers for blankets, since they may absorb the smell of smoke from a fire pit. You'll probably want to bring blankets inside for a wash cycle after a night of making hotdogs or s' mores over an open flame.
Natural fiber rugs are also a great option for an outdoor space such as a patio or deck. Look for durable materials such as jute, bamboo, sisal, or hemp for outdoor/indoor options. These rugs provide interesting texture while warming up the floor of your backyard patio or deck.
Method 8: Hot Drinks and Soups
Nothing says "outdoor entertaining" on a chilly fall or winter evening like a steaming mug of hot chocolate, chai tea, or mulled apple cider. When it's cold outside, you can keep your backyard and your belly warm.
In addition to hot drinks, fill up an insulated thermos with piping hot soup. Make sure you have mugs and spoons to go around, and everyone's toasty warm bellies will thank you.
Wrap Up
With all of these ways to keep your backyard warm, we know you're ready to fend off the autumn chill. Grab your mug of cocoa, gather up a few folks, and have some fun this fall. At the end of the day, nothing will warm you up more than good company and good cheer!