For as small as they are, our feathered friends can cause a lot of damage when gathered in masses. If you've had problems with them creating holes on the side of your house, you may wonder "can I shoot birds in my backyard"?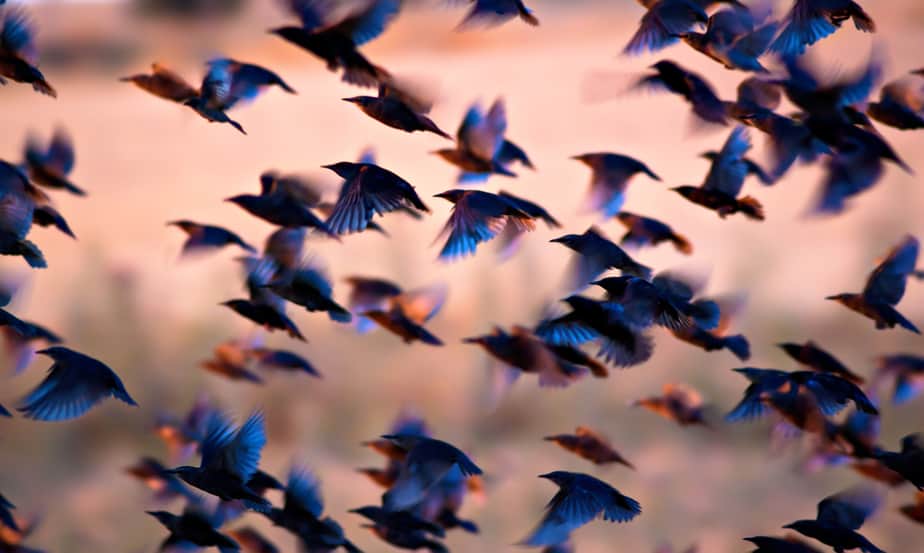 Or maybe you're a hunter and want to get a pheasant or wild turkey for the table. You may think that it's pretty convenient for them to show up on your property.
Unfortunately, the short answer to the question is that it depends. A lot of factors muddy the waters that make it less than a cut-and-dry explanation.
Let's get started.
Protection for Native Birds
Up until 1918, it was open season for birds. Sure, there was hunting for food, but the burgeoning fashion industry saw an opportunity: Feathers. Birds like the great white egret were nearly killed to the brink of extinction until conservation-minded citizens and organizations lobbied for protection.
Help arrived with the passage of the Migratory Bird Treaty Act (MBTA) between the United States and Canada in 1918. This legislation made it illegal to harm birds or possess any parts including feathers and nests.
There have been several amendments and additional countries added throughout the years. One of the last provisions bumped up the fine to $15,000.
Other nations that have signed on to the treaty include:
Your next question likely is, "are all birds covered by the act"?
The keyword is native. That means at least three birds do not have the protection of the law on their sides.
Species that are not included are:
House Sparrows
Pigeons
Mute Swans
European Starlings
The law also addresses the question of hunting upland game birds like turkeys and the American woodcock which are not protected by this law.
What About Nuisance Birds?
The federal law is quite specific about what you can and cannot do. You can shoot birds not protected by the act — with some caveats that we'll discuss later. You can also remove nests that aren't being used. However, you can't make the birds leave one that has eggs or chicks in it.
If you have birds that are wreaking havoc on your garden or pecking holes in your siding, you do have legal recourse. Unfortunately, it's going to cost you. You must apply for a depredation permit, which will set you back a good chunk of cash. And you must document what you take and submit an annual report.
Yes, we agree that it smacks of overkill, but the law is the law.
BirdBlock 602, Protective Mesh Covering, Bird Protection, 14' X 45', Black
Tough durable polypropylene bird protection; Protects crops; Prevents birds from roosting in unwanted areas
Mesh design protects fruits and vegetables from hungry birds
Solve your bird issues with BirdBlock mesh netting; Safe for birds
Bird netting easily installed and stored; Reuse year after year
Available in several sizes: 14' x 14', 28' x 28', 14' x 45', and 7' x 20'
Last update on 2023-09-27 / Affiliate links / Images from Amazon Product Advertising API
---
The Eagle Caveat
The info about bird pests applies to all migratory natives except eagles. We have to give some latitude when dealing with our national symbol, so we get it. That's where the Bald and Golden Eagle Protection Act comes into play. It ups the ante to prison time and up to a $250,000 fine for a felony.
Yikes!
Even the list of permits and conditions is extensive. The law applies to both bald and golden eagles.
Hunting Birds
If you want to shoot birds to put food on the table, you're now going into the game management realm. That puts your actions under the scrutiny of the state DNRs whenever you ask yourself, "can I shoot birds in my backyard?".
It's essential to understand that the laws and regulations have the primary goal to keep the animals healthy, whether it's mourning doves or bobwhites. "The man" isn't trying to keep you from hunting.
Bear in mind that the biologists understand the physiology and behavior of the birds better than anyone. They know the science behind it without old hunter tale logic that often relies on anecdotes.
You'll likely see regs that are quite specific regarding when you can shoot birds, what time of day, and how many you can take even down to the sex, if applicable. It may vary annually, too, depending on the population and its conservation status.
Some birds like mallards are prolific breeders. Others like canvasback ducks have failed to thrive for a myriad of reasons. There are typically hunting seasons for each species. The purpose is to cull the excess while still maintaining the health of the population.
Most birds, except for those like hawks, aren't territorial like predators such as coyotes. They will deplete an ecosystem of food and other resources if the population exceeds what the environment can support, a concept known as carrying capacity.
Hunting isn't a bad thing but instead is a necessity to prevent mass starvation. The same concept also applies to other game species like deer.
Legally Shooting Birds
The laws vary by the state since the status of a particular species also differs. We'll keep our discussion to some general concepts.
To be legal, you'll likely need the following:
Permit or hunting license
Gun permit or license
FOID card to possess a firearm in some states such as Illinois
Also, some states have additional regulations about the type of firearm you can use and how far from the road or a residence you must be to shoot birds. You may also see other regs governing the distance from a school, in a car, or over water. The concern with the latter rests with the type of ammo you use.
Lead shot is a controversial topic among hunters and game managers. For hunters, the weight of the ammo makes it an excellent choice for accuracy. However, the metal can accumulate in predators over time like eagles that inadvertently ingest the shot and eventually kill them. That was part of the reason that California condors struggled.
Using a bow to shoot at birds is another matter.
The regs are often less stringent due to the nature of the act and the lower risk of hitting an unintended target. After all, the hunter has to take several seconds to pull back on the bow and aim, giving him time to make a smart decision about letting the arrow fly.
Genesis Original Bow Archery Kit, Right Hand,Black
Compound bow designed for right-handed users offers a draw length range of 15-30 inches and adjustable draw weight from 10-20 pounds; Providing adaptability to different skill levels and preferences
Compound bow features a universal draw length and adjustable weight, first of kind, accommodating all individuals; Ideal beginner's bow for all ages and skill levels
Single-cam design means no tuning problems less recoil greater accuracy and less noise allowing you to fully enjoy the simplicity and satisfaction of archery
Preassembled and ready to use right out of the box this bow includes a machined 6061-T6 aluminum riser aluminum cam and idler wheel sturdy composite limbs and high-strength bowstrings
Crafted with durable lightweight components, compound bow allows you to focus on hitting your target with precision and confidence enhancing your archery experience
Last update on 2023-09-27 / Affiliate links / Images from Amazon Product Advertising API
---
Proper Bird Identification
We have to address the question of identification since there is some wiggle room about the legal issue. Perhaps the greatest concerns rest with the species you're more likely to see in your yard when asking yourself, "can I shoot birds in my backyard?".
House sparrows have a noticeable black spot on their chest that makes them easy to distinguish from other related birds that have MBTA protection. They're also more likely to flutter around close to places occupied by humans, like your backyard.
A lot of migratory birds are leerier of people and will stay clear of them. You'll also find that to be the case for game birds – and for good reason.
European starlings share some of the similar behavior patterns as house sparrows. That's a vital clue that you're dealing with a domesticated species in the sense that it's used to humans. These birds are black with a variegated and iridescent color pattern. That fact distinguishes them from other similarly-colored species. The other telltale sign is that both are often resident in the area year-round. However, some northern birds may migrate to warmer climes if the temps dip too low for them to find enough food to survive.
Mute swans are another story since a lot of the related species have subtle differences that are hard to distinguish, especially from a distance. You may need a spotting scope to tell them apart from protected species like the tundra swan.
Our advice is that you must be 100 percent positive before you pull the trigger. If in doubt, don't do it.
HUICOCY Spotting Scopes, 20-60x60mm Zoom 39-19m/1000m with FMC Lens, BAK4 45 Degree Angled Eyepiece, Fogproof Spotting Scope for Target Shooting, Hunting, Birding Watching with Tripod, Phone Adapter
POWERFUL 20X-60X MAGNIFICATION - Our high-definition spotting scope provides an exceptional experience for any outdoor activity. The wide range (20X-60X) of magnification brings ease to your favorite hobbies. The 45-degree angled eyepiece adds the luxury of comfort to your experience for target shooting, hunting, bird watching, astronomy, etc
WIDE VIEW RANGE WITH FOGPROOF DESIGN – Our multicoated 60mm green film objective lens not only ensures a bright and crisp image but also provides a wide field of view (131-66ft/1000yards).
BAK4 HIGH TRANSMISSION PRIMS – Our spotting scopes are manufactured with the BAK4 prism which has a smoother texture and higher refractive index than the BAK7, creating a brighter crisper image.
ACCESSORIES INCLUDED - 12" Tripod, cell phone adapter, cleansing cloth, carrying/storage bag, eyepiece and objective lens protective cover. The spotting scope's screw base is a standard ¼-20 tapped hole which is the universal size of most floor length tripods. The cell phone adapter is expandable to fit most phone models.
ANTI-SKID RUBBER ARMORED STRUCTURE – The high-quality rubber armor structure provides an effective non-slip grip. The main barrel has a large "smooth glide" texture focusing ring in addition to the non-slip comfort molded grip; retractable eyepieces can be used with or without glasses; retractable sun visor built into the main lens barrel to reduce glare.
Last update on 2023-09-27 / Affiliate links / Images from Amazon Product Advertising API
---
Final Thoughts
If you're unsure about the legality, our advice is to give controlling birds with firearms a pass. There are other ways to control pests without resorting to shooting them.
If in doubt, contact your state DNR to find out what your obligations are to keep it legal. After all, ignorance is no protection against the law.
When asking, "can I shoot birds in my backyard?", begin with proper identification. The hefty fines are enough of a deterrent that makes the risk not worth taking aim.