Maybe, you just want something small and intimate for your big day. Perhaps, it's your second time going to the altar. You don't want all the fuss, so you decide to plan it at your house, instead. You might wonder do you need a liquor license for a backyard wedding?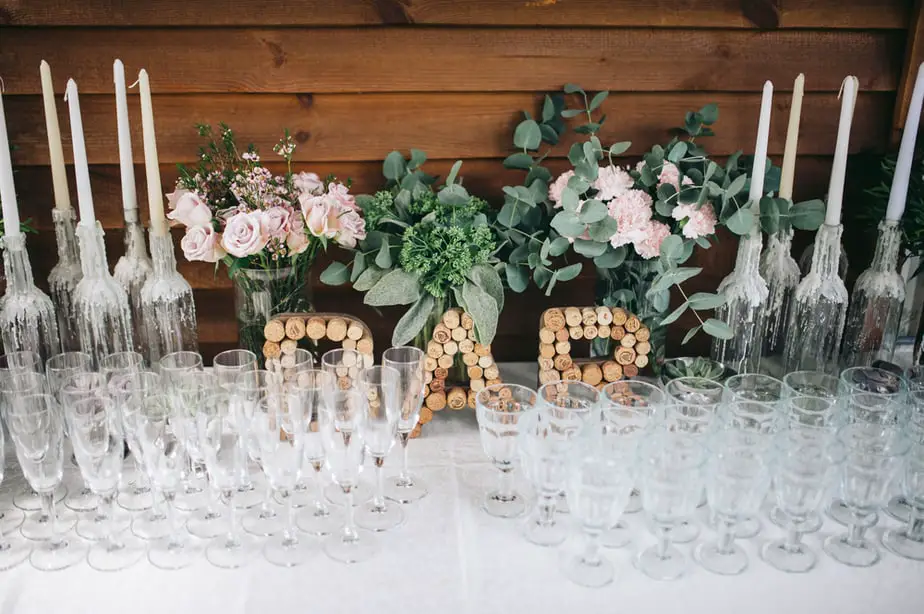 The short answer is that it depends on where you live. Local laws and regs are the issues you're most likely to encounter. Let's go over what you need to know, along with some tips about making it a special day for everyone.
Considerations About Having a Backyard Wedding
Probably the primary reason you'd think about getting married at your house is cost. The average total is $38,700, according to the 2019 Wedding Wire Newlywed Report. Over 75 percent is for the ceremony and reception. You'll likely save some significant money by cutting out the rental of a venue, which can set you two back around $9,000.
You can make it easy by hiring a caterer that will take care of the setup and cleanup from your wedding. Don't let cost-savings get in the way of your time and effort, which are also valuable. Besides, we're sure that your focus isn't on washing dishes now. It's all about celebrating and dancing.
But is having your wedding at home a smart plan? And do you need a liquor license for a backyard wedding?
Sale
Vintage Just Married Banner Wedding Bunting Photo Booth Props Signs Garland Bridal Shower Decoration, White
❤NOT ASSEMBLE. 11 pieces of white cardstock painted with black letters, one piece of white cardstock painted with red heart pattern, one white ribbon and one hemp rope comes separately, you need punch two holes at the top of each cardstock to string them together with lovely coordinating ribbon or hemp rope .
❤SUIT FOR VARIETY CONCOURSE. Hang or hold this fabulous vintage chic banner for super cute wedding photos or engagement party. The banner may be placed at the sweetheart table or hung with ribbon on the back of your chairs at your reception or special occasion . The bride and groom can use it as a photo prop when taking wedding photos.
❤This banner will be the perfect accessory for your getaway car! Cute enough to stand alone, but would also look adorable paired up with ribbons & streamers or greenery & flowers.
❤HIGH QUALITY. The banner is made to the highest quality standards! Each letter and shape is cut specifically for your banner. Letters and shapes are made from high quality cardstock. The banner is hung on natural color jute with enough overhang to hold or tape down and will be beautiful for years if taken care of.
❤Don't worry about the photo scene!with great price.
Last update on 2023-11-20 / Affiliate links / Images from Amazon Product Advertising API
---
Legal Concerns
Even if you're not serving alcohol, you may need to get permission from the local authorities before you can host the party. Many municipalities require that you get a special event permit. There are typically several conditions that apply.
For example, your city may specify a time before the wedding for which you must request the permit. You probably will have to pay a fee too, something to check out if you're on a tight budget. Also, there might be a legal ending time for your party because of noise ordinances. You may find that there are only certain hours or days when you can serve alcohol.
You'll likely learn that the laws and regs are specific. We'd suggest staying within those specs since your event will probably get some attention from law enforcement. Suffice to say, that you need to do your homework before you start making plans.
Sale
Twinkle Star 300 LED Window Curtain String Lights Wedding Party Home Garden Bedroom Outdoor Indoor Wall Decorations, Warm White
8 Modes settings: Includes an easy-to-understand adjustment of settings: combination, in waves, sequential, slogs, chasing/flash, slow fade, twinkle/flash, and steady on.
Excellent High Quality: 6.6ft*9.8ft(width*length), 300 WARM WHITE LED lights. UL Certificated Output and wire: 29V Voltage Safe Curtain Lights with UL certified, leads to 29V safe output by UL plug-in transformer.
Easy to Use: Directly plug in and unplug it for power on and off. US standard outlet, voltage 110V. Leading wire: 9.9 ft.
Perfect Decoration: WATERPROOF(IP44) Perfect for indoor and outdoor decorations. Christmas, party, Valentine's Day, wedding, home, window, bathroom, festival, Holiday, shows, restaurant, hotel, commercial building, shopping center etc.
This LED curtain lights will make your life lovely. NOTE: ONLY STRING LIGHTS, NOT COME WITH A CURTAIN, MAINLY USED FOR CURTAIN DECORATION.
Last update on 2023-11-19 / Affiliate links / Images from Amazon Product Advertising API
---
Issues with Serving Alcohol
Serving alcohol puts a whole new spin on your backyard wedding. The essential thing to keep in mind is that you must make your event private and not open to the general public. That's usually the tipping point that decides what you and cannot do. You can't put up signs, advertising your wedding, either.
Don't forget to ask about what kind of alcohol you can serve legally. Some areas may allow beer and wine but frown upon spirits. Ask about the containers too. For example, you may have to get a separate permit if you have a keg as opposed to single-serving cans or bottles.
Then, there's the issue of whether you're going to have a cash or open bar. If you charge for drinks, you'll probably need a temporary liquor license. Some cities may prohibit alcohol sales altogether. And that's just the tip of the iceberg. Some places may require that the server have alcohol service training.
That program entails learning how to recognize the signs of intoxication, managing unruly guests, and identifying underage drinking. This information is imperative for preventing any legal problems. Remember that the homeowner is responsible. That brings us to the next topic, liability.
Insurance for Your Wedding
Your homeowner's insurance policy likely has liability coverage. That takes care of the expenses if someone falls or hurts themself on your property. However, you should review the amount, just in case. Give your agent a call and find out exactly what is and is not covered.
Don't neglect this simple task even though it's a happy occasion that you're celebrating with family and friends. The loss of a relationship isn't worth it. Raise your liability coverage if necessary for the event.
Bear in mind the consequences of someone getting a DUI after leaving your property. Law enforcement will probably ask the offender where they were last served—and that means your house.
Have a Plan B
While you're planning for an outdoor party, make sure to have a contingency plan. It could mean renting a tent in case it rains. Check the conditions of your rental if you go this route and the policy about cancellations.
If the weather doesn't cooperate, you may need to move the party inside, which opens up another can of worms. That means you'll also have to consider how many people your home can accommodate. You'll need extra chairs and table space. Then, you have to think about facilities for everyone.
We'd suggest keeping a move indoors on your radar no matter what time of the year. However, it will handle the alcohol question if you're in the house. You're probably legal if the party is inside instead of outdoors. Although, the other legal consequences still exist.
Tips for Making it a Special Day
No one likes to think about the things that can go wrong when you're planning the perfect event. However, it's smart to be prepared. Consider it part of the planning process.
Offer a sparkling wine toast for your guests and not a full bar.
Limit your guests to one or two drinks using tokens or some other means of keeping track.
Consider serving lower ABV beverages like wine, hard seltzers, and beer instead of hard liquor.
Have a friend keep an eye out for potential troublemakers to stop problems in their tracks.
Place a basket out for everyone to drop their car keys in to make sure anyone driving is good to go.
Give your neighbors a heads-up about your upcoming event to keep the peace and prevent a phone call to the police.
Get a few Uber or Lyft gift cards to have on hand in case someone needs a ride home. Better yet, make sure every driver has one.
TOSSWARE POP 9oz Flute, Premium Quality, Recyclable, Unbreakable & Crystal Clear Plastic Champagne Glasses,Flute , 12 Count (Pack of 1)
Perfect for your next birthday party, bridal shower, outdoor celebration and any occasion. Toast and clink to your heart's content — No Glass ,no chips, no cracks, just cheers.
Ideal for serving champagne, rosé, mimosas, sparkling cocktails and more. The glass measures is 2.2" in diameter and 5.8" high.
Smart patented features include a rounded rim for smooth drinking and Pop 'n Lock for easy stackability and storage.
Each glass is made from up to 1 recycled plastic bottle and is 100% BPA-Free.
Feel free to reuse, but as a reminder, please hand wash them only with a gentle, non-abrasive sponge as our BPA-free material is not dishwasher safe.
Last update on 2023-11-20 / Affiliate links / Images from Amazon Product Advertising API
---
Final Thoughts
Who doesn't love a wedding? It's all about a new beginning and hope for the future. That's why it's essential to do the research and make sure you're covered on all fronts, including serving alcohol. Save yourself the hassle of running afoul of the law.
After all, you want this day to be special for the right reasons. A legal quagmire is not one of them. A phone call to the city can answer the question, do you need a liquor license for a backyard wedding. We strongly urge you to stick with the rules. Play it safe. Play it legal.