Trampoline buying can overwhelm with a wide range of choices and brands. In this article, we'll be taking a look at Propel vs Skywalker trampolines and break down the pros and cons of each one so you don't have to!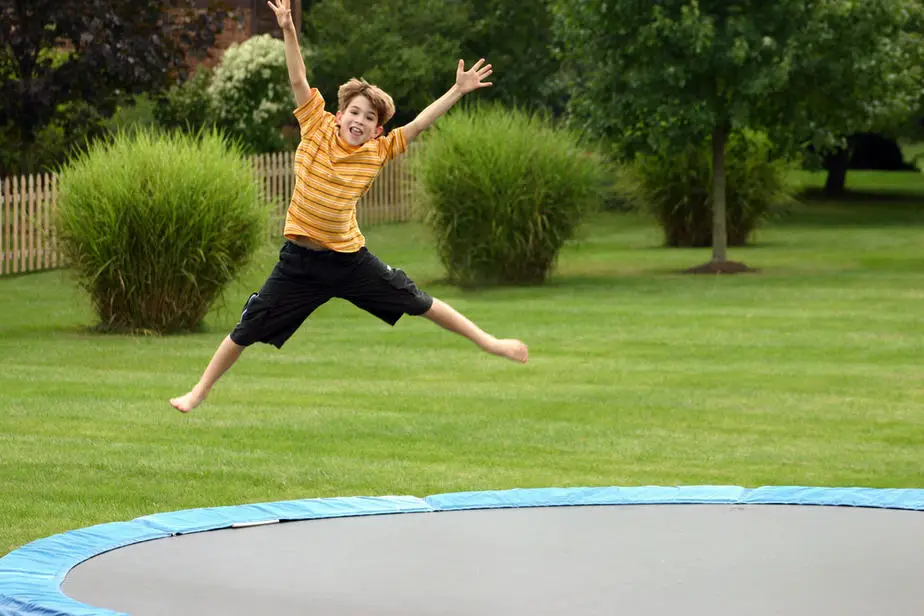 You may also want to check out our articles on Zupapa vs Skywalker trampolines, Springfree vs regular trampolines, and rectangular vs round trampolines before you make your final decision.
Make sure to catch our complete product reviews below! Let's get started!
Quick Glance at Skywalker Pros:
ASTM certified
Autism Awareness
Button-hole enclosure between mat and net
Jump N' Dunk basketball accessory included
3-year warranty on frame, 1-year warranty on other materials
Quick Glance at Propel Pros:
Impact absorbent response system in enclosure net
Sure lock safety pad
T-bracket technology
Product registration
Most accessory options
Skywalker
If safety and quality are forefronts in your mind, the Skywalker company may be a good choice. Their company values are active, connect, fun, integrity, and safety. Propel trampolines do not state that they are 3rd party tested for safety, but at Skywalker all of their products meet or exceed the American Society for Testing and Materials International (ASTM).
The ASTM is a company develops and publishes technical standards for almost any product. Every Skywalker trampoline comes with an enclosure net, which is now pretty standard. Enclosure nets are to help prevent some of the more than 100,000 injuries per year.
Skywalker Company Patents
Are patents necessary for a trampoline company? The short answer is no. But, every company often has a "unique" of ensuring safety for the users or a "new" way of designing a part. The Skywalker trampoline company has two patents: buttonhole enclosure net and trampoline accessories.
The buttonhole enclosure allows the v-rings of the jump mat to slide through "buttonholes" in the enclosure net and connect to the jump mat. This is Skywalker's way to rid the gap between the jumping mat and springs. The trampoline accessories patent is for the way they attach games to the enclosure net and frame of the trampoline.
Skywalker and Autism
Did you know that trampolines are considered a therapy tool for autistic individuals? The Skywalker company learned their trampolines could help with autism therapy and has pledged to support Autism awareness. During the month of April, they donate a free trampoline to a nominated individual with ASD (Autism Spectrum Disorder).
Skywalker Warranty
Although one of the shorter warranties that we have come across, Skywalker Holdings LLC does advertise a warranty on its products. The duration of a warranty is based on the part. The steel frame has a warranty of 3 years from the date of purchase. All other parts are warranted for 1 year from the date of purchase.
Keep in mind that warranty is non-transferrable and only available to the original purchaser and for residential use only. Plan on a budget for replacing the jumping mat and other worn-out materials periodically.
Skywalker Trampoline Options
Skywalker trampolines have the widest range of options available that we have seen. You can choose the shape, size, and color! The four shapes available are round, square, oval, and rectangle. (Why would a rectangular vs. round trampoline be better? Check out our article on rectangular vs. round trampolines for that answer).
Round trampolines are available in sizes from mini or 7.5 feet all the way up to the largest size of 16 feet. The largest rectangular trampoline available is 10 feet by 17 feet. Color options are also available for the spring cover mats. You can choose the standard blue, camo, green, purple, or red for no additional cost.
Propel Vs Skywalker Trampoline Price
Both Propel vs Skywalker trampolines of the same size will be about the same price, with Propel sometimes being slightly cheaper. Therefore, we do not feel one is a more budget-friendly option than the other.
Propel Trampoline Company
There is not a lot of information available for the Propel trampoline company. However, there are a few things that are available on a Propel trampoline that may not be available with other trampoline companies.
Propel Safety
The enclosure net on a Propel trampoline is an impact-absorbent response system. This means that the enclosure net is attached to the pole with a high-strength bungee. When bouncers hit the enclosure, the absorbent response will soften the collision. The trampoline also has a sure lock safety pad.
This ensures that the safety pad stays in place. Propel also uses a T-bracket technology that prevents the frame from twisting and increases the stability of the trampoline. The company doesn't advertise using any sort of third party safety certification.
Propel Accessories
Propel vs Skywalker trampoline really stands out with their accessory options. While Skywalker trampolines often come with a basketball accessory, this pales in comparison to the options from Propel. Want to block the sun while you jump? Propel offers a shade cover that attaches to the enclosure net.
Perhaps your kids really want a clubhouse or bounce house? Convert your trampoline into one! The clubhouse accessory goes over the enclosure net creating a cozy bounce house feel. If you live somewhere that gets too hot to jump during times of the year, you will love the mist sprayer kit. The mist sprayer kit goes around the enclosure net and showers the jumpers with a fine, cool mist so now you can jump even during the hottest months!
Propel Trampolines Trampoline Club House, Multicolor, 15'
Zippered privacy Entrance ties open or closed. Trampoline is not included
3 screened windows with adjustable covers,Weather resistant walls protect play area
One piece Assembly drops-over and ties securely to enclosure posts and trampoline frame
Only fits Propel and Kinetic 15-foot trampoline with 6 enclosure poles (model #'S: ptsa15-108, p15da-re and k15da-be);If the item is forced on incorrect models it may not fit and the product may be damaged
Overall Height - Top to Bottom: 180",Overall Width - Side to Side: 180",Overall Depth - Front to Back: 180".Roof Troughs channel light moisture for drainage
Last update on 2023-09-20 / Affiliate links / Images from Amazon Product Advertising API
Propel Registration and Warranty
At Propel, you can register your trampoline within 30 days. By registering, they will be able to contact you in the event of any recalls and get a replacement for you. The Propel website does have a place to contact the company for warranty claims. However, they do not publish what the warranty is on the parts.
Propel Options
Propel has fewer options than available with Skywalker. The trampoline sizes are available from 7 feet to 15 feet. Most of the trampolines are round, but they do offer a 12-foot x 8-foot rectangular trampoline on the website. If you are planning on shopping on Amazon, expect your options to be fewer than the website.
While they have most of the accessories available on Amazon, only the 14 foot, 7 foot, and mini fitness rebounder are available there. Although it may seem like there are different color options available, the sizes are color-coded and the customer cannot choose the color. Keep in mind that the Propel trampolines do not come with a ladder.
---
Propel Vs Skywalker Trampoline Product Reviews
1. Skywalker 14 Foot Round Trampoline
No products found.
Although not the largest Skywalker trampoline available the 14-foot trampoline provides ample space for jumping and performing tricks. The trampoline kit comes with the trampoline and enclosure net. Skywalker does not typically sell ladders and they usually must be purchased separately. This trampoline has a stay-put enclosure net design that eliminates a gap between the mat and net.
The Skywalker trampolines also use a T-bracket system to attach the enclosure net poles to the galvanized steel frame. This helps to eliminate twisting and helps to strengthen the frame joint. The trampoline is rated for a 200 lb. weight limit. The average customer was able to assemble the product relatively easily with the provided instructions in about 2 hours. If you like the 14 foot, you may also what to check out the 15 foot that comes with a Jump N' Dunk accessory.
What We Like:
Budget-friendly price
Has a limited warranty-3 year on the frame, 1 year on all other parts
Customer service is easy to get a hold of
Comes with enclosure net
What We Don't Like:
Only 200 lbs. weight limit
Ladder and wind stakes must be purchased separately
Replacement parts are pricey
Check Price and Reviews on Amazon
---
2. Propel 14-foot trampoline
No products found.
Propel trampolines come in sizes 7 feet to 15 feet. The Propel 14 foot trampoline will cost you a little bit more than the Skywalker 14 foot. However, this particular set comes with a basketball accessory. The accessory includes a basketball hoop with ball and pump. Their click connect system is also supposed to make it easier to set up.
While the assembly book is minimal and can be difficult to understand; they do have better instructions available on their website and on YouTube. Following the videos should make set-up easier. Their kit comes with a trampoline with 96 springs and a spring puller tool. The frame is manufactured with a thick galvanized steel and black powder-coated legs. The trampoline is rated for a 275 lb. weight limit and has 72 springs.
What We Like:
Click-connect system
Budget-friendly trampoline
Impact-absorbent enclosure system
Sure lock safety pad
Basketball accessory included in this kit
What We Don't Like:
Very few customer reviews
Doesn't come with spring puller tool or ladder
Assembly instructions are difficult to follow, but videos are available
Check Price and Reviews on Amazon
---
3. Propel 7 Foot Trampoline
Propel Trampolines Indoor/Outdoor Trampoline with Enclosure, 7-Feet Round by 86-Inch Tall, Yellow and Black Frame Pad
Includes-Free Jump-N-Jam basketball hoop system with basketball
The thick Yellow and Black safety pad is kept in place by 4 holes which the corresponding enclosure poles feed through before attaching to the frame
The advanced T-bracket system prevents the frame from twisting while increasing overall stability and the T-Brackets lock into 4 strong legs Impact absorbent response safety enclosure system
Our 7' trampoline has 40 springs, this creates the smoothest bounce on the market
Propel 7' Weight Capacity: 150 lbs
Last update on 2023-09-20 / Affiliate links / Images from Amazon Product Advertising API
Are you looking for a smaller trampoline for young kids? Then look no further. This 7-foot trampoline has all the fun-packed smaller and a much lower price. The Propel 7 foot trampoline comes with a Jump N' Jam basketball hoop system and basketball.
Just like the larger trampoline, it comes with a T-bracket system to prevent twisting, impact absorbent enclosure net, and 40 springs for a good bounce. The weight capacity is just below the larger trampolines at 150 lbs.
What We Like:
Great for young kids
Affordable price
Comes with a fun basketball hoop
What We Don't Like:
Weight capacity is pretty low
Check Price and Reviews on Amazon
---
4. Skywalker 8-foot trampoline
Skywalker Trampolines 8-Foot Jump N' Dunk Trampoline with Safety Enclosure and Basketball Hoop, Blue
SAFETY IS OUR #1 PRIORITY: All our trampolines are tested for safety and durability to meet or exceed all American Society of Testing Materials (ASTM) standards, creating a safe trampoline where children can thrive.
PATENTED DESIGN: Our patented no-gap enclosure eliminates dangerous gaps between the enclosure net and the jumping surface, protecting children from pinch points and openings (Patent #RE45, 182).
DURABILITY: Enjoy endless family fun on your trampoline with the support of a galvanized steel frame that is weather and rust resistant. All our trampolines feature reinforced T-sockets at each leg and enclosure joint, increasing frame stability.
MAXIMUM USER WEIGHT: We thoroughly test our products according to ASTM standards. The maximum recommended user weight for this trampoline is 175 lbs. Per ASTM standards, our trampolines are tested to four times the maximum recommended user weight.
BASKETBALL HOOP: Includes one foam basketball and is made of soft, safe play materials with a hook and loop breakaway rim that fastens to the trampoline using elastic cords.
Last update on 2023-09-20 / Affiliate links / Images from Amazon Product Advertising API
In the same category as the Prope 7 foot trampoline is this Skywalker 8 foot. The smaller trampoline is lower to the ground at about 21 inches which makes it ideal for young children to get on and off by themselves.
This particular set comes with an enclosure net and basketball set up as well and very comparable to the Propel. With its slightly bigger size and 56 springs, it has a larger weight limit at 175 lbs. The price difference is minimal but is slightly more expensive than the Propel 7 foot.
What We Like:
Low to the ground, making this a good option for children
Enclosure net for safety
Basketball hoop for extra fun
Higher weight limit
What We Don't Like:
Slightly more expensive than comparable trampolines
Check Price and Reviews on Amazon
---
Trampoline Accessories
We stated earlier that the Propel company really has a claim on some unique accessories for the trampoline. While these are mostly made for Propel brand trampolines, they can be used on other trampoline brands with slight adjustments.
Propel Ladder and Mister Kit
Never fear if your trampoline didn't come with a ladder! They are a quick and easy accessory to purchase. Ladders provide quick and easy access to the trampoline. Do you dread sending your kids out in the dead heat of summer to jump? Now, you don't have to worry about a mister system.
It attaches to the enclosure net and can cool the jumping area up to 20 degrees. I wish I had this in my growing up days! However, keep in mind that this is not a high-quality item. If you have a little know-how, you might be better off creating your own mister system using parts are your local hardware store. What we loved to do in the summertime was put a good sprinkler under the trampoline. It was a perfect way to cool off during the hot summer months!
TANG by Sunshades Depot 14' x 14' FT Waterproof Rectangle Sun Shade Sail 260 GSM Light Gray Straight Edge Canopy with Grommet UV Block Shade Fabric Pergola Cover Awning Customize Available
Create a comfortable, attractive, cool outdoor enjoyment area. Waterproof sails are made from high density polyester that blocks up to 98% of the sun's U*V rays and blocks up to 99% of rain water.
Recommended Install at a 20-40 degree angle with maximum tension to allow rain runoff. If not, rain water may accumulate in the shade like a bag, which can cause the material to stretch. You need to tighten the shade, or set it at a steeper angle. Also make sure that there is no place where water could accumulate that would prevent water running straight off.
Waterproof Fabric (Rating 500mm) - Ideal for unpredictable weather, and maximum U*V protection. The safty temperature range on -30F to +150F.
Ideal for your deck in backyard, pool and pond, pergola, sandbox, driveway or other outdoor area to protect against 88% up to 95% U*V, and make your patio privacy safe, cool and fabulous.
Straight edge instead of the curve, keep more space shade. Our Sun Sail Sails are finished with double-stitched reinforced stitched seam. Stainless steel D-rings in each corner make the sun shade sail easily attached to any sturdy connection point to provide sun protection and personal design where you need it.
Last update on 2023-09-20 / Affiliate links / Images from Amazon Product Advertising API
Propel 14 Foot Shade Cover
Are you in need of a little shade?  Propel offers a shade cloth that extends over the enclosure net. Many customers love the shade it provides. However, this product is not made to stay on the trampoline for long periods of time. It will not withstand long periods of wind or rain.
Last update on 2023-09-20 / Affiliate links / Images from Amazon Product Advertising API
---
Wrap Up
We have guided you on a journey through Propel vs. Skywalker trampolines. Skywalker trampolines are ASTM certified. The Skywalker company has partnered to raise autism awareness and options are the name of the game at Skywalker. You are sure to find something that you like.
On the other hand, Propel has unique and interesting trampoline accessories including shade cloth, clubhouse, and misting system. Now backyard camping can happen right on the trampoline!
Both Propel and Skywalker are budget-friendly trampolines. You will be able to purchase a product that your family can enjoy without breaking the bank. However, keep in mind that you will likely have to buy replacement parts more frequently than another (and more expensive) brand.