Today we're going to break down splatball vs paintball. This way you'll know how these two games are alike, what makes them different, and which one you want to get out and play in the backyard or field with your friends and family!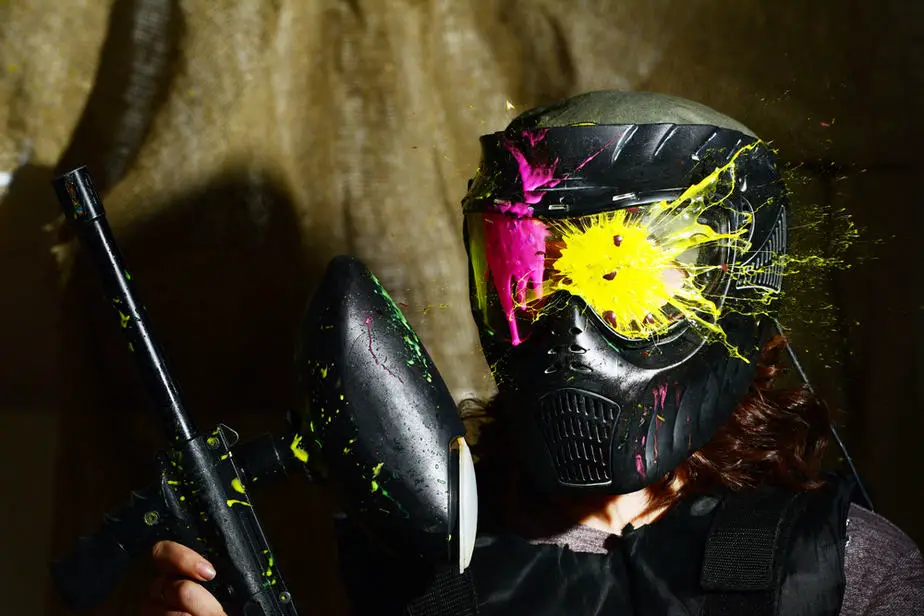 When it comes to entertaining activities that promote exercise and can leave you with a variety of new colors all over your body, most people think of paintball. While that is an amazing sport, there's another like it that's just as fun. Unlike airsoft and paintball, splatball and paintball are quite similar.
Splatball vs. Paintball – What's the Difference?
The main difference between splatball and paintball is how rough it's played. If you've ever played paintball, you're likely well aware that you can leave a game with quite a few welts and bruises Splatball is a less-intense version of paintball!
With that being said, that's not the only difference between the two games. If a sport is low-impact compared to another, there is quite a range of differences in the gear involved. Let's take a look at the gear for each game, along with a few other factors.
Guns
When you shoot a paintball gun, it fires at around 186 miles per hour. There are different power supplies for paintball guns, but gas-powered is the most popular. It's safe to say, that's quite a speed for a casual sport like this.
There are both automatic guns and pump-action guns when you're playing paintball, but only pump action for splatball. If you're just starting to get into paintball, check out these gun options for beginners.
When you're working with a gas-powered gun, it's going to produce a lot more impact than one that's powered by a spring. Speaking of, splatball guns are always spring powered. They can fire ammo at around 93 miles per hour, which isn't slow per se, but a lot slower than gas-powered paintball guns.
Distance
Another big difference when it comes to splatball vs. paintball is how far you can accurately shoot from. A paintball gun can shoot from around 230 feet away and still hit a target accurately. Splatball guns will be able to hit from about half that distance.
This is one of the main things that makes splatball a more low-impact version of paintball. Though it's generally the same sport, you're shooting at a much lower velocity, even at a closer range when you're playing splatball.
Rules
One of the biggest rule differences between splatball and paintball is the Surrender Rule. Surrendering someone during a game is usually an option, depending on your team's rules. If you do decide to use the surrender rule, it's allowing you to yell "surrender" if someone of the opposite team is within a specific distance of you.
In paintball, the surrender rule allows someone to get as close as 26 feet, while splatball will let opponents get as close as 16 feet before you can call surrender. It's important to keep in mind, the closer someone is when you shoot them, the more damage it can do to their body.
Ammo
Paintballs can be incredibly expensive, so it's important to use them wisely. Both games you'll use the same type of ammo. The amount of ammo your gun can hold will depend on which type of gun you have. On average a paintball hopper can hold about 15 balls per load. You'll want to carefully shoot the 15 balls and then reload when you're out or close to being out.
This is one of the main similarities between the two sports is the ammo used. It is important to remember that when you play splatball, you are using a paintball gun, it's just a spring-action single-fire gun instead of a gas-powered automatic gun. For each game, it's normal for each play to go through between 300 and 400 paintballs.
Age Restrictions
Another big difference between the two sports is the age restrictions. Many people don't realize there's an age restriction at all for either splatball or paintball. The age can vary a bit, depending on where you're playing. It's also important to mention that some countries actually make it illegal to play unless you're over a specific age because you'll be using a firearm.
If you're interested in playing paintball, it is suggested that you are at least 12 years old. You'll want to make sure you're educated on paintball guns and the power that they hold, even if they're used for recreation.
It's also suggested that splatball players are at least eight years of age or older. This sport allows younger players because it's less intense and the weapons are capable of less damage.
Buying Guide for Splatball and Paintball
Now that you know a handful of the main differences, it's important to know a couple of things when it comes to buying gear for these sports. This buyer's guide is designed to make it as easy as possible to find the gear that you need to play either sport with your friends or family.
Clothing
It is crucial to make sure that you're wearing the proper clothes for these games. For starters, focus on your footwear. You wouldn't want to run around in heels or flip flops while playing. That's just asking for an injury and should be avoided.
Wear sturdy footwear like tennis shoes or running shoes with laces tightly tied for your own safety. It's also a good idea to wear long sleeves and long pants to ensure that you'll have a tiny bit more padding if and when you get hit.
With that being said, you won't want pants that are too long that you trip or a shirt sleeve so long that it's hard to grab the gun. Lastly, consider wearing all white or all black to see all of the places where you've been shot! It can be a fun way to add a bit of flair to an outfit.
Safety Gear
Even more important is what safety gear you're wearing during a game of paintball or splatball. If you're paying to play at a field, they may have safety gear for rent or provided to you in the initial cost of the game. Either way, you need to be protected with the proper gear.
The Dye Special Edition is one of the best paintball masks that money can buy. It allows for plenty of breathabilities and keeps your eyes and face safe from incoming ammo. Using a sight can also keep you safe, especially if you're playing in a large area.
Dye Special Edition Thermal Lens Paintball Goggles - Black
Double pained, Thermoformed Inner Lens for fog and distortion free vision | Lightweight | Built-in visor | 260* Peripheral vision | 10 second lens change | Superior comfort foam
SLS Tirodial lens gives you the ultimate in vertical and horizontal peripheral vision
Patented 1/4 turn buckle quick change lens allows you to switch lenses easily and in less time than others
Multi ported ear Pieces allow you to hear what's happening around you
Unidirectional venting keeps you cool and reduces fogging
Last update on 2023-05-24 / Affiliate links / Images from Amazon Product Advertising API
---
The CVLIFE sight is a great option to use on or off the field.
CVLIFE 1x22x33 Reflex Sight Red and Green 4 Reticle Dot Sight with 2mW Red Sight Laser
【Rugged Red Dot Sight】CVLIFE red dot sight is crafted from high-strength aluminum, making it sturdy and long-lasting. With an objective aperture of 33mm and a magnification of 1x, it offers a clear and wide field of view that improves your accuracy when shooting.
【Special 2 in 1 Design】What sets our red dot sight apart is its special 2-in-1 design. It's built with a red sight laser, dual illuminated reflex sight with four reticle types, stepless brightness adjustment, this reflex sight provides various choices to meet different occasions. Whether you're out hunting, practicing at the range, or responding to a tactical situation, this red dot sight provides the options you need.
【Tubeless Design & Dual Switches】The tubeless design with 33mm reflex lens aperture further enhances your accuracy by providing a wider field of view than traditional tube-style reflex sights. And with both a switch button and a pressure pad switch included, you can choose which one to use based on the situation, making it easier to operate the laser dot reflex sight.
【Easy Installation】Installation is a breeze too! This laser dot reflex sight scope fits standard 20mm weaver and Picatinny rails, making it easy to attach to your firearm. And with its sleek and compact design, it won't add unnecessary bulk or weight to your weapon.
【Worry-free Purchase】CVLIFE been engaged in the outdoor hunting industry for 9 years and adheres to customer needs as the core, providing customers with high-quality products and satisfactory services. We offer 1-years free warranty, please feel free to contact us at any time if you have any problem with the product in the process of using it.
Last update on 2023-05-24 / Affiliate links / Images from Amazon Product Advertising API
---
Another safety item that you may want to consider is a vest. While these vest options are marketed for airsoft, they work just as well for paintball and splatball. In addition to all of these safety items, many people will wear elbow and knee pads as well.
FAQ
Q: Does splatball hurt?
A: In comparison to paintball, not at all. You'll definitely feel that you've been hit, but it won't cause nearly the amount of pain compared to when you're playing paintball.
Q: Can splatball be played outdoors?
A: While you could play splatball outdoors, it's specifically an indoor sport. There are plenty of indoor splatball places where you can play that have obstacles set up to use as a shield and you'll feel like you're playing in a field outdoors.
Q: Can a paintball kill you?
A: Paintball guns aren't strong enough to kill someone. To the best of our knowledge, there has never been a fatality from the sport. It is important to note that if you're shot or shoot someone at a close range while playing, it can cause some serious damage. Remember to keep plenty of distance and avoid shooting towards the face.
Q: How long does a paintball bruise last?
A: It definitely varies from person to person, on average a bruise or welt from a paintball gun will last for around two weeks. You can reduce the signs of a bruise by staying hydrated or applying witch hazel to the wound.
Conclusion
By now, you're well aware of the differences between splatball vs. paintball. Both of these sports are incredibly fun and can be enjoyed by most people, as long as they're of age. In general, these two sports are fairly similar, with the exception of what style of gun is used and where you play the game.
It's a great way to get in some exercise, have fun with your friends, and learn a new skill. When you play a game like paintball or splatball, you'll build communication skills, learn how to work on a team, and get the instant satisfaction of winning!
Whether you're 15 or 50, it's a fun sport that everyone should try at least once in their life. Hopefully, this guide helped you to learn about all of the differences and similarities between the two games. There are even a few products to consider using for your next match included! Stay safe out there and don't forget to have some fun!