Imagine a fall evening. Perhaps you cooked dinner on the grill. You're winding down and enjoying the company and don't want the night to end. That gets you wondering. Can you light a fire in your backyard legally?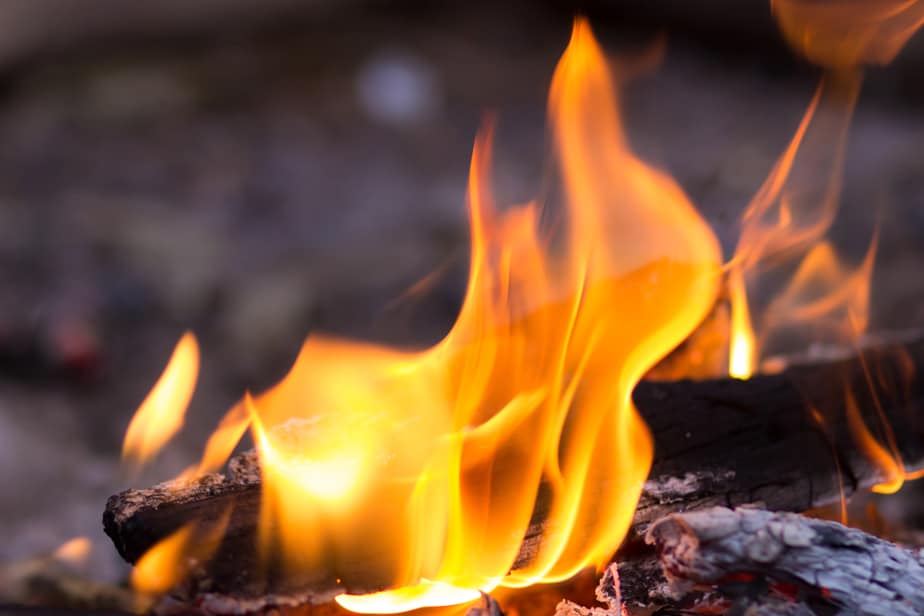 The short answer is that it depends.
There are several things to consider from a legal perspective as well as safety issues. The U.S. Fire Administration (USFA) estimates that fires caused $23 billion in damage in 2017, causing over 14,000 injuries and 3,400 deaths. Sobering, to say the least.
Let's look at the question of fires in detail to make sure you stay on the right side of the law if you want to have on in your backyard.
Legalities
The first place to start is with the laws and regulations that may forbid this activity. As far as the federal government is concerned, you can light a fire—as long as you do it responsibly. After all, as the statistics show, you're dealing with something that is potentially dangerous.
The state government's position is another story.
Several areas like Arizona and Colorado don't allow fires, whether it's to burn trash or for recreational purposes. Most of these regulations hinge on air quality issues. For example, a temperature inversion can trap fumes in lower areas, creating a serious health risk.
Other things can affect the air you breathe including:
Wildfire in other areas
Pollution
No Burn Days
Then, there's the question of local ordinances…
Population density is often a mitigating factor when questioning can you light a fire in your backyard. There may just be too many people in a small area that create a significant risk of property loss or lives if it gets out of hand.
Even if you live in a suburb or rural area, you may find that building a fire is a no-no. You also have to consider the rules of your homeowners' association, which may forbid it. Some areas may require a permit—and a fee.
Don't Burn It
The other aspect of this question is what you can burn. Your area may allow you to have a recreational fire but not permit trash-burning or getting rid of yard waste. Therefore, it pays to ask for permission than beg for forgiveness.
Let's say that your city has no problems with backyard fires. There are several things you shouldn't burn, ever. They include:
Household trash, especially plastics, styrofoam, or cardboard
Green and unseasoned wood
Construction scraps
All of these materials can release toxic fumes. Some will also create a lot of smoke, which can harm individuals with respiratory conditions like COPD or asthma.
Sale
Epica Fireplace Tongs, 26" Long, Log Grabber
PICKS UP HEAVY PIECES OF WOOD EASILY: The smooth open and close action and strong grabbing force makes it easy to get a strong grip on pieces of wood, even if it's heavy or an unusual shape. The design of the tip also grips small logs perfectly.
GRAB FLAMING PIECES OF WOOD SAFELY: Need to move wood from one side of your fire to the other? No problem. These heavy duty tongs will keep you 26 inches away and safe from the heat, so you can get the wood exactly where you need it and keep the fire stoked.
FOLDS UP FOR STORAGE: Although this set of fireplace tongs is incredibly long, you don't have to store it fully extended. It quickly collapses down to a much more manageable size for storage.
STRONG AND STURDY: The joints and hinges on these fireplace tongs are constructed with care. We've used the best materials, so it's made to last and won't let you down when you're moving large logs.
INCREDIBLY VERSATILE: Whether you're using an indoor wood fire, an outdoor fire pit, a wood burning stove, a boiler or even a smoke house, you'll find these fireplace tongs incredibly useful.
Last update on 2023-10-03 / Affiliate links / Images from Amazon Product Advertising API
---
Wood Sources
There is also another side to this story that you need to know, concerning where you get the fuel for your backyard fire. You may have noticed signs at the county or state parks stating that you cannot bring in wood from another area or within a certain radius. The reason often is…
Pests like the emerald ash borer.
These destructive insects entered the United States in 2002. The potential for losing significant numbers of ash trees is real, hence, the restrictions on what you can bring into your state or county. Some areas will only allow you to use wood that has been heat-treated to kill these pests.
The laws vary widely, so it's best to check before you source wood from any place. It's the right thing to do for the environment.
Tips for Safe Fires in Your Yard
If you decide to start a fire, it's imperative to take some precautions before you strike that first match. Let's begin with the location of your fire.
You should plan on using a spot that is at least 10 or more feet from any buildings, including your house and other flammable items. Some areas have specific requirements about where you can start a fire that you should verify. Using a fire pit is the safest option to contain it instead of on the bare ground.
Setting the Stage
You should only use permitted, dry, seasoned wood. You'll also need kindling, making an ax a handy tool to have around to get things ready. A shovel and a garden hose are essential as a precaution and to put out the fire when you're ready to go back inside the house. Tools to manage the blaze are also important to keep it safe. You might also consider having a fire extinguisher nearby.
We strongly urge you not to use lighter fluid to get things started. Instead, you can get firestarters online or at your local camp store to make it easier and safer. With enough kindling, you shouldn't have any problems making it happen.
Sale
Superior Trading Fire Starter Pods in Resealable Packs - Fire Starters for Campfires, BBQ, Grill, Pit, Wood Stove & Charcoal Starter, 15-20-Min Burn, 30 Extra Large Pods, USA Made, Brown, 3.2 Lbs
EFFICIENT KINDLING: Superior Trading Co.'s fire starter pods are created using natural wood shavings and food-grade wax, and each pod measures 1.5" x 1.75". These fire starters eliminate the requirement for lighter fluid, charcoal lighter, or any other kindling tool to start a fire. Simply light the pod with a match, and it will burn for 15-20 minutes with ease.
SAFE FOR COOKING: As our customers will need kindling starter, charcoal starter or fire starters for campfires, grilling, wood stove, pit or BBQ purposes, we solely utilize natural materials that are safe and suitable for cooking. These fire starters can simplify the kindling process without introducing any strange taste or smell into the food.
INDOOR OR OUTDOOR USE: No matter what your fire-starting needs and activities may be, these waterproof fire starter are the perfect companion. They are suitable for a variety of applications, including charcoal and BBQ grilling, campfires, pizza ovens, fireplace pellets, pit fires, and wood stove.
WHAT YOU GET: The Superior Trading Fire Starters for Campfires, BBQ, Grill, Pit, Wood Stove & Charcoal Starter come in a waterproof bag with 30 pods, which can be easily stored in your pantry or kitchen. The resealable bag also makes it convenient to pack them along with your other campfire essentials for your next outdoor adventure. The pods act as kindling, making it effortless to start your fire.
At Superior Trading Co., we strive not only to offer exceptional Made in the USA products to our valued customers but also to serve the environment and the community. We demonstrate our commitment to the environment by planting a tree for every order of firewood or pellet we receive. Additionally, our company employs physically challenged individuals from the military as part of our effort to give back to the community.
Last update on 2023-10-03 / Affiliate links / Images from Amazon Product Advertising API
---
Wind and Weather
These are crucial criteria for a backyard fire to contain it. Check the wind speed and direction before you start it. Ideally, it's between 4 and 15 mph and not blowing in the direction of your neighbor's house. This range ensures that there is enough of a breeze to disperse the smoke without creating a fire risk.
Also, you should opt for a day when the relative humidity is between 30 and 60 percent. The reason for this precaution is that anything lower will dry the area around your fire and increase the chances of it escaping and getting out of control. If the humidity is too high, nothing will burn but will smolder, instead.
It defeats the purpose of having a fire in the first place.
We'd also suggest looking at the forecast on your smartphone. Many areas will issue fire bans if dangerous wildfire conditions exist. If there is an advisory or warning, postpone it for another day when conditions are more favorable.
Some areas may require that you give prior notification of a fire, especially if it could impact visibility on nearby roads. If you had to get a permit, you may have only a small window.  And a heads-up to your neighbor's is always a good idea too to keep the peace.
ThermoPro TP65 Indoor Outdoor Thermometer Digital Wireless Hygrometer Temperature Humidity Monitor with Jumbo Touchscreen and Backlight Humidity Gauge,LCD
Large backlit touchscreen: 4 inches large lcd display features a backlit touchscreen, making the indoor outdoor weather station easier to read in dim light conditions and superbly simple to use
Wireless temperature and humidity monitor: Measures indoor/outdoor temperatures and humidity percentages simultaneously; Capable of displaying the readings from up to 3 outdoor remote sensors to monitor 4 different locations at the same time if you buy 2 additional sensors
Max and min records: All time/24 hours max and min temperature and humidity percentages recorded and displayed on humidity gauge; Temperature/humidity trend arrows indicate whether it's getting warmer or colder or more humid near the remote sensor
200ft remote range: Indoor/outdoor thermometer wireless with 200ft/60m remote range, capable of strong signal penetration (enhanced 433 mhz); Temperature displayed in °f or °c
Multiple placement options: Digital outdoor thermometer, features a magnetic back to allow you to easily attach to any metal surface; a hanging hole for hooks, tabletop for any layout situation, which help you place your outdoor thermometer anywhere to fit your home's needs
Last update on 2023-10-03 / Affiliate links / Images from Amazon Product Advertising API
---
Final Thoughts
We understand the allure of gathering around a campfire to stay warm and share good times with family and friends. However, the question of can you light a fire in your backyard is best answered before you start it. You'll save yourself a lot of hassle if you ask first. Remember that it's supposed to be something enjoyable and not a reason for a fine.