If you spend a lot of time in your backyard, the last thing you want to see is a plethora of poison ivy. Contact with poison ivy can cause an unpleasant bumpy reaction and redness of the skin, itching, and sometimes even worse in people who are severely allergic. In this article, we'll be going over how to get rid of poison ivy in your backyard for good!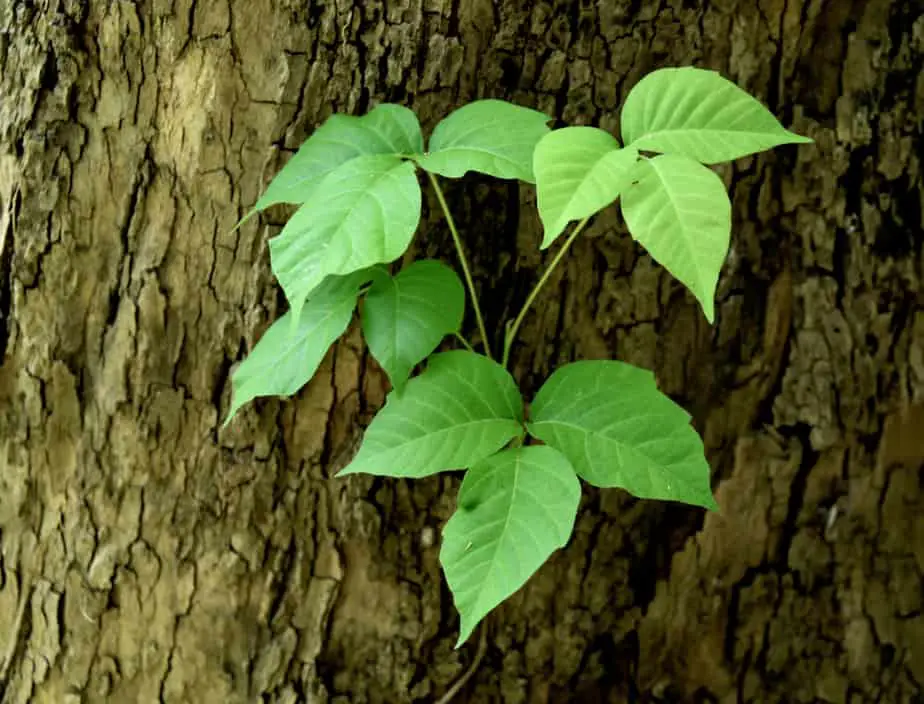 Let's get started!
1. Pull it Out by the Root
One of the best ways to remove poison ivy is by pulling the plant up by the root. If the root is left behind, the plant will regenerate. Of course, this can be pretty risky business, as poison ivy is irritating when it comes in contact with the skin. Because of this, you'll need to wear very long, protective gloves.
If the plant is large and well established, you may need to do some digging to remove the root completely.
Radius Garden 100 Ergonomic Aluminum Hand Trowel:
Radius Garden 100 Ergonomic Aluminum Hand Trowel, Original Green, 3.25 x 3.5 x 11.75 Inches
Award-winning ergonomic garden trowel with unique, patented blade for optimal performance in all soil conditions
Ultra-lightweight, die-cast aluminum blade is stronger than steel and will never rust
Ergonomic Natural Radius Grip provides extra leverage and reduces hand and wrist stress
Over molded handle with a comfortable non-latex, thermoplastic grip for comfort and ease of use
Ideal for gardeners with limited hand strength, arthritis, or carpal tunnel syndrome
Last update on 2023-09-23 / Affiliate links / Images from Amazon Product Advertising API
---
2. Spray Poison Ivy with an Organic Herbicide
It's always a good idea to be as nice to your backyard as possible, and using a natural or organic herbicide to combat poison ivy is one way you can do that.
Though natural herbicides may require that you use a higher concentrate or higher number of applications compared to synthetic herbicides, you can expect them to be pet and family safe (when used as directed) — and they don't come with the cancer controversies that some mainline herbicides have.
Our Favorite Natural Herbicide is the Green Gobbler Vinegar Weed & Grass Killer:
Green Gobbler 20% Vinegar Weed & Grass Killer | Natural & Organic | Concentrated | 1 Gallon Spray | Glyphosate Free Herbicide
CERTIFIED FOR ORGANIC USE — Completely eliminates and desiccates weeds and grasses without using toxic chemicals. Made straight from corn grown in the USA. OMRI listed weed killer and certified for organic use.
KILLS WEEDS FAST — Eliminate any type of weed in just a matter of hours. Expect full desiccation in less than 24 hours. Green Gobbler contains 20% acetic acid. Use on crabgrass, dandelions, clover weeds, white clover, moss, etc. Works best for weeds exposed to direct sunlight.
POWERFUL FORMULA — NO cancer-causing chemicals. Glyphosate-free. 20% formula is four times stronger than traditional table vinegar. Made strictly from ethanol distilled from corn grain.
SAFE TO USE ANYWHERE — Perfect for residential, commercial, industrial and agricultural use. Apply where weeds and grasses are not desired. Use on driveways, sidewalks, concrete, mulch beds, pavers, flower beds, parking lots, farmlands, barns, etc. Ready to use right out the container.
30-DAY MONEY BACK GUARANTEE – If you are not pleased, call or email us with your order number and we will reimburse your entire purchase. We value our customers and we stand behind all of our products. Expect a refund with no questions asked.
Last update on 2023-09-23 / Affiliate links / Images from Amazon Product Advertising API
---
…Or Make Your Own
If buying a killer for the poison ivy in your yard isn't your thing, you can concoct your own poison ivy killer from ingredients found right in your kitchen.
Here's what you'll need:
1 cup of salt
1 tablespoon of Dawn Dish Soap
3 cups of vinegar
Method:
First, mix the 3 cups of vinegar with the 1 cup of salt until the salt is completely dissolved. Then, add the Dawn Dish Soap and mix it thoroughly. Spray directly onto the leaves, stem, and any exposed roots of the poison ivy plant until visibly wet.
Avoid spraying this homemade mixture on any plants you want to keep — it doesn't discriminate.
Wait up to a week to reapply, if needed, or spray any new ivy plants that pop up.
3. Use Boiling Water
Boiling water is a quick fix but may not be a longterm solution. This is a good option for poison ivy that's growing around buildings or sidewalks (boiling water doesn't discriminate and will kill any grass or nearby plants).
All that's needed is a pot of boiling water, poured directly on the plant. It may be a good idea to dig up the roots to expose them slightly before pouring the water to make this method more effective. Be sure to dig up the roots after application as an extra precaution.
4. Smother with a Sheet of Plywood
Placing a thick sheet of plywood on top of the poison ivy (and securing with heavy rocks) will prevent the plant from receiving light, smothering it and causing it to die. However, you'll want to be careful when using this method, as any roots that reach out from underneath the plywood will continue to grow and spread across your yard.
Premium Baltic Birch Plywood:
1/4 x 12 x 24 Plywood Pack of 6
STRONG, DURABLE, HEAVY-DUTY - These craft wood pieces of multi-coated Baltic Birch plywood offer exceptional durability, rigidity, and stability for all your woodworking needs. The surfaces provide excellent holding power for glue and screws and the birch edges create cleaner joinery.
BEAUTIFUL WOOD, BEAUTIFUL PROJECT- Baltics-grown birch plywood is prized by woodworkers everywhere. Manufactured using the latest methods in wood production, this hardwood from the snowy forests of the north is extremely durable and creep resistant. It has a beautiful lengthwise grain and takes stain well. TRUE SIZE: 11-7/8" x 23-7/8".
CHOOSE LASER CUTTER WOOD - The layers of the Baltic Birch sheets of thick plywood are designed to smoothly glide through laser cutters and scroll saws, making it the ideal thin wood sheets for efficient woodcutting. Are you looking for wood for wood burning projects? Woodpeckers has the perfect wood boards for crafts.
GRADE B/BB - Graded as B/BB, this hardwood has a single piece face and a back veneer. The face veneer has a smooth surface with a light uniform color while the back surface typically has 1-2 Small color-matched patches. The thick face veneer provides a smoother surface for CNC routers or engraving machines to glide on the birch wood.
SERVICE & SELECTION - We are dedicated to partnering with business owners, home crafters, and woodwork artisans. Our customer care agents are thoroughly familiar with our products, and we will be happy to assist you with any concerns and inquiries. Looking for plywood boards in different sizes? Visit the Woodpeckers storefront for a large selection of plywood squares in both 1/4" and 1/8" thickness.
Last update on 2023-09-23 / Affiliate links / Images from Amazon Product Advertising API
---
Preventative Measures
When it comes to preventing poison ivy from growing and spreading on your property, there are a couple of things that you can do to really get the job done: utilize livestock or take really great care of your lawn.
Let's look at each preventative measure individually.
Goats, Cows, Sheep, Oh My!
Now, this won't be a realistic option for everybody, but if you happen to have a cow, goat, or sheep hanging around your property, they love to snack on poison ivy and will eat it any time it grows!
And the best part? It won't hurt your livestock! So it's a win-win… your pet gets a snack and you get a yard free from itchy ivy.
Taking Care of Your Lawn
The next (and likely most reasonable) way to prevent poison ivy from growing in your yard is by taking spectacular care of your lawn. Strong, healthy grass will choke out any unwanted plants, keeping your yard right as rain!
Here's how you can ensure that your yard will be green and poison ivy free:
Mow your grass higher. Cutting your grass too short can decrease the competition in your yard for light, making it easier for poison ivy to grow. Cutting your grass with one of the two higher settings on your lawnmower should work perfectly to snuff out those pesky poison ivy plants (and common weeds).
Water your lawn deeply — but infrequently. Watering your grass deeply will help it secure its roots deep into the soil and better compete with weeds and poison ivy. When you water frequently, but lightly, your lawn will develop shallow roots, making it easier for your grass to be overpowered by unwanted intruders.
Feed properly. Every 6 to 8 weeks you should be feeding your lawn with lawn food to keep it thick and growing healthy. This will help to push any weeds and poison ivy plants out of your yard before they can even mature.
Our favorite lawn food is the Simple Lawn Solutions Natural Liquid Fertilizer:
Sale
Advanced 16-4-8 Balanced NPK - Lawn Food Quality Liquid Fertilizer - Spring & Summer Concentrated Spray - Any Grass Type - Simple Lawn Solutions (32 Ounce)
Complete NPK Lawn Food: 16-4-8 is the perfect blend of key macronutrients. This lawn liquid food turf fertilizer also contains Seaweed & Fish.
Contains High Quality Feed Grade Ingredients: Nourish your lawn with pure liquid Nutrients in a ready to use sprayer
Easy To Use: Designed to be easily applied. This complete Nitrogen, Phosphate and Potash formula gives your grass greening & growth while providing nutrients for lush lawns
All Grass types: Including Bermuda, St. Augustine, Zoysia, Buffalo, Centipede, Florida Palmetto, Bahia, Fescue, Ryegrass & Kentucky Bluegrass
Produced In The United States: 16-4-8 is manufactured in the United States of America, by a family owned business with 25 years of former experience in the commercial professional turf industry.
Last update on 2023-09-24 / Affiliate links / Images from Amazon Product Advertising API
---
How to Treat a Poison Ivy Rash
So you've removed the poison ivy in your yard and were rewarded with a red, itchy rash.
Great.
Not to worry, though! In this section, we'll be giving you some treatment advice.
Identifying Poison Ivy Rash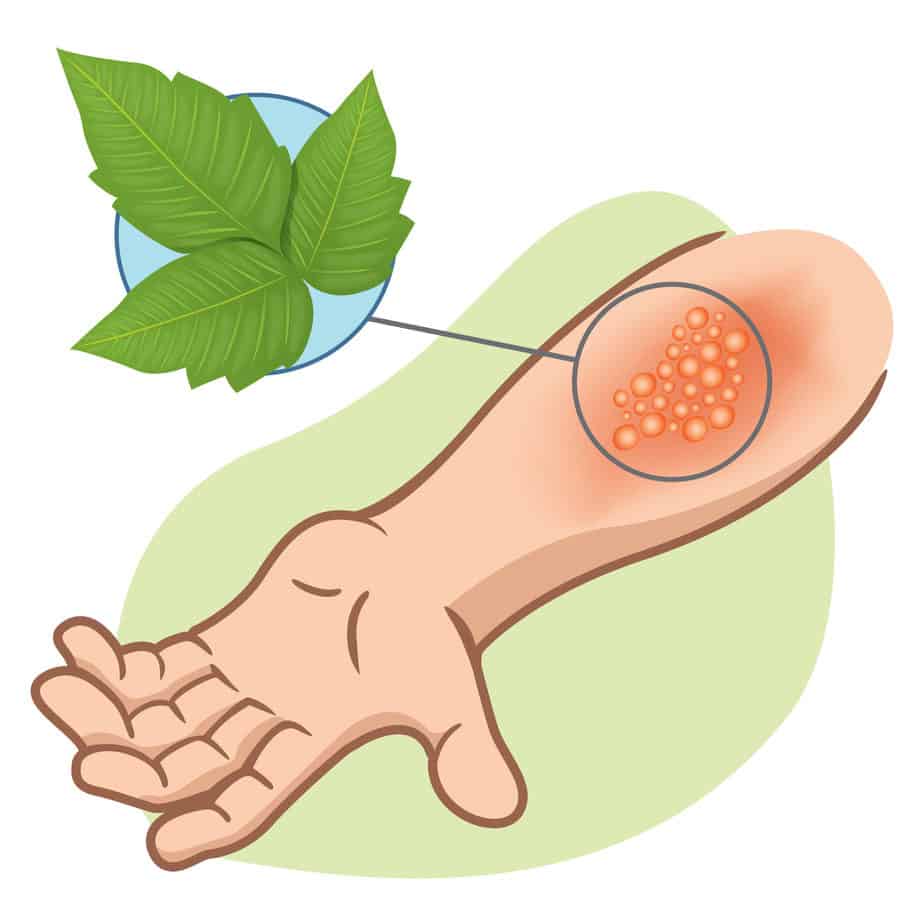 First and foremost, you should probably make sure that your rash is from your dealings with poison ivy (it most likely is, but better safe than sorry!) — and it'll most likely show up one or two days after you've purged them from your yard.
A poison ivy rash is easily identifiable by long streaks or patches of what looks like red, raised, clustered blisters. It's extremely itchy and may even interfere with your sleep.
Over the Counter Treatment
There are a plethora of over the counter treatments that can be used to get relief from the itching that comes with a poison ivy rash. But our favorite is the Tecnu Extreme Poison Ivy and Oak Scrub. This poison ivy scrub works by removing the oils transfered to your skin from the plant that causes the itching and spreading of the rash.
Even with a rash already developed, with just one use of this scrub, you can expect up to 24 hours of itch relief! You can also use it before a rash develops, say, in the shower after you've spent a few hours working in the garden.
You can find this awesome product through Amazon.com:
Sale
Tecnu Extreme Poison Ivy and Oak Scrub, Removes Poisonous Plant Oils That Cause Rash and Itching, 4 Ounces
Best Choice if Your Poison Ivy or Oak Rash Has Already Started; Apply to Entire Body in a Shower
Rash Spreading? Gets to the Root of Your Problem by Removing Urushiol, the Toxic Oil from the Plant That is Causing Your Rash to Spread
Is Your Itching Unbearable? This Product also Removes the Source of the Itching to Allow Your Body to Begin its Natural Healing Process Unimpeded
100 Percent Guaranteed and Used By Forestry Workers, Landscapers, Gardeners, Hikers, Mountain Bikers and Others for Decades
Contains natural exfoliating beads
Last update on 2023-09-23 / Affiliate links / Images from Amazon Product Advertising API
---
Home Remedies
While we recommend that you buy an over the counter treatment, if you just need a quick fix for your itch, there are a few home remedies that you can try:
Rubbing Alcohol. Alcohol can remove the oil from the poison ivy plant from your skin. We recommend that you use the rubbing alcohol on the infected area within the first 10 or 15 minutes of exposure to poison ivy and then take a hot shower and cleanse with regular soap to remove any excess oil.
Don't scratch. If you haven't properly cleaned under your nails, there may be traces of the poison ivy oil that can spread the rash as you scratch. Scratching can also lead to penetrating the sores and infection.
Apply a cold compress to the infected area. The cold can help to reduce inflammation and itching. Soak a clean rag in cold water or wrap ice inside a soaked rag. Then, apply it directly to the poison ivy rash for 15 to 30 minutes. You can repeat this as many times as necessary throughout the day.
Of course, the best home remedy for poison ivy is to not contract it at all. To avoid getting poison ivy on your skin, be sure to wear long sleeves, long pants, and gloves when working in the garden. Remember not to touch your eyes or rub your face with gloved hands.
When to Call the Doc
While for most people poison ivy rash is just a very itchy nuisance that goes away on its own, for others (and in some situations) a poison ivy reaction can be far more serious.
Call a doctor if the rash:
Is infecting intimate parts of your body or near the eyes or mouth
Isn't showing signs of improvement after 1 week
Is leaking or contains yellow scabs and pus
Is covering a large portion of your body, such as most of your leg, arm, or torso
Or if you're experiencing:
Difficulty breathing
Swelling in the throat (resulting in difficulty swallowing), eyes, or mouth
A fever
These signs, along with a few others, will require prompt medical attention and may be combated with an oral and topical treatment.
The Takeaway
Learning how to get rid of poison ivy in your backyard is just as easy as learning how to remove any other type of unwanted plant… but with the added stress of trying to avoid skin-to-plant contact. Herbicides, pulling the poison ivy out of the ground, dousing with boiling water, strengthening your lawn, and smothering are all reliable options to remove and prevent these bothersome garden invaders.
Remember that if you happen to get the plant's oils on your skin, wash with rubbing alcohol and then a hot shower immediately to prevent a rash. You can also use an over the counter treatment or home remedy on an already-existing rash, or visit a doctor for a more reliable method of treatment.
Overall, use caution when dealing with poison ivy, and happy gardening!