If you find that spending time on your deck or patio isn't as enjoyable as you'd like, then it's time to take control and learn how to reduce traffic noise in your backyard. After all, it's your space.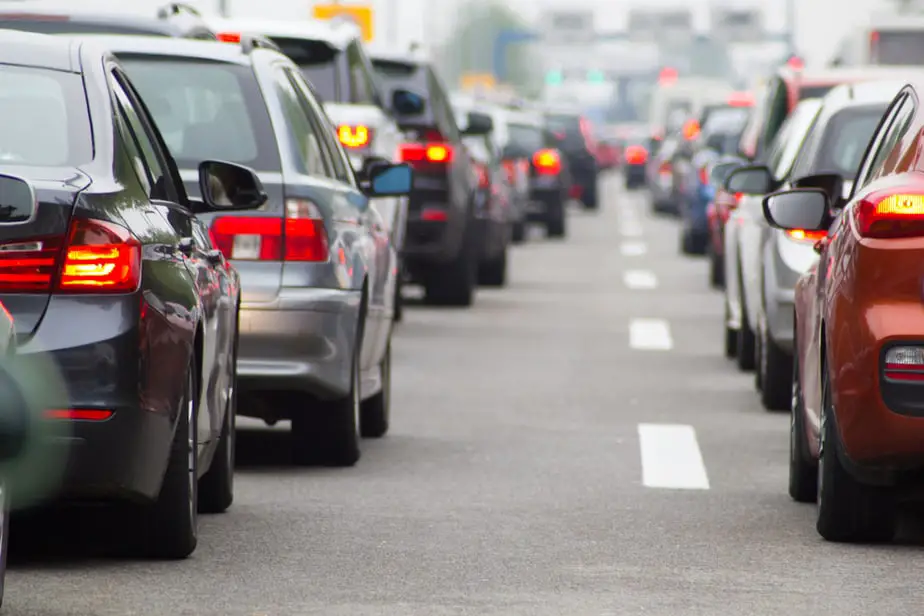 And it's time to make it yours again.
Fortunately, it's easy to do. It just takes some planning, elbow grease, and a workable budget to get the edge on tranquility.
Benefits of Taking Control
It's not just about reducing noise. It's also about reclaiming your space and get the most out of your backyard. We hate when we see a new subdivision pop up with the cutest houses — but no landscaping! It's not inviting at all and has a cold, stark feeling about it.
But it's not just about aesthetics. Taking steps to reduce the traffic noise offers some serious benefits that touch on a lot of aspects that go beyond the volume that you may not have considered.
Privacy
Here is the big one of the bunch. The key to cutting down on the traffic noise and other unwelcome sounds in the neighborhood is to create barriers to block what you don't want to hear.
That also turns your backyard into a garden room. How cool is that?
You'll find several ways to do it that are also aesthetically pleasing while turning down the volume. It can create a more intimate and inviting space that may have you spending more time outdoors.
Setting Boundaries
They say that fences make good neighbors. If you haven't found that to be true yet, you will when you start blocking those unwelcome sound waves. Boundaries are a good thing.
The scope creep starts innocently enough with the kids next door leaving their bikes in your driveway. Then, their family dog decides that your yard is part of his turf, too. Pretty soon, the lines get blurred, and you don't have the privacy that you crave.
You get the point.
Pets Know Their Bounds
The boundaries you set will also help to keep your pets where they belong — in your yard. It may also stop them from barking if a passerby triggers that protective instinct in them.
It keeps your pets safe in their own space. Besides, you can save some money on a wireless fence with a barrier that will discourage them from leaving.
Mental Health and Contact with Nature
There are benefits for you, too. Less noise means less stress, and if you use landscaping, it'll get you closer to nature. Ahh.
Noise reduction doesn't have to mean something cold and uninviting. Plants will strike the right cord while keeping the other sounds at bay.
Indirect Benefits
Other than the direct payoffs, there are also those lovely intangibles that we all cherish. Barriers can protect your landscaping from salt and other debris from the road.
It can also improve property value, making it a wise investment. All of these factors make reducing traffic noise more than just about keeping sane. It's the smart thing to do and it's good for the environment and the community.
The Plan for Reducing Noise
Now that we have your attention, let's roll up our sleeves and get down to business. It starts with a plan of action to make sure that you've considered everything and have checked off all the right boxes.
The steps include:
Checking the property lines
Applying for a permit, if necessary
Researching your options
Drafting a landscaping plan
Setting a budget
Getting to work
Let's talk about each one with tips about making your project happen.
Step 1: Know Your Boundaries
Before you dig one shovel full of dirt — or soil as the professionals like to say — you need to make two phone calls. One is to hire a professional surveyor to find out the exact location of your property lines.
Don't make any assumptions about where you think they lie. It's much easier than having to pull up a fence that encroached on someone else's land.
The second one is to 811 to find out where the lines coming from your house run to avoid any mishaps. Sometimes, they're not too far down, depending on where you live.
Someone from your utility company will come out to flag the locations. But do the guy a favor: Don't have him check the entire lot if you only plan on digging near the road.
Step 2: Make it Legal
Call your city hall while you're on the phone to learn what permits you need and what regulations apply if you want to install a fence on your property. If you're part of a homeowners association, give them a buzz, too.
Don't risk a fine, or worse, by skipping this crucial step. Remember, you're trying to reduce your stress from traffic noise – and from everything else.
Step 3: Explore Options and What to Expect
Here is the fun part. But before you get too excited, a word of advice: Do your homework when considering different projects. Think about what you want out of your work.
Different things may work better if you live next to a highway versus a busy traffic corner in town. For example, planting shrubs along the road may spell a recipe for failure if the salt is going to end up killing them.
Know the lay of the land and what your particular challenges are to make the best choices. With that said, let's move on to what you can do:
Physical Barriers
The goal with your project is to block the sound waves the best way you can, given your budget and the topography of your property. Use the features of the land to your benefit.
Fences are the obvious choice and a good one for most situations. It's essential to understand from the get-go that the end result is a reduction and not an elimination of noise.
However, you can expect something noticeable when you put up a fence. Ideally, you can install it as close to the road noise as possible for the greatest impact. That's why we stressed knowing your property lines.
Each material has its pros and cons which you need to know before you start shopping. For example, wooden ones are decorative and offer numerous choices. On the downside, there's maintenance involved with them to keep them in good shape. Also, they don't provide the maximum soundproofing because of the gaps between the boards. But we'll come back to this choice in a bit.
We strongly urge you to research what is involved with any of these projects. Constructing a fence isn't simply a matter of putting posts in the ground. You have to dig footings. That means renting an auger, doing the backbreaking work, pouring the cement, and setting the posts and planks straight.
Brick is extremely effective at cutting down noise. However, it's not necessarily in the DIY category. It's labor-intensive and something best left to a professional.
Another option you can explore is an acoustic fence material. As the name implies, they will get the job done often at a more reasonable cost than brick. If you go this route, choose something that is aesthetically pleasing. Sometimes, just having something other than traffic to look at can give you the feeling that the noise levels have dropped.
Scientists call it psychoacoustics. We say that if it works, we'll take it.
Landscaping Options
Reducing traffic noise needn't involve building a fort around your house. You can incorporate it into your landscaping so that it will do double-duty. Keeping with the privacy theme, you can let nature lend a helping hand.
Natural Choices Include:
They offer excellent choices for cutting back on noise and adding a pleasing element to your yard. You have a broad range of options, too, so that you can match the theme of your landscaping with the right plants.
However, like the wooden fences, you're not going to get complete soundproofing. You'll notice a reduction with the waves bouncing around in the foliage.
You can take it to the next level if you combine a natural fence with the artificial one. Think of a row of hedges on your side of a wooden barrier. It will help close up the gaps and give you that perception of being close to nature. It will also ramp up the privacy factor, too.
There are several things you need to take into account before you start browsing at the local garden shop.
They include:
Your area's plant hardiness zone
Space you must cover, both height and width
Any obstacles such as power lines
Give some thought about what other features you'd like, as well. Do you want to add some color to your landscaping? Is inviting wildlife to your yard another goal you have?
Keep other considerations in mind, too. If someone is allergic to bees in your home, avoid plants that would attract them. Likewise, steer away from poisonous options like yew if you have small children.
Plant choices you might consider are:
Arborvitae
Forsythia
Privet
Boxwood hedges
Lilac bushes
The thing to bear in mind is that using these plants isn't an immediate fix. Arborvitae, for example, grows about a foot a year.
You can buy larger plants, but it's going to cost you. You might find some better deals toward the end of the season near fall if you want to plant shrubs or hedges.
No matter how tempting it seems, always follow the recommended spacing. Don't crowd them just because you want to a quick solution. Get the most out of a natural barrier by varying the layers. You can plant some taller trees interspersed with bushes to create more of a solid obstacle to sound waves.
There are some maintenance tasks with this option. You'll need to prune or trim them regularly to keep them happy. We'd also suggest looking into the specifics of having a particular plant. Maple trees are gorgeous with their stunning fall colors.
Be realistic about how much time you want or are able to devote to maintenance. The best solution for this quandary is a set-it-and-forget-it option so that you can enjoy its benefits without making it troublesome.
Sale
National Tree Company Artificial Shrub | Includes Pot Base | Arborvitae - 36 Inch
National Tree Company Artificial Shrub | Includes Pot Base | Arborvitae - 36 Inch
NATURAL APPEAL: Realistic Arborvitae tree with 497 branch tips seated in a round, dark-green pot. The leafy shrub maintains a fresh and natural look throughout the seasons.
VERSATILE USE: This potted plant décor will add a pop of color to your living room, patio, porch, backyard, or anywhere it's placed.
EASY TO MAINTAIN: These plants are resistant to animals, insects, and require no sunlight, watering, pruning, or maintenance, and stay fresh forever.
IDEAL SIZE: This faux shrub is 36 Inches in height and 9 Inches in width, perfect for displaying in front doorways or entryways.
Last update on 2023-11-26 / Affiliate links / Images from Amazon Product Advertising API
---
Water Features
Another way to deal with road noise is to drown it out with something that's more pleasing. You can add a water feature that will provide the soothing sounds to mask the ones you don't want to hear.
A waterfall flowing into a small pond is just the thing for relaxing at the end of the day and tuning out the world.
Of course, there is maintenance involved with this project, and it's not a year-round solution in most areas. As with plants, don't get caught up in their beauty without taking into account the long-term labor and maintenance costs.
However, you may find that mental health benefits make it a viable option for your landscaping theme.
Last update on 2023-11-26 / Affiliate links / Images from Amazon Product Advertising API
---
Step 4: Making Your Plan
You'll need graph paper, a ruler, and an eraser when starting your layout. You should also have a tape measure handy. Don't skip this step because it'll save you a lot of hassle down the road. Don't fail to plan or else plan to fail, as the saying goes.
Here is where all the research you've been doing will come into play. We can't emphasize enough how crucial it is to take measurements wherever height and width will make a difference. Think overhead power lines or sightlines if you have a decent view in spite of the traffic noise. It's also essential if you have any limitations due to local regs or homeowner association rules.
You'll find it helpful when selecting plants, too. We always think it's such a shame when we see utility companies chop off the tops of beautiful trees just because they were too tall for the space. Base your layout on the expected sizes of any plants or trees you want to get. You don't want any surprises.
Don't forget to factor in the shade if you're planning on adding trees or taller shrubs. Well-placed landscaping can help cool your home in the summer and reduce your utility bills and add to the benefits of noise reduction.
The purpose isn't to set something down in stone. It's an opportunity for you to see how everything will come together and help with the next, all-important step: the budget.
Step 5: Keep It Real
Here is where the pedal meets the metal. Money.
Of course, you can save a few bucks by doing the work yourself. If you're handy and capable, knock yourself out and get it done!
Also, weigh it against the costs of jobbing it out. You can expect to pay anywhere from $1,000 or north of $3,000 for that fence, depending on the material and where you live. In this case, you can find out the difference in cost if you go with something that is 6-foot tall versus 8-foot. It might make a significant impact on your bottom line.
Remember that you don't have to have one solution only. You can use a mixture of fencing and plants to achieve the same purpose while keeping your costs in line. You can also plan your work in stages to make it easier on your pocketbook. You can get some younger shrubs online reasonably priced that you can plant in front of a makeshift-fence until they get tall enough to provide some soundproofing.
Step 6: Let's Do This!
Here is where all your research and planning will pay off with huge dividends. We won't lie. It's hard work that will have you reaching for that bottle of ibuprofen more than once.
With your draft in hand, place plants in their spots first before you start digging. The wise DIYer will also measure the space for fencing and the materials again before they start.
Your project is a work-in-progress. If the fence feels too confining, extend a line of shrubbery instead to keep that feeling of openness. You'll find that you have to toe the line between practicality and aesthetics. Flexibility is a key ingredient for this task.
However, your work isn't done when you've covered the last shrub or pounded in the last nail. The critical time for your plantings is the first few weeks after you've put them in the ground. Keep a close watch on them for signs of excessive stress.
Likewise, inspect any fencing occasionally, especially after extreme weather events to make sure that they've weathered the storm all right. We suggest that you monitor the noise levels after you've finished the job. Don't be afraid to make adjustments if the reality doesn't match the plan.
Final Thoughts
We all like to have our private spaces to let our hair down and unwind after the workday. Keeping the noise under control is an extra benefit.
Fortunately, you can tick off a lot of boxes with a project of this type. You can add value to your property with landscaping choices that will provide privacy and set boundaries while improving the well-being of both you and your family.
The best thing about it is that you'll realize these benefits right off the bat. By exploring how to reduce traffic noise in your backyard, you can restore your peace of mind and enjoy your living space as you see fit without all the clamor.