We've all heard the soccer mom jokes, had our minivans picked on, the whole nine yards. But part of being a soccer mom is attending games that aren't at home, and bleachers are simply not comfortable. They can hurt your back and other areas of your body, and you'll be sitting on them for about an hour and a half per game. So what can you do? Well, you can get the best chairs for soccer games, of course! You'll be able to sit at the sidelines of every game your kid plays in comfort and style without having to worry about cold, stiff bleacher seats or, worse, potentially wet grass.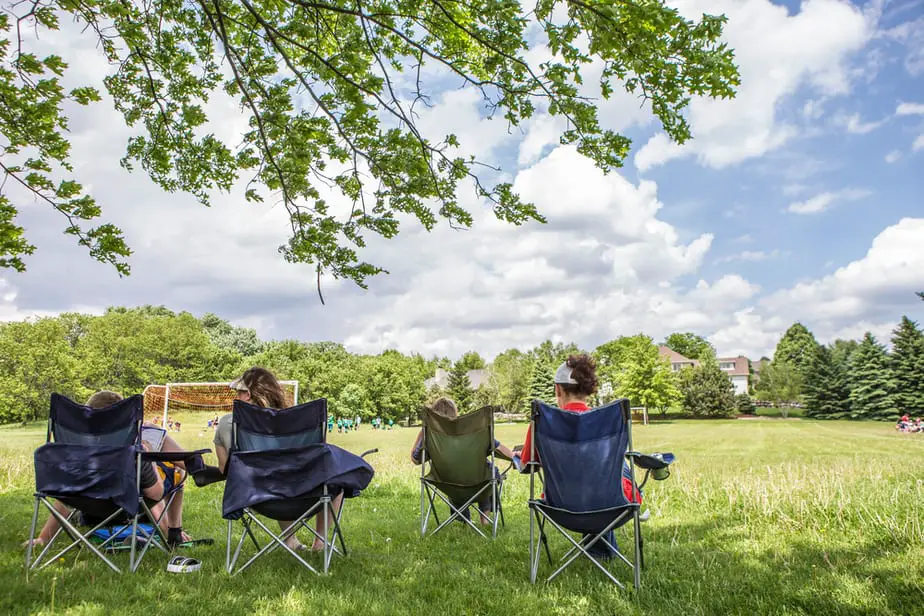 You pack up your car or van with gear, spare clothes, drinks, snacks, and more for every game anyway, so why not add the perfect portable chair to the list so you can enjoy your child's activities in comfort? With this mindset, we've come up with the top five best chairs for soccer games. Don't worry, they work well for dads, too! We've also written up a buying guide to help you settle on a choice, and answer some frequently asked questions regarding these great seating arrangements.
In a Hurry? Here's Our Top Picks…
1. Chaheati 11.4V Battery-Heated MAXX Heated Chair
Sale
Heated Stadium Seats for Bleachers with Back Support – USB Battery Included - Upgraded 3 Levels of Heat - Foldable Chair - Cushioned, 4 Pockets for Snacks, Cup Holder - for Camping, Games & Sports
IT'S THE COMFORT OF HOME, AT THE STADIUM - Take your comfort while watching your favorite sports games at the stadium to a next level, with our Heated Stadium Bleacher Seat. With a Heat Mode of up to 115F that will keep you warm during cold months, the BATTERY you need to turn heating mode INCLUDED, a slew of pockets for your favorite snacks and unrivaled, padded comfort- the game has changed!
USB BATTERY INCLUDED - Our heated sports chair allows you to survive cold bleachers thanks to its heated mode. It features three settings of heat up to 115F and we have included the USB battery so you can enjoy it right off the box. Stay cozy and watch your favorite football, basketball, baseball games or any sports, whether indoors or outdoors.
FEEL AT HOME, ANYWHERE - Our heated seat is 20" wide, has a waterproof bottom and water-resistant construction to keep you nice and dry when the bleachers are wet. It comes with high-density memory foam cushions that feel like sitting on your couch. What's more, our seat offers 6 adjustable reclining positions, back support and soft padded armrests.
GRAB YOUR FAVORITE SNACKS - With a hidden, large back pocket, 3x zippered pockets on the side and a cup holder, you will feel right at home no matter where. Enjoy plenty of organizing power right at your fingertips, and take our smart, foldable seat with back straps, to your favorite sports games, or anywhere outdoors.
COMES WITH A LIFETIME GUARANTEE - Aceletiqs focuses on surpassing your expectations and giving you the best customer experience possible from A to Z. We are so confident in our product that with each heated sports seat, you get our ironclad Money Back and Lifetime Guarantees, with our support team fully at your disposal for anything you need!
Last update on 2023-09-18 / Affiliate links / Images from Amazon Product Advertising API
This is the best chairs for soccer games out there. The chair to end all chairs, the chair that works in any temperature, any climate, any conditions. This may very well be the chair that is as close to perfect as possible.
Made with durable 600D fabric, this chair was made to be used year-round. No matter what temperature it is at your child's soccer game, you'll be kept comfortable because this chair can be temperature-controlled and adjusted to suit your preferences. Instead of using coils to accomplish these temperatures and settings, it uses woven heat technology directly in the fibers.
It comes with a carrying case as well as a powerful lithium-ion battery that, once charged, will last for hours of continuous or sporadic use, depending on your needs. Stay comfortable while cheering on your kids or while enjoying some family time outdoors!
Things We Like:
This is an all-season chair, it's resistant to the elements and has multiple temperature controls
Uses patent-pending woven heat technology instead of coils
The lithium-ion battery lasts for hours on a single charge
Made of 600D denier fabric
Includes a carrying case
Things We Didn't Like:
There's nothing bad to say about this chair, as far as we've noticed!
Check Price and Reviews on Amazon
---
2. GCI Outdoor Freestyle Portable Folding Rocking Chair
Sale
GCI Outdoor Freestyle Rocker Portable Rocking Chair & Outdoor Camping Chair, Indigo Blue
GCI Outdoor Freestyle Rocker Portable Folding Rocking Chair
Outdoor Rocking Chair: Portable folding chair quickly and easily folds flat for simple storage and transportation
Sturdy powder-coated steel frame supports up to 250 pounds includes padded arm rests and built-in beverage holder
Quality Construction: Constructed from sturdy powder-coated steel, foldable chair frame supports up to 250 pounds and includes padded armrests, a mesh backrest, and beverage holder
Patented Spring-Action Rocking Technology delivers smooth rocking motion anywhere outdoors – lawn, patio, camping or tailgating
Last update on 2023-09-18 / Affiliate links / Images from Amazon Product Advertising API
This portable folding rocking chair from GCI Outdoor is perfect for giving you a sense of comfort even while you're away from home. It uses a patented spring-action rocking system to allow you that comfortable, familiar rocking chair feel even when you're sitting sideline. This is great for all you soccer moms out there that have to bring sometimes-fussy baby siblings along to the game.
The powder-coated steel frame of this chair will easily support up to 250 pounds, with some people claiming it will hold people a little on the heftier side as well, so you shouldn't have to worry about it not supporting you.
It easily opens and closes with the patented EAZY-FOLD technology, so there's no chair wrestling required to set it up or put it away. It comes in attractive colors, either cinnamon or indigo blue, and also comes with a lifetime manufacturer's warranty.
Things We Like:
Available in indigo blue or cinnamon colors
Opens and closes or folds with patented EAZY-FOLD Technology
Uses patented spring-action rocking technology for added comfort and relaxation
Features a powder-coated steel frame that supports up to 250 pounds
Comes with a limited lifetime warranty from the manufacturer
Things We Didn't Like:
The chair almost forces you to sit a certain way due to the very upright back, and if the chair's sitting on an uneven surface you have to fight the shocks to sit somewhat comfortably
The seat is a little shallow and the front edge of it can be uncomfortable against your legs depending on where the edge is when you sit
Check Price and Reviews on Amazon
---
3. Coleman Portable Camping Quad Chair with Cooler
Sale
Coleman Portable Quad Camping Chair with Cooler , Red, 37" x 24" x 40.5"
Camping chair combines a cozy design with a convenient armrest cooler
Built in 4 can cooler pouch keeps cold drinks within reach
Fully cushioned seat and back provide support and comfort. Comfortable 18.1 inch. Sitting height
Mesh cup holder and side pocket offer quick access to personal items
Collapsible, folding design is easy to store and transport. Carry bag included
Last update on 2023-09-18 / Affiliate links / Images from Amazon Product Advertising API
If you've ever been camping, fishing, or done any kind of outdoor activity, you've probably seen, heard of, or used a Coleman product before. We're here to tell you some fantastic news – they make camping chairs too and they're absolutely perfect for soccer moms to use on an everyday basis. This one, in particular, takes the cake.
This chair can be bought singularly or in a two-pack, so if you and your soccer-spouse want to attend your child's game together you can buy the double pack of this chair with no additional hassle needed. Speaking of being hassle-free, this chair uses a collapsible folding design to be easy to transport, store, and carry. It's easy to fold up and set-up equally.
It'll hold up to 325 pounds, which is plenty to hold you and any younger kids like babies or toddlers in your lap, no problem. It's also got a built-in cooler pouch that can hold up to four cans, and it'll keep them cold until you remove them. The seat and back of this chair are fully cushioned for comfort.
Things We Like:
Has a built-in, four can cooler pouch to keep cold drinks within reach anywhere
Can be bought as a single chair or as a pair
The collapsible folding design is easy to transport, store, and carry
The seat and back are fully cushioned
Holds up to 325 pounds
Things We Didn't Like:
The carrying bag seems thinner than other Coleman bags in the past
Sits up in a proper upright position and not a leaned-back style as chairs in the past did
Check Price and Reviews on Amazon
---
4. KingCamp Heavy-Duty Steel Camping Folding Director Chair
KingCamp Heavy Duty Camping Director Chair Outdoor Folding Chairs for Adults Oversized Camp Chair with Side Table, Cooler Bag, Padded Arms, for Fishing Sports Beach Picnic, Iron, Support 330lbs
【Luxury Camping Experience】The ergonomic full back design can support your back very well,and it fits the waist curve perfectly, can provide strong support, release waist pressure. Padded curved arm rest bring your arm more comfort experience and also can help you get out of this chair easily.
【Bulit To Last】Being made of super-strength flat-tube steel, this chair's frame is not only thick but also lightweight. This chair can support 330lbs easily but weighs only 14.8 lbs. Double layer polyester with padding is resistant to tear and wear, also securely fastened to the frame, will not sag down.
【Design for Big Guys】20.8" Seat width provides you plenty of space to stretch the body. Height 17.3" off the ground is friendly to those with knee problems. Molded rubber foot inserts make this chair more secure and slip-resistant, sit comfortably wherever you are.
【Oversized Storage】 Foldable side table with cup holder, is sturdy enough for your camping life, so feel free to put your drinks and snacks on it. The super-large cooler can load 20 of 12 oz cans, keeps your drinks and food fresh and cool all the time.
【Convenient to Carry】Ready to use, without any assembly. Packed Size 36.6"x22.8"x7.1", weighs only 14.8lbs, easy to carry with hand. It's perfect to be used in camping, car travelling, fishing, tailgating, picnic or the beach.
Last update on 2023-09-18 / Affiliate links / Images from Amazon Product Advertising API
This heavy-duty folding chair from KingCamp takes a bit of work both when unfolding and folding it, but it's well worth the extra effort. This extra-large, heavy-duty soccer mom chair will handle a weight capacity of up to 330 pounds and uses high-quality, 600D Oxford fabric to resist water, wear, abrasions, and general weather conditions.
With that impressive fabric material and the heavy steel frame, you can count on this chair for years of sports events, trips, and general use. Because of the heavy-duty frame and seat materials, however, you should note that this chair is significantly heavier than other models on our list.
It comes with an insulated cooler bag and a cup-holding table attached on either side of the chair. Plus, there's a lifetime warranty and satisfaction guarantee through the manufacturer.
Things We Like:
Comes with a lifetime warranty and satisfaction guarantee
Features an insulated cooler bag with a 12-liter capacity and a side table with cup holder
Has an extra-large size and weight capacity of up to 330 pounds
Made of wear-resistant and durable 600D oxford fabric
Has a heavy-duty steel frame and comfortable, padded armrests
Things We Didn't Like:
They're heavy-duty, and therefore are also much heavier than other folding chair options we've reviewed
Takes a bit of work to fold and unfold, it's very easy to pinch your fingers in the process
Check Price and Reviews on Amazon
---
5. Coleman 2000019354 Quattro Lax Double Quad Chair
Last update on 2023-09-18 / Affiliate links / Images from Amazon Product Advertising API
If you frequently attend your soccer kid's games with a spouse, friend, or another moderately-sized human being, you'll probably benefit from having two chairs instead of one. But what if one chair was really two? That's where this Coleman model comes into play.
This chair easily seats two people with an impressive level of comfort. It can handle up to 225 pounds per seat, or a total of 550 pounds without any hints of struggle. Because it does the work of two chairs in one unit, it's a good deal heavier than other options available, but it's also more convenient than having to load, unload, and set-up additional chairs.
This chair has mesh cup holders on both armrests and also has storage pockets on the back to store your additional items such as accessories, backup shin guards, snacks, supplies, phones, and keys.
Things We Like:
Easily and comfortably seats two people in one unit
Includes mesh cup holders on both armrests
Has pockets on the back of the seats for storing accessories, snacks, or other personal items
Easily folds for compact storage and transport in the included carrying bag
Supports up to 225 pounds per seat for a combined 550 pounds
Things We Didn't Like:
Because it's two chairs in one unit, it's a bit heavier than most folding sideline chairs
It sits pretty low, which some may have an issue with
Check Price and Reviews on Amazon
---
Education: What You Need to Know
With our top five choices fresh in your mind, you're probably wondering exactly how we decided on those particular chairs for soccer moms. What makes them the best? What should you look for when deciding on the best chairs for soccer games for you? We'll explain.
Portability, Comfort, and Convenience
The whole reason you're looking for a chair for all of your soccer-mom activities is because of your regular seating arrangements whether they be bleachers, the grass, or a blanket. So what you need is something portable, convenient, and comfortable.
Every chair on the above review list is foldable and comes with a convenient carrying case that makes them even easier to carry. Some are heavier than others due to materials or size, so keep that in mind when you're making your choice, whether you'll be loading and unloading your vehicle by yourself or with help.
The Material
You'll notice that some of the soccer mom chairs you'll come across boast being 600D polyester or 600D Oxford, but what do those terms really mean? More importantly, is there a difference between them?
The answer is yes, but it's a bit trickier to say this for sure than you think. That's because Oxford is polyester, but the way it's handled is different. The higher the number before the "D" indicator, the more likely it is to be labeled as Oxford rather than polyester, though not all manufacturers choose to make the distinction.
So 600D polyester is the same as 600D Oxford, in short. But under normal instances and if set standards are followed, then the material is "polyester" at ranges below 420D and are Oxford at ranges of 420D and higher.
You're probably wondering what the "D" stands for at this point. "D" stands for "denier," and it's a unit of measurement. It measures the weight and thickness of your polyester fabric. What that means is that the higher the number, the heavier and thicker the fibers are that were used in your chair's construction.
Heavy, thick fibers tend to be much more durable, weather-resistant, and abrasion or scratch-resistant. 600D fabrics are also mildew-resistant and have a considerable amount of water-resistance. This fabric type is also used in backpacks, equipment bags, awnings, and boat covers.
Features and Benefits
From armrests to cupholders, storage pockets to heating elements, there are many features and benefits that you'll find as you search through the world of soccer mom chairs. It's up to you which features and benefits are most important to your wants and needs.
Additionally, it will depend on what other equipment or accessories you choose to bring along, such as coolers, fans, blankets, and more.
Weight Limits
We get it – nobody wants to talk about their weight, especially not after having kids and filling your time with their sports and family activities. But, the weight capacity or weight limit of your soccer mom chair is an important factor you need to adhere to. You don't want to invest in a chair and not be able to use it, after all.
Be sure to check the weight limit of your potential chair and then check your weight, or whoever intends to sit in the chair. If you're within five or ten pounds of the limit it's usually okay, particularly in chairs that have heavier, more durable frames.
Chances are though, you're nowhere near the weight limit of your chair, meaning you can be the best soccer mom in whatever chair you deem fit for the job!
Support and Stability
Along with everything else listed above, one of the biggest things you should be looking at when choosing your new soccer mom chair is the support and stability offered with it. This ties in with the weight and comfort factors as well. You want a frame and material that won't give way under your weight while still being comfortable and supporting your body for the hours you'll spend at the sidelines.
You should look for frames that are heavy-duty but aren't heavy to carry, and the seat and back of the chair should be made of thick or durable fabrics and materials.
Best Brands for Soccer Mom Chairs
Some brands are better than others depending on the products and the market. But there's no arguing that the top four brands for recreational chairs are the following four.
Chaheati: Chaheati was, quite literally, founded to make comfortable, advanced chairs for sidelining sports events and games. It's a newer company but it's already leading the pack in terms of quality, reliability, and comfort.
GCI Outdoor: Founded in 1996, GCI Outdoor combined intuitive engineering with fantastic marketing. The original founder and co-founder still actively run the company and continue to provide innovative products with exceptional customer service.
Coleman: Coleman is a well-known brand that consistently puts out high-end products. These range from chairs to tents, grills to coolers. You can't go wrong with a Coleman product.
KingCamp: KingCamp, as a brand, focuses on the experiences we share with our loved ones while spending time in the great outdoors. They make excellent, quality camping gear, including some of the best chairs around.
FAQs
Have questions about the best chairs for soccer games? Don't worry – other folks did, too. That's why we've collected the most common ones and answered them here for your convenience!
Q: Were these chairs specifically made for soccer moms?
A: While some chairs are specifically made for soccer moms and have the title proudly emblazoned on the back or seat, the chairs we've reviewed were not made just for sitting on the sidelines of your children's sports events.
If you choose to, you can use your new soccer mom chair for camping trips, picnics, family outings, fishing trips, and more. There's no limit to what you can do with your soccer mom chair or where you can sit comfortably.
Q: Can you use these chairs for other sports or activities like football, field hockey, or camping?
A: You can absolutely use your soccer mom chair at other sports events or during things like camping trips and other similar outings. Anywhere where you have to sit outside, or even in some instances where you have to sit inside, you can use your chair.
Wrap Up
With all of this information, you should now have a much better idea of what to look for in your perfect soccer mom chair. Personally, we think that the best chairs for soccer games are the Chaheati 11.4V Battery-Heated MAXX Heated Chair, which is fantastic in all weather conditions, is comfortable, and is raved as the best portable chair available.
If that's not what you're looking for and you need something a bit more geared toward heavy-duty use, you should look at the KingCamp Heavy-Duty Steel Folding Director Chair. It's guaranteed to last you a long time, and that nifty side table can be used for drinks, accessories, and more. Or, if you and your friend, spouse, or whoever wants to share a chair, go ahead and try out the Coleman Quattro Lax Double Quad Chair.
No matter which chair suits your needs, you can't go wrong with any of the ones highlighted above. But if you want to shop on your own, don't forget about our helpful buying guide!