If you've been keeping up with OwnTheYard's reviews of airsoft guns, then you know just how dedicated we are to helping you find the best one for your abilities and preferences! In this article, we'll be focusing on the best airsoft sniper rifle to make the games just a little more interesting…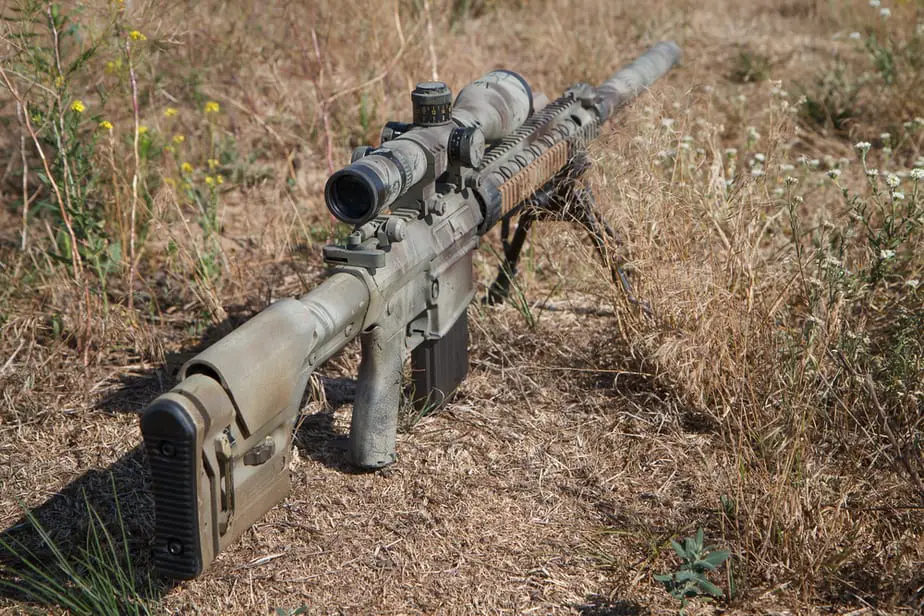 So stick around for our full review and complete buying guide!
Let's get started!
In a Hurry? Here's Our Top Picks…
| Image | Title | Price | Buy |
| --- | --- | --- | --- |
| | BBTac Airsoft Sniper Rifle M62 - Bolt Action Powerful Spring Airsoft Gun, Extreme Powerful FPS with .20g 6mm BBS | | CHECK ON AMAZON |
| | Well SPEC-OPS MB13A APS SR-2 Bolt Action Sniper Rifle Airsoft Gun (OD/Scope & Bipod Package) | | CHECK ON AMAZON |
| Top | Double Eagle Field Marksman Bolt Action Spring Airsoft Sniper Rifle Gun FPS 480 | | CHECK ON AMAZON |
| | Spring Bolt Action Well m187d fps-550 Metal Airsoft Sniper Rifle Gun w/Scope, bi-pod(Airsoft Gun) | | CHECK ON AMAZON |
| | Well Full Metal MB08 Bolt Action Sniper Rifle (Tan/Scope Package) | | CHECK ON AMAZON |
Product prices and availability are accurate as of the date/time indicated and are subject to change. Any price and availability information displayed on [relevant Amazon Site(s), as applicable] at the time of purchase will apply to the purchase of this product.
Prices pulled from the Amazon Product Advertising API on:
1. Double Eagle Field Marksman
Last update on 2023-08-29 / Affiliate links / Images from Amazon Product Advertising API
Among the leading types of airsoft sniper rifle is the Double Eagle Field Marksman. One of the reasons is it blends price and performance better than the rest in its price range.
First, crucial parts such as the trigger, bolt, and barrel are made of metal. This adds a lot of durabilities while giving the solid feel you would get using a true rifle. It is a great option for those who like the heavier feel of metal materials. Molded ABS polymer is used to make the stock. Construction of this kind improves impact resistance.
The stock provides a lot of adjustment options like the length of pull and comb height, meaning you can customize the Double Eagle Field Marksman to fit your body.
420 FPS (Feet per second) is the rifle's maximum velocity. It's above-average, offering you enough range for the majority of airsoft battlefields. Overall, the rifle is a great option for a sniper looking for an airsoft sniper rifle on a budget.
Things we liked
420 FPS meets needs of most shooters
The shock has plenty of adjustment options
Molded ABS polymer stock
Metal trigger, bolt, and barrel.
Things we didn't like
Magazine isn't the most durable out there
Check Price and Reviews on Amazon
---
2. BBTac M62
BBTac Airsoft Sniper Rifle M62 - Bolt Action Powerful Spring Airsoft Gun, Extreme Powerful FPS with .20g 6mm BBS
POWERFUL SPRING LOADED - Highlt Detailed Airsoft Sniper Rifle and Shooting Powerfully with .2g BBs
HIGH QUALITY BUILT - Airsoft gun replicas with detailed finish and ABS polymer construction to reinforce platform
PRECISION MADE - Precision machine made shooting longer distance with added stability and precision
FAST LOADING - Airsoft guns using Clip for fast and simple reload for quick turn around
BOLT ACTION- Highly realistic bolt action to load and release on shooting with real feeling for authenticity
Last update on 2023-08-29 / Affiliate links / Images from Amazon Product Advertising API
At its price point, this airsoft sniper rifle offers impressive performance. The bolt has a functional safety and is made of metal. Unfortunately, the trigger and the barrel is made of polymer (so they're not as heavy or durable as we generally like).
The stock is also made of polymer. The good news is polymer is molded making the seams almost unnoticeable. This means you will experience a good feel when playing or training.
An adjustable length of pull and comb are other features of the stock so you can customize it just the way you like it.
420 feet per second is nothing mind-blowing. However, the speed allows you to pick off enemy players off with minimal risk of exposure. One of the major upsides of the rifle is it comes with a scope. The included optic is cheap, though, so you may want to upgrade the scope.
Things we liked
420 feet per second is sufficient for most airsoft battlefields
Adjustable length of pull and comb for a customized fit
Molded polymer stock
Metal bolt with a functional safety
Scope included
Things we didn't like
Cheap included scope
Barrel and trigger are made of polymer
Check Price and Reviews on Amazon
---
3. Well Spec-Ops APS SR-2
Last update on 2023-08-29 / Affiliate links / Images from Amazon Product Advertising API
This particular airsoft sniper rifle offers the best range and muzzle velocity in the sub-100 dollar range. The chassis has an A2 pistol grip, M4 carbine style stock and is molded from polymer. Well Spec-Ops APS SR-2 stock features a storage compartment and can be adjusted.
For a long-range airsoft sniper rifle, the A2 pistol grip is not ideal. However, the rifle is equipped with an integrated top rail used to mount optics. The barrel has a metal outer tube.
The bolt features a tactical throw lever and is made of metal. As such, you can do quick follow up shots by running the bolt. The muzzle velocity is quite impressive at 500 FPS. It's enough to give you an advantage over many competing rifles.
On the downside, the hop-up adjustment is a challenge to access for beginners. The magazine can also be tricky to load.
Things we liked
Excellent muzzle range and velocity
The integrated top rail and metal parts offer excellent upgrade potential and long-range performance
Stock is adjustable and has a storage compartment
Ergonomics are similar to realistic AR-15 rifles
Things we didn't like
The magazine is tricky to load
Difficult to access hop-up adjustment
Check Price and Reviews on Amazon
---
4. Well
m187d fps-550

Bolt Action

Last update on 2023-08-29 / Affiliate links / Images from Amazon Product Advertising API

An airsoft sniper rifle of this type is designed for a sniper who wants to mount several accessories on the rifle. The chassis is equipped with an integrated quad rail, an adjustable stock, and an ergonomic pistol grip.

Such options make the rifle very comfortable to shoot even when in uncomfortable positions. Additionally, it gives space to mount any accessory that you deem necessary to make better shots.

An integrated optics rail is fitted on the Well MB4411G Bolt Action to improve accuracy.
Things we liked
High muzzle velocity can outrange the majority of competing rifles
Integrated optics rail
Integrated quad rail
Adjustable stock
Ergonomic grip
Things we didn't like
Perfect magazine seating is required by the feeding system to function correctly
Check Price and Reviews on Amazon
---
5. Well Full Metal MB08
Last update on 2023-08-29 / Affiliate links / Images from Amazon Product Advertising API
Well Full Metal MB08 is a bolt action sniper rifle that mimics the feel of the famous L96. The stock features an adjustable check riser, an adjustable length of pull and is made using molded polymer.
The options let you customize the rifle to fit your needs. For easier transportation, the stock is foldable.
Just like the name suggests, the outer tube of the barrel is fluted and full metal. The result is a rifle with excellent organic accuracy.
An integrated optics rail is included, making you the most accurate shooter on the field.
BBs are delivered at a maximum velocity of 440 FPS. It is sufficient to provide you a long-range edge over more than half airsoft sniper rifles in the market.
Even though the muzzle velocity is high, pulling back the bolt is easy. This means quick follow-up shots are possible when you need them.
Things we liked
Easy to pull back the bolt
Excellent muzzle velocity
Foldable stock makes transportation easy
Molded polymer stock providing plenty of adjustment options
Things we didn't like
Hop up adjustment is a challenge
Check Price and Reviews on Amazon
---
Education on Airsoft Sniper Rifle
Check all the variables of these weapons before you decide to go with one. The following is information on the various factors you should consider before you purchase an airsoft sniper rifle.
Your Position
The position you wish to play will determine the best weapon for it. For instance, a gas blowback rifle is recommended for large open spaces. If you prefer to snipe for shorter distances, an AEG is the best way to go.
An airsoft sniper needs a rifle with excellent accuracy, high FPS, and a long barrel. The best types usually feature a single-shot and non-electric design.
Automatic and semi-automatic airsoft sniper rifles usually have a shorter range. Single-shot design is the best for snipers.
The rifleman normally makes up the majority of the squad. This means they require a sniper rifle capable of hitting targets over 100 feet away.
FPS
It is a very crucial variable when deciding the type of airsoft sniper rifle you need. The minimum requirement is 400 Feet per second.
Take note snipers use heavier pellets. Heavier pellets have a higher likelihood of increasing the FPS.
If you get an airsoft rifle that does not have at 400 FPS, you will not be able to pick off opponents at long distances. However, you can decide to use lighter pellets when conditions are calm as calmer conditions let you shoot farther. In case a gust of wind whips up, most of your shots will be sent off-track.
Optics
The role of a sniper requires the use of good optics. Even the best sniper airsoft rifle will not hit a target if you do not have a scope. It is recommended to get a sniper that allows you to remove the scope and change it with one that you prefer if the original does not work for you.
Remember to dial in your scope before you begin any match. If you try this move during a battle, you are likely to give away your position. The reason is you may need to practice multiple shots before you get the best settings.
You need to know how to shop for the right scopes to improve your overall performance. As a general rule of thumb, go for scopes with a range of 150 – 200 yards.
For instance, closer distances work well with a 1x red dot sight. Longer distances work well with a3-9x or a 4x scope. Consider the amount of elevation and wind when choosing your scope.
Accessories
There is the normal itinerary used to help anyone ion their duties as a marksman. However, there are also other accessories you need to use to help you with your gameplay.
One of them is referred to as a sling. It offers you quick access to your sidearm without the need of dropping your rifle. Sings are useful in circumstances when one of your opponents gets the jump on you and you need to deal with the situation as quickly as possible.
Another great addition is a bipod as it will assist you to stabilize your shooting. Keep in mind this will only work if you have something to rest on it. Consider the types of accessories you get when you purchase your rifle, and the ones you can buy to enhance your gameplay
Budget
A budget is a crucial factor considering there is a range of prices for all airsoft sniper guns. Some people make the mistake of thinking higher-priced sniper rifles will guarantee the best outcome, but some low-cost rifles have been known to perform better than several high priced rifles.
On the other hand, this does not mean you should buy the cheapest rifle in the market. All we are saying is there are plenty of high-quality versions you can get on a low budget. Shop around before you make a decision.
Weight of Airsoft Sniper Rifle
You want to be as comfortable as possible when you are using your airsoft sniper rifle. This is why you should consider the weight of the gun.
Although it may seem more realistic and fun when you are using a heavy gun, it may too heavy to give most players, especially beginners, optimal accuracy. We suggest you go for a versatile lightweight model so that it is reliable and comfortable for you to use.
Best 3 Airsoft Sniper Brands
Well
Well is one of the best airsoft sniper rifle manufacturers. Their never-ending goal is to provide their customers with the perfect airsoft rifle experience. To achieve their vision, they have vowed to become the most respected and successful business in America.
They have managed to become an industry leader due to their willingness to invest back into the industry, vision, integrity, thirst for perfection, dedication to their customers, and hard work. For more than ten years, they have been among the highest ranked airsoft rile manufacturer in the world.
Double Eagle
The company was founded on the principle of being dedicated to offer lightning fast shipping and exception customer support. Double Eagle strives to be your number one choice for great airsoft guns at affordable prices.
They strive to design their airsoft rifles at the lowest cost without comprising quality. As such, they are able to pass the savings they made to their customers.
They ask their clients to contact their customer support should any issue arise with their product. They are ready and willing to find a resolution in the quickest and most amicable way possible.
BBTac
BBTac is renowned to offer one of the best quality airsoft rifles, accessories, and BBs in the market. Additionally, they continue to provide quality items by consistently improving innovation.
They are a process-centered and market-focused organization that delivers and develops innovative solutions and products to their clients. This is why they consistently outperform their peers.
Airsoft Sniper Rifle FAQ
Q: How Do Airsoft Sniper Rifles Work?
A: Air compression is used to fire BBs in airsoft rifles. However, there are different ways these rifles function. They can be gas, electric, or spring powered. Each gun type has its merits and demerits.
Q: Are Airsoft Sniper Rifles Dangerous?
A: Generally, these sniper rifles are safe to use as long as proper safety protocols are implemented. For starters, eye protection is mandatory.
Other additions include knee/elbow pads, gloves, and vests if you want added protection. Check your local laws governing the transportation and use of airsoft sniper rifles to ensure you do not violate any laws.
Q: What Does CO2 and Gas Powered Mean?
A: Instead of battery or spring power, some rifles rely on gas power. Although CO2 and gas-powered guns are more popular with pistols, there are some gas-powered sniper rifles.
The majority of high-end CO2 pistols use a "blowback feature to add an extra dimension of realism when you operate the gun. Remember there are many factors at play when you are choosing the type of airsoft rifle you should choose.
Q: Can an airsoft sniper rifle break glass?
A: This depends on the distance, density of the glass, and FPS of the rifle. A spring-powered gun shooting at a low FPS at a distance of 100 yards likely won't break glass. If the density of the glass is thin, the glass may be shattered.
On the other hand, AEGs that shoot at 400 or more FPS have a high likelihood of breaking thicker glass. Extreme caution is recommended when shooting around glass as the fragments may ricochet to the direction of your teammates.
Q: Are airsoft rifles capable of shooting metal BBs?
A: There is no airsoft rifle that can shoot metal BBs. They fire plastic BBs making the safe for recreational use. BB guns are often confused for airsoft guns. BB guns fire metal BBS and are usually used for pest control, target practice and training.
Wrap-up
If you are looking for an airsoft sniper rifle, the above-mentioned ones are the best in the market. Their features may be a bit confusing so let us break it down for you.
The best overall sniper is the Double Eagle Field Marksman. For starters, its 420 FPS meets the needs of most snipers. Secondly, its shock has plenty of adjustments options giving more freedom to customize to fit your needs. The molded ABS polymer stock and metal barrel, bolt, and trigger are a plus.
If this does not meet your requirements, we suggest going for the Well MB4411G Bolt Action. One of its great features is the high muzzle velocity of 500 FPS. The integrated quad rail and adjustable stock are other good features. Finally, an ergonomic grip and adjustable stock are also good features.