Outdoor porches and patios can be relaxing places to curl up with a book or enjoy a nice drink. But any porch can become stuffy or hot without a ceiling fan to keep the air moving.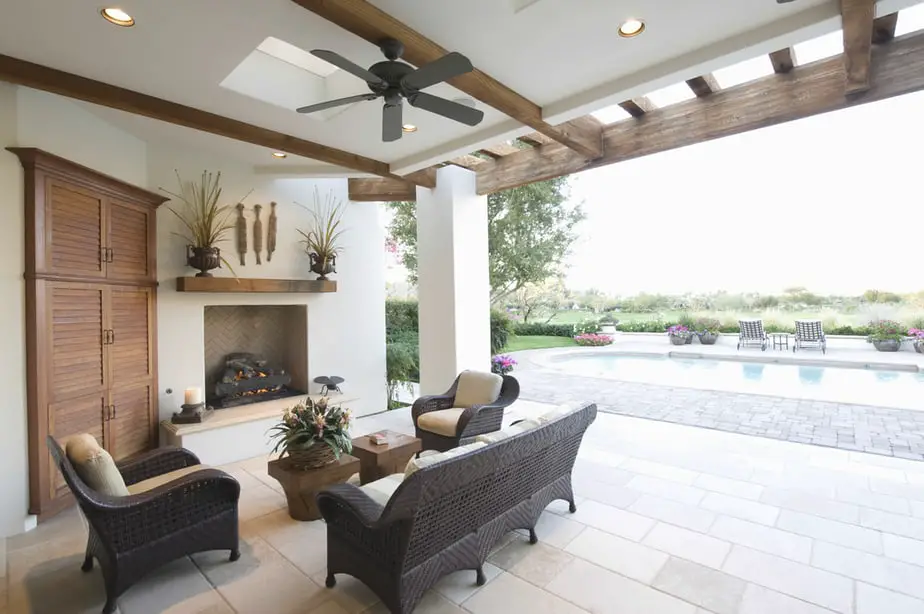 The best outdoor ceiling fans usually aren't too different from great indoor ceiling fans, but finding the right one can be tricky without doing some research first. That's why we put this guide together. We've already done all the research and found the best outdoor ceiling fans for your consideration. Let's check them out together.
In a Hurry? Here's Our Top Picks…
1. Honeywell Belmar 52-Inch Indoor/Outdoor Ceiling Fan
Sale
Honeywell Ceiling Fans Belmar, 52 Inch Traditional Indoor Outdoor LED Ceiling Fan with No Light, Pull Chain, Three Mounting Options, ETL Damp Rated, Reversible Motor - 50199-01 (Bronze)
MODERN / CLASSIC: The Belmar is a 5 blade bronze ceiling fan featuring modern lines and simplistic charm which flawlessly fits with almost any home decor.
NO LIGHT CEILING FAN: Perfect for your outdoor areas or well lit indoor spaces, this no light ceiling fan provides comforting air circulation and modern style without the added bulk of a light kit.
WET RATED: This outdoor ceiling fan is designed for durability against the harsh outdoor elements.
WEATHER RESISTANT BLADES: Featuring durable, all weather resistant ABS plastic blades with wooden textures, these blades will stand up to the test of nature and will not bend.
EASY CONTROL: Traditional pull chains are included for easy on/off functions or speed adjustments with a quick and simple pull of the chain.
Last update on 2023-09-18 / Affiliate links / Images from Amazon Product Advertising API
This outdoor ceiling fan is damp-rated, meaning that it's a perfect choice for humid environments or porches or patios that won't be directly exposed to the rain. It features five blades and a bronze finish, which makes it look incredibly classy without becoming too fancy for most folks' patios.
The fan utilizes traditional pull chains that allow you to easily switch it on or off depending on the sequence of pulls. The motor is also reversible and features three speeds: slow, medium, or high. You can reverse the motor to channel warm air throughout the space instead of cold air, which can be helpful during the winter months.
The motor is quiet and a perfect complement to the understated aesthetic of the fan as a whole. Quiet fans are nice for more peaceful porches that don't have a lot of ambient noise from their surroundings already.
The fan's blades are 52 inches long apiece. So this is an ideal fan for medium to large-sized rooms or patios. With a 12° blade pitch, they are particularly effective at channeling warm or cold air in smooth waves without making things too windy outdoors.
Finally, you can take advantage of a limited lifetime manufacturer's warranty. This covers any damages to the fan as a result of improper construction. Even without this warranty, it's an excellent fan for its asking price.
Things We Like:
Damp-rated to defend against humidity damage
Very nice aesthetic without being too flashy
Features a reversible motor and three speeds for customization
Motor is quiet and peaceful
Things We Don't Like:
Not totally waterproof for outdoor use
No remote control
Check Price and Reviews on Amazon
---
2. Casa Delta-Wing Modern Outdoor Ceiling Fan
Casa Vieja 52" Delta-Wing Rustic Farmhouse 3 Blade Indoor Outdoor Ceiling Fan with Remote Oil Rubbed Bronze Walnut Solid Wood Damp Rated for Patio Exterior House Home Porch Gazebo Garage
52" blade span. 9-degree blade pitch. 153 x 18 mm motor size. Canopy is 6" wide x 2" high. Maximum slope 25 degrees.
Oil-rubbed bronze finish motor. Three walnut finish solid wood fan blades.
UL listed for damp locations. Not suitable for locations in humid climates or salt water exposure. This mid century, airplane inspired ceiling fan is perfect for homes with western, and industrial decor themes. Turn any space into a getaway to your favorite cabin or cottage. Also available with LED light and 66" width options.
Hand-held remote control is included. 3-blade ceiling fan design by Casa Vieja. Ceiling fan designed for powerful cooling of living room, bedroom, or outdoor space. Quality look, feel and finish. Adding an rustic industrial style with 3 unique wooden aviation like, propeller blades. Quiet electric fan motors perfect for bedrooms.
6" downrod included. Fan height is 11" ceiling to blades, 12" ceiling to bottom of fan (with 6" downrod).
Last update on 2023-09-18 / Affiliate links / Images from Amazon Product Advertising API
This outdoor ceiling fan has 52-inch-long blades made of solid wood. All three of them look exceptionally durable and are screwed in tightly to the main motor and center of the fan, which is small and understated. The fan as a whole only weighs 14 pounds, so installing it in your outdoor ceiling won't take too much effort.
The fan blades have a 9° pitch to channel air smoothly throughout the space. The bronze finish motor goes with most outdoor aesthetics and has been oil rubbed to improve its feel and easy rotation. The motor has an overall airflow efficiency of about 103 ft.³ per minute per watt, and it uses 62 W. As a result, it's an excellent choice for an outdoor ceiling fan that needs to cover a lot of surface area.
For added stability, the fan features an excellent downrod that minimizes the wobbling on higher speed settings.
You can operate this outdoor ceiling fan using the handheld remote control that comes with the purchase. The motor has three speeds, plus a reverse airflow control that you can use to generate warm air circulation rather than cold.
If you'd like some extra illumination in your outdoor space, you can purchase this outdoor ceiling fan with an integrated LED light for only a slightly higher asking price. The light can be mounted directly in the center of all three blades to melds perfectly with the fan's overall aesthetic.
However, this fan is not damp-rated, and it's a bit expensive even without the LED light. This is a top choice for dry climates or for closed porches that aren't at risk for interior moisture exposure. But if your porch ever gets wet from rain or the season, you may wish to find another fan.
Things We Like:
Has a convenient handheld remote control
Motor is powerful and bronze finished
All three blades are made of solid wood with a walnut finish
Can integrate an optional LED light
Things We Don't Like:
A little expensive
Not damp-rated or waterproof
Check Price and Reviews on Amazon
---
3. Harbor Breeze Twin Breeze Outdoor Downrod Ceiling Fan
Harbor Breeze Twin Breeze Ii 74-in Oil-rubbed Bronze Outdoor Downrod Ceiling Fan
Award winning double fan ceiling fan displays outstanding beauty with lifetime of durability. This industry recognized name brand fan is built for looks and to last. This stunning and newly updated model has even more durable material and powerful quiet motor technology.
6 brown wicker blades make it easy to change styles without purchasing new blades. Oil-rubbed bronze finish provides a sleek appearance
Light kit with frosted glass shades creates a bright glow. 4-in L downrod included
74-in fan is ideal for extra-large rooms. Transitional style decor. For indoor/outdoor use.
3-speed reversible AC motor provides up to 4,450-CFM airflow and an airflow efficiency of 57-CFM/watt
Last update on 2023-09-18 / Affiliate links / Images from Amazon Product Advertising API
This unique double outdoor ceiling fan features an aesthetic that makes it stand out amongst all others. It has two smaller outdoor ceiling fans connected via metallic arms to the main motor with an integrated light between them. Each fan uses three wide blades to spin air equally on the left and right of the overall unit.
All six of the blades are made from brown wicker and have been oil rubbed with a bronze finish. This gives them a sleeker appearance and helps them appear like new even if they've been running for a long time.
The fan features a 4-inch downrod to stabilize the whole unit if both fans are running at their highest speed. Speaking of speed, the fan has three to choose from and a reversible AC motor that can provide up to 57 ft.³ of movement per watt utilized.
The light has a frosted glass construction that creates a bright glow without becoming too glary or harsh. Beneath the glass are twin chains for controlling the fan.
The fan's twin-set design allows it to cover extra large patios since the fans are spaced fairly far apart and affect more air as a whole in this manner. Keep in mind that this fan is only dry-rated, so it's not recommended that you use this in outdoor settings that frequently receive lots of humidity or rainfall.
But it's a perfect choice for cooling expansive patios in arid environments, especially since it can cool air at quite a distance.
Things We Like:
Features twin fans for extra air-cooling coverage
Features an excellent aesthetic
Has an integrated frosted glass light for visibility
Motor has three speeds and is reversible
Things We Don't Like:
Not rated for wet or humid weather
Check Price and Reviews on Amazon
---
4. Hunter Indoor/Outdoor Low Profile Ceiling Fan
Hunter Fan Company 53118 Hunter 48" Sea Wind Indoor/Outdoor Low Profile Ceiling Fan, Matte Black Finish
NAUTICAL CEILING FAN: The traditional Sea Wind fan comes with matte black reversible blades that will keep home interior inspired; Measures 48 x 48 x 9.3 inches
MULTI-SPEED REVERSIBLE FAN MOTOR: Whisper Wind motor delivers ultra-powerful airflow with quiet performance; Change the direction from downdraft mode during the summer to updraft mode during the winter
PULL CHAIN CONTROL: Turn the black ceiling fan on/off and adjust the speed quickly and easily with the pull chains
ROOM PLACEMENT: Indoor/outdoor fan is designed to be used in rooms with low ceilings, the low-profile housing fits flush to the ceiling; Damp-rated for use in covered porches, patios, sunrooms, living room, and bedroom
Last update on 2023-09-18 / Affiliate links / Images from Amazon Product Advertising API
This smaller ceiling fan is an ideal choice for more compact patios and porches. It features five matte plastic blades, which don't look as classy as wooden ones. But these blades are particularly durable and are each damp-rated for use in humid environments or on porches that receive light rainfall.
Each of the blades is 48 inches long, and they feature a 13° pitch to improve air movement and provide peak performance no matter which setting you currently have the fan on. The fan can be adjusted with an included pull chain, which features different settings to quickly turn the fan on or off or adjust its speed.
The motor equipped with this fan is extremely quiet, even if you use its higher speed settings. The motor can also be totally reversed to let you warm your space with circulated air rather than cooling it.
As a last bonus, this spam comes with a limited lifetime motor warranty. If the motor ever shows signs of trouble as a result of manufacturer deficiencies, you can get the motor replaced at no extra cost. Since the fan is already quite affordable, this only improves its value for money.
Overall, this is a great choice if your porch or patio can work with the jet-black aesthetic. Aside from its color, this fan is hardly noticeable thanks to its quiet performance and exceptional blade pitch.
Things We Like:
Very quiet motor even on high settings
Motor can be reversed for warm air circulation
Rated for damp environments
Comes with manufacturer warranty
Things We Don't Like:
No included remote control
Fan blades are plastic, not very classy
Check Price and Reviews on Amazon
---
5. Honeywell Belmar Outdoor LED Ceiling Fan
Sale
Honeywell Ceiling Fans Belmar, 52 Inch Traditional Indoor Outdoor LED Ceiling Fan with Light, Pull Chain, Three Mounting Options, ETL Damp Rated, Reversible Motor - 50512-01 (Bronze)
MODERN / CLASSIC: The Belmar is a 5 blade bronze ceiling fan featuring modern lines and simplistic charm which flawlessly fits with almost any home decor.
CEILING FAN WITH LIGHT: Featuring a light frosted glass bowl light which houses two E26/Medium (Standard)/A15 bulbs(included), this LED ceiling fan is 600 lumens, 6.5 watts, 3000K color temperature and dimmable 10% to 100%.
DAMP-RATED: This ceiling fan is damp rated making it great for areas where moisture levels are high but is still protected from direct rain. It can be hung both indoors or covered outdoor spaces such as porches, garages, breezeways, etc.
WEATHER RESISTANT BLADES: Featuring durable, all weather resistant ABS plastic blades with wooden textures, these blades will stand up to the test of nature and will not bend.
EASY CONTROL: Traditional pull chains are included for easy on/off functions or speed adjustments with a quick and simple pull of the chain.
Last update on 2023-09-18 / Affiliate links / Images from Amazon Product Advertising API
This outdoor ceiling fan features an LED light already installed in its center. The light is set into a bowl with frosted glass to improve the light's aesthetic and reduce its glare, and the purchase comes with the bulbs needed for immediate benefit. This fan also comes with a no-light conversion cap. This covers the light if you prefer not to use it or want to protect it.
The fan has five plastic blades that have a faux-wood finish to improve their look. But their plastic nature gives them a greater benefit: they're totally waterproof, making this one of the best outdoor ceiling fans overall, especially for patios or porches with lots of rain or humidity.
The fan also comes with three mounting options: down rod, which extends it down further with added stability, angle-mounted, or flush-mounted. All of these let you customize the fan's appearance and dictate how it fits with your outdoor ceiling.
The motor is exceptionally quiet and is reversible for circulating warmer air when necessary. It has three speeds to choose from, as well, though you'll have to use the pull chains included rather than a remote control.
Overall, this is a top choice for outdoor environments with lots of water. The excellent finish means it'll work with most patio aesthetic as well, despite the plastic construction of the blades.
Things We Like:
Is waterproof and ideal for most environments
Features a quiet motor that can be reversed
3-speed settings for control over air movement
Comes with LED light ready to go
Things We Don't Like:
Blades aren't truly wooden
No remote control
Check Price and Reviews on Amazon
---
What to Look For in an Outdoor Ceiling Fan
Buying an outdoor ceiling fan successfully depends on your understanding of these major factors. Each of these can help you determine if a given fan is perfect for your needs.
Size
The size of your ceiling fan directly affects how much air it moves around your patio or porch. Some of the largest ceiling fans on the market might be able to affect air in an area of around 400 ft.². That's almost the size of a small studio apartment! Meanwhile, smaller outdoor ceiling fans might only manage to affect an area of 100 ft.² or less.
Most outdoor ceiling fans for purchase should describe their effective areas right on the box. Keep whatever number they describe in mind as you browse. It might be effective to measure the square footage of the space your fan will be used in to determine the ideal fan size for your needs.
While size effects airflow, it also dictates whether a fan will fit on your ceiling. Obviously, larger ceilings can accommodate much larger fans. But smaller ceilings might only be able to fit more miniature blades. Measure your ceiling a possible before buying anything.
Keep in mind that fans only work if they are installed properly. Ceiling fans need a minimum of 12 inches of space from the ceiling and a minimum of 84 inches above the floor in order to work at their maximum effectiveness. Similarly, the blades of any fan need to be 24 inches away from any walls.
Speeds
Many excellent outdoor ceiling fans will have variable speed settings that you can use to adjust the airflow at any given time. Faster settings are ideal for extremely warm days with a lot of humidity. But fans that can only go at high rotation speeds might be a little too cooling or chilly on days when you just need a light breeze.
Personally, we really like fans that have high and low-speed options. That way we can use our outdoor ceiling fan no matter the weather and freshen up the air of our patios.
Remote Controlled
Some of the best outdoor ceiling fans will come with remotes that allow you to change the speed of your fan from a distance. Or the remote might let you adjust the spin direction of your ceiling fan. Either way, remote controls are a phenomenal quality of life feature and are perfect for those of you who have patios with high ceilings.
It's just a lot more comfortable to change your fan's settings from afar without having to get out of your chair to pull a physical chain.
Motor/Spin Direction
Many outdoor ceiling fans may have a motor that can spin in two directions. Most fans spin by default in a single direction that circulates colder air away from the fan. For ceiling fans that spin in a single direction, that means that cool air will be directed downward. This is useful during the summer.
But even better outdoor ceiling fans can spin in a reverse direction thanks to their motor. This will drive warm air downward instead. This can be useful during the winter months or during the cool of the night when you want to circulate the air of your porch but don't want to make the temperature too cold.
Material/Color/Style
Aesthetics matter just as much as function for most of us! Keep in mind the look of any outdoor ceiling fan before you make a final purchase. Some fans will look great when they are installed on the ceiling of your porch, but others might be tacky or have a different color scheme than your existing furniture or porch rails.
Similarly, the material of your fan is something you should consider. Plastic outdoor ceiling fans are affordable but don't usually look as good as fans made of a different material. Wooden fans are classy and usually a bit expensive, although they can rot from the inside out during more humid months.
You can also find stainless steel or aluminum outdoor ceiling fans. These last for a long time and can be painted in a variety of colors. But these fans are usually more expensive.
Damp-Rated and Wet-Rated
A great outdoor ceiling fan needs to be waterproof or water-resistant to some degree. Otherwise, it'll eventually degrade during the more humid months of the year. Of waterproof fans, there are two major types: damp-rated and wet-rated.
Damp-rated fans are perfectly fine for circulating air in humid environments but will eventually lose function and start to degrade if they are directly exposed to higher concentrations of water. Wet rated fans are much more durable and can withstand contact with water directly, such as rain thrown about during a storm.
So the ideal conditions for either type are clear. Damp-rated fans are perfect if you don't normally get much rainfall in your climate or if your fan is protected on your porch, such as with closed porches or patios. Wet rated fans are ideal if you get a lot of rainfall each year or if your porch is not adequately protected and it becomes soaked whenever it rains.
One advantage that wet-rated fans have over damp-rated ones is that they are easier to clean with a hose. You can spray a wet-rated fan with your garden hose and not have to worry about damaging the fan whatsoever.
There are dry-rated outdoor ceiling fans as well. As the name suggests, these types of fans don't do well when exposed to water of any concentration. They are only good choices if you live in an arid environment that doesn't get a lot of moisture in terms of either rainfall or humidity.
Lights
Does the outdoor ceiling fan you're eyeing have lights? It can be convenient to be able to illuminate your patio or porch with the same device rather than a separate bulb. These fans are often more expensive than fans without lights, but not by much.
In addition, it's normally easy to wire the light with your fan since you'll only need to have one hole drilled for the fan and light together rather than a separate bulb.
Best Outdoor Ceiling Fan Brands
The Honeywell Store: They don't just make fans. The hard-working folks at the Honeywell Store make all manner of home decorations and accessories create intuitive and stylish stuff for every room in the house. Fans, smart accommodations, heaters, you name it: it's all here.
Casa Vieja: Their ceiling fans and other home accessories are among the best in any market. They usually focus on providing products with great aesthetic finishes and some wooden elements.
Harbor Breeze: This company focuses exclusively on ceiling fans. Not only do they provide some of the best fans in the business, but they also offer some excellent guides on fan operation and prepare that DIY-ers would do well to check out.
Hunter Fans: This company also focuses on ceiling fans, although they offer different fan builds and shapes or your home or business. They also separate their products by luxury level or aesthetic, so you can browse their catalog and find the perfect for your budget or style in no time.
FAQs
Q: Why Are There So Few Wooden Waterproof Fans?
A: Wood is a material that is particularly susceptible to water damage, even from ambient humidity. Wood soaks up water really easily and it can bend or break over time. That's why most water-resistant or waterproof fans are made of metal or plastic.
You can sometimes find wooden waterproof fans for use with outdoor ceilings, but these will often come with a waterproof coating or paint to prevent water from being absorbed into the wooden material.
Q: Can Outdoor Ceiling Fans be Used Indoors?
A: The vast majority of outdoor ceiling fans can definitely be used inside, provided there is enough space with your indoor ceiling. Many outdoor ceiling fans have longer blades in anticipation of more room to spin.
Q: What Separates Outdoor Ceiling Fans from Indoor Ones?
A: The only real difference between outdoor and indoor ceiling fans is in their build durability. Outdoor ceiling fans are expected to have more ambient wear and tear and be exposed to sunlight, wind, or moisture more frequently.
So you'll often find more fragile indoor ceiling fans with more decorative designs or weak lightbulbs. Outdoor ceiling fans are typically a little more tough, though this is not a hard rule.
Conclusion
The exact outdoor ceiling fan perfect for your porch or patio is something only you can decide. For our part, we prefer the Honeywell Belmar Outdoor LED Ceiling Fan, mostly due to its waterproof construction. Being able to leave our ceiling fans outside without having to worry about water damage is a must-have in our book. The fan is a great choice even disregarding this aspect, with a warm LED light and a quiet motor that doesn't so much as whisper, even when running at high speeds.
If you are worried about rain, the Honeywell Belmar 52-Inch Indoor/Outdoor Ceiling Fan is another solid choice. It's perfect for humid environments and features other excellent attributes that make it a worthwhile purchase.
All in all, stick with your gut and choose the outdoor ceiling fan that you feel will mix best with your current furniture and environment. Thanks for reading!