You do your time at work with all of its stress. Then, there are family issues and a myriad of other things vying for your attention. All you know is that you need an escape in your space, on your terms. The chances are that means peace and quiet. Money also looms in the picture too. That's why knowing how to make your backyard private cheap is the best of both worlds.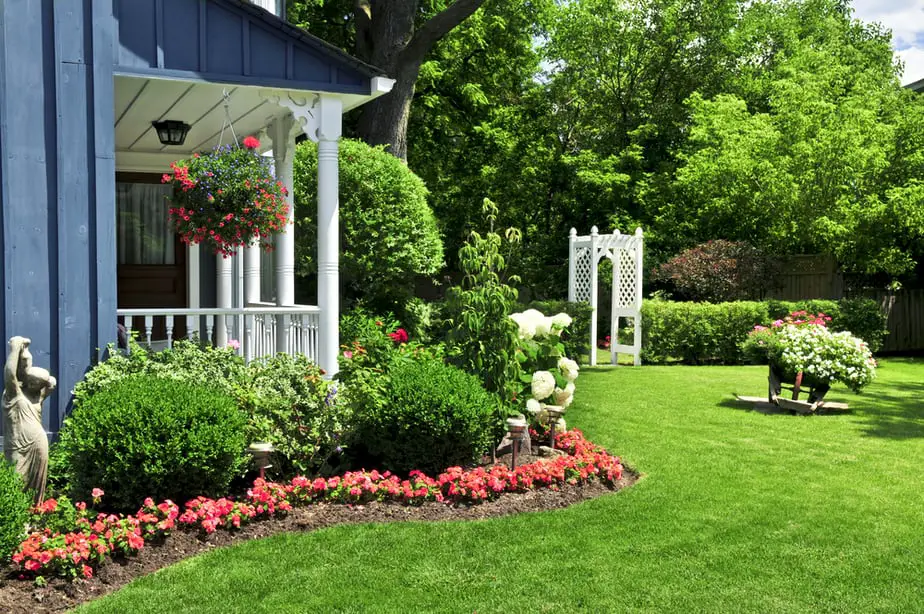 While privacy is priceless, the path to getting there doesn't have to break the bank. There are several ways to make it happen without sacrificing good taste so that it is aesthetically pleasing too. After all, beauty isn't necessarily a function of your pocketbook. Instead, it's about planning and making smart choices.
Ready to take on the challenge? Let's go!
Tips for Making Your Vision Come to Life
We'll walk you through the process from concept to reality. It's essential to give some thought about what you need to capture that essence of privacy before you start. That vision will guide your decisions and keep your purchases within your budget. Sorry for the buzzkill, but money is part of the equation when talking about keeping it cheap.
Call it a necessary evil.
Tackling this project offers some worthwhile benefits. It'll give you a chance to use your yard more. That's why you live where you do, isn't it? It's also can help relieve stress and allow you to connect with nature. Even just enjoying your morning coffee outdoors can make a difference in your day. Fortunately, you have lots of options.
Let's run through several to help you find the way to your happy place.
Step 1: Set Your Bottom Line
If money is an issue, you have to set a limit. We'd also suggest giving yourself some wiggle room. Put it down to those best-laid plans. The ideas you have in your head might not translate well when visiting your local home improvement store. We suggest thinking of concepts instead of absolutes.
For example, an enclosed space could be a screened-in porch or a standalone outbuilding. Your idea of privacy could involve a small garden room instead of your entire yard. These early decisions can make a big impact on the dent in your wallet.
Step 2: Set Your Parameters
We talked about thinking about your idea of privacy. Let's explore this vision further. It's the point where you need to home in on what that means for you to make changes that have an impact.
Is it reducing traffic noise?
Do you want a private space out of the view of your neighbors or the road?
Do you want both?
Answering these questions can help you put your money where it will make the most sense and avoid overspending on things that don't make a big difference. That's the essence of economizing your privacy. It doesn't do you—or your budget—any good to throw cash at things that don't matter.
Step 3: Find Your Zone
Lot sizes vary widely from the average 1.7 acres that Vermont enjoys to the median 0.2 acres for the average American lot size. The key to success with how to make your backyard private cheap is to optimize your use of space.
No matter what the size of your backyard, take the time to figure out how you want to use it. Think about what you want to do in your space. Then, consider which parts you want to add privacy to the mix. For example, you probably want some cover where you're sunbathing or socializing. It might not matter as much for your garden.
The private spaces are where you need to focus your attention. It will save you time and money, which are the goals for keeping the costs in line. Take a look at your current setup and see if you can make small changes like relocating your outdoor furniture. If you have existing trees or shrubbery, they can do double-duty as a privacy screen.
Last update on 2023-05-21 / Affiliate links / Images from Amazon Product Advertising API
---
Step 4: Explore Your Options
The next thing is to consider what you need and your timelines. Your choices will vary whether you need privacy ASAP or whether you're willing to wait for it to happen. We could throw in several other factors like aesthetics, usage, and your landscaping theme.
All of them matter.
Artificial elements like screens or outbuildings are quick fixes for how to make your backyard private cheap. You can get one set up in an afternoon and reap the rewards right away—if that's what you want. If, on the other hand, you want a more natural-looking solution, nature is calling the shots when there's a budget.
You can get baby arborvitae plants for a song online. However, it'll take a few years to get your privacy, despite the fact that they grow quickly. Sure, you can buy larger plants—for a price. Mature shrubbery is not cheap, unfortunately. Another option you can explore is using bamboo plants, which also can fill out an area fast.
We must say upfront that being economical doesn't necessarily mean ticky-tacky. You'll find several budget-friendly options that don't tread into the gaudy zone. You'll find many that are cost-saving DIY choices too.
Step 5: Making a DIY Solution Work for You
An easy and affordable way to create privacy is to build a screened-in garden room. All you'll need is some lumber to make a standalone frame and some sunscreen fabric to enclose it. For example, you can use your screen around the exposed side of your patio or deck. The advantage of this option is that the cloth will cut down on the UV rays and the heat to make this space more comfortable.
Another DIY solution is to use that lumber for a living wall. You can add potted plants to add interest and create a focal point. Excellent, easy-to-care-for choices include English ivy and philodendron. The long vines will provide additional cover. Be sure to provide a sturdy structure that can handle the weight of the plants. Use free landscaping software to help you find some plans if you're not sure where to start.
Sale
Easy Gardener 81020R Sun Screen Fabric, 6ft X 20ft, Chocolate
SUN SCREEN: Turn your backyard into a personal oasis with Jobe's versatile, screen solution. The Easy Gardener Sun Screen blocks heat and sun, provides 75% more shade, lowers temperatures up to 15 degrees, and protects against harmful UV rays.
IDEAL FOR: The Easy Gardener Sun Screen is ideal for creating privacy, providing shade, or acting as a wind barrier for arbors, patios, play areas, and pet enclosures.
REUSABLE: The Easy Gardener Sun Screen is made with high-quality materials that will last for years to come, saving you money on repeat purchases. The screen cleans easily with a garden hose and has proven to not fade, shrink, mold, or mildew.
UV-PROTECTED: The Sun Screen is UV-resistant, defying the added wear-and-tear from the sun's harsh rays. This screen allows heat to escape, while blocking harmful UV rays, to ensure that it will be more durable and longer lasting.
EASY INSTALLATION: Jobe's wants gardening to be enjoyable. No matter the characteristics of the space you're looking to install, we have a useful accessory that can help. Please note, the shade fabric is available in multiple colors and sizes.
Last update on 2023-05-21 / Affiliate links / Images from Amazon Product Advertising API
---
Step 6: Fences Make Good Neighbors
The obvious solution for privacy is a fence. However, it doesn't have to look as if you're walling your yard out of view. Slatted fences provide just enough cover to strike the right balance between aesthetics and solitude. Another way to make it seem less unneighborly is to make it a trellis, instead. The climbing vines soften the privacy message while providing some welcome color.
Some excellent choices include:
Virginia creeper
Wisteria
Trumpet vine
Climbing hydrangea
Bittersweet
Pro Tip: Be sure to stick with plants that are in your area's USDA Plant Hardiness Zone for the best success.
Step 7: Go Vintage
Creativity and imagination are excellent tools when landscaping for multiple uses. One way you can capitalize on it is to visit some flea markets, garage sales, or antique stores for room screens that you can repurpose for your yard. The advantage of this option is that it's ready-made with only a few tweaks to make it work for your backyard. Besides, it'll also add interest to your landscaping.
We suggest attaching it to a heavy base that is either permanent or temporary to keep it upright in windy conditions and to protect the bottom from water damage. You may also find it helpful to put a coat of polyurethane with UV protection to keep the colors vibrant.
Step 8: Update Your Landscaping
One easy fix is to work with what you have and add some layers to the mix. You can put taller plants in the background and work down in other layers. You can even put in some taller potted plants or bring your indoor ones outside for the season. Get some colorful annuals for the forefront, and you have a gorgeous solution to a nagging problem.
Step 9: Bringing Natural and Manmade Together
If you like the idea of a row of bushes but don't want to wait, you can combine the natural elements with something artificial to bridge the gap. Greenery panels are an affordable way to satisfy your need for privacy while your shrubbery grows. Many products look like the real thing, so there's no risk of it looking fake. The advantage, of course, is an instant solution.
You can also combine several of the options we discussed to give your landscaping your signature look. After all, there are no rules when it comes to how to make your backyard private cheap.
Porpora Artificial Hedge Plant, Greenery Panels Suitable for Both Outdoor or Indoor use, Garden, Backyard and/or Home Decorations, Boxwood 20 x 20 Inch (12 pack) by e-Joy
Made from lightweight yet super-strong high density polyethylene. That's soft to the touch but looks realistic. Eco-friendly and does not release toxic chemicals. Recyclable.
Can attach to any wood frame or chain link fence easily. Green Attachment Fasteners Included. Can be cut by scissors to fit any shape or spot you want to fill. Snap and lock using the products interlocking connectors for easy installation
Perfect for privacy, aesthetically enhance your area with a realistic look to beautify and transform your patio, garden, fencing, yard, walkways, rooms, walls, interior and exterior or your own creative design..
Long lasting with UV protection against wear & tear and fading.
Each panel measures approximately 20 x 20 inch, 12 pieces in pack. Covers approx. 32 sq.ft.
Last update on 2023-05-21 / Affiliate links / Images from Amazon Product Advertising API
---
Final Thoughts
We get it. Your yard is your space. You want to chill out without putting on any airs or worrying about the neighbors keeping tabs on what goes on your side the property lines. That's what makes learning how to make your backyard private cheap such a valuable asset. You don't have to make elaborate changes, either. Small ones make a big difference that will pay off in the end. And that doesn't suck.