When your trusty electric lawnmower can't get where you need it to go, it's time to pull out the weed eater. But there are so many options, it can be hard to know which is the best corded electric weed eater for your unique situation.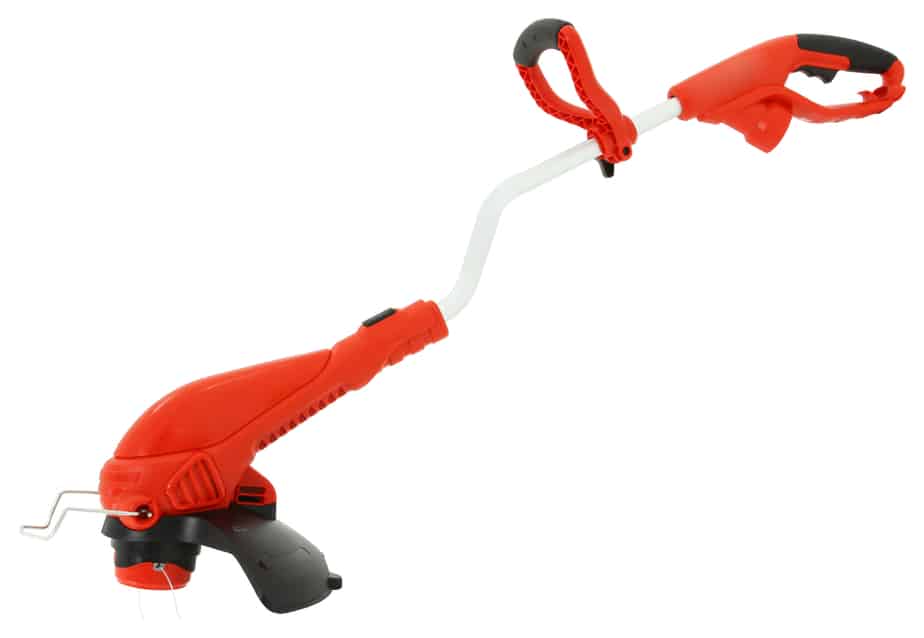 Some can be used as trimmers, some have wider cut ranges than others, and some are a lot more comfortable than the competition. We're going to break down all the options for you so that you don't have to worry about it. Let's get started with our one of our favorite overall picks.
Best Overall Corded Electric Weed Eater
Black+Decker 13 Inch
Sale
BLACK+DECKER ST8600 5.0 AMP STRING TRIMMER, 13 Inches
2-IN-1 - Corded electric Trimmer and Edger cuts along borders, sidewalks and flower beds and easily converts between trimmer and wheeled edger.
EASY HANDLING - Lightweight and easy to handle with adjustable height handles, Edge guide provides precise edging
MORE LINE, MORE CONTROL - Automatically feeds more line with no bumping necessary thanks to AUTOMATIC SPOOL FEED technology
HIGH POWER, LOW NOISE - POWERDRIVE Transmission delivers more power from the motor to the cutting string so you can get the job done faster
WIDER TRIMMING AREA - 13" Trim radius lets you cover more ground faster
Last update on 2023-09-10 / Affiliate links / Images from Amazon Product Advertising API
Black+Decker's weed eater is one of our favorites because it combines comfort, power, size, and versatility in one good price.
This machine stretches 13″ across in diameter. It's not huge but it is big enough to handle most smaller trimming jobs. It's a good fit for thicker grasses like Bermudas or St. Augustines since this weed eater is powered by what Black+Decker calls Powerdrive. Powerdrive technology helps to cut through big grasses no problem.
A common issue with thicker grasses is that you'll need to replace your line more often. Not so with Black+Decker. They include an automatic feed spool technology that can detect how much trimmer line you need and adjust for you. This is a nice feature for people who live in rocky or mountainous ground, or people who have a yard with very thick grass. This tech will save you a bit of work.
Black+Decker includes an adjustable height system and allows you to fix the weed eater to suit your height. The handle pivots to allow you more range of motion while cutting. This weed eater also converts to a vertical edger if you're looking for a combo deal.
This weed eater includes a 3 year warranty.
What We Like
Cut through thick grasses faster with Powerdrive technology
Less hassle with automatic feed spool to adjust your line for you
Adjust to your own height
More range of motion with pivot handle
Converts to an edger
3 year warranty
What We Don't Like
Not the best option if you have a big area that needs cutting (read on for that)
Black+Decker's weed eater is one of our favorites since it provides so much in one product.
Check Price and Reviews on Amazon
---
Best Corded Electric Weed Eater For Big Jobs
Greenworks 18 Inch
Greenworks 10 Amp 18-Inch Corded String Trimmer (Attachment Capable), 21142
10Amp motor with straight shaft and .080 dual line bump feed
Light weight and simple electric start with cord lock feature makes it easy to use
Large 18" cutting path helps speed up the trimming process
Cushion and over-mold grip and handle for operator comfort with auxiliary handle for more control when trimming. Compatible GreenWorks Replacement Spool, Model 29622
Quick-connect coupler allows for easy attachment changes and fits various name brands
Last update on 2023-09-10 / Affiliate links / Images from Amazon Product Advertising API
The Greenworks 18 inch weed eater is our favorite pick if you know that you have a lot of area that will need to be cut. This is a good option if you have steep hills or boggy areas that manual lawnmowers can't reach.
The Greenworks is a good option for wide areas, but it's also a good option for tough grasses. This weed eater is powered by 10 amps, double any other weed eater on this list. It's got more than enough bang for your buck.
You'll also get several comfort features with this option. Greenworks includes a handle with extra cushion and an over mold grip. "Over mold grip" means that the handle feels nice and fits well into your hand. Another perk that makes cutting a little easier for you is a strong cord retention system that's included with the Greeenworks. This system prevents the cord from being jerked out of your weed eater if you get too far from the outlet.
One of our favorite benefits of this weed eater is that it has an easy attachment system. If you have any other Greenworks tools like edgers, hedge shears, cultivators, or more, then you can attach those tools to the body of the Greenworks weed eater. The attachment system also works with attachments from other brands like Ryobi, Yardworks, and more. It's not a make or break feature, but it's nice to be able to have an all-in-one solution.
This weed eater is heavier than other options. It weighs in at 9.9 pounds. The next heaviest option on our list weighs in at just 7 pounds. The extra few pounds shouldn't be too rough (10 pounds is still lighter than almost any gas weed eater) but it's something to look out for.
You'll get a 4 year warranty with the Greenworks weed eater.
What We Like
Great option for those with a lot of grass that needs cutting due to big cut diameter
Cuts through tall or thick grass easy; it's a very powerful weed eater
Change function with easy attachment system (works with brands other than Greenworks as well)
4 year warranty
What We Don't Like
Heavier than other corded electric weed eaters (but lighter than almost any gas option)
On the pricier side
Greenworks has our favorite pick if you know that you have a lot of grass that needs to be cut. This weed eater does a great job of cutting a wide area and chopping through thick grasses.
Check Price and Reviews on Amazon
---
Best Small Corded Electric Weed Eater
Greenworks 13 Inch
Sale
Last update on 2023-09-10 / Affiliate links / Images from Amazon Product Advertising API
Greenworks makes the list again. This time, they aren't winning our favorite award for their big weed eater, but their small one. The smaller, 13 inch Greenworks packs a lot of punch into their more budget-conscious option.
This weed eater has a 13 inch cut diameter and is powered by 4 amps, so it's not a great option for anyone who has very tall or thick grass. It's not the best for areas that need a ton of cutting, but includes enough power that most people won't have any issues.
The smaller Greenworks weed eater stands out in its versatility and ease of use. The weed eater has an auto-feed line to reduce your line changes to near zero and the head can turn 180 degrees to be used as an edger.
There are several comfort features included as well. A telescoping handle makes this tool accessible for people of any height. A simple cord lock makes it so that you won't jerk out your cord any time you move too far away from your outlet.
The biggest comfort feature of all is the weight. The Greenworks 13 inch weighs in at 5.2 pounds, so it can also be used as a double for a Hasbro toy or a makeshift lightsaber when you're out playing in the yard. (We're just kidding. Please don't use this as a lightsaber)
This is a great pick for buyers who are young at heart but don't lift heavy things very well any more. Light weight makes this option easy to maneuver and easy to use for long periods of time.
Comes with a 4 year warranty.
What We Like
Low maintenance with automatic line feeder
Head can turn 180 degrees to be used as an edger
Good for all height ranges with telescoping handle
Less frustration with cord lock
Easy to use; weighs 5.2 pounds (about as much as a bag of flour)
4 year warranty
What We Don't Like
Not great for very tall or thick grass
Not great for cutting huge areas
The smaller Greenworks weed eater is our favorite option if you're looking for something that is light and easy to handle. It's comfy enough to be almost fun but strong enough to get the job done.
Check Price and Reviews on Amazon
---
Best Budget Corded Electric Weed Eater
Worx 15 Inch
Sale
Worx WG119 5.5 Amp 15" Electric String Trimmer & Edger
[2-IN-1] Rotating shaft turns this trimmer into an edger and back again in seconds—there's no reason to buy separate trimmers and edgers.No load speed : 7500/min
[AUTO LINE FEED] The dual-line feed system gives you fresh trimmer string when you need it, always at the perfect length
[90° PIVOTING HEAD] Change the angle to better accommodate sloped and inclined areas of the lawn, and get into hard to reach places
[ADJUSTS TO TALL and SHORT USERS] The telescopic shaft makes this a grass trimmer that everyone can use
[DO IT YOURSELF. DO IT BETTER. DO IT WITH WORX.] WORX tools are engineered with cutting-edge technology, and above modern efficiency standards, so you can build a cost-effective tool collection that's designed to last
Last update on 2023-09-10 / Affiliate links / Images from Amazon Product Advertising API
The Worx weed eater is our favorite option if you're looking to get the maximum amount of features for a very reasonable price.
Worx packs a lot into their weed eater. It has a 15 inch cut diameter, so it's a good pick if you have a pretty sizable area that you need to deal with. The weed eater is powered by 5.5 amps and will be more than enough to get through tall or thick grasses that need extra juice.
You can expect some pretty neat usability features included here. The Worx head can rotate to 4 different positions. The extra positions are a huge help on sloped surfaces (so your grass doesn't look like a bad military buzz cut). You can also turn the head into a strict edger. An automatic line feeder is included to reduce your maintenance to a minimum and help you get more work done, faster.
With the Worx weed eater you can expect to get pretty good results as far as comfort goes. The Worx includes a telescoping handle to work for people of all height. It also has a foldable spacer. This comes in handle if you're trying to weed eat around things like trees or concrete. The folded spacer will allow you to get more of the cut you're looking for.
Worx doesn't include a warranty on their weed eater that we could find.
What We Like
Good budget buy
Lots of bang for your buck
Wide cut diameter
Lots of power
Cutting on slopes is easier with adjustable head
Telescoping handle
Foldable spacer
What We Don't Like
No warranty that we could find
Worx has our favorite pick if you're looking to buy the most features for your dollar, but the lack of a warranty scares us just a little bit. A good budget-conscious buy.
Check Price and Reviews on Amazon
---
Things to Know Before You Buy…
What's the Deal With Amps, Gauges, and Cords?
All of the corded electric weed eaters in the world will need an extension cord for use. Having the right cord is the difference between long life and an unexpected demise for your weed eater. So how can you tell which one is right for you?
Having a cord that doesn't allow enough power to get through will cause your weed eater engine to strain and break sooner than it should. Many a once-happy buyer have been upset because their tool stopped working too soon and many of these motors break for no other reason than someone didn't know that their cord needed to allow more power to get to the weed eater.
There are a few things to know when picking the best cord for your tool
First, we have to take a look at how cords work (and we're going to skip all the technical jargon so no worries).
Cords are a way to transport electricity from an outlet to something else (in this case, your corded electric weed eater). Each cord is rated for a certain amount of electricity depending on how thick the wires inside the cord are. This is called a gauge. Gauges work backward, so the lower the gauge, the thicker the wire. The thicker the wire, the more electricity that can be carried.
You'll also want to keep an eye on how long your cord is and make sure that it's rated for a low gauge at a certain length. The lower the gauge, the more electricity your cord can carry. Extension cords that you can buy for your weed eater will often have the gauges specified in the item description as numbers (16/3, 12/3, etc. where the first number is the gauge) or as AWG (12 AWG is 12 gauge).
Getting too high of a gauge will kill your corded weed eater, so this is a big deal.
For all the weed eaters that we listed, we recommend at least a 12-gauge, 100 ft wire. This one is a good option since it will be strong enough to power your lawnmower and will give you enough reach to get the far corners of your yard.
If you want to be extra safe, you can try this 10 gauge, 100 ft wire. It should be able to provide enough power to launch any nuclear rockets you're building in the backyard, too.
Whichever cord you use, make sure that it's rated at least a 12 gauge at 100 feet. Your weed eater will thank you (and will last a lot longer). If you would like to read more about the science behind wires, amps, ohms, and gauges, you can do so here.
What Size Corded Electric Weed Eater is Best for My Yard?
Corded electric weed eaters come in a wide range of sizes ranging from 12 inches all the way up to 18 inches. The size difference can make it a lot faster (or a lot tougher) to do your cutting depending on what your situation is.
In general, the smaller weed eaters are more suited to budget buyers. It's worth keeping in mind that the bigger the cutting diameter, the fewer passes you'll have to make through your yard. As a rule, bigger cut diameters mean more amps and are a good pick for bigger or thicker grasses. A bigger cut diameter can end up saving you a lot of time.
Smaller weed eaters are almost always more budget-conscious than their bigger cousins. They are light weight and easy to use, so they're a good fit if you're afraid you won't be strong enough or are worried about cramps while cutting.
If you're looking for budget-loving options and don't mind taking an extra couple of passes in the yard, we recommend getting a smaller weed eater. If your yard isn't tough to get around and you aren't worried about the couple extra pounds, we recommend going with the bigger option.
Frequently Asked Questions
How long is the included cord?
The cord coming with each of these weed eaters reaches out to about two feet. All tools on this list will require a separate extension cord.
Amazon shows a certain cord is frequently purchased with my weed eater. Can I use that?
Maybe. You'll need to make sure that the cord is at least 12 gauge and, unless you have a small yard, 100 feet is the option we recommend to most people (100 feet isn't as far as we think it is!).
Can I replace the trimmer line with a different line?
The answer is yes on all of our options that we've reviewed above.
One thing you will need to look out for is that you're using the right size line. Weed eaters use different sized strings and will only work on the string sizes that they are rated for. All of our recommendations listed above are rated for:
Black+Decker: 0.065″ diameter
Greenworks 18 inch: 0.08″ diameter
Greenworks 13 inch: 0.065″ diameter
Worx: 0.065″ diameter
How do I adjust the head to an edger?
Of our picks listed above, all of them can be turned into an edger with the exception of the Greenworks 18 inch weed eater. The transition is pretty simple. The Black+Decker and Greenworks 13 inch have a rotating shaft that you can twist. No hassle there.
Worx has a button that you can push to rotate the head into any of its 4 positions.
Do I need the adjustment to an edger?
Since 3 out of our 4 recommendations have the edger adjustment, it's worth asking how useful the extra feature really is. Do you need it for your weed eater?
Maybe. Regular weed eaters take the top off of grass. An edger helps you to get grass away from your sidewalk, plants, or other natural areas. It's worth taking a look at your yard to determine whether you have areas where grass tends to creep up and get in your business.
If so, an edger would be a helpful tool.
Best Brands
Black+Decker
Black+Decker has been around since 1910 and started as a small machine shop. From there they expanded their product line to all sorts of tools from machines that make milk caps, to power screwdrivers, to drill tips used on the moon landing. They've got NASA's seal of approval, so what more can we really ask for?
Greenworks
Greenworks was founded in 2007 to begin solving a large and growing need: they wanted to make battery-powered equipment strong enough that it could compete with the gas-guzzling kings of lawn care. Greenworks hopes to help the environment by providing battery-operated lawncare equipment tough enough to solve all your yard needs.
Worx
Worx's mission is to push the boundaries of what is possible in helping people take care of their homes. They strive to make innovations so taking care of your home and yard is easier (and maybe even more fun) than ever before.
Conclusion
Thanks for reading our guide on the best corded electric weed eater! When it comes down to it, the best option for you is going to be the one that suits your needs best.
Take a look at the kind of grass that you're going to be cutting. Is it a lot of grass or just a few places that your mower can't reach? If you have something that you could build a runway on or that you could hide the Vietcong in, it's best to go with a bigger weed eater that has a wide cut diameter.
Ask yourself if you how adept you are with a weed eater. If you're a newby and don't want to get too involved, it wouldn't hurt to get a tool that includes an automatic line feeder to make your life easier. You can use any weed eater for edging if you have to, but a weed eater with a specific edging attachment will make your life a lot easier.
If you were going to a desert island (a very grassy desert island, and one with an electrical outlet) and could choose one weed eater, we'd say go with the Black+Decker 13 inch. It's not huge, but it is comfortable, powerful, and has a lot of little perks at a good price.
A notable mention goes out to both Greenworks tools since they have extra long warranties. It's worth keeping in mind if you're prone to breaking a perfectly good weed eater.
Whatever your pick, a corded electric weed eater can go a long way towards filling in the gaps your mower can't miss. They are essential tools to help you own your yard.