There are plenty of reasons for installing a fire pit in your backyard. Apart from the hours of cozy evenings with family and friends, it will add value to your home and improve your yard landscaping usability. If you want to get the very best from your outdoor pit fire, there are a few things you need to consider. These considerations include the placement and size of the fire pit, fuel type, and materials to lay at the bottom of the firepit.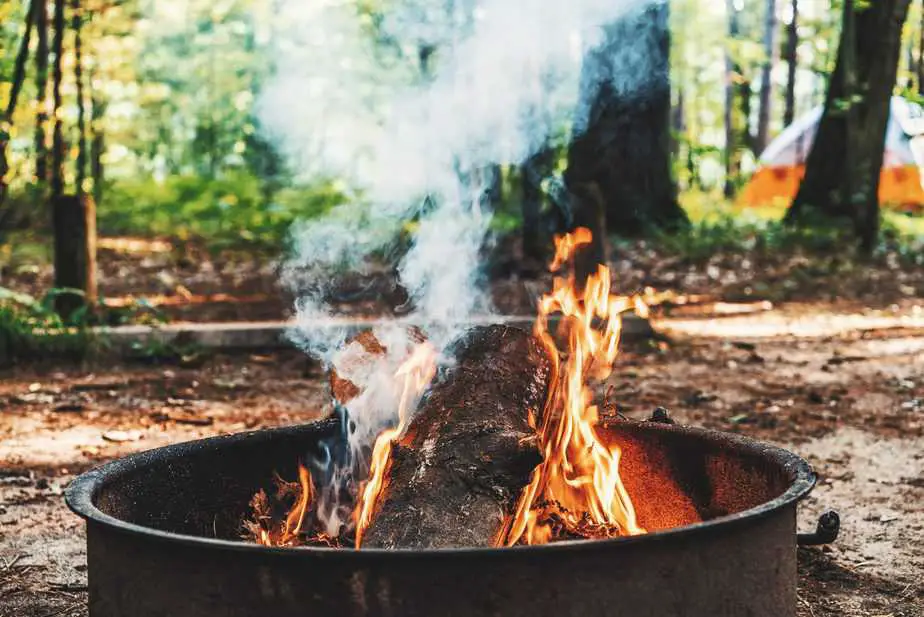 First Things First
Take a little time to research your city's building code. Different cities have different building ordinances for backyard fire pit construction. Know the local requirements before building your fire pit. Check city code to find out if all open flames are banned or if using some form of cover or screen would make it possible to comply with regulations. Your firepit should be erected at least 10 feet away from trees, overhanging branches, fences, bushes, or flammable structures on your property.
Just What Is The Bottom Of A Fire Pit?
Given our article deals with what materials to use at the bottom of a pit, perhaps we should clear up exactly what the bottom is. The bottom of a fire pit refers to the ground and surface material you will use to burn kindling or fuelwood. It is perhaps one of the most important aspects of lighting up a fire. Without a proper bottom, the fire might never light. If it does, it might huff and puff lots of smoke, as you struggle to keep the fire lit. Setting up the bottom is among the first steps to consider when setting up a fire pit.
Materials Suitable For Use In A Fire Pit
Some materials were never intended to reach high temperatures and can spark and explode if a fire gets too hot. You could talk to numerous different people and be given several different opinions as to the best material to use in the bottom of a pit outdoors. You can opt to simply use bare ground so long as the soil is dry enough to provide the perfect platform for burning the kindling. Choose an area relatively easy to dig. Regardless of which materials you choose in the end, you must ensure that it must be dry when you light the fire.
Sand
Widely considered one of the most versatile materials for the bottom of fire pits, sand is relatively cheap and easy to install and provides an excellent heat shield. Sand helps soak up heat and evenly distributes it around the whole pit. Sand protects the metal bowl from the intensive heat the fire can put out. There is one slight downside to sand at the bottom of your wood fire. Ash can mix with the sand and create a kind of slush that needs to be removed to clean. Once removed, you will need to layer in fresh sand.
Silica Sand for Gas Fire Pits and Fireplaces - 10 Pounds of Fireproof and Heatproof Base Layer Sand for use Under Gas Logs, Lava Rock or Fire Glass
IMPROVES FLAME PERFORMANCE with consistent gas dispersion in all directions, ideal as a base layer underneath fire glass, lava rock, fire pit balls or other decorative fire accessories.
GAS COMPATIBLE, for use in indoor and outdoor natural gas and propane fireplaces and fire pits; perfect to replace or refresh original sand that comes with faux log sets, creating a warmer, quieter, better-looking flame
ECO-FRIENDLY AND SAFE for your home or business fire pit or fireplace; no smoke or toxic fumes are produced
HASSLE-FREE INSTALLATION: Fire sand is easy to install, simply pour straight from the bag into your fire pit or fireplace
GUARANTEED HEAT-PROOF: Quality inspected and tested for use in high heat installations; 100% fireproof and will not melt or discolor with proper use
Last update on 2023-11-18 / Affiliate links / Images from Amazon Product Advertising API
---
Dirt
Free, easy to use, and heat resistant, dirt is an excellent option for use in the bottom of fire pits. The only real downside to soil is that ash can mix with it to create a terrible muck that, if it gets wet, can leave you with a real mess. Not that it's difficult to clean if you have a shovel to dig it out with so you can start over. If you're going to use dirt, expect a little extra maintenance time. If undecided about using sand in the base of your pit, check with the user manual.
Lava Rocks
Lava rocks have been specifically designed to be placed at the bottom of fire pits. Not only do they look good, but they're also extraordinarily conducive to heat. Unlike other stones, you don't have to worry about them cracking, breaking or exploding. Generally made of obsidian, created from magma, if lava rocks haven't exploded then, they're unlikely to explode in your fire pit. It may require higher maintenance unless you have a gas fire pit.
Last update on 2023-11-18 / Affiliate links / Images from Amazon Product Advertising API
---
Fire Pit Glass
An exceptionally durable, man-made material, fire pit glass comes in a wide assortment of colors and patterns. Firepit glass doesn't radiate heat as well as lava rocks and is more expensive than sand and dirt, but it can make for a marvelous light display as the flames dance in the reflection of the fire pit glass.
Sale
Hiland RGLASS-BB Pit Fire Glass i n Bahama Blend, Extreme Tempature Rating, Good for Propane or Natural Gas, 10 Pounds, 10 lb
Fire glass is very easy to maintain because it emits no ash, soot, or smoke. Thus you can spend more time enjoying your fire pit/place and less time cleaning it
Our fire glass is not just exquisite to behold, it is also very practical. It does a wonderful job of covering the entire floor of a fire feature, effectively hiding the unseemly pipes and tubes
Heat Rating: Higher temperature when compared to logs, lava rocks, stones, etc.
Ideal for both indoor or outdoor environments, fire glass may be used in either natural gas or propane fires
Available in 10 and 20 pounds
Last update on 2023-11-18 / Affiliate links / Images from Amazon Product Advertising API
---
Rocks
On the whole, avoid using rocks unless using tiny stones, around the size of a dime. This will limit the danger by reducing the damage an exploding rock can do. It doesn't eliminate the threat altogether, so use caution. Nearly any type of rock has the potential to explode, especially if it is porous and wet. When wet rocks heat up, the trapped air and water expand very quickly and forcefully break the rock open, sometimes causing it to explode.
Most common rocks to be avoided in fire pits include sandstone, limestone, pumice, gravel, and river rocks. Hard rocks like granite, marble, or slate are much denser and less likely to absorb water and explode when exposed to heat, and make a perfect material for a stone fire pit. Safe rocks include fire-rate brick, lava glass, lava rocks, and poured concrete. If you frequently use your fire pit, you may even consider covering your fire pit in adverse weather to keep it dry and keep you safe.
Gravel
Gravel is an excellent material option for use on the bottom of your pit.
Types Of Fire Pits
There are plenty of reasons for a fire pit in the backyard. Apart from the hours of cozy entertainment with family and friends, it will add value to your home and improve the usability of your backyard landscaping. If you can't decide between a wood fire pit or gas pit, explore a dual fuel fire bowl that can use both gas and wood. They cost more and require a complex construction to build.
Plan for a larger fire pit rather than a smaller one. Leaving extra space and planning for a larger fixture allows you to upgrade furniture or pull up a few extra chairs when visitors rock up. Understand the costs. Complex designs, particularly those constructed by a contractor, can run into the thousands, while portable fire pits typically cost between $50 and $200.
Metal Fire Pit
If you have a metal pit, an inch or two of sand at the bottom will help evenly distribute heat from the burning fire. Avoid using a liner in a metal fire pit – the metal handles the job fine. If you're worried about heat transfer, you can always get a heat shield or fire mat.
Gas Fire Pit
You can put sand in a gas fire pit, but you have to pay special attention not to cover up the gas outlets/igniters. If you're careless with the sand installation, you'll find that you won't be able to produce a meaningful flame. Of course, there are other materials better suited to line gas fire pits than sand.
Portable Or Fixed Fire Pit
After considering ideas for a fire pit, decide how portable you want your fire pit to be. If you opt for a permanent fixture, a traditional in-ground fire pit is ideal. It is generally recommended that you dig down between six to 12 inches when setting up an inground fire pit. Make sure the ground is as level as possible, before adding in a layer of filler. If digging deeper, make sure you have some ventilation, so your fire gets enough air to burn. You may need to use a fire bowl on top of your stonework to keep the fire elevated. Higher walls around a fire pit can be especially handy if you have small children or pets and want to keep them protected from the flames.
Should you choose a portable fire pit, you can purchase a pre-built portable one or a fire table. Your fire pit can be above or below ground. You can build yourself or hire a contractor to build your pit.
Protect Your Grass
Take the time to prepare the ground underneath and around your fire pit before lighting it up. Clear away any dead grass and vegetation within 10 feet of your pit. Wet down the grass underneath the fire pit. Once it's wet, you can light your fire. If the grass needs extra protection, simply place brick pavers on top of the lawn as a heat shield. They'll help protect grass from high temperatures and keep your grass from drying out.
Tools To Build A Fire Pit
You can hire a contractor to build your pit, or you can build a DIY version. All you need are a few materials and tools to get the job done.
Wheelbarrow
Shovel
Garden rake
Tape measure
Work gloves
Hand tamper
Garden hose
Level
Fire bricks
Retaining wall blocks
Construction adhesive
Your choice of material, for example, sand, for the bottom of pits.
Ask yourself whether your pit needs a liner. Liners prevent underground root fires and provide essential structure to ensure the fire pit lasts for years. Liner types include stainless steel, mild carbon steel, concrete, tile or stone, copper, and cast iron.
Fire Safety
Firepit safety starts with choosing the right site for the pit. The ideal location should be 10 to 15 feet away from nearby trees or shrubs, and away from places such as buildings and parking areas. Make sure you have water handy for when flames exceed the limits of the fire pit. It is best to keep the water in an open structure like a basin or large bottle. Always keep track of how the fire is traveling. Make sure you completely douse the fire when finished.