You might not have noticed the effects at first. Slowly, it becomes apparent. Your yard is going down the drain—literally! You may have lost plants that didn't have enough time to get established. You know you need to take action. Here is your guide about what to do with a steep backyard to turn the tide back in your favor and save your yard.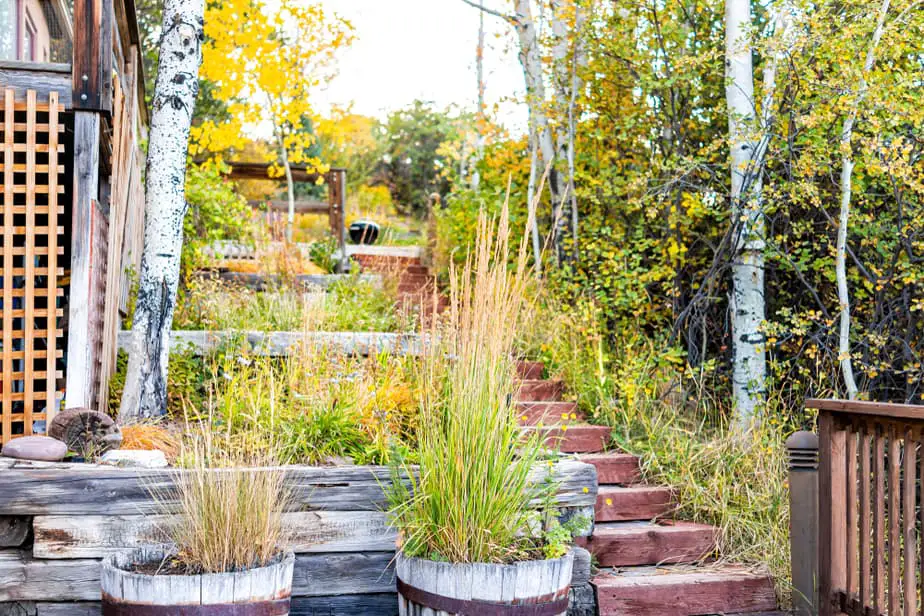 Water is a powerful force. Think glaciers and floods. On a smaller scale, it can wreak havoc in your yard. It certainly doesn't help the fact that the consequences can spread to your neighbors' backyards, nearby waterways, and even your local water supply. That's because a steep backyard means that the earth is mobile.
It doesn't stay put and therein lies the problem.
The Negative Impacts of Soil Erosion
The greatest problem with a steep backyard is that it's vulnerable to soil erosion. The US Environmental Protection Agency (EPA) classifies sources of runoff without a specific origin as nonpoint source pollution (NSP). If it was a matter of just soil, that'd be one thing. But that's not to say that we should dismiss it, as we'll discuss later.
What is rolling off your steep backyard has a lot of other things in it too, such as:
Fertilizers
Pesticides
Runoff from the impervious surfaces like your driveway
Salt from the streets
That's where the trouble starts.
If the soil remains undisturbed, whatever is deposited on it eventually is contained and sequestered. That's the value of wetlands, which do the same thing. These materials can't harm plants or pollute waterways, anymore.
When stormwater washes over your steep yard, it stirs up all these materials that can pollute your garden and lawn as well as that of your neighbor. It can also send the output into streams, lakes, and other waterways. Because of the topography, the water gains speed. It'll move more stuff and dig deeper trenches in your yard.
That can become a more serious issue if the water runs under and structures because it could make them unstable. That's a problem that needs immediate attention.
The First Step
The first step is to assess the water flow in your yard. You must know where the water comes from and where it goes once it crosses your property line to see if you can divert it somehow. We'd also suggest noting the patterns of the occurrence, for example, whether it's a seasonal thing or something that happens every time it rains.
That can mean the difference between a temporary or permanent fix.
It'll also give you the knowledge about whether you need to find a solution that goes beyond your yard. Your home doesn't exist in isolation. Other areas around your property contribute to the water flow over your backyard. In a larger context, scientists refer to it as the watershed of a waterway. That is the acreage that drains into a stream or lake.
We mention this fact because you may be able to get local, state, or federal assistance to help you correct this issue. For example, if a new road is sending water your way, you might convince the city planners to add sewers or a curb to redirect the runoff from your property. That will at least lessen the negative impacts of having a steep backyard.
You may qualify for assistance from the federal government through the Conservation Reserve Program (CRP). We'd also suggest reaching out to your state's Department of Natural Resources. If you live on a lake or stream, find out if there is a local watershed district that can help.
Landscaping Solutions
If these other outlets couldn't provide assistance, don't fret. All is not lost. Fortunately, you have several options about what to do with a steep backyard. You might even be surprised to learn that some people may envy your situation. That's because it opens up so many possibilities versus a flat yard. Let's review what you can do and help you make an informed decision about what comes next.
Grade It
Grading your yard to remove the slope is a quick fix if you don't want to deal with it anymore. However, it isn't a solution for all situations simply because of the expense. Topsoil isn't cheap. You might be able to score some inexpensive fill if there's new construction going on in your area. There's still the cost of getting it to your property.
You're also going to have to landscape your yard to anchor the soil in place. The quickest way to handle that task is with sod, which is also spendy. On the positive side, you'll increase your backyard's usable space to add other features like a patio, garden, or even a pickleball court.
Nisaku NJP1014 Handheld Long Handle Draw Hoe, Authentic Tomita (Est. 1960) Japanese Stainless Steel, 6" Blade Width, Polished Wood
★ The NJP1014 Handheld Garden Hoe is part of an extensive line of Nisaku gardening tools including the #1 selling Hori-Hori Digging Knife on Amazon, the NJP650.
▲ Features: 6" Stainless Steel blade is rust resistant and a breeze to wash. Polished wood handle is durable and easy to grip.
▲ Multi-Use: The handheld hoe is used by gardeners worldwide, and is perfect for tasks such as shaping soil, removing weeds, clearing soil of old crops or plant residue, and harvesting rooted vegetables.
▲ Quality: Made from authentic Tomita (Est. 1960) Japanese Stainless Steel by real metal craftsmen gives all Nisaku tools a touch of Japanese history.
▲ Durability: Constructed with a shank that is forged in one piece to the blade instead of just being welded and then secured to the handle with steel rivets. This ensures your Hoe is extremely durable, bend resistant, and has a lot of levering power.
Last update on 2023-11-17 / Affiliate links / Images from Amazon Product Advertising API
---
Add Stairs
Another option is to add a stairway so that it's easier to walk across your yard. You can put in switchbacks with benches along the way if it's really steep. That gives you some more places for creative touches, such as planters or small conversation nooks. If you use the bottom of the slope, you can even install an inclined elevator or lift to make moving stuff down the hill easier.
You can opt for a stairway made of decking material like treated lumber. You can also go the natural route and make a stone staircase that meanders up the slope. Either way, the individual stairs will slow water flow and help prevent soil erosion.
Make a Terrace
A more creative method is to build terraces. They'll fix the problem of a steep backyard no unlike a stairway. You can create individual gardens at each level for visual interest. The one thing to remember is to add a slight angle to each layer to keep the water moving and prevent it from pooling. This option works best if you have well-draining soil.
Build a Retaining Wall
If you're in danger of losing a hillside because it's so steep, you may need to take more direct action with building a retaining wall. The other advantage this fix offers is that you can cut into the slope to add more usable space to your yard. That will also provide more landscaping opportunities with plantings in and along with it as well as your choice of stone.
Sale
Last update on 2023-11-17 / Affiliate links / Images from Amazon Product Advertising API
---
Just Add Water
Sometimes, it's better to join them instead of fighting them. You can do that with your steep backyard by building a waterfall. After all, you're well on your way with the steepness of the angle. It's an excellent way to turn an eyesore into a landscaping feature. Adding shelves and a pond at the end can control the water flow too.
Put Up a Deck
You can take this lemon of a problem and make lemonade by building a deck to take advantage of the view. The great thing about this option is that you have a ready solution for privacy if your land sits higher above your neighbors. You can make this new space cozy by adding a fire pit and some comfy garden furniture. What better way to start your day with a cup of coffee!
Make a Rain Garden
An eco-friendly fix is to plant a rain garden at the end of the slope. It will help keep the soil intact while providing habitat for birds and other wildlife. It's best to use perennials for a long-term solution for erosion. You may also need to add a drainage system if your soil is poor-draining. The benefit of going this route is that it gives you more choices for flowers and other plants to add to your yard.
Put in Some Raised Garden Beds
Adding some raised garden beds can give you more space to grow fruits and vegetables. You can add a mixture of decorative plants to create a cottage garden look to your yard. We like this solution because it makes something positive out of a thing you may see as negative. The good thing about this option is that you have a structure in place to stabilize the slope during the off-season.
Giantex Raised Garden Bed Planter, Wooden Elevated Vegetable Planter Kit Box Grow for Patio Deck Balcony Outdoor Gardening, Natural
【Large Planter Boxes for Vegetable Flowers Growing】 - The storage space of this plant bed is ample enough to plant vegetables, herbs and flowers or some deep-rooted plant. Besides, it can kindly keep and maintain moisture for plant inside and two frames are good for classifying different plant and enable plants don't affect with each other. The whole size of planter raised bed is 97"x 25"x 10" (L x W x H).
【Sturdy Wood Raised Beds】- Wood material will keep durable, warped or splinter and fade. This will save cost for you. Besides, the fence shape is convenient for you to take care of plant or water them.
【10 Inch Deep Planter Raised Beds】- The whole construction is made of long-lasting solid fir wood which is stable and durable enough to strongly support the weight from the garden bed itself and plant.
【Beautiful Look and Practical Use】- This plant bed can be placed not only at patios, porches, decks, or garden. It features nice looking and practical function. Not only can it serve as a decorative work but also fully plays its practical role.
【Easy Assembly】- Hardware and assembly manual are included. Specific assembly steps are clearly shown. All hardware are all listed and numbered for your reference.
Last update on 2023-11-17 / Affiliate links / Images from Amazon Product Advertising API
---
Call in the Big Guns
Planting some trees offers a permanent solution to a steep slope. Opt for deep-rooted varieties such as hickory, sycamore, or oaks. Adding some grass around the plantings will create a savanna-type of habitat that can attract songbirds. We couldn't think of a better way to make peace with a challenging landscaping issue!
Plant Native Plants
One of the easiest actions you can take for what to do with a steep backyard is to plant some native plants, preferably ones with deep root networks such as little blue-stem. There are several advantages to choosing these species. First, they're adapted to the climate of your area. That means less maintenance for you. Also, the roots will anchor the soil in place and eliminate an erosion problem.
Finally, you can select plants with different blooming times to have a colorful backdrop for the entire season and even into the fall with varieties like Liatris or blazing star. Instead of being the bane of your yard, the hillside is now a showcase for some gorgeous plants that are functional too.
Flexzilla Garden Hose 5/8 in. x 50 ft, Heavy Duty, Lightweight, Drinking Water Safe, ZillaGreen - HFZG550YW-E
EXTREMELY FLEXIBLE - All weather flexibility
EXTREMELY DURABLE - Abrasion resistant outer cover and crush resistant anodized aircraft aluminum fittings
HYBRID POLYMER - Won't kink under pressure, coils easily and lays flat with zero memory
LIGHTWEIGHT - Lighter than traditional garden hoses making Flexzilla easier to carry and maneuver around the yard
LEAK FREE CONNECTIONS AND DRINKING WATER SAFE - A durable O-ring provides long lasting leak free connections and feature an inner tube material that is drinking water safe
Last update on 2023-11-17 / Affiliate links / Images from Amazon Product Advertising API
---
Final Thoughts
We understand how vexing it can be when deciding what to do with a steep backyard. Depending on the slope, it can cut into your usable space, which can make it even more aggravating. However, don't despair. There are so many things you can do to make it a part of your landscaping and maybe even its star attraction. Instead of viewing it as a challenge, see it as an opportunity.