Trampolines are a great activity to provide for any kid, no matter their age. But the wrong trampoline can pose health risks and won't last the years you need it to. Today, we'll be taking a look at the 5 best trampoline brands that provide the most top-quality options on the market today!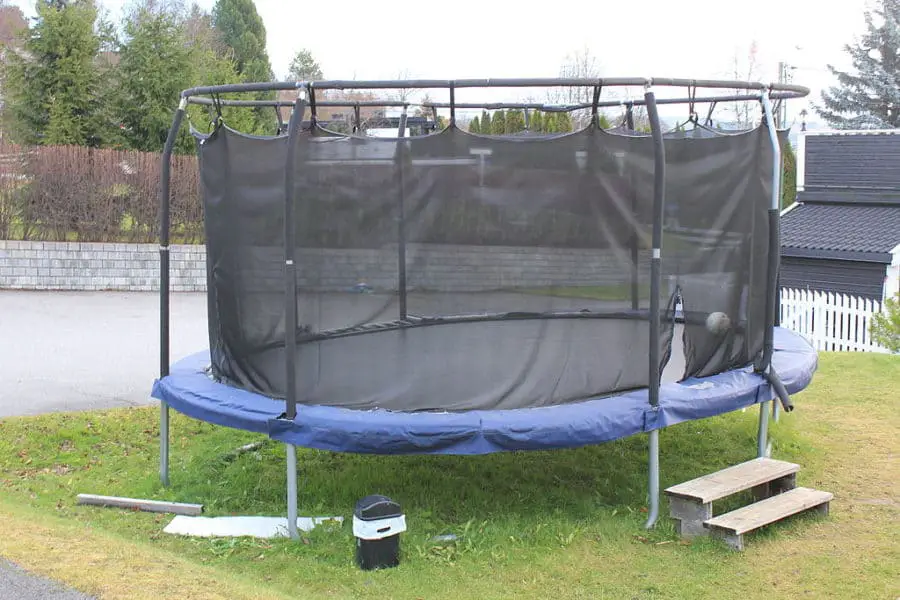 Let's jump right in!
To start off our best trampolines list, we'll be taking a look at Zupapa trampolines. Not only are they one of the leading suppliers in trampolines, but they're a leader in quality, as well. Durable frame quality is something that you want to make sure it checked off when looking for a trampoline, as they can be dangerous. The better quality the trampoline, the safer it will be for the kids.
All of their trampolines and accessories are TUV certified and put through durability testing to ensure that the products are 100% safe for the users. What's also great about Zupapa is that they offer a wide variety of trampolines, ranging from toddlers to adults for fitness. No matter what your exact needs are, Zupapa will have them covered.
Also, it's worth mentioning that these trampolines are quite easy to assemble as well. Some parts are packaged assembled, making the process that much easier. Not only is the manual easy to follow for assembly, but there are also videos online that help with the process, too.
Finally, the pricing offered for these trampolines is quite low, especially when you compare it to many other leading brands.
Another one of the best trampoline brands is Skywalker. Many consider the brand to be one of the top in the world, and for good reason. Not only are their trampolines extremely safe, but they also offer durable quality that the company prides itself on.
What's also great about the Skywalker brand is that the trampolines include safety enclosures, which gives peace of mind to any owner who is worried about their kids potentially falling off. Every skywalker trampoline is reviewed by the ASTM safety standards, even sometimes exceeding them in some trampolines.
However, one of the large pushing points in Skywalker's success is the value that they bring. They come with many premier qualities, without the large price tag that many other brands have. So, if you are shopping for a great trampoline and are on a budget, this is one of the best options out there.
Next up on our best trampoline brands list is Sportspower. One of the features that will immediately stick out for the trampolines is the fact that there is steelflex enclosure, making it one of the safest enclosures on the market today. Also, the quality of the parts is solid on these trampolines, which gives owners even further peace of mind when it comes to the safety that is provided.
When it comes down to assembly though, it can be quite tricky to deal with. If there was a downside, it would certainly fall to assembly, as it takes quite a bit of time and the instructions aren't as clear as we'd like.
SkyBound trampolines are the best option for young kids and toddlers. They have a fantastic price point, are made incredibly well, and overall, are one of the safest mini-trampolines you can find for toddlers.
It comes equipped with a handlebar to hold on to that is also padded to ensure safety and comfort. The PVC padding also adds protection from the steel frame, covering it entirely on the top and sides. One of the great features though is the rubberized feet at the bottom, meaning you can bring this in on rainy days!
Last but not least on our list for the best trampoline brands, is BERG trampolines. In terms of an overall package, BERG is one of the best on the market. They offer great quality, safety, and come in at a fair price. However, one of the unique perks about the Berg trampolines is their look and design.
They offer some of the best-looking trampolines currently on the market and if you are looking for design, then look no further. The quality is highly respected as well, as many of the trampolines they offer are built to last for many years.
Also, the safety qualities that they offer on their models are great as well. Overall, BERG trampolines are one of the best complete packages that you'll find around.
The Best Trampolines From Our Favorite Brands
Here are some of our favorite trampolines from the 5 best trampoline brands we've listed.
1. Zupapa 54 inch Indoor Small Trampoline for Kids
Sale
Zupapa Small Toddler Trampolines with Basketball Hoop Indoor Mini Trampoline for Kids Children Ultra Quiet Age 2-8,54'' 66''
❤️【No Pinch Hazards & No-Gap Jumping Mat】The enclosure net is sewn directly onto the jumping mat to prevent dangerous gaps between the frame and the stretch bands. Take Zupapa kids trampoline home to create a safe and fun jumping environment for children.
❤️【No Rollover & Arched Leg Design】The unique arched legs were designed to disperse stress, enhance stability and prevent rollover effectively. The 47inch safety net keeps kids from falling off when they're jumping on the trampoline. Let child enjoy jumping freely.
❤️【Stronger Material & Sturdy Trampoline】1.5mm galvanized rust-proof legs rather than 1.2mm from ordinary. The 15 mm thick yellow pad which is made of PE is not easy be torn. Encrypted enclosure net adds more safety for kids.
❤️【Wonderful Gift for Kids & Fun Exercise】The small trampoline is perfect for kids from 2 to 8 years old. Two available sizes: 54inch, 66inch, you can choose whatever suits your kid. The removable basketball hoop brings double fun for toddlers.
❤️【Easy to Assemble】With clear instruction (every part of the installation)and detailed installation videos, your toddlers can enjoy the mini trampoline earlier. If you have any installation problems, please feel free to contact us.
Last update on 2023-05-15 / Affiliate links / Images from Amazon Product Advertising API
Coming in for Zupapa is the 54-inch small trampoline for kids. This ultra-safe kid's trampoline is not only designed for your child's safety but also features a beautiful design that will appeal to any child. The large safety net also gives you peace of mind.
What We Like:
Safety- ultra-safe design
Durability- fantastic quality
Design- Kid-friendly design
Fast Setup- Setup time is generally less than 2 hours.
Check Price and Reviews on Amazon
---
2. Skywalker 12-Feet Round Trampoline
Skywalker Trampolines 12-Feet Round Trampoline and Enclosure with Spring Pad, Blue
SAFETY IS OUR #1 PRIORITY: All our trampolines are tested for safety and durability to meet or exceed all American Society of Testing Materials (ASTM) standards, creating a safe trampoline where children can thrive.
PATENTED DESIGN: Our patented no-gap enclosure eliminates dangerous gaps between the enclosure net and the jumping surface, protecting children from pinch points and openings (Patent #RE45, 182).
DURABILITY: Enjoy endless family fun on your trampoline with the support of a galvanized steel frame that is weather and rust resistant. All our trampolines feature reinforced T-sockets at each leg and enclosure joint, increasing frame stability.
MAXIMUM USER WEIGHT: We thoroughly test our products according to ASTM standards. The maximum recommended user weight for this trampoline is 200 lbs. Per ASTM standards, our trampolines are tested to four times the maximum recommended user weight.
Last update on 2023-05-15 / Affiliate links / Images from Amazon Product Advertising API
Coming in for Skywalker trampolines is the 12-feet round trampoline with a spring pad. What stands out is the overall quality that Skywalker makes an effort to show. Also, for the quality you are getting, the price point is a great deal as well.
What we Like:
Quality Parts- Springs and T-Sockets for reinforcement
Enclosed Netting- Features a dual zipper equipped with a latch system
Price- Friendly to your pocket
Check Price and Reviews on Amazon
---
3. BERG Trampoline Inground Champion 11ft
Sale
BERG Trampoline Champion InGround 11ft with Safety Net | Trampoline for Kids, High Performance & Safety Features, Jump Higher with Airflow
FAMILY FRIENDLY: The BERG Champion InGround trampoline with net is the ideal trampoline for friends and family. With a variety of shapes and sizes available there's a perfect trampoline for any space so you can have fun with the whole family!
SAFETY FIRST: BERG knows that safety is a priority, that's why this InGround trampoline is made with the highest quality materials. Long lasting TwinSpring Gold Springs, Airflow Jump Mat, and an included safety net enclosure will not only allow for years of fun, but overall safety while using the Champion trampoline
SAFETY NET DELUXE: To protect you from accidents this trampoline for adults includes an excellent safety net. With our deluxe and deluxe XL safety nets, tripping is not an option. You now can jump as high as you want with a rested mind.
AIRFLOW JUMP MAT: The Airflow Jumping Mat allows for 50% more air permeation compared with a standard jumping mat. Good airflow ensures less resistance while jumping, which is why you can make higher jumps!
15 YEAR WARRANTY: The fun shouldn't stop, which is why BERG offers a 10 year limited warranty out of box and an additional 3 years of limited warranty can be added when you register your trampoline and net on the BERG website!
Last update on 2023-05-15 / Affiliate links / Images from Amazon Product Advertising API
Here, we've shared one of the most popular trampolines that BERG offers. The quality you'll find here alongside the strong frame is hard to come by.  Also, the thick padding is a plus as well and is often overlooked. Not only does this make the material stronger, but also allows for softer landings as well.
What we like:
Airflow technology
The overall strength of quality
Thick padding
Check Price and Reviews on Amazon
---
4. Sportspower Heavy Duty Outdoor Trampoline
Sportspower 15 Foot Heavy Duty Outdoor Trampoline With Steelflex Enclosure Net and Poles - Meets or Exceeds ASTM Standards
STURDY DESIGN: Heavy-duty rust-resistant galvanized steel frame with patented T-Weld Leg design and foam outer edge make up an integrated design to provide extra stability and support
QUALITY CONSTRUCTION: UV-treated netting and jump mat ensure long lasting quality and protection, while our innovative patented Steelflex enclosure technology also provides extra safety and gives parents unrestricted visibility of their children
SAFE JUMPING: Our printed jump mat center target helps the jumper reference the location of the safe center jump zone while 96 springs provide a high bounce with low impact landing
RELIABLE CHOICE: All Sports power Trampolines products are thoroughly tested for safety and durability, and are found to meet or exceed all standards put forth by the American Society for Testing and Materials (ASTM).
STABLE BASE: Includes water anchor set (4-pk) to encourage safe jumping and trampoline stability and spring loading tool for easier product setup; Measures 180" L x 180" W x 107.5" H
Last update on 2023-05-15 / Affiliate links / Images from Amazon Product Advertising API
This steelflex-inforced trampoline is our pick from the Sportspower line. It has great strength in its netting and is well-made. Overall, it's a great option and comes at a great price from one of the best trampoline brands on the market today.
What we Like:
Steelflex technology
Netting
Quality padding
What we don't like:
Assembly time/instruction
Check Price and Reviews on Amazon
---
5.
Mini Trampoline with Handle Bar for Toddlers by SkyBound 
Little Tikes 3' Trampoline – Amazon Exclusive
Perfect trampoline for toddlers to burn off energy
Features large jumping surface and handle bar for stability
Plastic and metal combination
Trampoline is for indoor use only. Age- 3 to 6 years. Ground to top of handle bar- 34.00 inch H. Jumping surface to top of handle bar- 26.25 inch H
Last update on 2023-05-15 / Affiliate links / Images from Amazon Product Advertising API
It's a no-brainer that SkyBound is hands down, the best toddler trampoline on the market. From the great price to the incredible safety standards that are ensured, it's hard to find anything wrong at all with this brand. We like everything they have to offer, and then some.
What we Like:
Check Price and Reviews on Amazon
---
Final Thoughts
When it comes to the best trampoline brands on the market today, it doesn't get any better than the ones we've covered on our list! Each brand provides consumers with high-quality, affordable, long-lasting trampolines that are sure to put a smile on everyone's face.
No matter which of the best trampoline brands you choose to shop from or which trampoline you choose, we know you'll end up with a great trampoline!